Tony Rice II was just a 17-year-old kid living in the Dallas-Fort Worth area when an officer approached his car with his gun drawn, saying he suspected the car was stolen.
"He pulled me over, came up to my car, and actually pulled a gun on me," said Rice. In the end, the officer still gave Rice a traffic ticket. It was only later he said he discovered there had been no corresponding reports of a stolen vehicle.
Rice and his family never filed a complaint about the interaction. "I think we were all just glad that it didn't result in a fatal encounter," said Rice, now 36, whose father grew up in the segregated South and whose mother is an immigrant from Haiti. "Unfortunately in my community, these things happen too often."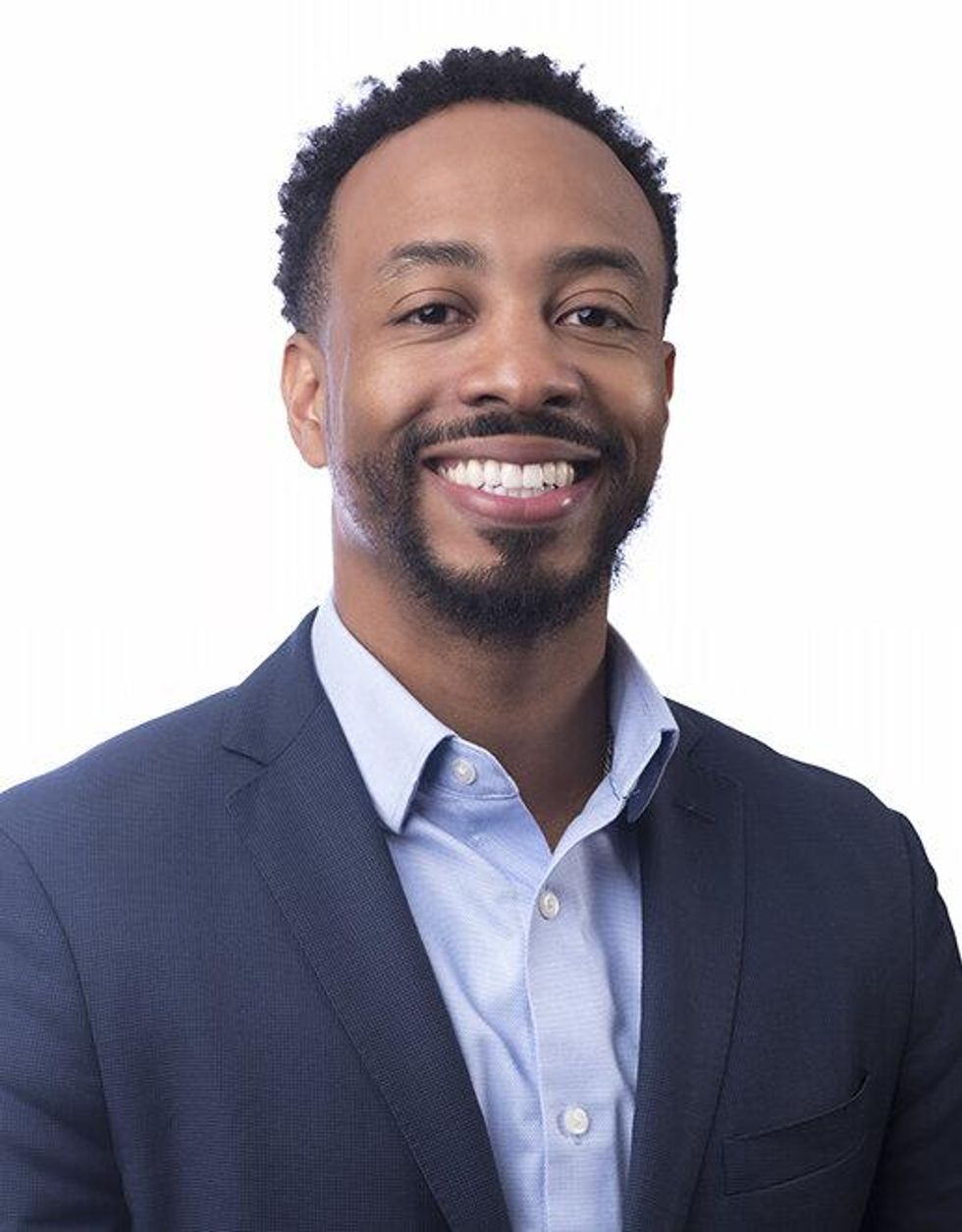 Unarmed founder Tony Rice II
Systemic racism was something that Rice couldn't avoid over the next two decades, even as he was building his career at Google and Deloitte and eventually with his own consulting firm, which helped cities launch tech projects with vendors such as Oracle. He said he was "just not sure how I could help address it."

Then, in 2020, George Floyd and Breonna Taylor were killed by police. It dawned on Rice that he could leverage his personal and professional experience to address police violence in a meaningful way. "Knowing that could have been me," he said, "I thought I was uniquely positioned to create a technology project that could potentially help resolve this disparity."
He began developing Unarmed, an online platform that allows city government agencies to easily gather and manage civilian feedback about law enforcement, including cases involving use of force. The public often doesn't know that they can give feedback about police, he said, and even when they do, they don't know how to do so. He hopes streamlining the process will increase both access and awareness about these options.
So far, Rice has self-funded the company, and he plans to hold a family-and-friends funding round at the end of the second quarter. Though the launch of the completed product is slated for the end of this year, Rice points out that its major functionality is already finalized. "We could deploy tomorrow," he said, adding that the platform can be implemented quickly because it can be installed remotely rather than onsite.

Mock-up videos on the Unarmed website show a streamlined online platform where a user can select to file a "complaint" or a "compliment." Subsequent pages give civilians the option to either provide personal information or file anonymously, and to provide information about the incident, officers involved, details about witnesses and any photo or video evidence. Cases are submitted to a city's oversight officers and labeled with a tracking number, which allows users to check for updates.
Unarmed might seem like an obvious solution, but in many cities there are relatively few avenues for civilians to file complaints about police. While some cities have robust citizen complaint review boards (also known as civilian oversight agencies) that are external to police, most police departments log and review complaints internally.
Even though some departments have "very independent complaint review processes," said Jack Glaser, an expert on policing and racial justice at UC Berkeley's Goldman School of Public Policy, "it is very difficult to get a complaint 'sustained.'" Sustainment occurs when a complaint is found to be supported by sufficient factual evidence and deemed a policy violation. He said complaints about racial profiling in particular are almost never sustained.
Worse yet, Rice has found that while a few cities offer fillable PDFs or forms that can be printed out and submitted, many do not offer any online options and instead require civilians to manually log complaints at the police department, "which is obviously counterintuitive," he said. Further, he notes, many of these services are offered only in English and Spanish, excluding Americans who primarily speak different languages.
Designed with access in mind, Unarmed is geared toward cities that have stated their commitment to police reform. As the Black Lives Matter movement continues to gain traction, the number of such places appears to be growing. Last July in Kansas City, Mayor Quinton Lucas and city council members called on the police to provide data in order to create a publicly available use-of-force database. This still hasn't materialized, however, and the city's police chief is currently under fire for failing to deliver on these demands. With Unarmed, willing cities can organize and manage such databases so that they're positioned to have the biggest impact on police reform.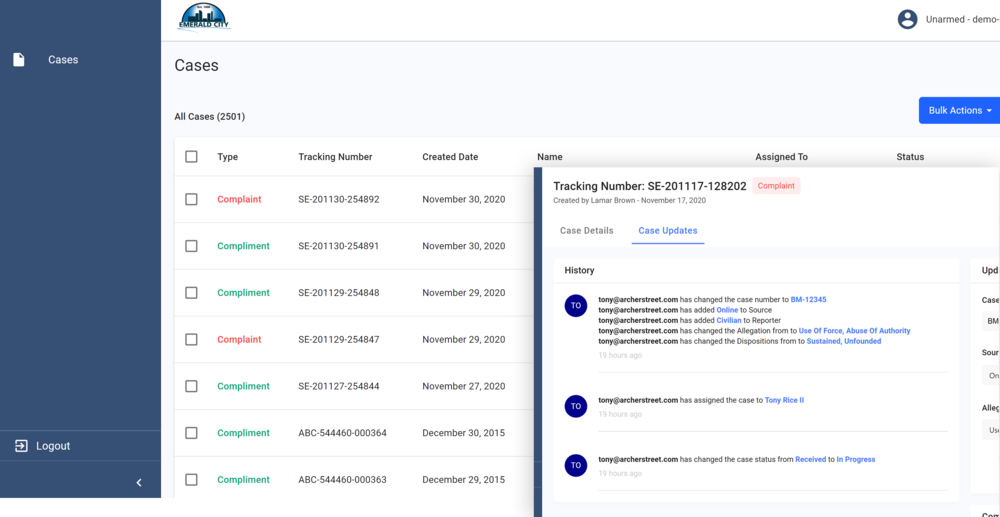 The platform isn't just for citizens; Rice said it can also be useful for police departments because it allows them to log and organize data that they are legally required to report. For instance, in Los Angeles, where Rice is based, police must submit race- and identity-related details of every person that an officer detains or searches — known as "stop" data— to the California attorney general every year. "There's a checklist of different items you need to include," said Rice, "so even including that also makes it more enticing to police departments." Currently, the Callifornia government recommends police use notebooks, mobile data terminals or mobile digital computers for this data collection but doesn't provide any tools.

Rice is "hopeful" that both cities and police departments will show interest in his product. "All I can do is do the outreach, and try to show the problems that exist today and the benefits of being on the platform," he said.
Cameron McEllhiney, director of training and education at the National Association for Civilian Oversight of Law Enforcement, notes a major obstacle to Rice's project: Many cities have limitations regarding the investigation of third-party complaints, an issue that platforms similar to Unarmed have faced in the past. Nevertheless, she adds, "the adoption and implementation of effective, sustainable civilian oversight mechanisms is what we should be striving for."
Glaser sees promise in Unarmed, noting that "anything that standardizes and streamlines these processes will be a step in the right direction." But the real challenge will be ensuring that civilian feedback is registered and meaningfully adjudicated. "It's one thing to collect, categorize and store this information; it's another, and harder, thing to act on it," he said.
Optimistic about the future of Unarmed, Rice is likewise encouraged by the ongoing conversations about diversity in tech, which has led many companies to hire more diverse workers. "There's not a lot of us," he said. "I think it's not only about funding Black founders but Black founders that are making an impact, that can drastically impact people's lives."