civic tech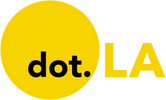 Get in the KNOW
on LA Startups & Tech
X
civic tech
Courtesy of Diamond
This is the web version of dot.LA's daily newsletter. Sign up to get the latest news on Southern California's tech, startup and venture capital scene.
If you're reading this, you're probably aware that technology companies are sprouting up all over Los Angeles. But while many of them build products to enhance and improve our lives, the fact remains that people with disabilities are often left out of the equation when it comes to these would-be solutions.

I recently spoke with Joe Devon, the L.A.-based tech entrepreneur who in 2011 co-founded Global Accessibility Awareness Day (GAAD), to discuss the state of accessibility in the tech industry. The awareness day falls on the third Thursday of each May, with this year's 11th GAAD having taken place this past Thursday, May 19.
According to the World Health Organization, 15% of the global population—more than 1 billion people—live with some form of disability. While many people perceive disabilities as limited to physical impairments and obstacles, Devon—whose ventures include L.A.-based digital agency Diamond—noted that they extend into the digital world, where technology often fails to account for accessibility among those struggling with disabilities.
Devon drew his inspiration to start GAAD from his father, whom he saw struggle in his advancing age with fading eyesight and hearing that complicated tasks like accessing his bank's website or speaking with a representative. Mobility was also an issue; while governments provide services like paratransit to give folks with disabilities a ride to and from places, Devon told me that such services often "would take all day [to arrive], and you have to schedule it the day before."
Such experiences prompted Devon to begin blogging about accessibility—including how web developers could make the sites and programs they work on more accessible to those with disabilities. His posts caught the attention of tech professionals like Jennison Asuncion, who would become Devon's GAAD co-founder and now heads LinkedIn's engineering accessibility efforts.
Fast forward to 2020, when the pandemic forced much of the world to rely on remote methods of work and communication in a matter of weeks. Devon said he was pleased to find that video conferencing platforms like Zoom and Google Meet had stepped up their accessibility, via offerings like automated captions, to ensure that their services were more inclusive.
"I love turning [automated captions] on," Devon, who doesn't have a disability himself, noted. "It helps me sometimes if you didn't quite hear a word well; you can re-read and see the context."
After six months of covering L.A.'s diverse and growing tech scene, it hadn't occurred to me how some of the technology meant to better our lives could be hindering others unable to use it. But I guess that's what causes like Global Accessibility Awareness Day are all about. — Decerry Donato

California parents would be able to sue social media giants like TikTok and Snap for addicting their children to online apps under a new bill proposed by state lawmakers.
The legislation, called the Social Media Platform Duty to Children Act, would hold social media companies accountable even if they did not deliberately make their platforms addictive. The proposed law would leave them open to lawsuits and civil penalties if they "knew or should have known" that their platform is addictive and harmful to children, according to the bill.
The legislation is the latest political effort to reign in big tech and address concerns that social media is damaging to children. Federal lawmakers in Washington have grilled tech executives about child safety, while state attorneys general are investigating social media giants over how their design, operations and promotional features could be bad for kids.
The bipartisan California bill comes from Assemblymembers Jordan Cunningham, a Republican from San Luis Obispo, and Buffy Wicks, a Democrat who represents Oakland. In introducing the bill, the lawmakers singled out Meta, the social media behemoth formerly known as Facebook. They noted how leaked data from the company showed that teen girls, in particular, reported negative experiences after using Instagram—including some who said it made their suicidal thoughts or eating disorders worse.
"It's time we treat the dangers of youth social media addiction with the level of seriousness it warrants," Cunningham said in a statement.
If it becomes law, the measure would apply to companies earning more than $100 million in annual revenue, potentially putting the likes of Culver City-based TikTok and Santa Monica-based Snap in legal crosshairs. TikTok, which has more than 1 billion monthly active users, is already facing an investigation from state attorneys general over whether its platform harms children.
A TikTok spokesperson said the company is still reviewing the bill. They noted that the social media platform deploys protective features that block nighttime push notifications for younger users and allow parents to manage their kids' screen time.
Representatives for Snap did not immediately respond to requests for comment.
The bill, which will get a hearing before the Assembly's Judiciary Committee this spring, is backed by the advocacy group Common Sense Media and the University of San Diego School of Law's Children's Advocacy Institute.
"We shouldn't have to put in law that some of the most profitable corporations in the world have a duty to be kind to children [and] have a duty not to make addicts of children," Children's Advocacy Institute senior counsel Ed Howard said in a statement. "But here we are—we have to."
From Your Site Articles
Related Articles Around the Web
Image courtesy of Auticon
Technology consulting firm Auticon just received a boost to its mission of helping companies hire more autistic employees.
Auticon (which styles its name "auticon") announced Wednesday that it has received over $4 million in funding from the Autism Impact Fund, a Florida-based venture capital firm that invests in companies that look to move the needle for people with autism.
Auticon certainly appears to meet the fund's criteria. Since launching in 2011, the Germany-based tech consulting firm—which has its U.S. headquarters in Woodland Hills—has made it a priority to give employment opportunities to adults on the spectrum. Today, 250 of Auticon's 350 employees are autistic.
"We believe that the principles of business are needed in order to help solve some of society's challenges," Auticon U.S. CEO David Aspinall told dot.LA. "The challenge that we focused on is that of employment in the autistic community."
Research suggests that between 50% to 75% of the 5.6 million autistic adults in the U.S. are either unemployed or underemployed, while nearly half of 25-year-olds with autism have never held a paying job. Oftentimes, those on the spectrum who are applying for a job can be hindered during the interview process due to a lack of eye contact or discomfort in social situations.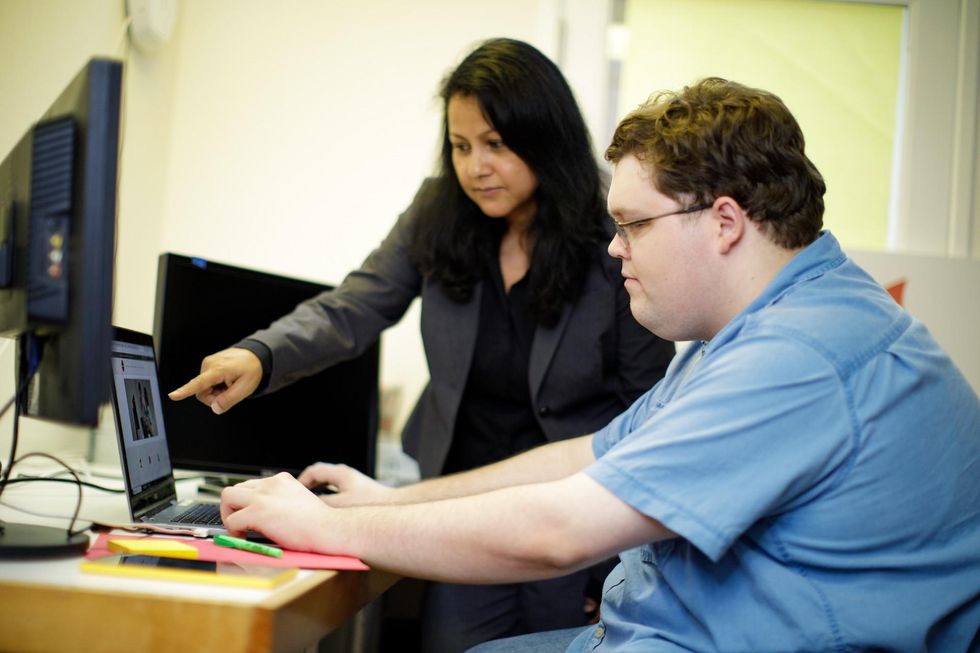 The new funding from the Autism Impact Fund will help propel Auticon's hiring efforts in the Los Angeles region.Image courtesy of Auticon
Auticon's hiring process takes that bias into account, stripping away the traditional interview process and instead placing more focus on an individual's technical skills. In addition, Auticon applicants participate in a series of chats with the company's head of recruitment, Louise Stone, and its chief technology officer, Mark Fister, both of whom are on the spectrum.
"We want to make our offices a place where somebody might want to [work]," Aspinall said.
Auticon supplies business analytics, software development and cybersecurity services to clients including Disney, Warner Bros., IBM, Salesforce and Merck. Previous investors in Auticon—which declined to disclose its revenue figures, but said it ended its 2021 fiscal year EBITDA-positive—include Virgin Group magnate Richard Branson, the Porsche family, Ferd AS and Ananda Impact Ventures.
The new funding from the Autism Impact Fund will help propel Auticon's hiring efforts in the Los Angeles region and back its development of training programs to teach organizations how to hire and accommodate autistic talent.
"We had our highest-growth year last year," according to Aspinall. "The investment from the Autism Impact Fund is only just going to accelerate and amplify that."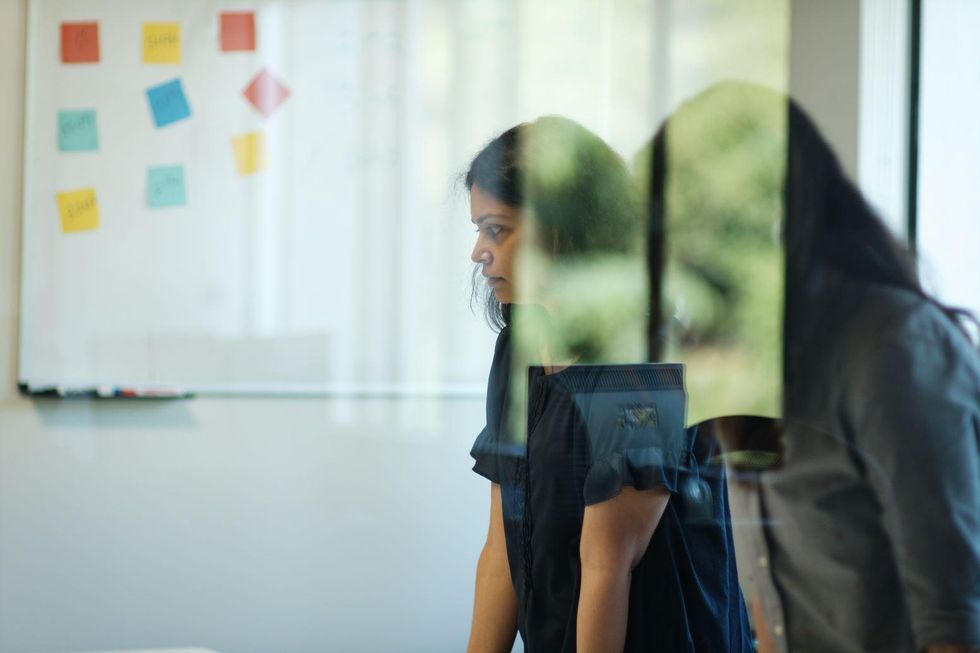 Image courtesy of Auticon
Launched just last year, the Autism Impact Fund has already invested in companies such as Los Angeles-based digital health startup SpectrumAI and San Francisco-based AI company Suggestic.
"People with autism don't need more charity—they need real opportunities," said Autism Impact Fund co-founder Christopher Male, whose own son was diagnosed with autism at age three. Male, a private equity industry veteran, said that before his son's diagnosis, he knew very little about autism. But after pouring himself into research, he learned about the myriad obstacles that autistic people face around diagnosis, therapies and cultural acceptance.
"I saw something was wrong," Male told dot.LA. "It took six months to get into a pediatric developmentalist."
Alarmed by the lack of information and services, Male teamed with his co-founder Brian O'Callaghan to launch the Autism Impact Fund. He said the investment fund looks to deploy "the venture model to help drive innovation and disrupt the status quo for living, diagnosing and servicing autism."
Male sees Auticon as an ideal example of a company that creates opportunities and makes an impact for a community that has been marginalized for too long.
"They're a global leader in this," he said. "They've clearly demonstrated that they are filling a need, and can operate in scale and grow."
From Your Site Articles
Related Articles Around the Web