civic tech
civic tech
Los Angeles' City Council adopted an ambitious maritime resolution last week that calls on top importers like Walmart, Dole, Nike, Amazon and Home Depot on 100% zero-emissions ships by 2030, even though the technology doesn't yet exist.

Idling ships sitting off the San Pedro Bay Coast have captured national attention as a symbol of broken supply chains, but those ships are also big polluters.
Research suggests ship pollution contributes to more than 250,000 premature deaths each year around the world, and at least 1,300 premature deaths each year in Los Angeles and Long Beach. Low-income communities of color who live near the ports are especially affected.
While the city doesn't have any regulatory power over maritime rules, the move places pressure on some of the world's biggest retailers and their supply chains. The resolution asks shippers ferrying everything from televisions and cars to sofas and microwaves to "immediately adopt" existing emissions-reducing technologies, such as wind-assisted propulsion and slow-steaming.
It also calls for a broader effort to create zero-emission shipping corridors along the California coast and across the trans-Pacific trade route.
dot.LA spoke with Christopher Cannon, chief sustainability officer of the Port of Los Angeles, to discuss the resolution, and why he thinks all parties will do what they can to achieve such a drastic industry overhaul.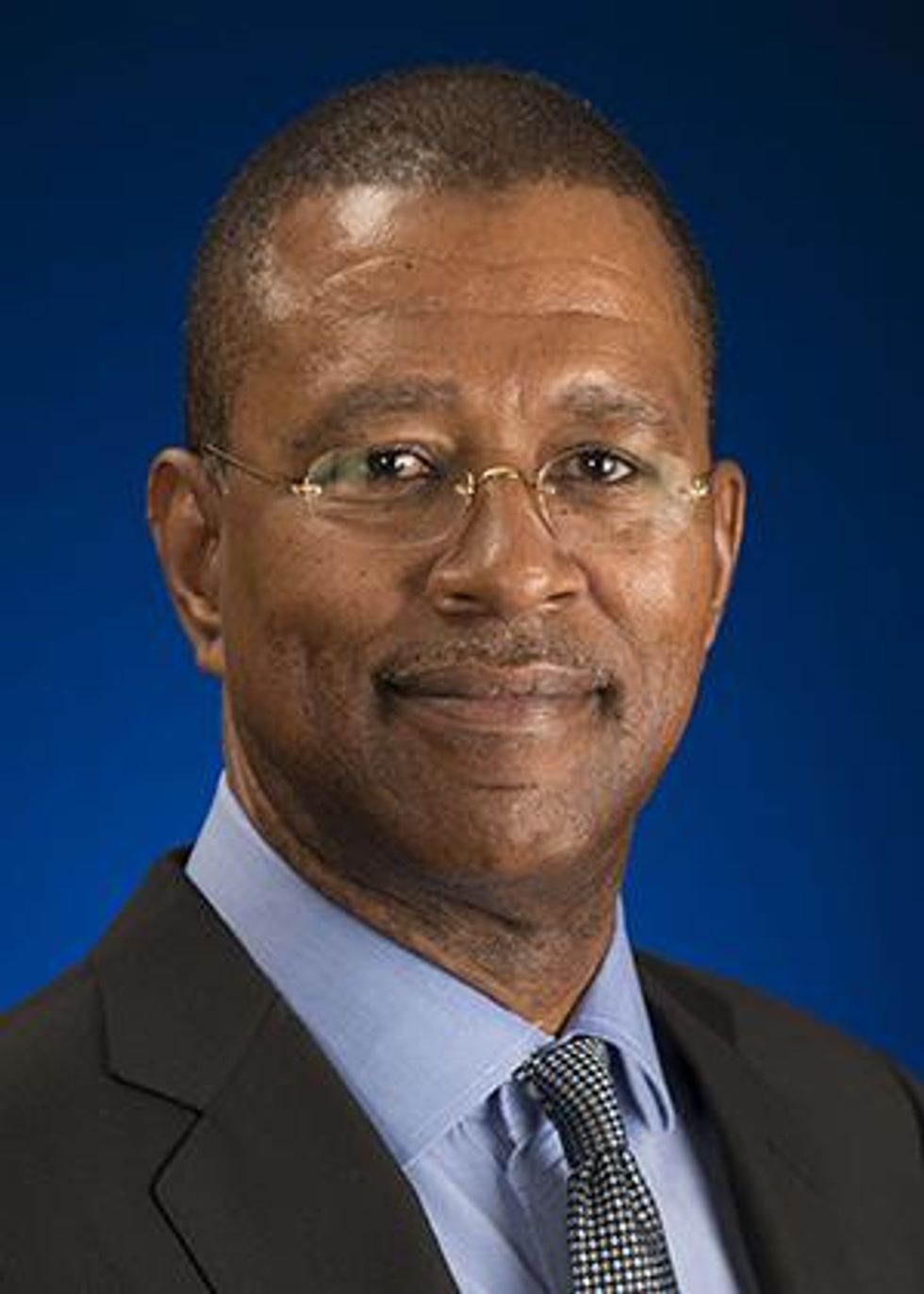 Port of Los Angeles Chief Sustainability Officer Christopher Cannon
dot.LA: In layman's terms what does this new resolution do?
Christopher Cannon: It really encourages the industry to move toward low carbon and zero carbon fuels as soon as possible and this is important.
We think that the move to low carbon fuels can happen pretty quickly, like in the next few years.
We see, for instance, that some of the shipping lines are talking about using methane feedstock that arrived from renewable sources starting in 2024.
The goal to get to 100% zero emission ships by 2030 is very aggressive.
Technology does not exist today to do that, but it does not mean that it isn't a good goal and an important goal, and we want to push ourselves and the maritime industry to get there.
Rapidly decarbonize the maritime shipping industry to create zero emissions corridors—we like that, and we want to create green shipping corridors. You start doing this stuff now, not waiting until zero emissions is possible. You start doing low carbon and even zero carbon elements in a shipping corridor.

Maybe not everything is fully zero [emissions], but you can have parts of it be zero. A lot of different activities can occur from the movement of cargo from one port to another: the loading and unloading, the sorting.
All the activity associated with moving that ship can be green and we can reduce the carbon footprint, we can decarbonize all of it with best management practices.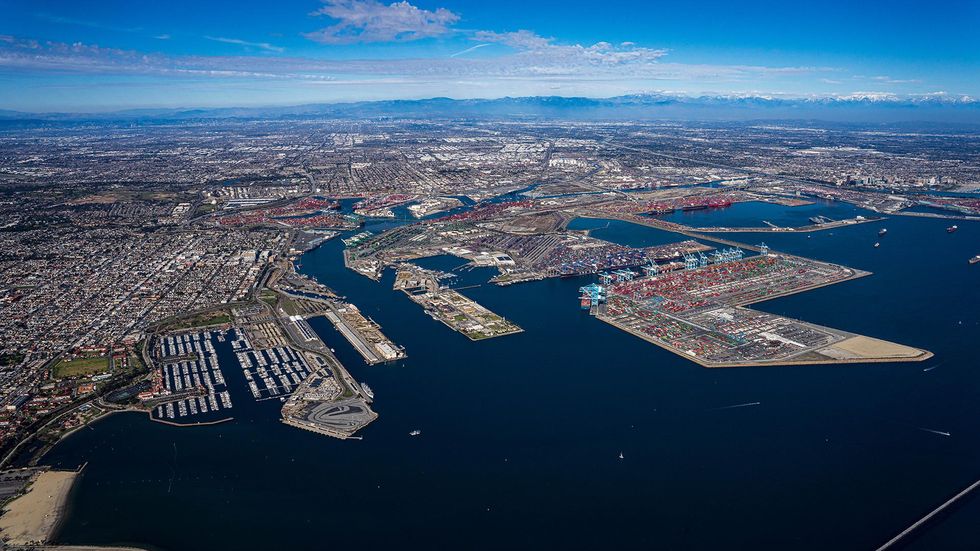 Photo courtesy of the Port of Los Angeles.
Does the city have any enforcement power, say if they adopt legislation, in this domain?
No, we don't run the ships and we don't control the ships. We don't regulate the ships. They are regulated by international bodies, but we certainly have the ability to exert influence on the shipping industry and on international regulators like the International Maritime Organization.
We're engaged in discussions with them on these goals. While we can't enforce, we certainly can influence what the industry does, and we will do our best to work with the industry and help to help them transition to these cleaner fuels.
What is the shipping industry saying about the push to zero emissions?
They tell us that their customers want the same thing, that their customers want low carbon and zero carbon and zero emission ships, too.
They are as interested in doing it as we are because that's what the Home Depots and Amazons are pushing for, too, and the reason those customers are pushing for it is because people like you and I, who are ultimately buying products, we're pushing for it. Everyone wants to do it.
It's just a matter of getting the technology to the point where it can be deployed. The industry is testing this equipment now. There are different pieces of the journey. There is the cargo handling equipment, there's the tugboats. There are other parts of the journey where we can improve efficiency and reduce carbon and get to zero carbon emissions, and we want to get every part of that journey.
We want zero emissions ultimately but you want to start out with low carbon right away, then get to zero carbon as quickly as you can, then get to zero emissions as quickly as you can after that.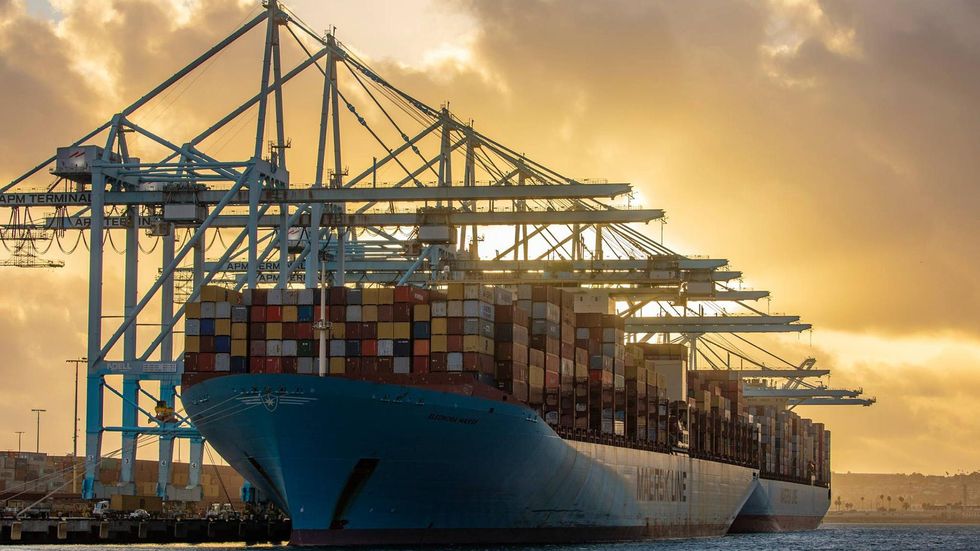 Photo courtesy of the Port of Los Angeles.
Is there any concern that this could impact shipping in any way?
No, we hope not. I mean the industry, as I said, their customers are pushing for the same thing so their customers certainly don't want the delivery of their cargo to be adversely affected, so the shipping lines don't want to do that either.
It's pretty exciting because it's a case where everyone seems to now realize that we have to reduce our carbon footprint as soon as we possibly can in order to fight climate change.
So we're starting to see consumers are demanding it. Manufacturers of goods are seeking it. Goods and movement, the industry is hearing a strong message from their customers that they want it, so the goods and movement industry, the shipping lines, the trucks, even the trains, everybody is being pushed to do this and so we, too, want to push as hard as we can.
These resolutions, like the one from the City Council, are important because they send a message too that this is something that everybody wants.
Are there enough resources to make the technology a reality?
It's expensive. Private industry has to invest mostly, to be honest with you, but I think there's a role for government to help incentivize this activity through grants and other kinds of inducements; certainly ports can help to incentivize those by offering favorable rates and other things for people who are moving cargo in a manner that is convenient and ultimately with a zero carbon footprint.
The technology is expensive but I think everyone believes that once the technology becomes commercialized and ready for widespread deployment, that you'll have a reduction in cost.
This interview has been edited for length and clarity.
William Cunningham's voice is calm and patient over the phone. That sense of serenity will serve him well in the coming years as he helms the effort to digitize tens of thousands of artifacts, books and photographs, some nearly 3,000 years old, from USC's collections of Mesoamerica as well as those at California State University Los Angeles.
Cunningham, a digital imaging specialist at the University of Southern California Libraries Digital Library, will be responsible manning the camera and rig to capture a sprawling collection of artifacts and rare books such as recreations of Aztec codices copied directly from the original sources and a 16th-century edition of the "Cronica Mexicana" by Hernando de Alvarado Tezozómoc, a writer and direct descendant of Aztec emperors.
Cunningham's work is integral to the Cal State-USC joint project funded by a grant from the Council on Library and Information Resources (CLIR). The project could have implications for generations of academics, students, and indigenous peoples in North and Central America trying to understand the connection between the thousands of years of pre-Columbian history and colonialism in the Americas.
"It's going to be a useful pedagogical tool, and, obviously, quite a resource outside of Cal State as well to the broader community," said Mario H. Ramirez, head of special collections and archives at the University Library at CSULA. Ramirez is also a principal investigator in the project's joint-team that includes Cunningham, Azalea Camacho (also a principal investigator) along with several other researchers.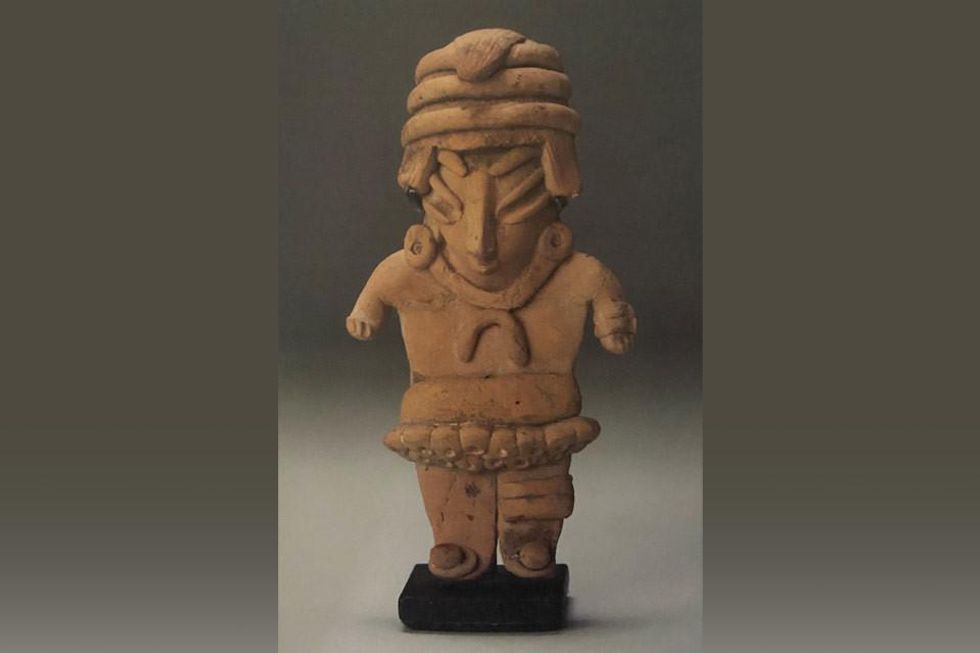 Image: Standing Male Figure of Ballplayer; Mexico, Guanajuato, Chupícuaro; late pre-classic 200 BC-1 BC. Credit: Cal State LA Special Collections & Archives/MAW Collection
"Our intent with it is to work with local K through 12 districts and work with community groups in order to really make clear the connection between the materials and history they document and a lot of the Latin American communities that reside here in Los Angeles as well," said Ramirez.
The items from CSULA's Mesoamerican and Colonial Mexico Rare Book Collection and MAW Collection and the USC Libraries' Special Collections include stone and clay figures from more than a dozen cultures that thrived before the Spanish conquest. Among the pieces are an effigy figure of the rain god Tlaloc from Teotihuacan culture in the heart of Mexico that retains much of its original earthen pigments.
There thousands of photos taken during the early 20th century of historic pre-Colombian sites and Spanish colonial architecture across Mexico and Central America before excavations, tourism and the hundreds of thousands of seekers it attracts faded much of the glory of those areas.
The digitized archives will eventually be shared freely via the Cal State digital library, the USC digital library, Calisphere and the Digital Public Library of America. The intent is to bring these collections to life for students and to those who might otherwise not get the chance to see them.
"We're hoping to do some 3D printing on campus of some of the objects," said Ramirez. "It's supposed to be a teaching collection in many ways but, obviously, many of the artifacts are very delicate so we don't want people accidentally dropping them. We're hoping to 3D print some of them so that it's feasible and students can actually handle some of them because we have a Mesoamerican Studies minor on our campus."
The photography collection also includes nearly 10,000 images printed on 35mm slides. The images are dated from the 1950s to the 1980s and feature Mesoamerican objects held in museums in Italy, Spain, Germany, France, the US, and South America. Of these, Cunningham has digitized 4,500 of them.
Cunningham uses a different camera and process to digitize physical objects such as statues and jars. He uses a Phase One XF camera with a 100-megapixel Phase One IQ3 digital back. Normally, he shoots 32 images of each item from one of three angles for a total of 96 images to create a single 3D render of an object. The 3D render is processed using Agisoft Metashape.
However, the massive number of items he needs to scan within the three-year period has forced him to experiment with other methods. He's currently testing out a method to create 3D renders with only 16 photos using either one or two camera angles depending on the shape and size of the artifact.
One of Cunningham's biggest challenges is handling the items. Many are centuries old and are very brittle or fragile. Some of the rare books that he's digitized so far, for example, have to be handled with care or the pages may break apart at the edges. Some have pages missing or have contents that have faded due to the elements. Despite this, he's found some amazing pieces of history sitting in the archives.
"There were about 10 different books," said Cunningham. "Some of them were late 19th century, early 20th century and some of them were reproductions of Aztec codices, which were written and illustrated at the time of the Spanish conquest. Those were kind of fascinating just to see if this was someone sitting there drawing pictures of Aztec rituals and ethnic daily life, and also images of the Spanish and their boats and their cannons and swords and armor coming ashore. These were done by people who were bearing witness."
There are a bevy of nonprofits in L.A. offering services to help the local homeless population. But too often, the folks who most need those resources have trouble accessing them.

Our Community L.A., a Pacific Palisades-based nonprofit, has created an app to help. Called WIN, the app is specifically designed to meet the needs of homeless Angelenos looking for housing, meals, jobs and more.
Offering access to about 2,000 service providers in the area, WIN has quietly become a key tool for L.A.'s homeless population: Our Community estimates their app is used for approximately 400 searches per week (they don't measure users).
The idea for the WIN app actually grew out of an attempt to make a print directory available in L.A. libraries, which often serve as resource hubs for unhoused Angelenos, said Dr. Denise McCain-Tharnstrom, the founder and president of Our Community L.A.
"Very quickly we realized that while it was a great resource for folks who liked print and found it served them better, people who are homeless or resource insecure are not very likely to go in there and ask for a physical directory," she said.
That's because, according to McCain-Tharnstrom, a lot of people living on the streets or in precarious situations simply don't know the scope of the services at their disposal. "I had been on the funding side, and I had come to realize that it was great to have a social network of services. But if you're newly homeless or a youth you don't know about them, there was no one source where people could go to discover these resources," said McCain-Tharnstrom. "You could make a call to 211 and find a few places, but they wouldn't be able to give you the full resources you might need."
McCain-Tharnstrom realized she could create a digital directory for homeless and resource insecure Angelenos that would remove a bit of the stigma for those seeking help while also being more widely available.
"We looked into the research and discovered that over 95% of people who are homeless or resource insecure have mobile phones because of the Federal Lifeline Program, which provides subsidized free or sliding scale phones to folks below certain income levels, or domestic violence victims. You get a certain number of free minutes, texts, and calls per month." she said.
Designing an Accessible App
McCain-Tharnstrom and the Our Community L.A. team had two key priorities when they began designing the first iteration of the WIN app back in 2015: accessibility and privacy.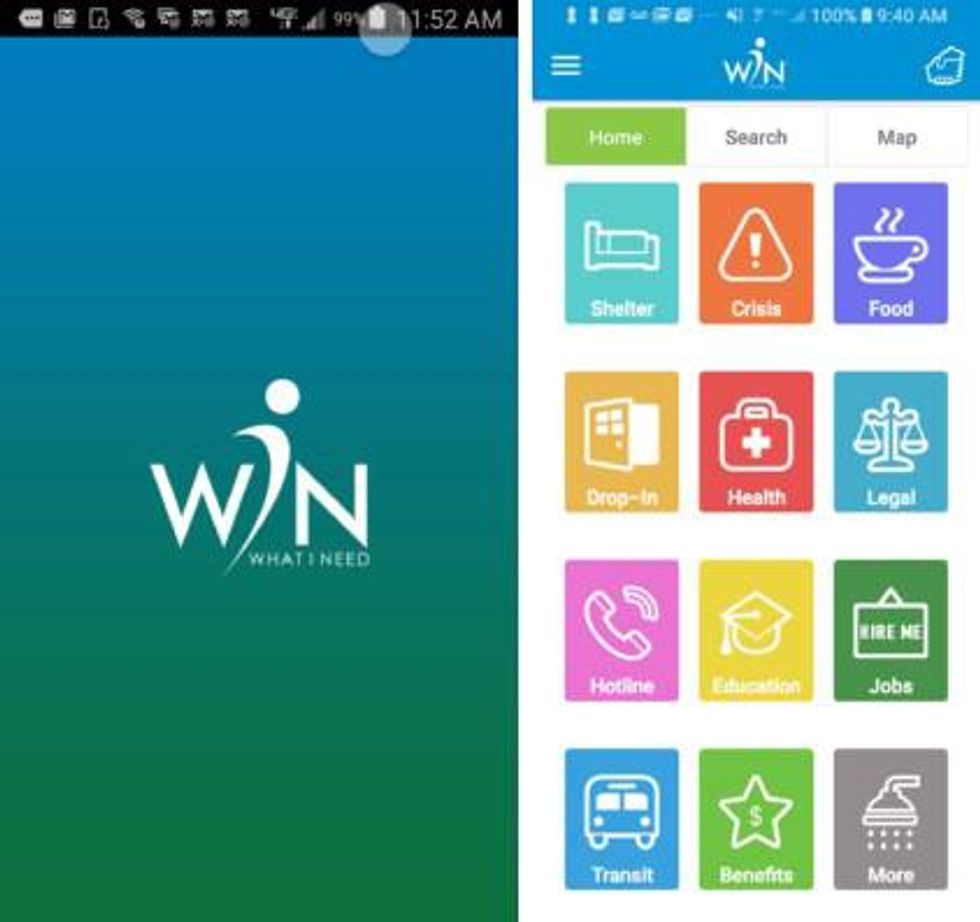 "We wanted to empower people to be able to find the resources they needed when they needed it, so they wouldn't have to wait for an outreach worker to find them," she said. "We did a lot of homework, did a lot of research about the use of phones among the homeless, and in 2015 launched the first version of the app."
More updates soon followed, with a youth-specific app launching later that year, resources for the general population in 2018, and senior-specific resources in 2020 (the latter designed to respond to a community that had been heavily impacted by COVID). The WIN team just launched their latest innovation—a bilingual version that allows users to view all content in Spanish.
McCain-Tharnstrom's work with focus groups helped inform the WIN design team's decision of what to include as the app expanded.
"Of course there was a demand for help finding food, shelter, crisis hotlines and drop in centers," she said, "But they wanted more. So the app has education, jobs, legal and transportation. We also have a category called "More," that can help answer specific questions we've developed in conversation with folks who have been homeless." That might mean locating public bathrooms and showers, childcare, financial literacy classes, even tattoo removal services (a major issue for anyone who was ever involved in gang activity).
"It's the best unkept secret in town for people who find themselves with a safety net crisis," said Janet Kelly, founder of the local youth-focused nonprofit Sanctuary of Hope. Kelly said they've had a number of people connect with them through the WIN app. "One of the great things about the WIN app is that it's a vetted resource," she added. "When a young person picks up the app, they can see that whoever they engage with is going to be a trusted resource."

Early on, the team made the decision that they wouldn't be collecting login data, to better help app users maintain their privacy. "Once you find out about the app, you can download it from the app store, or use it on the website," she said. "You don't sign in, we don't know who you are, we're just there to support you. Privacy is a core value."
Connecting to the Community
Before the pandemic, McCain-Tharnstrom said that people mostly discovered the WIN app through in-person contact. "Historically people found out about the WIN app from providers, word of mouth or through the Federal Homelessness Liaison in their schools," she said. "We put up posters in the library, go to events, and connect with college students through the L.A. Community Services College work group."
Once COVID struck, many of these traditional modes of discovery were cut off.
"When COVID happened, a lot of our traditional means shut down, so we had to be creative. We started using social media to get the word out," she said. "We thought WIN app usage would drop dramatically during the pandemic, and it did in April and May, and then it started to go up. We formed partnerships with some of the community fridges to have our flyers posted there, and we've started a direct outreach program in South L.A. to help the community there connect to the Spanish-language version of the app."
Although the WIN app never tracks the behavior of individual users, McCain-Tharnstrom said that keeping track of overall patterns can help the Our Community L.A. team see where needs aren't being met.
"When we look at the data from month to month, we can see patterns of what people are looking for changing," she said. "For example, bad weather leads to an increase in shelter services. Good weather leads to people looking more for educational and job resources."
"When you're talking about people in a safety net crisis, we see a high volume of youth engaging with the system in the winter months," said Kelly, the Sanctuary of Hope founder. "It's also the holidays, and most young people want to be connected to something that will help them stay grounded when they need it the most. When we do our assessments on intake, often young people will tell us they received our information from the WIN app."
Because of the many changes COVID has brought to the L.A. nonprofit space, McCain-Tharnstrom said that the WIN app team has been especially active in monitoring the information presented in the app to check for accuracy and relevance.
"We're a signature program of L.A. Works, so every single week there's a volunteer group that comes in and calls the agency services in our app to check that our information is up to date," she said. "We do additional outreach in house to keep the app up to date, and do focus groups to continue developing the contents of the app."
From the inception of the app to its current updated design, McCain-Tharnstrom said that WIN has remained firmly rooted in the needs and inspiration of the community it serves.
"Every innovation we've made has been inspired by the community," she said. We go out, and talk to people, and try to understand what they need. I'm always listening when I go out into the community to find out what people think will make the app better, and they're always right."