postmates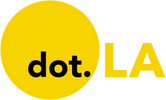 Get in the KNOW
on LA Startups & Tech
X
postmates
Those lucky enough to be in attendance will not only get to see the boys in blue in the flesh for the first time since they won the World Series last year, but they will also get to experience a stadium significantly updated for the digital era.
The improvements include a revamped $100 million centerfield plaza featuring food, entertainment and play areas for kids and a host of less-visible tech upgrades, including blazing-fast 5G wireless connectivity and an improved point-of-sale system allowing fans to order food and drinks without having to wait in line.
The enhancements were originally scheduled to coincide with the Dodgers hosting the 2020 All-Star game, which they have now been awarded for 2022.
Anyone who has ever tried to text or browse Instagram during a game – Dodger Stadium has the distinction of being one of the most Instagrammed places on Earth – will appreciate the wireless updates. The team installed over 1,000 5G access points and will be the first MLB team to feature next-generation Wi-Fi 6.
The team also installed new point-of-sale cloud software from Appetize, a Los Angeles startup founded in 2011 that went through the 2016 Dodgers accelerator, and is already used at Yankee Stadium and Fenway Park.
"The three of us co-founders are our massive Dodgers fans, and to have the Dodgers, to us, is that trifecta of having the three biggest brands in baseball," said Kevin Anderson, Appetize's co-founder and chief strategy officer.
As part of the switch to Appetize, the stadium hawkers who roam the aisles of Dodger Stadium selling cotton candy and peanuts will now carry handheld devices, which means the days of handing crumpled up bills down your row and hoping you get handed back change are over. All the hawkers will now accept credit cards.
The new system will also allow fans to use Postmates to preorder stadium food so they do not have to wait in line for Dodger Dogs, expanding a program the team piloted last year in the upper decks.
"Postmates is a big deal because every venue has always tried to do mobile ordering but I've never heard of it being successful," said Esquibel.
For baseball purists or even more casual fans, the idea of people spending more time staring at their phones rather than being engaged in the game may not sound so appealing. A growing number of concerts and comedy shows have banned smartphones. There is also a much more serious problem of fans distracted by phones getting seriously injured after being hit by foul balls. But MLB — whose average fan is 53 years old — wants to stay relevant and appeal to a younger audience.
"I feel the romance of Dodger Stadium," said Esquibel, who grew up near the ballpark. "There is a lot of history, but at the same time we want to evolve and keep up with technology."
Esquibel also believes that, far from taking fans out of the game, technology will bring them closer to it because they can track advanced analytics and play fantasy on their smartphones. The next logical step: Fans will someday be able to make in-game bets, as is already commonplace in the U.K. and Europe.
"It could be very exciting," said Esquibel. "Wagering is coming."
Already MLB has been encouraging fans to bet on games and plays to win contests that offer cash prizes, though the league is careful to point out it does not yet allow actual betting.
In order to prevent fans from congregating, some of the new areas will initially be shut off to fans, but the Dodgers hope that will be short lived and their refreshed stadium can soon operate in its full glory.
"The fans that will be coming here on Friday will be able to walk through here and get to their seats, but most of the areas will still be closed off to fans," Dodgers President Stan Kasten told members of the media this week. "We're hoping some time between May 1 and June 15, according to the governor, we should be open 100%. That's the day we're all looking for."
A version of this story originally ran July 23rd and was updated April 9th.
Courtesy Kiwibot
If you live in Santa Monica, you can now have tacos and burritos delivered straight to your door via semi autonomous robot.
As part of its push to have hundreds of robots rolling down Los Angeles area sidewalks by the end of the year, Kiwibot is partnering with food delivery search engine app MealMe to make more restaurant deliveries available. So far, two have signed up but they hope this will be just the start.
"We want every restaurant in L.A. to give their customers the option to order delivery through MealMe and have their food delivered with a Kiwibot," said MealMe co-founder Matt Bouchner.
Bouchner said they chose to start in Santa Monica because of the city's Zero Emissions Delivery Zone, a partnership with the Los Angeles Cleantech Incubator to encourage cleaner transportation options such as robots, micro mobility and electric vehicles.
Amazon, FedEx, Starship and Uber are among the companies that have been testing small, electric delivery robots with the goal of reducing the costs of last-mile deliveries.
Kiwibot has made over 120,000 deliveries since 2017 at the University of California, Berkeley, University of Denver, and in San Jose, where it partnered with Shopify and Ordermark.
The company now views Los Angeles as its most important market.
"We trust L.A. to be the best new market for us because the food delivery habit is already there, and we feel backed to scale in an organized and socially responsible and sustainable manner," David Rodriguez, Kiwibot's head of business, told dot.LA last year.
The first restaurants in the partnership are Blue Plate Taco and Red O Restaurant, both touristy Mexicans eateries located on Ocean Avenue.
Kiwibot, based in San Jose, raised more than half $1 million in its latest crowdfunding campaign, to bring its fundraising total to over $3 million. MealMe hauled in $900,000 of seed funding in a deal led by Palm Drive Capital in February, according to Pitchbook data.
The companies' much bigger rival, Postmates, owned by Uber, has been testing a handful of delivery robots in West Hollywood since April. While those are accompanied by a human chaperone, the Kiwibot robots whizz down sidewalks all by themselves.
Bouchner said he is not concerned about robots navigating the often crowded area around the 3rd Street Promenade.
"The Kiwibots have obstacle detection and human monitoring at all times who make sure everything is going smoothly," he said.
Los Angeles residents could be receiving their Postmates order or prescription drugs from CVS via drone as soon as 2023, under a new initiative introduced Wednesday by the city's Mayor Eric Garcetti.

"Los Angeles is where we turn today's ideas into tomorrow's reality — a place where a barrier-breaking concept like urban air mobility can truly get off the ground," Garcetti said in a statement. "The Urban Air Mobility Partnership will make our city a force for cleaner skies, safer transportation, expanded prosperity, and stunning innovation and provide a template for how other local governments can take this new technology to even greater heights."
The one-year partnership is funded by Hyundai Urban Air Mobility, Urban Movement Labs and Estolano Advisors. The aim is to come up with policies to regulate delivery drones and start to plan for a "vertiport" to access urban air mobility aircraft.
The initiative is hiring an "Urban Air Mobility Fellow" who will be tasked with devising a public engagement strategy around urban air mobility.
"I'm really excited about the potential there," said Lilly Shoup, Interim Executive Director of Urban Movement Labs, a public-private nonprofit partnership launched by Garcetti last year that is trying to turbocharge transportation innovation across the city.
Urban Movement Labs is also sponsoring a testing center at Warner Center where Kiwibot, a San Jose startup, is testing the use of robots to deliver goods on city sidewalks. After a successful rollout at the University of California, Berkeley, the company is preparing to make a much bigger push in L.A. next year.
"L.A. is going to be our most important city next year," said Kiwibot CEO and founder Felipe Chavez.
Robots on the ground are much closer than drones to becoming a viable option for Angelenos, but Amazon and others have been working for years on ways to deliver goods via air.
Earlier this year, the Federal Aviation Administration designated Amazon Prime Air an "air carrier," which allows the company to begin testing commercial deliveries in the U.S.