instagram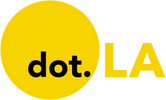 Get in the KNOW
on LA Startups & Tech
X
instagram
Photo provided by Copper.
Photographers have Instagram. Gamers stream on Twitch. Artisans promote their crafts on Pinterest. And TikTok has launched the careers of performing artists in music and theater.
But authors—arguably the original creators of the creator economy—have lacked a social media platform designed to help them reach readers, contends Allison Trowbridge, founder and CEO of social media app Copper Books. Trowbridge, an author herself, aims to fill that void with the app, which just launched this week with the goal of creating an online community connecting writers and their readers.
"Authors are micro-entrepreneurs spending years of their lives developing a product—this book—which they then need to launch to an audience," Trowbridge told dot.LA. "There was nothing to really support that process."
West Hollywood-based Copper, which went live on Apple devices Thursday, lets authors host live online events like book readings and chat with fans in forum discussions. Readers can discover books and share what they're reading with friends using "bookshelves" on their Copper profile pages.
"Books are a word-of-mouth industry," Trowbridge said. "We want this to be the easiest place to find those meaningful recommendations from authors and readers that you admire, trust and have shared interests with."
Copper isn't the first company to try to socialize the book-reading experience online. One of the better-known is Goodreads, an Amazon-owned website where users can craft reading lists and write book reviews. But Trowbridge notes that, unlike Copper, Goodreads is solely focused on the reader and doesn't bring the author into the equation.
As of last week, Copper had a waitlist of around 6,500 potential users, including 3,000 published authors, according to Trowbridge. Some of those are would-be Android users who can't join the app yet, though Copper plans to launch on Android in the coming months.
The nine-employee startup raised $2.5 million last year in a pre-seed round led by San Francisco-based venture capital firm Wave Capital. Other investors include early Twitter employee Claire Diaz-Ortiz, Paypal CEO Dan Schulman and Fran Hauser, the former head of digital at Time Inc., who now sits on Copper's board. Popular science writer Adam Grant is also an investor, advisor and user of the app.
Copper is free for fans and authors, though the company plans to eventually roll out a premium version with additional features for paying members. Down the line, Trowbridge said she could foresee publishers paying Copper to promote their books through the app. For now, the startup is focused on building the user base, she said.
"It's such a hard industry to break into, especially if you're an aspiring author," Trowbridge noted. "I wanted to create a place where if you have a dream of writing a book, this is where you can meet, build your community, find your agent [and] get encouragement and advice."
From Your Site Articles
Related Articles Around the Web
Instagram is tired of reposted TikTok videos dominating its feed—and is now doing something about it.
On Wednesday, Instagram head Adam Mosseri announced that the Meta-owned social media app is changing its algorithm to boost original, Instagram-hosted content. As Fast Company observed this week, the move appears geared toward combating the spread of TikTok-produced videos that have increasingly proliferated on Instagram.
As well as introducing new product tags and user category features, Mosseri said the new ranking system will boost photos and Reels made on Instagram across users' feeds and their Explore page recommendations. The new algorithm comes as Instagram is beta-testing "Use Template," a Reels feature that lets users replicate editing and formatting touches from other videos, Business Insider reported Friday.
Aggregators—accounts that repost viral content—are still popular on Instagram, and Mosseri tweeted that the new ranking system will ensure the app's recommendations "don't overvalue aggregators, as that would be bad for creators, and therefor [sic] bad for Instagram long term." He noted that the algorithm predicts a post's originality based on indicators like the people in the video and whether the algorithm has previously seen the content—but added the caveat that it "can't know for sure" who the original creator is.
Despite launching Reels, its own short-form video feature, in 2020, Instagram has been confronted by TikTok's growing prominence in recent years and made efforts to counter its rival's popularity. Last year, Instagram's algorithm began to make videos with visible watermarks from other social media platforms, including TikTok, less discoverable. Instagram's efforts come amid recent reports that its parent company, Meta, reportedly financed a targeted public relations campaign against TikTok.
Other social media companies contending with Culver City-based TikTok's
massive user base
have also tried to replicate the video-sharing app's success. Snap
launched
its TikTok-esque Spotlight feature in 2020 and
paid out some $250 million
last year to more than 12,000 creators on the platform. In its first-quarter earnings report this week, Santa Monica-based Snap
announced
a 230% year-on-year increase in the total time spent by users on Spotlight.
From Your Site Articles
Related Articles Around the Web
Creators will soon be able to set up digital storefronts on Instagram. Facebook CEO Mark Zuckerberg made the announcement on Tuesday along with a slew of other monetization features. The company is trying to lure and keep influencers on its social media platforms amid stiff competition from the likes of TikTok and Twitter, which recently introduced a "tip jar."
"If you have an idea that you want to share with the world, you should be able to create it and get it out there easily and simply across Facebook and Instagram and then earn money for your work," CEO Mark Zuckerberg said. His keynote kicked off "creator week," a three-day virtual event Facebook and its subsidiary Instagram are hosting for influencers, "designed to help them build their careers and personal brand, support their wellbeing, and connect them with their peers," according to a company statement.
The digital storefront feature lets creators sell their own products, as well as link their accounts to Facebook's existing merchandise partners (Bravado/UMG, Fanjoy, Represent and Spring).
Influencers can also recommend products and earn a commission when their followers make a purchase. Those brands set a commission rate; in such cases users will see an "eligible for commission" label on creators' pages. The company said it will be testing this feature over the coming months.
Starting this week, creators will be also able to earn extra cash by attaining "badges" on Instagram and "stars" on Facebook, though the company didn't reveal specifics about how much they'd be paid. The idea is that creators will be rewarded for achieving certain milestones, such as broadcasting for a certain number of hours on Instagram Live.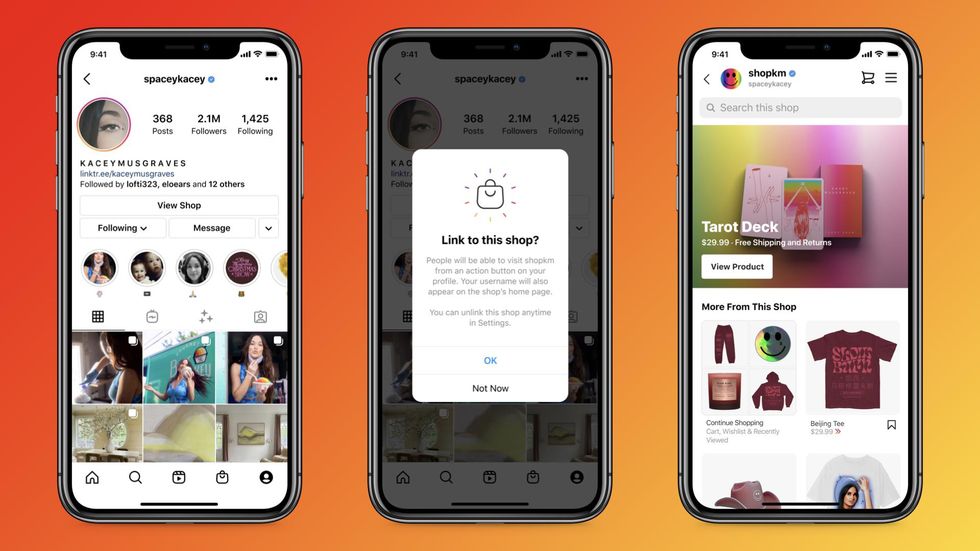 The company has already used badges and stars as a form of tipping, but this new feature adds another layer of compensation.

Facebook has said it will begin taking a cut of creator compensation in 2023, though Zuckerberg noted that its share will be "less than the 30% that Apple and others take."

"I really believe that people are naturally creative and we want to share what we make with others. And a lot of times we want to turn that into a career," Zuckerberg said. "You just need access to the right tools, and that's what we hope to continue to build for all of you."
The new features will further embed ecommerce into the user monetization features of Facebook and Instagram, which already offer a degree of online shopping tools. It is part of a broader trend of social media companies competing to keep their users engaged by attracting content-makers.
TikTok is reportedly testing incorporating ecommerce, for instance, while Snapchat has launched a "creator marketplace" to match brands with augmented reality creators. Platforms are also increasingly offering other monetization options, including ad-revenue sharing and launching funds earmarked for creators.
Instagram head Adam Mosseri, who's led the Facebook subsidiary since he took over in 2018 when Instagram's founders left, also noted that the emphasis on helping creators make money on Instagram is part of a broader "shift in power from institutions to individuals."
He said it was in much the same vein as the rise of fans rooting for athletes rather than teams and the surge of journalists going it alone on platforms like Substack and Patreon rather than relying on publications.