pledgela
pledgela
While the predominantly young, white Los Angeles tech scene has made strides to improve diversity, deep inequities remain.
Women earn 78 cents for every dollar made by a male tech worker. Black and Latinx investors are underrepresented at venture firms and the majority of venture investments goes toward white and Asian-owned businesses, according to PledgeLA's survey of Los Angeles tech companies and venture firms released Wednesday.
"Tech oftentimes likes to think of itself as a very equal, egalitarian space," said Jasmine Hill, a UCLA sociology professor who analyzed the data for PledgeLA. "But the data shows something different."
The third annual report shows some improvement in representation but persistent pay disparities and lack of inclusion among L.A.'s tech scene.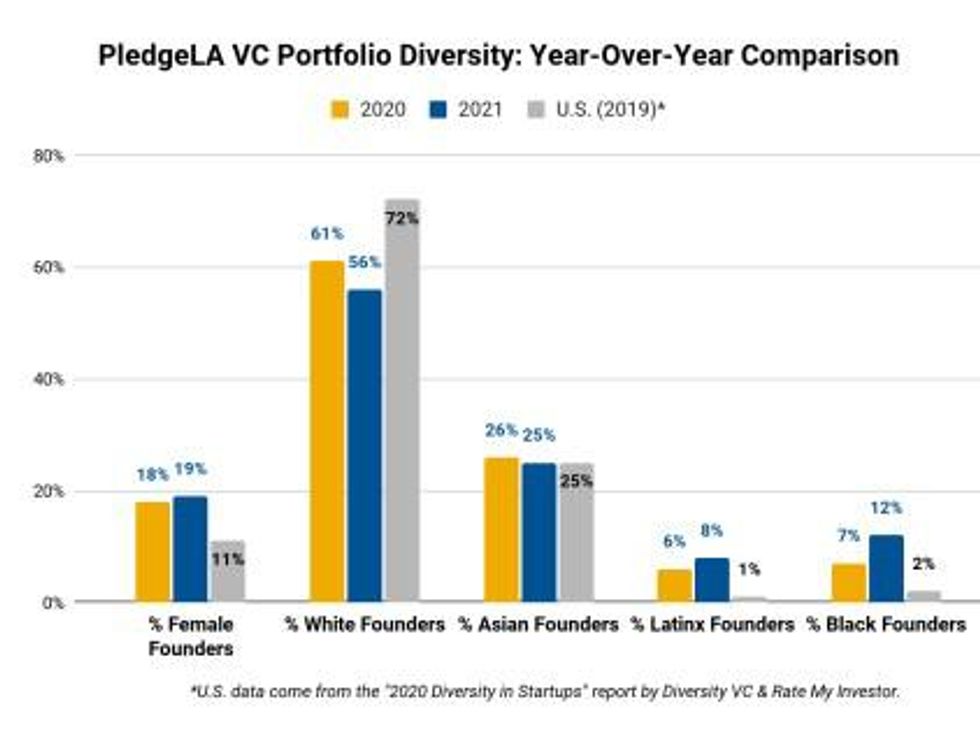 The findings are based on self-reported data from 173 companies that have signed onto PledgeLA's initiative, including Bird, sweetgreen and Dollar Shave Club.

The report found Black and Latinx workers make less money than their peers. On average, East Asians made $120,000, South Asians made $100,000, white workers made $90,000, while Black and Latinx workers made $75,000 and $60,000 on average, respectively — a disparity shared even at higher levels of experience.
Employees who identify as LGBTQ+ and employees with disabilities responded that they "cover" a part of their identities at work, and said they "felt the need to avoid conversations about their identity at work."
"We're paid – and I'm saying 'we're' because I'm Black – significantly less than our white, Asian counterparts," said Qiana Patterson, the chair of PledgeLA. "And I think we all know that that's just not because Black and Latinx people don't have the degrees, or the experience, but that there's just bias embedded in our hiring practices."

Hill said the report is not representative of the entire L.A. tech scene because it only includes data from the participating PledgeLA companies. PledgeLA was able to get a higher participation rate from PledgeLA companies for its survey this year – from around 65% to around 81% – which allowed the nonprofit to break down earning data by race.
Other findings of the report include:
Workers reported improvements in company culture and transparency in hiring. Workers at mid and large-sized companies also reported improvements.
Though PledgeLA VCs predominantly funded white and Asian-owned businesses, they are more likely to fund female, Latinx and Black-owned businesses compared to the U.S. average.
Investments to businesses with Black founders increased by 71% from 2020.
Investors at PledgeLA VCs are predominantly white, though VCs reported increases in investors who identify as LGBTQ+ and investors with disabilities.
Women earned an average of $20,000 less than men regardless of role or experience, and women who have over 20 years of experience earned $90,000 less than men with a similar level of experience.
Nearly a third of workers reported feeling "neutral to very uncomfortable" when reporting workplace issues and nearly half said their coworkers were the source of improper conduct at work.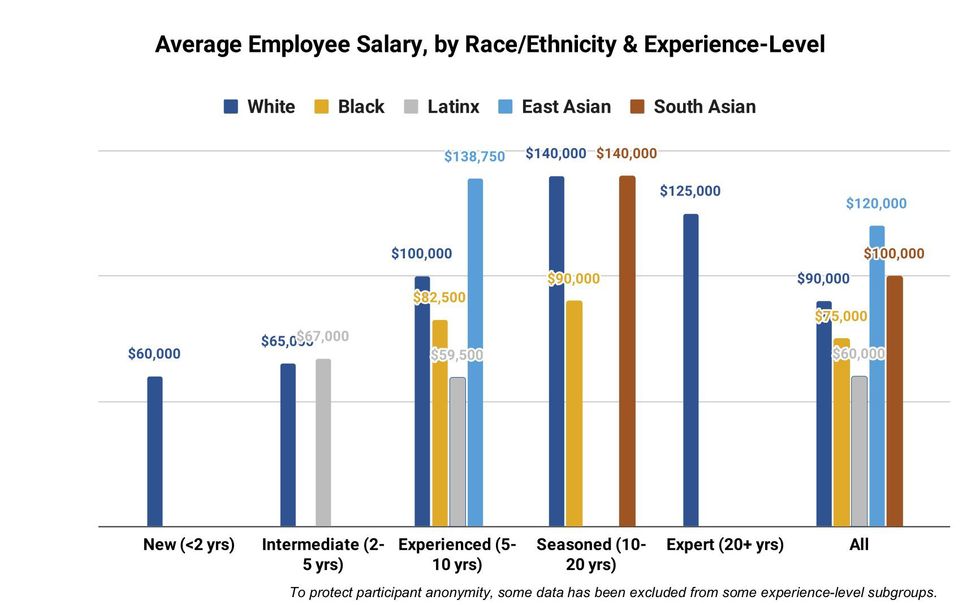 PledgeLA is hoping to carry the momentum built after the nation experienced a racial reckoning following the death of George Floyd in May 2020.
Calvin Selth, a program lead at Annenberg Tech, said he was encouraged to see lots of VCs and companies continue to support underrepresented groups after the summer of 2020 – shown by the increase in VC funding to Black founders – but emphasized the need for improvement.
"We're tracking this every year because we want to know that it's not a blip," Selth said. "I'm encouraged by more open dialogue about this, but I think there needs to be continued focus and more effort from VCs to track this kind of data themselves."
In addition collecting the data, PledgeLA hosts the PledgeLA Founders Fund, which gives $25,000 grants to Black and Latinx-owned businesses, and a VC internship program aimed at women, people of color and underrepresented groups.
PledgeLA also plans to raise $1 million in the next two years for the PledgeLA Founders Fund and is aiming to create a task force to help companies address racial and gender pay equity.
"The data itself is only as powerful as the action that we take," Patterson said. "And I hope that, in reading this analysis and the data around it, It spurs more people to sign the pledge, more people to be a part of this ecosystem in a meaningful and an intentional way."
Editor's note: dot.LA is a participant in PledgeLA and co-founder Spencer Rascoff sits on the board.
From Your Site Articles
Related Articles Around the Web
When Los Angeles Mayor Eric Garcetti took office he pledged to be the city's first "high tech mayor," but did President Joe Biden's pick for the next ambassador to India make good on that?
Biden officially named Garcetti as his pick to the ambassadorship last week, after months of speculation. If confirmed by the Senate, the mayor who oversaw an ever worsening homeless crisis and lured the Olympics back to Los Angeles will cut short his term ending in December 2022.
Paul Bricault, who co-founded and is the managing director of venture capital firm Amplify.LA, said Garcetti was the city's most engaged mayor on tech in at least the last 25 years.
"He used his bully pulpit frequently to promote L.A. as a tech hub and he made himself widely available to drive interest in L.A. tech," Bricault, who sits on Garcetti's tech innovation council, said.
But did this engagement produce results or was Los Angeles ripe for an explosion of the tech sector on its own?
Bricault said it's almost impossible to measure, but he said the mayor's proselytization of tech helped.
Elected in 2013, Garcetti took the helm before creator houses emerged in the Hollywood Hills and the Uber-fueled gig economy roiled the state. Once confined to "Silicon Beach," the tech industry has erupted throughout the region during his tenure.
Silicon Valley behemoths like Google, Apple, Facebook and Netflix have opened offices in L.A. in addition to homegrown giants like SpaceX and Snap Inc.
Garcetti called it a "once-in-a-lifetime moment" for this global tech capital. In some ways, it is true the forces that have shaped Los Angeles over his tenure have also reshaped the world.
And he hasn't been shy injecting himself in the industry and pushing for public-private partnerships such as Urban Movement Lab, a transportation accelerator that's encouraged the development of delivery robots. Amid a furor in Hollywood over the lack of diversity, last year he created "L.A. Collab" with Eva Longoria to push for more Latinos in the industry.
But part of the journey has been a lot like those electric scooters that dot street corners from Venice to Eagle Rock — loved by many, but questioned by others who've seen Garcetti's grand vision sometimes careen out of control.
At times, Garcetti has faced backlash from residents who are not ready for some of the innovations he embraced and the City Council has been forced to respond to disgruntled constituents by enacting regulations to tamp down those technologies.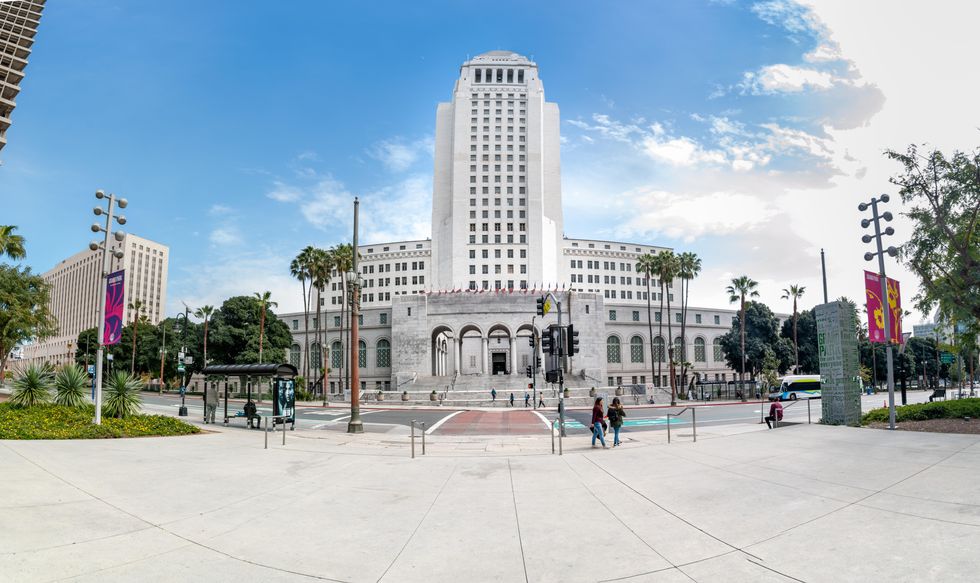 Photo by David Vives on Unsplash
And civic problems that have plagued Garcetti's tenure like the homelessness and housing affordability crises have interfered with the tech industry from thriving, observers say.

"The only failure I would say that the political leadership has made in L.A. is really making a truly affordable city to make sure you have talent that want to move here and to really flourish," said Taj Eldridge, who used to lead investment at the Los Angeles Cleantech Incubator and now has launched his own venture capital fund. "We should have learned from what's happening in San Francisco with a lot of displacement of not only just employees, but the support staff for employees."
Top talent graduating from UCLA and USC may rethink their plans to stay and work by the beach in sunny Los Angeles because the visibility of homelessness has grown beyond Skid Row in recent years, Eldridge said. And many of those tech companies and VC funds are attracted to L.A. because of the elite universities in the region, not necessarily because of what the mayor has done, he said.
Garcetti championed private efforts like L.A. Tech Talent Pipeline, which brings together the public and private sectors to expand training and job opportunities for future tech workers as well as PledgeLA, an effort to encourage diversity in the tech industry.
Open Data, Scooters and the Shared Economy
Less than one year after Garcetti took office, he installed the city's first chief innovation technology officer to implement "new tools and technologies" within City Hall and also to work with the city's tech leaders to "deploy innovative technology and promote local job creation."
A self-described, "amateur coder," Garcetti said he would publish data like city employee payroll records to make the bureaucracy of City Hall more transparent. But his chief data officer Abhi Nemani left a year after the city launched its open data portal in 2014. Garcetti's office bragged that it included more than 100 data sets, and although the cache of data has grown, some of it is outdated or incomplete.
Worse, said Dana Chinn, a lecturer at USC Annenberg School for Communication and Journalism, the data sets weren't helpful.
"It was like the data sets that were chosen to be on the portal were the most user friendly as opposed to the ones that were really the ones that we needed to attack social issues," said Chinn, who researched open data in Los Angeles County. "Nobody was paying attention for the quality of data, as to whether or not we were getting the data sets that we really needed."
And she said Los Angeles has struggled to engage the tech community in ways that New York was able to.
Garcetti faced similar problems when he embraced electric scooters. Critics decried the city for shortsightedness.
At first the zippy scooters were hailed, but soon they flooded city streets largely concentrated on the Westside. Residents complained users of the wheeled vehicles were speeding, collided with pedestrians or were parked in front of doorways or in the middle of sidewalks.
It took months to come up with regulations as residents' frustration grew.
Garcetti said "people have loved" the scooters, but acknowledged safety concerns.
Garcetti faced an even more critical hurdle in the sharing economy.
Before short-term rentals were legalized, the Garcetti administration negotiated a deal so that homeowners who rented out their residences on platforms like Airbnb would pay a 14% tourist tax to the city. It was estimated in 2017 the rentals would generate $37 million annually.
But outrage ensued in many residential neighborhoods as short-term rentals proliferated.
And after three years of debate, city councilmembers heeded those constituents' calls and approved regulations that limited hosts to renting out their homes to 120 days a year. Amid pressure, Garcetti ultimately supported the new rules, even though Airbnb said the city would lose out on millions of dollars.
Playing Nice
Garcetti's bullishness on tech sometimes conflicted with the conciliatory tone that the mayor often took.
"Sometimes he was willing to say, 'Okay be upset with me,' like Airbnb, and sometimes there were moments where it looked like he didn't want to make the tough calls," said Loyola Law School Professor Jessica Levinson.
The Airbnb battle was an example of how L.A.'s weak mayor system stymied Garcetti's power and forced him to rely on the bully pulpit, she said. He lured in businesses with promises, but ultimately it was the City Council that set rules and regulations that could undermine those relationships.
Judith Goldman, co-founder of Keep Neighborhoods First, which is part of a broader coalition working to track enforcement of the city's home sharing ordinance, accused Garcetti of working behind the scenes to entice Airbnbs and others into L.A. to generate tourism dollars.
"I think he encouraged it and I think he was hypocritical because he knew that we were trying to regulate it and he was obstructive in the regulation and he has been obstructive in the enforcement," she said.
Green Initiatives
Garcetti, who co-founded the Climate Mayors, has promoted himself as an environmental steward. Shortly after taking office he appointed Matt Petersen to a new post as chief sustainability officer.
And in 2019, he introduced a "Green New Deal'" that would make the city's power supply 100% renewable by 2050. But it was met with criticism by activists who said it didn't go far enough.
A year later, he updated the plan to accelerate the city's goals.
With L.A.'s legendary traffic and pollution generated by gas-powered vehicles, Garcetti has sought ways to reduce emissions.
The city made history last year when it purchased 155 electric buses last year, making it the largest-ever single order for electric buses in the U.S. and Garcetti pledged to make L.A.'s bus fleet entirely emissions-free in time for the 2028 Olympic Games.
"Mayor Garcetti really prioritized inviting the world to deploy their innovations to Los Angeles and I think he lived up to that," said Petersen, who now leads LACI.
Last year Garcetti announced the formation of a new Transportation Technology Innovation Zone, under the auspices of Urban Movement Lab, at the Warner Center in the West San Fernando Valley. Described as a testing ground for new mobility technology, it is helping develop robots and drones that will deliver food and other goods across the region.
But already, there are questions about the technology taking jobs from people and what it will mean for robots to flood communities.
Still Valley Industry Commerce Association President Stuart Waldman gives Garcetti credit for carving out tech as an issue.
"I can think of a lot of failures but not in the context of the tech industry," he said. "When the bar is so low because of the previous administrations, just doing anything would be considered movement and he had quite a few successes."
Rachel Uranga and Francesca Billington contributed to this story.
This story has been updated to correctTaj Eldridge's former role at LACI.
It's a new day for South L.A. natives Gabriel Gamez and Enrique Loyola. The lifelong friends' food tech startup, On The Go LA, recently celebrated its first anniversary, and with California finally re-opening, the entrepreneurs appear poised to leave a mark on the local gastronomy scene.
On The Go LA allows local food entrepreneurs to rent a food truck in just a few clicks for a daily fee of $299, or on longer plans that offer lower rates. The founders don't take any of the trucks' profits. Instead, they make money from the rental and optional add-ons, such as a cleaning service or a location scouter. In addition to managing a staff of four, Gamez and Loyola oversee the logistics, insurance, public relations and marketing.
The company's goal is an ambitious one. Gamez specifically hopes to see On the Go LA to appeal to immigrant communities, whose members make up much of the back-of-house work force in the city's restaurants. As Gamez sees it, his company can provide relatively inexpensive access to a kitchen for would-be food entrepreneurs hindered by the resources required to rent conventional restaurant space.
"We're providing that flexibility and affordability and access to ownership for underrepresented communities," he said. "Commercial kitchens are operating on high startup costs. That can really fete out a lot of communities in the L.A. area, especially in Latinx and African communities. We wanted to help those communities." Already, he said, their two trucks have been rented by a mix of customers: local food entrepreneurs, chefs, catering companies, even a few brick and mortar restaurants looking to expand.
The idea came to Gamez and Loyola in early 2020, not long after both graduated from college and were talking about what they wanted to do with their lives. Food had long been part of their families' history: Gamez's Guatemalan father transported bananas across the country and into El Salvador; Loyola's grandfather sold rotisserie chicken in Mexico. "We know how the other thinks," said Gamez. "We're basically brothers."
After ironing out the kinks on their idea—the original concept centered around a "roaming ice cream truck model," Gamez said, though they quickly settled on something a little less precarious—they were able to jumpstart their business with a $25,000 grant by PledgeLA to address racial inequity in the local tech scene.
The program provided a two-week accelerator program in January 2020 with virtual meetings, lectures, and mentorship to support the 20 Black and Latino entrepreneurs selected to participate. On The Go LA is also taking part in the LA2050 Grants Challenge, which awards prizes up to $100,000 to 25 organizations. Voting for the contest begins next week. (Gamez and Loyola invested more than $10,000 from their own savings at the start.)
In July 2020, right in the throes of a global pandemic, they officially launched. Though it's been slow going, things appear to be picking up — especially now that Los Angeles officially has opened up. "We've seen a surge in interest," Gamez said.
While food trucks have been a staple of L.A. for decades, they've taken a hit during the pandemic. "We would love to help revitalize the food industry," Loyola said.
Given the pre-pandemic levels of growth the food truck sector had been experiencing before the pandemic — about 7.5% between 2016 and 2020, according to market research firm IbisWorld — there's good reason to think that's indeed a very attainable objective.
And investors are taking note.
"On The Go LA provides a short-term solution, which is so much more appropriate for restaurant owners who want to experiment in getting their brand out because it's not a long-term commitment," said Austin Clements, a partner at Slauson & Co., an early-stage venture capital firm.

Meanwhile, Gamez and Loyola have their eyes set on the future, with potential expansion into other cities on the horizon. "On The Go LA is part of a bigger dream for everyone involved," said Gamez. "We want to empower people and lead a movement."