pledgela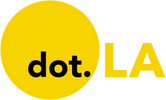 Get in the KNOW
on LA Startups & Tech
X
pledgela
Courtesy of Kimiloluwa Fafowora
One local stakeholder who has led efforts to make L.A.'s tech scene a more diverse place is Grid110 founder Miki Reynolds, whose organization has partnered with PledgeLA on a no-cost, no-equity accelerator program that is specifically designed to create space in the industry for underrepresented founders. "As a woman in tech, a woman of color, I just felt like I didn't identify with the [L.A. tech] community," Reynolds told me in March. Since its inception in 2015, Grid110 says it has helped launch over 200 companies—70% of which were founded by women, 72% of which were led by founders of color.
A more inclusive startup community means more room for ambitious and talented founders like Kimiloluwa Fafowora—the 26-year-old Stanford business school grad behind Gander, an L.A.-based ecommerce startup that raised more than $4 million in seed funding last week. Fafowora's company collects and embeds user-generated videos of products into online retail sites, to give shoppers a better idea of what they're buying.
Fafowora is now one of the select few Black women founders who have raised more than $1 million in venture capital funding—a list of entrepreneurs that, while growing, remains at fewer than 200 people, according to Business Insider. "I've been encouraged by the fact that there are more and more of us popping up," Fafowora told me last week. "There are very few, but it's growing and I'm excited to continue to see all of our successes."
There is still a long way to go in closing the gender and racial gaps in tech and venture capital—not just in Los Angeles, but across the country and the wider world. But in our neck of the woods, women like Reynolds and Fafowora are taking on the challenge and paving the way. — Decerry Donato

Courtesy of Grid110
Sign up for dot.LA's daily newsletter for the latest news on Southern California's tech, startup and venture capital scene.
Despite Black- and Latinx-led startups raising record amounts of funding in 2021, the fact remains that the startup scene—and the venture capital industry that funds it—remains overwhelmingly white. Of the $330 billion raised by U.S. startups last year, the amounts received by Black and Latinx founders remained in the low-single digits.
Miki Reynolds encountered that gulf firsthand in 2014, when she found herself unemployed in Los Angeles after the software company she worked for shut down. She recalled struggling to connect with other—mostly white and male—folks in the tech ecosystem. "As a woman in tech, a woman of color, I just felt like I didn't identify with the community." In 2015, Reynolds founded Grid110—a no-equity, no-cost accelerator program designed to create a space in the industry for people like her.
The early-stage startup accelerator has since helped launch over 200 companies, 72% of which are led by founders of color. They include SÜPRMARKT, Los Angeles-based low-cost organic grocery company; Wordsmyth, a Los-Angeles-based tech-enabled platform for companies to discover and hire Black and diverse writers; and Shop Latinx, an online marketplace.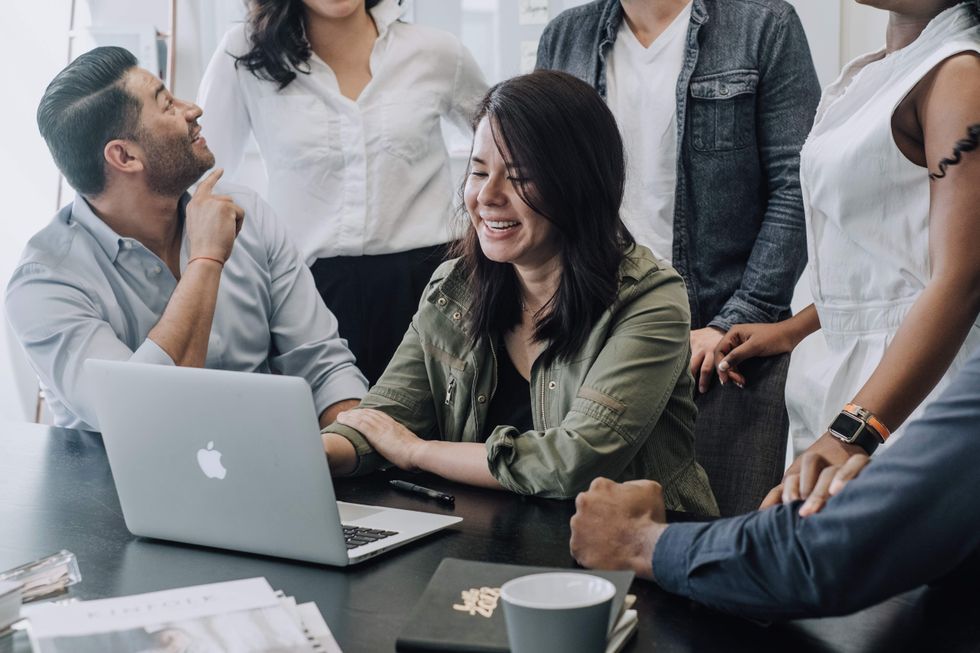 Grid110 founder Miki Reynolds alongside colleagues.Courtesy of Grid110
Now, Grid110 is once again partnering with PledgeLA—a local tech industry initiative sponsored by the Annenberg Foundation and Mayor Eric Garcetti's office—on the Founders Fund, an incubator aiming to increase diversity, racial equity and community engagement in the L.A. tech scene. In order to apply, a startup must be headquartered in L.A. County, have raised no more than $250,000 in funding to date and have at least one of its founders identify as a member of the Black and or Latinx communities.
Applications for the cohort, which will consist of 20 startups, close April 10. The program will last 12 weeks and includes training, support and access to one-on-one advising.
Reynolds said this program is "a direct response to the racial wealth gap—specifically, significant gaps in access to capital that Black and Latinx entrepreneurs face here in Los Angeles."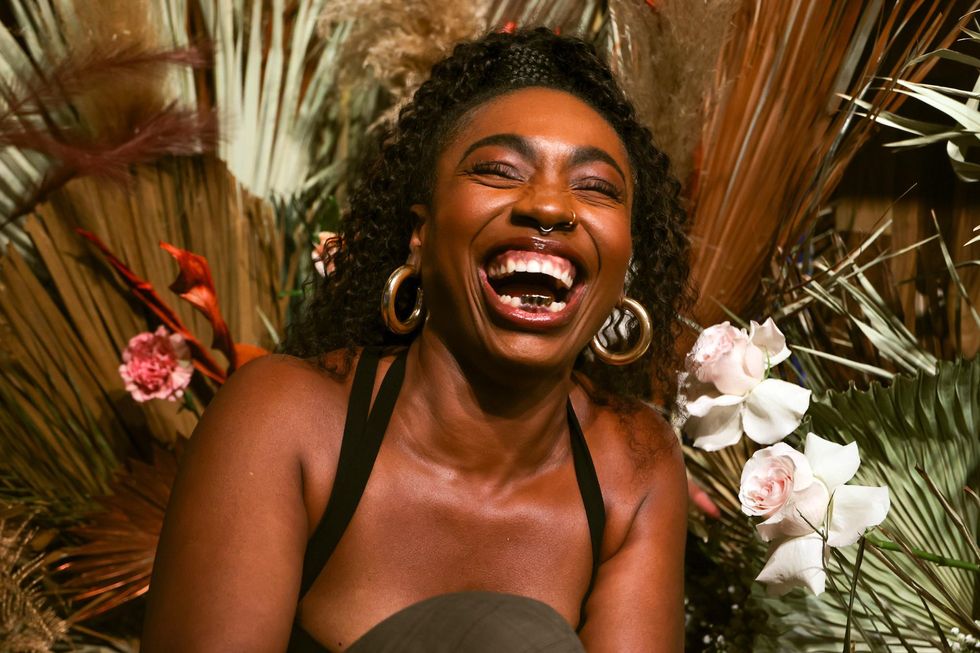 Founders Fund alum Ezinne Iroanya-Adeoye of skincare startup SKNMUSE
Courtesy of Ezinne Iroanya-Adeoye
The first Founders Fund cohort in 2021 specifically catered to the South L.A community and received over 200 applications. Reynolds anticipates that this time around, the program will receive twice as many candidates now that it has expanded its reach to wider L.A. County. Like last time, PledgeLA has committed to offering each founder in the program a $25,000 cash grant.
"I had never been in an accelerator where people that looked like me were prioritized," Founders Fund alum Ezinne Iroanya-Adeoye, of skincare startup SKNMUSE, told dot.LA. "And I knew that the barriers that I was facing as a Black immigrant in America were different from other counterparts, and I wanted to express that in a safe place."
For Reynolds, that's exactly what the incubator is meant to achieve.

"We feel like it just better reflects the city of Los Angeles and its demographic here, but also the startup ecosystem that we would like to see," she said. "There's an opportunity to invest in underrepresented communities and founders, who are becoming the majority-minority here in Los Angeles."
From Your Site Articles
Related Articles Around the Web
Courtesy of Calvin Selth
AnnenbergTech's Calvin Selth joined this episode of Office Hours to talk about bringing inclusion and diversity to L.A.'s tech community.
An offshoot of the Annenberg Foundation, AnnenbergTech works with the tech community in L.A. to create more opportunities for philanthropy and to increase civic participation among companies and individuals. Selth leads ops and program management for one of the organization's most ambitious efforts: PledgeLA, a collective of more than 220 tech companies, VC firms and the L.A. Mayor's Office.

In his role, Selth collects data to help promote diversity and inclusivity in Los Angeles' growing tech sector
"I joke with folks that we're called PledgeLA, [but] the decision was to do more than 'pledge'," Selth said. "Really [we] have to be focused on action, not just being a big list of excited organizations, but to focus on accountability."
Part of that effort is regularly collecting hiring and funding data from the companies who work with PledgeLA, to hold them accountable for reaching their diversity goals.
So, how's that going?
"I'd say, okay–with cautious optimism," Selth said
In 2020, following the death of George Floyd and the protests that followed, companies across the U.S. promised to do better in terms of their commitment to diversity and inclusion. That included venture capital firms in the region.
"The conversation… was really around more capital and access to entrepreneurship in the Black community," he said
Data showed there was an increase in the amount of capital provided to Black founders that year, while the amount provided to Latinx founders stayed flat, and funding to women-led startups went down.
"It shows that we have sort of a fitful attention span," Selth said, adding that companies can change when they can focus on the moment, "but if that doesn't reflect processes that are easy for the firm to sustain when they're busy, it's not likely to recur."
Selth said he thinks many companies do their best to try to be "colorblind" or "unbiased" when hiring. That ideology, he said, can actually get in the way of creating a workforce that reflects the community.
"If you're looking at your product management team, and you know that that doesn't reflect the talent pool here in L.A., I think it requires facing a little bit of that discomfort to say, 'We might actually need to write down a goal about how many women we might like to see on our team'," he said.
Selth also knows that people may not want to feel like they're just fulfilling a quota. He stressed the importance of outreach efforts to make sure that candidates in the pipeline come from diverse backgrounds.
Selth saw some of this firsthand as a bilingual teacher for the Teach for America program, where he worked with high-poverty students in Long Beach, eventually becoming an ambassador for the program for area universities.
"It taught me a lot about the challenges that youth are facing in that specific community. Issues of immigration, poverty, access to high quality education, how that impacts career opportunities," said Selth.
Want to hear more episodes? Subscribe to Office Hours on Stitcher, Apple Podcasts, Spotify, iHeart Radio or wherever you get your podcasts.
dot.LA Engagement Fellow Joshua Letona contributed to this post.
From Your Site Articles
Related Articles Around the Web