la tech scene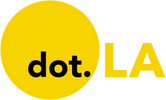 Get in the KNOW  
  on LA Startups & Tech  
X
la tech scene
Photo taken by Decerry Donato
On Monday, Los Angeles-based philanthropic organization Goldhirsh Foundation hosted the Technology and Storytelling For Social Good panel at Creative Visions studio to kick off LA Tech week.
Tara Roth, president of the foundation, moderated the panel and gathered nonprofit and tech leaders including Paul Lanctot, web developer of The Debt Collective; Alexis Cabrera, executive director of 9 Dots; Sabra Williams, co-founder of Creative Acts; and Laura Gonzalez, senior program manager of Los Angeles Cleantech Incubator (LACI).
Each of the panelists are grantees of Goldhirsh Foundation's LA2050, an initiative launched in 2011 that is continuously trying to drive and track progress toward a shared vision for the future of Los Angeles. Goldhirsh's vision is to make Los Angeles better for all and in order to achieve their goal, the foundation makes investments into organizations, creates partnerships and utilizes social capital through community events.
The panelists shared how the work they are doing in each of their respective sectors uses technology to solve some of society's most pressing challenges and highlight the importance of tech literacy across every community.
Using technology to solve societal challenges
The Debt Collective, a debtors' union, helps people find easier ways to get their debts forgiven, specifically students who may find it difficult to navigate the often complicated process.
" [The court system] is a very archaic process," said web developer Paul Lanctot. "People with doctorate degrees would struggle to fill out some of these papers."
By using its online toolkit platform, the company has made the process simpler, giving tenants facing eviction a chance to "update their rights and assert their defenses." The Debt Collective has collaborated with The LA Tenants Union and The Anti-Eviction Mapping Project to develop The Tenant Power Toolkit, which "allows tenants facing eviction to fill out simple yes and no questions about their situation, the eviction they're facing and it will generate the court documents for you without you having to go through that complicated process," he said.
If you're in L.A. County, the toolkit can electronically file the documents for you. "The next step for you is just to wait to receive a mail notice of when your court date is," Lanctot said.
Alexis Cabrera, executive director of 9 Dots, echoed Lanctot's thoughts on the societal impact of technology. Since 2011, the South Pasadena-based nonprofit organization has dedicated itself to providing computer science education to underserved communities in Los Angeles.
"We believe that everybody can and should learn how to code," Cabrera said. "I don't really have to tell this room but you know, technology is everywhere in our lives today."
As millions of jobs around the world face the risk of being replaced by generative AI, Cabrera believes that an education in computer science is necessary to prepare children for the future.
"So we're doing the work to bring kids into the computer science education pipeline from a really early age while identities are being formed and before these youths are opting out of STEM or pushed out of STEM," Cabrera said.
Creating equity through tech literacy and access
Sabra Williams, a firm believer in the right to technological access, co-founded Los Angeles-based nonprofit Creative Acts to transform urgent social justice issues through art and technology, especially by giving voice to those who are or have been incarcerated.
Through a partnership with Meta, the nonprofit has access to 20 Oculus headsets which are loaded with content from travel experiences to daily activities like pumping gas or going to a grocery store. This program aims to help incarcerated people prepare for life outside of prison.
"We got very tired of people coming home after 20 to 30 years inside and not being able to operate in a fully computerized world versus those of us on the outside who had a gradual ramp up to full computerization," Williams said. "Without the internet, it's sometimes very difficult when you're trying to have people who are in a metal cage wearing headsets all together in a very small room, but we're doing it."
Lanctot said he is involved with The Debt Collective for similar reasons: because he believes every student and renter should be informed about their rights.
"Even though we've made this toolkit and it's really simple, it's still very difficult for a lot of people to fill out and a lot of people call our hotline. A lot of people need step by step support to fill out some of the questions," he said.
While their toolkit is currently only available in English and Spanish, the team aims to soon translate their materials to 14 languages to become more accessible to tenants with less resources.
Diversity brings innovation
For Laura Gonzalez, senior program manager at LACI, it is important to have a wide range of diversity among founders within the tech ecosystem.
"We see the gender gap, the income gap in financial services," Gonzalez said. "So, we needed a way to help entrepreneurs that come from historically marginalized communities, to help them level up a bit."
LACI does this by giving women entrepreneurs and entrepreneurs of color access to business resources like its Innovations & Incubation programs that help startups develop their technologies, secure funding, and receive financing as well as coaching by experienced mentors. "It is really transformative because the coaches that we have are mentors who are really good at scaling and building businesses," she said.
Cabrera agreed and added that in order to close the gaps in equity, young people need to play a more active part in the future of technology.
"We'd like to see more kids really be the creators of these technologies instead of just the consumers," Cabrera said. "When we get more folks with lived experiences in the decision-making room, this is what happens and these are the kind of beautiful solutions that we see."
Evan Xie
A new report in Bloomberg suggests that younger workers and college graduates are moving away from tech as the preferred industry in which to embark on their careers. While big tech companies and startups once promised skilled young workers not just the opportunity to develop cutting-edge, exciting products, but also perks and – for the most talented and ambitious newcomers – a relatively reliable path to wealth. (Who could forget the tales of overnight Facebook millionaires that fueled the previous dot com explosion? There were even movies about it!)
But aside from the intensity and hype around employment-eradicating AI apps, the big tech story of 2023 has been downscaling, belt-tightening, and massive layoffs. So far this year, tech companies have laid off thousands of workers, while cutting back on compensation packages, fringe benefits, and some of the other amenities and perks that made these jobs so sought after in the first place.
According to data compiled by Bloomberg, tech has shed nearly 200,000 jobs just since October, more than twice the number of layoffs that have hit the financial sector. Additionally, data on industry pay from Levels.fyi suggests that overall compensation packages within the industry have dipped as much as 25% in the past year. The rate at which these layoffs are happening also doesn't seem to be slowing down very much, and may still even be increasing month-over-month.
Layoffs aren't just bad PR that make current employees nervous and potential new hires dubious. They also mean there are simply fewer hands on deck at these companies to collaborate on important jobs; major rounds of layoffs also mean more work for the employees who got to keep their gigs. Meta, Amazon, Alphabet, and Twitter have all massively reduced the size of their workforce, including teams that deal with important time-sensitive tasks, such as fact-checking or community moderation. Those jobs don't stop needing to be done because the people doing them got laid off; it's just now more work for fewer staffers.
Many tech companies also rely on the promise of lucrative stock options when recruiting top graduates with significantly in-demand skills. But with tech stocks slumping in 2022, and bouncing back this year mainly on the backs of the AI craze, embarking on a new career with a brand like Meta or Amazon suddenly seems less appealing than it did just a few years ago.
According to Insider, anecdotal evidence from job forums like Blind and other communities such as Reddit also indicate that the "rise-and-grand" hustle mindset so prevalent in the industry – which became synonymous with tech culture during the last startup wave – has led to widespread stress, discontent, and burnout among employees, many of whom are purposefully seeking jobs outside the industry now that the big paydays are also drying up. The Washington Post reported that disaffected Amazon employees in Seattle – fed up with layoffs, return-to-office mandates, and some of the company's other practices – are currently attempting to organize a mass walkout.
Within the tech industry, the massive hype around AI has been something of a reprieve from this torrent of bad news. But from the perspective of young people considering careers in tech, the industry's love affair with thinking machines may also be triggering some concerns about the future.
In late April, Dropbox announced it would lay off 500 employees – around 16% of its total workforce – and use the savings to build out an AI division instead. CEO Drew Houston explained that "I'm determined to ensure that Dropbox is at the forefront of the AI era." IBM CEO Arvind Krishna echoed a similar sentiment in May, suggesting that his company will pause hiring for roles that could potentially be replaced with AI in the near future. He suggested, over the next five years, IBM will likely replace 30% of its employees – around 7,800 people – with apps.
It shouldn't be that terribly surprising when young people develop cold feet about entering an industry that's already decided they're irrelevant, with CEOs simply biding their time before they can fire everyone working on the floors below them. But even beyond the personal stakes, it's also possible that young people are turning their backs on technology due to a reputational downgrade.
That said, some tech firms dominate both the top and bottom of Axios Harris' annual "brand reputation survey," which investigates how American adults feel about various companies. IN particuar, tech companies that produce tangible products or offer vital services continued to perform very well on the survey, with Samsung, Amazon, Apple, and Sony receiving positive appraisals from about 80% of surveyed adults. Conversely, social media and related internet companies – including Google, TikTok, Meta, and Twitter – found themselves near the bottom of the list, with reputation scores around the 60% line. That's around the same level as bankrupted crypto exchange FTX.
Anecdotally too, it appears that many recent grads who would otherwise be pursuing careers in tech are moving over to the banking industry instead. As one global talent partner told Bloomberg, while tech course-corrects by dropping tens of thousands of workers, "on Wall Street, you work really hard and you make a lot of money. That's the deal."
In light of this moment, JPMorgan Chase, in particular, has ratcheted up its recruiting. The company's workforce jumped 8% in the first quarter of 2023 vs. one year ago. All other factors aside, many of the top college grads are simply going to follow the money. Right now, that's clearly leading them to the financial sector.
Evan Xie
This is the web version of dot.LA's daily newsletter. Sign up to get the latest news on Southern California's tech, startup and venture capital scene.
After he quit his job as a product manager at Google, thirty-one-year-old Raphael Akinsipe got to experience the myriad complications of managing people.
As chief growth officer for a healthtech startup called Casetabs, Akinsipe realized, he was in a position where he had to manage a larger team of people than ever before. "I was spending way more time trying to keep everyone on track versus actually doing my job of driving our business," says Akinsipe. "I was like, 'I feel like I could probably automate a lot of this.'"
His experience at Casetabs underlies his latest project, a software startup called SocialCrowd that helps workers and managers keep track of goals and progress by automatically rewarding employees for work they're doing. He calls it a "Fitbit for work." Even though you won't need to buy a watch to use the software, the concept is the same: SocialCrowd tracks what workers are doing on the job and dolls out rewards–usually a gift card of some sort–when they hit their goals.
By interfacing with existing software used at work like Salesforce, Slack, or Square, SocialCrowd allows employers and employees to set goals, which could range from selling a certain number of milkshakes in a shift to cleaning and turning around an operating room in a certain amount of time, or even getting a certain amount of engagement or impressions on social media.
Completing goals nets workers points that are then redeemable for gift cards or other rewards. "If you're someone who manages a team of any kind, you spend a ton of time tracking their metrics, sending them reminders, … and then trying to find the right way to reward people," says Akinsipe. "We take those three pieces and automate it for you." SocialCrowd offers this streamlined convenience as a two-tiered subscription model for either $3.99 or $5.99 per month.
The company just closed a nearly $600,000 pre-seed round with major investments from Gala Capital Partners and VC 414, and has already signed up thousands of users on the platform after drawing attention from some big names like Motorola and Sonic Drive-In.
It may all sound a bit Big Brother-esque, but Akinsipe points out that all of the metrics that SocialCrowd is leveraging are already being tracked by employers. He cites the fact that, sales teams often post leaderboards to inspire a little competition; fast food restaurants are constantly monitoring order fulfillment times; and brand managers are are already tracking page views and engagement. In other words, if you're going to be surveilled at work, you might as well get rewarded for what you do.
"So for a lot of the end employees, it gives them a sense … that if I hit my targets, or I hit this goal against a certain order speed, or I get a certain sales number, or I get my trainings done, I'm going to be recognized and rewarded for that instantly," says Akinsipe.
Especially in the new age of hybrid and remote work, both employers and employees are more interested than ever in trying to measure and track worker productivity. Economists and researchers are still debating how much impact the shift has had on productivity, but the results appear mixed, or at least depend on how you measure productivity. And as Akinsipe and others have experienced, much of this reporting and tabulation tends to fall on the shoulders of managers, who may or may not enjoy that aspect of the job. With SocialCrowd, managers are freed from the new obligation, and employees no longer rely on a manager to recognize their effectiveness on the job.
SocialCrowd is still a small outfit, with just 5 employees, but the company is looking to basically double in size over the next year. Akinsipe declined to specify how many users he's got in the pipeline for the future. But he says his projections put the number into the "hundreds of thousands" by this time next year. In addition to hospitality and sales, the company is also in talks with some big healthcare brands and construction groups. "Our pre-seed investors are all pretty committed to our next round," says Akinsipe. "We'll be raising a significantly larger round going into the start of next year, and a lot of that's going to drive that growth."