The LA Public Library Takes on TikTok
Kristin Snyder
Kristin Snyder is dot.LA's 2022/23 Editorial Fellow. She previously interned with Tiger Oak Media and led the arts section for UCLA's Daily Bruin.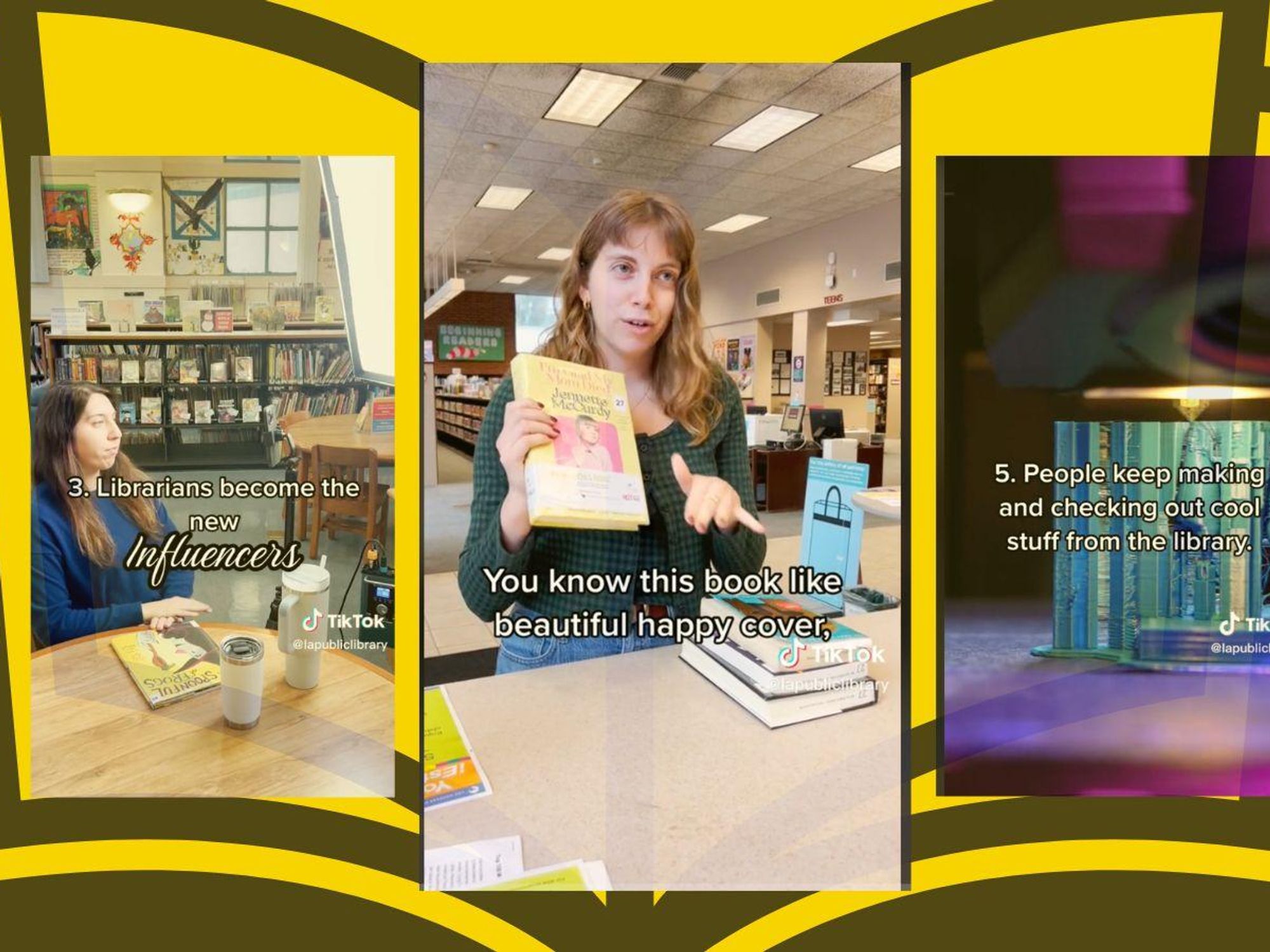 LAPL TikTok
BookTok—the subsect of TikTok users dedicated to literature—has been credited with bringing young readers back into bookstores. 2021 saw a 9% increase in print book sales, with many suggesting the increase in purchases is directly correlated to TikTok recommendations. Barnes & Noble saw its sales skyrocket last year. And indie bookstores have benefited from using the platform as a marketing tool even going to far as to stock titles that trend on the app.
---
But perhaps most importantly, it's the Los Angeles Public Library (LAPL) that's best figured out how to leverage its 5,000 followers on TikTok to take advantage of free books as well as some of the library's other offerings.
"Our goal was just to reach the younger crowd since so many of Gen Z are on Tik Tok," says LAPL's public relations specialist Krystal Ruiz, who helps run the library's social media accounts. "We wanted to get them informed about the resources that are available through the library."
One way LAPL has leveraged TikTok is by sharing their hot takes for 2023. In one video from the LAPL, librarians suggest that their team could quickly become the influencers of 2023. Another featured the boat green screen effect to poke fun at people who claim no one uses libraries. The effect is often used to sarcastically respond to TikTok users' unwarranted comments.
The LAPL's most popular video, however, which has over 76,000 views, highlights the library's lack of late fees. The video skit shows a woman squeamishly attempting to return her books only to be told that she's "good to go." Though the different branches don't have individual TikTok accounts, Ruiz says she intends to collaborate more with individual libraries to expand their content.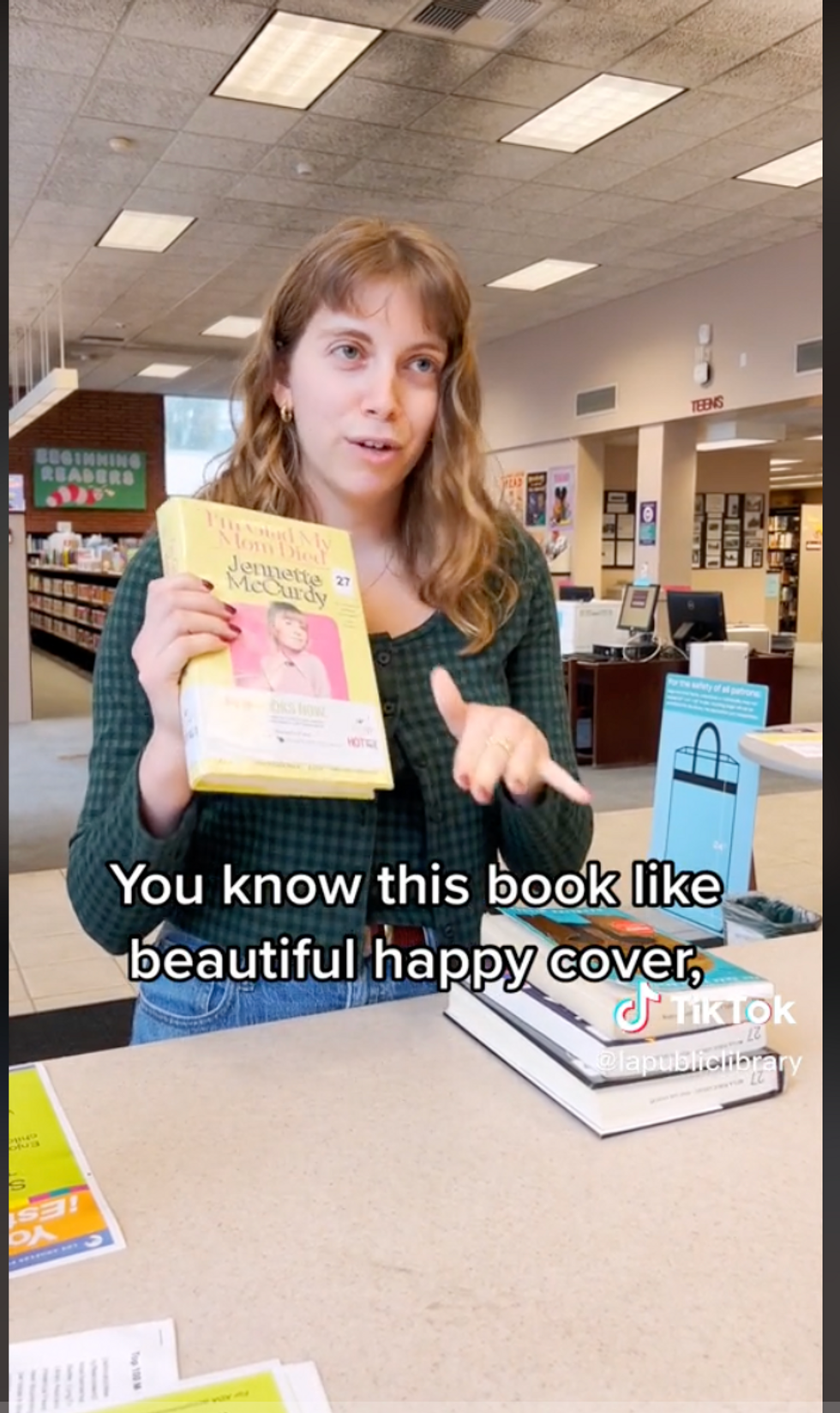 LAPL TikTok
Not every video performs well, of course, and engagement can vary drastically. Still, Ruiz says committing to the platform even when previous videos haven't gotten many views can help inform future content.
"TikTok is kind of a free for all," she says. "People post really random stuff and it starts to take off."
Still, the LAPL isn't alone in leveraging TikTok to remind young people that there's such a thing as a public library. The Fowlerville library in Michigan has amassed over 100,000 followers through its one-star series, in which librarians read bad reviews of popular books. The Milwaukee Public Library went viral in November by using a digital cutout of the rapper Saweetie walking around the premises.
Even within the BookTok community, library-centric content is growing in popularity. Many BookTok creators film their recent purchases, many of which are done from libraries. One user—a self-proclaimed "library stan"—showed off eleven different books she was hoping to read, complete with the squeaky sounds from the library binding. Others use library apps like Libby and Hoopla to list all of their e-book loans.
Even the physical act of going to the library has been transformed into viral content. At the Beverly Hills location, usershighlight the black and white mural in the reading room. The Huntington Beach library's indoor fountain and greenery are often the stars of day-in-the-lifevideos. LAPL's account has also drawn attention to the Central Library's iconic pyramid and rotunda.
That said, for all of BookTok's power, Ruiz says the LAPL isn't solely interested in promoting physical books on their social media platforms. Instead, she wants to expose people to the different resources available through the library. Using a raccoon puppet—which Ruiz says will likely become a recurring character on their TikTok—the LAPL hopes to further inform the public of the library's technology rental program, its mobile charging station and its California State Park Pass program. Adding that, "We want to utilize this online space to let people know what we have available to the community."

Kristin Snyder
Kristin Snyder is dot.LA's 2022/23 Editorial Fellow. She previously interned with Tiger Oak Media and led the arts section for UCLA's Daily Bruin.
https://twitter.com/ksnyder_db