marina del rey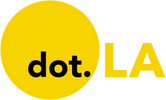 Get in the KNOW
on LA Startups & Tech
X
marina del rey
Genies, a startup that makes virtual avatars out of musicians, celebrities and, very soon, everyone else, is moving from Venice to a 20,000-square-foot converted warehouse in Marina Del Rey.
The move comes on the heels of Genies' $65 million Series B fundraise. The new space is five times the size of the startup's former office; it includes a recording studio, screening room, 25-foot ceilings and enough space to double the company's current employee count of about 60.
It's both a necessary step to accommodate the company's aggressive hiring plans and a bet on L.A.
"Genies' commitment to Los Angeles further demonstrates the unique offering only this city has," said Raise Commercial Real Estate's Mac Burridge, who represented Genies on the deal. "The confluence of entertainment and technology has never been more prevalent and companies like Genies are the reason for L.A.'s quick recovery."
It's go-time for Genies following the fundraise that brought tech veteran Mary Meeker onto its board. The company also recently brought on a new head of talent to lead the ongoing buildout of its executive team.
Genies joins a host of startups that already call Marina Del Rey home. Dollar Shave Club, System1, ZEFR, The Bouqs, Whatnot and Survios all reside in the unincorporated coastal community nestled between Venice and Playa Del Rey.
"Silicon Beach I don't even think is a fair way to describe Los Angeles tech anymore," said Burridge. "I think Los Angeles is a tech hub, whether your office is in the Valley, Downtown or in the South Bay and everything in between."
The deal is part of what Burridge describes as a "tidal wave of demand" for office space in Los Angeles coming out of the pandemic.
"Momentum hasn't, I don't think, ever been as hot as it is right now," he said. "There's never really been 12 full months of pent-up demand that's hit the market all at once, and that's what's happening right now."
Genies will follow a hybrid in-person and work-from-home policy beginning in September, said chief operating officer Jake Adams. Its staffing plans will focus on hiring engineers and designers.
What's the Value of an Avatar?
Genies has established itself by partnering with and building virtual avatars for celebrities including Justin Bieber, Rihanna and Russell Westbrook. The company says it controls "99% ownership of the celebrity avatar market." Last week, hip-hop trio Migos became the latest to render themselves into avatars with the company. Genies has also partnered with Warner Music Group to bring its avatar technology to the label's expansive roster.
Sporting a digital avatar can help celebrities advertise their milestones and ventures through an expanded online presence. It also offers potential for profiting from the so-called metaverse – the growing confluence of virtual worlds, social interactivity and commerce – by selling digital wearables and collectibles.

As for Genies, Adams, the COO, said the purpose of building avatars for celebrities is to encourage fans to adopt avatars of their own.
"That really shows users firsthand the potential of an avatar and how it can augment their digital and social experiences," he said.
Genies plans to launch a consumer app in the fall, where users can create their own avatars. Adams is working to craft partnerships that will enable those characters to travel across the digital universe. One established partnership is with GIPHY, which allows users to create GIFs that are shareable across numerous platforms.
Adams said Genies is currently testing its consumer-facing app with a small cohort. It plans to launch the app widely in conjunction with the digital goods marketplace that it is building with Dapper Labs, the blockchain company behind NBA Top Shot.
Genies does not share revenue or profitability figures but sources say the key challenge facing the company is whether they can become financially sustainable.
The marketplace is key to those plans. Genies will use it to create, market and sell digital goods, including NFTs, sometimes in collaboration with a brand or celebrity, for example to accompany an album release.
"When you think about our avatar itself, it really needs to sit in that flywheel where a user can buy something in our marketplace, they can adorn it on their Genie and then use it across their various digital experiences," Adams said.
Raising $65 million unlocks opportunities like investing in a new office and hiring a team to realize that vision. But it also comes with newfound pressure.
"The stakes definitely get pushed up," Adams said. "We have the resources to execute and now it's really just on us to make it happen."
All eyes are on Poparazzi, the new photo sharing app that will reportedly hit a $135 million valuation in a Benchmark-led funding round.
The Marina del Rey startup rose the App Store ranks quickly after officially launching its platform earlier this week. According to tech reporter Eric Newcomer and a report by Forbes, Benchmark's investors beat out Andreessen Horowtiz to lead the Series A. And the company is on its way to closing between $15 and $20 million in capital.

Neither Benchmark nor Poparazzi could not immediately be reached to comment.

TTYL founders Alex and Austen Ma pitch their brand as the less self-obsessed social media platform. Or as the company calls itself, "The Anti Selfie Selfie Club."
Instead of setting up your own profile to posting candid shots and selfies, users share pictures of each other. The app promises users will still have control over what's shared, meaning they can take down anything posted of them.
"We built Poparazzi to take away the pressure to be perfect," the company said in a blog post on Monday announcing it's now free to download for iOS.
A handful of photo-sharing startups have tried pulling users from Instagram. David Dobrik's disposable camera app Dispo boasted a similar mission to Poparazzi's — stop obsessing over posing for the perfect picture. But a month after hitting a reported $200 million valuation, allegations of sexual assault against Dobrik's former vlog colleague emerged. The company lost its top investor and Dobrik stepped down.
The Ma brothers introduced their platform in beta to some 10,000 users a few months ago, according to the blog post. Users have shared over 100,000 photos since. By the time it launched to the public, the startup had amassed thousands of followers and fans on TikTok, where it eventually unveiled its App Store link.
From Your Site Articles
Related Articles Around the Web
A few years ago, you went to eBay to bid on limited edition sports cards or out-of-print comic books. Then, livestreaming came to town.
Two weeks ago, one Pokemon collector dropped $17,500 on a Skyridge Charizard Holo card during a broadcasted event streamed live on Whatnot.
What began as a social app for collectors to swap stories and photos has ballooned into a digital stage for live auctions and unboxing videos. Since January, the Los Angeles tech startup has hired some 40 employees and leased a 10,000 square-foot office space in the Marina Arts District.
And on Tuesday — just a few months since its last big boost — the startup closed a $50 million Series B round.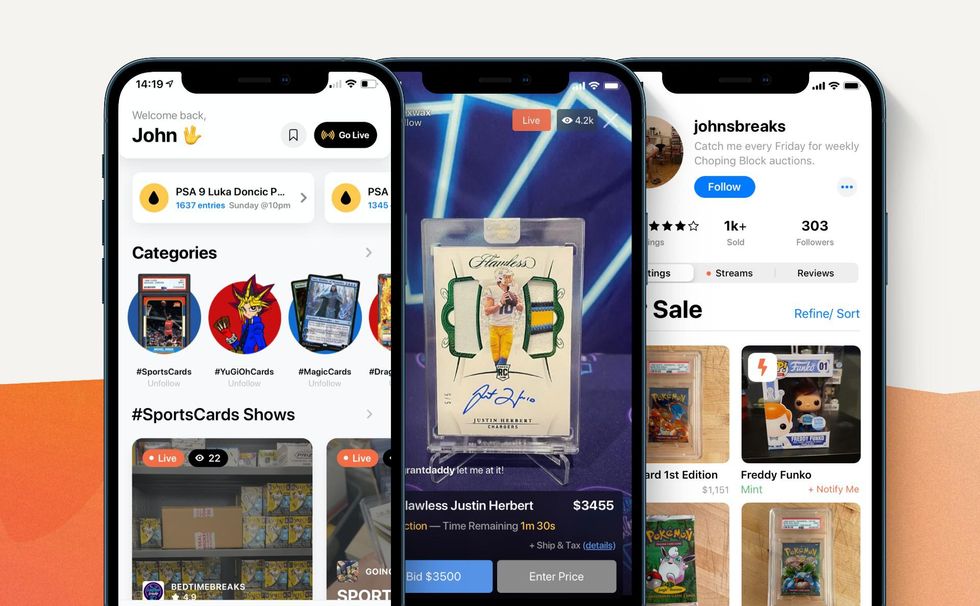 Whatnot recently closed a $50 million Series B round.
"It's probably one of the fastest growing marketplaces we've ever seen," said Y Combinator's Anu Hariharan, who led the round.
It's been over a year since consumers moved online in droves and investors are still sinking millions into retail technology —livestream shopping especially.
L.A.-based Popshop Live was valued at $100 million last fall after an investor bidding war to lead its Series A. Talkshoplive, which hosts celebrities livestreaming about their memoirs and latest albums, scored seed capital in February from a venture firm backed by eBay's founder.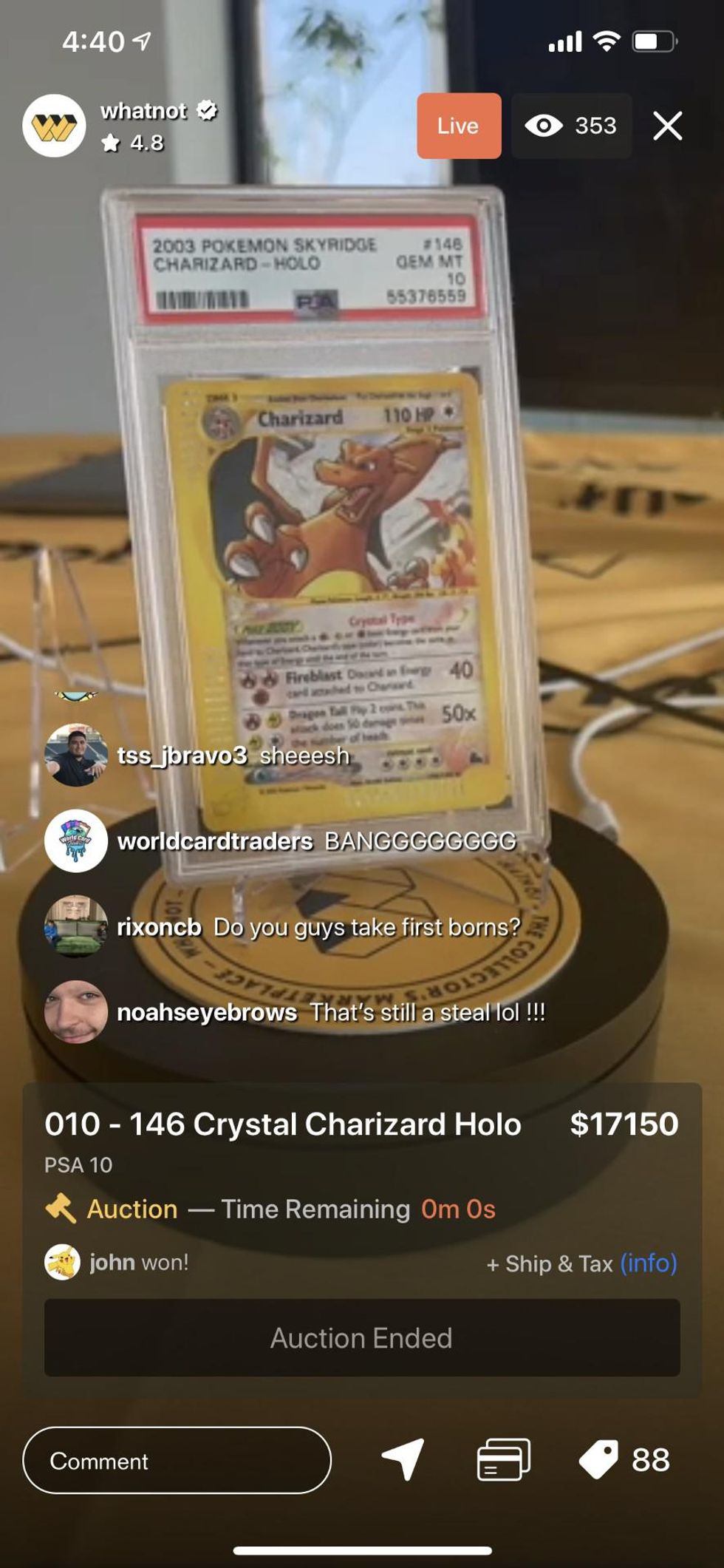 One Pokemon collector dropped $17,500 on a 1st Edition Shining Charizard card during a broadcasted event streamed live on Whatnot.
What gives? Hariharan said U.S. ecommerce has only embraced video in the last three to five years, and now it's everywhere. Even retailers like Home Depot introduced livestream demos and workshops during the pandemic.
Grant Lafontaine, the CEO and co-founder of Whatnot, brought the technology to a niche, well-connected community of online shoppers. He founded the company in 2019 with Logan Head, a former product manager at the online sneaker marketplace GOAT.
Their users are 18 to 32-year-old collectors who spend hours browsing eBay listings but crave something more interactive.
"They're on eBay because they're buying the collectibles, they're on Instagram to show them off," Lafontaine said. "They come to Whatnot because they can do both."
The company got its start as a social platform and marketplace — sans video livestreaming. That function came later, after a steady pool of users made checking Whatnot a daily habit.
"I was the first person to go live," Lafontaine said. "I sold out $5,000 worth of collectibles in two-and-a-half hours. The experience kind of spoke for itself. Anyone who saw it wanted to use it."
Other investors include Andreessen Horowitz, Animal Capital, musicians Ryan Tedder and DJ Skee with Min 10 and NFL players DeAndre Hopkins, Bobby Wagner and Jeremy Padawer. The company has raised $75 million to date.
Whatnot now boasts 15 categories of collectibles, from FunkoPops to sports cards (the most popular category on the app) to a few newer experimental verticals like vintage clothing. Within the next year, Lafontaine said he hopes to hit 30.
"For a young startup, it's always important to start with one or two categories, not with everything," said Hariharan. "What Whatnot has done really well in collectives will help them scale pretty much any product."
The app, she said, is on its way to becoming "eBay 2.0."
A previous version of this story stated Whatnot closed a $40 million Series B Round. The correct amount is $50 million.