marina del rey
All eyes are on Poparazzi, the new photo sharing app that will reportedly hit a $135 million valuation in a Benchmark-led funding round.
The Marina del Rey startup rose the App Store ranks quickly after officially launching its platform earlier this week. According to tech reporter Eric Newcomer and a report by Forbes, Benchmark's investors beat out Andreessen Horowtiz to lead the Series A. And the company is on its way to closing between $15 and $20 million in capital.

Neither Benchmark nor Poparazzi could not immediately be reached to comment.

TTYL founders Alex and Austen Ma pitch their brand as the less self-obsessed social media platform. Or as the company calls itself, "The Anti Selfie Selfie Club."
Instead of setting up your own profile to posting candid shots and selfies, users share pictures of each other. The app promises users will still have control over what's shared, meaning they can take down anything posted of them.
"We built Poparazzi to take away the pressure to be perfect," the company said in a blog post on Monday announcing it's now free to download for iOS.
A handful of photo-sharing startups have tried pulling users from Instagram. David Dobrik's disposable camera app Dispo boasted a similar mission to Poparazzi's — stop obsessing over posing for the perfect picture. But a month after hitting a reported $200 million valuation, allegations of sexual assault against Dobrik's former vlog colleague emerged. The company lost its top investor and Dobrik stepped down.
The Ma brothers introduced their platform in beta to some 10,000 users a few months ago, according to the blog post. Users have shared over 100,000 photos since. By the time it launched to the public, the startup had amassed thousands of followers and fans on TikTok, where it eventually unveiled its App Store link.
From Your Site Articles
Related Articles Around the Web
A few years ago, you went to eBay to bid on limited edition sports cards or out-of-print comic books. Then, livestreaming came to town.
Two weeks ago, one Pokemon collector dropped $17,500 on a Skyridge Charizard Holo card during a broadcasted event streamed live on Whatnot.
What began as a social app for collectors to swap stories and photos has ballooned into a digital stage for live auctions and unboxing videos. Since January, the Los Angeles tech startup has hired some 40 employees and leased a 10,000 square-foot office space in the Marina Arts District.
And on Tuesday — just a few months since its last big boost — the startup closed a $50 million Series B round.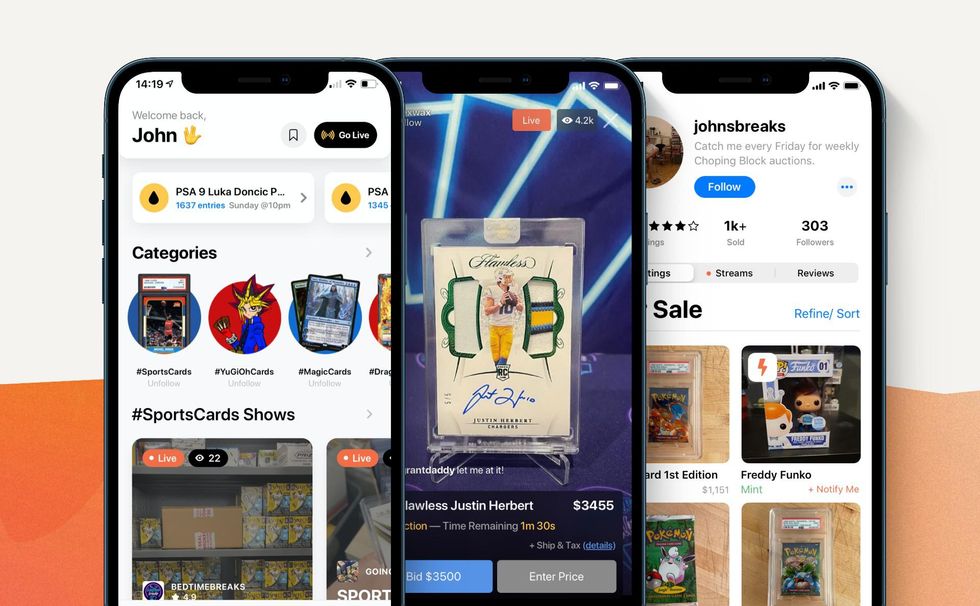 Whatnot recently closed a $50 million Series B round.
"It's probably one of the fastest growing marketplaces we've ever seen," said Y Combinator's Anu Hariharan, who led the round.
It's been over a year since consumers moved online in droves and investors are still sinking millions into retail technology —livestream shopping especially.
L.A.-based Popshop Live was valued at $100 million last fall after an investor bidding war to lead its Series A. Talkshoplive, which hosts celebrities livestreaming about their memoirs and latest albums, scored seed capital in February from a venture firm backed by eBay's founder.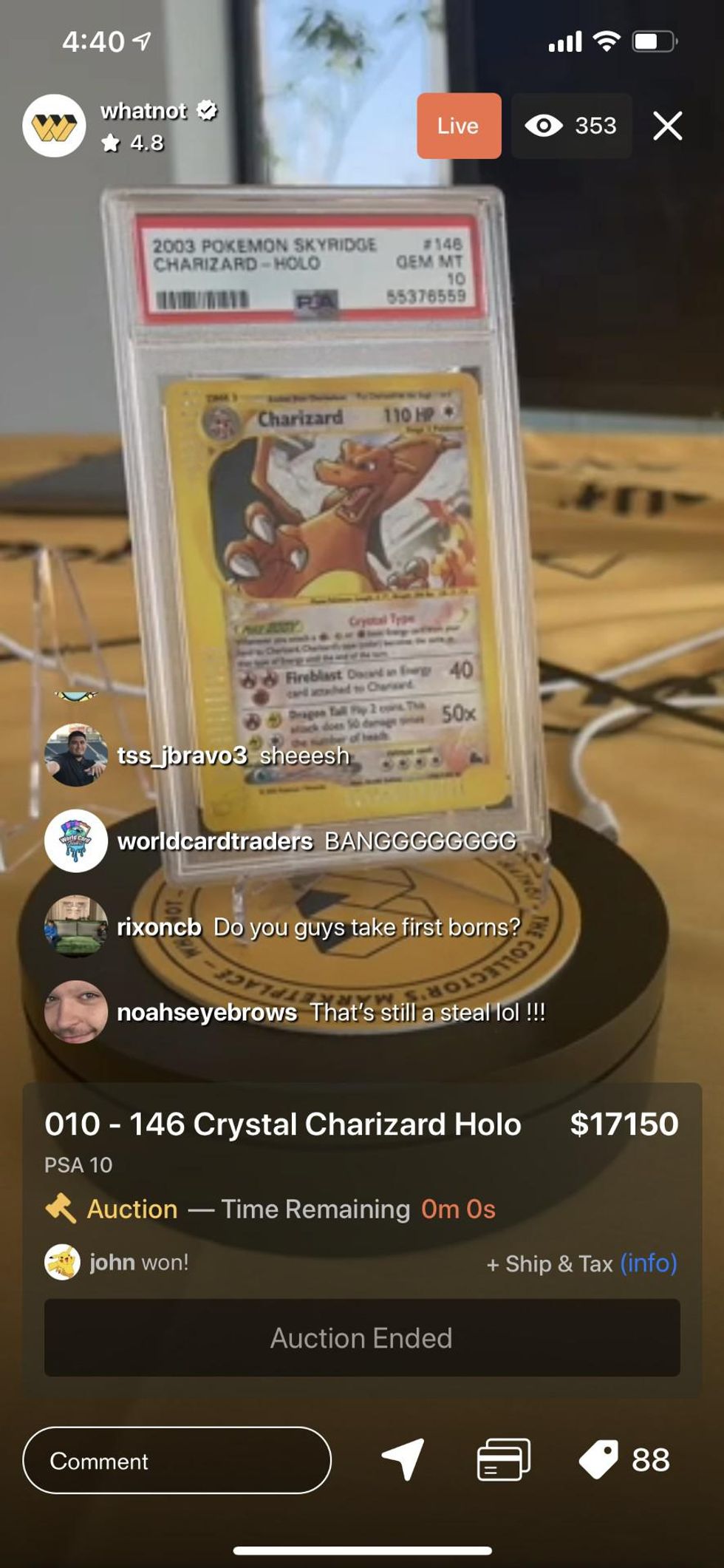 One Pokemon collector dropped $17,500 on a 1st Edition Shining Charizard card during a broadcasted event streamed live on Whatnot.
What gives? Hariharan said U.S. ecommerce has only embraced video in the last three to five years, and now it's everywhere. Even retailers like Home Depot introduced livestream demos and workshops during the pandemic.
Grant Lafontaine, the CEO and co-founder of Whatnot, brought the technology to a niche, well-connected community of online shoppers. He founded the company in 2019 with Logan Head, a former product manager at the online sneaker marketplace GOAT.
Their users are 18 to 32-year-old collectors who spend hours browsing eBay listings but crave something more interactive.
"They're on eBay because they're buying the collectibles, they're on Instagram to show them off," Lafontaine said. "They come to Whatnot because they can do both."
The company got its start as a social platform and marketplace — sans video livestreaming. That function came later, after a steady pool of users made checking Whatnot a daily habit.
"I was the first person to go live," Lafontaine said. "I sold out $5,000 worth of collectibles in two-and-a-half hours. The experience kind of spoke for itself. Anyone who saw it wanted to use it."
Other investors include Andreessen Horowitz, Animal Capital, musicians Ryan Tedder and DJ Skee with Min 10 and NFL players DeAndre Hopkins, Bobby Wagner and Jeremy Padawer. The company has raised $75 million to date.
Whatnot now boasts 15 categories of collectibles, from FunkoPops to sports cards (the most popular category on the app) to a few newer experimental verticals like vintage clothing. Within the next year, Lafontaine said he hopes to hit 30.
"For a young startup, it's always important to start with one or two categories, not with everything," said Hariharan. "What Whatnot has done really well in collectives will help them scale pretty much any product."
The app, she said, is on its way to becoming "eBay 2.0."
A previous version of this story stated Whatnot closed a $40 million Series B Round. The correct amount is $50 million.
From Your Site Articles
Related Articles Around the Web
Cameo made a market out of celebrity shout-outs and birthday wishes. Mentorcam, a Marina del Rey-based startup, is behind a new service that sells personalized advice videos from experts and stars including fitness guru Billy Blanks, former NFL star Michael Vick and a former Miss Universe.
The app, which launched in beta last year, lets users send personal questions to celebrity trainers, dating experts and life coaches.
Trying to "overcome adversity"? Vick has some thoughts. For $99, the athlete will record a selfie video with personalized tips and advice. And for another $499.99, a user can ask multiple questions and get answers for 30 days. Celebrities set their own rates, starting at $9.99 for a single question and reaching upwards of $800 for a monthly subscription. Subjects range from beauty and social media tips to more serious ones like overcoming stress.
"Both my co-founder and I worked with content creators, influencers and other public figures," said co-founder and CEO Rune Hauge, who in 2015 created a livestream shopping platform called Preplay. "A lot of these people get bombarded with requests and questions."
Mentorcam, he said, is "a way for people to get access to experts that they admire and look up [to]."
And the model is attracting investors. This week, the company raised a $1.4 million pre-seed round led by General Catalyst. Studio VC, Kosinski Ventures and Realize Tech Fund also participated.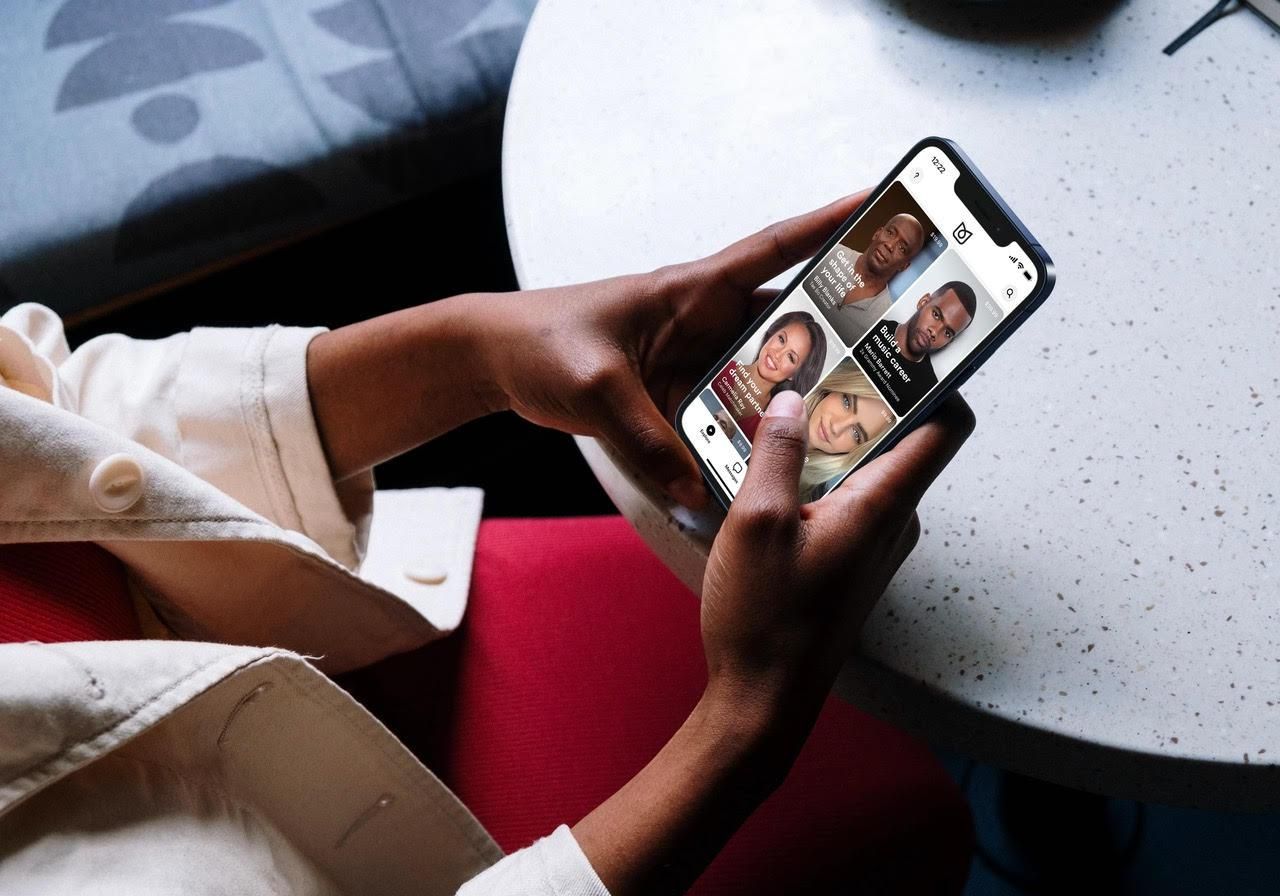 Hauge wouldn't disclose how many users he's racked up, but says the company has grown about 80% month-over-month. With the boost in funding, the company will hire in business development and grow out its roster of talent.

About 50 mentors have joined the platform so far, including Blanks, Miss Universe 2005 winner Natalie Glebova and dating coach Matt Artisan. Like livestream shopping and entertainment platforms, Mentorcam offers a new revenue stream for fitness trainers and life coaches whose businesses took a turn during the pandemic.
"I'll give you another question," said Hauge. "Something like: 'Hey Billy, I'm a man and at this point, I'm super busy with family and my job. Can you give me some advice on how I can maintain an ongoing exercise routine to stay in shape?"
In about one day, Blanks will send back a video with workout tips. And Hauge is betting on users returning to the app to ask follow-ups.
"The format is similar to Cameo," he said. "But the similarities stop there. With Mentorcam, the more you consume of it, the more you gain. It's kind of like comparing a vegetable smoothie to ice cream."
Related Articles Around the Web