venice
Investors are betting consumers will finally take their vitamins.
At $65 a month, Venice-based GEM sells melatonin-free daily sleep supplements made with ingredients like magnesium, rosemary, pumpkin seeds and valerian root.
It's neither a pill nor gummy vitamin but, as founder and CEO Sara Cullen calls it, real food.
"I would think of a protein bar you might know," Cullen said. "It has a nice dark chocolate profile. Nice seeds so it's got a beautiful texture and chewy in that kind of way."
The early-stage consumer fund that backed beauty vitamin brand HUM and the "hydration multiplier" Liquid IV is now behind a $10.5 million seed round for Cullen's L.A. startup selling supplements that will "improve whole body health at a cellular level."
Founded in 2018, GEM is tackling the $140.3-billion supplement market with its line of daily "whole food bites" with names like Sleep, Immunity and Daily Essentials.
"It's a reinvented multivitamin," the CEO said.
A few years ago, after learning she was deficient in a long list of nutrients, Cullen stood in the vitamin aisle of a store and studied almost every bottle on the shelf.
"They were filled with a lot of isolated vitamins, filled with synthetic and artificial fillers, sugary binders," she said. "It didn't intuitively seem right. Like why am I eating a candy for my health?"
Her solution was a California-made supplement that looks more like a small, organic brownie than a vitamin. And she defends the price by claiming that it would cost consumers far more to source these ingredients themselves.
"If you were to go individually buy all those ingredients, it would cost you upwards of $200," she said of GEM's $39-per-month Daily Essential vitamin — made with mushrooms for Vitamin D, chickpeas for bone protection and ashwagandha to fight stress. For reference, a Target 300-count women's daily vitamin is stocked online for $12.59.
The startup says it has sold over 8 million squares since going to market in 2019 online and in Erewhon locations in L.A. And it watched a near 400% spike in sales its second year.
With its first round of capital, GEM joins L.A.'s hub of venture-backed startups selling dietary supplements. In April, Venice-based Seed closed a $40 million Series A round for its daily probiotic that runs consumers $49.99 for a month's supply. The L.A. brand Ritual raised $25 million in 2019 for its $30 per month vitamin service.
Cullen said she'll use the capital to double the team, expand into retail and plan for new products.
The round was led by Pat Robinson of CircleUp Growth Partners with participation from investors, S2G and Pentland Ventures.
From Your Site Articles
Related Articles Around the Web
The gig economy has reached health care.

Hospitals were overrun with patients in critical need during the pandemic, causing nurse-to-patient ratio policies to drop and forcing nurses to attend to more patients.
CareRev hopes to balance that ratio out by providing hospitals with staff during high-traffic hours or for graveyard shifts. Hospitals post shifts on the platform, and clinicians who are vetted by CareRev can hire them in a matter of hours.
The Venice-based company announced Monday it raised $50 million, backed by health care IT giant Transformational Capital. CareRev works with 30 different health care organizations and has over 11,000 nurses, medical assistants and lab technicians on the platform.
"Health care systems have a really hard time knowing how many people they're going to have in the ER and different ICU units. And so they try to guess what the demand is going to be or use some sort of staffing prediction model," said CEO and trauma nurse Will Patterson.
But the process can often create scenarios where hospitals are understaffed when an emergency hits the local community, or overstaffed, which creates a financial burden for hospitals. Hospitals, which lost money due to cancelled elective surgeries during the pandemic, had to tighten their belts.
"It put us front and center to help them create a more flexible labor workforce, where they could be more efficient with their operation," Patterson said. "and if they're more efficient about scheduling staffing, they're going to save money."
Per diem nursing, which is equivalent to temp agency work, is not a new concept. It has often been used to fill gaps left by employees when they go on vacation or have an emergency that prevents them from showing up to work. Per diem nurses don't get employee benefits such as medical benefits or vacation days, but the flexibility allows nurses to create their own schedules.
Companies including Santa Monica-based Medely and Walnut-based Clipboard Health have also entered the market to provide efficient, tech-enabled platforms by which nurses can connect with hospitals. CareRev says its platform lets health care organizations to use the platform internally as well, so that on-staff nurses can pick up extra shifts before gig nurses do.
Patterson was a trauma nurse who worked in different health care systems in New Mexico, Santa Barbara, San Diego and San Francisco. He said he wanted to pick up extra shifts at hospitals where he wasn't employed but it was tough because it involved processing paperwork and going through orientation. It would have forced him to take days off his other job.
"I couldn't easily pick up shifts anywhere and I really wanted to pay the student debt down. So I was actually thinking, it would be easier to be a bartender," Patterson said.
The company, which also doubles as a way for health care systems to internally manage shifts and new arrival paperwork, automates parts of the onboarding process by allowing staff to upload credentials and vaccines into the system. It uses machine learning to approve paperwork so new staff can quickly begin shadowing and training in person.
"We're just cutting down the amount of time it takes for someone to get to that day where they show up in person," Patterson said.The new funding will go toward adding more AI and machine learning to the platform, the company said.
The new funding will go toward adding more AI and machine learning to the platform in order to better predict peak hours at the hospital.
This story has been updated.
From Your Site Articles
Related Articles Around the Web
Seed Health, the Venice-based biosciences startup known for its popular Goop-approved daily probiotic, closed a $40 million Series A round Wednesday that it hopes to use to ramp up clinical research and launch new products later this year.
The direct-to-consumer company focused on gut health has watched sales multiply by 20 times over the past two years for its probiotic supplement that it bills as a way to "support systemic health."
A month's supply of the Daily Synbiotic retails for $49.99. It's only sold online for now, but co-founder and co-CEO Ara Katz said the company is eyeing retailers outside of the U.S. in a push for "global distribution."
The round was led by The Craftory, a firm focused on consumer packaged goods, along with ARTIS Ventures and GISEV. Previous investors including Founders Fund and 8VS also participated.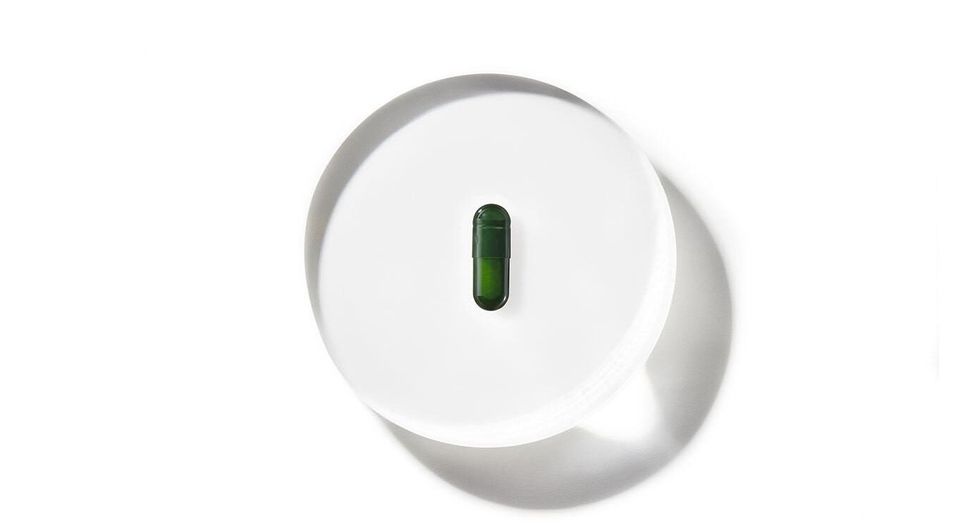 A month's supply of the Daily Synbiotic retails for $49.99.
The company will use the funding boost for research and clinical trials and to build out its roster of academics and experts that are part of the company's "scientific board." Like other dietary supplements, Seed's product was not reviewed by the U.S. Food and Drug Association before going to market.

"The funding is really to launch new categories," said Katz, who co-founded Seed in 2016 with co-CEO Raja Dhir. The pair also co-founded LUCA Biologics, a Cambridge, Massachusetts-based biotech company.
"So much of our work and the products we're developing go beyond the gut," she said.
The executive wouldn't disclose details about the products in development, but she said they're related to skin care and oral hygiene.
In February, the company announced it acquired Auggi Technologies Inc., a New York-based artificial intelligence company focused on tracking and analyzing digestive health.
Before summer of 2021, Seed will launch a beta version of its consumer-focused digital product based on a
stool database
powered by Auggi's technology, which lets patients photograph their stool and document symptoms through an app.
Related Articles Around the Web