venice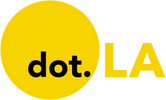 Get in the KNOW
on LA Startups & Tech
X
venice
Before Rivian went public, the electric vehicle startup opened its first retail hub in Venice, in the former home of celebrated author Ray Bradbury. Coastal California may not be associated with pickup trucks but the strategic move placed the company in the heart of Silicon Beach in an iconic area better known for eccentrics.

It was a signal to the rest of the automotive world that Rivian wanted to do things differently.
The Irvine-based company, founded by RJ Scaringe, isn't the first EV startup to rethink the dealership model, especially in dense areas. But the company is the first to take the lifestyle model some retailers have been embracing into what's been largely a stodgy automotive industry. Their idea is to make showrooms experiences, rather than just a place to demonstrate car features (although Rivian will offer that, too).
"The primary intent of Rivian spaces is for people to gather and connect," Rivian's Chief Growth Officer Jiten Behl told dot.LA. "While Rivian vehicles will be on-site for people to explore, those spending time at our spaces may just as likely be there to attend workshops, participate in special events, grab a cup of coffee or meet with other members of the Rivian community."
The model is one that companies like Apple have brought to their retail stores. And it comes as Rivian is in a full-blown race with legacy automakers. Its signature product, the Rivan R1T, is an all-electric pickup truck that is just beating similar vehicles to market from Ford and Tesla. Chevrolet and Ram are also planning electric truck rollouts n the next few years. With EPA range estimates at more than 300 miles on a full charge, it's another entry in the growing long-range EV market.
Rivian plans to keep the purchasing process virtual. After buyers deposit $1,000, its concierge service follows the ordering, building and delivery process.
"The site of our Venice hub has been everything from an electric substation, author Ray Bradbury's private home and even an art gallery," Rivian spokesperson Jiten Behl told dot.LA. "We embrace the idea of adaptive reuse with our spaces; taking places that exist and bringing them to life in new, inventive ways."
Behl says Rivian plans to open several hubs around the country, but they won't all follow the same format as the one in Venice. The company is restoring the Laguna Theater in Laguna Beach, which she says will allow for educational speakers, live performances or even film screenings. It will have "outposts" in wilderness areas to align with conservation efforts. Rivian hasn't announced how many spaces or outposts it plans to have yet.
Volvo-backed competitor Polestar operates almost two dozen spaces in the U.S., including in Los Angeles and Costa Mesa, where buyers can learn about the car, get help with the website and drive it. Potential buyers can choose to have the car delivered to their home or office for a test drive. But most of the purchasing is also done online. Car owners don't take their Polestar to a dealership for repairs. Instead, repairs and alterations are handled by a mobile service vehicle or over-the-air updates.
By contrast, automakers with a traditional network of franchised dealers still need to leverage that to comply with state laws. But brands like Cadillac and Volkswagen are strongly encouraging customers to use online tools to research and reserve their new EVs. That way, their electric cars will go where the demand is — and dealers won't be stuck with examples without desirable options or colors.
Likewise, Rivian customers who need service can have their vehicle picked up and dropped off at a location of their choosing, or towed if something unexpectedly goes wrong. Software updates will be pushed over-the-air.
"Activities like demo drives, vehicle purchase, delivery and service are completely unbundled in the Rivian model and are not tethered to coming to a physical location," Behl said. "Because of this, we have the opportunity to reimagine the experience we provide visitors when they come into a Rivian space and interact with our brand."
Early deliveries of the $73,000 R1T started in September, but customers who place an order now likely have to wait until January to get the truck. An SUV version will also arrive early next year, and Rivian will make a van derivative for Amazon. All three vehicles will come from an Illinois assembly plant.
Correction: This story has been updated to reflect that the comments originally attributed to Rivian spokesperson Rachel Maniago actually came, by email, from Chief Growth Officer Jiten Behl.
A security guard who worked at Google's Venice campus has sued the company, saying it did not adequately respond to his complaints that he was sexually harassed and physically assaulted by a supervisor because of his race and sexual orientation.

David Brown, who is Black and gay, alleged his supervisor called him racial and gay epithets, and physically abused him by "grabbing him on the buttocks, kicking him in the groin, throwing him through a window head first and brutally grabbing his nipples."
Brown is employed by both Google and security company Allied Universal, according to the lawsuit filed Sept. 29 in Los Angeles County Superior Court. He is seeking unspecified monetary damages for the alleged abuse which began in 2012, continued at Google in 2014 and ended when he went on leave last year.
The lawsuit comes in the wake of a year of racial reckoning, during which many major tech companies, including Google, announced efforts to make more inclusive workplaces for Black workers. Google employees have drawn attention to the issue of workplace sexual harassment at the tech giant .About 20,000 Google employees and contractors staged a walkout in November, 2018. In April, more than 2,000 workers signed an open letter, saying the problems haven't been adequately addressed.
"Google, basically, they give lip service to wanting to deter discrimination and harassment, but here, when they had the opportunity to do the right thing, they struck out," V. James DeSimone, Brown's attorney, said in an interview.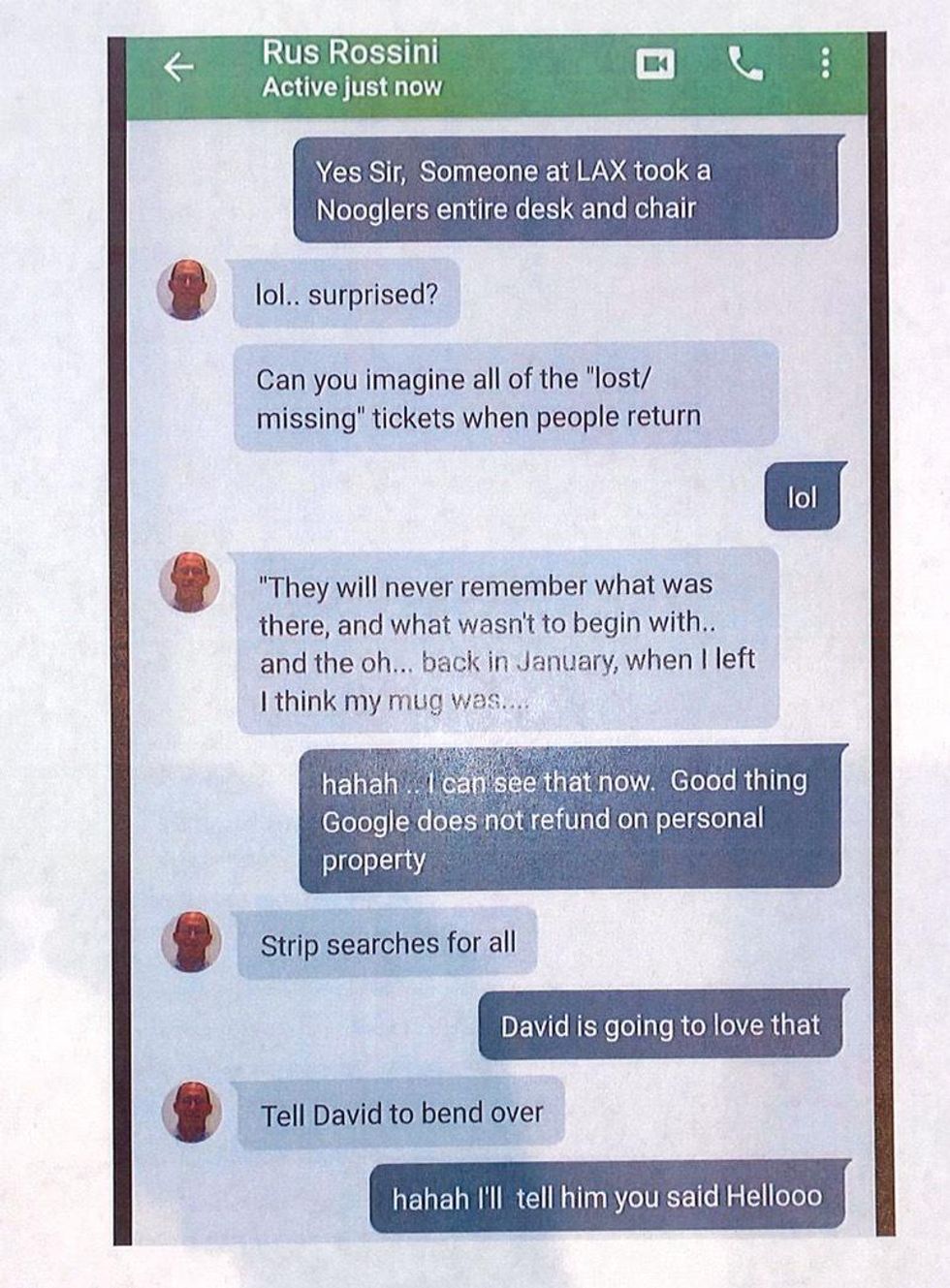 A screenshot of the conversation between Allied/Google employees.
The lawsuit also points to an exchange of text messages between Brown's supervisor, Henry Linares, and Google's senior manager for global community operations, Rus Rossini, in which Rossini and Linares allegedly mocked Brown's sexual orientation.
"Strip searches for all," Rossini texted, according to the lawsuit. To which, Linares responded, "David is going to love that." Rossini wrote, "Tell David to bend over," and Linares replied, "hahah I'll tell him you said Hellooo."
The lawsuit alleged Rossini "participated in the discrimination and sexual harassment and took no corrective action."
Google did not respond to a request for comment.
An Allied spokeswoman sent a statement: "Allied Universal is dedicated to fostering a workplace that is free from discrimination. We are committed to treating all people fairly, protecting safety and privacy and upholding ethical business practices at all times. We take seriously all claims against the company but are unable to comment on pending litigation."

Brown's supervisor, Linares, was fired for reasons unrelated to this complaint, according to the lawsuit. A person named Henry L. who worked at Allied through July 2021 did not respond to a LinkedIn message requesting comment.

In an emotional interview, Brown said he lived in fear of being killed because of the threats Linares made. He didn't tell anyone, including his partner, about the abuse for years.
"It took courage that I didn't even think that I had to voice it to my partner, to voice it to my other coworkers who I told what was going on," Brown said. "It took a lot out of me, but I didn't want to be selfish. I said, 'what if someone else is going through what I'm going through and they're scared like I was for all those years to tell anyone'."
The alleged verbal and physical abuse began in 2012 when Brown and Linares worked at the Santa Monica Mall. Two weeks after Brown filed a complaint, he was moved to Google's Venice campus.
Brown was relieved and ready for a fresh start, but a year later Linares was transferred to Google.
"I thought it would be completely different, especially because I did what I had to do as far as reporting it. I just thought that I would be more protected," Brown said of his time at Google.
"The companies have an obligation to keep the workplace safe and to take all reasonable steps to prevent harassment from occurring and these companies are being called out on that publicly," DeSimone said. "In terms of this lawsuit, we hope to be part of this movement across the country that is holding the companies accountable for the harassment that unfortunately still is prevalent in many workplaces especially, it appears, tech companies."
On Monday, a jury ordered Tesla to pay nearly $137 million in damages to an employee who was exposed to racist abuse, discrimmination and harassment at the company's factory in Fremont.
Brown said he filed the lawsuit so that others don't feel like they have to be silenced.
"I want someone else who's going through something similar, or maybe the same thing, to know it's OK to tell," he said. "I wish I just had the courage and I blame myself so much that I didn't say anything sooner. I just want justice. I just want awareness. That's all I want."
A Feb. 1 hearing is scheduled in the case.
From Your Site Articles
Related Articles Around the Web
How do you turn a one-time buyer into a repeat customer? Venice-based ecommerce software startup Repeat may have an answer.
Business partners Kim Stiefel and Sarah Wissel came up with the idea for the company after speaking to the customers of their own subscription t-shirt service, UNDR.
Their idea was to provide a quarterly subscription model for t-shirts. But, she found, the approach didn't work for many of her customers.
"Subscription services work really well," Stiefel said. "But when it comes to subscription products, it completely falls apart. Either I have too much [product], or I don't have it when I need it."
Instead, the pair began experimenting with a new method, nudging their customers to buy more shirts when they could reasonably postulate the old ones were worn down or, say, developed armpit stains.
When those experiments worked, they decided to start Repeat so they could share their approach with other brands.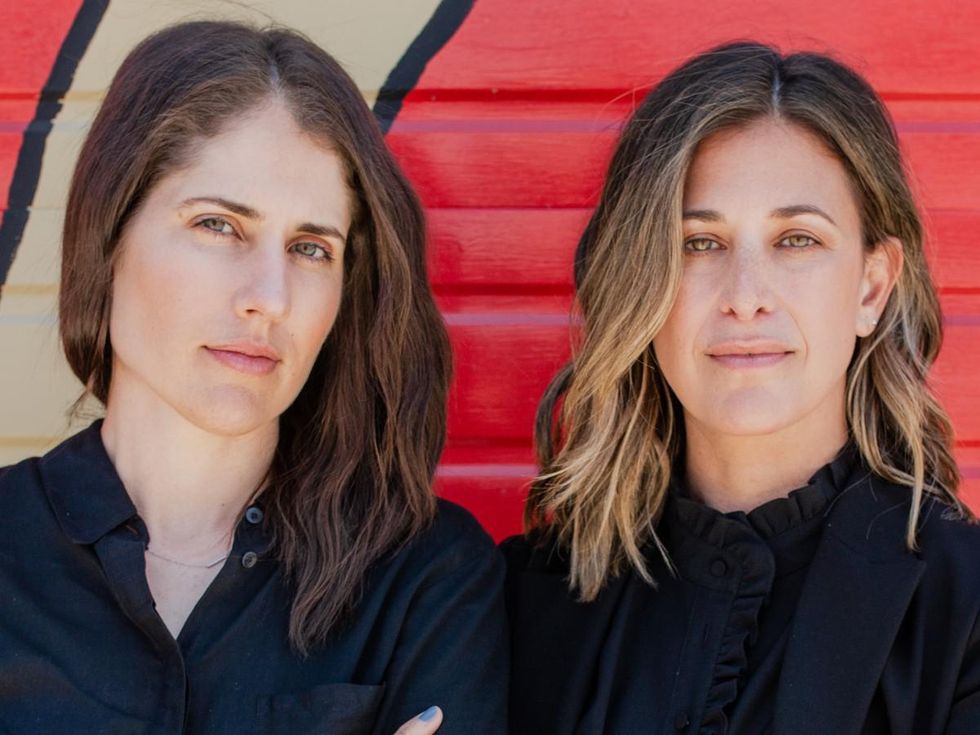 From left: Sarah Wissel and Kim Stiefel are the co-founders of Venice-based Repeat.
The startup helps companies that sell consumer packaged goods, or goods that need to be routinely replenished — such as toothpaste or shampoo — on the internet. By collecting consumer data, Repeat helps brands gauge when a customer may need to order a product again based on the behavior of the average customer.

When that time comes, brands can then have reminders sent to their customers through text or email as a way of nudging them to buy again.
There are 67 brands that use Repeat, including personal care brand By Humankind and coffee brand Jot. Stiefel said their clients have seen a 43% increase in sales on average since employing Repeat's software. Additionally, time between orders has decreased by around 18%, and average order value has increased by roughly 15%.
Those numbers helped lure investors. The startup raised a $6 million Series A round led by Battery Ventures, with investors from Mucker Capital and Harlem Capital. With the new round, Repeat plans to hire more engineers and invest in marketing.
And it is setting itself apart from Amazon's "Buy it again" option that lets customers quickly purchase an item after running out or its "dash buttons," which are physical buttons that can be pressed to order products.
Where Amazon falls short, according to Stiefel, is in giving brands access to valuable data that gives insight on how consumers interact with the product.
"[Brands] need to have that data," said Stiefel. "They need to have that information so that they can continue to build better relationships with their customers."
From Your Site Articles
Related Articles Around the Web