venice
venice
A security guard who worked at Google's Venice campus has sued the company, saying it did not adequately respond to his complaints that he was sexually harassed and physically assaulted by a supervisor because of his race and sexual orientation.

David Brown, who is Black and gay, alleged his supervisor called him racial and gay epithets, and physically abused him by "grabbing him on the buttocks, kicking him in the groin, throwing him through a window head first and brutally grabbing his nipples."
Brown is employed by both Google and security company Allied Universal, according to the lawsuit filed Sept. 29 in Los Angeles County Superior Court. He is seeking unspecified monetary damages for the alleged abuse which began in 2012, continued at Google in 2014 and ended when he went on leave last year.
The lawsuit comes in the wake of a year of racial reckoning, during which many major tech companies, including Google, announced efforts to make more inclusive workplaces for Black workers. Google employees have drawn attention to the issue of workplace sexual harassment at the tech giant .About 20,000 Google employees and contractors staged a walkout in November, 2018. In April, more than 2,000 workers signed an open letter, saying the problems haven't been adequately addressed.
"Google, basically, they give lip service to wanting to deter discrimination and harassment, but here, when they had the opportunity to do the right thing, they struck out," V. James DeSimone, Brown's attorney, said in an interview.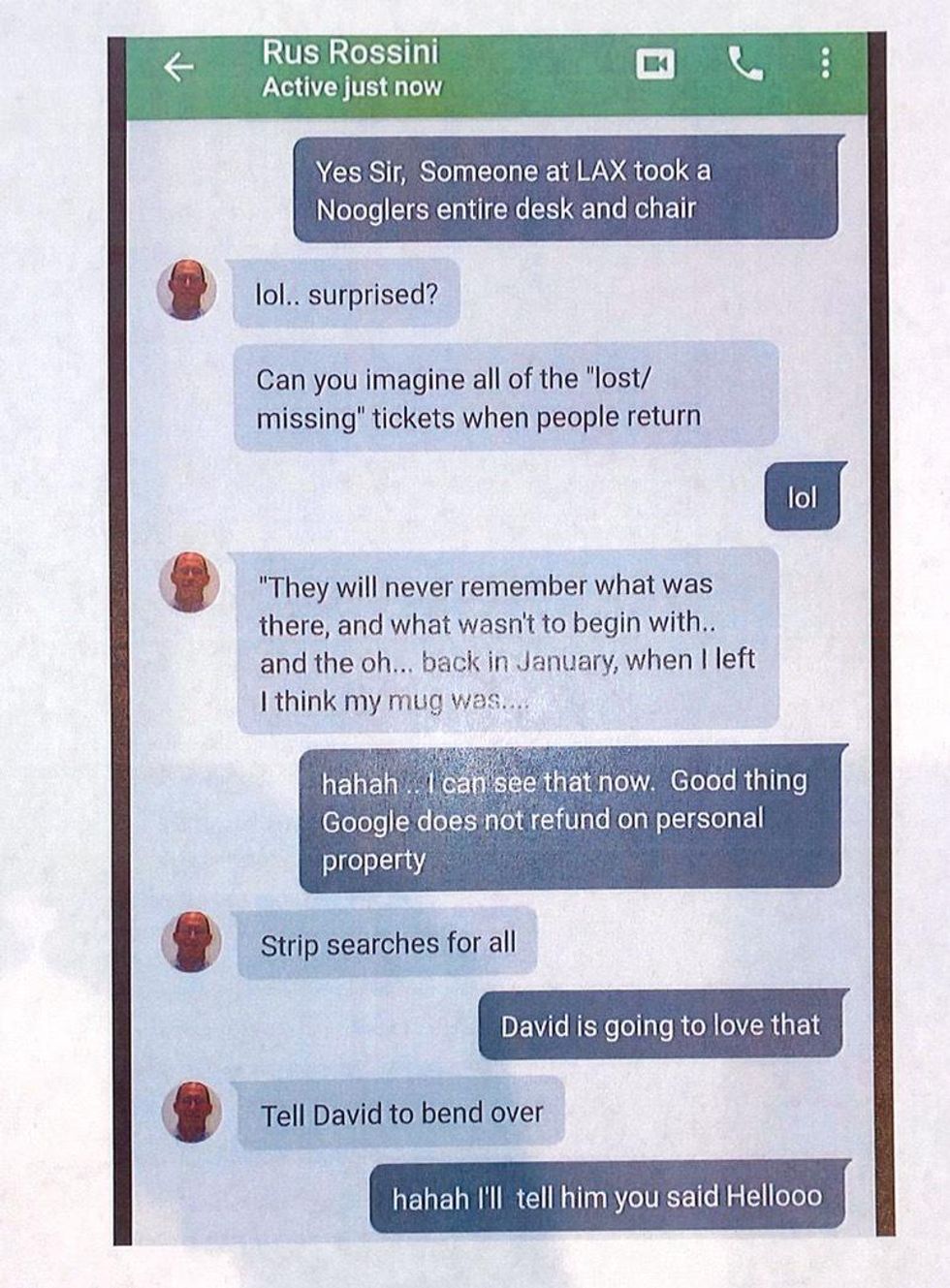 A screenshot of the conversation between Allied/Google employees.
The lawsuit also points to an exchange of text messages between Brown's supervisor, Henry Linares, and Google's senior manager for global community operations, Rus Rossini, in which Rossini and Linares allegedly mocked Brown's sexual orientation.
"Strip searches for all," Rossini texted, according to the lawsuit. To which, Linares responded, "David is going to love that." Rossini wrote, "Tell David to bend over," and Linares replied, "hahah I'll tell him you said Hellooo."
The lawsuit alleged Rossini "participated in the discrimination and sexual harassment and took no corrective action."
Google did not respond to a request for comment.
An Allied spokeswoman sent a statement: "Allied Universal is dedicated to fostering a workplace that is free from discrimination. We are committed to treating all people fairly, protecting safety and privacy and upholding ethical business practices at all times. We take seriously all claims against the company but are unable to comment on pending litigation."

Brown's supervisor, Linares, was fired for reasons unrelated to this complaint, according to the lawsuit. A person named Henry L. who worked at Allied through July 2021 did not respond to a LinkedIn message requesting comment.

In an emotional interview, Brown said he lived in fear of being killed because of the threats Linares made. He didn't tell anyone, including his partner, about the abuse for years.
"It took courage that I didn't even think that I had to voice it to my partner, to voice it to my other coworkers who I told what was going on," Brown said. "It took a lot out of me, but I didn't want to be selfish. I said, 'what if someone else is going through what I'm going through and they're scared like I was for all those years to tell anyone'."
The alleged verbal and physical abuse began in 2012 when Brown and Linares worked at the Santa Monica Mall. Two weeks after Brown filed a complaint, he was moved to Google's Venice campus.
Brown was relieved and ready for a fresh start, but a year later Linares was transferred to Google.
"I thought it would be completely different, especially because I did what I had to do as far as reporting it. I just thought that I would be more protected," Brown said of his time at Google.
"The companies have an obligation to keep the workplace safe and to take all reasonable steps to prevent harassment from occurring and these companies are being called out on that publicly," DeSimone said. "In terms of this lawsuit, we hope to be part of this movement across the country that is holding the companies accountable for the harassment that unfortunately still is prevalent in many workplaces especially, it appears, tech companies."
On Monday, a jury ordered Tesla to pay nearly $137 million in damages to an employee who was exposed to racist abuse, discrimmination and harassment at the company's factory in Fremont.
Brown said he filed the lawsuit so that others don't feel like they have to be silenced.
"I want someone else who's going through something similar, or maybe the same thing, to know it's OK to tell," he said. "I wish I just had the courage and I blame myself so much that I didn't say anything sooner. I just want justice. I just want awareness. That's all I want."
A Feb. 1 hearing is scheduled in the case.
From Your Site Articles
Related Articles Around the Web
How do you turn a one-time buyer into a repeat customer? Venice-based ecommerce software startup Repeat may have an answer.
Business partners Kim Stiefel and Sarah Wissel came up with the idea for the company after speaking to the customers of their own subscription t-shirt service, UNDR.
Their idea was to provide a quarterly subscription model for t-shirts. But, she found, the approach didn't work for many of her customers.
"Subscription services work really well," Stiefel said. "But when it comes to subscription products, it completely falls apart. Either I have too much [product], or I don't have it when I need it."
Instead, the pair began experimenting with a new method, nudging their customers to buy more shirts when they could reasonably postulate the old ones were worn down or, say, developed armpit stains.
When those experiments worked, they decided to start Repeat so they could share their approach with other brands.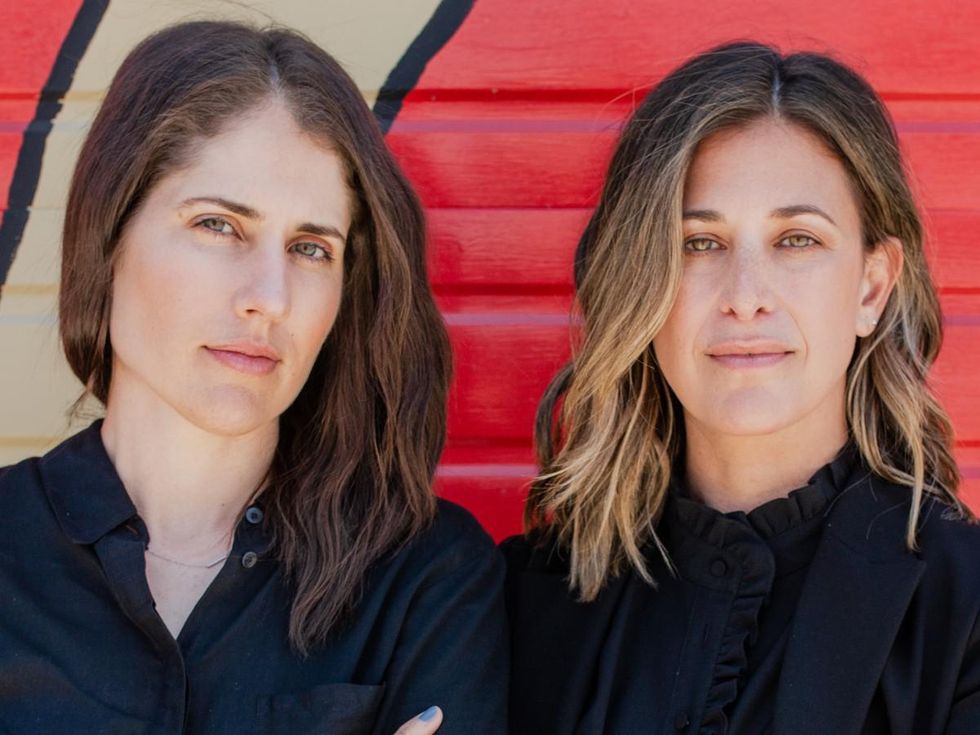 From left: Sarah Wissel and Kim Stiefel are the co-founders of Venice-based Repeat.
The startup helps companies that sell consumer packaged goods, or goods that need to be routinely replenished — such as toothpaste or shampoo — on the internet. By collecting consumer data, Repeat helps brands gauge when a customer may need to order a product again based on the behavior of the average customer.

When that time comes, brands can then have reminders sent to their customers through text or email as a way of nudging them to buy again.
There are 67 brands that use Repeat, including personal care brand By Humankind and coffee brand Jot. Stiefel said their clients have seen a 43% increase in sales on average since employing Repeat's software. Additionally, time between orders has decreased by around 18%, and average order value has increased by roughly 15%.
Those numbers helped lure investors. The startup raised a $6 million Series A round led by Battery Ventures, with investors from Mucker Capital and Harlem Capital. With the new round, Repeat plans to hire more engineers and invest in marketing.
And it is setting itself apart from Amazon's "Buy it again" option that lets customers quickly purchase an item after running out or its "dash buttons," which are physical buttons that can be pressed to order products.
Where Amazon falls short, according to Stiefel, is in giving brands access to valuable data that gives insight on how consumers interact with the product.
"[Brands] need to have that data," said Stiefel. "They need to have that information so that they can continue to build better relationships with their customers."
From Your Site Articles
Related Articles Around the Web
Genies, a startup that makes virtual avatars out of musicians, celebrities and, very soon, everyone else, is moving from Venice to a 20,000-square-foot converted warehouse in Marina Del Rey.
The move comes on the heels of Genies' $65 million Series B fundraise. The new space is five times the size of the startup's former office; it includes a recording studio, screening room, 25-foot ceilings and enough space to double the company's current employee count of about 60.
It's both a necessary step to accommodate the company's aggressive hiring plans and a bet on L.A.
"Genies' commitment to Los Angeles further demonstrates the unique offering only this city has," said Raise Commercial Real Estate's Mac Burridge, who represented Genies on the deal. "The confluence of entertainment and technology has never been more prevalent and companies like Genies are the reason for L.A.'s quick recovery."
It's go-time for Genies following the fundraise that brought tech veteran Mary Meeker onto its board. The company also recently brought on a new head of talent to lead the ongoing buildout of its executive team.
Genies joins a host of startups that already call Marina Del Rey home. Dollar Shave Club, System1, ZEFR, The Bouqs, Whatnot and Survios all reside in the unincorporated coastal community nestled between Venice and Playa Del Rey.
"Silicon Beach I don't even think is a fair way to describe Los Angeles tech anymore," said Burridge. "I think Los Angeles is a tech hub, whether your office is in the Valley, Downtown or in the South Bay and everything in between."
The deal is part of what Burridge describes as a "tidal wave of demand" for office space in Los Angeles coming out of the pandemic.
"Momentum hasn't, I don't think, ever been as hot as it is right now," he said. "There's never really been 12 full months of pent-up demand that's hit the market all at once, and that's what's happening right now."
Genies will follow a hybrid in-person and work-from-home policy beginning in September, said chief operating officer Jake Adams. Its staffing plans will focus on hiring engineers and designers.
What's the Value of an Avatar?
Genies has established itself by partnering with and building virtual avatars for celebrities including Justin Bieber, Rihanna and Russell Westbrook. The company says it controls "99% ownership of the celebrity avatar market." Last week, hip-hop trio Migos became the latest to render themselves into avatars with the company. Genies has also partnered with Warner Music Group to bring its avatar technology to the label's expansive roster.
Sporting a digital avatar can help celebrities advertise their milestones and ventures through an expanded online presence. It also offers potential for profiting from the so-called metaverse – the growing confluence of virtual worlds, social interactivity and commerce – by selling digital wearables and collectibles.

As for Genies, Adams, the COO, said the purpose of building avatars for celebrities is to encourage fans to adopt avatars of their own.
"That really shows users firsthand the potential of an avatar and how it can augment their digital and social experiences," he said.
Genies plans to launch a consumer app in the fall, where users can create their own avatars. Adams is working to craft partnerships that will enable those characters to travel across the digital universe. One established partnership is with GIPHY, which allows users to create GIFs that are shareable across numerous platforms.
Adams said Genies is currently testing its consumer-facing app with a small cohort. It plans to launch the app widely in conjunction with the digital goods marketplace that it is building with Dapper Labs, the blockchain company behind NBA Top Shot.
Genies does not share revenue or profitability figures but sources say the key challenge facing the company is whether they can become financially sustainable.
The marketplace is key to those plans. Genies will use it to create, market and sell digital goods, including NFTs, sometimes in collaboration with a brand or celebrity, for example to accompany an album release.
"When you think about our avatar itself, it really needs to sit in that flywheel where a user can buy something in our marketplace, they can adorn it on their Genie and then use it across their various digital experiences," Adams said.
Raising $65 million unlocks opportunities like investing in a new office and hiring a team to realize that vision. But it also comes with newfound pressure.
"The stakes definitely get pushed up," Adams said. "We have the resources to execute and now it's really just on us to make it happen."
From Your Site Articles
Related Articles Around the Web