genies
genies
Virtual avatar company Genies wants to be the go-to option for online personas and it's targeting the wealth of talent and seasoned executives from the area's biggest tech firm, Snap Inc., to help make that goal a reality.
Genies' latest hire from the Venice-based social camera company is George "YJ" Tu, a former senior engineer who worked on its Snapchat app and Spectacles camera glasses. Prior to working at Snap, Tu worked for three and a half years as a senior engineer at Facebook and specialized in developing the company's mobile infrastructure.
Tu joins Genies as its director of engineering. Genies CEO and founder Akash Nigam told dot.LA Tu's main mandate is hiring engineers to continue developing its avatar creation platform and digital marketplace, where users can buy and sell digital collectibles and wearable items for their virtual selves.
Tu is the first engineering executive the company's hired since its launch in 2017, but it plans to devote a big chunk of its recent $65 million Series B raise to attracting new talent.
"I think we've landed quite a few Snap employees for a few reasons," Nigam said. "Genies and Snap are probably the two biggest social companies on the Westside in LA, so I think that's an attraction for people that are already local."
The company already has some big celebrity names using its tech to make and share avatars -- including Justin Bieber, Rihanna and hip-hop tycoons Migos -- and the next step is to bring in more users.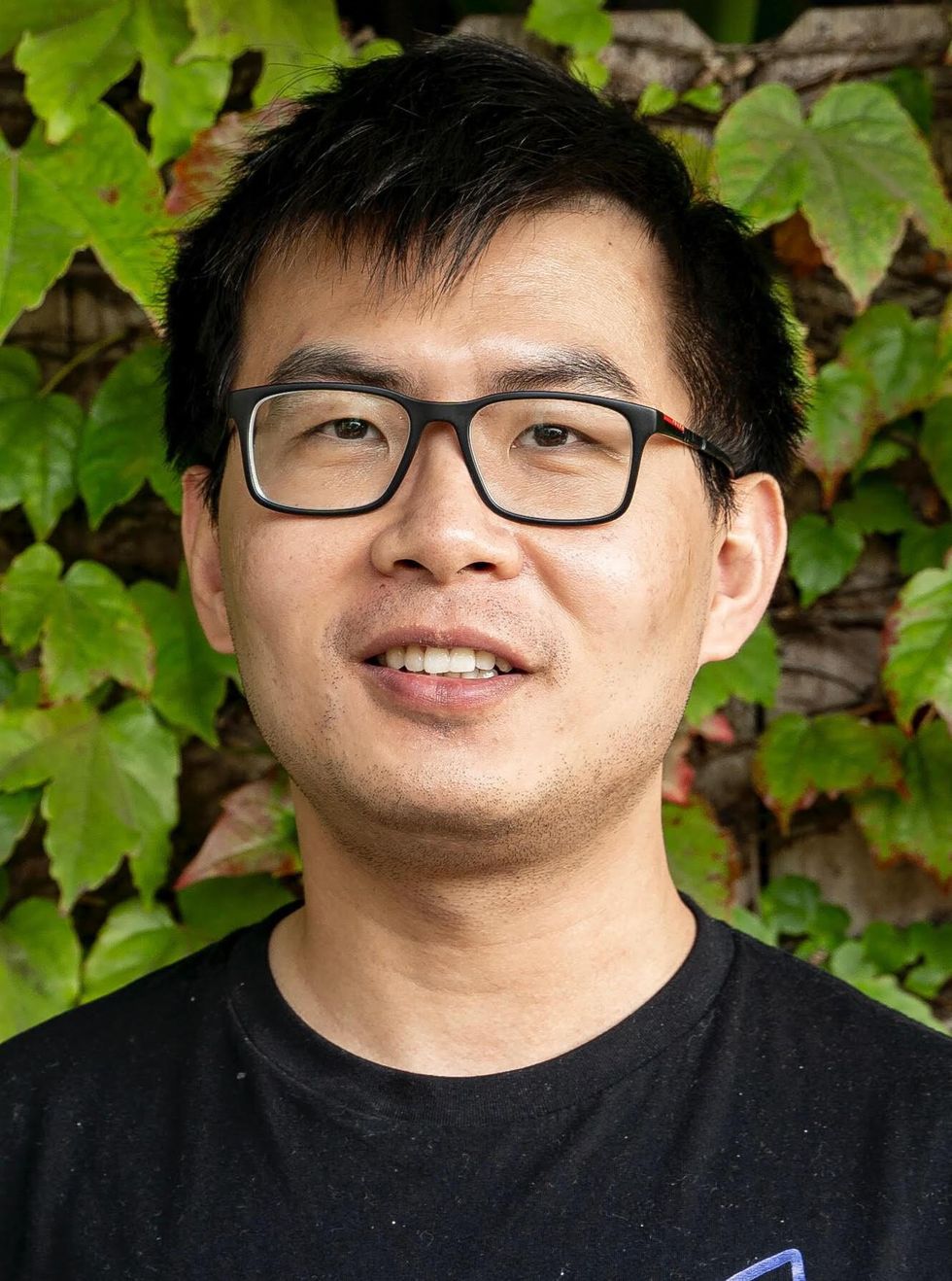 George "YJ" Tu is Genies' new director of engineering.
Nigam said the company's hired close to 30 new employees in the last three months, with about 80% of those hires being engineers. He added that roughly 90 people work at Genies, and estimated that 10% of them are ex-Snap employees.
"I think from a product perspective, we share a lot of philosophies and we're very similar in the way that we scheme and we game plan. Snap always is kind of shooting a few years in advance specifically within the social category."
Matt Sibka, Genies' vice president of recruiting, spent three and a half years at Snap creating a team for its CEO Evan Spiegel and was hired to do the same at Genies earlier this year. Genies competes with Snap's Bitmoji avatars, which got a 3D upgrade this July.
"Eighty percent of new spend after our fundraise, and anything moving forward for the next two years, is all going to be on engineering to become an engineering powerhouse," Nigam said. Genies has raised $110 million to date and Nigam previously told dot.LA the company wants to make "Ninety nine point nine percent of its revenue from selling digital goods.
Nigam said that the synergy between Genies and Snap wasn't a conscious choice, but noted that both companies have a similar vision – to advance augmented reality and encourage people to adopt virtual avatars that they can increasingly use as an extension of how they express themselves online.

Nigam's plan is to integrate Genies avatars into as many applications as possible. Currently the company has a deal with Facebook's Giphy that will let users bring their avatar with them to platforms where Giphy is integrated, like Facebook, TikTok or Snapchat – but Nigam said it wants to bring its avatars to popular games like "Roblox" too.
"That's the first API partnership, but we want to have hundreds of those," Nigam said. "So all of a sudden if you get ported into 'Roblox,' you can get any avatar."
Genies' next big goal is getting Generation Z to buy into the NFT hype by creating unique items for their avatars and then trading them. Genies is working with Dapper Labs, which operates NBA Top Shot and CryptoKitties, two of the most popular NFT exchanges, to create its own blockchain-based system for creating, verifying and selling digital goods.
Genies plans to make the marketplace available by the end of this year. Right now it's only accessible to celebrities, but Nigam said it'll open a beta version to customers by year's end.
"It almost becomes like a login authentication button, where you can port your Genie and your digital goods associated with it from one environment to the next, and in that case, we're kind of creating a new digital identity layer," Nigam said.
From Your Site Articles
Related Articles Around the Web
Genies, a startup that makes virtual avatars out of musicians, celebrities and, very soon, everyone else, is moving from Venice to a 20,000-square-foot converted warehouse in Marina Del Rey.
The move comes on the heels of Genies' $65 million Series B fundraise. The new space is five times the size of the startup's former office; it includes a recording studio, screening room, 25-foot ceilings and enough space to double the company's current employee count of about 60.
It's both a necessary step to accommodate the company's aggressive hiring plans and a bet on L.A.
"Genies' commitment to Los Angeles further demonstrates the unique offering only this city has," said Raise Commercial Real Estate's Mac Burridge, who represented Genies on the deal. "The confluence of entertainment and technology has never been more prevalent and companies like Genies are the reason for L.A.'s quick recovery."
It's go-time for Genies following the fundraise that brought tech veteran Mary Meeker onto its board. The company also recently brought on a new head of talent to lead the ongoing buildout of its executive team.
Genies joins a host of startups that already call Marina Del Rey home. Dollar Shave Club, System1, ZEFR, The Bouqs, Whatnot and Survios all reside in the unincorporated coastal community nestled between Venice and Playa Del Rey.
"Silicon Beach I don't even think is a fair way to describe Los Angeles tech anymore," said Burridge. "I think Los Angeles is a tech hub, whether your office is in the Valley, Downtown or in the South Bay and everything in between."
The deal is part of what Burridge describes as a "tidal wave of demand" for office space in Los Angeles coming out of the pandemic.
"Momentum hasn't, I don't think, ever been as hot as it is right now," he said. "There's never really been 12 full months of pent-up demand that's hit the market all at once, and that's what's happening right now."
Genies will follow a hybrid in-person and work-from-home policy beginning in September, said chief operating officer Jake Adams. Its staffing plans will focus on hiring engineers and designers.
What's the Value of an Avatar?
Genies has established itself by partnering with and building virtual avatars for celebrities including Justin Bieber, Rihanna and Russell Westbrook. The company says it controls "99% ownership of the celebrity avatar market." Last week, hip-hop trio Migos became the latest to render themselves into avatars with the company. Genies has also partnered with Warner Music Group to bring its avatar technology to the label's expansive roster.
Sporting a digital avatar can help celebrities advertise their milestones and ventures through an expanded online presence. It also offers potential for profiting from the so-called metaverse – the growing confluence of virtual worlds, social interactivity and commerce – by selling digital wearables and collectibles.

As for Genies, Adams, the COO, said the purpose of building avatars for celebrities is to encourage fans to adopt avatars of their own.
"That really shows users firsthand the potential of an avatar and how it can augment their digital and social experiences," he said.
Genies plans to launch a consumer app in the fall, where users can create their own avatars. Adams is working to craft partnerships that will enable those characters to travel across the digital universe. One established partnership is with GIPHY, which allows users to create GIFs that are shareable across numerous platforms.
Adams said Genies is currently testing its consumer-facing app with a small cohort. It plans to launch the app widely in conjunction with the digital goods marketplace that it is building with Dapper Labs, the blockchain company behind NBA Top Shot.
Genies does not share revenue or profitability figures but sources say the key challenge facing the company is whether they can become financially sustainable.
The marketplace is key to those plans. Genies will use it to create, market and sell digital goods, including NFTs, sometimes in collaboration with a brand or celebrity, for example to accompany an album release.
"When you think about our avatar itself, it really needs to sit in that flywheel where a user can buy something in our marketplace, they can adorn it on their Genie and then use it across their various digital experiences," Adams said.
Raising $65 million unlocks opportunities like investing in a new office and hiring a team to realize that vision. But it also comes with newfound pressure.
"The stakes definitely get pushed up," Adams said. "We have the resources to execute and now it's really just on us to make it happen."
From Your Site Articles
Related Articles Around the Web
Once the home of Frank Sinatra's vinyl recordings, Warner Music Group has ventured into the virtual entertainment world. The company announced it will partner with a virtual concert provider and invest in a tech company that plans to develop avatars and create NFTs for the label's artists.
Monday's announcement that Warner will enter into a content and investment partnership with Los Angeles-based Wave followed a similar announcement Friday that the venerable music label will partner with Genies, a tech company that will help develop a virtual presence for Warner artists and NFTs for their artwork and music.
"The commercial opportunity in the metaverse has exploded in the last several years, with the past few months seeing a tipping point for mainstream adoption of immersive social experiences and virtual communities," Oana Ruxandra, EVP, business development and chief digital officer at WMG, said in a news release.
Wave, a virtual concerts platform, uses its technology to transform artists into digital avatars through which they can perform livestreamed concerts for fans. It has recently released performances from artists such as The Weeknd and John Legend.
"Wave is indisputably a leader in the interactive virtual entertainment space and the right partner to help us grow WMG's efforts," Ruxandra added. "Our artists and their fans will be getting best-in-class experiences, as we pioneer new forms of consumption and monetization."
The agreement will allow Warner to develop virtual performances, experiences and monetization opportunities for its line-up of artists across its labels, including "new forms of ticketing, sponsorship and in-show interactions for fans," the company said.
In the past few months, Warner has announced it has invested in social gaming platform Roblox and experimental virtual artist record label Spirit Bomb, "enabling artists to power their creative visions and engage fans in new ways," the company said.
Warner did not release financial details of its investment in Wave.
In addition to the digital avatars for live performances, Wave offers live chats, virtual gifting and voting, as well as real-time audience appearances during artists' performances.
"WMG has an incredible history of being a trailblazer in the music industry. They share our vision for pulling the future forward using new technologies that benefit artists and fans alike," said Adam Arrigo, CEO and co-founder of Wave. "We're excited to partner with them to create interactive events that are unlike any other virtual concerts ever experienced."
The deal with Warner is one of Wave's biggest partnerships to date. It has also teamed up with Tencent Music Entertainment as well as investment from Justin Bieber, J. Balvin, The Weeknd, Scooter Braun, Top Dawg Entertainment, Maveron and Griffing Gaming.
Wave has so far hosted more than 50 events for popstars, DJs and artists.