livestream shopping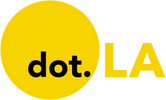 Get in the KNOW
on LA Startups & Tech
X
livestream shopping
Whatnot has entered the octagon.
The Marina del Rey-based livestream shopping platform announced a partnership with mixed martial artist Jorge Masvidal on Monday that will see the UFC fighter launch his own shopping channel on Whatnot.
Masvidal will go live weekly on the channel, called The BRKRZ, to auction off items such as UFC trading cards and his own collection of merchandise. The channel will also include appearances by other professional fighters, and aims to give viewers an inside look at Masvidal's life as he trains and travels for fights.
While Whatnot got its start as a marketplace for geeky collectables like Pokémon cards and Funko Pops, the partnership with Masvidal speaks to its recent efforts to grow its audience among sports fans. Whatnot's celebrity investors include athletes like NBA player Andre Iguodala and YouTuber-turned-boxer Logan Paul.
"Sports cards and memorabilia have been the top category on the platform since we launched it in early 2021, and we are thrilled to welcome Jorge and his team as an official sports partner," said CEO Grant Lafontaine in a statement.
In September, Whatnot attained unicorn status by raising a $150 million Series C round at a $1.5 billion valuation. That deal capped off a prolific year of fundraising for the startup that saw it raise a $20 million Series A round and $50 million Series B round.
From Your Site Articles
Related Articles Around the Web
As the COVID-19 pandemic destroyed small businesses, some struggling companies turned to livestreaming-based ecommerce business Popshop Live to stay afloat.
Now, Popshop Live wants to prove that ecommerce via live streaming is here to stay.
Valued at $100 million, the company announced a Series A round of funding Thursday. Popshop declined to disclose how much it raised in the funding round, though TechCrunch reported the funding was around $20 million.
The round was led by Benchmark and included TQ Ventures, Mantis VC and Access Industries.
Popshop Live also hired former Instagram and Instacart executive Bangaly Kaba to lead platform growth and former head of Uber Eats Jason Droege to lead expansion, the company announced.
Founded in 2019, Popshop is one of several Los Angeles-based startups competing in the emerging livestreaming ecommerce world that includes talkshoplive, a streaming service for celebrities, and Whatnot, a streaming service for collectibles.
"Livestream commerce is not just a trend in China and through the pandemic," said Popshop Live board member Matt Cohler in announcing the raise. "It is an emerging multi-billion-dollar phenomenon whose growth is accelerating every day."
The company sees itself as a combination of online commerce with the experience of in-person shopping. Customers can scroll through live feeds of merchants selling items, interact with sellers and purchase items through Popshop's app. The startup claims that traditional brick-and-mortar sellers are shifting their focus to its platform, after seeing higher sales and rates of customer convergence.
From Your Site Articles
Related Articles Around the Web
A few years ago, you went to eBay to bid on limited edition sports cards or out-of-print comic books. Then, livestreaming came to town.
Two weeks ago, one Pokemon collector dropped $17,500 on a Skyridge Charizard Holo card during a broadcasted event streamed live on Whatnot.
What began as a social app for collectors to swap stories and photos has ballooned into a digital stage for live auctions and unboxing videos. Since January, the Los Angeles tech startup has hired some 40 employees and leased a 10,000 square-foot office space in the Marina Arts District.
And on Tuesday — just a few months since its last big boost — the startup closed a $50 million Series B round.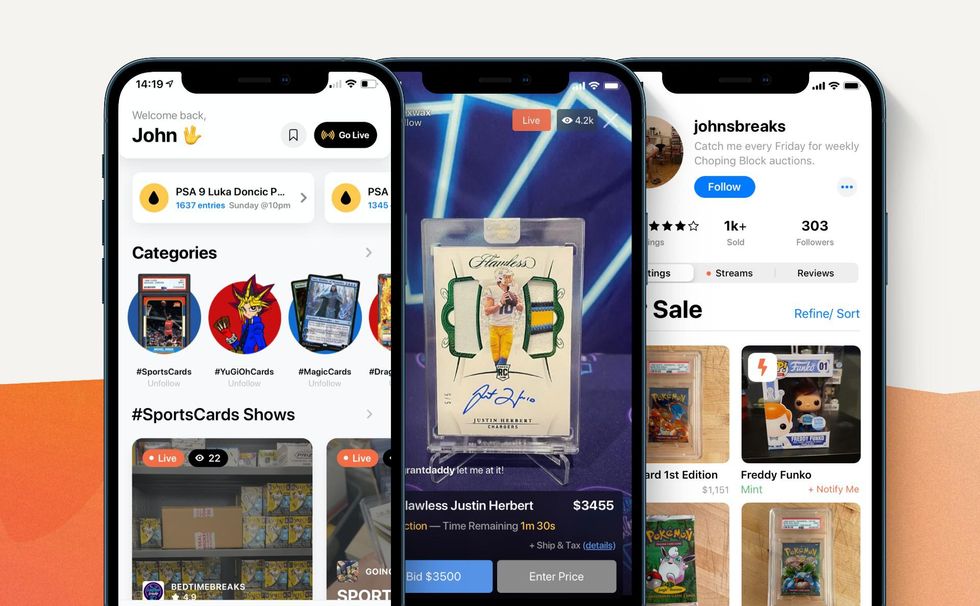 Whatnot recently closed a $50 million Series B round.
"It's probably one of the fastest growing marketplaces we've ever seen," said Y Combinator's Anu Hariharan, who led the round.
It's been over a year since consumers moved online in droves and investors are still sinking millions into retail technology —livestream shopping especially.
L.A.-based Popshop Live was valued at $100 million last fall after an investor bidding war to lead its Series A. Talkshoplive, which hosts celebrities livestreaming about their memoirs and latest albums, scored seed capital in February from a venture firm backed by eBay's founder.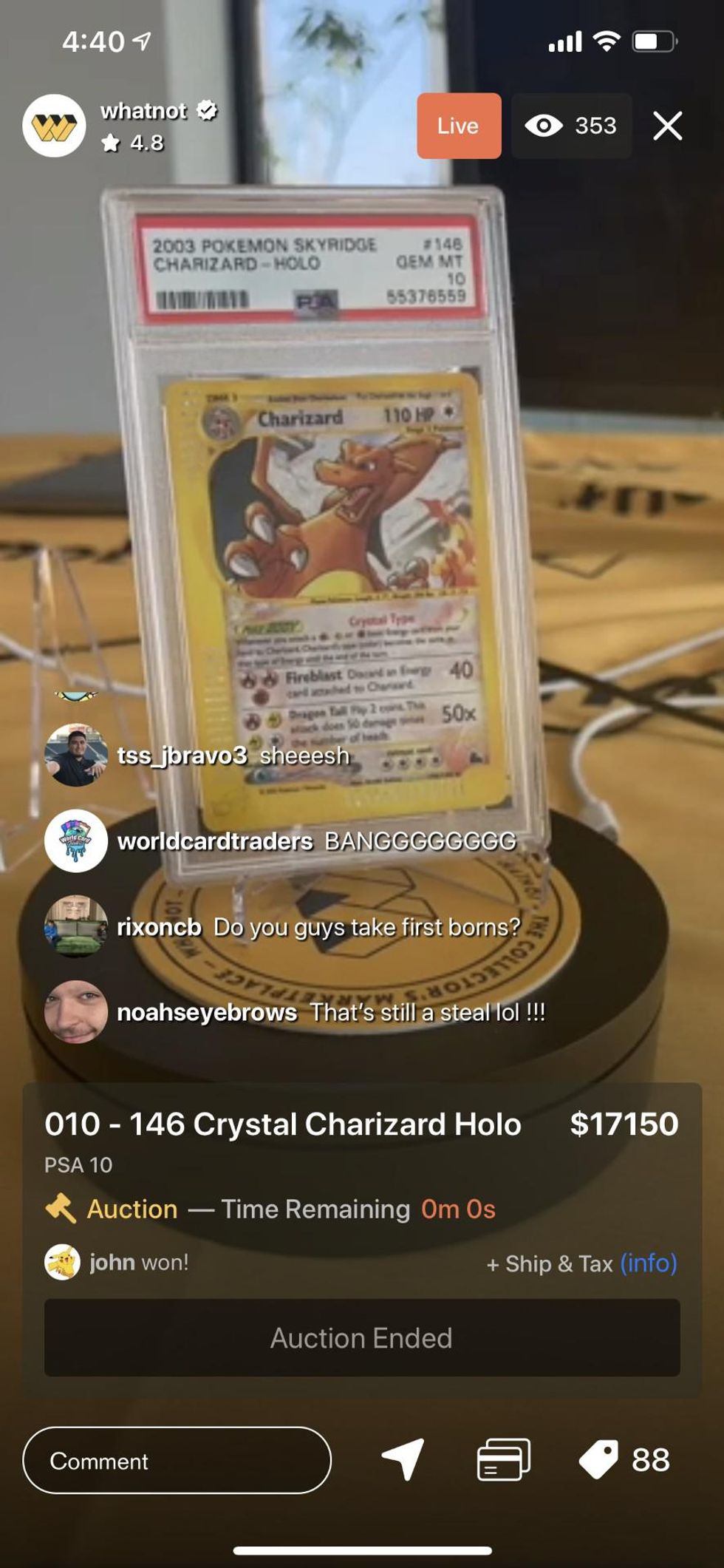 One Pokemon collector dropped $17,500 on a 1st Edition Shining Charizard card during a broadcasted event streamed live on Whatnot.
What gives? Hariharan said U.S. ecommerce has only embraced video in the last three to five years, and now it's everywhere. Even retailers like Home Depot introduced livestream demos and workshops during the pandemic.
Grant Lafontaine, the CEO and co-founder of Whatnot, brought the technology to a niche, well-connected community of online shoppers. He founded the company in 2019 with Logan Head, a former product manager at the online sneaker marketplace GOAT.
Their users are 18 to 32-year-old collectors who spend hours browsing eBay listings but crave something more interactive.
"They're on eBay because they're buying the collectibles, they're on Instagram to show them off," Lafontaine said. "They come to Whatnot because they can do both."
The company got its start as a social platform and marketplace — sans video livestreaming. That function came later, after a steady pool of users made checking Whatnot a daily habit.
"I was the first person to go live," Lafontaine said. "I sold out $5,000 worth of collectibles in two-and-a-half hours. The experience kind of spoke for itself. Anyone who saw it wanted to use it."
Other investors include Andreessen Horowitz, Animal Capital, musicians Ryan Tedder and DJ Skee with Min 10 and NFL players DeAndre Hopkins, Bobby Wagner and Jeremy Padawer. The company has raised $75 million to date.
Whatnot now boasts 15 categories of collectibles, from FunkoPops to sports cards (the most popular category on the app) to a few newer experimental verticals like vintage clothing. Within the next year, Lafontaine said he hopes to hit 30.
"For a young startup, it's always important to start with one or two categories, not with everything," said Hariharan. "What Whatnot has done really well in collectives will help them scale pretty much any product."
The app, she said, is on its way to becoming "eBay 2.0."
A previous version of this story stated Whatnot closed a $40 million Series B Round. The correct amount is $50 million.
From Your Site Articles
Related Articles Around the Web