ecommerce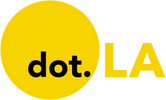 Get in the KNOW  
  on LA Startups & Tech  
X
ecommerce
Eddy Lu
With LA Tech week approaching, I had to pull one of my favorite Office Hours' episodes spotlighting a unicorn ecommerce sneaker startup GOAT, when co-founder and CEO Eddy Lu talked about how he achieved success and shared his insight on when to know if it's time to pivot or quit.
Serial entrepreneur Lu and his co-founder Daishin Sugano are both L.A. natives and believe that the city of angels is where GOAT is meant to be.
"There is just no better place than L.A. to launch a consumer facing company because there's such a diversity of customers," he said. "And it's not as homogenous as some other areas in terms of the experiences that people can bring."
Prior to launching GOAT, Lu and Sugano worked together on a few other businesses that were mostly unsuccessful.
They raised a Series A of $6 million from Upfront Ventures for their first startup, Grub, with Us, after participating in Y Combinator's program. But unfortunately, Lu said they came across too many friction points and needed to pivot.
"You really have to be honest with yourself," he said. "So we tried to remove every single friction point from what we got from customer feedback and at that point, it still wasn't working. So we said, 'It's really time to move on.'"
Shortly after, the two focused all of their energy into launching their sneaker marketplace GOAT at a time when the sneaker reseller market was booming. Lu said that at one Black Friday event, the team decided to discount the hottest sneakers of 2015 to retail prices ($200).
Local sneaker publications caught wind of this news and it blew up. Due to the overwhelming coverage, GOAT signed over 100,000 new users onto the platform a week before the shoe drop.
As exciting as this was for Lu and the business, the platform was not built to withstand that many individuals accessing it all at once.
"As you can imagine when 100,000 people try to access a non-skilled server on the same exact second, on the same exact day, chaos ensues," he said. "So nothing worked on Black Friday and people were so mad at us. We had 1000s of customer service complaints, death threats on Instagram, it was just madness."
But despite the user outrage they received, the situation was quickly rectified and a trusted advisor shared some advice: "at this stage in your company's life, it's better to be hated than unknown."
Lu said that while looking back at that day was so painful, he would have done it a thousand times over because "that was our true inflection point."
"We literally did not look back from that point in time because while our consumers hated us at that moment," he said, "they experienced the app and they started to understand our value proposition."
To date, GOAT has over 30 million members, over 100,000 SKUs and over 2 million listings.
"It's because of that exact moment where people started to understand what we did so that they could just trust us," Lu said.
dot.LA Reporter Decerry Donato contributed to this post.
Want to hear more episodes? Subscribe to Office Hours on Stitcher, Apple Podcasts, Spotify, iHeart Radio or wherever you get your podcasts.
At Super Bowl LVII, advertisers paid at least $7 million for 30–second ad spots, and even more if they didn't have a favorable relationship with Fox. But the pricey commercials didn't persuade everyone.
A recent report from advertising agency Kern and neuroscience marketing research outfit SalesBrain is attempting to answer that question using facial recognition and eye-tracking software.
The study began before the Super Bowl aired, as companies were rolling out their ads on social media. Christophe Morin, founder and CEO of SalesBrain and lead researcher for the study with Kern, said he worked with 60 test subjects ranging in age from 18-60. The participants were asked to turn their webcam on to allow SalesBrain to record their facial movements as they watched an ad. SalesBrain used its software to create a heat map-like image of where and when people were most attentive. They also solicited subjects' feedback on the ads, whether they liked them or not or felt compelled to buy.
The ads were given an A-F grade on how effective they were at hitting each of the six primal brain stimuli, then compiled into an average grade. Dexcom, a glucose monitoring company that roped in Nick Jonas for a spot, scored the best, with an A grade. Pringles, which put out a Super Bowl ad where celebrities got their hands stuck in their signature tall cans, scored the worst (a D). Not surprisingly, any ad that didn't also immediately and clearly convey a face didn't engage viewers.
Russell Kern, founder of the Kern Agency, said he and Morin worked "together to create and do research on what really is the pain that's implicit or explicit, and how might we state a claim in such a way that it stands head and shoulders above your competition." He added this information can help companies "in the creation of the product to help maximize the communication before it's even put together."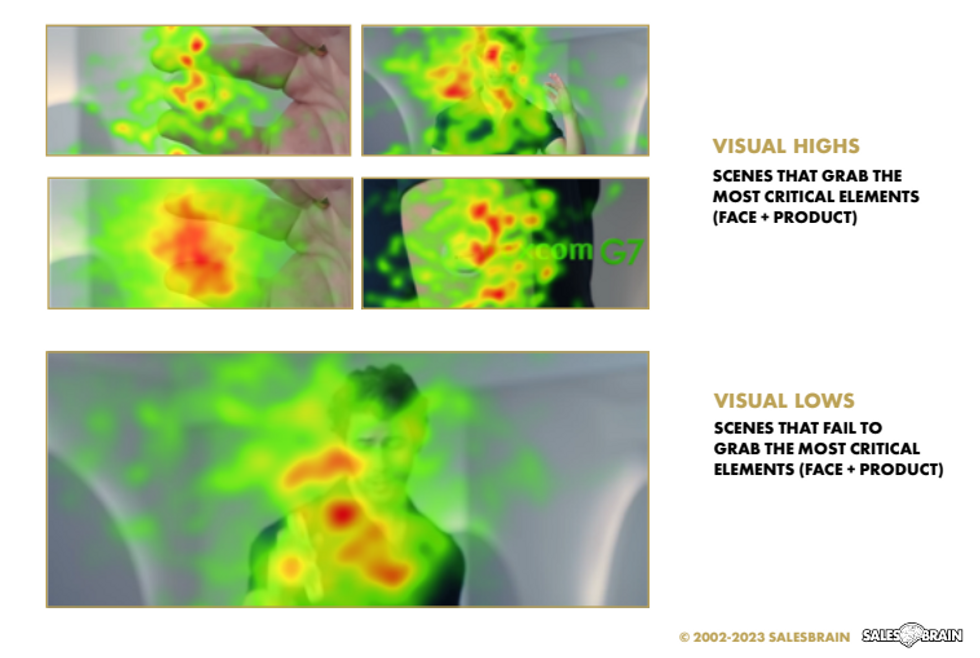 This heat map shows where people's eyes were drawn during a specific commercial. Photo: Kern/SalesBrain
The study identified six key types of stimuli that engage what Morin calls the "primal brain" – sometimes referred to as the "reptilian brain," or the part of our brain that's hardwired with survival instincts. This, according to Morin, is the center of the brain that dictates our desire to be safe, protect ourselves and our tribe, and move up in social status. Our rational brain, the part responsible for logical thinking, will get in the way of purchases if given enough time, he noted.
Some of these might seem obvious, but advertisers in Super Bowl LVII didn't seem to know so. "The brain is designed to say, 'is that going to keep me alive? Is that going to raise my status, or help me procreate? If you don't connect to those primitive drivers, your message is getting the off button," Russell Kern explained. Kern started his Woodland Hills-based advertising agency in 1991, but only recently embraced neuroscience as part of the process.
To that end, the study found that simply liking an ad isn't enough to make a person buy a particular product, and that people respond more favorably to ads that provoke feelings of needing security, safety or promise the potential to elevate their status in the pecking order.
We encounter so many stimuli in our daily lives and advertising is no exception – Morin told dot.LA he estimates the average person receives up to 30,000 ad messages per day, "and the volume of information keeps going up." Naturally, if we tried to process all that we couldn't do much else, Morin said.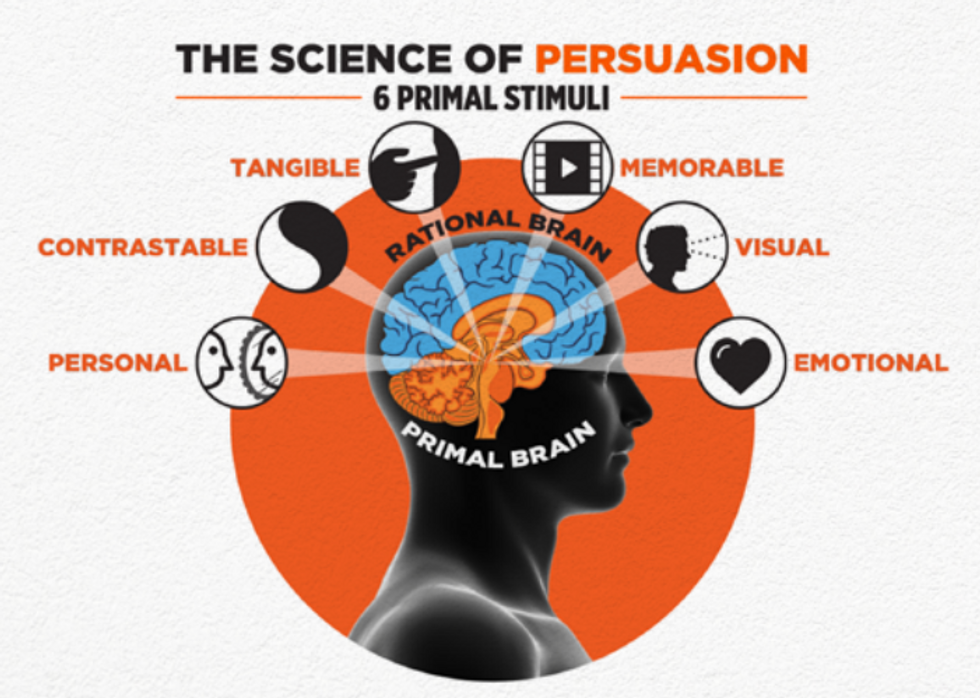 SalesBrain's six stimuli visualized. "All rights reserved Salesbrain 2002-2023" by permission from Salesbrain
"Our brain is facing a growing number of messages," Morin said. "Most of the messages that we receive, are dismissed, and what I call the splashing effect, or bouncing off our brains."
Neuromarketing, as it's called, is a thorny issue in the advertising industry.
That's partly because of the misconception that customers have about it. In 2019 the Harvard Business Review spoke with three experts about neuromarketing in 2019 and while they agreed that there's "no potential for a direct privacy violation for the average consumer: your thoughts are your own;" the mere idea that thought patterns are up for scrutiny creeps people out.
That said, Morin did say some firms are embracing the science, including Avon, a medical cannabis company in Canada and Facebook, which he said later started its own neuromarketing lab. The social giant also bought out neural interface startup CTRL-Labs in 2019 for as much as $1 billion.
"The issue is an industry that seeks for creativity," Kern theorized. He noted that some advertisers are hesitant to bring science into their creative process. Some, Kern said, think that "if we're just creative enough, the person will figure out what's happening. But the answer is now. The mind wants to preserve glucose, in case it needs it for fight or flight, and it only pays attention when it's about me."
Evan Xie
Like most small business owners, Madison Riddolls uses TikTok to sell hair accessories. But in the past year, Riddolls who has nearly 20,000 followers, has found a new way to leverage the social media platform. It all began with her boyfriend going on TikTok Live — a separate feed on the platform where creators can livestream to interact with viewers in real-time — and began selling scrunchies he sewed.
"A lot of people were coming into our lives to get to know me as a business owner," Riddolls says. "I treat my TikTok Lives as though it's my storefront if I had a brick and mortar store."
TikTok Live was initially intended as a way for influencers to interact with their fans, with many creators hosting Q&As or sharing live makeup tutorials. But small business owners have found that TikTok Live is also a good way to sell products in real time.
For her part, Riddolls goes live while packaging orders and offers incentives, like free products or unreleased items, to people who buy while she streams. An order counter, which connects to her Shopify account, sits in the background to mark new orders as they come in.
"I'm at now at a point where, if I go live, I will get an order at least one order out of it, which is great for a small business," Riddolls says.
Live shopping has slowly gained popularity outside of Asia, where the market has grown to over $3 billion. While social media platforms have helped boost ecommerce, live shopping has yet to take off in the U.S. Nonetheless, TikTok is testing its live shopping feature TikTok Shop in the U.S.
But few creators have access to TikTok Shop. The program has found only moderate success in the U.K., where creators have complained about low payments, and expansion to the U.S. was previously considered a shelved project. Without access to TikTok Shop, many small businesses are using TikTok Live as a substitute.
Carla Diaz, who owns the party company Pickaparty, previously used TikTok to livestream while selling face paint at swap meets, which often resulted in viewers visiting her in person. She didn't start selling products until two weeks ago after her followers outside of Los Angeles wanted a way to buy from her.
But last Thursday, Diaz was shocked when her account was suddenly banned from using the feature. Her sister gave her access to her account to stream, but Diaz soon found that the account was banned as well. Diaz suspects it is one specific person following her across different accounts and reporting her content.
"You get stressed out because you bought so much merchandise," Diaz says. "I still have other channels to sell it through but TikTok is a big loss for me."
In the meantime, Diaz has contacted TikTok to try and restore her access to livestreaming. She's also gone live on Instagram but has found that it is harder to grow views. Of course, other platforms like WhatNot and TalkShopLive are built entirely to support livestream shopping. But Diaz says she likes to intersperse her business-forward content with personal content, moving between going live while making coffee and sharing life advice to showing off new merchandise. She says other platforms cater more towards creators who solely want to livestream to sell items.
"There's this uniqueness of TikTok that I will never find anywhere else, which is why I stay on the app because it lends itself to the way that I present myself," Diaz says. "I don't think I'd be able to find that anywhere else to be honest."
But even creators who haven't been banned have had difficulties with TikTok Live in recent months. Many have seen their average views decrease significantly. Dasha Derkach, who has used TikTok Live to promote her scrunchie business Enchanted Scrunch since February of 2021, says her lives used to get around 40,000 viewers last year. These days, they hover around 1,000. Having spoken with other small business owners, Derkach says no one has a clear reason to explain this drop in views.
And though Derkach is one of the creators with access to TikTok Shop, so far the feature hasn't impressed her. Due to TikTok's partnership with TalkShopLive, the program doesn't integrate with Shopify, the company Derkach uses to host her business. And sales aren't substantial either, as she's only made five sales through the platform in the last month. Considering that she makes anywhere from five to forty sales every time she uses TikTok Live, Derkach finds that her audience is more receptive to that promotion method.
"I feel like most customers don't trust TikTok Shop yet," Derkach says.
Riddolls has also seen her views waver, with only about 1,000 people total joining her lives compared to the many thousands from a year ago. But even with the difficulties of going live, Riddolls says it's an invaluable tool for people trying to reach more customers.
"TikTok Lives are the easiest way for me to connect with people," Riddolls says. "People are either buying out of convenience and just grabbing whatever they can off Amazon or they really want to be connected."