instacart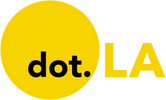 Get in the KNOW
on LA Startups & Tech
X
instacart
Ecommerce sales ballooned during the pandemic and are expected to get even bigger — hitting the $1 trillion mark by 2022.
That's according to a study released by Adobe Analytics that found the lockdown economy has helped boost online shopping by an extra $183 billion since March 2020. That is a 20% growth, roughly the size of last year's holiday shopping season when buyers spent $188.2 billion online.
The report predicts it will only continue. Shoppers spent $813 billion online last year, up 42% from 2019. This year's spending is estimated to be somewhere between $850 billion and $930 billion. That means that by 2022 ecommerce spending might break the trillion dollar threshold for the first time.
"The pandemic has fast-forwarded ecommerce, driving levels of online sales we had not expected to see for a couple years. And consumers are not going back," said Adobe Digital Insights director Taylor Schreiner in an email. "People who successfully purchased loungewear in the last year for instance, are less concerned about the lack of a dressing room moving forward."
One of the biggest growth sectors have been online grocery shopping, with the rise of Instacart and grocery delivery services. Over the first three weeks of February 2021, it grew 230% in comparison to January 6 to January 26 the previous year, before the pandemic struck. Sporting goods also saw a 75% growth in that same period.

The way people shop is also changing — curbside and in store pickups of online orders grew 67% when comparing February 2021 to the previous year. Adobe surveyed 1,000 consumers, finding 30% actually preferred these pick up options to delivery.
"For many retailers, this service is no longer [just] 'nice to have.' Consumers value the convenience and speed, and it'll evolve how physical storefronts are developed moving forward," said Schreiner.
Buyers are also more likely to use a delayed payment option — selecting the option for "Buy Now, Pay Later" to place orders that are 18% larger — than standard payment options. This payment method grew 215% for the first two months of this year, in comparison to last year, which Adobe analysts attribute to "consumers [dealing] with financial uncertainty."
As customers were delaying paying, they were also shopping more. People spent more time scrolling throughout the day as bots reminded them of what was left in their cart.
Adobe's analysts note that "online shopping became a ubiquitous daily activity during the pandemic."
Sales and holiday shopping became less important. Memorial Day, Labor Day and President's Day all brought in less revenue than other days that same week. Even the traditional online holiday shopping spike — which usually lasts from Thanksgiving to Cyber Monday — dipped 9% from last season's haul, a change of $600 million.
The Digital Economy Index uses real time data from Adobe Analytics, which analyzes over a trillion site visits and online transactions across 100 million product SKUs.
"On a state level, California grew 35.4% year over year in the first two months of 2021," said Schreiner. "This is impressive growth for a market that was already adopting ecommerce at high rates prior to the pandemic."
According to HGInsights' index, more California companies use Adobe Analytics to track consumer behavior than other states.

P
hoto from Flickr Creative Commons
More people are ordering groceries online due to the novel coronavirus outbreak, leading to a permanent consumer purchasing shift — and a giant revenue boost for Amazon.
That's according to an analysis from RBC Capital Markets, which just ran its fifth annual user survey on online grocery trends. It concluded that Amazon's online grocery arm could produce $70 billion in gross merchandise volume by 2023 — more than 3X from 2019 — becoming a material portion of its total revenue.

"We view Amazon as one of the largest structural beneficiaries of this accelerated secular shift to online grocery shopping, along with Walmart and Instacart," wrote RBC analyst Mark Mahaney in the report.
The 1,500-person survey, conducted over the past two weeks, found that 42% of respondents purchase groceries online at least once a week, up from 22% in 2018. Amazon is the most frequent destination for shoppers, with 60% using the tech giant to buy groceries online, compared to 47% for Walmart.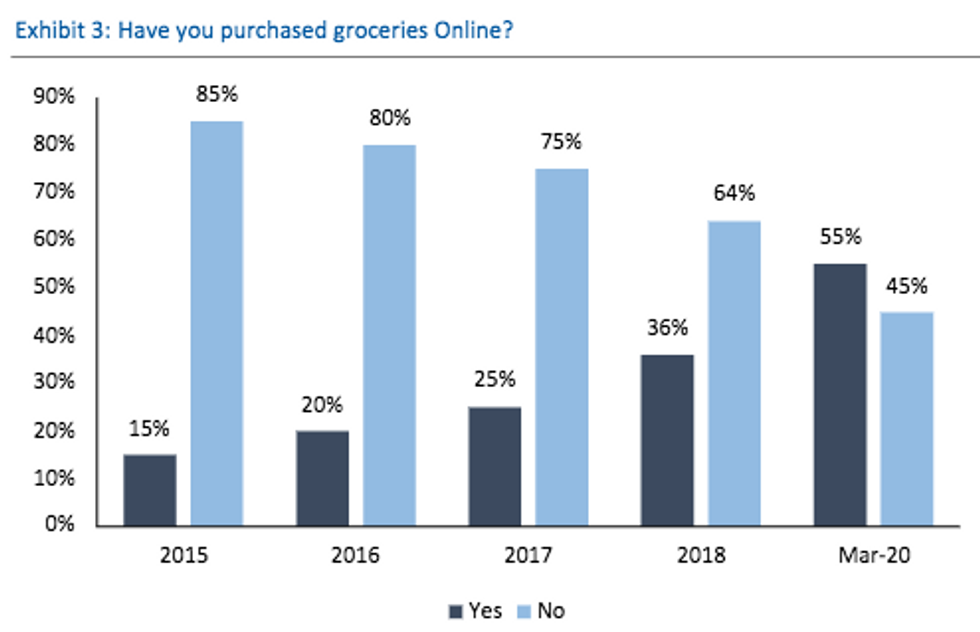 RBC Chart
Mahaney said the pandemic has "created an inflection point for online grocery shopping." One-third of respondents said they made their first online grocery purchase in the past month. More than half of online grocery shoppers surveyed said COVID-19 is "leading them to permanently boost their willingness to buy groceries online." And of the people who don't buy groceries online, 41% (up from 19% in 2018) said they would do so in the next six months.

"We believe that online grocery shopping may now be coming a habitual practice among shoppers," Mahaney wrote.
RBC also found that online grocery purchase frequency, basket size, spend, and intent to spend reached all-time highs.
The report cited increased recent Google searches for "online grocery," surging app downloads for Amazon's Prime Now and other delivery services, and an Adobe study that cited 100% growth in daily sales for U.S. online grocery shopping last month as social distancing orders keep people inside their homes.
RBC also spoke with Instacart president Nilam Ganenthiran, who said customer demand over the last few weeks has hit record levels and is up 300% year-over-year. The company said it will hire 300,000 shoppers over the next three months to keep up. This week it added new features to open up more delivery windows.
The New York Times reported that orders for Amazon groceries have been as much as 50 times higher than normal. The company has struggled to fulfill orders, with some customers reporting extended delays or no open delivery windows for weeks.
Instacart is one of many companies investing heavily in grocery delivery.
Flickr
"This, to us, implies that there is demand for online grocery shopping, and service providers are struggling to meet this customer need," Mahaney wrote. "Could this be a short-term issue? Probably. That said, we believe COVID-19 has brought a dramatic increase in awareness for the value, ease and convenience of online grocery shopping that could last for a long time."
The spike in online grocery purchasing could also help Amazon boost its Prime membership base. Amazon requires a $119/year Prime membership to access its 2-hour Prime Now delivery service and Amazon Fresh.
Nearly 75% of the survey respondents said they were Prime members, up from 59% last year. RBC estimates that there are about 90 million U.S. Prime subscribers, of Amazon's reported 150 million members worldwide (Amazon does not disclose country-specific numbers).
This past October, Amazon made grocery delivery a built-in benefit of Prime membership — no longer charging an extra $15 per month, or $180 per year, for Amazon Fresh delivery on top of the $119 annual Prime fee.

"I've been working in grocery delivery a long time, and I think this offering is truly a game-changer," Stephenie Landry, Amazon's vice president of grocery delivery, said in an interview with GeekWire in October. She predicted that free Amazon Fresh grocery delivery would become "one of the most loved benefits of Prime."
Amazon's online grocery arm also includes its AmazonFresh Pickup service. The company also offers BOPIS (Buy Online PIckup in Store) at Whole Foods, which it acquired for $13.7 billion three years ago.
Amazon offers discounts to Prime members when they shop at Whole Foods, and has integrated Whole Foods ordering into its Alexa voice assistant.

Groceries are an estimated $678 billion U.S. market that is increasingly going digital. Research firm eMarketer estimates that U.S. food and beverage e-commerce sales will grow 23.4 percent to more than $32 billion this year, making it "both the fastest-growing and least penetrated ecommerce category." Those projections came before the COVID-19 crisis.
"Aside from the many brick-and-mortar retailers watching foot traffic and sales drop to near zero, the most profound shift in consumer behavior is happening in grocery ecommerce—and this shift is likely to have one of the longest-lasting consequences," eMarketer wrote.
Amazon has been trying to solve the economic problem of grocery delivery for more than a decade, dating back to the 2007 launch of Amazon Fresh as a pilot in Seattle.
The infrastructure and other costs associated with delivery cut into the already thin profit margins of the grocery business. But the expanding consumer appetite for online grocery ordering appears to be changing things.
"Years ago people didn't think that consumers would buy things like clothing online," Amazon's Landry said in October. "And now we know that consumers are doing it in great numbers. We believe we're at a similar turning point for fresh groceries and we're ready to make a fresh grocery delivery a great new part of Prime."
Also aiding Amazon's grocery delivery efforts is the company's huge investment in its delivery network that is enabling 1-day delivery promises for Prime members.
Instacart, Walmart, Target, Kroger, and others are also investing heavily in online grocery. Walmart, which brought in more than $250 billion in revenue for fiscal year 2020, said in September it would offer grocery pickup from 3,100 stores and grocery delivery from 1,600 stores by the end of 2019.
Walmart's expansion into online ordering, and Amazon's expansion into brick-and-mortar retail, show how the retail industry is increasingly becoming one large market, blending online and in-person sales.
RBC's Mahaney said Amazon's grocery sales could reach around one-third the size of Walmart by 2023.
"Given that Amazon has over the past 25 years reached closed to parity with Walmart in terms of non-grocery global retail sales and online adoption is dramatically greater today than it was 5, 10, 20, 25 years ago, we believe our one-third ramp is gut-check reasonable," the report noted.
Six Los Angeles area startups made venture capital firm Andreessen Horowitz's ranking of the top 100 largest and fastest-growing consumer startups and private companies.
Topping the rankings were some of the usual suspects, including Airbnb, Doordash, Postmates, and Instacart. The VC firm labeled them as "some of the most impactful companies in the word economy."
Among the firm's findings is that a small number of marketplace startups — the list's top four — accounted for 76% of consumer spending. And travel, food, and groceries accounted for the largest categories.
"Several emerging categories are intriguing, including local indie brands, celebrity shout-outs, streetwear, fitness memberships, and even car washes," according to the report. "The fastest growing marketplaces are growing really fast — 3x to 5x year-over-year."
Among the Los Angeles startups to make the list:
GOAT, an online retailer for sneakers and other apparel, ranked No. 16 on the list. The Culver City-based company has some 12 million members and boasts an inventory of 800,000 vintage shoes.
Wag, the dog walking app considered to be the Uber for pets, ranked No. 24 on the list. The West Hollywood-based company announced last year it landed a $300 million investment from Softbank's Vision Fund.
Atom Tickets, which uses an app and its website to sell movie tickets and other services, ranked No. 25 on the list. The Santa Monica-based company has a roster of top Hollywood financial backers that includes Walt Disney Co., 20th Century Fox, and Lionsgate.
Tradesy, an online resale marketplace for buying and selling women's clothes, ranked No. 37 on the list. The Santa Monica-based company counts Kleiner Perkins Caufield & Beyers and Richard Branson as investors.
ResortPass, an online booking platform for access to hotels for the pool, spa, fitness, and amenities, came in at No. 71 on the list. The Santa Monica-based company has raised about $13 million to date, according to Pitchbook.
Bloomnation, an online floral marketplace, ranked No. 92 on the list. The Santa Monica-based company is considered an "Etsy-like" platform where 3,500 florists deliver to nearly 5,000 cities.
From Your Site Articles
Related Articles Around the Web