coronavirus
Production in Hollywood dropped for the second month in a row in December and is expected to remain slow as coronavirus cases surge in Los Angeles.
Warner Bros. TV, Universal Television, Disney Television Studios, CBS Studios, Sony Pictures Television and other production studios have halted production until at least mid-January after FilmLA circulated a Christmas Eve alert from county health authorities strongly recommending production companies limit or pause activity through the end of the year.
Both SAG-AFTRA and the Producers Guild recommended a halt on on-set commercial production in the region on Jan. 3 .
According to FilmLA, the nonprofit that issues filming permits for the county and city, permit applications fell 24.9% from November to December. That's up from the 7.6% dip in applications between October and November.
FilmLA spokesperson Philip Sokoloski said larger budget products like feature films and scripted TV may not resume filming until the middle of this month or later.
"There's a lot pending but no real understanding of exactly when the work will return," he said.
FilmLA sent out the alert on the recommendation of county health officials who were facing zero capacity at hospital intensive care units by mid-December. Sokoloski said public health officials opted not to shut down production as they did in March because "there's a very high level of voluntary compliance" among studios.
TV production accounted for 27% of permit requests in December. A handful of series began shooting locally, including "Insecure" (HBO), "Tacoma FD" (HBO Max) and "The L Word: Generation Q" (Showtime).
Commercial shoots for products by companies including Haagen Dazs, Honda and Mountain Dew comprised 28% of permits issued last month. Feature film production made up just 6% of permitting across 26 films, mostly independent projects, including "Monstrous," "Slayers" and "This Land."
Dodger Stadium will become a vaccination site by the end of the week, as Los Angeles officials close the nation's largest testing operations Monday.

City and county officials hope as many as 12,000 people will be vaccinated each day at the site as the effort to vaccinate Americans ramps up.
So far, vaccinations across the state have been distributed in phases to individuals in the top tier, which include health workers and those in nursing homes. Los Angeles officials have not clarified when residents in lower tiers will become eligible. But in New York, this week the governor began giving frontline workers including teachers, mass transit workers and older residents access to the vaccine.
According to the county website, 33.6% of all received vaccines have been used for a first dose. California Gov. Gavin Newsom last week said the state would work to accelerate vaccination efforts.
A spokesperson for Curative, Pasqualle Gianni said Monday morning the company had been contracted to administer the testing at Dodger Stadium, but later that afternoon said "Curative does not yet know our role."
The company came under scrutiny in the last week after the FDA released a warning that their COVID tests could carry false negatives. The one-year-old startup run by Fred Turner had a previous contract with the city and state to distribute and administer the Moderna vaccines at skilled nursing centers in Los Angeles County.

"Vaccines are the surest route to defeating this virus and charting a course to recovery, so the City, County, and our entire team are putting our best resources on the field to get Angelenos vaccinated as quickly, safely, and efficiently as possible," Mayor Eric Garcetti said in a statement on Sunday.
The shift in resources in L.A. will lead to a drop in testing capacity, but will triple the number of vaccines available to residents, officials said in Sunday's announcement. The plan also halts COVID-19 testing at the Veterans Affairs Parking Lot 15 near Jackie Robinson Stadium.
Over one million L.A. residents have been tested at Dodger Stadium since it began operations in May of last year. The change will not impact existing testing appointments made for this week.

Free tests will still be offered at eight permanent locations and six mobile sites across L.A. and the city said it's opening additional mobile teams and a site at Pierce College in Woodland Hills.
This story has been updated and corrected to reflect comments from a Curative spokesman regarding their role in administering vaccinations for the city.

The Food and Drug Administration approved genomics company DxTerity's at-home COVID test this week making the Rancho Dominguez-based company one of the few that partner exclusively with corporations to provide saliva-based tests that can be taken on your couch.
As workers return to work, businesses have been scrambling to create safety protocols and make workers feel safe. Individual consumers have been able to purchase at-home tests online, but the company said it hasn't been as easy for businesses.
"Our new at-home test provides the flexibility and reliability of results for people who are traveling, returning to work or simply want to ensure they can protect themselves and others," said Bob Terbrueggen, CEO of DxTerity, in a statement.
Companies can order testing kits given emergency use approval as part of their return-to-work program, and send them directly to employees' homes. Employees get results from DxTerity's lab within 48 hours of returning the sample. The company said it serves 150 company sites around the nation with more than 300,000 employees.
"What that translates to is corporations in Los Angeles, Hollywood movie studios, production companies — they can order testing directly from us for their employees to facilitate a safe return to work program, but also know they won't be impacting negatively testing available for the community," said Brett Swansiger, chief commercial officer.
The company is one of only four tests that are authorized to screen asymptomatic individuals for COVID. Such testing has to be much more sensitive to be able to catch infections even before symptoms develop. The other authorized testing for asymptomatic individuals is provided by Hologic, LabCorp and Kaiser Permanente.
Founded in 2006, DxTerity specializes in RNA monitoring for regular disease activity, but pivoted to coronavirus testing during the pandemic. It now has the capacity to process more than 10,000 samples daily of their RNA test.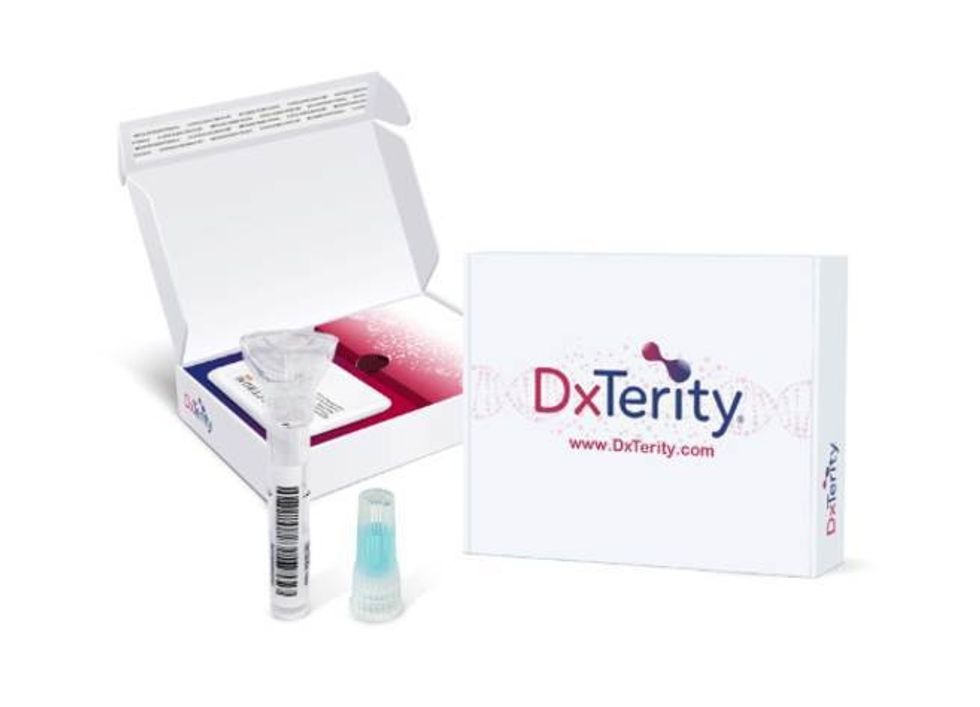 The company offers businesses repeated employee screening once they return to work. The testing helps find workers who might have been infected and have the potential to spread the virus.

"Models certainly suggest that regular testing is one component of a good strategy for slowing the spread of COVID-19," said Nathaniel Bottman, a researcher at USC specializing in optimizing group testing for the virus.
Xencor, a biologic therapeutic company based in Monrovia, has one such agreement with DxTerity. Each of its 200 employees, 40% of which work on site, was tested on Memorial Day and has continued being tested weekly. Employees can also request additional testing, all of which is covered by Xencor.
DxTerity said they are in a good position as flu season rolls around and more people with flu-like symptoms test for COVID. Unlike laboratories that service hospitals, which may see a crush of new cases that slow processing, they maintain a more predictable caseload.
"It's anticipated that we're going to have 50 million people diagnosed with the flu this year, based on last year's incidents. If you put those 50 million people in the current testing pathway, along with COVID-19, all of those individuals will have to be treated as COVID-19 patients until proven otherwise," said Swansiger. "So that's going to create a huge surge in testing demand, which can prolong testing turnaround time."
According to the Center for Disease Control and Prevention COVID-19 Data tracker, there have been 137 million reported COVID-19 tests conducted this year.