atom tickets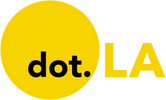 Get in the KNOW
on LA Startups & Tech
X
atom tickets
Courtesy of Warner Bros.
The Santa Monica-based movie-ticketing service Atom Tickets has pre-sold more tickets for "Godzilla vs. Kong" than any film since the start of lockdown.
Following a disastrous year for the box office, its performance could be a litmus test for Hollywood and the many theaters that teetered on the brink during the pandemic.
The big-budget action movie from Warner Brothers debuted on HBO Max this week and is hitting the big screen while many schools are on spring break.
"You're afraid to be like, 'It looks like we're almost at the end,' but it feels like we're making a lot of progress," said Atom Tickets co-founder and chairman Matthew Bakal. "The hunger of people going back is pretty palpable."
One big reason for the boost is that more seats are for sale as theaters have increasingly reopened. Several cinemas in Los Angeles opened on March 15th at 25% capacity. That will expand to 50% on Monday. Earlier in the month, theaters began opening at limited capacity in New York City and San Francisco.
These three regions comprise about 20% of the overall domestic market, Bakal said. Partly as a result, "Godzilla vs. Kong" will be playing on more American screens than any pandemic-era film.
"In November the story was, no one was sure what the future holds," he added. "Now it seems pretty clear that the future includes robust moviegoing as we get into this summer."
Another sign of pent-up demand is that outside the U.S., fans have been flocking to the silver screen.
"China, Japan [and] Australia have been booming for moviegoing," Bakal said. "It's like 110-115% of pre-COVID revenue, even at a 70% attendance cap."
Despite the optimism, in certain ways the pandemic likely has irrevocably changed the movie business. The theatrical window – the period when new films play exclusively in cinemas – has continued to erode. Warner Bros. will be debuting its entire 2021 slate on HBO Max at the same time the films hit the big screen, a decision that studio chief Ann Sarnoff described as "temporary." Disney recently announced "Black Widow," its biggest blockbuster since lockdown began, will be available on Disney Plus the same day it hits theaters this summer; the company has not taken a definitive stance on whether that will become the norm.
Many industry insiders have long argued that the window has been overdue for a washing.
The Theatrical Release Window: Will the Changes Last?
"It looks like people are coalescing around a 45-day window," Bakal said, pointing to a string of recent announcements from several studios and theater chains.

"Ninety percent of revenue from theatrical movies are made in those first couple of weekends," he noted. "So as long as there's a solid exclusive window, things should return to relative normalcy."
From Your Site Articles
Related Articles Around the Web
The pandemic may have accelerated consumers' shift online, but don't expect Americans to forgo theaters permanently for streaming or stop shopping at the grocery store. Concerts and conferences will eventually come back, but the post-pandemic future will likely be very different.
Those are some of the insights from Atom Tickets co-founder Matthew Bakal and Greycroft's Elaine Russell, who spoke in a dot.LA Summit panel moderated by KPMG audit partner Charity Manley on Wednesday. Atom Tickets is a digital movie ticketing service and Greycroft is a venture firm which focuses, in part, on retail.
Though many are staying home, Americans are still spending money, Russell said, and ecommerce is doing much better than many predicted.
"We went through an acceleration during this pandemic that we thought would take five to 10 years," she added. "And we just achieved that digital acceleration over the last nine months. And I think it's only going to continue."
The turn to ecommerce was a trend long in the making, one that is reflected in the decline of shoppers flocking to malls and stores on Black Friday in recent years and the increased numbers of online purchases on Cyber Monday.
"Black Friday will not be what it used to be. Cyber Monday is where it will be at," she said. "We've already seen that trend over the past few years."
One of the most dramatic shifts online has been in the grocery industry. Pre-pandemic, about 2% to 3% of all sales were made online through apps like Instacart or grocers' own apps and websites.
"Right now, it's closer to 10 to 15%. We think that in the next five years, that'll increase to 20-plus percent of all grocery spending," she said.
In both the event and retail spaces, Bakal and Russell believe consumers will emerge from the pandemic used a hybrid shopping experience. People will prefer shopping at brick-and-mortar stores or seeing events in person. They'll rely on ecommerce for convenience, they predicted.
"Post pandemic, [people] will go back to some sort of mixed behavior where they will go to the grocery store for some things, but a lot of other things and their traditional sort of staples, they'll buy online, and have delivered," said Bakal.
Movie theaters have slowly opened in many parts of the country and people are returning to the cinema, but the movies haven't followed. Still, Bakal is optimistic.
People are "going to movies, going to restaurants in the country at a lower, but a growing rate," he said. "So for us, it's been about shrinking down to the right size, and focusing on the future to make sure that we're here at the other end of this."
While streaming will still be a big part of people's lives, Bakal believes people will still go to the theatre or drive-in — another form of movie-viewing that has surged during the pandemic — for an in-person experience.
"I think movie theaters, movies will be back earlier than concerts and live sporting events, perhaps because it's just the amount of people in the crowd control," said Bakal. "The planning it takes to deal with those types of venues is different and takes a little more lead time."
In many ways, theaters are facing the same dilemma that restaurants are, as would-be diners begin creating their own traditions at home. That doesn't mean there isn't a space for dine-in restaurants, it means there is an opening for creating new versions of that.
"There is a shift towards these home-cooked meals and towards family and health and all these different markets," said Russell, adding they "kind of roll up in the same thesis — that there's a lot of room for innovation around this, a lot in this space and a lot of opportunity."
Snapchatters can now watch movie trailers, coordinate theater trips and purchase movie tickets in the app – with the "Movie Tickets by Atom" Snap Mini.
The new feature was rolled out just as theaters are starting to open in some markets (though not yet in California or New York), and studios have finally (we think?) committed to premiering several new releases (e.g. "Bill & Ted Face The Music" on August 28th; "Tenet" on September 3rd; "Wonder Woman 1984" on October 2nd).
The debut last Friday of mid-budget thriller "Unhinged" starring Russell Crowe kicked off what will be an litmus test of consumers' desire to return to theaters. The film only grossed $4 million at the U.S. and Canada box office, but industry insiders hope it whet the appetite of moviegoers.
Will people come back? Santa Monica-based Atom Tickets is optimistic. It recently surveyed 16,000 of its cinephile users and found 74% said they would be ready to come back to theaters within one month. Of those surveyed, 40% said they would come back immediately. The most commonly cited safety measure that respondents said they wanted to see was spaced seating, followed by wearing masks for both staff and guests.
"With safety measures in place and movie fans eager to return to the movies, we knew the timing was right to launch Atom's ticketing experience on Snapchat," said Atom Tickets co-founder and chairman Matt Bakal.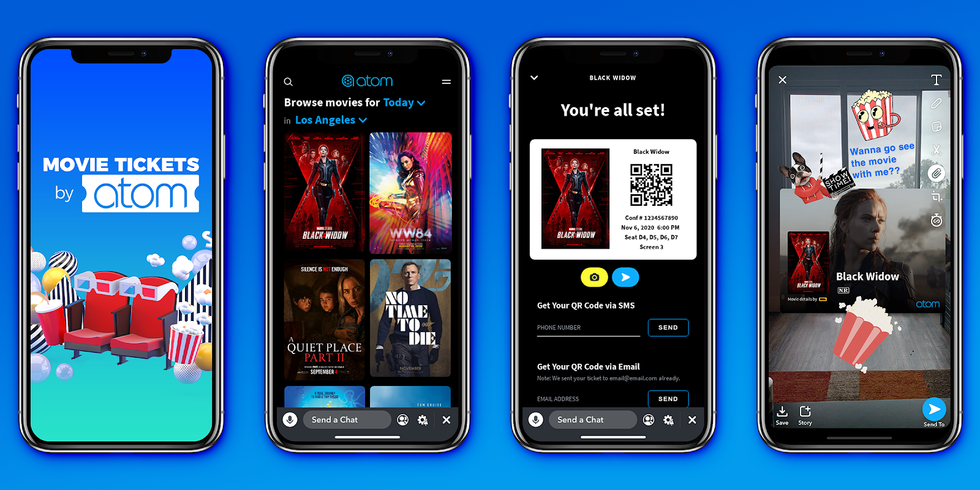 What is a Snap Mini? As announced at its Partner Summit earlier this year, Snap now incorporates simplified third-party apps directly within its platform. This particular feature lets users access Atom Tickets without having to leave the Snapchat interface.
Atom Tickets was founded in 2014. Its partners, which will support the Mini, include AMC Theaters, Cinemark, Harkins Theatres and ArcLight Cinemas. The company has raised $110 million and its backers include Disney, Lionsgate, and Fidelity Management & Research Company.
From Your Site Articles
Related Articles Around the Web