Proptech startup Pacaso emerged from stealth mode Thursday, aiming to make it easier for a larger swath of the population to own a second home, or at least a portion of one.
The company announced a $17 million seed round led by venture capital firm Maveron, with participation from Global Founders Capital, L.A.'s Crosscut and individual investors such as former Starbucks CEO Howard Schultz, real estate coach Tom Ferry, former Zillow executive Greg Schwartz, and Amazon CEO of Consumer Worldwide Jeff Wilke. Pacaso also raised $250 million in debt financing to purchase homes.
The company is the brainchild of dot.LA co-founder and former Zillow Group CEO Spencer Rascoff and dotloop founder Austin Allison.

"This is an entirely new category of second home ownership," said Allison, who sold his real estate startup to Zillow in 2015.People have owned second homes for decades. But it can be expensive to purchase and maintain a property that often goes mostly unused throughout the year. There are 30 million second homes across the U.S. and Europe, but they are only occupied 4-to-6 weeks per year on average, Allison said.
Some decide to split up ownership between multiple parties, but the process can be arduous and complicated, especially when an owner decides to sell his or her stake.
"Pacaso is taking all of those hassles associated with the traditional do-it-yourself process, and all of those risks, and eliminating them," Allison said.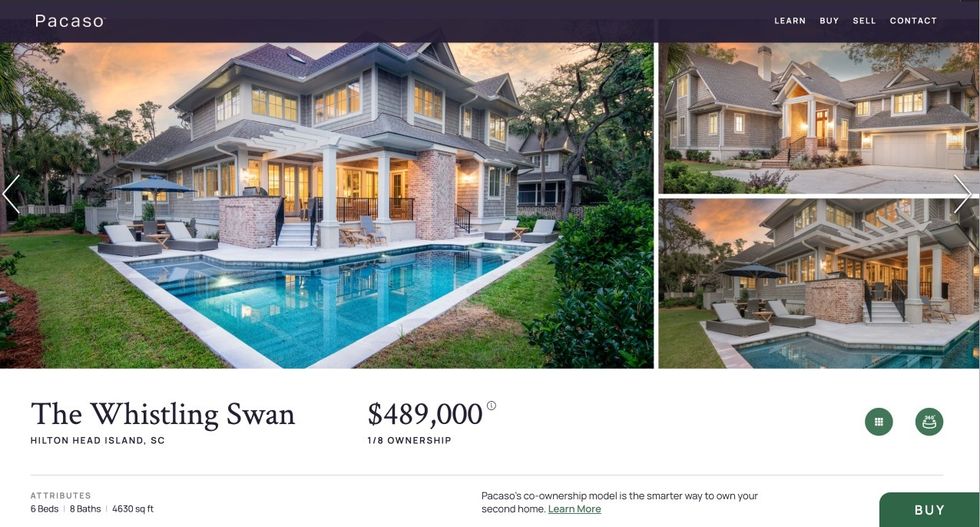 Pacaso (pronounced like "Picasso") wants to increase utilization of these properties — and build its own business in the process.

The startup partners with real estate agents to find homes for customers and helps set up an LLC designed for co-ownership. The buyers pay for their share — anywhere from one-eighth to half — and Pacaso pays for the rest, eventually selling the other "shares" to additional owners. It then serves as the owner representative on behalf of the group, handling various logistics such as maintenance, financing, legal, and more. Its platform also lets owners with scheduling and booking.

Pacaso makes money by charging owners a 10% fee at the time of purchase, and from an annual property management fee equal to 1% of the purchase price.
The business model is common in commercial real estate, but not as much in the vacation home industry. It's different than the traditional resort timeshare structure, which are typically at hotels or resorts versus normal homes.
Pacaso will also purchase part of a home from current second home owners, then sell the rest to vetted buyers.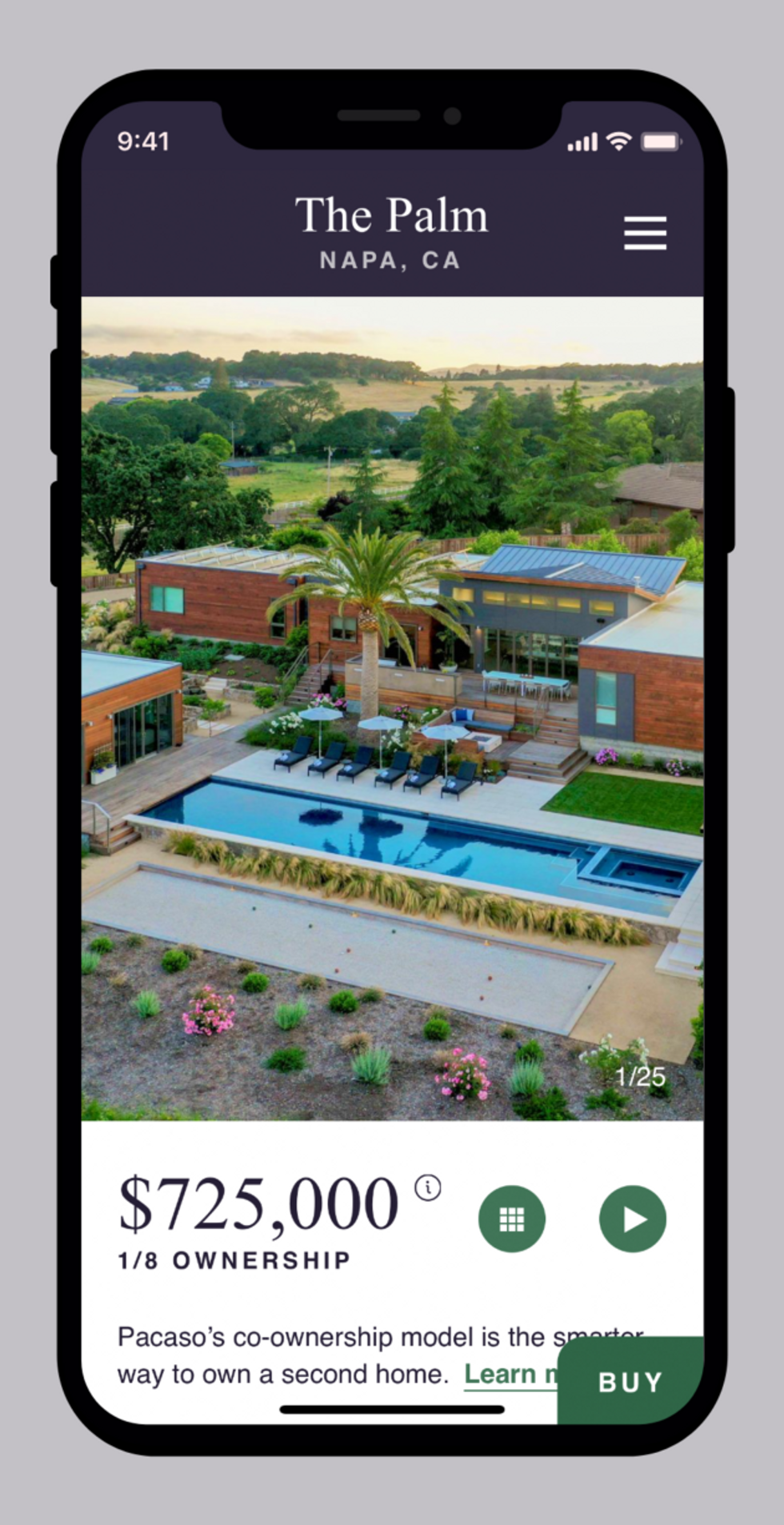 "Second home ownership provides a canvas for life's memories, and it shouldn't only be accessible to the 1%," Rascoff said. "Through Pacaso's innovative co-ownership model, second home ownership will be achievable by tens of millions of more people, helping to democratize access to second home ownership."

"Democratize" was also a key theme at Zillow, which grew into a real estate powerhouse by surfacing housing data not previously accessible to the general public.
Rascoff is the chairman of dot.LA, which he co-founded in 2019.
Prior to that, he helped start Zillow in 2005 after selling Hotwire.com to Expedia. He was CEO for nearly 10 years before stepping down in early 2019. Rascoff resigned from the company's board in April.
He's still involved in the real estate industry, making small angel investments in startups such as La Haus and Butterfly MX. But Rascoff will be much more active with Pacaso on a day-to-day basis.
Rascoff previously signed a non-compete agreement with Zillow, but it has expired. Even so, Rascoff said he doesn't view Pacaso as competitive, despite Zillow investing heavily in its home-buying and selling arm.

"In fact, we think that the co-ownership concept which Pacaso is pioneering complements Zillow very well because Pacaso's listings will appear on Zillow (and other real estate sites) in order to attract buyers," he explained in an email. "Zillow benefits by having great listing content for its users; Pacaso benefits by having its listings gain exposure to prospective buyers. Pacaso's real estate agent partners benefit by getting a new product (co-ownership) from Pacaso to offer to their clients. Win win win."

Pacaso is the latest in a number of new entrepreneurial ventures from Rascoff, who is co-charing a new "blank check" company, or SPAC, with Alexander Klabin, a hedge fund manager who is set to be executive chairman of Sotheby's Financial Services.

Allison, CEO of Pacaso, stayed on with Zillow following the acquisition of dotloop for more than three years. He admitted that Pacaso "is hard a business to pull off." But he said working with the company should be a relatively easy sell to vacation home owners who want to cut expenses and reduce headaches that come with owning a second property.
"It just does not make a lot of sense to own something you don't use," Allison said.
He said second home owners "just accept the fact that the home sits vacant for a big portion of the year" because they don't have a better option. Most choose not to rent their homes out on sites such as Airbnb due to being uncomfortable with random guests or local laws preventing short-term rentals, he said.
Allison and Rascoff started working on Pacaso before the pandemic. They weren't sure how it would affect the business, but are now seeing strong tailwinds as employees are given more flexibility with remote work.
"People who were aspiring to own a second home before are definitely thinking about it now because the possibility of using it more is now within reach," Allison said.
The lack of available property across the real estate industry also works in Pacaso's favor, he added, since the company is helping unlock latent inventory.
Pacaso is focused on 25 markets across 10 states at launch. It has 25 employees distributed across the country, including in Seattle. Other team members include former Zillow executives such as CMO Whitney Curry, a former director of brand management at Zillow; CRO Andreas Madsen, an ex-Zillow sales leader; and CTO Daivak Shah, Zillow's former vice president of engineering. Doug Anderson, chief product officer at Pacaso, previously held leadership roles at Hotwire and SAP Concur.
Pacaso sounds similar in name to Vacasa, and also operates in the same ballpark as the Portland, Ore. startup. Vacasa, ranked No. 2 on the GeekWire 200, manages more than 26,000 vacation homes in 31 U.S. states and 18 countries, and bills itself as "North America's largest vacation rental management platform."