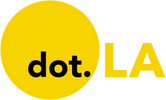 Get in the KNOW
on LA Startups & Tech
X
Joe Bel Bruno
Joe Bel Bruno
Joe Bel Bruno is dot.LA's editor in chief, overseeing newsroom operations and the organization's editorial team. He joins after serving as managing editor of Variety magazine and as senior leadership in spots at the Los Angeles Times, Wall Street Journal and Associated Press. He's a veteran journalist that loves breaking big stories, living back in L.A., a good burrito and his dog Gladys — not necessarily in that order.
twitter.com
Elon Musk is back in the news cycle, but this time it wasn't because of his tweets.
Tulsa has transformed its iconic 75-foot-tall Golden Driller statue into a likeness of the billionaire entrepreneur in an almost superhero-style pose with the Tesla emblem emblazoned across his chest. The city gave the statue, built in the 1960s as a tribute to the oil industry, a makeover to entice Musk to build a new factory in the Oklahoma metropolis.
Musk is reportedly considering both Tulsa and Austin as locations to build the upcoming "Cybertruck" utility vehicle. The factory could produce as many as 10,000 jobs, and become the largest employer in Tulsa, reported the Tulsa World. And, given that Musk is a frequent user of Twitter, the city's politicians have taken to social media to call attention to the statue as a way to entice Musk into building a plant there.
No word on if Musk has seen the publicity campaign.
The coronavirus pandemic's emergence has changed the world around us. Conferences have been cancelled, travel has been severely restricted, and working from home has become the norm. But less clear is the scale of the economic impact and how companies should be reacting. Here are the latest headlines regarding how the novel coronavirus is impacting the Los Angeles startup and tech communities. Sign up for our newsletter and follow dot.LA on Twitter for the latest updates.
TrueCar announced Tuesday that Mike Darrow, who has been the Santa Monica company's interim chief executive, now will take over the position on a permanent basis. Analysts say the move adds a measure of stability at a time when many on Wall Street saw it as a possible acquisition target.
Darrow has been with TrueCar for three years, and was put into the top leadership position after former president and CEO Chip Perry retired in May 2019. Prior to that, Darrow served as the company's executive vice president as well as head of TrueCar's ALG subsidiary.
The move adds a dose of support for a company that just a few weeks ago was rumored to be on the auction block after a disappointing earnings report. The stock has bounced around in recent days amidst the wider market volatility, dropping from about $3.66 in earlier February to Tuesday's closing price at $2.34.
"We believe this adds stability to the organization," said Andrew Boone, an analyst with JMP Securities, in a research note. He kept the company's stock rating at a "market perform."
A research note by financial services firm BTIG speculated recently that TrueCar, which operates the nation's fourth largest online automotive marketplace, was ripe for an acquisition as soon as the end of this month. "Based on our inbound call volume, we believe many investors are wondering if True is now an acquisition target," wrote analyst Marvin Fong.
TrueCar has been on a wild ride since serial entrepreneur Scott Painter founded the company in 2004.

It quickly became one of L.A.'s hottest startups after it appeared to be able to disrupt the half-century-plus relationship between consumers and auto dealerships. But dealerships were not about to go quietly, and in 2012, thousands of dealers exited the TrueCar network amidst complaints about bidding wars that meant they were losing money on transactions.
Still, the company went public two years later and shares have sunk from a high of $25.00.
In 2018, changes to Google's search algorithm caused a steep decline in TrueCar's website traffic. Just as the company was recovering from that and improving its SEO, USAA recently announced it would end its lucrative partnership, which brought in 29% of TrueCar's unit sales, in October.
USAA remains TrueCar's fourth-largest shareholder with about 9 million shares, which represents 8.5% of the stock.
Darrow said in a statement Tuesday that he's "proud of the way the company united to launch our new brand and consumer experience earlier this year, which was no small feat."
"I look forward to working with the team as we continue to innovate and deliver a modern and world-class car buying experience that appeals to consumers and dealers alike," he added.
From Your Site Articles
Related Articles Around the Web