agtech
Apeel Sciences, a company whose edible coating helps extend the shelf life of produce, announced Wednesday it raised $250 million in a Series E round that brings the company's valuation to $2 billion.

The latest round attracted a large group of new investors for the company, including Mirae Asset Global Investments, GIC, Viking Global Investors, Disruptive, Andreessen Horowitz, Tenere Capital, Sweetwater Private Equity, Tao Capital Partners, K3 Ventures, David Barber of Almanac Insights, Michael Ovitz of Creative Artists Agency, Anne Wojcicki of 23andMe, Susan Wojcicki of YouTube and singer Katy Perry.
"The world is waking up to the fact that we've failed the planet and we are now on the clock to make step function changes to the systems we've built over the last 100 years," said Apeel Chief Financial Officer Bill Strong. "Investors are realizing that sustainability-driving companies are an opportunity to build a food system that feeds more people while simultaneously reducing waste and GHG emissions."
Apeel's mission is to reduce food waste in America. The company, based in Goleta, makes a natural coating that can be applied to fruits and vegetables to extend their shelf lives by as much as 100%.
This allows more time for supply chains to move the food, more time for vendors to sell the food, and more time for consumers to eat the food. In a world where a third or more of all food ends up in the landfill, Apeel's coating—which is made from the peels, seeds and other components of plants — could have a massive impact on reducing waste, carbon emissions and water usage.
While the Apeel coating can provide extra time for produce supply chains, there's still room for optimization. In order to best use the extra time added by the coating, Apeel acquired ImpactVision in May this year. The San Francisco-based company specializes in hyperspectral imaging, a process that uses cameras to capture information that shows exactly how ripe a piece of produce currently is.
The new round of fundraising will be used to advance the timeline for implementing this technology into Apeel-backed supply chains.
The money will also go to helping Apeel expand into new markets including Mexico, Peru, Chile, Costa Rica, Spain, The Netherlands and Kenya. The company, so far, has enjoyed success in Europe and North America, but is keen to move into emerging markets, where food insecurity is more prevalent.
This story has been update with a comment from Bill Strong.
From Your Site Articles
Related Articles Around the Web
California is famous for its avocados, and avocados are a famously fickle fruit, ripe one moment and a ball of brown sludge the next.
Apeel Sciences is out to change that. The food science company has spent nearly a decade perfecting an edible coating that can be applied to fruits and vegetables to extend shelf-life by days, weeks or even months.
Slowing down the natural decay process offers benefits to consumers, certainly, but it also reduces food waste, and allows growers and vendors more flexibility in how they transport and sell produce.
Food waste is a massive global problem. By some estimates, a third or more of all food (valued at roughly $2.6 trillion) is thrown out — enough food to feed 3 billion people. Cutting food waste entirely could reduce greenhouse gas emissions by as much as 8%.
For Jenny Du, Vice President of Operations and co-founder of Central Coast-based Apeel, the company's vision represents a perfect mixture of environmental and humanitarian impact.
Du was born and raised in Canada and initially began her career working to develop film-forming technologies that could be used to protect fiber optic sensors to detect water pollution. For her post-doc work, she was drawn to the University of Southern California-Santa Barbara for its photovoltaic research programs. It was there that she met her friend and eventual co-founder James Rogers.
"James had been working on this idea in the background and had pitched it at a UCSB New Venture Competition," said Du, referring to the school's annual contest where students and faculty work together to launch new businesses. "As he talked about the need and the inspiration for the technology, personally it hit some important notes. For me it was about, 'How do I put my energies towards meaningful work?'"
For produce especially, getting products to consumers before it spoils relies on complex global supply chains. Some foods, like asparagus, are only ripe for a few days, meaning they have to be transported by air instead of on a cargo ship, drastically increasing their carbon footprint.
Apeel's technology works by reinforcing the existing outer layer of fruits and vegetables—the peel, in other words. Produce spoils as the plant's cells lose water and oxidize. The peel slows this process down, but not indefinitely.
"All plants were underwater at some point, but then they evolved to be surface level, terrestrial plants. In order for that to happen, they needed the formation of a peel," explained Du. "With that in mind you think about what that peel is made of."
Using the natural properties of the peel as a guide, scientists at the company have created edible, plant-based coating that dramatically extend shelf lives for eight different types of fruits and vegetables. And people are taking notice.
"This type of technology could be a 'game-changer' if these perishables have a longer shelf life," said Pedro Reyes, an associate professor of operations and supply chain management at Baylor University. Produce often requires refrigeration to extend its life. If that food could just sit on the shelf, it may ease the demands on energy, logistics and warehousing that could ripple throughout the supply.
Apeel produce is available in thousands of grocery stores in six different countries and the company claims its coating technology has saved more than 69 million pieces of produce from being wasted. Its success has attracted $360 million of investment to date, led by such heavy-hitters as the Bill & Melinda Gates Foundation, Viking Global Investors, Andreessen Horowitz and Upfront Ventures. In 2020, the 467-person company was valued at over $1 billion.
The company's strategy moving forward is relatively simple: Get more produce into more stores and expand into new types of fruits and vegetables. In the U.S., it has partnered with Kroger as part of their Zero Waste Zero Hunger initiative, which aims to reduce food waste and eliminate hunger in hundreds of communities across the country. But it enjoyed the greatest success in European markets, which Du attributes to the European Commission's climate-focused policies (a partnership with the Danish produce wholesaler Nature's Pride doesn't hurt either).
Apeel is hoping to move into emerging markets in Africa and Asia, as reflected by their recent partnership with the World Bank-owned International Finance Corporation, which specializes in creating economic growth in the developing world.
It's also looking to expand its reach into other parts of the supply chain. In May this year, Apeel acquired San Francisco-based ImpactVision, a company that specializes in hyperspectral imaging—a technique that allows users to see inside produce and can reveal the food's ripeness and details about nutritional content. It's all part of Apeel's drive to more precisely align supply with demand.
"We see a future in providing more digital solutions and being a more embedded partner to players in the supply chain," Du said. "So now that they have the edible coating and shelf-life extension technology, how do you make decisions? What do you do with that additional time?"
Lead art by Ian Hurley.
From Your Site Articles
Related Articles Around the Web
Robots could soon take on the tasks of farmworkers harvesting the nation's food.
Santa Monica-based Future Acres, an agriculture tech startup, unveiled its first prototype on Tuesday — a robot named Carry that helps farmers transport crops.
Carry won't replace human employees that pick crops. Rather, the remote-operated machine will follow workers and take what they collect back to a sorting facility, speeding up operations in a labor-intensive industry. Since 2017, the team has been quietly busy testing the AI-powered machine that can transport up to 500 pounds of produce in virtually any weather condition.
The model unveiled Tuesday is a beta version of the robot. A spokesperson said a Carry 2.0 will launch in the next couple months for commercial purchase. It's designed for small- to medium-sized farms across the country.
The news comes as the company launches a crowdfunding campaign for $3 million. It's already backed by Wavemaker Partners, a Los Angeles firm that also operates the robots and automation-centered venture studio Wavemaker Labs.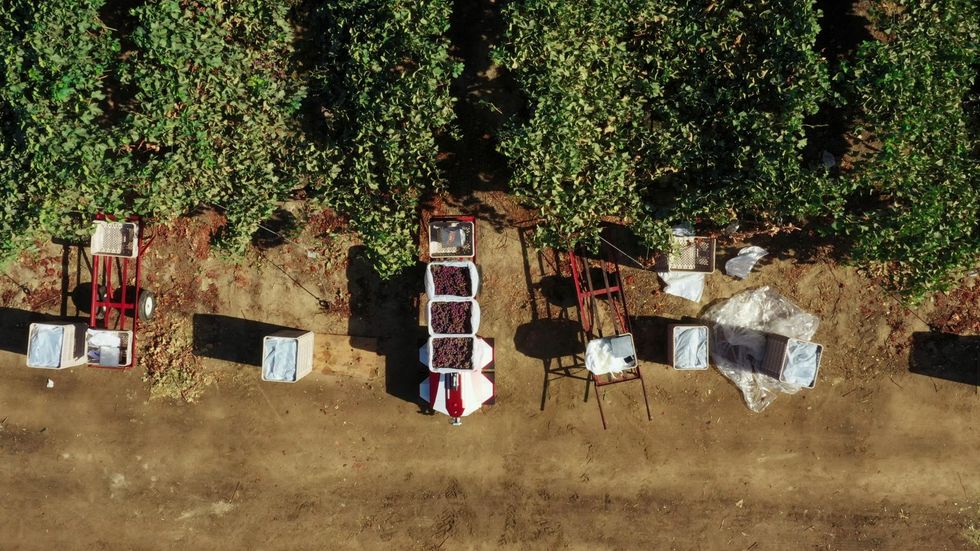 Future Acres designed their new robot, Carry, to lug boxes of produce from the fields to the sorting departments.
The Food And Agricultural Policy Research Institute estimates farm income will drop 12% in 2021 while product costs climb - largely due to the cost of labor. California is the nation's largest produce producer and relies heavily on immigrant labor. Any large-scale introduction of robots on farms could change big agriculture, much in the same way robots altered car factories.

The company says adding just one robot can increase efficiency by 30%. And it pays itself off in just 80 days.
As the agricultural industry battles financial and environmental challenges, CEO Suma Reddy says her tech will ease the physical loads that slow down many farmers. "Back pain, twisted ankles and shoulder injuries no longer need to be the normal," Reddy said in a statement.
The robotics startup also says down the line it'll turn to other tech-driven solutions to measure pesticide use and crop health and track trends like food waste.
From Your Site Articles
Related Articles Around the Web