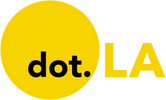 Get in the KNOW
on LA Startups & Tech
X
Breanna De Vera
Breanna De Vera
Breanna de Vera is dot.LA's editorial intern. She is currently a senior at the University of Southern California, studying journalism and English literature. She previously reported for the campus publications The Daily Trojan and Annenberg Media.
Los Angeles has more electric vehicle chargers than any other American city.
There are over 10,000 chargers across the city thanks to the city's own aggressive "Green New Deal" and the resulting partnerships with local EV companies. The move has attracted several companies to the region.
And the effort got supercharged Wednesday when President Joseph Biden laid out his own $2.25 trillion infrastructure plan focused on clean energy that could bring billions of dollars into the electric car economy.

"We're going to provide tax incentives and point-of-sale rebates to help all American families afford clean vehicles of the future," Biden said in unveiling his plan. "Imagine knowing that you are handing your children and grandchildren a country that will lead the world in producing clean energy technology."
Later on Wednesday, Mayor Eric Garcetti spoke in support of Biden's plan, which allocates $174 billion in spending toward electric vehicles and infrastructure.
"This legislation is about winning the future, it's about a just transition for folks working in fossil fuel industries, and electrical vehicle infrastructure that will reduce air pollution here in L.A., and it has justice and racial equity as the centerpiece of all of it," Garcetti said. "L.A.'s fingerprints are all over this legislation, because we've been a model for so much of this work."
For Los Angeles's EV goals, the next challenge will be to actually get Angelenos to buy the electric cars for all those stations.
Mayor Eric Garcetti's office estimates there are 62,851 electric cars being driven around the city. That's less than 1% of the total of cars registered in the county last year, according to the Department of Motor Vehicles.
If Garcetti's is to reach his goal of having a city where 25% of the cars are zero emissions by 2025, tens of thousands of Angelenos will need to buy an electric vehicle over the next few years.
"You can't expect someone who is a low-income resident of Los Angeles to be an early adopter, because cost is still an issue," said Seth Jacobson, the managing director of Climate Resolve, a nonprofit that advocates for policy to combat climate change. "So we really need to not be overly focused on EV single-passenger vehicles as a silver bullet."
Jacobson argues the city's goals don't account for the vast majority of Angelenos who may not be in a position to buy a new car. Eighteen percent of Angelenos live below the poverty line, according to the United States Census, and on average, most new electric cars cost $19,000 more than a gasoline-powered vehicle, estimates the National Resource Defense Council.

Jacobson advocates for subsidies for pre-owned vehicles, but he admits even that has its problems, since older electric cars often need new, expensive batteries.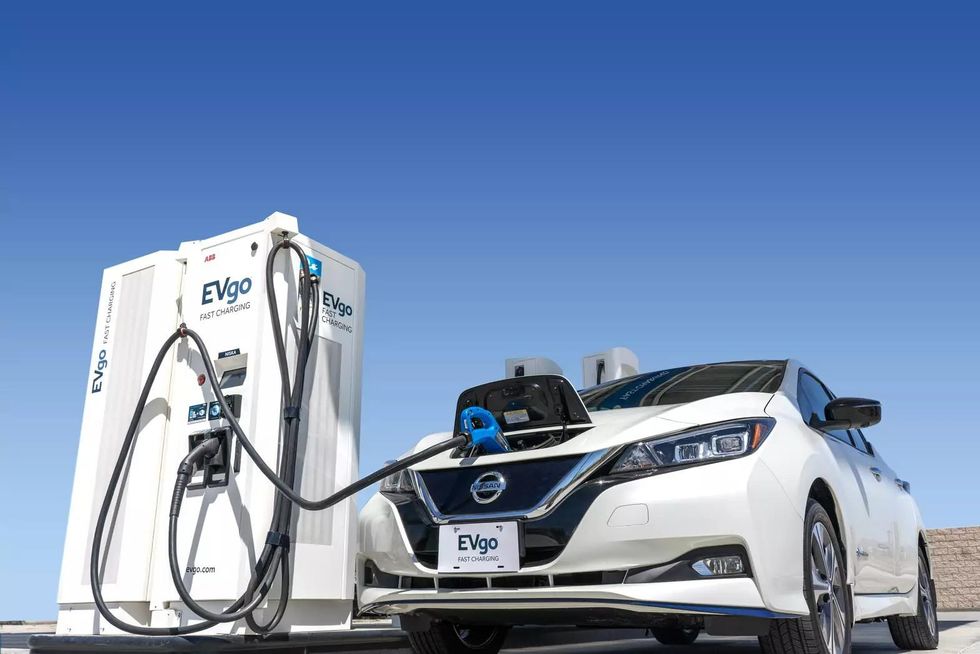 EVgo now has 160 operational stations and 290 chargers across Los Angeles County.
LA's EV Infrastructure Development
Encouraged by the city's bullish stance on electric vehicles, a rush of companies have planted their flag in L.A.; the county is already home to several EV manufacturers, like Canoo, Faraday Future and XOS trucks.
EVgo is one company that saw a big opportunity in public partnership with L.A. The company moved to the city in 2017 and now has 160 operational stations and 290 chargers across Los Angeles County, with several more still in construction. It recently announced a partnership with Uber to launch Uber Green in L.A., providing discounted charging to Uber drivers with electric vehicles.
"As an L.A. company, we see the impacts of EV adoption first hand, with Teslas, Nissan LEAFs, Kia Niros, Chevy Bolts, and more and more models on the roads every day," said Jonathan Levy, EVgo's chief commercial officer. "EVs are no longer a rare sighting in and around L.A., and we've been building out the charging infrastructure to support them."
Greenlots is another EV charging company based in Los Angeles. It was acquired by Shell in 2019, and announced this month a plan to roll out half a million charging stations over the next four years. Like EVgo, one of the company's partners is the city itself.
"Given the size of the market in California and automakers' aversion to manufacturing different vehicles for different U.S. markets, California will lead the whole U.S. market towards electrification," said Tom Ashley, Greenlots' vice president of policy and market development.

Despite upcoming challenges, California remains the largest market for EVs. The state is home to 45% of EVs in the U.S., according to a report by the California Energy Commission
Future EV Goals and Challenges
Los Angeles is now aiming to create another 15,000 charging stations by 2025, according to Julia Thayne from the Mayor's Office of Mobility and Innovation.
Many of the stations are subsidized by the city's Department of Water and Power. The bulk of them — about 8,500 — are located at offices or multi-unit apartment buildings. The city hopes that this encourages residents who don't have access to a charger at home to consider electric vehicles.
"We do need to make sure that that affordability is addressed, and there are programs to make power more affordable for utility customers, and there should be programs in place to make sure that the EVs are more affordable for low income customers as well," said Jacobson.
But, it's hard to say whether the distribution of the public chargers across the city is equitable. Most appear to be located around downtown, but there hasn't yet been quantitative research released as to whether the chargers are serving communities that need and use them.
Despite the challenges ahead, Los Angeles is ahead of the game in comparison to other American cities, to utilize the funds Biden is promising and continue developing electric vehicles and infrastructure.
To diagnose cancer, timing is everything.
Victor Lee, a data scientist and entrepreneur, and his wife Shirley Lee, who is a clinician and health care executive, know this better than most — in 2015 one of their closest friends, Becky Ramos, was diagnosed with Stage 4 ovarian cancer.
"Becky started exhibiting symptoms in late 2014, and saw her primary doctor in January 2015," said Shirley Lee in an email. "After three months of insurance issues, dropped balls, we finally got all of her test results and the right referral to the surgeon. That's when we got the tragic news from him that she was already at stage 4 and had she come in two months earlier, he could have operated on her."
The health care system failed her. Now, the Lees are trying to rectify it with Preveta, an AI software for providers aimed at making connections for doctors about health patterns, enabling remote care and flagging potential barriers such as insurance issues, among other services. The idea is to get urgent and sometimes overlooked care to patients often ignored by the health care system labyrinth — especially those who are Black, Latino or living in health care deserts.
Becky could have used Preveta. The 41-year-old mother of two children who brought laughter, joy and pride in her Guatemalan heritage to the Lees' lives did not get her diagnostics, authorizations and referrals in time. The surgeon told the Lees that had she come in earlier, he might have been able to save her life.

According to the National Cancer Institute, factors like race, location and education create striking disparities in outcomes for cancer patients. People of color are disproportionately affected: There are higher rates of cervical cancer incidence and death among Hispanic and African American women, higher rates of kidney cancer among Indigenous Americans and Alaska Natives and higher rates of liver cancer among Asian and Pacific Islanders than other racial and ethnic groups.
"Becky fits that profile — she's a minority, she's a woman and lived in a rural area where access to care was not so great," Victor Lee said.
Their platform works with providers, using AI algorithms to integrate data about patients and diseases. Preveta is currently used by six large medical groups and serves about 2,000 patients.
Its primary focus is urology, particularly chronic conditions and prostate cancer. These illnesses are navigated by clinicians in a way that is very structured, an algorithmic way that the software can supplement.

By knowing how certain demographics are affected by diseases, the platform assists with diagnosis. It suggests which tasks — including recurring tests — doctors can delegate to their team, and what steps can be taken to improve a patient's quality of life.
"Something that should have taken about a couple weeks to get everything in line in terms of getting her the right test, getting the insurance to authorize and pay for certain things, to refer her to the right specialists so that we knew something was happening to her; we thought it was cancer — it took three months," Lee said.
The Lees hope that their software can eventually help mitigate the disparities in health care.
Preveta will get a boost for their efforts. The company closed a $2 million seed funding round this week to continue development of their software and expand distribution. The round included investors MaC Venture Capital and TSVC, and it comes only a few months after their completion of the Techstars LA accelerator.
A number of other Los Angeles companies are also working in the health care AI field including Pearl, which focuses on dental health, and PatientPop, which helps providers grow health providers' businesses. Preveta's focus on oncology was in part determined by its ongoing and sometimes recurring nature — quality of life for patients can differ starkly, depending on provider's decisions.
Preveta hopes to expand its software to gastrointestinal illnesses, and then other types of oncological illnesses.
"There's a lot of interesting diseases and treatments in the GI space that follow this algorithm approach to data driven care coordination, and then we're also looking at the rest of oncology — specifically breast cancer, lung cancer, skin cancer," Lee said.
Cannabis chain store Sweet Flower saw customer consumption double during the anxiety-inducing pandemic and it's riding the green rush with plans to expand across the state.
The dispensary and delivery service just closed a $15 million Series A round led by AFI Capital Partners as it prepares to launch its flagship store in Culver City, on 1000 Culver Boulevard, in early summer and build out its footprint.
The three-year-old retailer will use its downtown L.A. location, which is licensed for manufacturing, cultivation and distribution, to expand Sweet Flower's products.
Because of stay-at-home orders and a shift toward ecommerce, cannabis has also seen a move toward delivery and edibles, said Sweet Flower chief executive Tim Dodd. Sweet Flower doubled its revenue in 2020, but Dodd doesn't see in-person shopping stopping entirely.
"With COVID hopefully easing, we are delighted to see more customers in-store and enjoying our in-store experience and, as we more fully emerge from COVID, our upcoming series of COVID-sensitive, well-curated events and collabs in-store," said Dodd in an email.
Sweet Flower currently has four other locations in Westwood, Studio City, the DTLA Arts District and on Melrose Avenue. The upstart was also scheduled to open a location in Pasadena, however the city denied its application. The company then sued the city, joining several other competitors suing Pasadena, according to the Pasadena Star News.
California was the first state to legalize medical cannabis, and in 2016, legalized it for recreational use. Other states are following suit.

Recently, New York lawmakers put together a bill to create a licensing and taxation system for selling recreational marijuana. The bill is slated to be voted on Wednesday, to allocate budget for it by April 1.
"We remain focused on California, our home — for now — given the state's early, vibrant and complex market adoption, there is still a lot of running room here," said Dodd. "We love NY and believe Sweet Flower — as the future retail state of cannabis — would be a great brand fit for this market."
From Your Site Articles
Related Articles Around the Web