Los Angeles has more electric vehicle chargers than any other American city.
There are over 10,000 chargers across the city thanks to the city's own aggressive "Green New Deal" and the resulting partnerships with local EV companies. The move has attracted several companies to the region.
And the effort got supercharged Wednesday when President Joseph Biden laid out his own $2.25 trillion infrastructure plan focused on clean energy that could bring billions of dollars into the electric car economy.

"We're going to provide tax incentives and point-of-sale rebates to help all American families afford clean vehicles of the future," Biden said in unveiling his plan. "Imagine knowing that you are handing your children and grandchildren a country that will lead the world in producing clean energy technology."
Later on Wednesday, Mayor Eric Garcetti spoke in support of Biden's plan, which allocates $174 billion in spending toward electric vehicles and infrastructure.
"This legislation is about winning the future, it's about a just transition for folks working in fossil fuel industries, and electrical vehicle infrastructure that will reduce air pollution here in L.A., and it has justice and racial equity as the centerpiece of all of it," Garcetti said. "L.A.'s fingerprints are all over this legislation, because we've been a model for so much of this work."
For Los Angeles's EV goals, the next challenge will be to actually get Angelenos to buy the electric cars for all those stations.
Mayor Eric Garcetti's office estimates there are 62,851 electric cars being driven around the city. That's less than 1% of the total of cars registered in the county last year, according to the Department of Motor Vehicles.
If Garcetti's is to reach his goal of having a city where 25% of the cars are zero emissions by 2025, tens of thousands of Angelenos will need to buy an electric vehicle over the next few years.
"You can't expect someone who is a low-income resident of Los Angeles to be an early adopter, because cost is still an issue," said Seth Jacobson, the managing director of Climate Resolve, a nonprofit that advocates for policy to combat climate change. "So we really need to not be overly focused on EV single-passenger vehicles as a silver bullet."
Jacobson argues the city's goals don't account for the vast majority of Angelenos who may not be in a position to buy a new car. Eighteen percent of Angelenos live below the poverty line, according to the United States Census, and on average, most new electric cars cost $19,000 more than a gasoline-powered vehicle, estimates the National Resource Defense Council.

Jacobson advocates for subsidies for pre-owned vehicles, but he admits even that has its problems, since older electric cars often need new, expensive batteries.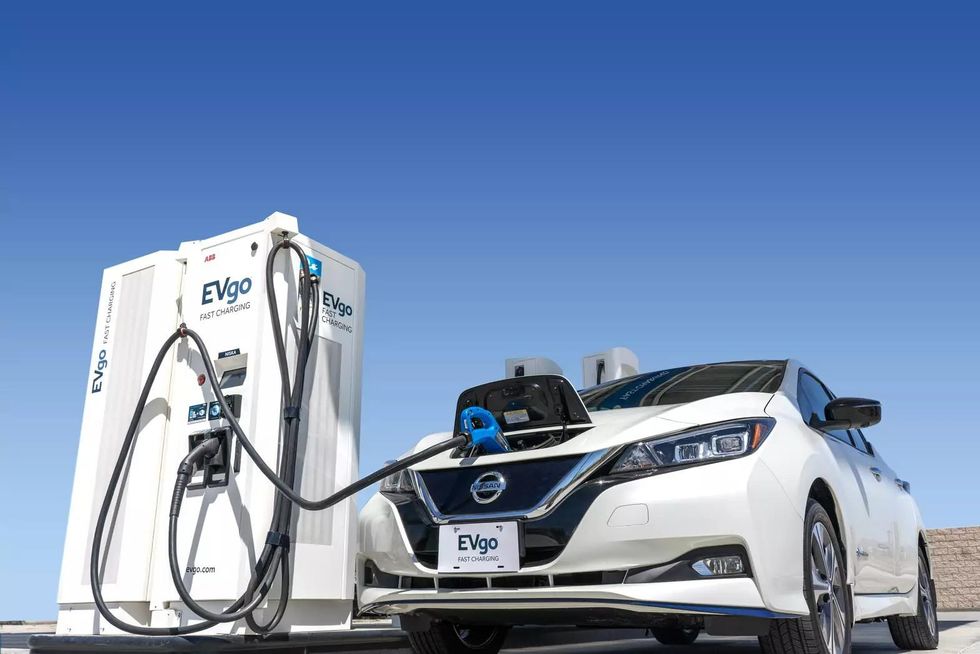 EVgo now has 160 operational stations and 290 chargers across Los Angeles County.
LA's EV Infrastructure Development
Encouraged by the city's bullish stance on electric vehicles, a rush of companies have planted their flag in L.A.; the county is already home to several EV manufacturers, like Canoo, Faraday Future and XOS trucks.
EVgo is one company that saw a big opportunity in public partnership with L.A. The company moved to the city in 2017 and now has 160 operational stations and 290 chargers across Los Angeles County, with several more still in construction. It recently announced a partnership with Uber to launch Uber Green in L.A., providing discounted charging to Uber drivers with electric vehicles.
"As an L.A. company, we see the impacts of EV adoption first hand, with Teslas, Nissan LEAFs, Kia Niros, Chevy Bolts, and more and more models on the roads every day," said Jonathan Levy, EVgo's chief commercial officer. "EVs are no longer a rare sighting in and around L.A., and we've been building out the charging infrastructure to support them."
Greenlots is another EV charging company based in Los Angeles. It was acquired by Shell in 2019, and announced this month a plan to roll out half a million charging stations over the next four years. Like EVgo, one of the company's partners is the city itself.
"Given the size of the market in California and automakers' aversion to manufacturing different vehicles for different U.S. markets, California will lead the whole U.S. market towards electrification," said Tom Ashley, Greenlots' vice president of policy and market development.

Despite upcoming challenges, California remains the largest market for EVs. The state is home to 45% of EVs in the U.S., according to a report by the California Energy Commission
Future EV Goals and Challenges
Los Angeles is now aiming to create another 15,000 charging stations by 2025, according to Julia Thayne from the Mayor's Office of Mobility and Innovation.
Many of the stations are subsidized by the city's Department of Water and Power. The bulk of them — about 8,500 — are located at offices or multi-unit apartment buildings. The city hopes that this encourages residents who don't have access to a charger at home to consider electric vehicles.
"We do need to make sure that that affordability is addressed, and there are programs to make power more affordable for utility customers, and there should be programs in place to make sure that the EVs are more affordable for low income customers as well," said Jacobson.
But, it's hard to say whether the distribution of the public chargers across the city is equitable. Most appear to be located around downtown, but there hasn't yet been quantitative research released as to whether the chargers are serving communities that need and use them.
Despite the challenges ahead, Los Angeles is ahead of the game in comparison to other American cities, to utilize the funds Biden is promising and continue developing electric vehicles and infrastructure.