Streaming is sidelining TV pilots. That's one of the findings in a pair of new reports released Wednesday by the nonprofit that manages most of L.A. County's film-permitting process.

The reports document the pandemic and how the rise in streaming services is changing the film-production world and challenging California's place in it.
The percentage of scripted TV projects that have foregone a traditional pilot episode and instead gone "straight-to-series" (STS) has skyrocketed, from 6% in 2012 to 66% in 2020. That's a trend largely driven by streamers, who distributed nearly 90% of their 2020 projects using that model, compared to 76.3% for cable and 15.3% for broadcast.
"We've been told (streamers' projects) get vetted a lot more heavily upfront," said the nonprofit FilmLA's president, Paul Audley. That, alongside streaming's rise, has ushered in the shift away from shooting a pilot and then shopping it to buyers.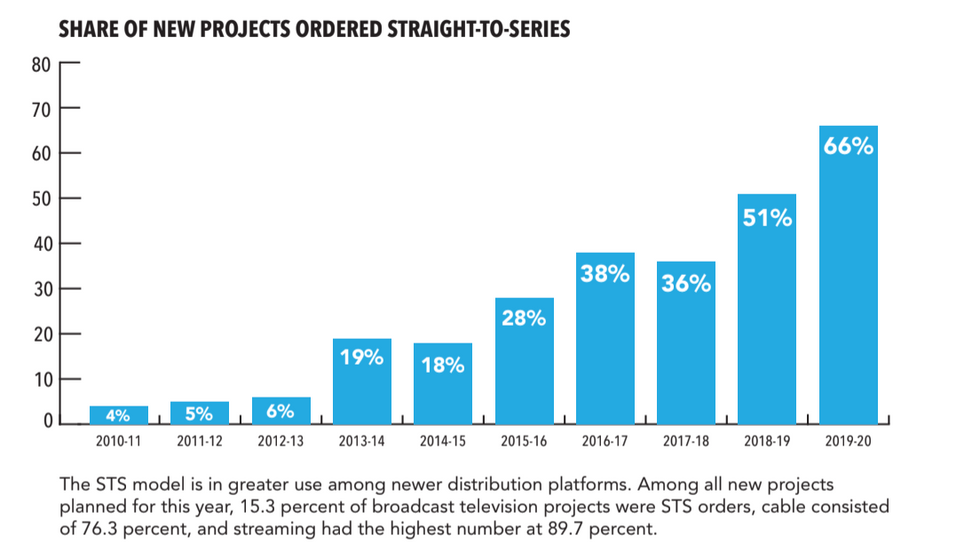 Data and graphic from FilmLA
And for the second straight year, streaming made up the largest portion of scripted-TV projects. Of the 215 total such projects in FilmLA's 2020 cycle, streaming led the way with 97 projects, up 27.6% from 2019. Scripted cable projects rose 11.3% to 59, while broadcast fell 11.9% from 67 to 59. 2019 was the first year streaming projects eclipsed broadcast, and that margin has now widened.
California retains its spot as the top location for new scripted-TV projects. But there is increasing competition from other suitors trying to lure Hollywood productions. In 2018, the Golden State hosted 52.4% of scripted-TV projects. That fell to 43.1% in 2019 and further to 41.1% in 2020.

The state is still king when it comes to streaming, but its overall share is steadily falling. California hosted 29 new scripted projects last year, compared to Canada's 24 and New York's 17. Georgia, which has made a play for Hollywood's films, only hosted six scripted productions.
Last year was the bleakest year on record for production in the nonprofit FilmLA's 25-year history. After a nearly three-month pandemic-induced shutdown, film and TV production in L.A. returned slowly in 2020 under new restrictions. Those rules extended shooting timelines but limited what could be produced, cutting on-location shooting days in L.A. County 48% year-over-year, according to a new year-in-review report from the nonprofit.
Still, there were some bright spots, including the re-emergence of reality television. In the last quarter of 2020, overall television production days rose 6% year-over-year, with reality TV leading the way with a 93% increase from 2019. That's a reflection of reality's simpler production requirements compared to scripted shows, which make it easier to adhere to public health and industry guidelines.
Scripted television, on the other hand, plummeted. Drama shoot-days in 2020 fell 45.8% year-over-year, and comedy dropped 75.9%. Those figures likely underestimate the damage, because of FilmLA's methodology. The organization measures production volume by shoot-days; but due to the new health and safety protocols, Audley said productions are now requiring more time, meaning it takes more shoot-days to create the same amount of output.
"It's a double-edged sword," Audley said. "One edge is real gratitude that the industry and public health have found a way for the film industry to work at least at some level, because there are thousands of small businesses dependent on this industry and whatever work we can get out is really helpful. The other side is this pandemic has really decimated this industry that has a huge impact on Los Angeles."