health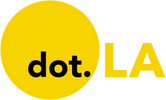 Get in the KNOW
on LA Startups & Tech
X
health
For a while, I wasn't entirely sure what primary care doctors did. Going to one often seemed like an unnecessary and costly step toward finding a specialist; a third of primary care appointments end with a specialist referral anyway, so what's the point?
Primary care physicians are supposed to be a key part of preventative health care—something we keep hearing about yet which I am not entirely sure exists in the U.S., except in the hearts and minds of health care utopians. As constructed, our health care system doesn't really operate on a model of seeing your doctor regularly to prevent health problems; instead, we see them only once a problem arises.
That's unfortunate, because preventative health care is cheaper for the health care system. If you eat right, get sleep and exercise on a regular basis, you may be able to stave off a slew of issues that crop up later in life. If a doctor knows that a patient comes from a low-income background or that they have a history of family illness, then they can consider those factors earlier in a patient's life and potentially protect them from years of medication, doctor's visits and chronic conditions.
Not aiding matters is the fact that there's an ongoing shortage of doctors in America, which makes finding preventative care harder. There are health care startups currently making valiant efforts to address and alleviate that shortage; on Wednesday, I wrote about Greater Good Health, a Manhattan Beach startup that raised $10 million in funding to move nurse practitioners into roles traditionally served by primary care physicians. People who need to see a doctor regularly due to chronic conditions can have a long-term relationship with their regular nurse practitioner, feel comfortable asking questions about their health and be proactive about lifestyle changes. Greater Good isn't alone; there's also Crossover Health, which partners with tech companies to provide preventative care to their employees, and HeyRenee, which recently raised $8 million to help patients manage their medical regimens.
Yet none of these fledgling firms can fully alleviate the stomach-churning idea that anyone should struggle to find or pay for a regular doctor who can help guide them on the path to future health and wellness. While these startups are doing admirable work in attempting to bolster our preventative health care model, each of them will forever be siloed until there is an overhaul of America's entire health care system. — Keerthi Vedantam

Photo courtesy of Curie
One Sunday afternoon last September, Sarah Moret was hiking through Griffith Observatory when she received a voicemail from the producer of "Shark Tank," ABC's hit entrepreneurial reality show. The voice message notified her that she had just two hours to get to the "Shark Tank" studio and pitch Curie, her aluminum-free deodorant brand, to the show's "Sharks"—its panel of investor judges featuring Mark Cuban, Lori Greiner, Barbara Corcoran, Daymond John and Kevin O'Leary.
"I just jumped in the car; my fiancé was driving, and he brought me home as fast as possible in the carpool lane," Moret told dot.LA. "I curled my hair, got ready in 20 minutes and did my makeup in the passenger seat of his car for a primetime TV show."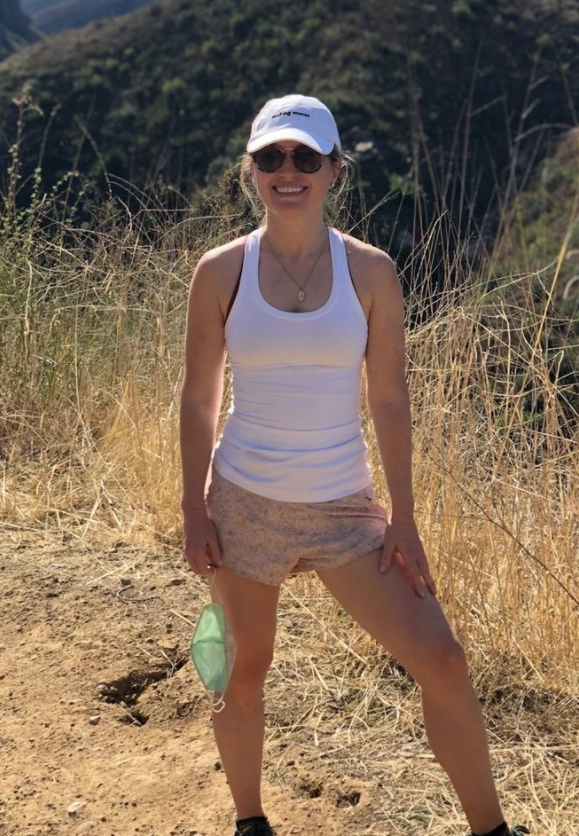 Sarah Moret at the top of her hike, moments before she received a call from the producers of "Shark Tank."
Photo courtesy of Curie
Moret first applied to be on "Shark Tank" in 2020, but didn't receive a callback. She heard back from the show after reapplying the following year, with initial plans to film in July—but the producers bumped her filming date and put her on standby until September.

"I compare it to being like an understudy in a play," she explained. "I didn't have a set filming date. I was just told that I would get a phone call if there was space in the schedule for me to film."
But Moret was confident she had a product worth waiting for, and the entrepreneurial know-how to scale it into a successful business. Most conventional antiperspirants in the market are made out of aluminum that can cause armpit irritation; while there are natural, aluminum-free deodorant brands, Moret said they also irritated her skin or left her smelling like a gym bag. Curie, her solution to these problems, uses sage oil and probiotics to beat the stink, arrowroot powder to absorb the sweat, and chamomile and aloe to soothe the armpits.
Prior to launching Curie in 2018, Moret worked as an associate at Santa Monica-based venture capital firm Crosscut Ventures, where she earned a spot on the investing team. There, she learned the ins and outs of the startup world.
"Curie started from a personal need," Moret said. "I'm an athlete and at the time was a marathon runner, and just couldn't find anything that worked."

Curie generated revenues of $125,000 in its first year of selling deodorant sticks. The following year, the startup had $700,000 in sales. At the start of 2020, she raised $1 million through a convertible note capped at $5 million to continue growing the brand. It has gradually expanded its product offerings to include body wash, moisturizing body oil, a detox mask and hand sanitizers.
Before appearing on "Shark Tank," Curie's body products were already sold in over 300 stores nationwide including Nordstrom, Anthropologie and fitness gym Soulcycle. It had also frequently appeared on shopping network QVC.
Fast forward to September 2021, and Moret finally entered "the Tank" with her eyes set on Corcoran and Greiner. She wanted to make a deal with one or both of them because, as Moret put it, "I just gravitate towards female investors or founders."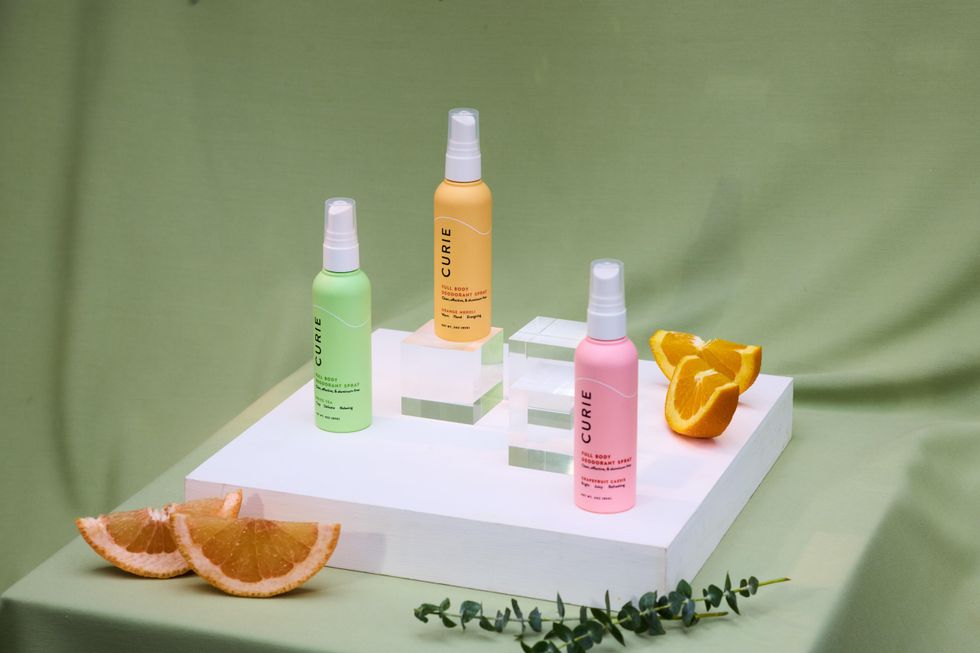 Curie's line of deodorant sprays in three scents. Photo courtesy of Curie
When Moret's episode of "Shark Tank" finally aired last month, she was surprised to find herself the first one up. Moret confidently introduced Curie on national television without a hint of sweat on her face or dirt from the hiking trail. She charmed the Sharks with her background and solid numbers—her opening pitch was for a $300,000 investment in exchange for a 5% equity stake—but four out of the five Sharks didn't bite, saying she had raised too much money early on and had too many products.

This wasn't new to Moret: Her first efforts at pitching Nordstrom and QVC had been rebuffed as well. "Rejection is a part of being an entrepreneur," she said. "You're always going to get no's; you can't let those no's stop you or discourage you."
It all came down to the final Shark, Daymond. When he produced an offer—$300,000 for 20% equity—that Moret deemed too low, she shot back: "I know my worth, I know the company's worth and I'm not backing down."
After Moret countered with $300,000 for 12% equity, Cuban and Corcoran combined on an offer of $300,000 in exchange for 14% equity. Moret took the deal, as Cuban quipped: "I never thought I would be in a women's deodorant business, ever."
After the show aired, Curie sold out all of its deodorant products in 24 hours and now has some 5,000 customers on its waitlist. Moret said the company has plans to roll out further products, but supply chain issues have impacted their progress.
"Our biggest hurdle right now is just getting back in stock quickly, so we can get people their deodorant," she said.
Photo courtesy of Peachy
When Lex Oiler, co-founder and CEO of Los Angeles-based health care payments startup Peachy, first met for coffee with Roshan Patel, her counterpart at New York-based Walnut, she says she tried to break the ice by asking, "So—mergers and acquisitions?"

The quip came from the fact that many venture capital investors viewed the two startups as competitors, according to the founders, since both are tackling the complex web of health care payments. Walnut allows patients to pay large medical bills in manageable installments, while Peachy streamlines payment collection while also helping patients maintain and improve their credit scores.
But what may have started as a lighthearted joke turned out to be a serious business proposition. After hashing out the details over months and bringing their teams together via a shared Slack channel, the companies unveiled a partnership earlier this month that will give customers the ability to use Walnut's financing options when paying a bill through Peachy.
"Health care is so broad—no one company is just going to fix health care and be done with it," Patel told dot.LA. "Peachy and Walnut basically solve two different parts of the tech stack, and we thought combining actually creates a much more compelling solution for both patients and health care providers."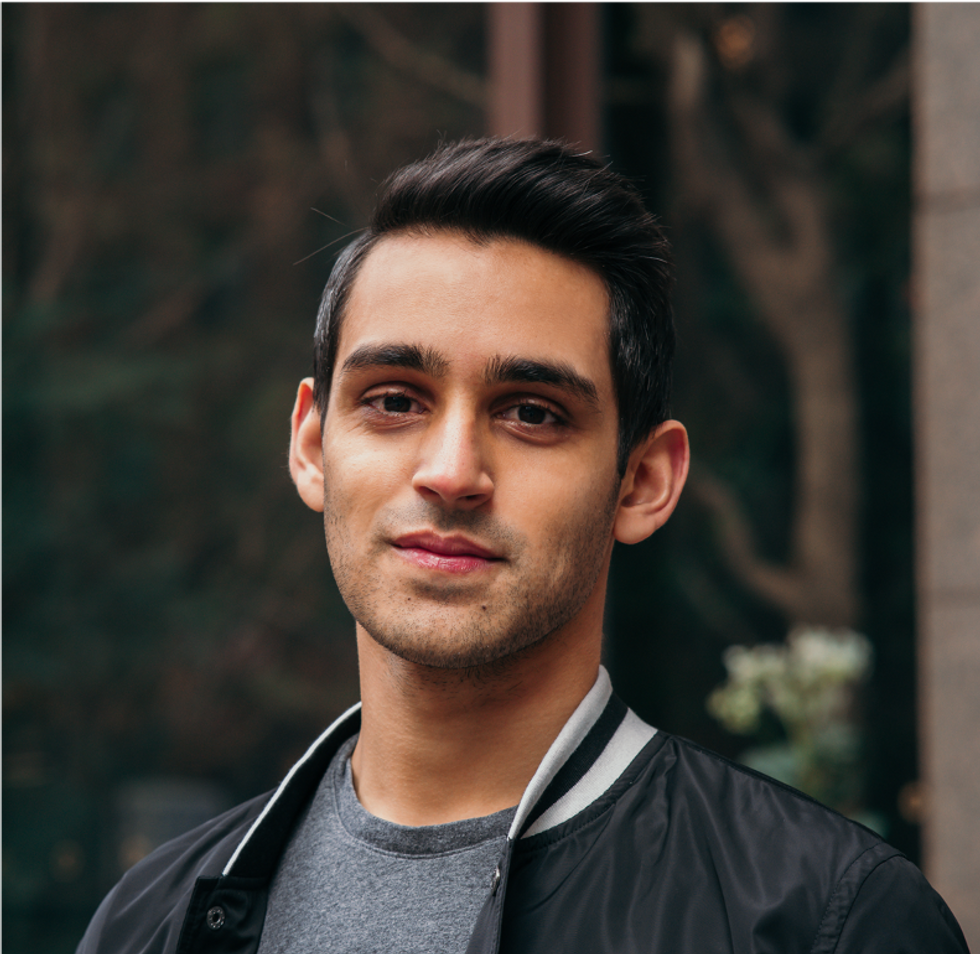 Walnut CEO Roshan Patel.
Courtesy of Walnut
Both startups were informed by their founders' trying experiences with health care payments. Patel, whose parents ran a pharmacy, witnessed their struggle to negotiate paying off an unexpected $5,000 medical bill after his sister got into a car accident. Oiler spent a year chasing a forgotten $144 medical bill that negatively impacted her credit report and made it difficult for her to get approved for a home loan.
"If you harm someone's financial health, you harm their mental health [and] their physical health is impacted," Oiler said. "Here we are 15 years later and my family, me included, we're still afraid to go to the doctor when something's wrong. Even though I have health insurance, that doesn't really mean anything."
Two-year-old Walnut—which raised $3.6 million in seed funding last year from the likes of Silicon Valley-based Gradient Ventures and New York-based Supernode Ventures—works with individuals and health care providers alike to help patients manage large bills in smaller increments, with no fees and financing options starting at 0% interest. Peachy, which was also founded in 2020, works closely with providers to make the process of paying a bill as seamless as possible; its platform sends patients bills and payment reminders via text and email, while also allowing them to pay on their phones. The L.A. startup has onboarded nearly a dozen providers to date while in beta testing.

The partnership is one of several in the works for Peachy, which will be announcing more in the coming months designed to address gaps in what Oiler considers a segregated and outmoded health care system. The founder—a self-described anti-capitalist and Medicare-for-all proponent—says she isn't interested in competing with others when it comes to health care, and is going so far as to refuse funding from insurance companies.
Peachy raised $1.9 million in seed funding in early 2021 led by investors Village Global, City Light Capital and Alumni Ventures, with $110,000 of that amount raised through crowdfunding. When the startup was fishing for more funding last summer, Oiler says she turned down two term sheets worth $2 million apiece due to fundamental disagreements over how the company should be run, and instead opted to collect some $800,000 instead. Peachy plans on fundraising again this spring.
"You put venture funding behind something, and all of a sudden it turns into a numbers game," according to Oiler. " I think that we have been really lucky at bringing on investors who trust me and my co-founder [Peachy CTO PJ Santoro] to make very smart, educated decisions based on what's best for the patient."
Related Articles Around the Web