sweetgreen
It is a great time to be a startup founder, with soaring valuations and investors tripping over themselves to get a piece of startups. As hot as the startup scene was last year, it has gotten even hotter this year, with a slew of megadeals pumping even more money into the biggest startups as they prepare to go public in the frenetic IPO market.
Overall, investors poured $69 billion into tech companies last quarter, a staggering 92.6% increase over the same quarter last year, according to data released Wednesday by PitchBook and the National Venture Capital Association.
Three-quarters of all investment flowed to late stage rounds, the highest percentage since 2010. There were 167 megadeals of $100 million or more, for a total of $41.7 billion raised in the first quarter. By comparison, megadeals accounted for $76.6 billion raised during all of last year.
In the Los Angeles area, SpaceX hauled in another $850 million in February. There was also ServiceTitan's $500 million financing last month, which makes the Glendale company that makes software for plumbers and carpenters worth $8.3 billion.
Culver City-based Sweetgreen raised $156 million in February, though the healthy fast casual chain was reportedly forced to do a flat round after the pandemic year that saw its revenues plummet.
At the other end of the startup life cycle, investors nationally focused on quality over quantity. There were only 722 first financings reported, which is a historically low number, but those deals averaged $4.7 million a piece, which was a new record high.
That benefited companies like Artie, a video game platform developer that pulled in $10 million in a seed round this February.
In total, 315 Los Angeles startups raised a total of $6.7 billion in the first quarter, a slight decrease in the number of venture investments but a 75% increase in deal value over the same quarter last year.
As has historically been the case, Los Angeles trailed not only the Bay Area in deal value ($25.5 billion) but also New York ($10.2 billion) and Boston ($7.9 billion).
The dot.LA VC Sentiment Survey also found higher valuations. Seventy-seven percent of respondents said they saw higher valuations last quarter, but that did not stop them from closing deals.
The billion dollar question is whether, with so much money sloshing around, we are in a bubble that is going to burst. That is hard to judge now; it takes years to know if startups will succeed – whether they will be the next Airbnb or the next Quibi.
But by at least one metric there are fewer quality startups to go around. Dropbox, the secure document sharing platform that many startups use to share pitch decks, said this month the demand for decks continues to outpace the number of investment opportunities that are available. Founders are also shopping their decks around more, which is an indication they have more options of where to get capital and can be choosy.
In other words, it is very much a founder's market.
"We knew the first quarter would represent the beginning of a rebound, but I don't think anyone expected VC and startup activity to be this high; investor confidence is booming and beginning to outpace the supply of startups seeking fundraising," Russ Heddleston, DocSend co-founder and CEO, said in a post sharing the data.
However, investors contend that the market frenzy is not just driven by a flood of capital but also dramatic shifts in consumer behavior over the past year.
"In 2020, consumers spent over $860 billion online with U.S. merchants, an astonishing 44% year-over-year increase," said Deborah Benton, founder and managing partner of Willow Growth Partners, an early-stage VC firm that invests primarily in digital first brands that are benefiting from an accelerated shift to online shopping.
From Your Site Articles
Related Articles Around the Web
Sweetgreen has pledged to be carbon neutral in six years by cutting its carbon output in half. Santa Monica and the L.A. Cleantech Incubator launched the nation's first zero-emissions delivery zone, a project meant to encourage companies to embrace EV transportation. Sign up for our newsletter and follow dot.LA on Twitter for more updates.
Today:
Sweet Green wants to get greener
Santa Monica opens emission-free delivery zone in downtown
Sweetgreen Promises Carbon Neutrality by 2027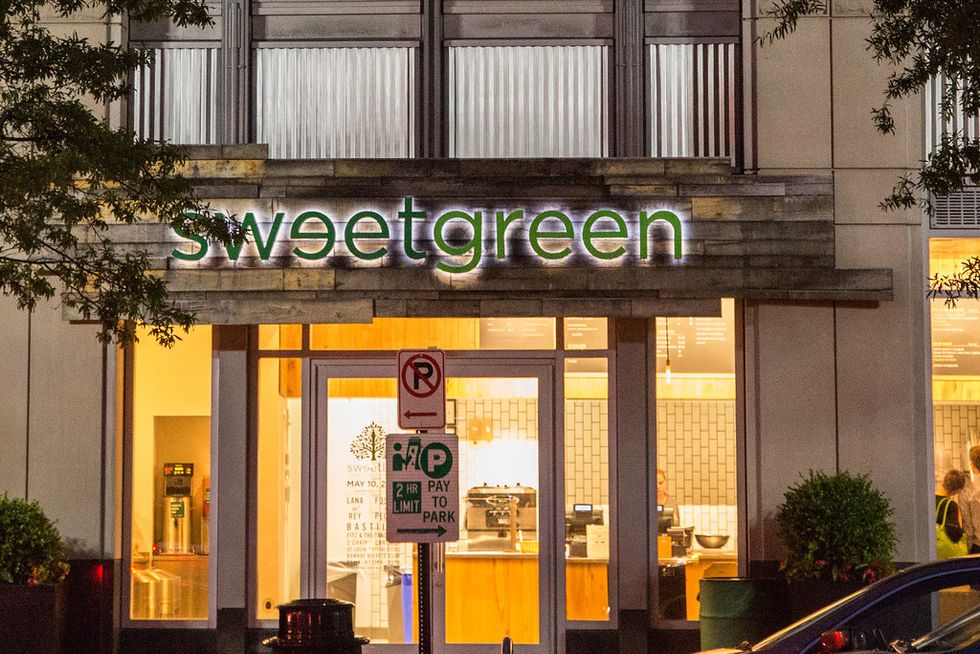 LA Tech Updates: Sweetgreen to Go Carbon Neutral by 2027; Santa Monica Opens Zero-Emission Zone
Sweetgreen wants to be greener.
The Culver City-based fast casual unicorn has pledged to be carbon neutral in six years by cutting its carbon output in half.
"We believe that climate change is the defining challenge of our generation, posing a real and systemic threat to the health of people and the planet," Sweetgreen's founders wrote in a blog post. "As restaurant leaders in an industry that drives 25% of global greenhouse gas emissions, it is our responsibility to use our platform and resources to confront this crisis head on."
---
The company says it started measuring its carbon output in 2019, which helped it identify areas where it could save energy. It was already well ahead of most other restaurants because of its heavy use of low impact fruits and vegetables rather than beef, but it wanted to do more.
Sweetgreen will now use carbon output as a metric for deciding what to put on its menu. It will also work with suppliers to be more environmentally friendly.
"To truly future proof our company, we must evolve our supply network and fix our relationship to the soil — and cultivate an environment that benefits the entire agricultural ecosystem: our food partners, customers, team members, and the planet," the founders wrote.
Santa Monica Opens Nation's First Zero-Emissions Delivery Zone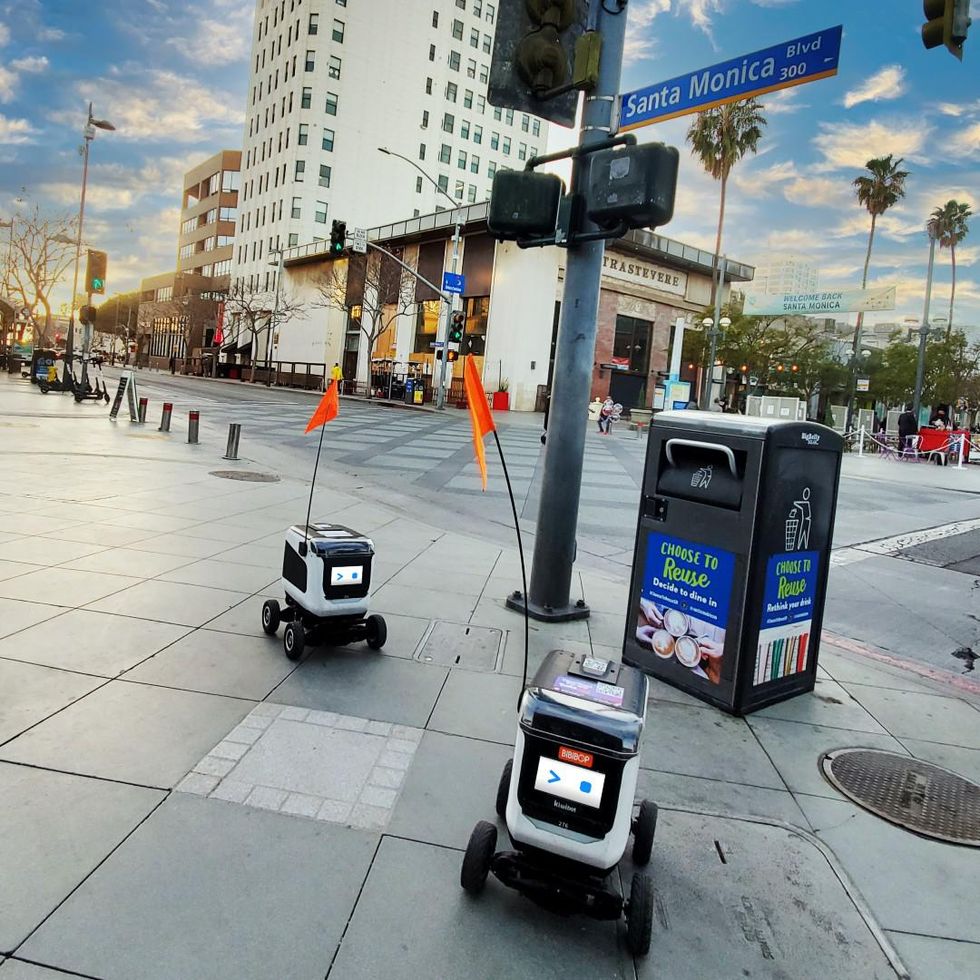 Ikea, Shopify and the yerba mate brand Guayaki are just a few of the companies that vow to cut pollution in Santa Monica by using electric vans and delivery robots to fulfill orders.
The seaside city and the L.A. Cleantech Incubator launched the nation's first zero-emissions delivery zone on Thursday, a project meant to encourage companies to embrace EV transportation by giving drivers access to 20 reserved parking and loading spots. The one-square mile radius will span Downtown Santa Monica and Main Street.
---
City officials will be watching for changes in traffic and pollution with an eye towards introducing permanent zones down the line.
To do that, they've hired Automotus, a venture-backed software startup that monitors curbside traffic. The company will install 20 small video cameras on street lamps lining the parking spots to collect data on factors like congestion and safety. Plus, the technology will alert drivers to open parking spots through an app.
Automotus' CEO says the cameras will not pick up personally identifiable information. In other cities, however, the software has been used to automate parking violations and issue tickets.
Santa Monica Mayor Sue Himmelrich said in a statement that the pilot comes at a "critical moment" in the city's recovery.
"Beyond reducing carbon and congestion, the added bonus is that restaurants can keep higher margins of sales on delivered food items," Himmelrich added.
To encourage use of the space, local businesses will be given access to two Nissan electric vans and ecommerce software company Shopify will equip merchants in the area with Kiwibot delivery robots to help drop off orders.
From Your Site Articles
Related Articles Around the Web
Here are the latest updates on news affecting Los Angeles' startup and tech communities. Sign up for our newsletter and follow dot.LA on Twitter for more.
Today:
GOAT Uses NBA Playoffs to Launch Brand Campaign
Jarrett and Burrows Join Sweetgreen Board
GOAT Uses NBA Playoffs to Launch Brand Campaign
Online sneaker reseller GOAT will air their first television ad campaign during the NBA playoffs this week as the fast-growing Culver City company looks to build its audience beyond sneaker heads.
The company has been amping up their buzz around the profitable NBA market, where players like LeBron James are tastemakers and drive sales for shoe companies, since it scored a $100 million investment from tennis shoe giant retailer Footlocker.
Since then, GOAT sealed a deal with the Brooklyn Nets allowing it to plaster the signage, content and more along the team's path during home and away games. It extended its agreement with Los Angeles Lakers Kyle Kuzma to represent the brand by wearing their shoes and apparel. And earlier this year, GOAT added Rui Hachimura of the Washington Wizards, 2019 rookie of the year, as a brand representative.
The 30-second ad directed by Daniel Sannwald, who has worked with Rhianna, Travis Scott and Nike, opens up with a sound like a live wire that breaks into a beat and features a battery of silhouettes in sneakers and oversized coats. Sneakers, apparel accessories, the ad reads then says. Past, present, future.
Begun by college friends five years ago, GOAT tapped into the massive sneaker resale market with a platform that "authenticates" shoes. It has since expanded into apparel and accessories and states that it has 20 million members.
Venture capital firm Andreessen Horowitz ranked the company 16 on its top 100 largest and fastest-growing consumer startups and private companies earlier this year.
GOAT takes its name from the sports acronym for "Greatest of All Time."
Jarrett and Burrows Join Sweetgreen Board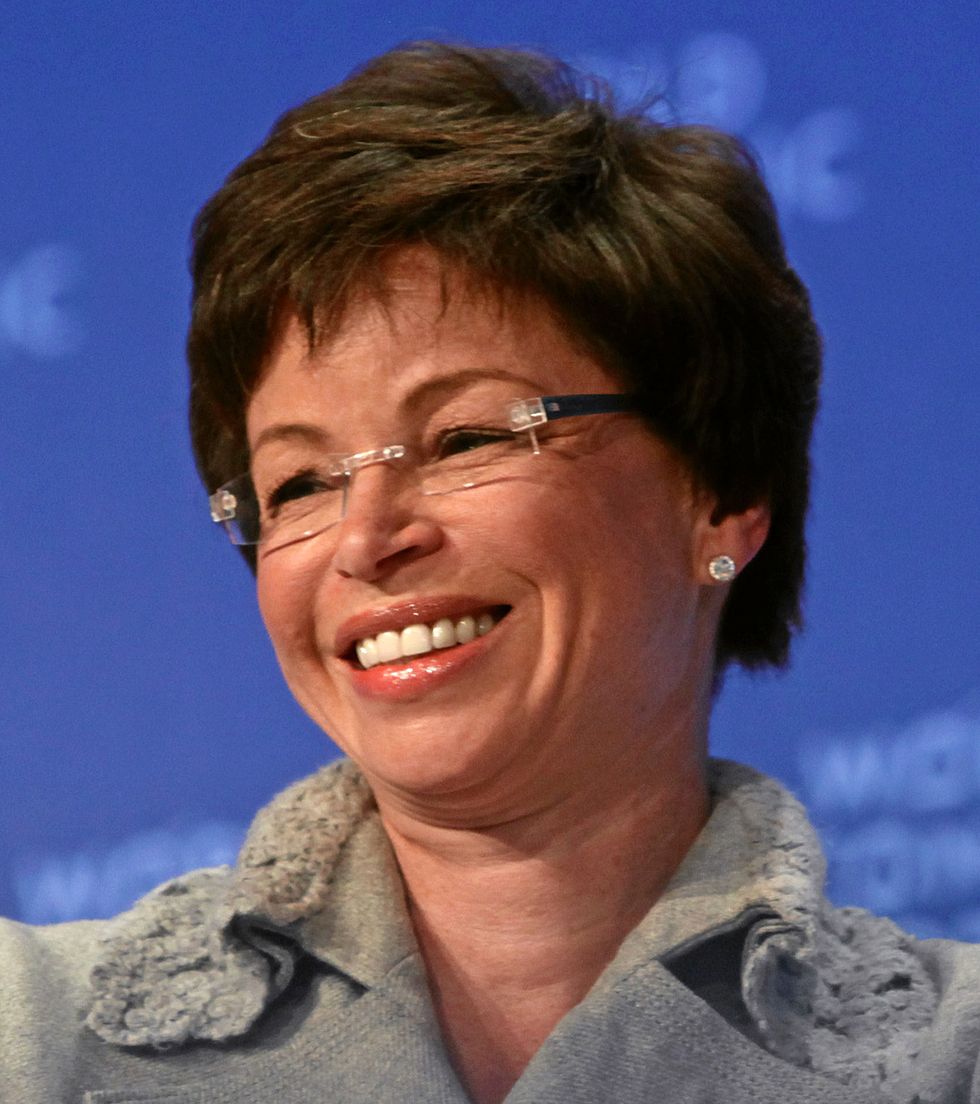 Valerie Jarrett, a former senior advisor to President Barack Obama, has joined Sweetgreen's board of directors, along with Cliff Burrows, former group president of Starbucks' Siren Retail business, which includes the coffee maker's Reserve Roasteries and Princi bakeries.
Jarrett is currently is a Senior Distinguished Fellow at the University of Chicago Law School and a senior advisor to the Obama Foundation.
Last month, Sweetgreen's CEO, Jonathan Neman, told dot.LA his goal was to build the company into being the "Starbucks of real food."
Burrows spent two decades at Starbucks before exiting last year and was most recently responsible for elevating the customer and employee experience. Prior to that, he was Group President of Starbucks Coffee U.S. and Americas and President of the U.S. Retail Operation.
In May, Sweetgreen brought on Chris Carr, a former Starbucks executive, as its chief operating officer.

The hires come as Sweetgreen, valued at $1.6 billion, seeks to expand well beyond its current 108 stores to over 1,000 locations.
From Your Site Articles
Related Articles Around the Web