hollywood
With reports of a new $1 billion fund in the works, The Chernin Group (TCG) is doubling down on media's continued transition from simple entertainment into a vehicle for commerce.

News of the fund was first reported on Tuesday by Axios. TCG confirmed to dot.LA that it was hiring three new partners, Maureen Sullivan, Luke Beatty, and Jarrod Dicker, all of whom should help the company expand into new verticals and guide future investment decisions. But, it declined to comment on the new fund.
The investment group, which was launched in 2010 by former Fox executive Peter Chernin and former media executive Jesse Jacobs and now totals more than 40 employees while managing more than $1 billion in assets, said the new hires will help them invest in more companies that have that coveted ability to turn brand loyalty into consumer action.
TCG has a track record of investing in media companies, with a portfolio that already includes Barstool Sports, Headspace, crunchyroll, The Athletic, Hello Sunshine and more. TCG focuses specifically on supporting companies that can turn media content into product sales. With such unprecedented access to content creators and brands, consumers rely on these parasocial relationships to guide their spending habits like never before.
"If you think about the media business historically, you're used to ESPN and MTV as consumer brands, but historically they haven't been consumer businesses; they were ultimately selling content through a disruptor—a directTV or a cable operator," said Jacobs. "The internet changed all that."
Jacobs said the Pink Whitney, a pink lemonade and vodka mixture sold by New Amsterdam Vodka in partnership with Barstool Sports, is a perfect example of their content-to-commerce model. The concoction was born out of a hockey podcast known as "Spittin' Chiclets" in which former NHL defenseman Ryan Whitney joked that he enjoyed pink lemonade as a mixer. For whatever reason, the idea caught fire. Fans of the podcast began sending pictures of their homemade "Pink Whitneys" all over social media, and a meme was born. In less than a year the official Pink Whitney drink was on the shelves all across America. They've sold more than 15 million units in less than two years with plans to expand into Europe and beyond.
"You feel like those people are such experts in that particular vertical that you're going to trust whatever it is that they say or whatever they recommend," said Jacobs. "You also feel like you're part of that community when you transact."
In particular, the firm seems to be targeting women's products, the outdoor industry and blockchain technologies — specifically as they relate to the creator economy. Sullivan brings experience from her time as president and chief operating officer of both a skincare company, Heyday, and subscription-based clothing rental brand Rent the Runway.
Beatty brings extensive experience with digital media and brands and recently led TCG's investment deal with The Pro's Closet, a Colorado-based company specializing in bike resale. "We have a view that there's a lot going on in the mountain town community," Jacobs said.
Dicker, the former CEO of the cryptocurrency Po.et, brings expertise in blockchain technologies. TCG is betting that the booming creator economy is ripe for blockchain adoption.
"If I buy [a Taylor Swift] ticket for $150 and resell it to you for $1000, Taylor Swift doesn't get anything [from the resale]," Jacobs explained. "Now if that ticket is on the blockchain, she can get a piece of every future transaction." In the world of Patreon and Kickstarter, TCG is also interested in how blockchain technologies can help give investors equity in the content they back.
"If a is created on the blockchain, you can ultimately own a piece of the economic interest in that. And then wherever it's distributed, however it's monetized, you can ultimately participate in that. That's an area that Jarrod [Dicker] spends all of his time on," Jacobs added.
From Your Site Articles
Related Articles Around the Web
NBC will not air the Golden Globes next year, the network announced on Monday, a stunning development that comes amid growing controversy surrounding the Hollywood Foreign Press Association's lack of diversity and questions regarding the organization's policies.
"We continue to believe that the HFPA is committed to meaningful reform. However, change of this magnitude takes time and work, and we feel strongly that the HFPA needs time to do it right," NBC said in a statement. "As such, NBC will not air the 2022 Golden Globes."

The network added that, provided the HFPA "executes on its plan" of reform, "it is hopeful we will be in a position to the air show in January 2023." The move follows revelations in February that the organization of 87 Los Angeles-based journalists who work for foreign media outlets lacks Black members — a gross omission that may have directly resulted in awards season contenders like "Ma Rainey's Black Bottom" failing to earn nominations for the "Best Picture" category in February.
As a result of widespread criticism in recent months, the HFPA introduced a plan that would increase the number of Black reporters, as well as other people of color, in its ranks, by admitting 20 new members in 2021, with a specific focus on Black recruits. The group also proposed new restrictions on gifts and payments they can receive for their work on committees.
But the proposed reforms aren't appeasing some corners of Hollywood. Netflix, Amazon Studios and WarnerMedia have all declined to participate in any more HFPA events until the organization enacts significant and demonstrable changes.
"We know that you have many well-intentioned members who want real change — and that all of us have more work to do to create an equitable and inclusive industry," Netflix co-CEO Ted Sarandos wrote in a letter to the HFPA's Leadership Committee last week. "But Netflix and many of the talent and creators we work with cannot ignore the HFPA's collective failure to address these crucial issues with urgency and rigor."
Hollywood talent have recently joined the backlash, as well. On Monday, Tom Cruise returned his three Golden Globe statues for his turns in "Born on the Fourth of July," "Magnolia," and "Jerry Maguire" in protest; last week, Scarlett Johansson, who has been nominated for four Golden Globe awards, urged the industry to "step back" from the annual awards.
"The HFPA is an organization that was legitimized by the likes of Harvey Weinstein to amass momentum for Academy recognition, and the industry followed suit," Johansson previously said in a statement. "Unless there is necessary fundamental reform within the organization, I believe it is time that we take a step back from the HFPA and focus on the importance and strength of unity within our unions and the industry as a whole."
Related Articles Around the Web
Robert De Niro's performance seemed totally off. In fact, nothing about the movie was working.

The problem, as Scott Mann saw it, was that the dubbing process had created a dissonance between the original film and the translated version he was watching, the cumulative effect of which was that it had "become a different film." That was Mann's opinion when he first saw a translated version of "Heist," the 2015 film about a casino robbery that he directed.
"I saw the foreign translations of my film, and I was horrified," said Mann, who lives in the Hollywood Hills. "As filmmakers we don't tend to watch our own movies in foreign languages and when I was made aware of it, it really shocked me."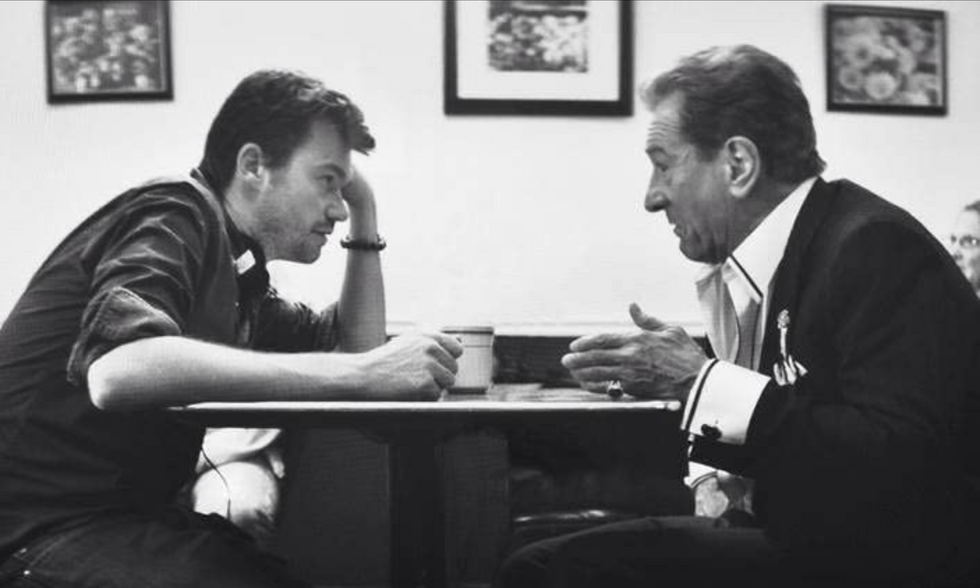 Film director Scott Mann (left) and Robert De Niro on the set of "Heist".
International markets have become more important than ever for film and television. Projects rely on foreign audiences to recoup their costs; as the U.S. market grows saturated, streaming services are increasingly competing for overseas viewers.

Netflix, for instance, consistently sees foreign-produced projects like "Money Heist" (aka "La Casa de Papel") and "Lupin" as among its most popular shows. Last year "Parasite" became the first foreign-language film to win an Oscar for Best Picture.
As Mann sought a better solution for his films, he says he came across a research paper that described a new artificial intelligence solution to the dubbing problem. On Monday, he launched a company that uses the technology, and which he hopes will become the new standard in Hollywood and beyond.
Flawless, which Mann co-founded with Nick Lynes of his native England, uses technology that was developed by a team of researchers at Germany's Max Planck Institute. In the paper detailing their "style-preserving" approach, the group explains how their technique improves upon the dubbing technology the industry relies on.
Traditional dubbing techniques can be categorized into two groups, they write. In the audio-only approach, a foreign-language "source" actor recites the translated script and the resulting audio file is merged with the original video of the "target" actor. The translated script must be rewritten, of course, and is often done so to try to preserve alignment between the lip movements of the target actor and the audio footage from the source's translation. For example, when the target actor pronounces a close-mouthed "b", "m" or "p" sound in the original, the translated script aims to use a foreign word that requires a similar lip movement. But working within these constraints can cause the script's nuances to get literally lost in translation.
The second approach, called "visual dubbing," changes the visual footage of the original performance, so that the actor's lip movements align with the translated audio. The downside, write the researchers, is that doing so "removes the person-specific idiosyncrasies and the style of the target actor, and makes the target actor's face move unnaturally like the source actor."

The new technology uses artificial intelligence to transfer the source actor's lip movements so that, by contrast, it matches the target actor's characteristic style. In doing so, the company hopes it will appear to viewers that De Niro himself is actually speaking the dubbed foreign language.
How Flawless Works
The startup uses technology similar to "deepfake" techniques that manipulate video footage to make a subject appear to be saying something he or she is not. In Flawless' case the technology is used in service of a more realistic translation of the film, rather than, say, creating an embarrassing moment for a politician or celebrity.
To achieve that, its artificial intelligence and machine learning model analyzes video footage of the actor – De Niro, in this example – to learn the subtle nuances of how his lip movements relate to other features of his face, including head position and eye motion. On the other end, it analyzes the translator's performance, then generates new footage that maintains De Niro's style while incorporating the lip movements of the translator. The new footage is rendered exclusively on the actor's (De Niro's) face, and keeps the original background unchanged.
The original researchers write that five-minute videos are sufficient for training their "style translator." Mann added that "for 'locked/completed' productions, the process takes around 10 weeks from ingestion to finals."

The company has signed its first contract but is "sworn to secrecy on the details," Mann said, adding that pricing will be based on the number of translations and the length of the film.
The company has so far been self-financed. It received some external funding in 2020, but won't disclose how much. Lynes wrote it will be raising a Series A round of funding later this year.
In their paper, the researchers cautioned that their technology could be used in pernicious ways as well. They say they have been working on AI technology "to detect synthetically generated or edited video at high precision to make it easier to spot forgeries."
Despite that potential, Mann thinks the technology could "completely change filmmaking" – well beyond dubbing.
"What you're constantly doing as a filmmaker is you're doing the same thing again and again from different angles," he said."From a production point of view, that's very time consuming and expensive. What this allows, is you could get one great take, from one angle and then essentially have it recreated from other angles."
He also thinks it could make remaking foreign films a thing of the past.
"Rather than having to remake a movie in English and all these different languages, we'll be able to enjoy the original," he said. "I think that will have an effect on the international community of filmmaking, and all types of actors that really should be on the world stage but currently aren't because no one speaks that language."
"I do think this is the tip of the iceberg on this technology in the film field," he added.
Related Articles Around the Web