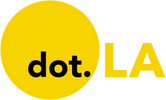 Get in the KNOW  
  on LA Startups & Tech  
X
'Open Letter' Proposing 6-Month AI Moratorium Continues to Muddy the Waters Around the Technology
Lon Harris
Lon Harris is a contributor to dot.LA. His work has also appeared on ScreenJunkies, RottenTomatoes and Inside Streaming.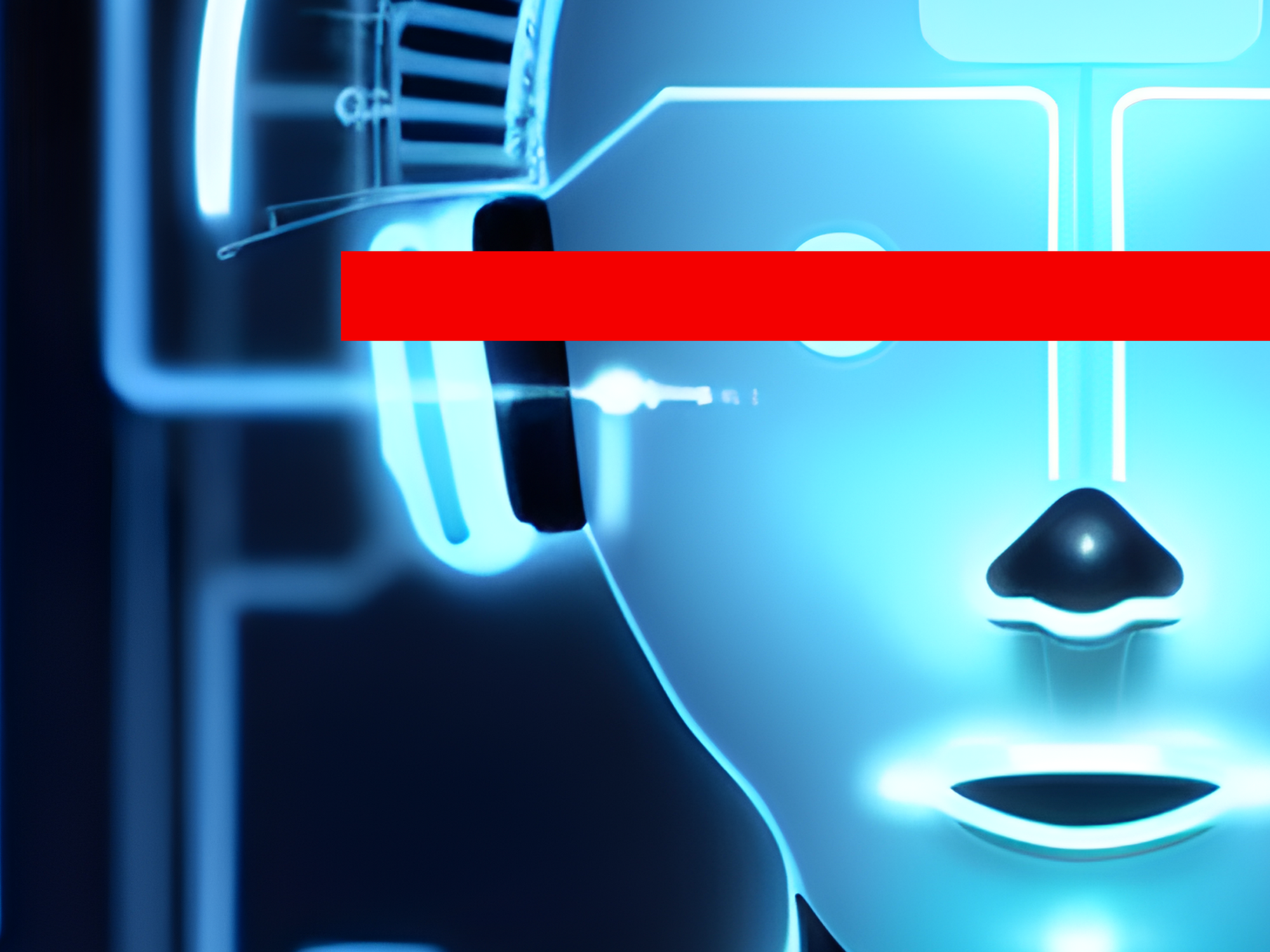 Evan Xie
This is the web version of dot.LA's daily newsletter. Sign up to get the latest news on Southern California's tech, startup and venture capital scene.
AI continues to dominate the news – not just within the world of technology, but mainstream news sources at this point – and the stories have entered a by-now familiar cycle. A wave of exciting new developments, releases and viral apps is followed by a flood of alarm bells and concerned op-eds, wondering out loud whether or not things are moving too fast for humanity's own good.
With OpenAI and Microsoft's GPT-4 arriving a few weeks ago to massive enthusiasm, we were overdue for our next hit of jaded cynicism, warning about the potentially dire impact of intuitive chatbots and text-to-image generators.
Sure enough, this week, more than 1,000 signatories released an open letter calling for all AI labs to pause training any new systems more powerful than GPT-4 for six months.
---
What does the letter say?
The letter calls out a number of familiar concerns for anyone who has been reading up on AI development this past year. On the most immediate and practical level, it cautions that chatbots and automated text generators could potentially eliminate vast swathes of jobs previously filled by humans, while "flood[ing] our information channels with propaganda and untruth." The letter then continues into full apocalypse mode, warning that "nonhuman minds" could eventually render us obsolete and dominate us, risking "loss of control of our civilization."
The six-month break, the signatories argue, could be used to jointly develop shared safety protocols around AI design to ensure that they remain "safe beyond a reasonable doubt." They also suggest that AI developers work in collaboration with policymakers and politicians to develop new laws and regulations around AI and AI research.
The letter was signed by several AI developers and experts, along with tech industry royalty like Elon Musk and Steve Wozniak. TechCrunch does point out that no one from inside OpenAI seems to have signed it, nor Anthropic, a group of former OpenAI developers who left to design their own "safer" chatbots. OpenAI CEO Sam Altman did speak to the Wall Street Journal this week in reference to the letter, noting that the company has not yet started work on GPT-5 and that time for safety tests has always been built into their development process. He referred to the letter's overall message as "preaching to the choir."
Critics of the letter
The call for an AI ban was not without critics, though. Journalist and investor Ben Parr noted that the vague language makes it functionally meaningless, without any kind of metrics to gauge how "powerful" an AI system has become or suggestions for how to enforce a global AI ban. He also notes that some signatories, including Musk, are OpenAI and ChatGPT competitors, potentially giving them a personal stake in this fight beyond just concern for the future of civilization. Others, like NBC News reporter Ben Collins, suggested that the dire AI warnings could be a form of dystopian marketing.
On Twitter, entrepreneur Chris Pirillo noted that "the genie is already out of the bottle" in terms of AI development, while physicist and author David Deutsch called out the letter for confusing today's AI apps with the Artificial General Intelligence (AGI) systems still only seen in sci-fi films and TV shows.
Legitimate red flags
Obviously, the letter speaks to relatively universal concerns. It's easy to imagine why writers would be concerned by, say, BuzzFeed now using AI to write entire articles and not just quizzes. (The website isn't even using professional writers to collaborate with and copy-edit the software anymore. The new humans helping out "Buzzy the Robot" to compose its articles are non-editorial employees from the client partnership, account management, and product management teams. Hey, it's just an "experiment," freelancers!)
But it does once more raise some red flags about the potentially misleading ways that some in the industry and the media are discussing AI, which continues to make these kinds of high-level discussions around the technology more cumbersome and challenging.
A recent viral Twitter thread credited ChatGPT-4 with saving a dog's life, leading to a lot of breathlessly excited coverage about how computers were already smarter than your neighborhood veterinarian. The owner entered the dog's symptoms into the chatbot, along with copies of its blood work, and ChatGPT responded with the most common potential ailments. As it turns out, a live human doctor tested the animal for one of the bot's suggested illnesses and accurately guessed the diagnosis. So the computer is, in a very real sense, a hero.
Still, considering what might be wrong with dogs based on their symptoms isn't what ChatGPT does best. It's not a medical or veterinary diagnostic tool, and it doesn't have a database of dog ailments and treatments at the ready. It's designed for conversations, and it's just guessing as to what might be wrong with the animal based on the texts on which it was trained, sentences and phrases that it has seen connected in human writing in the past. In this case, the app guessed correctly, and that's certainly good news for one special pupper. But there's no guarantee it would get the right answer every time, or even most of the time. We've seen a lot of evidence that ChatGPT is perfectly willing to lie, and can't actually tell the difference between truth and a lie.
There's also already a perfectly solid technology that this person could have used to enter a dog's symptoms and research potential diagnoses and treatments: Google search. A search results page also isn't guaranteed to come up with the correct answer, but it's as if not more reliable in this particular use case than ChatGPT-4, at least for now. A quality post on a reliable veterinary website would hopefully contain similar information to the version ChatGPT pulled together, except it would have been vetted and verified by an actual human expert.
Have we seen too many sci-fi movies?
A response published in Time by computer scientist Eliezer Yudkowsky – long considered a thought leader in the development of artificial general intelligence – argues that the open letter doesn't go far enough. Yudkowsky suggests that we're currently on a path toward "building a superhumanly smart AI," which will very likely result in the death of every human being on the planet.
No, really, that's what he says! The editorial takes some very dramatic turns that feel pulled directly from the realms of science-fiction and fantasy. At one point, he warns: "A sufficiently intelligent AI won't stay confined to computers for long. In today's world you can email DNA strings to laboratories that will produce proteins on demand, allowing an AI initially confined to the internet to build artificial life forms or bootstrap straight to postbiological molecular manufacturing." This is the actual plot of the 1995 B-movie "Virtuosity," in which an AI serial killer app (played by Russell Crowe!) designed to help train police officers grows his own biomechanical body and wreaks havoc on the physical world. Thank goodness Denzel Washington is around to stop him.
And, hey, just because AI-fueled nightmares have made their way into classic films, that doesn't mean they can't also happen in the real world. But it nonetheless feels like a bit of a leap to go from text-to-image generators and chatbots – no matter how impressive – to computer programs that can grow their own bodies in a lab, then use those bodies to take control of our military and government apparatus. Perhaps there's a direct line between the experiments being done today and truly conscious, self-aware, thinking machines down the road. But, as Deutsch cautioned in his tweet, it's important to remember that AI and AGI are not necessarily the exact same thing.
Lon Harris
Lon Harris is a contributor to dot.LA. His work has also appeared on ScreenJunkies, RottenTomatoes and Inside Streaming.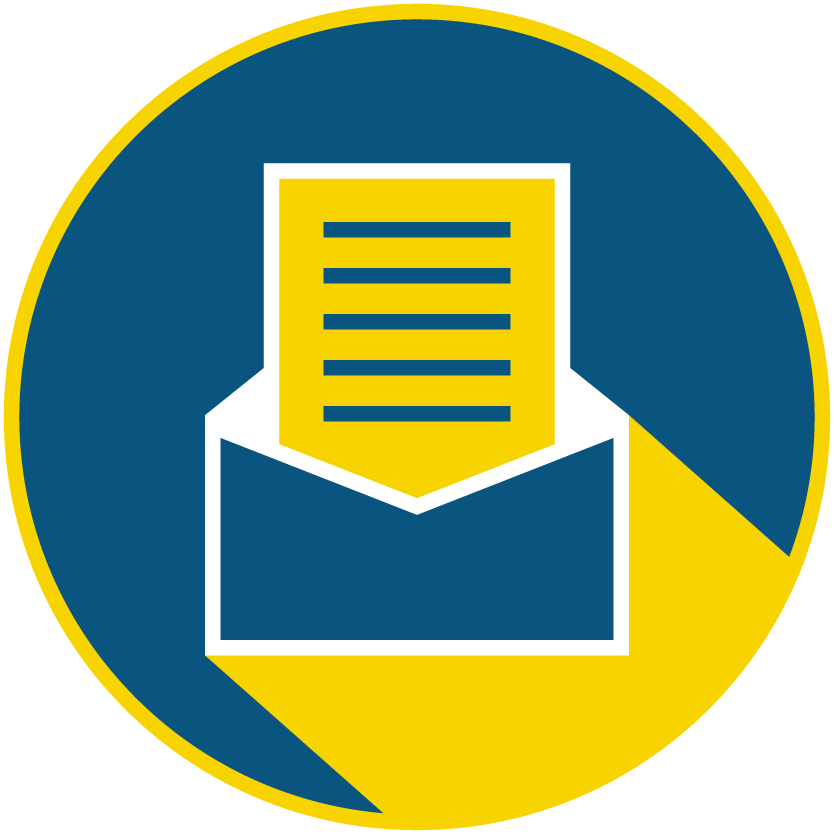 Subscribe to our newsletter to catch every headline.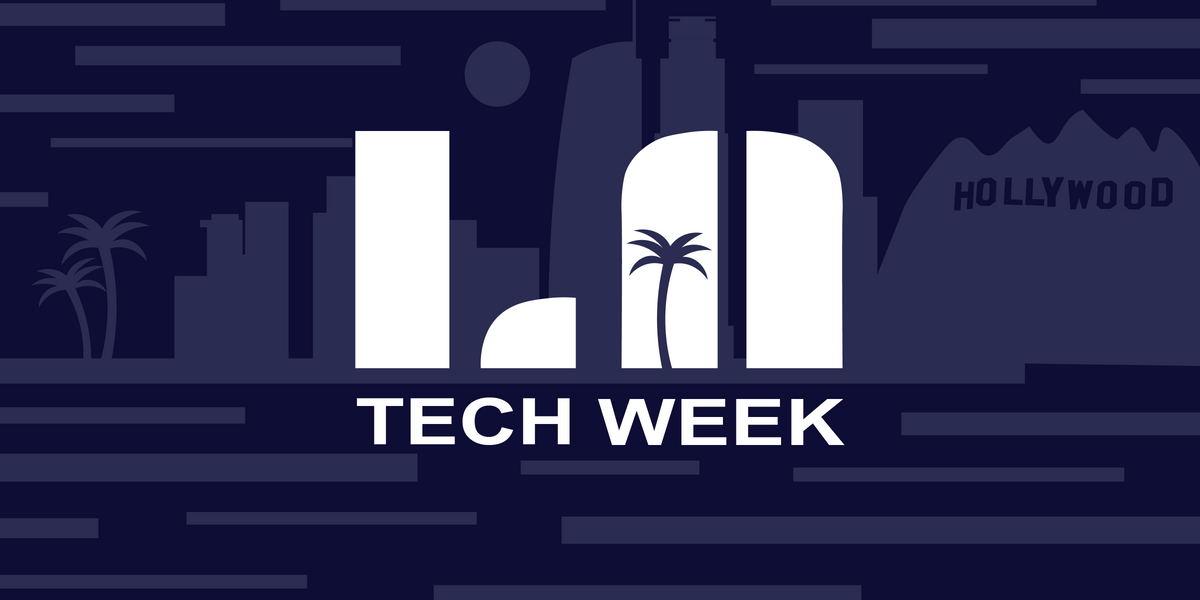 Evan Xie
L.A. Tech Week has brought venture capitalists, founders and entrepreneurs from around the world to the California coast. With so many tech nerds in one place, it's easy to laugh, joke and reminisce about the future of tech in SoCal.
Here's what people are saying about the fifth day of L.A. Tech Week on social:
Samson Amore
Samson Amore is a reporter for dot.LA. He holds a degree in journalism from Emerson College. Send tips or pitches to samsonamore@dot.la and find him on Twitter @Samsonamore.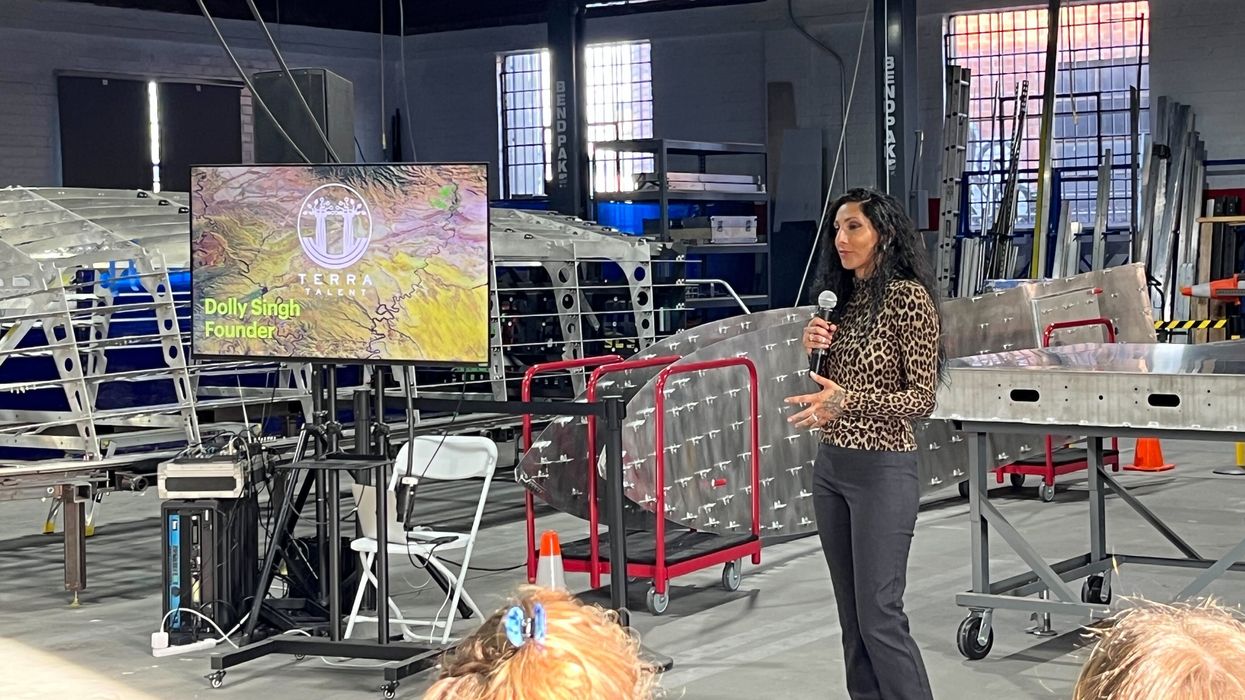 Samson Amore
At Lowercarbon Capital's LA Tech Week event Thursday, the synergy between the region's aerospace industry and greentech startups was clear.
The event sponsored by Lowercarbon, Climate Draft (and the defunct Silicon Valley Bank's Climate Technology & Sustainability team) brought together a handful of local startups in Hawthorne not far from LAX, and many of the companies shared DNA with arguably the region's most famous tech resident: SpaceX.
Here's a look at the greentech startups that pitched during the Tech Week event, and how they think what they're building could help solve the climate crisis.
Arbor: Based in El Segundo, this year-old startup is working to convert organic waste into energy and fresh water. At the same time, it also uses biomass carbon removal and storage to remove carbon from the atmosphere and sequester it in an attempt to avoid further damaging the earth's ozone layer. At the Tech Week event Thursday, Arbor CEO Brad Hartwig told a stunned crowd that Arbor aims to remove about five billion tons of organic waste from landfills and turn that into about 6 PWh, or a quarter of the global electricity need, each year. Hartwig is an alumni of SpaceX; he was a manufacturing engineer on the Crew Dragon engines from 2016-2018 and later a flight test engineer at Kitty Hawk.
Antora: Sunnyvale-based Antora Energy was founded in 2017, making it one of the oldest companies on the pitching block during the event. Backed by investors including the National Science Foundation and Los Angeles-based Overture VC, Antora has raised roughly $57 million to date, most recently a $50 million round last February. Chief operating officer Justin Briggs said Antora's goal is to modernize and popularize thermal energy storage using ultra-hot carbon. Massive heated carbon blocks can give off thermal energy, which Antora's proprietary batteries then absorb and store as energy. It's an ambitious goal, but one the world needs at scale to green its energy footprint. According to Briggs, "the biggest challenge is how can we turn back variable intermittent renewable electricity into something that's reliable and on demand, so we can use it to provide energy to everything we need."
Arc: Hosting the panel was Arc, an electric boating company that's gained surprising momentum, moving from design to delivering its first e-boats in just two years of existence. Founded in 2021, the company's already 70 employees strong and has already sold some of its first e-boats to customers willing to pay the luxury price tag, CTO Ryan Cook said Thursday. Cook said that to meet the power needs of a battery-powered speedboat, the Arc team designed the vehicle around the battery pack with the goal of it being competitive with gas boats when compared to range and cost of gas. But on the pricing side, it's not cheap. Arc's flagship vessel, the Arc One is expected to cost roughly $300,000. During the panel, Cook compared the boat to being "like an early Tesla Roadster." To date Arc Boats has raised just over $35 million, according to PitchBook, from investors including Kevin Durant, Will Smith and Sean "Diddy" Combs.
Clarity Technology: Carbon removal startup Clarity is based in LA and was founded by Yale graduate and CEO Glen Meyerowitz last year. Clarity is working to make "gigaton solutions for gigaton problems." Their aim? To remove up to 2,000 billion pounds of carbon from the atmosphere through direct air capture, a process which uses massive fans to move chemicals that capture CO2. But the challenge, Meyerowitz noted in his speech, is doing this at scale in a way that makes an actual dent in the planet's emissions while also efficiently using the electricity needed to do so. Meyerowitz spent nearly five years working as an engineer for SpaceX in Texas, and added he's looking to transfer those learnings into Clarity.
Parallel Systems: Based in Downtown LA's Arts District, this startup is building zero-emission rail vehicles that are capable of long-haul journeys otherwise done by a trucking company. The estimated $700 billion trucking industry, Parallel Systems CEO Matt Soule said, is ripe for an overhaul and could benefit from moving some of its goods off-road to electric railcars. According to Soule, Parallel's electric battery-powered rail vehicles use 25% of the energy a semi truck uses, and at a competitive cost. Funded in part by a February 2022 grant from the U.S. Department of Energy, Parallel Systems has raised about $57 million to date. Its most recent venture funding round was a $49 million Series A led by Santa Monica-based VC Anthos Capital. Local VCs including Riot Ventures and Santa Monica-based Embark Ventures are also backers of Parallel.
Terra Talent: Unlike the rest of the startups pitching at the Tech Week event, Terra Talent was focused on building teams rather than technology. Founder Dolly Singh worked at SpaceX, Oculus and Citadel as a headhunter, and now runs Terra, a talent and advisory firm that helps companies recruit top talent in the greentech space. But, she said, she's concerned that all the work these startups are doing won't matter unless we very quickly turn around the current trendlines. "Earth will shake us off like and she will do just fine in 10,000 years," she said. "It's our way of living, everything we love is actually here on earth… there's nothing I love on Mars," adding that she's hopeful the startups that pitched during the event will be instrumental in making sure the planet stays habitable for a little while longer.

Samson Amore
Samson Amore is a reporter for dot.LA. He holds a degree in journalism from Emerson College. Send tips or pitches to samsonamore@dot.la and find him on Twitter @Samsonamore.
https://twitter.com/samsonamore
samsonamore@dot.la
Decerry Donato
Decerry Donato is a reporter at dot.LA. Prior to that, she was an editorial fellow at the company. Decerry received her bachelor's degree in literary journalism from the University of California, Irvine. She continues to write stories to inform the community about issues or events that take place in the L.A. area. On the weekends, she can be found hiking in the Angeles National forest or sifting through racks at your local thrift store.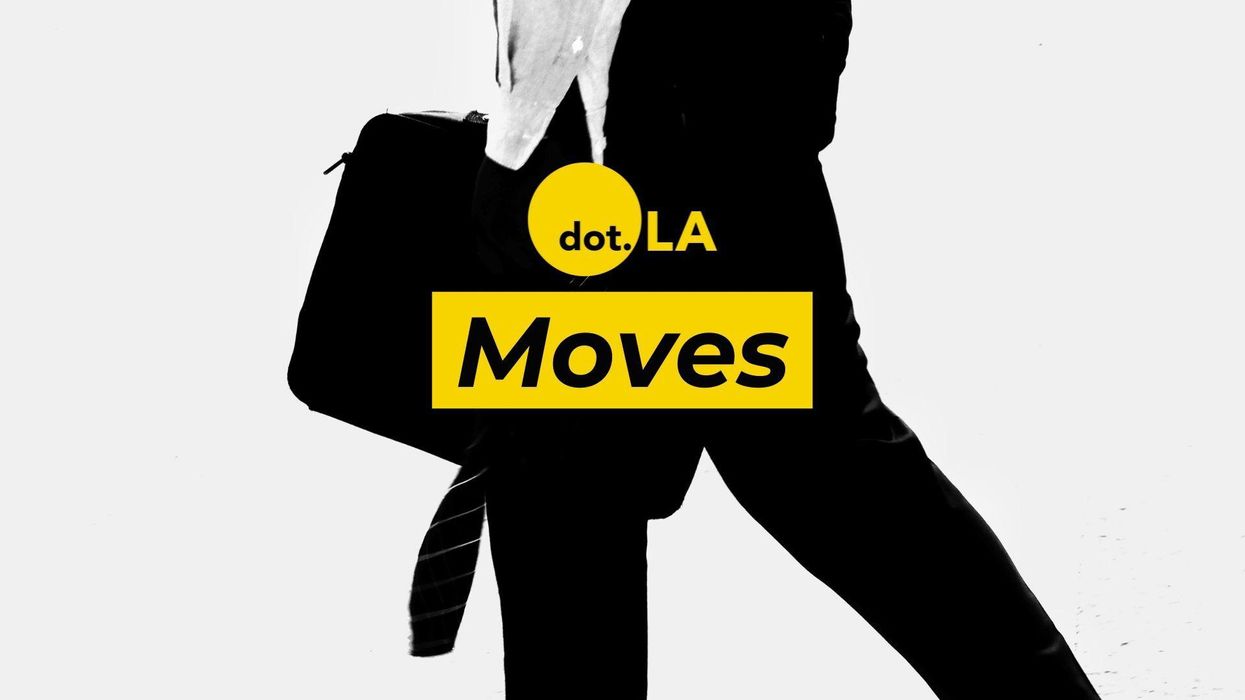 LA Tech 'Moves':
"Moves," our roundup of job changes in L.A. tech, is presented by Interchange.LA, dot.LA's recruiting and career platform connecting Southern California's most exciting companies with top tech talent. Create a free Interchange.LA profile here—and if you're looking for ways to supercharge your recruiting efforts, find out more about Interchange.LA's white-glove recruiting service by emailing Sharmineh O'Farrill Lewis (sharmineh@dot.la). Please send job changes and personnel moves to moves@dot.la.
***
LeaseLock, a lease insurance and financial technology provider for the rental housing industry named Janine Steiner Jovanovic as chief executive officer. Prior to this role, Steiner Jovanovic served as the former EVP of Asset Optimization at RealPage.
Esports platform PlayVS hired EverFi co-founder and seasoned business leader Jon Chapman as the company's chief executive officer.
Biotechnology company Visgenx appointed William Pedranti, J.D. as chief executive officer. Before joining, Mr. Pedranti was a partner with PENG Life Science Ventures.
Pressed Juicery, the leading cold-pressed juice and functional wellness brand welcomed Justin Nedelman as chief executive officer. His prior roles include chief real estate officer of FAT Brands Inc. and co-founder of Eureka! Restaurant Group.
Michael G. Vicari joined liquid biopsy company Nucleix as chief commercial officer. Vicari served as senior vice president of Sales at GRAIL, Inc.
Full-service performance marketing agency Allied Global Marketing promoted Erin Corbett to executive vice president of global partnership and marketing. Prior to joining Allied, Corbett's experience included senior marketing roles at Disney, Warner Bros. Studios, Harrah's Entertainment and Imagi Animation Studios.
Nuvve, a vehicle-to-grid technology company tapped student transportation and automotive sales and marketing executive David Bercik to lead the K-12 student transportation division.
From Your Site Articles
Related Articles Around the Web
Decerry Donato
Decerry Donato is a reporter at dot.LA. Prior to that, she was an editorial fellow at the company. Decerry received her bachelor's degree in literary journalism from the University of California, Irvine. She continues to write stories to inform the community about issues or events that take place in the L.A. area. On the weekends, she can be found hiking in the Angeles National forest or sifting through racks at your local thrift store.