healthcare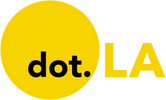 Get in the KNOW
on LA Startups & Tech
X
healthcare
Photo by Monica Wang
For $15 a month plus insurance, your doctor's office could look like the inside of a trendy restaurant in New York City or an office at Bloomberg's headquarters.
Welcome to the well-decorated world of women's health care, as envisioned by Carolyn Witte, a CEO in the booming femtech market buoyed by new VC money. That funding has only picked up since the pandemic began.
Last year, Witte raised $24 million in a Series A round for her women's health care company Tia, which opened its first L.A. location in Silver Lake this week.
Branding itself as the "modern medical home," Tia is a New York-based startup with ambitions to spread along the West Coast. The app lets members book gynecology, primary care, acupuncture and mental health appointments from an app.
"Normally, in L.A., you may go to an acupuncture place in Venice and to a hospital for an ultrasound and somewhere else for a pap smear," said Witte, a former Google product designer. "We're doing that all in one physical space."
It wasn't until recently that women-focused health care startups began drawing investor attention. Last year, funding for digital health startups aimed at women jumped 105% to $418 million, Bloomberg reported this week. In Los Angeles, women-founded health companies like Loom, a wellness startup co-founded by a former doula, have attempted to address reproductive and other health issues in a less clinical environment than a traditional doctor's office.
"There's really only one stat that VCs need to know," Witte said. "Women control more than 80% of U.S. health care dollars. There's a very, very clear financial reason to invest in women's health. It's not niche."
Members pay either the $15 per month fee or $150 annually (plus a first time fee) for a combination of virtual and in-person appointments. Still, 70% of sessions take place online first.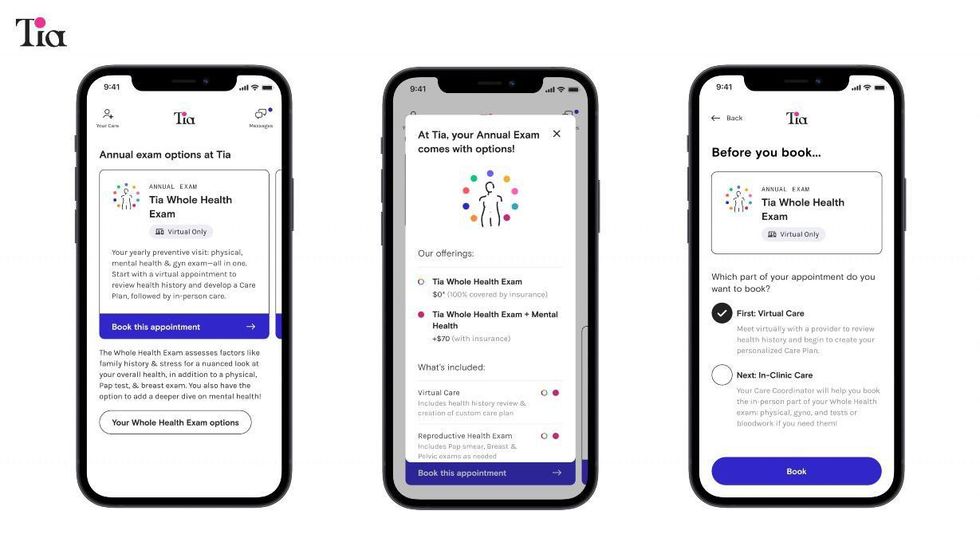 The company expects most patients won't need to drive through L.A. traffic to visit a physician or obstetrician-gynecologist in the office. But for those who do stop by, Witte wanted the experience of seeing a doctor to feel different than what patients may expect.

Bright colors, light hardwood floors, a sleek break room with booth seating for employees: It was designed by the architecture firm behind the upscale coworking chain The Wing and San Francisco's Rent the Runway storefront.
"We want to make the doctor's office a place where women want to engage in preventative health," the executive said. "Where preventative health is a cool thing."
It's Tia's second physical location since launching a clinic in New York City. By the end of 2021, the company plans to open two new spaces, in San Francisco and Phoenix, to grow on its 7,000 members. About 800 of them live in L.A. and joined Tia for chat messaging and telehealth services when the app launched in November.
From Your Site Articles
Related Articles Around the Web
Once an obscure health care company, Crossover Health has netted some of the biggest names in technology. And its new venture with Amazon is about to make it even bigger.
The San Clemente-based startup netted $168 million in Series D funding just this week, and its burgeoning success speaks to a larger trend that could change how U.S. health insurance is done.
Once a small health care provider co-founded by two colleagues in Aliso Viejo, Crossover Health has grown into one of the biggest names in the industry and is expected to rake in $165 million in revenue by year's end.

Facebook, LinkedIn and Comcast are among its clients and its providers now oversee 400,000 patients across the country. But their most well-known partnership is with Amazon, which is using the company to power their 17 in-person clinics, including one near its fulfillment center in San Bernardino.
Crossover promises to lower the cost of health care for employers by providing primary and preventive health care at a pre-fixed rate. In addition, it says it can save companies 15% on average on their health care costs by emphasizing preventive care.
Co-founder Scott Shreeve said he started to think about this idea after seeing a rotating door of patients with various ailments in the emergency room.
"I would do my best to take care of my 30 or so patients every day that came in and try to address their issues," Shreeve said. "And then the next day there'd be 30 more, and then 30 more. It just felt like, 'what can I do to get ahead of this, to get upstream of these problems?'"
Crossover's Series D round was led by Deerfield Management Company. The goal is to help the company grow faster.
Founded in 2010 by Shreeve, an emergency medicine doctor, and health insurance expert Nate Murray, the company runs 48 health clinics that are based employer sites or close by. The company, like Forward and One Medical, uses comprehensive analytics platforms to track and enable patient health care.
Crossover nabbed its first big client, Apple, in 2011 as the tech giant was developing on-site clinics.
Its success can be attributed to the growing number of self-insured companies. Rather than paying money to an insurance company, a business will take on the risk of paying health care providers itself. They often still use insurance to handle the administrative tasks, but use primary health clinics like Crossover Health to handle the everyday needs of their employees.
Crossover Health announced a partnership with Amazon in 2020 to develop a slew of health clinics scattered across the country meant for Amazon workers who might work odd hours. It has opened up 17 clinics in five states, including the San Bernardino area. The clinics operate from 7 a.m. to 11 p.m. and offer everything from primary care to behavioral health services for workers and their families.
"If you come in and you've got a back injury that's that's causing depression, we're not going to just treat your back injury and punch you out of here," Shreeve said. "We have a physical therapist and a mental health therapist as part of a similar team and they work to provide that comprehensive care."
Crossover Health may not be Amazon's only provider. Wyoming-based Care Medical, which contracts with Amazon to offer Washington employees in-person and virtual care, filed paperwork to do business in other states, according to STAT News. It is unclear if this is a joint venture with Amazon.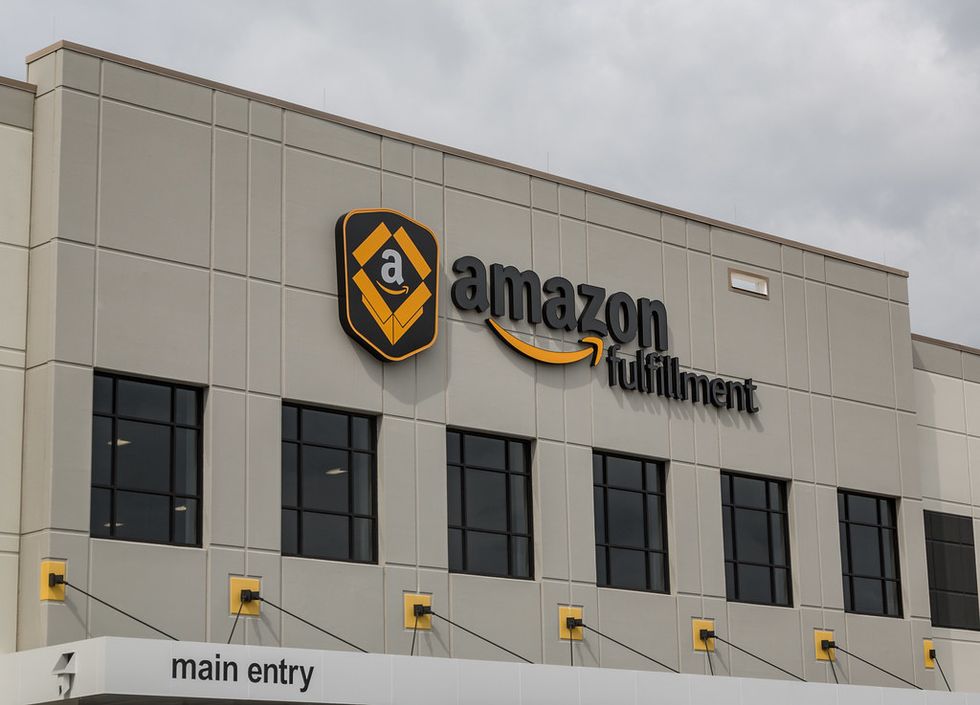 A New Model for Tech Companies
Many tech companies have adopted on-site or near-site clinics in order to proactively lower health insurance costs. If employees have easy access to quality primary and preventative care that can manage or stave off chronic conditions, the employer pays less on reactive care for high-risk issues.
The self-insured model has historically worked best for large businesses who can offer hundreds of employees to, and afford to broker deals with, health care providers. Eighty-four percent of large companies were self-insured in 2020. Disney and Walmart are both self-insured, and Walmart flies its employees over state lines to see specialists in its network.
"If you're a little company and you have one person that works for you that has a really bad accident, that can blow your budget for five years. Then you have to buy reinsurance to protect you against that," Glenn Melnick, a professor at the USC Price School of Public Policy. "There's no savings there... whereas if you're a big company, administrative costs are spread out among a lot of employees."
In addition to Crossover Health's on-premise and virtual clinics staffed by doctors, therapists and other care providers, the company offers fitness classes and resources on grocery shopping and other extrinsic factors that play a role in determining one's health.
"They have a real incentive to keep all their members healthy," said Eunjoo Pacifici, a professor at the USC School of Pharmacy. "Their expenses are kind of fixed for paying for doctors and infrastructure. If they can keep the cost of care down, they can keep more of their profits."
It also has a network of specialists and can schedule appointments with them on behalf of a patient. Specialists are not covered under Crossover Health. The company uses an in-house data analytics technology platform that allows them to collect an employee's medical history with their permission, create a baseline of health, track 40 metrics of health, identify potential risk factors and proactively encourage employees to get treated.
The platform is a portal by which patients can securely contact health care experts and access their health records. In turn, Crossover Health recommends flu shots, physicals and other services based on the employee's health profile.
While this model is shown to be effective in managing care, according to Melnick, not all preventative health care is cost effective. Some chronic diseases — like diabetes, cancer and heart disease — require years of preventative health care to slow the effects, and those preventative treatments may not outweigh the cost of treating the disease.
"It improves quality of life," Melnick said. "There are other reasons to do it, but for other things it is not economically justified."
Crossover Health says while chronic conditions are more expensive to treat, they're balanced out by the employees who require very little care.
From Your Site Articles
Related Articles Around the Web
Photo by Bill Oxford on Unsplash
Insurance tech company Sidecar Health raised $120 million in a Series C funding round led by Drive Capital. The latest infusion of funds bumped its valuation up to $1 billion.
The insurance plans let customers see any doctor they wish and pay upfront for services using a Sidecar Health Visa card. A spokesperson for the company told dot.LA in August that Sidecar Health's customers include families, small business and people over 40 — even though the startup initially set out to target millennials.

Since its founding in 2018, the El Segundo-based company has raised more than $175 million. The service is offered in 16 states, not including California.
Unlike traditional insurance that covers a range of services and then offers a deductible, Sidecar Health offers indemnity insurance, which is cheaper but can wind up costing more if unexpected care is needed. Plus, it's not regulated in the same way that other health insurance plans are.
Customers are free to compare and shop around for services on the platform, a model that CEO and co-founder Patrick Quigley hopes will "make healthcare more affordable and accessible for all Americans," he said in a statement announcing the raise on Tuesday.
"When we think about the pandemic, it's an opportunity for us, as a company that takes our mission very seriously, to help a ton of people right now," Quigley said in an interview following the July raise.
The company says members will save around 40% compared to traditional insurance plans.
"The extraordinary level of transparency Sidecar Health brings to the marketplace has the potential to fundamentally change how millions of Americans shop for healthcare," said Molly Bonakdarpour, Partner at Drive Capital, in a statement. "We think Sidecar Health's team of consumer, technology and healthcare veterans is well positioned to capitalize on the large healthcare insurtech opportunity."
The company said it will use the funding to hire and invest in new insurance products, including an ACA or "Obamacare" offering for 2022 and later, a product for the self-funded employer market.
The round was joined by new investors BOND, Tiger Global and Menlo Ventures along with existing investors Cathay Innovation and GreatPoint Ventures.
From Your Site Articles
Related Articles Around the Web