LA Venture: Meet Nick Grouf and His PhD-Powered Venture Fund
Jun 01 2021
This week, I sat down with Nick Grouf, founder and managing partner at Alpha Edison, a knowledge-driven venture fund he runs with his partner, Nate Redmond. Grouf is an ardent believer that venture capitalism has become very reactive, and he and his partner aim to take a different approach. Alpha Edison highly values education, diverse opinion and insight, and startups proactively bridging gaps in the market.
---
Grouf prioritizes sifting through all the noise in the venture industry, which he notes grows increasingly competitive. He built his company on the cornerstone value of diligence and studies sector vulnerabilities to give his fund the best shot at success.
Grouf talks about how he selected his team, and what he values in co-workers.
"We all have different work experiences and we think that those different experiences compliment each other and allow us to come at a problem from very different angles," he said. He argues this is essential to maintaining a competitive edge, as it allows his company to work through potential pitfalls and stay sharply focused on the deals at hand, while leaving room to analyze business decisions.
Grouf also emphasized the importance of recognizing your own weaknesses in order to be a good leader. By admitting his own fears, he said, he was able to better delegate tasks and focus on his strengths.

Grouf believes he has learned most from his mistakes, and that growth often springs forth from challenges. This mentality is also essential in relationships with founders.
"It's a right that you have to earn: to be the first call that an entrepreneur makes — not when things are going well, because if you get good news late, that's no problem — but when things are really tough."
We also discussed how Alpha Edison attempts to identify new addressable markets, Nick's personal investing insights, and how their company uses challenges as unique learning opportunities.
Nick Grouf is the founder and a managing partner at Alpha Edison. He is a serial entrepreneur, and currently serves on the boards of The Hammer Museum, Trajal Harrell Dance Company and Walther School Foundation.
"Far more important to us [are] the things that we do wrong, because we believe that you do a lot of learning in life, but sometimes you learn the most from the challenges." —Nick Grouf
dot.LA Engagement Intern Colleen Tufts contributed to this post.
Want to hear more of L.A. Venture? Listen on Apple Podcasts, Stitcher, Spotify or wherever you get your podcasts.

Related Articles Around the Web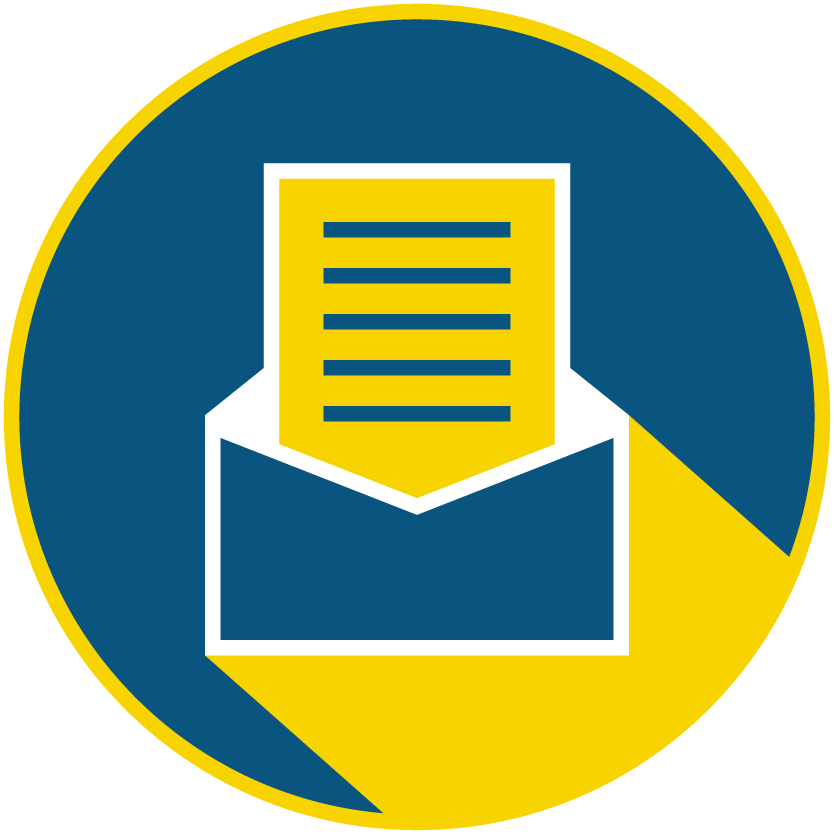 Subscribe to our newsletter to catch every headline.
On this week's episode of L.A. Venture, hear from Will Schmitt, the head of venture strategy at Miroma Ventures. Miroma Ventures is the investment arm of The Miroma Group, which is made up of a collective of smaller marketing agencies. Their venture team works with Fortune 500 companies like Spotify, Starbucks, Masterclass and Netflix to help build brand awareness and recognition.
From Your Site Articles
Related Articles Around the Web
Former Cisco executive Shaun Cooley's two-year-old Los Angeles startup is creating a platform to make buildings smarter.
Mapped, which just raised $6.5 million led by Allegion Ventures and MetaProp, helps commercial real estate companies operate their buildings remotely.
So far, it has about a dozen commercial customers that have anywhere from 100 to 1,000 buildings where HVAC, elevators and other systems can be controlled from a central brain.
Although their current customers are all commercial real estate, Cooley hopes to expand that to refineries, energy production facilities, manufacturing floors and retail spaces.
Mapped's software represents physical buildings in standardized, open-source digital database graphs and automates everything from heating and air to lighting, elevators and even conveyor belts — adjusting them based on the temperature outside or time of day, all without the need for human intervention.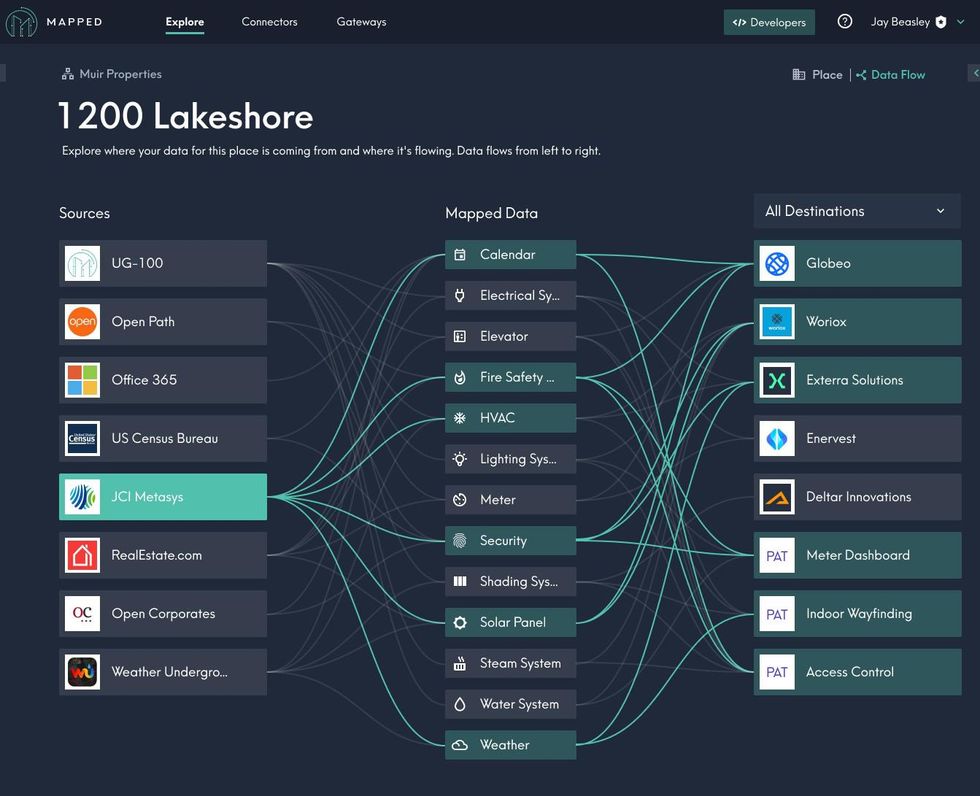 Cooley came up with the idea after years as Cisco's CTO and vice president of IOT and industries, where he saw his customers struggle with extracting data from their systems and making it usable.

"Just because you digitize, or you IoT enable one factory, doesn't mean you can take that digitization and move it to the factory across the street," said Cooley. "They have different systems, installed in a different time period, by a different system integrator."
For example, a decades old building might have an HVAC, lighting, security, elevators, irrigation system, gas metering and other systems feeding into a central hub. For owners of multiple building, the interfaces that those systems operate on are often different. Mapped offers a platform for developers to standardize those interfaces.
Using APIs, Mapped's software constantly scans the environment, communicates with devices in their native protocols, and then brings data back to its central platform. Thus, software developers can write applications one time and instantly deploy them across all of a company's buildings.

Cooley said his product is different than what's offered by Oracle and Microsoft because its designed to be an all-in-one automated platform, making it much faster than his competitors.

In March 2020, Mapped raised $3 million in its first seed round, bringing today's total to $9.5 million.

The latest round was co-led by Legion Ventures and MetaProp, Singtel joined the round and Greycroft and Animo participated.
The prospect of internet fame is no longer enough to bring in the best and brightest. Instead, paying for content has become table stakes for these platforms as they battle one another and compete in the broader attention economy.

Netflix chief executive Reed Hastings made that clear in a recent earnings call, when he called YouTube — rather than other streaming services or theater chains — his company's "second largest direct competitor."
Within the last two years, at least 10 platforms have announced they'll be paying creators for their work, but the size of the purse, what type of content they're funding and how differs by platform.
"These types of funds are what a lot of creators have been waiting forever for, and as soon as one platform starting doing it, the others had to follow suit," said David Rhodes, a multiplatform content creator with over 10 million followers across his 12 accounts, who has earned a few thousand dollars from Snapchat's creator fund.
Whether this new funding will be enough to lure talent and sustain quality content remains to be seen, but the financial arms race has been welcomed by many creators.
Here's a quick look at each:
TikTok has said that within three years, its creator fund will grow to over $1 billion in the U.S. and more than double that globally. Only residents of certain countries are currently eligible, and successful applicants must meet other criteria, including having at least 10,000 authentic followers and receiving 100,000 views in the last 30 days. To apply, users must have a creator account, which is free to make, and submit an application via the app. Payouts are based on video views and engagement, and no caps have been set for outlays per day or to a given user, the company says.
YouTube's "shorts fund" is a $100 million pool that will be distributed through 2022. Available to creators in India and the U.S., it is an effort to boost YouTube's presence in the short-form video market via its new "Shorts" product. Phil Ranta, a social media veteran and CEO of Wormhole Labs, said he has seen lots of creators with relatively modest followings earn "bonkers" views via Shorts. YouTube says it will reach out to creators whose Shorts earn the most views and engagement each month, and called the fund "the first step in our journey to build a monetization model for Shorts on YouTube."
Snapchat is offering $1 million per day to creators on "Spotlight," a TikTok-like video-broadcasting feature launched late last year that heralded Snap's departure from an exclusive focus on peer-to-peer messaging. Anyone can submit clips to Spotlight and be eligible for the funding. Payments are distributed based on an algorithm that checks whether a post passes a "value threshold" within seven days. Snap has said factors the algorithm looks for will vary but may include unique views and performance relative to other users' posts.
Facebook set aside $25 million for a Black creator fund in 2020, available to U.S. residents with at least 10,000 Facebook or Instagram followers. The program launched in August and applications are now closed. Instagram, owned by Facebook, does not have a general creator fund, though its head, Adam Mosseri, has suggested it might create one in the future. Reports have surfaced indicating that Instagram has sought to lure some creators to its platform with lavish payments.
Pinterest has a creator fund that reportedly measures $500,000 and is open for application; participants receive $25,000 in cash and ad credits and participate in a four-week workshop. Clubhouse has indicated it will offer application-based creator grants but has not publicized details, and ran an inaugural creator accelerator program that closed applications in March. Substack offered $25,000 each to four selected writers in 2020 while OnlyFans provided four £20,000 grants to UK-based musicians.
How Some Artists Are Gaming 'Creator Funds'
The largest funds are algorithmic and the factors that trigger payouts are a moving target, but that doesn't mean they can't be gamed.
"There's always an exploit," said Ranta, noting that conversations among creators and agents often include sharing tactics for what seems to be working.
One hack he cited pertains to Snap's Spotlight fund. Some creators with big followings have found they can post to Spotlight as frequently as every five minutes with simple videos such as blowing a kiss to the camera, and earn money for it, Ranta said.
Accessing the funds can also simply mean posting relentlessly.
"The more content you can push out the better," said Rhodes. "Although some videos may do well and some won't, you're still increasing your chances of videos taking off and earning money."
Rhodes said it's key to find "formula," and "ride it out until it stops working — or until the novelty wears off — and then switch it up and try different things until you find a new formula that works, and ride that one, too."
Ranta noted that a good way to know what a platform algorithmically prefers is to monitor the company's press releases and best practices guides.
"You put those two together and you kind of get it," he said.
Conversations about how to hit the moving target also take place on forums like TubeBuddy, in addition to Reddit and Discord. Proceed with caution, though.
"Those are really hit or miss," said Ranta, or downright "unfounded gossip."