terran 1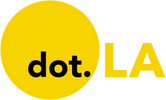 Get in the KNOW
on LA Startups & Tech
X
terran 1
Relativity Space landed a contract with the Department of Defense' Defense Innovation Unit to launch a payload into orbit in 2023.
The contract is seen as a win because it can help set up Relativity long-term with the department. The unit is focused on scaling commercial space, artificial Intelligence and other technologies across the U.S. military and often works with companies in early development.
Under the contract, Relativity's Terran 1 will launch a load between 450kg and 1,200 kgs.
"The Defense Innovation Unit is a group whose innovative approach aligns with the work we are doing at Relativity to revolutionize the future of aerospace," said Relativity CEO Tim Ellis. "I'm excited for what our teams will accomplish together as we look forward to launching our first DoD payload set."
Last year the company landed a $500 million raise and moved its headquarters to Long Beach.
The agreement represents the ninth announced launch customer for Relativity. It's the third government client including
NASA
.
A company that has its sights set on 3D printing rockets on Mars has gained another literal foothold toward making its launches reality.

Los Angeles-based Relativity Space announced Wednesday an agreement with the U.S. Air Force's 30th Space Wing to develop rocket launch facilities at Vandenberg Air Force Base's Building 330 and an adjacent area, bringing its launch capabilities to both coasts. The military base, which is also used by SpaceX for launches, is located roughly 2 ½ hours north of Los Angeles.
Relativity co-founder and CEO Tim Ellis said in an interview with dot.LA that the agreement, which took years of "intense vetting," is evidence of "signs of confidence from the U.S. Air Force and U.S. government" regarding the company's 3D printed rocket technology.
Relativity also said Wednesday it had secured a new launch contract with Iridium Communications Inc. that takes advantage of the new West Coast launch site at Vandenberg to deliver its satellites into orbit using Relativity's 3D printed launch vehicle Terran 1.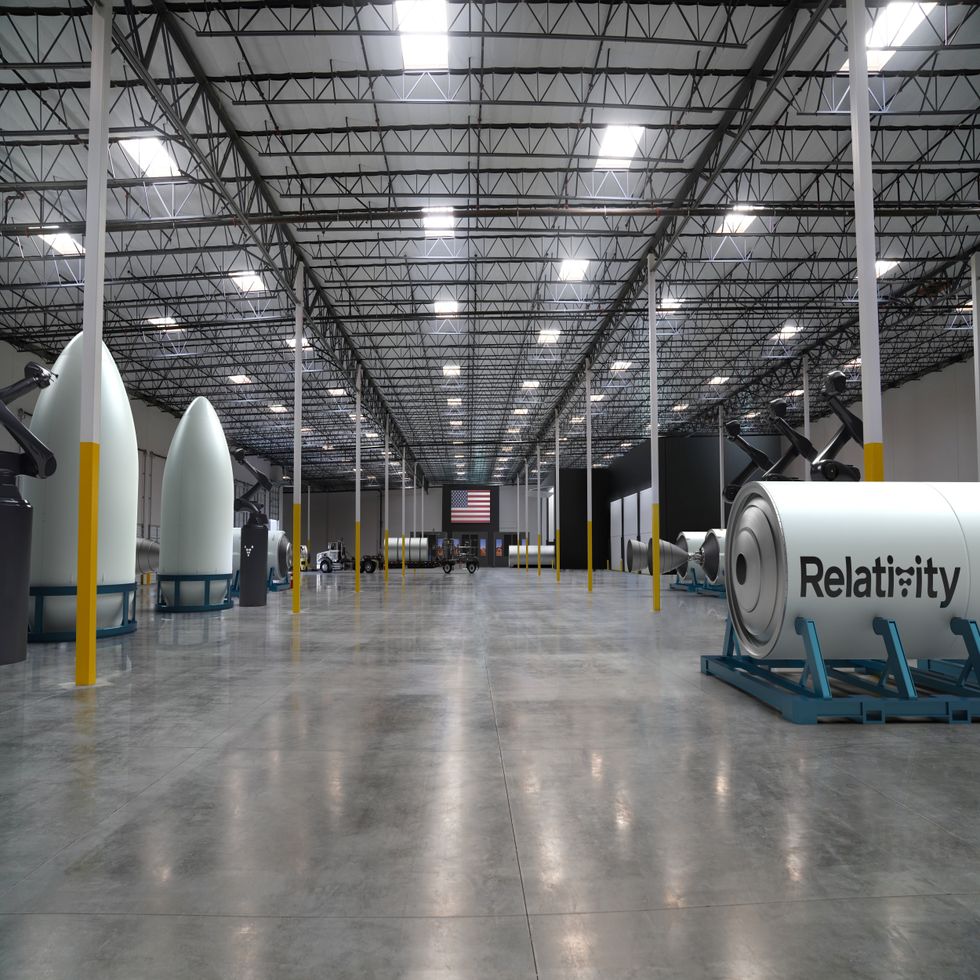 The contract with Iridium is for up to six launches to deploy spare satellites from storage into low-Earth orbit if needed. The constellation of 66 satellites provides low-frequency satellite connectivity for people and things on Earth. These launches aren't planned to take place before at least 2023.

Matt Desch CEO of Iridium said in a statement that though the satellite constellation is operating well, "it's prudent to have a cost-effective launch option for future spare delivery."
Relativity already has a launch site agreement at Cape Canaveral Launch Complex-16 that was granted last year, and an exclusive-use agreement for rocket engine test sites at NASA's Stennis Space Center in Mississippi. The company has done more than 300 individual engine tests, Ellis said.
But Vandenberg specifically helps open up the ability to launch rockets on a southern trajectory over the open ocean into polar orbits and sun-synchronous orbits. Sun-sync orbits are helpful for satellites engaged in Earth imaging, analyzing weather patterns and surveillance because they keep the angle of sunlight on Earth's surface consistent to track changes over time.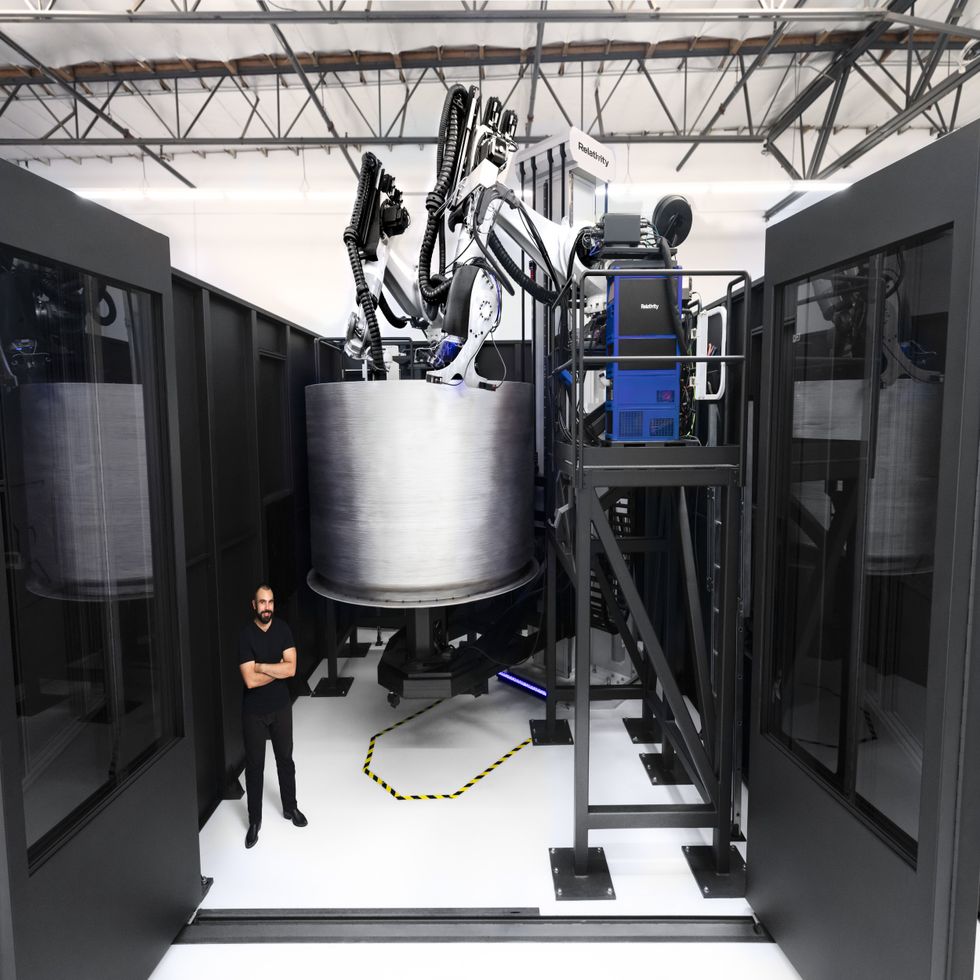 The B330 site is also strategic because it is the southernmost spot on Vandenberg, which means that Relativity's rockets would not fly over any active launch sites and the company anticipates having the fewest scheduling conflicts from there.

"We are impressed by Relativity's innovative approach to reinventing aerospace manufacturing via 3D metal printing and robotics," said Col. Anthony J. Mastalir, the 30th Space Wing commander, in a statement. "We look forward to working with Relativity as its West Coast launch partner for many years to come."
The 30th Space Wing of the Air Force also manages the Department of Defense's space and missile testing.
Relativity boasts the largest 3D metal printer in the world that uses a specially developed custom alloy that's stronger than traditional aluminum to build its Terran 1 rocket. A traditional rocket takes years to make and is comprised of about 100,000 individual parts, only a single digit percentage of it may be 3D printed. By comparison, Relativity's rocket is made up of less than 1,000 parts with about 95% of the rocket 3D printed and can be built from raw materials to launch-ready in less than 60 days, Ellis said.
Relativity's New Partnership with Iridium Communications
Though they haven't yet launched a 3D printed rocket, the new contract with Iridium is the company's fifth publicly named launch customer — along with Momentus, Spaceflight, mu Space and Telesat — since April 2019. Relativity declined to discuss other contracted public-private partnerships that it has signed.

The COVID-19 pandemic has not seemed to slow Relativity's launch plans; it's still on track for its first orbital launch by the end of 2021 out of Florida, Ellis said. One factor in keeping those launch plans through the pandemic: the company's Stargate factory and Terran 1 rocket are all designed, built and operated in the United States.
In February, the company announced it would be moving its staff to a new, 120,000 square feet headquarters in Long Beach that will be the site of the first-ever autonomous rocket factory.
During the pandemic, the company has added roughly 25 new members to its team, bringing the total employee count to 165 people. Its staff members have been working from home since early March with a single person per building at the factory who has been able to run 3D printers remotely.
Among the new hires in June are new CFO Mo Shahzad, who left his role as CFO at The Honest Company, and Zachary Dunn, who was a SpaceX executive responsible for production and launch and is now Relativity's VP of factory development for the new 3D printing factory.
Relativity closed its $140 million series C funding round led by Bond and Tribe Capital in October. The company is also backed by investors Playground Global, Y Combinator, Social Capital, and Mark Cuban.
__
Do you have a story that needs to be told? My DMs are open on Twitter @latams. You can also email me at tami(at)dot.la, or ask for my Signal.
I
mage courtesy of Wikimedia
Space City – Long Beach?
The oceanside city, known by tourists as the home of the Queen Mary, scored another win as it competes with Houston and Cape Canaveral as a hub for the new privately-led space race. Relativity Space, a five-year-old rocket maker, is opening a new 120,000 square foot manufacturing facility in Long Beach that bolsters the city's economic ambitions.
Relativity joins Virgin Orbit, Google-backed SpinLaunch, and others that established headquarters in Long Beach. Relativity's Friday announcement that its relocating from Los Angeles is another step in reviving the city's reputation as an aerospace hub.
"We were in danger of losing the backbone of the aerospace economy," said Long Beach Economic Development Director John Keisler about the region once dominated by names like Boeing, McDonnell Douglas and Northrop Grumman. Now, he believes there's "really crazy stuff that's going on here."
Indeed, Relativity's mission is to revolutionize spaceflight by building the world's first 3D-printed rocket. CEO and co-Founder Tim Ellis, an alum of the Jeff Bezos-led space company Blue Origin, wants to eventually automate rocket-making on Mars. He's "confident our autonomous factory will become the future technology stack for the entire aerospace industry."
His company joins a host of others that have set up beachheads in the city. This is part of a years-long push by Long Beach, 23 miles from downtown Los Angeles, to reshape itself after the 2015 closing of Boeing's massive C-17 plant. The last commercial airplane in Southern California was made in the plant — and, when it shuttered, pundits and economists declared the end of an era.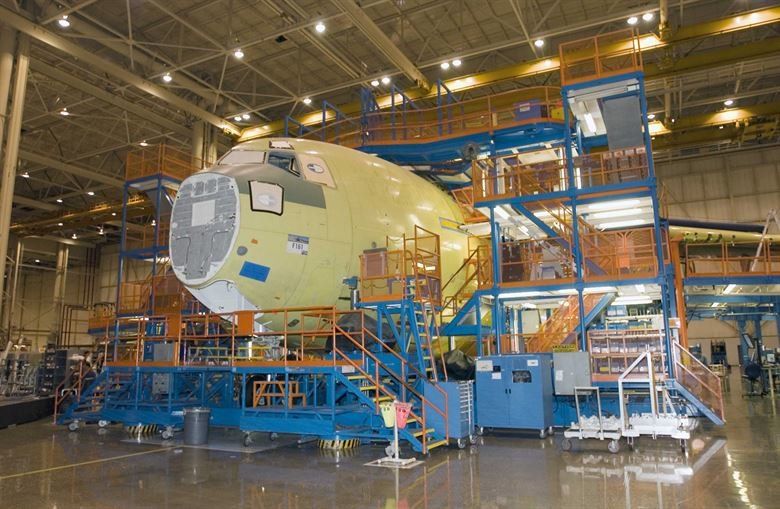 Long Beach's Boeing plant, closed in 2015, generated $7.5 billion worth of supply chain orders in California. media.defense.gov
The Boeing plant generated $7.5 billion worth of supply chain orders in California. When they left, there was a massive gap in the local aerospace industry. The city was given a $3.9 million economic transition grant from the U.S. Department of Defense to help incentivize new growth.

The five-year-old grant appears to be paying off in transitioning Long Beach into a high-tech hub. The city helped universities keep alive programs that fed into the industry and make sure suppliers didn't disappear. Now, Long Beach has become a haven for startups vying for a piece of the multi-billon-dollar space industry.
Rocket Lab announced in January that the satellite launcher will move headquarters to Long Beach from Huntington Beach. The company, which has a New Zealand subsidiary, said it will bring "Mission Control Center capabilities" to the city. Mayor Robert Garcia said at the time the expansion of Rocket Lab will help "a city with an aerospace history as rich as ours support new jobs and economic growth."
Bigger players remain Virgin Orbit, a key part of Richard Branson's space ambitions. The company is in the midst of debuting its LauncherOne rocket that sends small satellites into space. The orbital launcher could pave the way for Branson to further invest in the satellite business. A ten minute walk away down Long Beach's E. Conant Street is the headquarters for Spinlaunch. The startup's goal is to use centrifugal force to hurl rockets from Earth.
"This is really reshaping the Long Beach economy. This is going to be a 20-year push to builthis out," he said. "They are in a race to space they have to get the market as fast as possible. their investors are putting in hundreds of millions of dollars. And we are the easiest place to do it,"