Photo: Relativity Space
The largest 3D-printed object to ever fly had liftoff yesterday as Long Beach-based Relativity Space launched its Terran 1 rocket from Cape Canaveral Space Force Station.
Terran 1 lifted off from Cape Canaveral at around 7 p.m. PST March 22. It was Relativity's third attempt at sending Terran 1 to the cosmos and the nighttime launch was quite a sight to behold. The clarity of the night sky was perfect to see the blue jets of flame cascading out of Terran 1's nine Aeon 1 engines, all 3D-printed, as the rocket took off.
The launch didn't go as planned – the craft suffered an anomaly in its second stage that kept it from propelling into orbit and instead sent it plummeting into the Atlantic Ocean. But in a way, it was still a win for Relativity, which proved that 85% 3D-printed rockets can survive launch. It also proved that Relativity's novel fuel combination of liquid methane and oxygen was viable.
We still don't know exactly what the anomaly was. Relativity warned during its live broadcast Wednesday that it could take up to weeks to figure out the exact issue. ArsTechnica's longtime space reporter Eric Berger theorized that based on the limited video footage from the rocket, it looked like the second-stage engine couldn't properly ignite. But it's unclear if that's a propellant or ignition issue, or something else entirely.
Terran 1 also successfully pushed past Max Q, the term for when the rocket's under maximum dynamic pressure as it tries to push out of Earth's atmosphere. Max Q is the most physical stress a rocket will undergo during launch, so if a craft can endure it, that validates its construction.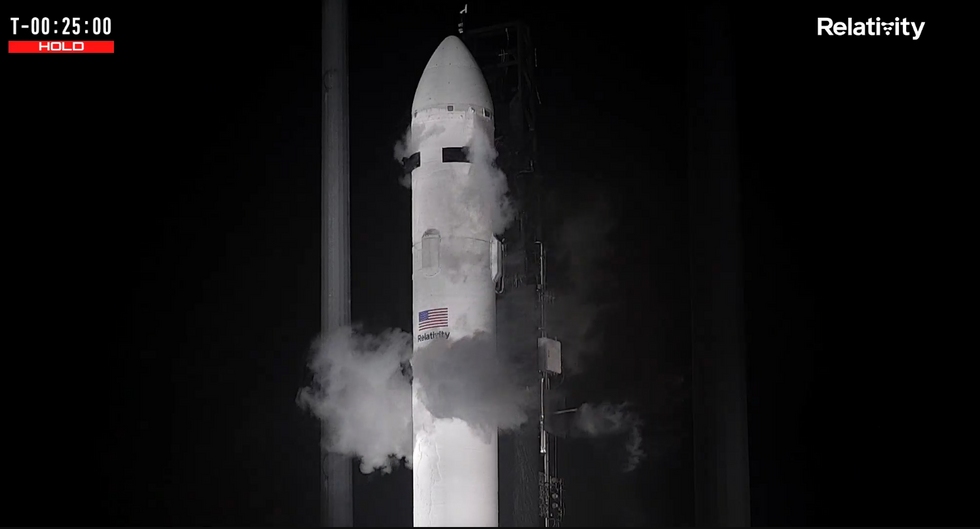 Photo: Relativity Space
"Today's launch proved Relativity's 3D-printed rocket technologies that will enable our next vehicle, Terran R. We successfully made it through Max-Q, the highest stress state on our printed structures," Relativity said in a statement Wednesday. " This is the biggest proof point for our novel additive manufacturing approach."
The company added, "today is a huge win, with many historic firsts. We also progressed through Main Engine Cutoff and Stage Separation. We will assess flight data and provide public updates over the coming days."
Terran 1 is largely a test vehicle. So far, it hasn't carried any passengers or customer payloads during these tests. But Relativity CEO Tim Ellis said the company has secured at least $1.65 billion in customer contracts. Some of that money is earmarked for future Terran 1 launches, but most is for Relativity's bigger, upcoming rocket called Terran R, which is also 3D printed and can carry up to 44,000 pounds to orbit, Ellis said.
Ellis added earlier this month that Relativity will partly rely on customers to dictate how much development goes into Terran 1. He said he plans to ask clients for their input: "Do they want us to continue down the path of producing more Terran 1's to solve for those issues on this vehicle? Or would like us to solve the remaining rocket science problems on the vehicle they are actually most interested in, Terran R," Ellis questioned.
Regardless of the fact it failed to reach orbit, Relativity is still billing the mission as a success because of the data it gathered. This was the first time its nine 3D-printed engines saw liftoff, and also the first time Terran 1 endured Max Q, so the team has lots of new information to pore over as it continues honing development.