rocket lab
rocket lab
Relativity Space Reportedly Scores a $500M investment, valuing the company at $3.2B.
Hadrian Automation, a startup developing automated manufacturing plants for the aerospace and defense industries in the Los Angeles area, has raised $36.4 million in new funding, according to a Securities and Exchange Commission filing.

Hadrian, which is based in San Francisco but has operations in Hawthorne, secured the funding from a total of 28 different investors, according to the SEC filing. The identities of those investors were not disclosed. The startup previously raised a $9.5 million seed round last spring from the likes of Lux Capital, Founders Fund, and Construct Capital.
Hadrian aims to create highly efficient, completely automated factories that produce parts for aerospace applications including rockets, drones, satellites, and jets. Inspired by SpaceX founder Elon Musk—who once said of Tesla that "The factory is the product"—Hadrian founder and CEO Christopher Power told TechCrunch last year that he believes the space industry needs to overhaul its manufacturing setup if it wants to reach its full growth potential.
"If you look at the sheer number of people that we need to train and hire on our new technology and new systems, that people problem and that training problem is part of growing our business," Power said. He noted that it would be faster and cheaper for firms to produce precision space parts if they invested in automated factories.
Automated aerospace manufacturing is now on the rise, with the likes of Long Beach-based firms Relativity Space and Rocket Lab deploying 3D printing to build rockets. Hadrian believes it can court some of these newer space players to use its robot-staffed factories.
Representatives for Hadrian declined to comment on the raise.
Hadrian's team includes alumni from aerospace heavyweights like Lockheed Martin and SpaceX. Its head of quality assurance, Matthew Mueller, held several senior manufacturing roles at SpaceX over nearly three years. It also hired former Oculus head of mechatronics Simon Hallam as its head of engineering in June, and appears likely to use part of this funding to continue expanding its small team. As of last April, the startup reported a staff of eight people including Power, and its website indicates that it is actively hiring for jobs in Los Angeles and San Francisco.
Related Articles Around the Web
Rocket Lab Improves Payload Capacity
Long Beach-based rocket maker and SpaceX competitor Rocket Lab agreed to pay $80 million to acquire SolAero, a New Mexico-based company that makes solar cells and panels to power devices in outer space.
The transaction is expected to close by the first quarter of 2022.
SolAero was the maker of the solar panels that powered NASA's Mars lander Insight and the Ingenuity craft, which completed the first controlled flight and landing on Mars earlier this year. Since then, their technologies have been in high demand.
With this purchase, Rocket Lab is ensuring it will have access to durable power cells capable of standing up to the rigors of space travel -- ahead of its competitors.
In an investor presentation Tuesday, Rocket Lab said it expects SolAero to generate approximately $20 million in revenue per quarter. As of Nov. 30, SolAero had $153 million worth of backlogged contracts it has yet to deliver on.
Rocket Lab is developing a twin spacecraft to go to Mars for NASA, and it could benefit from owning a stake in a power cell company when the time comes to accelerate manufacturing on it and other projects – which include its 3D-printed rocket the Electron, and the larger rocket it's developing called the Neutron, expected to be operational by 2024.
SolAero said in a press release it plans to use Rocket Lab's existing manufacturing resources to produce more space power products and "boost high-volume production."
"The strategic rationale for acquiring SolAero is consistent with our stated strategy of expanding our product portfolio," Rocket Lab CEO Peter Beck said during an investor presentation Tuesday. "We're excited about the cross-selling opportunities in combining these leading spacecraft solar power solutions with our existing Electron launch services and our spacecraft components, software and service offerings."
Beck said the acquisition could have a "meaningful" impact for Rocket Lab in lowering cost and shortening production lead times.
"We believe solar is a foundational building block and a differentiator in spacecraft design," Beck said. "SolAero brings significant revenue scale by supplying one of the highest-valued components in the spacecraft, and it brings deep commercial, federal and government customer relationships."
SolAero was founded in 1998. The Albuquerque-based company has 425 employees and its products have been used in over 1,000 successful space missions including the Insight probe and NASA's Parker Solar Probe, which launched in 2018.
Rocket Lab will also gain access to the roughly 155,000 square-foot production facility in New Mexico operated by SolAero. The production facility and SolAero's team will continue to stay in New Mexico and be led by its CEO Brad Clevenger.
From Your Site Articles
Related Articles Around the Web
Rocket Lab has been building rockets in Long Beach for more than a decade, competing with the likes of SpaceX in a less talked-about area of the space industry: satellite launches. But growing interest in space exploration made CEO Peter Beck rethink his strategy.
"What we're trying to build is a new breed of space company," Beck said.
Even as Rocket Lab's grip tightens on the satellite launch market, Beck is looking to a future where people can visit Mars or Venus. Last year, the native New Zealander expressed interest in sending a small craft carrying a probe to explore the atmosphere on Venus and look for signs of life. Beck, an engineer who founded the company in 2006, said he's ready to outfit their latest rocket for human flight.
For now, Rocket Lab sends satellites from their small-grade rocket, Electron, that can capture orbital images of earth for research as well as array of other uses including GPS tracking. The company has billed itself as a cheaper alternative to SpaceX, with their roughly 60-foot-tall Electron rocket. It's largely cornered the market, competing mostly with SpaceX.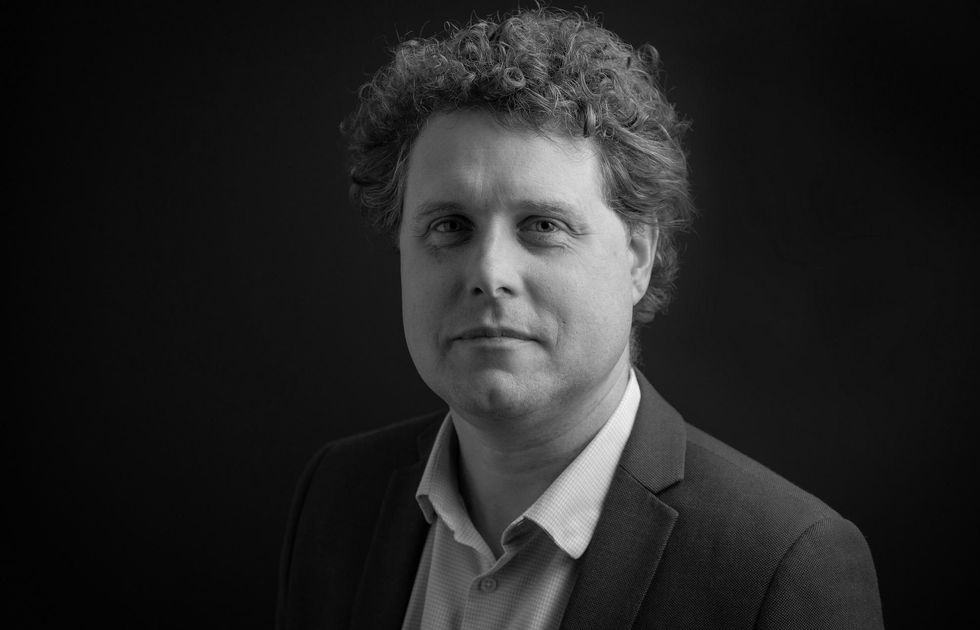 Rocket Lab CEO Peter Beck
But it just clinched one of its biggest deals, a $24.4 million U.S. Space Force contract to develop a rocket that can carry roughly 25 times the amount that the Electron can. The Neutron, which aims to carry more than 17,000 pounds, will still fall short of the capacity of SpaceX's Falcon 9, but it'll be a needed expansion for Rocket Lab.
It comes as the U.S. government looks to private firms like Rocket Lab to send satellites and other research equipment into space for them. The bigger rocket will help Rocket Lab keep pace – and it also puts the company a step closer to challenging Elon Musk's grip on the $200 billion space tech industry.
Neutron isn't built yet and Beck doesn't expect it to be completed until 2024. But the speed of change is already pushing him to think beyond just launching satellites and instead cornering the eventual space tourism market.
Virgin Galactic sent Richard Branson to space in July, and Blue Origin brought founder Jeff Bezos and several other private citizens to orbit a month later. SpaceX also just completed a charity mission that flew four rookie astronauts into space for several days.
Beck told dot.LA the plan is to make Neutron capable of sending humans to space, too, but in the meantime it'll focus on its core business. Beck spoke with dot.LA about the company's largest contract yet and Rocket Lab's future plans.
This interview has been lightly edited for length and clarity.
First, why is this latest Space Force contract important? Is it really the largest government contract in Rocket Lab's history?
Typically our contracts have been for services rather than development. (This is the first time the government has invested in the company's rocket development).
The most important thing about this though is really the government getting exposure to all the new technologies we're developing and getting to know the vehicle (the Neutron). They get in on the ground floor to really understand the vehicle and what we're building.
Who's the ideal launch customer for Rocket Lab?
We've got a lot of operational experience with Electron, and what that taught us is a 50/50 mix of government and commercial is really healthy for the business.
Government customers quite often move around (launches) a bit, whereas commercial customers are generally about 'how quickly can we get to orbit.' The two seem to complement each other very well. We won't be just dedicating Neutron to government launches.
Would Neutron be capable of bringing humans to outer space?
The vehicle shall be human spaceflight capable.
We're not developing a capsule for or any particular human spaceflight programs, (but) we also know that human spaceflight is going to continue to grow, so if you're building a vehicle of that class to market, you've got to make sure it is capable of human spaceflight.
(Making a rocket for astronauts) fundamentally changes the way you design the vehicle and the last thing we wanted to do was to go back and redesign large parts of the vehicle in the future. We have the requirements up front, and we're making sure the vehicle is certifiable. Are we going to certify it (to fly with humans)? Not until we would have a mission and a requirement to do so. But the vehicle will be certifiable.
Would Rocket Lab ever make its own satellites instead of launching them for others?
What we're trying to build is a new breed of space company.
If you look at what we've done to date, we build spacecraft, we build launch vehicles and we supply components to a large range of customers. Ultimately, where we're going as a business will be (to be) a great launch provider. We'll be a great satellite (launch) provider, but ultimately we'll also start building our own constellations of spacecraft or satellites in the future. It's a bit early for us to do that now – what we're focused on right now is executing and building all the capabilities but I think ultimately, that's the logical place to go.
What edge does Rocket Lab potentially have over SpaceX?
The reality is there are two private companies that have successfully delivered satellites to orbit full stop let alone reliably, and that's SpaceX and Rocket Lab.
The difference that we've always had is we've had to do it much more affordably and we've had to amortize a lot of the costs into a much smaller sticker price. We've had to be very innovative in the way that we've solved a lot of problems.
We have all the operational experience of Electron. We have all the reusable experience of Electron and we get a do-over. We get a blank sheet of paper. So, when you look at a Neutron, when we finally reveal and announce the configuration of the vehicle, you should stand in front of that thing and think you're in 2050, not in 2020. We've innovated in areas that we think will be pretty disruptive and in some areas would be very boring. But the longshot is that we think we can bring to market a very competitive vehicle.
Legacy space players like Lockheed Martin and Northrop Grumman are absent from this round of grants -- what do you think about them being overtaken by newer launch providers?
This goes without me saying it; I think the space industry is changing and you need to be competitive.
Correction: An earlier version of this post misstated the timing of Rocket Lab's planned launch to Venus.