I
mage courtesy of Wikimedia
Space City – Long Beach?
The oceanside city, known by tourists as the home of the Queen Mary, scored another win as it competes with Houston and Cape Canaveral as a hub for the new privately-led space race. Relativity Space, a five-year-old rocket maker, is opening a new 120,000 square foot manufacturing facility in Long Beach that bolsters the city's economic ambitions.
Relativity joins Virgin Orbit, Google-backed SpinLaunch, and others that established headquarters in Long Beach. Relativity's Friday announcement that its relocating from Los Angeles is another step in reviving the city's reputation as an aerospace hub.
"We were in danger of losing the backbone of the aerospace economy," said Long Beach Economic Development Director John Keisler about the region once dominated by names like Boeing, McDonnell Douglas and Northrop Grumman. Now, he believes there's "really crazy stuff that's going on here."
Indeed, Relativity's mission is to revolutionize spaceflight by building the world's first 3D-printed rocket. CEO and co-Founder Tim Ellis, an alum of the Jeff Bezos-led space company Blue Origin, wants to eventually automate rocket-making on Mars. He's "confident our autonomous factory will become the future technology stack for the entire aerospace industry."
His company joins a host of others that have set up beachheads in the city. This is part of a years-long push by Long Beach, 23 miles from downtown Los Angeles, to reshape itself after the 2015 closing of Boeing's massive C-17 plant. The last commercial airplane in Southern California was made in the plant — and, when it shuttered, pundits and economists declared the end of an era.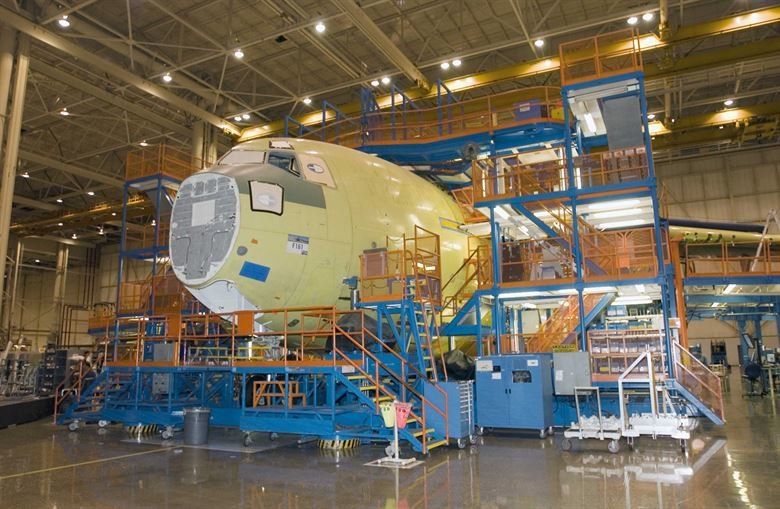 Long Beach's Boeing plant, closed in 2015, generated $7.5 billion worth of supply chain orders in California.media.defense.gov
The Boeing plant generated $7.5 billion worth of supply chain orders in California. When they left, there was a massive gap in the local aerospace industry. The city was given a $3.9 million economic transition grant from the U.S. Department of Defense to help incentivize new growth.

The five-year-old grant appears to be paying off in transitioning Long Beach into a high-tech hub. The city helped universities keep alive programs that fed into the industry and make sure suppliers didn't disappear. Now, Long Beach has become a haven for startups vying for a piece of the multi-billon-dollar space industry.
Rocket Lab announced in January that the satellite launcher will move headquarters to Long Beach from Huntington Beach. The company, which has a New Zealand subsidiary, said it will bring "Mission Control Center capabilities" to the city. Mayor Robert Garcia said at the time the expansion of Rocket Lab will help "a city with an aerospace history as rich as ours support new jobs and economic growth."
Bigger players remain Virgin Orbit, a key part of Richard Branson's space ambitions. The company is in the midst of debuting its LauncherOne rocket that sends small satellites into space. The orbital launcher could pave the way for Branson to further invest in the satellite business. A ten minute walk away down Long Beach's E. Conant Street is the headquarters for Spinlaunch. The startup's goal is to use centrifugal force to hurl rockets from Earth.
"This is really reshaping the Long Beach economy. This is going to be a 20-year push to builthis out," he said. "They are in a race to space they have to get the market as fast as possible. their investors are putting in hundreds of millions of dollars. And we are the easiest place to do it,"