long beach
One of the largest U.S. electric vehicle charging companies is expanding its Southern California presence with a $200 million investment in California, with $25 million slated for the port cities of Long Beach and L.A.'s Wilmington neighborhood. The investment comes in anticipation of surging demand for electric big rigs and other heavy duty vehicles.
The two regions make up the nation's busiest ports, a bustling hub bringing in billions of dollars of consumer goods — mostly from Asia — that get carried to retailers around the country usually by a diesel trucks. The funds would go toward regional fleet operators to build out a charging infrastructure for electric vehicles that come from the Los Angeles and Long Beach ports.
"This investment will go a long way in supporting our efforts to improve air quality in our highly impacted communities," Long Beach Mayor Robert Garcia said in an announcement, "and to support further upgrades to our fleets with more all-electric vehicles."
Electrify America also said it will be adding fast chargers in several California metro areas, including Greater Los Angeles and Orange, Riverside, San Bernardino and San Diego counties. It will also add Kern, Santa Barbara and Ventura counties to its service areas.
Electrify America is a Volkswagen Group of America subsidiary, which is based in Virginia. The company was created in 2017 as part of a settlement with the Department of Justice, the EPA and California Air Resources Board — which required a $2 billion fund to create a nationwide EV charging network — following the 2015 diesel emissions cheating scandal. As of April, Electrify America operates 2,600 fast chargers in 47 states, including California.
Another part of the agreement with the California Air Resources Board stipulates that 35% of Electrify America's investment to improve access to charging and electric vehicle education is supposed to go to low-income and disadvantaged communities in California — which makes up 64% of the Long Beach-Wilmington area, according to the state agency.
Being owned by VW Group of America, customers who purchase or lease certain Volkswagen, Audi and Porsche electric cars have access to free charging through the Electrify America network for up to three years.
Orange County-based Hyundai Motor America, Stellantis (formerly Fiat Chrysler) and Ford Motor Company are among the automakers that have announced deals with Electrify America for their own plug-in vehicles. The Virginia-based subsidiary of Volkswagen Group of America also counts startups Lucid Motors and Manhattan Beach-based Fisker Inc. as partners for upcoming vehicles.
Electrify America also announced it would add more DC fast charging stations in retail areas for consumer use, as well as others near multi-unit residential buildings without easy access to home charging.
From Your Site Articles
Related Articles Around the Web
Elon Musk's Hawthorne-based SpaceX is joining the aerospace hub in Long Beach with a new 6.5 acre facility.
The facility will sit on the port of a former U.S. Navy complex site and open May 1, according to statements from the mayor's office. The sublease was approved Monday. SpaceX did not immediately respond to comment.
The aerospace giant that last week won a $2.9 billion NASA contract to work on sending astronauts to the moon will join a roster of space companies in Long Beach including Virgin Orbit, Rocket Lab, Boeing, Relativity Space and SpinLaunch.
We are excited to announce and welcome @SpaceX to Long Beach. SpaceX is moving into 6.5 acres at the Port of Long B… https://t.co/PQH2ArCJAu

— Robert Garcia (@Robert Garcia)1619475030.0
Long Beach-based aerospace companies comprise about 6,500 jobs, the mayor's office said in the statement.

"We have a booming and growing space and technology economy which is now the largest of any city on the West Coast," Mayor Robert Garcia said in his tweet. "Welcome to Space Beach."
Seven years ago, Elliot Kreitenberg and his father, orthopedic surgeon Arthur Kreitnberg, built a UV-C light machine called GermFalcon to kill viruses on planes, but the airline industry largely rejected their pitch.
Years later with coronavirus all but wiping out air travel, their machine is looking a lot more attractive.
The founders of Long Beach-based Dimer UVC Innovations are in talks with airlines, transit authorities and others desperate to disinfect airplanes, subways and other transportation vehicles where COVID-19 quickly travels.
"We are in serious discussions with U.S. airlines as well as ground service providers, as well as international airlines in Canada, Europe and Southeast Asia," Elliot Kreitenberg said. The company is also talking to several transit authorities about manufacturing their product for them, although he could not reveal the names of anyone due to non-disclosure agreements.
GermFalcon Airplane Disinfection Demo www.youtube.com
Artificially produced UV-C is a common method of sterilization used in hospitals or to clean drinking water, but it hasn't been widely adopted to fight the virus in transportation. That's in part because studies haven't caught up to prove it works, although the light has been shown to be effective against other coronaviruses.

But, in China, busses have been blasted with the blue UV-C rays in an effort to fight the pandemic.
The Environmental Protection Agency and the Centers for Disease Control and Prevention are looking at UV light as a solution for large-scale disinfecting in places like schools and offices. And it's attracted the interest of other government agencies, including the Los Angeles County Metropolitan Transit Authority, which is considering using UVC light to clean its fleet of busses and trains.
"We're already increasing the frequency of our cleanings and we are doing more deep cleaning," said Jesus Montes, an executive at L.A. Metro's vehicle acquisition and engineering department. "To supplement that, we're looking to things such as foggers and vaporizers and UV."
Montes has been inviting UV vendors to demonstrate their products. The advantage he's found over vapors or foggers, which can cause damage to the electrical engines, is that UV rays are far less labor intensive and can be used off site.
Other companies that supply the light to hospitals have seen an uptick in sales. Kreitenberg said they have also been getting orders and expect to have up to 100 of their UV machine made for hospitals finished by mid-May. From there, they will go into production of 10 a day. He said he's already provided Paine Field Airport with a machine that's now in use. And his machine was cleaning airplanes at Los Angeles Airport that had been in-bound from China when travel had not been restricted.

Dimer keeps its rays to surfaces, where it says it can kill up to 99.9% of bacteria.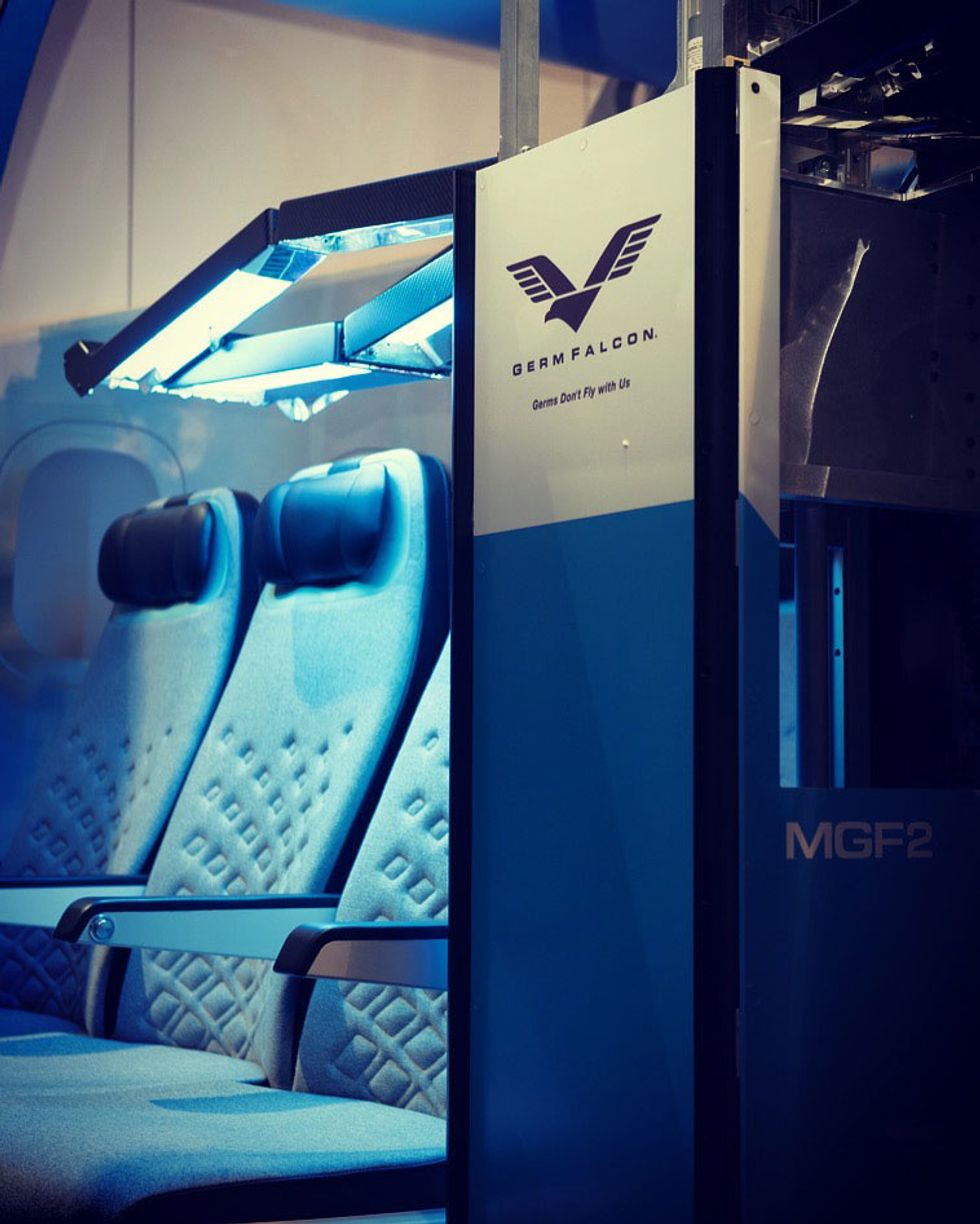 Courtesy of GermFalcon
"What's nice about this technology is that it's not going to promote resistance to anti-microbial agents," said Leonard Mermel, a professor at Brown University and the medical director of Rhode Island Hospital's Department of Epidemiology and Infection Control who is familiar with the technology.
Airplanes are particularly tricky because microbes can potentially survive longer.
"We know some viruses can survive certainly overnight...cooler temperatures and the dryness of airplanes actually improves survival of some viruses like flu."
Other companies offer UV lighting. But what makes Dimer's $100,000 disinfectant machine different than others that attacks microorganisms, bacterias and superbug is that it's made for airplanes. Amortized over a conservative 5-year lifespan, the machine costs 10¢ per passenger.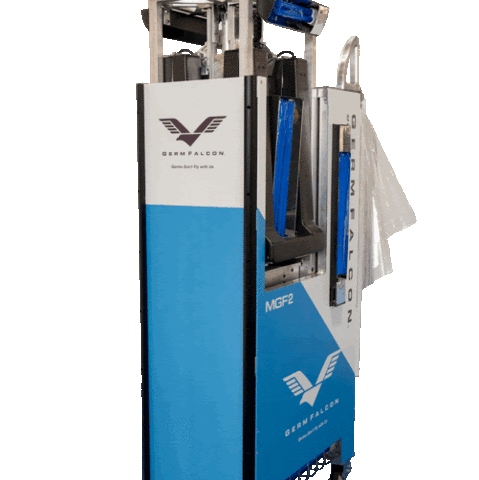 Courtesy of GermFalcon
About the width of a drink cart, the machine slides easily down an airplane aisle and has a winglike feature that spreads the light over seating. He's also making another product that's geared toward hospitals and space that aren't as tight.
A few years ago, he said he brokered a deal with Virgin America to use the GermFalcon, but it went belly up when Alaska Air Group bought the company for $2.6 billion.
Arthur Kreinberg, who is also the co-founder of the company, became familiar with the lights through his experience with them in hospitals. He then worked with his son to build their first designs in their garage.
"(My paternal grandfather) was a Holocaust survivor and plumber and when my father graduated from medical school he said 'plumbers save more lives than doctors because sanitation plays a big role in public health.' When the toilet was invented it doubled human life expectancy. I think GermFalcon is the most important invention since the toilet."

The World Health Organization considers those that are in contact with an individual infected on a flight and those sitting within two rows at most risk. But, airplanes have a reputation as vectors of germs.
Elliot Kreitenberg, once a frequent flier, said he's been keeping a log every time he travels of the dirtiest places on the airplane. It's not the toilet handle but, according to his own informal survey, the back of head rests where people touch as they walk down the aisle.
"Airlines play a direct role in the way that disease spreads around the world," Elliot Kreitenberg said. "We see that here with coronavirus. It flew here on airplane."