long beach
A Long Beach company that has taken on SpaceX to become one of the leaders in small satellite launches is set to go public next week.
Rocket Lab will arrive on Wall Street in a deal with a blank-check company that pegs the 15-year old satellite launcher's value at $4.1 billion.
Rocket Lab first announced its plans in March to go public by merging with a blank check company Vector Acquisition Corp., backed by San Francisco-based investment firm Vector Capital. Shareholders on Friday approved the merger. The company will trade on the NASDAQ beginning Aug. 25 under the ticker symbols RKLBW and RKLB.
It couldn't come at a better time, with the market for satellite launches growing and the company mired in debt. Rocket Lab, which has raised $400 million in capital, lost $55 million alone last year, according to filings. That net loss is an increase from 2019, which saw the company lose about $30.4 million. The company declined to comment for this article.
In an investor presentation filed Aug. 18, Rocket Lab revealed just how tough it has been to sustain its reusable rocket, called Electron, and take on SpaceX CEO Elon Musk.
"The Company has suffered recurring losses from operations that raise substantial doubt about its ability to continue as a going concern," auditors noted.
The deal is projected to give Rocket Lab some much-needed funds, nearly $750 million in cash. Vector will contribute the majority of that money but existing Rocket Lab investors BlackRock and Neuberger Berman, which are part of the special purpose acquisition company or SPAC, will also participate.
"This is just like a supercharger – we have all the things we need now to go and do the things that we've dreamed of," Rocket Lab CEO Peter Beck told CNBC when the company announced the plan.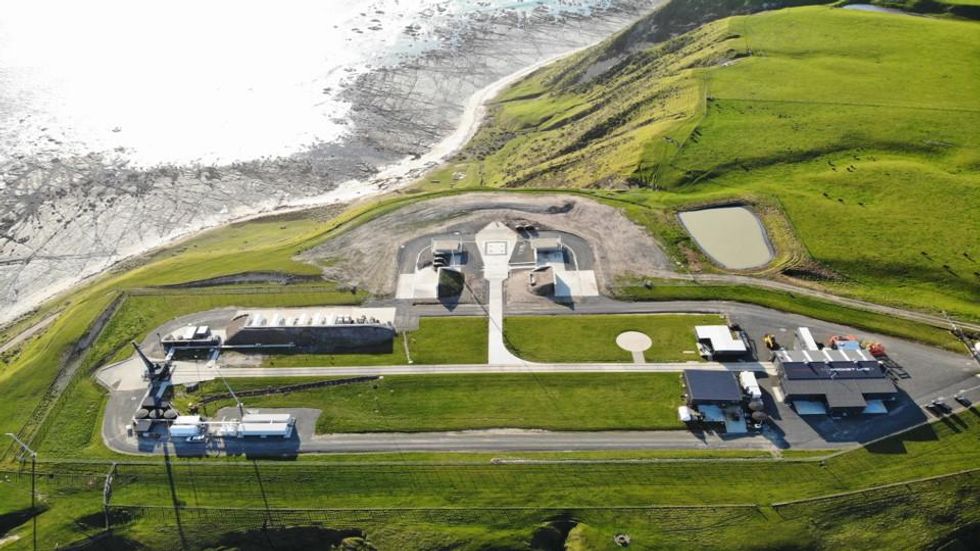 Rocket Lab's Launch Complex 1 in New Zealand.
Over the past four years, the company has launched 21 missions mostly with small payloads, but it wants to be able to catch up to SpaceX, which can launch up to 60 of its own satellites on the huge Falcon 9 rocket.

Rocket Lab plans to commit roughly $200 million to develop a second recyclable craft called Neutron by 2024. Neutron is medium-sized and not as roomy or costly as the Falcon 9 rocket, but it'll help Rocket Lab launch mass satellite launches and pursue human spaceflight, two of Musk's pet projects.
The merger could be a key stepping stone in Rocket Lab's development and provide it with some much-needed cash and give the company a larger foothold in the private space race and challenge SpaceX for dominance.
In its prospectus filed last month, Rocket Lab said it wants to be the go-to company for "cost-effective launch for mega-constellations and human spaceflight."
Musk is using SpaceX to launch thousands of satellites into space in an attempt to create his Starlink constellation of satellites with the goal of providing global high-speed internet. Musk is also vocal about his desire to colonize Mars and increase space tourism, but he's not alone there — Blue Origin founder and former Amazon chief Jeff Bezos day-tripped to space last month, shortly after Virgin Galactic founder Richard Branson.
According to Rocket Lab, it's one of the only companies besides SpaceX to provide "regular and reliable" access to orbit. Rocket Lab has contracts with NASA to send twin satellites to observe Mars and is one of several contractors working on NASA's Artemis Program, which plans to land the first woman to the moon to establish a base.
After a failed launch in May, Rocket Lab successfully sent a Space Force research satellite into orbit -- its fourth launch this year. It also inked a deal Aug. 18 to send four satellites into orbit for Scottish manufacturer Alba Orbital in the fourth quarter.
Rocket Lab operates facilities in Virginia, New Zealand and Toronto in addition to its Long Beach headquarters. The company will look to break ground on a new factory to create the Neutron in fourth quarter of this year and expects it will be operational by fourth quarter 2022. Like competitor Relativity Space, Rocket Lab uses 3D printing to make rocket parts, including engines.
This story has been updated to reflect the shareholder vote on Friday.
The Long Beach Accelerator is pleased to introduce our second cohort of startups at our upcoming Demo Days on September 23rd and September 29th. Investors will have two opportunities to hear from our exceptional cohort founders.
For the past three months, our founders have received support from experienced business coaches, mentors, and industry experts. LBA Cohort 2 startups come from a range of industries including HealthTech, AgTech, and FinTech.
Join us as we conclude our second cohort and be among the first to hear their investment opportunities. Our diverse cohort is looking forward to meeting and engaging with investors like you!
Who should attend?
Calling all investors! We are looking for active early stage investors.
How to Attend?
Demo Days will be hosted live on Zoom. Register via Eventbrite to receive information to join the live Zoom event.
Please note that by signing up for this event you are agreeing to be contacted by the Long Beach Accelerator.
Who You'll Meet, Our Second Cohort
Sensegrass is a soil intelligence platform for fertilizer management. They use a combination of AI-based recommendations and soil sensors to deliver real-time soil health analyses and targeted nutrient management. They help farmers and companies reduce chemical fertilizer use, increase crop yields, and grow more sustainably.
Martixa is a smart medical assistant that helps doctors complete clinical documentation accurately, efficiently, and in real-time rather than taking notes manually.
123 Baby Box is a monthly subscription service for babies aged 1 to 3. They deliver products tailored to your baby's age and developmental stage. Being a new parent is hard enough that's why 123 Baby Box delivers exactly what your baby needs at the right time. No need to waste time and money on products that aren't suitable for your baby.
Closed Loop Plastics aims to shift the recycling paradigm by giving local communities the means of processing their own plastic waste and producing goods that go right back into their local economies. They make plastic recycling possible for a wide variety of post consumer waste materials that would otherwise go to landfill using proprietary technology developed here in Southern California. This technology fills the gaps within our existing infrastructure by upcycling the vast majority of post consumer waste and giving it new life.
FIV: Single point digital technology solutions for the annuity and life industry. FIV's Small Agency Annuity & Life Management platform (SAMI/SALI) enables agency managers and agents to manage the voluminous amount of information inherent in selling a variety of products via multiple carriers.
On the heels of a $650 million raise earlier this month, reusable rocket-maker Relativity Space is upgrading its headquarters to a 93-acre former Boeing manufacturing facility in Long Beach where it can house production.
Relativity CEO Tim Ellis told dot.LA via email that the company will keep its existing office space in Long Beach, but will move the bulk of its manufacturing and development to the new 120,000 square-foot facility located at 3500 E Burnett Street. Ellis also noted that Relativity signed a 16.5 year lease agreement.

The massive site is where Boeing manufactured C-17 cargo planes and is a vestige of the region's blue-collar aerospace industry that once dominated the industry. The last commercial airplane in Southern California was made in the plant — and, when it shuttered, pundits and economists declared the end of an era. But the region's burgeoning space industry – home to Virgin Orbit and Rocket Lab – has helped revive the region.
"The fact that this is a former C-17 factory means that the facility already has an architectural structure that we need for our own Relativity 'Factory of the Future,'" Ellis said, adding that the building has ceilings up to 100 ft. tall and no internal beams that could impede production of its massive rockets.
The cavernous site can pack in the tools the company needs to finish development of its Terran 1 and Terran R rockets, including "dozens" of 3D printers, a metallurgy laboratory and mission control center.
Relativity said earlier in June that over 85% of the Terran 1 rocket is printed and is on track for a test launch this year from the company's site at Cape Canaveral, Fla. The Terran R rocket will eventually launch from the same complex by 2024.
"We were intent on building our footprint in Long Beach because it has a great talent pool and innovation hub, among the best in the world for aerospace, which is supported by initiatives of the city," Ellis added. "We were looking for a space that could accommodate scaling our Terran R program, and when this space came into the picture, it was clear that it was perfect for us."
The new headquarters will enable Relativity to expand its staff from 45 people to over 2,000, Ellis said. Relativity plans to move its staff and equipment over in phases but will work in the space as soon as January 2022.
Industrial property firm Goodman Group and architecture firm Gensler will work to create the new headquarters for Relativity.
Relativity's new digs are part of a larger initiative passed by the Long Beach City Council called the Globemaster Corridor Specific Plan, which will revamp 437 acres of land west of Long Beach Airport into a "modern business district" set to open next year.
"We couldn't be more excited to welcome their new headquarters to our city," Long Beach Mayor Robert Garcia said in a statement. "Relativity is a fierce and growing leader in our world's space economy, and we're proud they chose Long Beach as home. This new headquarters will bring thousands of great, good-paying jobs to Long Beach and strengthen economic growth for the entire region."
From Your Site Articles
Related Articles Around the Web