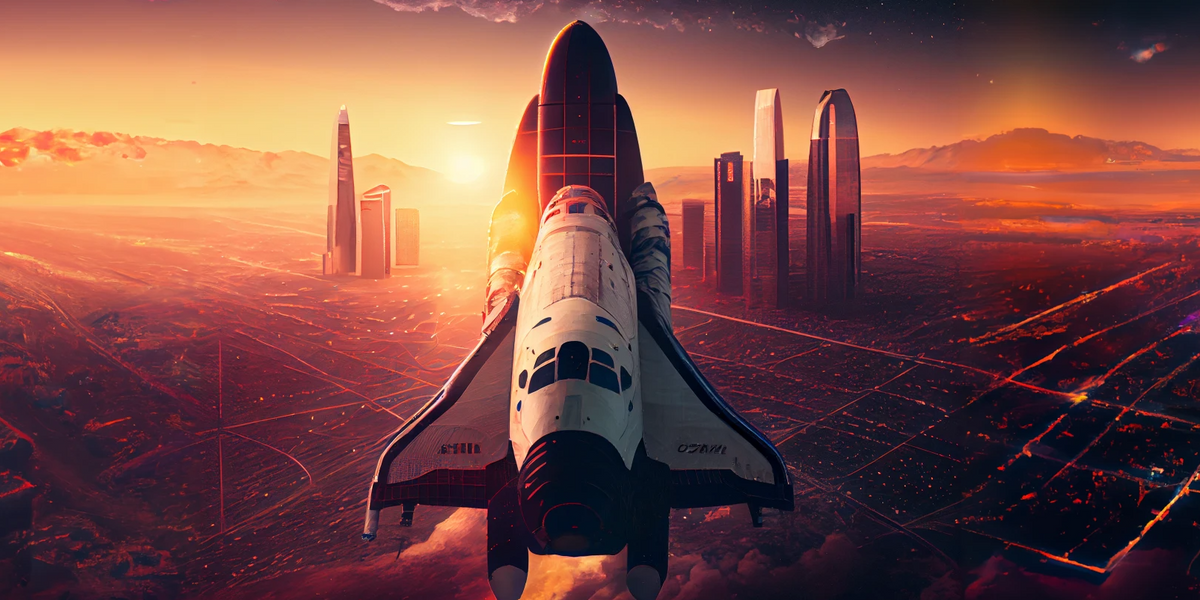 The future of Los Angeles' space programs (Midjourney/Dall-e)
This is the web version of dot.LA's daily newsletter. Sign up to get the latest news on Southern California's tech, startup and venture capital scene.
Last year, we ran a similar newsletter around this time that made some predictions about what this year would hold for Los Angeles' aerospace community. I'm proud to say that we were at least 75% correct – we were even right about orbital debris becoming more of an issue, as a piece of a Chinese rocket pummeled the Moon in March .
But dot.LA isn't in the business of employing clairvoyants, so not every prediction hit home. Our last point, which anticipated more public mergers in the space sector, wasn't exactly on the mark. At this point last year, it seemed that there was no end in sight to the booming SPAC market , and while some companies did make acquisitions this year, none of the existing private local space companies targeted a public offering in 2022.
That said, here's a few space-related developments we'll be tracking in 2023.
---
More satellites in orbit
The satellite market is only going to grow, and make low Earth orbit (LEO) even more cramped. As firms like Elon Musk's Starlink and others work towards building mesh networks of thousands of satellites (Musk himself envisions Starlink's constellation becoming as large as 42,000 satellites ), there will likely be thousands more sent into space next year.
Legacy players like Boeing are also ramping up operations. In March Boeing opened a new factory to produce small satellites (the most common kind used in LEO) in El Segundo and will rely on its subsidiary Millennium Space Systems to help build them. Boeing said at the time it will be able to 3D-print satellite buses, which makes the process a lot faster.

Separately, Culver City-based startup Apex Space raised a $7.5 million seed round led by Andreessen Horowitz to start developing its own form of satellite bus. Apex, and other players in this niche industry, could stand to win big from an increase in launches. Overall, the satellite launch market's expected to generate $15.3 billion in revenue by 2026, and its market share could swell by 20% within the next six years.
Smaller launch providers ramp up operations
Piggybacking off of demand for small satellite launches, there's a large contingent of local rocket makers that will likely see an uptick in demand for their capabilities in 2023.
Rocket Lab , for starters, has a number of planned missions including developing two spacecraft for the University of California Berkeley's Space Sciences Laboratory's upcoming mission to Mars ' orbit.
Relativity Space , a Long Beach-based competitor to Rocket Lab that 3D-prints entire rockets, delayed its first big test of its Terran 1 rocket until next year while awaiting NASA certification, so keep an eye out for that test. It'll be the first time Rocket Lab, which has operations in New Zealand, has launched from U.S. soil and is expected to take place sometime in January.
SpinLaunch, another Long Beach-based startup, is developing a new method to send satellites to orbit – a robotic arm that flings them into space like a slingshot. In October, SpinLaunch conducted its 10th successful test launch of the year and the company said it plans to send small constellations of satellites into orbit within the next three years.
And there's also Outpost , a Santa Monica-based startup developing tech to precisely land orbiters back on Earth to reuse them after they deliver payloads, which said it wants to launch next year .
NASA's ambitions for the Moon and Mars
Don't overlook what's going on at NASA! This year NASA and its Pasadena-based outpost at the JPL pulled off some truly impressive experiments on Mars, from remotely conducting test flights with the Ingenuity helicopter to detecting earthquakes on the red planet with its InSight lander and collecting samples with its Perseverance rover . Ingenuity worked so well NASA is planning to send up two more Mars choppers in coming years.
In August NASA sent its Orion capsule around the moon, the first test flight in its Artemis mission , which aims to send a woman and person of color to the moon's surface by 2024. This upcoming year will be chock-full of collaboration with the private sector and rigorous development at JPL and other NASA outposts to hit that deadline.
SpaceX is developing a Starship lander that will bring humans to the Moon via its Super Heavy rocket, and so is rival Blue Origin .
SpaceX's hold on government contracts could increase
Speaking of NASA, expect more companies to bid aggressively for government contracts, whether that's for launch capabilities, development, testing, or even just research for future endeavors.
SpaceX has a growing monopoly on space launch contracts because it's fast and cheap. But if the companies mentioned earlier can begin to offer competitive tech at a rapid clip, they could take advantage of NASA's willingness to pay the private sector to work out the kinks in launch.
Space tourism (and maybe space hotels)
This one was on our list last year, and it bears mentioning again, because it's going to remain a hot topic .
According to analysts at UBS, the space tourism market could reach a value of $3 billion by 2030 .
Next year we have several locals eager to take the wealthy on a jaunt to the final frontier, including Richard Branson's Virgin Galactic, which is reportedly on-track to launch space tourism flights next year. SpaceX will fly Japanese billionaire Yusaku Maezawa and a crew of eight artists and celebrities (including D.J. Steve Aoki) around the moon next year .
So far these are all suborbital flights, meaning that it's basically an up-and-down mission. But in the future, if some of the local companies promising space hotels – like Vast or Orbital Assembly – manage to get enough funding and manpower to build a commercial space station, that could radically change how humans as a species interact with the cosmos.
Sic itur ad astra , and we'll see what next year holds.— Samson Amore