tenoneten ventures
Three former Los Angeles restaurant owners are behind a new delivery platform for businesses looking to supplement or replace sales from DoorDash and Postmates.
The L.A.-based startup called Cartwheel closed a $1 million seed round led by TenOneTen Ventures.
The company provides a SaaS platform for restaurants to carry out deliveries. Restaurant owners have complained that third party delivery services like DoorDash can take cuts of up to 30%, though they remain dependent on the apps to stay in business.
The idea behind Cartwheel is to help them save money and retain connection to their customers.
So far its 400 some customers include national chains like Portillo's and PF Chang's. But Alex Vasilkin — the company's co-founder and CEO — is eying L.A.'s biggest grocery startups and fast casual restaurants.
"L.A. is a birthplace of great food-tech startups, including ChowNow, Sweetgreen, and Thrive Market, that are at the forefront of innovation in the space," Vasilkin said by email. "We hope to partner with more players in the ecosystem like them."
The chief executive previously owned ROFL Cafe on Melrose, which he said reached #1 restaurant on GrubHub in 2013. He pivoted to delivery software a year later after realizing "there was no existing software that would meet all of our needs."
The back-end software is designed for restaurant managers and employees. To manage ordering and paying, Cartwheel partners with the publicly traded ordering app Olo.
Act One Ventures, Portillo's Hot Dogs and other restaurateur angel investors also contributed to the company's first funding round.
After enduring nearly 14 months of Zoom meetings, phone calls and socially distant walks, Los Angeles venture capitalists held their first major in-person party Thursday night at an expansive estate in Beverly Hills.
The approximately 50 guests had their temperatures checked at the entrance and could choose to affix a bright "I Got Vaccinated" sticker to their wardrobe, which most did.

Elbow bumps replaced handshakes and everything took place outside on an overcast and unusually cool night. But otherwise, the occasion seemed remarkably normal – with only servers, bartenders and valets wearing masks.
"We felt like it was the right time," said Derek Norton, managing general partner of Watertower Ventures, the early stage fund that hosted the event. "We definitely wanted to be on the forefront and be the first to get everybody back, because this is a community and it's a community of friends that are investors and collaborators."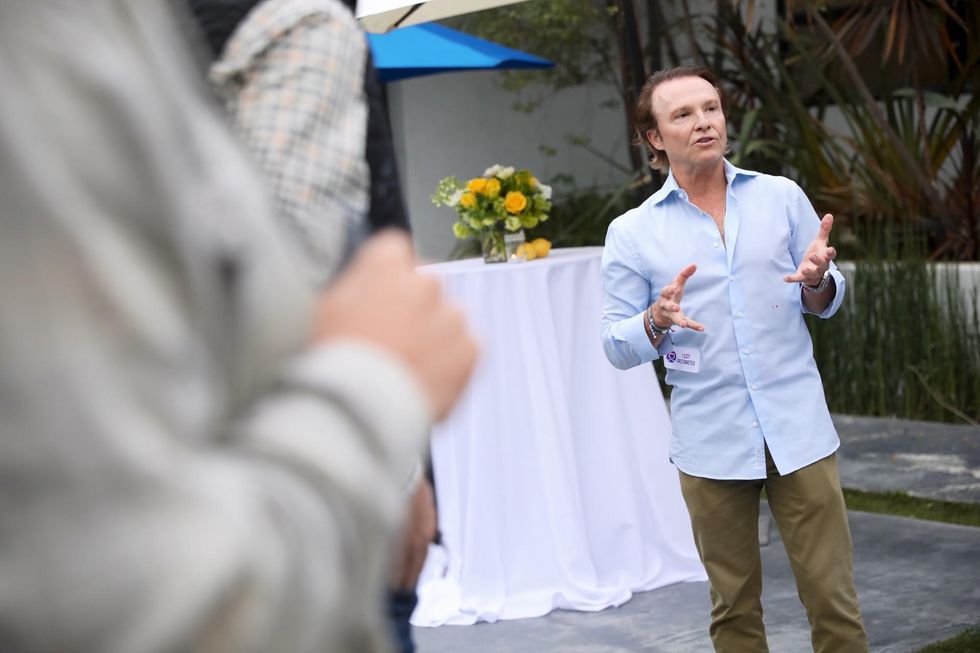 "We felt like it was the right time," said Derek Norton, managing general partner of Watertower Ventures, the early stage fund that hosted the event.
Guests sipped on Aperol spritzes and wolfed down freshly baked margarita pizza from Toscana – the theme of the evening was "A Taste of Italy."

"Since most of us won't be traveling to Europe this summer, we thought we'd bring Italy here," Norton explained.
The crowd included a who's who of the L.A. venture scene, including Bonfire's Mark Mullen, Crosscut's Brian Garrett, MaC VC's Marlon Nichols, East West Ventures' Jaeson Ma, TenOneTen's Minnie Ingersoll, Watertower's Jeremy Milken and Science Inc's Peter Pham, who bounced from group to group wearing silent disco headphones and sipping on the Liquid Death canned water he incubated.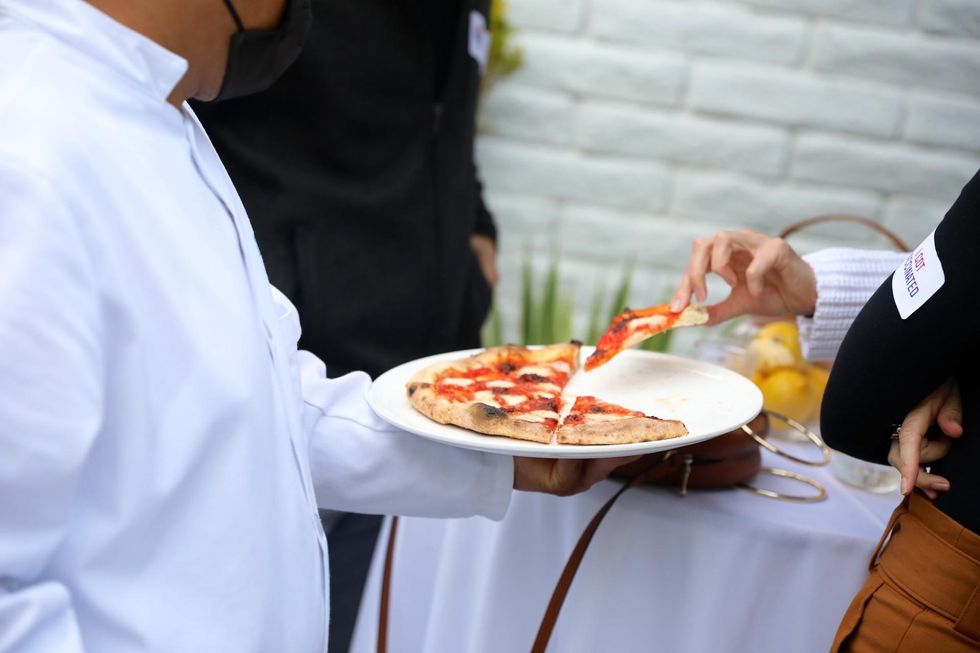 Guests sipped on aperol spritzes and wolfed down freshly baked margarita pizza from Toscana – the theme of the evening was "A Taste of Italy."
The mood seemed positively giddy, thanks to a welcome return to normalcy and the fact that for all the hardship of the past year these have been heady times for tech – with record amounts of deals, new unicorns crowned and IPO's popping off seemingly every week.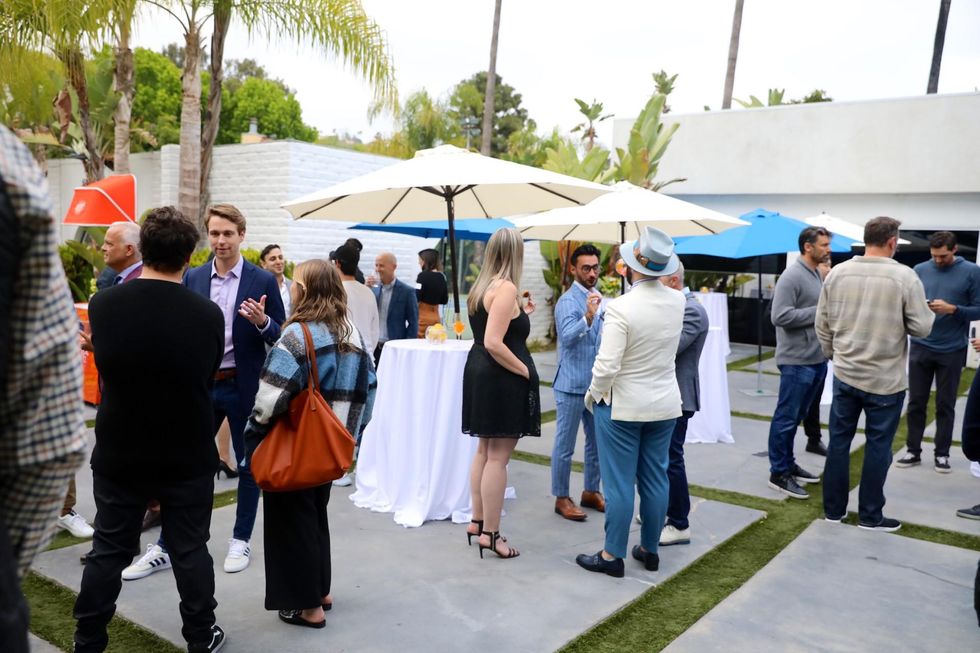 More than one VC remarked that they have never seen such a crazy time in the industry, with even the most far-fetched of business plans able to secure gobs of capital.
For all of the pleasantries and talk about how kids were doing, the event was far by no means purely social. This is an industry after all with no shortage of extraverts which normally revolves around schmoozing and handshakes.
"There are definitely deals and business being talked about tonight," said Norton. "We have tons of stuff to catch up on."
Los Angeles County had reached the least-restrictive "yellow tier" the day before, allowing bars to reopen and indoor stores to increase their capacity. Still, COVID remains a threat; an average 63 people in the county are dying each day.
On this episode of L.A. Venture, we talk to Gil Elbaz, one of my partners and the co-founder of TenOneTen Ventures.
Gil is one of the most iconic founders in L.A. He talks about his years building what would eventually become Google's AdSense while he was at Applied Semantics, his experience founding Factual, and explains why founders should mentally commit 10 years to their startup before beginning.
"I enjoy working with people who are addicted enough to solving a particular problem that they can't really imagine stopping — regardless of the kind of roadblock that they hit," he says. "I think that the entrepreneur has to go in assuming that it's going to take years before the market appreciates this incredible vision, that actually it's going to be a full 10 years until you get through the entire cycle of finding product-market fit."
Gil's sale of Applied Semantics to Google was one of the earliest and most significant venture-backed startup sales in Southern California
Applied Semantics's product, AdSense, is now iconic and tens of billions of dollars in revenue
Gil then went on to lead Google's L.A. office for a number of years before leaving Google to start his second L.A.-based startup, Factual.
Factual had a big employee base and presence in Century City before merging with Foursquare
Gil was a trustee at Caltech and has been on the board at XPrize for 15 years
"Follow your values, give it a decent effort. Don't kill yourself. Just give it a decent effort. Don't act like, 'this conversation isn't important'. Take it seriously. Just do the right thing — A hundred thousand times in a row." — Gil Elbaz
Gil Elbaz is the co-founder of TenOneTen Ventures, a Los Angeles-based, early-stage venture capital firm that invests in entrepreneurs who apply data and technology to disrupt existing industries, or create new categories entirely.
Want to hear more of L.A. Venture? Listen on Apple Podcasts, Stitcher, Spotify or wherever you get your podcasts.
Related Articles Around the Web