tenoneten ventures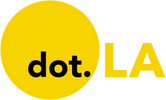 Get in the KNOW
on LA Startups & Tech
X
tenoneten ventures
Shutterstock
It looks like venture deals are stagnating in Los Angeles.
That's according to dot.LA's most recent quarterly VC sentiment survey, in which we asked L.A.-based venture capitalists for their take on the current state of the market. This time, roughly 83% of respondents reported that the number of deals they made in L.A. either stayed the same or declined in the first quarter of 2022 (58% said they stayed the same compared to the fourth quarter of 2021, while 25% said they decreased).
That's not hugely surprising given the sluggish dynamics gripping the venture capital world at large these days, due to macroeconomic factors including the ongoing stock market correction, inflation and Russia's invasion of Ukraine. While startups and VC investors haven't been hit as hard as public companies, it looks like the ripple effects are beginning to bleed into the private capital markets.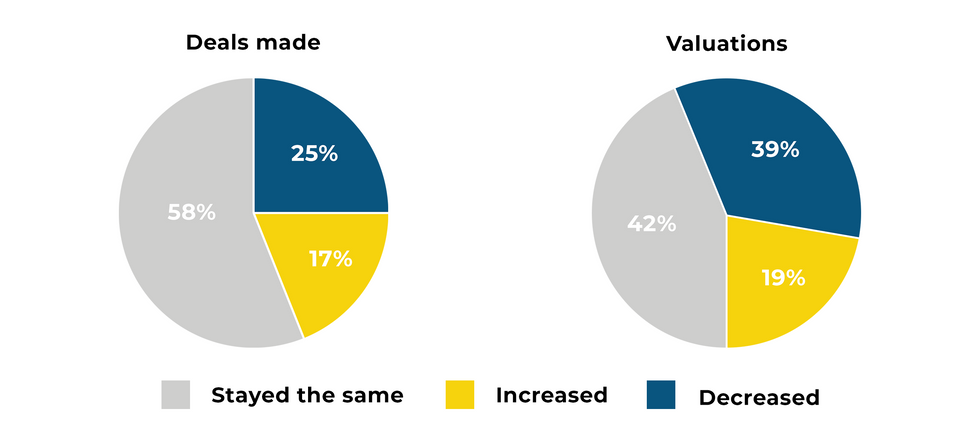 Image courtesy of Hagan Blount
In addition to slowing deal volumes, most investors said they're seeing startup valuations lose momentum, as well: Roughly 81% said valuations either stayed the same or decreased from the previous quarter, with nearly 39% noting a decline.
Should that sentiment continue moving forward, it could spell bad news for startups as far as raising the money they need for growth, investors said.
"If I was a startup right now, I would be making sure I have plenty of runway," said Krisztina 'Z' Holly, a venture partner at Good Growth Capital. "When it looks like there's some potential challenges ahead in the market, it's good to fill your war chest."
Among VC respondents, about 86% said they believed that valuations in the first quarter were too high—one potential reason why deals slowed down in the first quarter, according to TenOneTen Ventures partner Minnie Ingersoll. She noted that L.A.'s growing startup scene features more early-stage ventures, whose valuations haven't come down the way later-stage startup valuations have.
"I would say we are just more cautious about taking meetings where the valuations are at pre-correction levels," Ingersoll said. "We didn't take meetings because their valuations weren't in line with where we thought the market was."
While most respondents said the Russia-Ukraine war didn't have much impact on their investment strategies, some 22% said it did have an effect—with one VC noting they had to pass on a deal in Russia that they liked.
Is There a Flight Out of Los Angeles?
Los Angeles was heralded as the third-largest startup ecosystem in the U.S. at the beginning of the year, behind only San Francisco and New York. Yet nearly one-third (31%) of VC respondents said that at least one of their portfolio companies had left L.A. within the past year. It won't come as a huge surprise that the city of Austin, Texas has been one of the prime beneficiaries of this shift—with roughly half of those who reported that a portfolio company had left L.A. identifying Austin as the destination.

The tech industry's much-hyped "exodus" from California has been widely reported on, especially as more companies have embraced the work-from-home lifestyle and also opted to move their operations to lower-cost cities and states. Most notably, Elon Musk has recently moved two of his companies, electric automaker Tesla and tunnel infrastructure startup The Boring Company, from California to Texas (with both of those firms moving in and around Austin).
"In today's competitive market with lots of capital to invest, we think the next generation of successful VCs are going to be diverse in markets (not just Silicon Valley)... [and] have access to undiscovered founders from everywhere," said one survey respondent.
NFTs Aren't Popular With VCs—But Web 3 Is
"It's the future," according to one respondent. "Buckle up and get on board."
Are NFTs...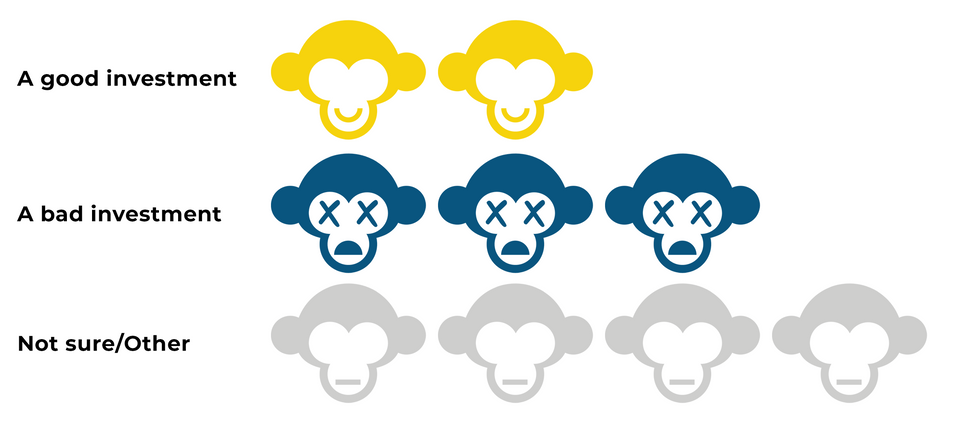 More than 71% of VC survey respondents said they were bullish on Web3—the new blockchain-enabled iteration of the internet, which promises decentralization and a whole range of applications involving cryptocurrencies, NFTs, DeFi and more. It's the same sentiment informing Santa Monica-based VC firm M13's new $400 million fund, which considers Web3 a core piece of its investment thesis.
In Q2 2022, do you expect your portfolio companies to: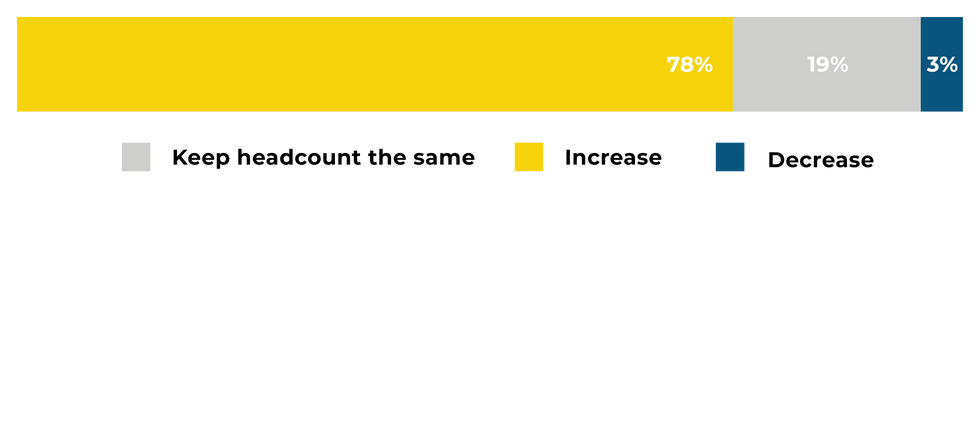 L.A. is home to an ever-growing cadre of Web3-focused startups operating across the realms of finance, entertainment and other industries. But while local investors are willing to pour money into blockchain-related ventures, one segment of the space continues to evoke skepticism: Only 18% of respondents would describe NFTs as "a good investment," while 33% thought they were "bad" investments and 39% said they were unsure.
As in our last survey several months ago, it appears that NFTs continue to divide opinion, with respondents expressing differing perspectives on their value and utility. One referred to them as "get rich quick schemes," but added that the art pieces and social communities that emerge from them may be valuable. Another said that "NFTs as a digital medium are a legitimate thing"—but noted the vast majority are "awful investments with no intrinsic value."

Graphics courtesy of Hagan Blount.
Image by Candice Navi
Many leading Los Angeles-based venture capitalists believe we are in a tech bubble, but that's not necessarily slowing investments, according to dot.LA's quarterly survey of top Southern California-based investors.
dot.LA asked dozens of venture capitalists about the pace of new deals that crossed their desks, their outlook on the U.S. economy and other trends in the industry. The results offer an up-close look at how VCs see the market.

Of those who responded to the perennial question — Are we in a tech bubble? — 62.1% percent said yes.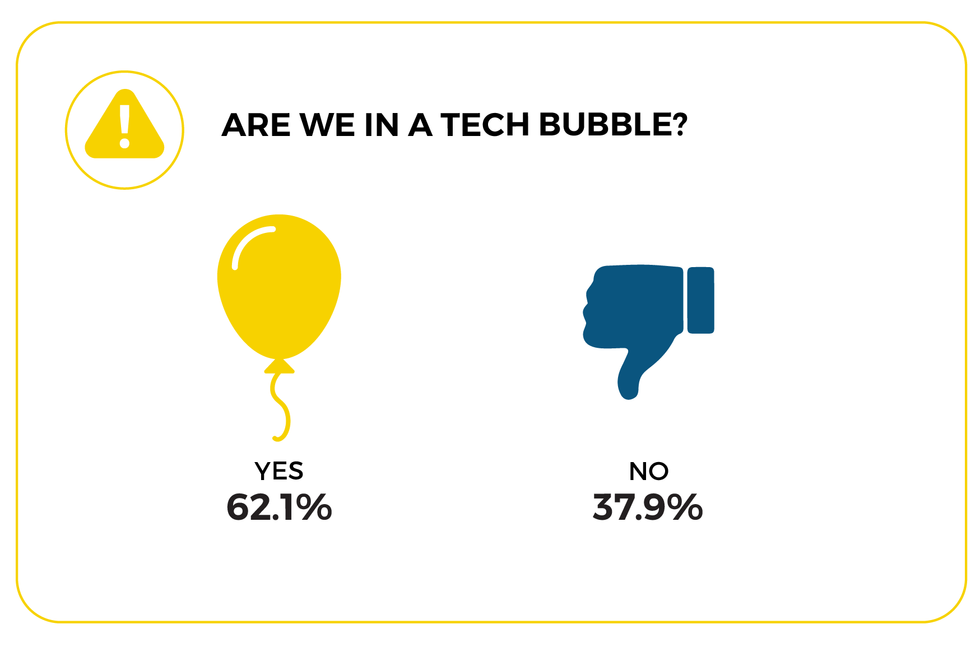 Bubble talk is all but inevitable when valuations and deal counts soar, as outside cash pours into the startup scene, and as trillion-dollar market caps grow commonplace among tech giants. But what is a bubble, exactly?
A bubble appears (and subsequently bursts) when assets such as tech stocks or housing rapidly increase in value and then crash back down to Earth.
The Dot-Com bubble refers to the frenzied rise and collapse of emerging internet companies in the late 90s, many of which did not have profits to match their sky-high valuations. When the market crashed, tens of thousands of workers lost their jobs and the NASDAQ shed 75% of its value, hitting personal and institutional investors alike.
Of those investors who felt we were in a bubble, 56% said they were being more cautious as a result, while 38.9% responded that it had "no impact" on their investing strategy. One VC said they set a "high bar for high priced deals" as a result.
The vast majority (80%) of investors surveyed also indicated they saw higher valuations in the third quarter of 2021 compared to the prior quarter. And a slim majority (53%) said their deal flow increased during the same period. Rising startup value and a boost in deals aren't indicative of a tech bubble on their own, but the trends at least suggest a feverish market.
"Yes, early stage deals have increased in valuations and round sizes have grown considerably in the last 18 months, but I'm not convinced this is a 'bubble,'" said Kelly Perdew, managing partner at Moonshots Capital, a seed stage firm focused in part on veterans with $160 million in assets under management. "There really is more demand (and more capital has to be put to work) so prices are going up across the board. But companies are building faster, moving faster, and disrupting faster. And the winners are being rewarded. I don't believe that is ever going to stop."
Minnie Ingersoll, partner at the early-stage venture firm TenOneTen and host of the LA Venture podcast, sees the market differently — though with similar enthusiasm. "We may be experiencing a bubble around valuations for technology startups but it is simultaneously a revolution for entrepreneurship that is here to stay," said Ingersoll.
"I think anything could happen with the astronomical valuations we are seeing but I think our relationship with work has been reshaped permanently and we are building a society where everyone is empowered with tools and support to be an entrepreneur," she said. "This will have radical implications for how we live and work and I do not think we will go back to single-threaded careers," she added.
While VCs literally have a vested interest in the industry's enduring success, they aren't alone in seeing the upside of a frothy tech market. For one, tech bubbles haven't proved as destructive as, say, the U.S. housing bubble, which preceded the Great Recession. Plus, the Dot-Com era and other frenzied investments in new tech have brought about technological progress, as William Quinn, who co-authored "Boom and Bust: A Global History of Financial Bubbles," pointed out earlier this year.
Still, plenty of livelihoods hang in the balance as fast-growing tech companies disrupt industries and ramp up headcounts, while personal investors clamor for a piece of the action.
More Q3 Survey Takeaways: Startup Hiring and the Pandemic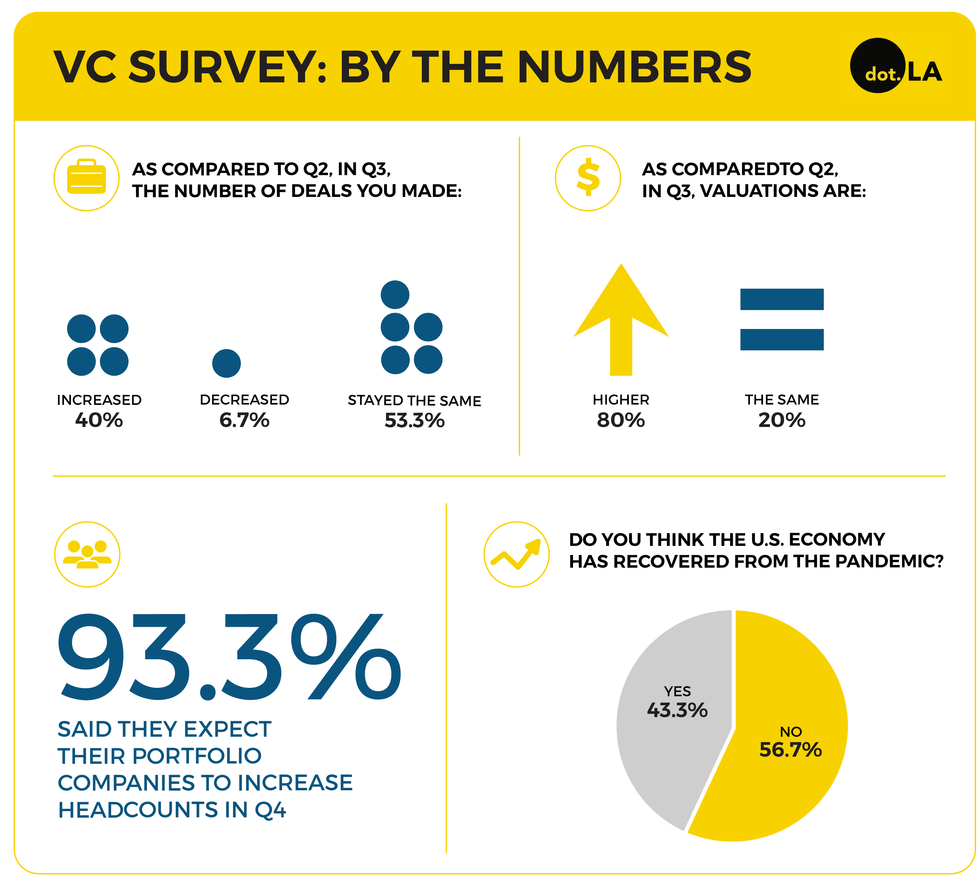 Of the VCs surveyed, 90% said their portfolio companies boosted headcounts in the third quarter compared to the previous quarter. And 93% said they expected their portfolio companies to increase headcounts in Q4.

However, most VCs surveyed (57%) said the pandemic and its aftermath had an impact on their portfolio companies' ability to retain people.
The same percentage of VCs also said they do not think the greater U.S. economy has recovered from the ongoing pandemic.
And when asked about a return to physical offices, 62% of VCs indicated they had embraced a hybrid program, while just over 20% said their team planned on staying remote.
Want the results of our quarterly VC Sentiment surveys in your inbox? Subscribe here.
Lead image and graphics by Candice Navi.
From Your Site Articles
Related Articles Around the Web
Image by Ian Hurley
There is a common credo in tech that one should work 20 years as an operator before switching over to the VC side. The young investors you are about to meet flip that assumption on its head as they bet big on everything from livestream shopping to online therapy services.
We asked the region's top VCs in our dot.LA sentiment survey to identify the top investors under 30. Their picks include former investment bankers, consultants and entrepreneurs. Some of the investors are native to Los Angeles while others hail from the Midwest and abroad. All have a vision of Los Angeles as a center of tech.
Among the top talent was Abha Nath, a 25 year-old investor at Wonder Ventures, who invested early in WhatNot, a social ecommerce company that aims to change the way users shop through live video. She's a big believer in the L.A. tech scene.
"This market is well-positioned for success because of its diversity in industry and diversity in thought – something that is demonstrated by the composition of L.A.'s population," said Nath.
Eric Pakravan, a 29 year-old investor at TenOneTen, first got acquainted with L.A.'s tech scene working at the mobile game unicorn Scopely. He has his eye on industries traditionally "underserved by tech, namely hospitality, wholesale and logistics."
Almost all the investors said they're not just looking for the right idea, but for the right founder.
"I hope to increase early stage funding access to startups founded by BIPOC in Los Angeles," said Jawhara Tariq, 28, an investor at M13. (Black, Latino and Latina founders have received just 2.6% of all venture capital funding in 2020, according to a Crunchbase report.)
Below are the top ranked investors, ordered by the number of mentions they received from the VCs we spoke to: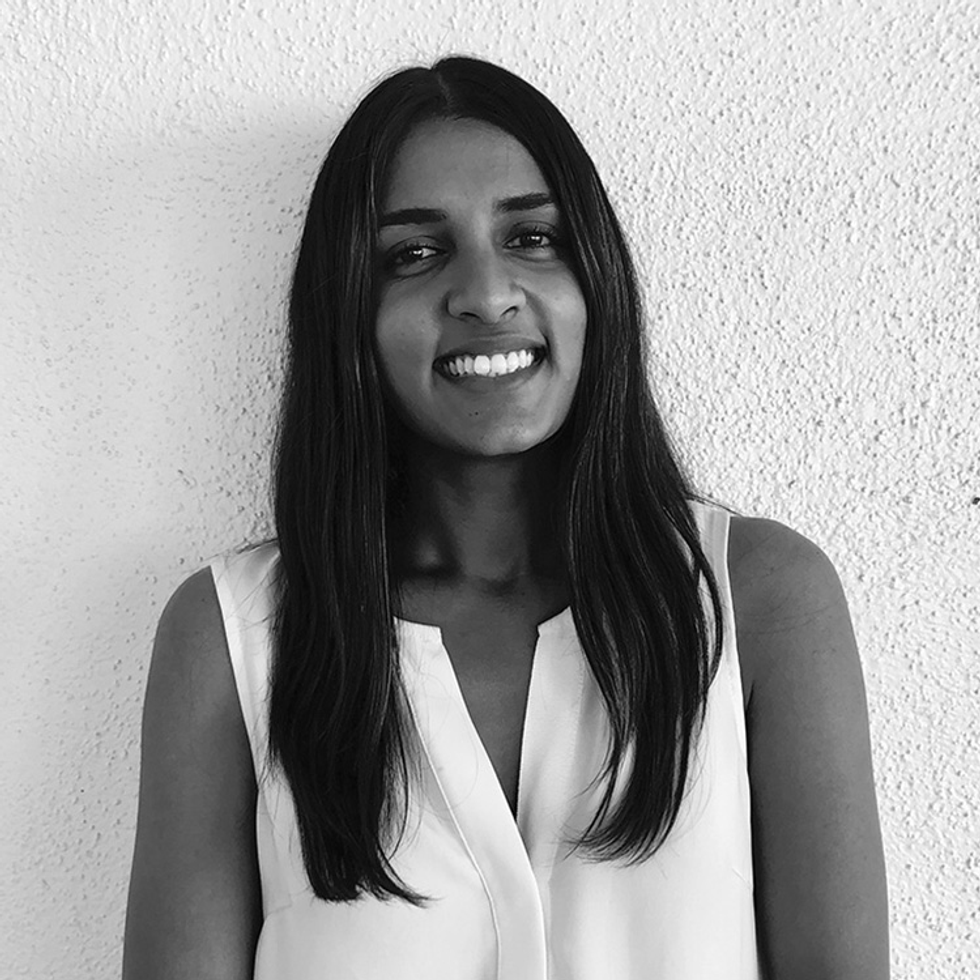 Abha Nath, Wonder Ventures
Abha Nath
Abha Nath is a 25-year-old investor at Wonder Ventures, rounding out seed firm's nimble two person team. She started her career in the Disney Accelerator Program, investing in later-stage companies, including Epic Games, Kahoot!, Brit+Co, and Hoodline. "I largely attribute my break to great timing and luck," she said. She met Dustin Rosen, managing partner of Wonder Ventures, several years ago and the two kept in touch before she joined in 2018. Nath says she is most excited about Whatnot, a social commerce company that is changing the way users shop through live video.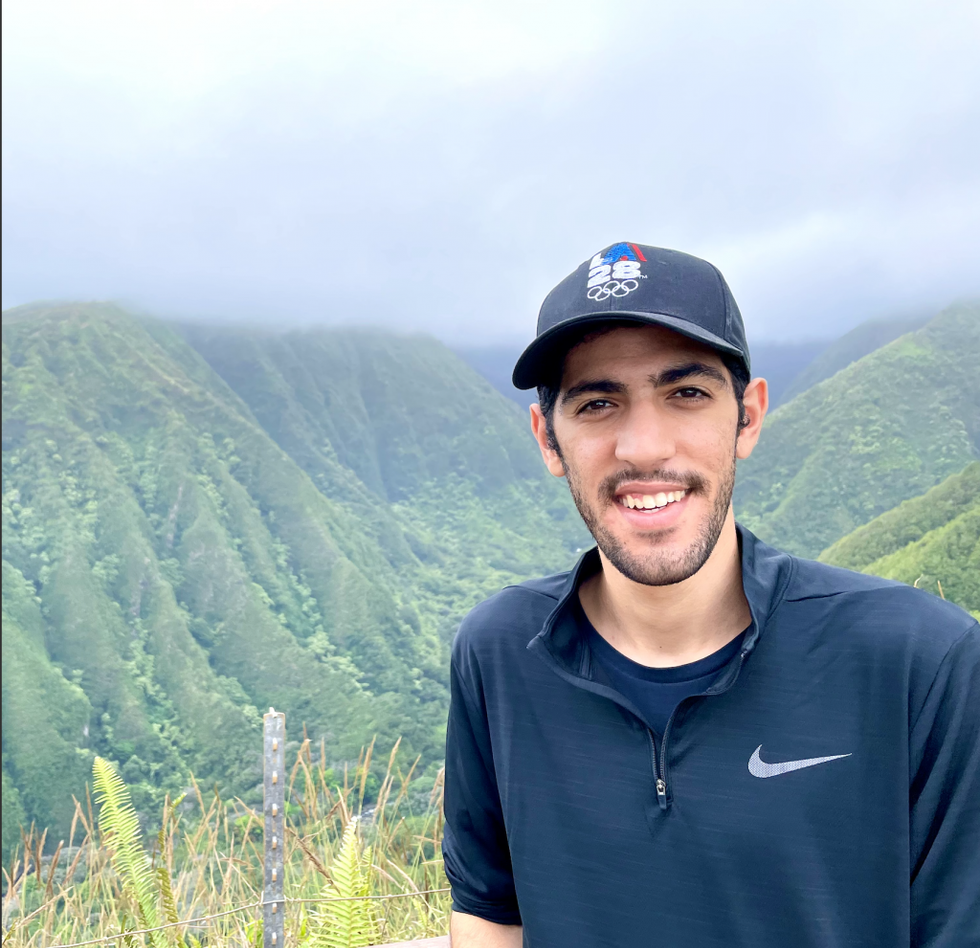 Eric Pakravan, TenOneTen
Eric Pakravan
Eric Pakravan is a 29-year-old investor at the software focused TenOneTen. His experience working at Scopely during its early days piqued his curiosity about what made successful seed companies."That experience opened my eyes to the emerging tech scene that was beginning to take shape in LA.," he said. "I very quickly knew that I wanted to be a part of it. And the greatest perk was that it meant I could build a career in tech, and do it in L.A." The experience also inspired him to start LavaLab, a student-led incubator at USC. The LA-native, joined TenOneTen Ventures last year. He invests in sectors he considers have mostly been underserved by tech – namely hospitality, wholesale, and logistics. His investments include Selfbook, a booking experience for hotels, as well as Candid Wholesale and Optimal Dynamics.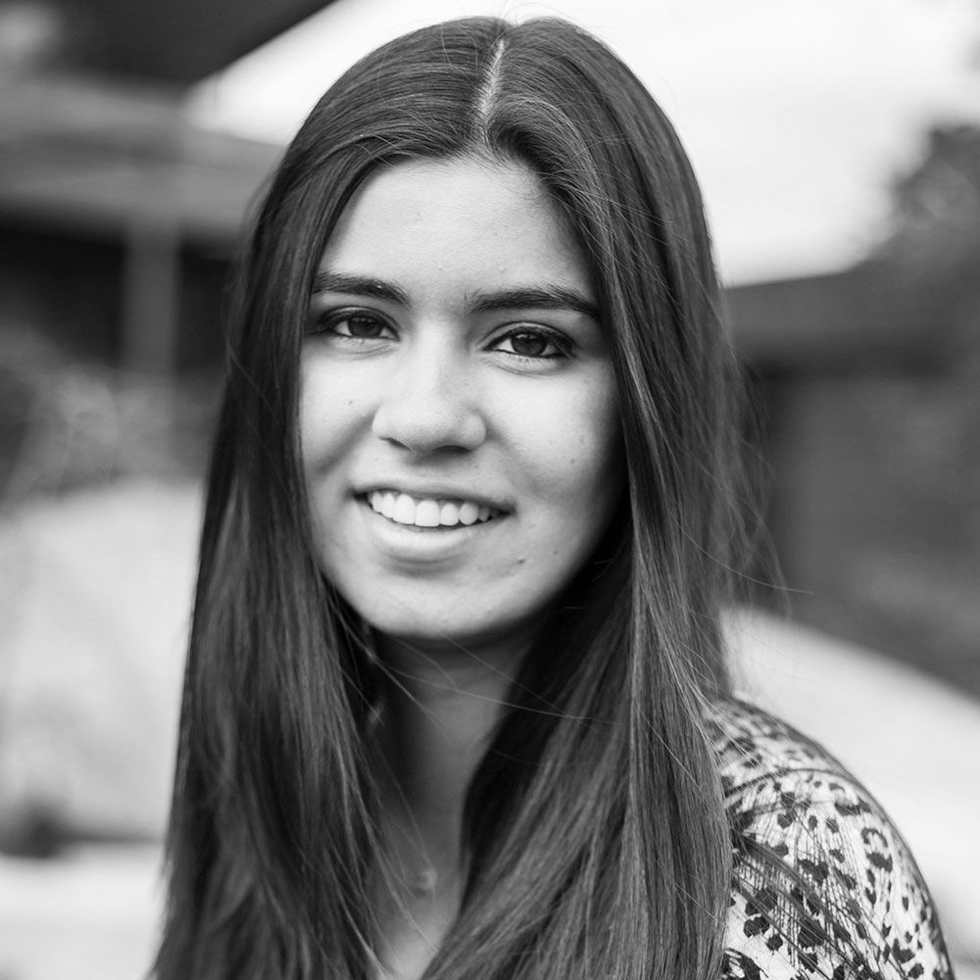 Adriana Saman, Clocktower Technology
Adriana Saman
Adriana Saman is a 28-year-old investor at Clocktower Technology Ventures, which focuses on early Fintech startups. Saman started her career as an Investment Banker at JP Morgan. Originally from Ecuador, she is focused on increasing global access to financial services through fintech and other instruments. "I aspire to make a meaningful difference in the democratization of financial services in Latin America – we've started strong with a dedicated vehicle, but there's still lots to get done," she said. She said her values have led her down this path. "I think the prior steps I took in my career, pursuing a genuine interest to make a difference in global access to financial services, made it easier to bond with the Clocktower team, as they shared a similar vision", says Saman.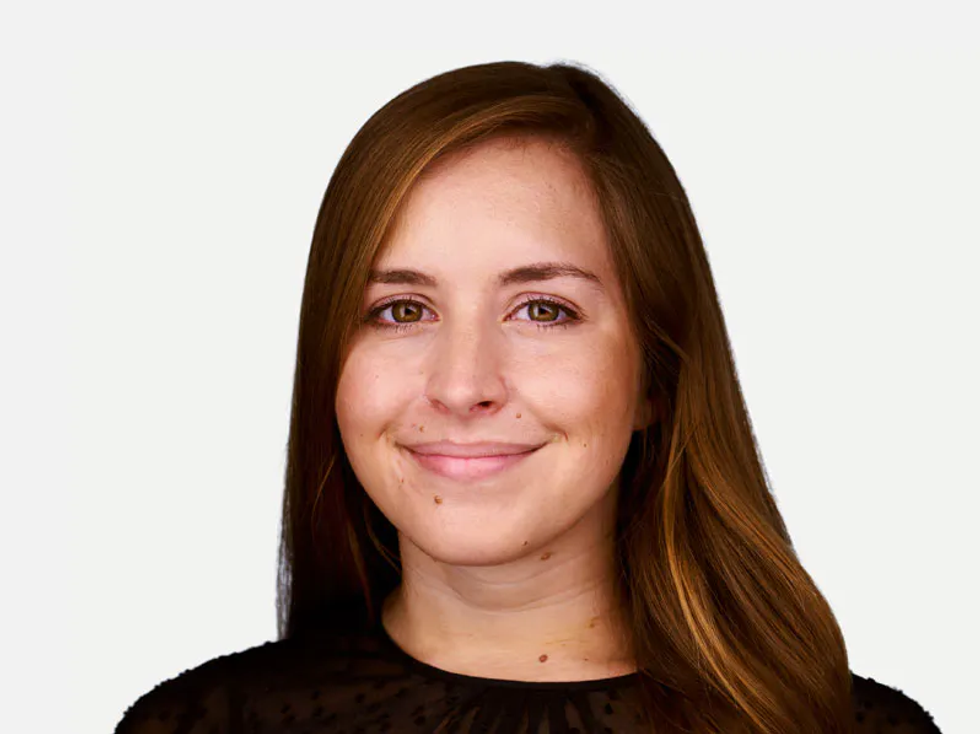 Brittany Walker, CRV
Brittany Walker
Brittany Walker is a 28-year-old investor at CRV, which invests in enterprise, consumer and biotech. A former Deloitte consultant, Walker holds an MBA from the Wharton School, where she sourced investments for the Dorm Room Fund. Tackling gender parity has been a priority for Walker. She co-created Interchange, the first free job board focused solely on L.A. startups. Its aim is to make the industry more accessible to diverse candidates. "I'm trying to get more female founders funded in enterprise and help more women start enterprise companies," said Walker. Among her investments is Storyboard, a platform for privately sharing podcasts and audio.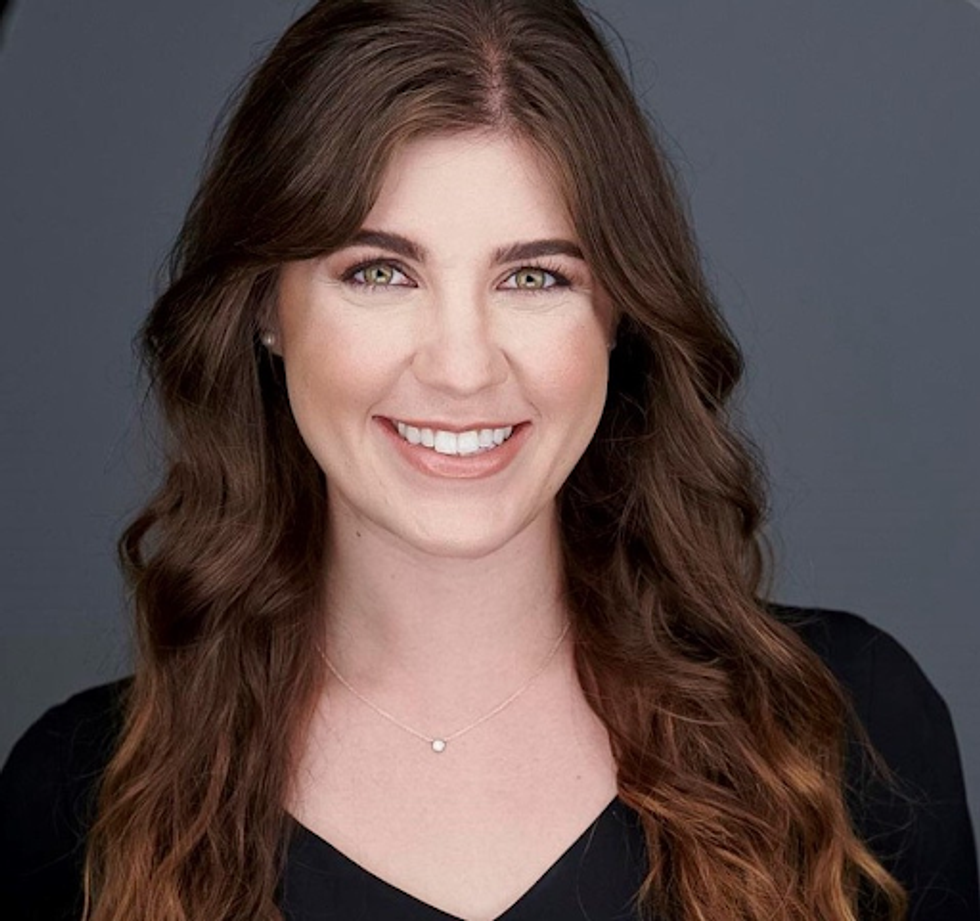 Alaina Hartley, Greycroft
Alaina Hartley
Alaina Hartley is a 25-year-old investor at Greycroft. She says she landed the job without connections. "I didn't have existing networks in venture capital – I actually first connected with Greycroft by sending a cold LinkedIn message requesting an informational interview," she said. She came from Bain & Company, where she consulted across private equity, technology and media and retail practices. Previously, she worked on brand strategy initiatives for Snap Inc.'s first hardware product, Spectacles."My objective is to identify emerging leaders in the consumer and consumerized enterprise spaces and to provide them with actionable insights and support to accelerate the realization of their visions," she said. Hartley is excited about one of her recent investments, Haystack, an intranet platform that centralizes company communications.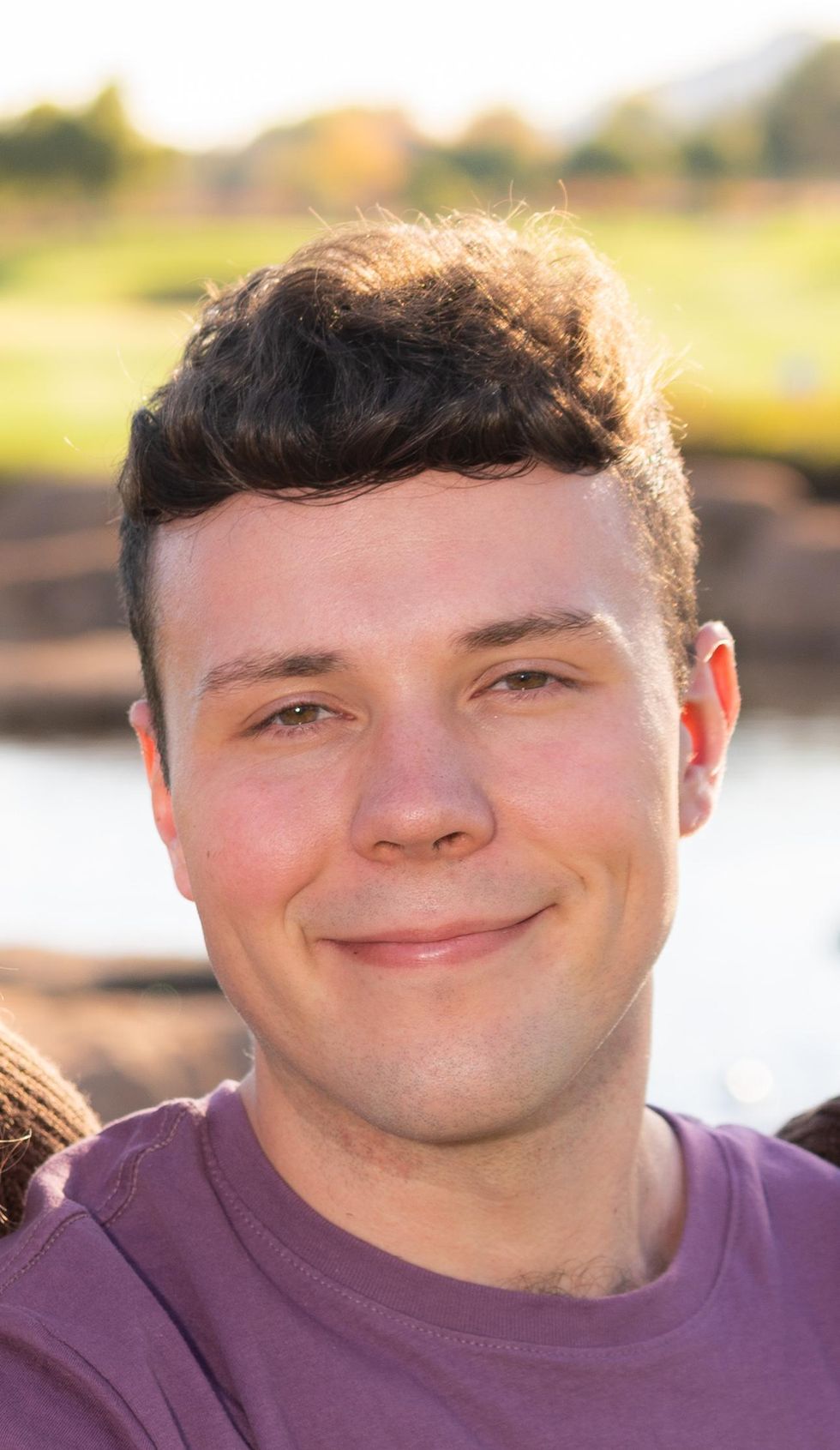 Connor Sundberg, Amplify
Connor Sundberg
Connor Sundberg is a 26-year-old investor at Amplify. He says his move from Chicago to L.A. was motivated by seeing the success of Ring, Snap, Scopely, and Dollar Shave Club. Previously, he worked in banking, but decided he was more interested in VC. "I've always believed in paying attention to where the people you respect are spending their time, and all roads kept leading to the LA startup ecosystem- from friends bootstrapping projects of their own, to others joining companies," he said. His investments include startups that could change how care is coordinated, delivered, and paid for such as: Advkekit, Honeybee, and SafeRide. Sundberg hopes to make Amplify a first-check platform that works for L.A. companies, specifically by creating a support system beyond capital and building founders up.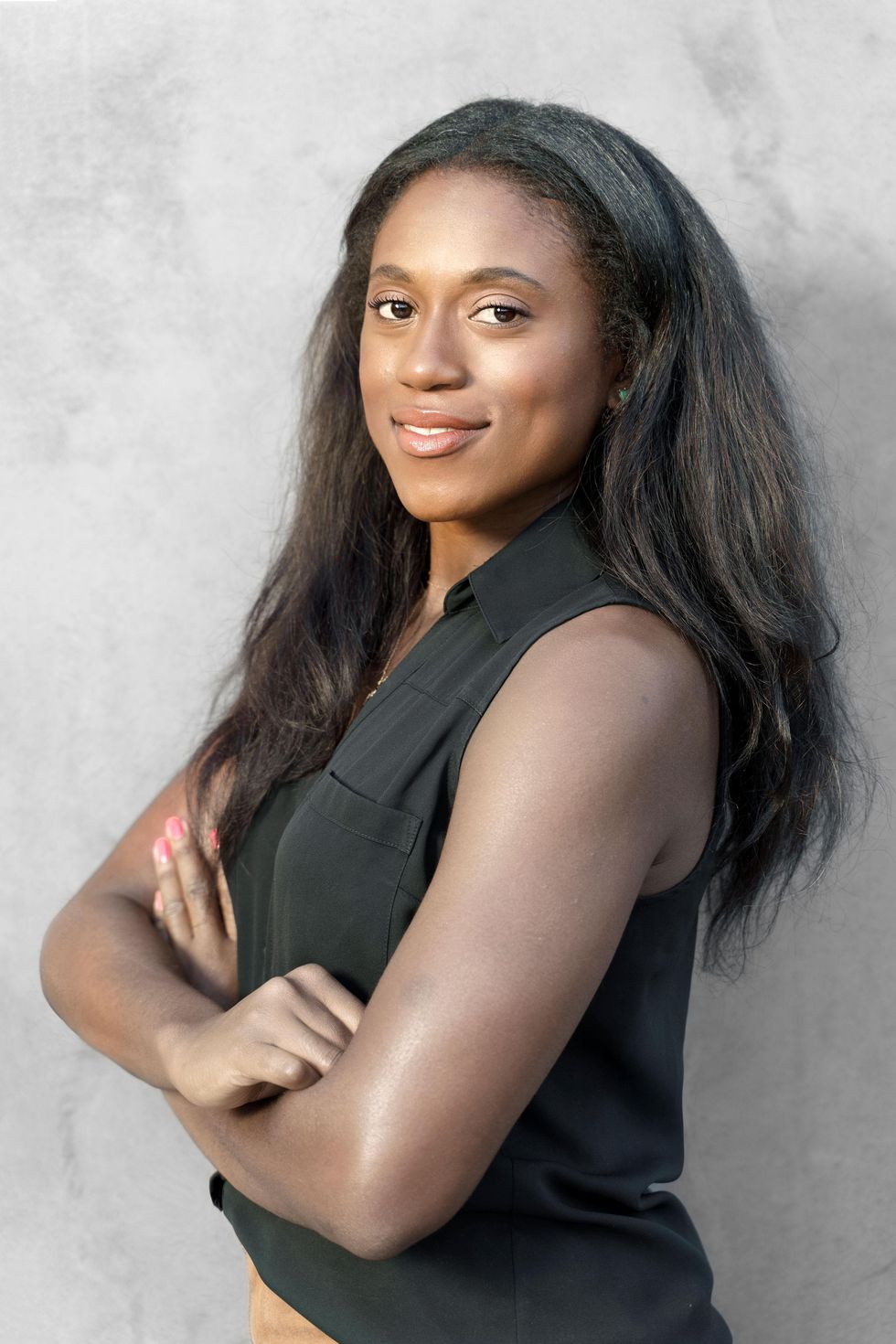 Jawhara Tariq, M13
Jawhara Tariq
Jawhara Tariq, a 28-year-old investor at consumer-focused venture firm M13. She began her career working in nonprofits and philanthropy before she decided she wanted to try making an impact through capitalism. Previously, she was a venture capital associate at Moonshots Capital, where her investment profile included: Nok, Steereo, and Copper Labs.
"I am looking for founders who are unstoppable forces; the entrepreneurs who have the audacity to dream up a world that looks, feels, and operates differently than the one we live in today."
The L.A. native hopes to facilitate access to funding for BIPOC-led startups and continue to back LA's rising entrepreneurs.
Editor's Note: This post has been updated to reflect that one of the investors recently moved out of L.A.
Lead image by Ian Hurley