russia ukraine attack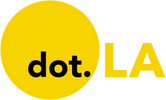 Get in the KNOW
on LA Startups & Tech
X
russia ukraine attack
Shutterstock
It looks like venture deals are stagnating in Los Angeles.
That's according to dot.LA's most recent quarterly VC sentiment survey, in which we asked L.A.-based venture capitalists for their take on the current state of the market. This time, roughly 83% of respondents reported that the number of deals they made in L.A. either stayed the same or declined in the first quarter of 2022 (58% said they stayed the same compared to the fourth quarter of 2021, while 25% said they decreased).
That's not hugely surprising given the sluggish dynamics gripping the venture capital world at large these days, due to macroeconomic factors including the ongoing stock market correction, inflation and Russia's invasion of Ukraine. While startups and VC investors haven't been hit as hard as public companies, it looks like the ripple effects are beginning to bleed into the private capital markets.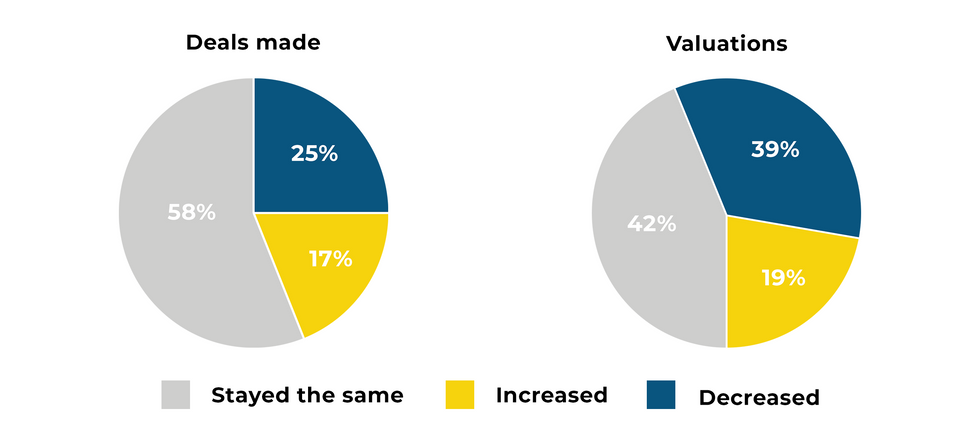 Image courtesy of Hagan Blount
In addition to slowing deal volumes, most investors said they're seeing startup valuations lose momentum, as well: Roughly 81% said valuations either stayed the same or decreased from the previous quarter, with nearly 39% noting a decline.
Should that sentiment continue moving forward, it could spell bad news for startups as far as raising the money they need for growth, investors said.
"If I was a startup right now, I would be making sure I have plenty of runway," said Krisztina 'Z' Holly, a venture partner at Good Growth Capital. "When it looks like there's some potential challenges ahead in the market, it's good to fill your war chest."
Among VC respondents, about 86% said they believed that valuations in the first quarter were too high—one potential reason why deals slowed down in the first quarter, according to TenOneTen Ventures partner Minnie Ingersoll. She noted that L.A.'s growing startup scene features more early-stage ventures, whose valuations haven't come down the way later-stage startup valuations have.
"I would say we are just more cautious about taking meetings where the valuations are at pre-correction levels," Ingersoll said. "We didn't take meetings because their valuations weren't in line with where we thought the market was."
While most respondents said the Russia-Ukraine war didn't have much impact on their investment strategies, some 22% said it did have an effect—with one VC noting they had to pass on a deal in Russia that they liked.
Is There a Flight Out of Los Angeles?
Los Angeles was heralded as the third-largest startup ecosystem in the U.S. at the beginning of the year, behind only San Francisco and New York. Yet nearly one-third (31%) of VC respondents said that at least one of their portfolio companies had left L.A. within the past year. It won't come as a huge surprise that the city of Austin, Texas has been one of the prime beneficiaries of this shift—with roughly half of those who reported that a portfolio company had left L.A. identifying Austin as the destination.

The tech industry's much-hyped "exodus" from California has been widely reported on, especially as more companies have embraced the work-from-home lifestyle and also opted to move their operations to lower-cost cities and states. Most notably, Elon Musk has recently moved two of his companies, electric automaker Tesla and tunnel infrastructure startup The Boring Company, from California to Texas (with both of those firms moving in and around Austin).
"In today's competitive market with lots of capital to invest, we think the next generation of successful VCs are going to be diverse in markets (not just Silicon Valley)... [and] have access to undiscovered founders from everywhere," said one survey respondent.
NFTs Aren't Popular With VCs—But Web 3 Is
"It's the future," according to one respondent. "Buckle up and get on board."
Are NFTs...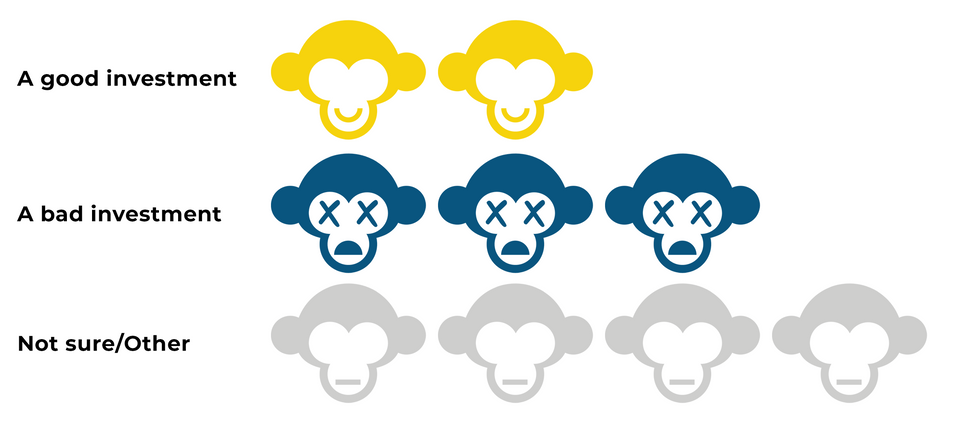 More than 71% of VC survey respondents said they were bullish on Web3—the new blockchain-enabled iteration of the internet, which promises decentralization and a whole range of applications involving cryptocurrencies, NFTs, DeFi and more. It's the same sentiment informing Santa Monica-based VC firm M13's new $400 million fund, which considers Web3 a core piece of its investment thesis.
In Q2 2022, do you expect your portfolio companies to: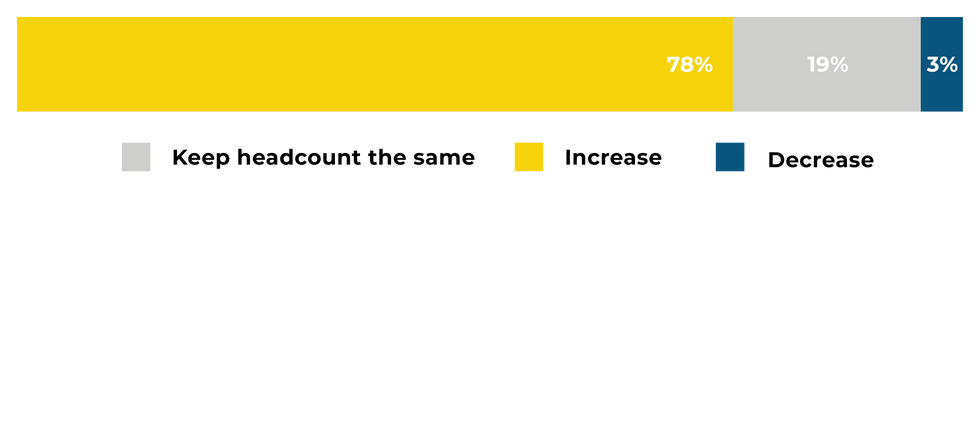 L.A. is home to an ever-growing cadre of Web3-focused startups operating across the realms of finance, entertainment and other industries. But while local investors are willing to pour money into blockchain-related ventures, one segment of the space continues to evoke skepticism: Only 18% of respondents would describe NFTs as "a good investment," while 33% thought they were "bad" investments and 39% said they were unsure.
As in our last survey several months ago, it appears that NFTs continue to divide opinion, with respondents expressing differing perspectives on their value and utility. One referred to them as "get rich quick schemes," but added that the art pieces and social communities that emerge from them may be valuable. Another said that "NFTs as a digital medium are a legitimate thing"—but noted the vast majority are "awful investments with no intrinsic value."

Graphics courtesy of Hagan Blount.
From Your Site Articles
Related Articles Around the Web
Photo by Venti Views on Unsplash
The fallout from Netflix's disastrous first-quarter earnings continues with a new shareholder lawsuit that claims the streaming giant misled investors about its ability to sign up more subscribers.
According to Reuters, a Texas-based investment trust has accused Netflix and its leaders of failing to disclose its slowing growth and that it was shedding subscribers as it amid heightened streaming competition. The lawsuit, filed Tuesday in federal court in San Francisco, is seeking monetary damages for the sharp drop in Netflix's share price after the company missed its subscriber projections.
Netflix shares cratered last month after investors learned that the streaming platform had lost subscribers for the first time in more than a decade in the first quarter, and expects to lose 2 million more in the current second quarter. The company's stock price plummeted more than 35% on April 20, the day after Netflix disclosed its first quarter financial results. Netflix shares closed at $204.01 on Wednesday, a mighty fall from their nearly $700 stock price in November.
During Netflix's most recent earnings call, company leaders blamed increased competition, password sharing and Russia's invasion of Ukraine, among other factors, for the sharp subscriber slowdown. Executives claimed that COVID-19 had initially clouded the company's outlook for future growth.
The lawsuit names Netflix co-CEOs Reed Hastings and Ted Sarandos and Chief Financial Officer Spencer Neumann as defendants, according to Reuters. The suit, which is seeking class-action status, was filed on behalf of investors who traded Netflix shares between Oct. 19, 2021 and April 19, 2022.
Shutterstock
This is the web version of dot.LA's daily newsletter. Sign up to get the latest news on Southern California's tech, startup and venture capital scene.
If one more person utters the phrase "supply chain," I may simply wither away on the spot—but unfortunately, this is the world in which we live. We've built a very complex web of commerce in the 21st century (a lotta strands in old Duder's head), and it's not always obvious which strands are connected until one breaks. Nothing like a once-in-a-century pandemic and Europe's largest war since 1945 to really stress-test the system.

Especially against the backdrop of climate change, the challenges of the 2020s have laid bare the deficits in our trade infrastructure. One possible solution, usually used in reference to agriculture, is increasingly becoming a trend in the tech world: buying local.
Take the electric vehicle industry. Executives like Rivian CEO RJ Scaringe warn that EV makers will soon face a dire shortage of the lithium-ion batteries needed if electric cars are to become as ubiquitous as hoped. Even before Russia's invasion of Ukraine (which has one of the world's largest lithium reserves), lithium prices were skyrocketing due to growing demand for batteries. Now, nobody wants to deal with Russia, a major exporter of the mineral. Mining lithium is often a carbon- and water-intensive proposition, while shipping it from abroad adds even more to your carbon footprint (meaning your newly-appointed chief sustainability officer is going to have a conniption). This combination of economic, environmental and logistical headwinds has gotten so bad that Elon Musk wants Tesla to start mining its own lithium.
And Elon's not alone. Yesterday, I wrote about a new company, Statevolt, that wants to set up a battery gigafactory on the shores of the Salton Sea in the Imperial Valley. The idea is to partner with Controlled Thermal Resources, a lithium extraction and geothermal power company operating in the region, to secure its lithium from a single vendor just down the road.
Statevolt founder and CEO Lars Carlstrom says the plant constitutes the battery industry's first "hyperlocal" supply chain, and it's hard to overlook the benefits that the arrangement would give Statevolt. Shipping costs—both in dollars and in carbon emissions—would be dramatically reduced. Intermediaries and middlemen would be removed from the financial picture. Communication between the supplier and the manufacturer becomes simpler. The company is more insulated from natural disasters and geopolitical events. Just like choosing local produce reduces carbon emissions and supports a network of small businesses, so too does creating local supply chains for batteries, solar panels and other clean technologies.
To be clear, this isn't an anti-globalization manifesto. Humanity is an interconnected global species and the climate emergency will impact every inch of the planet; to solve the problem, we'll need to cooperate globally. But we may also have to unlearn a few of the habits that got us here in the first place. Outsourcing everything to the lowest bidder has been the global supply chain's modus operandi for the last 40 years. To solve our current challenges, we may need to try something different.— David Shultz