pitchbook
It is a great time to be a startup founder, with soaring valuations and investors tripping over themselves to get a piece of startups. As hot as the startup scene was last year, it has gotten even hotter this year, with a slew of megadeals pumping even more money into the biggest startups as they prepare to go public in the frenetic IPO market.
Overall, investors poured $69 billion into tech companies last quarter, a staggering 92.6% increase over the same quarter last year, according to data released Wednesday by PitchBook and the National Venture Capital Association.
Three-quarters of all investment flowed to late stage rounds, the highest percentage since 2010. There were 167 megadeals of $100 million or more, for a total of $41.7 billion raised in the first quarter. By comparison, megadeals accounted for $76.6 billion raised during all of last year.
In the Los Angeles area, SpaceX hauled in another $850 million in February. There was also ServiceTitan's $500 million financing last month, which makes the Glendale company that makes software for plumbers and carpenters worth $8.3 billion.
Culver City-based Sweetgreen raised $156 million in February, though the healthy fast casual chain was reportedly forced to do a flat round after the pandemic year that saw its revenues plummet.
At the other end of the startup life cycle, investors nationally focused on quality over quantity. There were only 722 first financings reported, which is a historically low number, but those deals averaged $4.7 million a piece, which was a new record high.
That benefited companies like Artie, a video game platform developer that pulled in $10 million in a seed round this February.
In total, 315 Los Angeles startups raised a total of $6.7 billion in the first quarter, a slight decrease in the number of venture investments but a 75% increase in deal value over the same quarter last year.
As has historically been the case, Los Angeles trailed not only the Bay Area in deal value ($25.5 billion) but also New York ($10.2 billion) and Boston ($7.9 billion).
The dot.LA VC Sentiment Survey also found higher valuations. Seventy-seven percent of respondents said they saw higher valuations last quarter, but that did not stop them from closing deals.
The billion dollar question is whether, with so much money sloshing around, we are in a bubble that is going to burst. That is hard to judge now; it takes years to know if startups will succeed – whether they will be the next Airbnb or the next Quibi.
But by at least one metric there are fewer quality startups to go around. Dropbox, the secure document sharing platform that many startups use to share pitch decks, said this month the demand for decks continues to outpace the number of investment opportunities that are available. Founders are also shopping their decks around more, which is an indication they have more options of where to get capital and can be choosy.
In other words, it is very much a founder's market.
"We knew the first quarter would represent the beginning of a rebound, but I don't think anyone expected VC and startup activity to be this high; investor confidence is booming and beginning to outpace the supply of startups seeking fundraising," Russ Heddleston, DocSend co-founder and CEO, said in a post sharing the data.
However, investors contend that the market frenzy is not just driven by a flood of capital but also dramatic shifts in consumer behavior over the past year.
"In 2020, consumers spent over $860 billion online with U.S. merchants, an astonishing 44% year-over-year increase," said Deborah Benton, founder and managing partner of Willow Growth Partners, an early-stage VC firm that invests primarily in digital first brands that are benefiting from an accelerated shift to online shopping.
From Your Site Articles
Related Articles Around the Web
Counter Brands is getting a billion-dollar makeover, and joining the unicorn club.

The parent company of Beautycounter, which makes eco-friendly skin-care products and cosmetics, is being acquired by the massive private equity firm, The Carlyle Group, executives at the companies announced Tuesday.
Equity funding for the deal came from Carlyle Partners VII, an $18.5 billion fund that focuses on U.S. consumer, media and retail companies – part of the $246 billion overall fortune Carlyle manages.
Beautycounter was founded by Gregg Renfrew in 2011 and last year raised at a $400 million valuation in 2018, according to Pitchbook data.
Renfrew told dot.LA co-founder Spencer Rascoff in an interview recorded in December that she started the company after seeing young friends around her be diagnosed with cancer or suffer from infertility.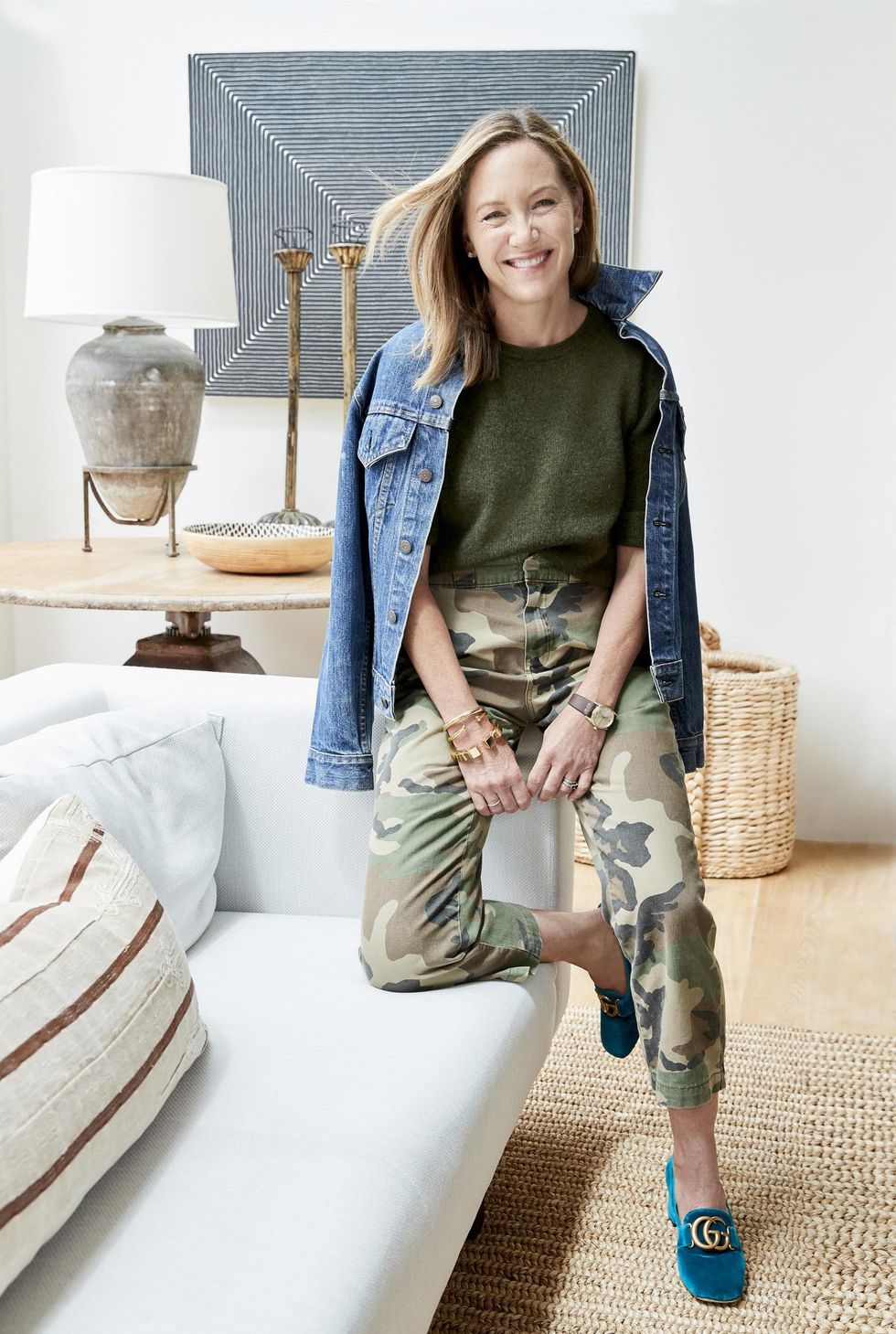 Beautycounter founder Gregg Renfrew
"I started to wonder what was going on, why were things going so wrong for the Earth and why were things going terribly wrong for human health?" Renfrew said. "The one thing that I over time became aware of is that we were all being exposed to toxic chemicals and that there is a direct link between environmental health and physical health and our exposure to toxic chemicals."

Renfrew became "obsessed" with trying to remove all chemicals from her home, but she had trouble finding cosmetics that were both free of toxins and effective.
"I thought, why am I asked to compromise my health in the name of beauty?" she wondered. "And I thought I could start a brand that actually stands for health and performance simultaneously."
Renfrew grew up in New York City and still has an affinity for the city, but she says she is happy to have started Beautycounter in Santa Monica.
"When you think about clean living – whether that's focusing on the environment, sustainability, healthy food, healthy skincare or cosmetics – you see so much happening in Los Angeles," she said. "We are so well ahead of the curve on so many things that are happening."
From Your Site Articles
Related Articles Around the Web
Even a raging pandemic and sagging economy could not slow down startupland, which set new records for deal value, exit value and capital raised.

Investors deployed $156.2 billion into startups, liquidated $290.1 billion of value via exits and closed on $73.6 billion in traditional VC funds, according to the PitchBook-NVCA Venture Monitor released Thursday, which is jointly produced by PitchBook and the National Venture Capital Association (NVCA). Firms are starting this year with $152 billion in dry powder at their disposal.
"The unprecedented macro events of 2020 did not deter the overall VC industry, which reached another banner year across the venture cycle," said Bobby Franklin, president and chief executive of NVCA, in a prepared statement.
At least one out of every 10 venture investment dollars flowed through Los Angeles, which continued to demonstrate its heft as a tech hub, trailing only the Bay Area in total deal value. That was tied with New York, but whereas that city saw a 16.9% decline in deal value, Los Angeles saw a 38.9% increase.
"I don't see any slowing down in the Los Angeles ecosystem," Kelly Perdew, co-founder and managing general partner of Moonshots Capital told dot.LA. "I see it growing and growing."
L.A. did see 10% fewer deals in 2020, which was emblematic of a national trend of fewer but bigger deals.
L.A. ended the year on a strong note with $3.2 million worth of deals in the fourth quarter, more than double the same period as 2019 and more than any quarter in 2020 except the third quarter.

Relativity Space, which uses 3-D printers to make rockets, led the list. Founded by SpaceX alum Tim Ellis in 2015, the Long Beach company raised a $500 million Series D round led by hedge fund Tiger Global Management in November that values the company at $1.8 billion.
Another infusion came from Scopely investors, who poured $340 million in Series E funding into the video game company in October at a $3.3 billion valuation, nearly doubling the company's $1.7 billion post-money valuation from a $200 million deal in March.
Los Angeles fundraising was also robust in the fourth quarter, with nearly $2.5 million raised across 18 vehicles, almost tripling the haul raised in the last quarter of 2019.
Those included Sinai Capital Partners, which announced in November a $600 million second fund, $500 million of which will go towards the tech-focused Sinai Ventures. There was also Westlake Village BioPartners, the two-year-old firm focusing on life science and therapeutic companies. In December, it announced the raise of two new funds together worth $500 million.
This year is already off to a promising start with Santa Monica-based March Capital announcing Thursday it has closed its third fund, a $450 million vehicle to continue the firm's focus on enterprise software companies.
If there was a downside to 2020's venture activity it would be that most capital is going towards bigger firms, harming efforts by women and founders of color to gain a toehold in the industry. Established firms secured nearly 75% of total capital raised in 2020, the highest share since 2012.
"In times of uncertainty people like to go with a known quantity," Perdew said.