pitchbook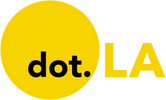 Get in the KNOW
on LA Startups & Tech
X
pitchbook
Mega-deals. IPOs. Skyhigh valuations. It's only October, but the VC industry has already obliterated many of its annual fundraising records, according to the latest U.S. Venture Monitor report from Pitchbook and NVCA.

Across the country, the quarterly report found $238.7 billion worth of venture deals so far in 2021, the majority of which (57.2%) can be attributed to outsized startup funding rounds of at least $100 million (a.k.a. mega-deals).
Mega-deals are far more common today than they were just a few years ago. Pitchbook recorded 138% more mega-deals this year than in 2019, nearly 600 in total. The report attributed the rise in part to the flood of dollars coming in from non-traditional investors such as hedge funds.
California predictably saw the most deals of any state by a wide margin (3,813 so far), followed by New York (792). In the Los Angeles area alone, Pitchbook tallied 1,201 deals totaling $27.5 billion in value as of September 30, 2021.
Amid this frenzy, record sums are flowing back into some investors' hands as funds grow larger and exits such as IPOs — where investors can turn their startup shares into cash — reach new heights. Pitchbook tracked $582.5 billion in exit value so far this year, more than double last year's record.
"This rising tide also appears to be lifting boats for female founders, who have realized $57.7 billion in exit value [in the year to date], nearly double the previous annual high of $24.1 billion in 2020," the report said.
Startups founded by women have raised $39.4 billion so far in 2021, up about 69% from 2020. But the VC industry remains a boys' club, and Pitchbook's report reflects the impact it has on female founders.
Companies founded exclusively by women are chronically deemed less valuable by VCs, and those startups also don't appear to be reaping the benefits of valuation growth that exclusively male-founded startups have seen so far this year, per the report.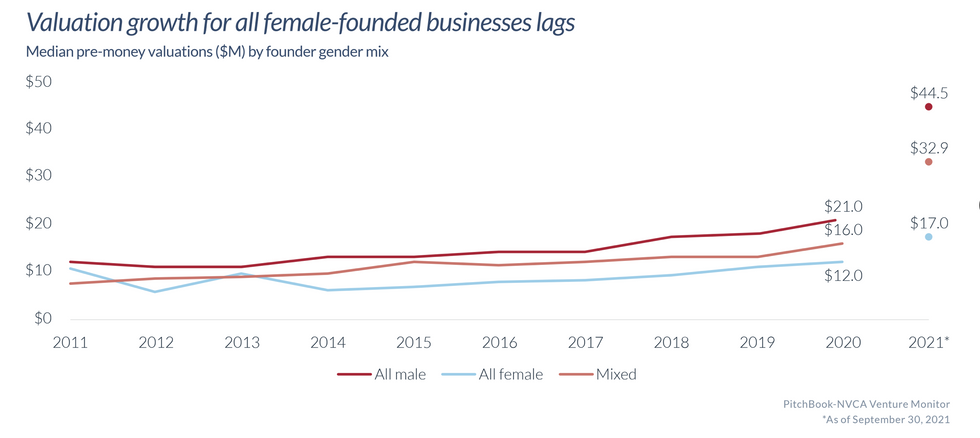 This pattern starts with smaller funding rounds for female-led firms, according to Maya Ackerman, assistant professor of computer science and engineering at Santa Clara University and co-founder of music startup WaveAI.

"My research shows that investors don't like to invest in female-led companies (almost certainly due to implicit bias). This bias is most clearly seen in the amount of funding given to male-led versus female-led firms," Ackerman said in an email to dot.LA. This chart lays out the gulf in deal size by gender.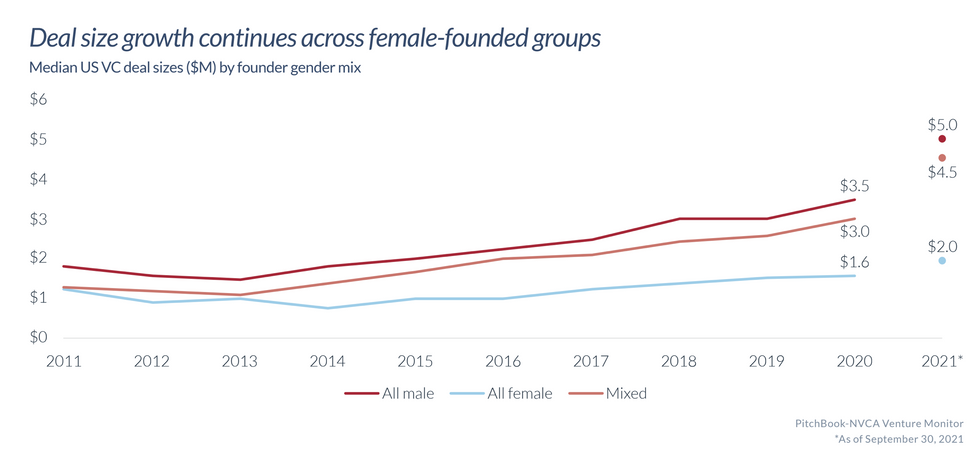 "Since investors are biased against women, women can't raise as much money, and the resulting valuations (on average) will be lower than those of companies led by men, in which investors are more comfortable investing," said Ackerman.

"It's important to stress that everyone loses as a result of this bias: Investors lose out on investing in great companies, consumers miss out on great products, and, of course, highly qualified businesswomen are held back," she said.
Startup valuations are up just about everywhere, but no major city in the U.S has seen the estimated value of early-stage startups spike this year quite like they have in Los Angeles, where competition for deals is reaching a fever pitch.
For budding L.A. startups, pre-money valuations have been eye-popping in the first half of 2021, rising 116% from last year to a median of $65 million, according to a recent Pitchbook report. Nearly every startup hub in the U.S. saw increases in the same period, but the jump was most pronounced in L.A.
In the San Francisco Bay Area, for example, the median rose nearly 43% over the same period to $50 million.
"Especially within hubs, such as L.A., competition for deals has grown considerably in recent years, with the flood of new investors and more capital looking to invest in startups," said Pitchbook Senior VC Analyst Kyle Stanford, who authored the report. "Los Angeles has, on its own, seen strong fundraising numbers, bringing more local capital to the ecosystem, expanding opportunities for the area's companies."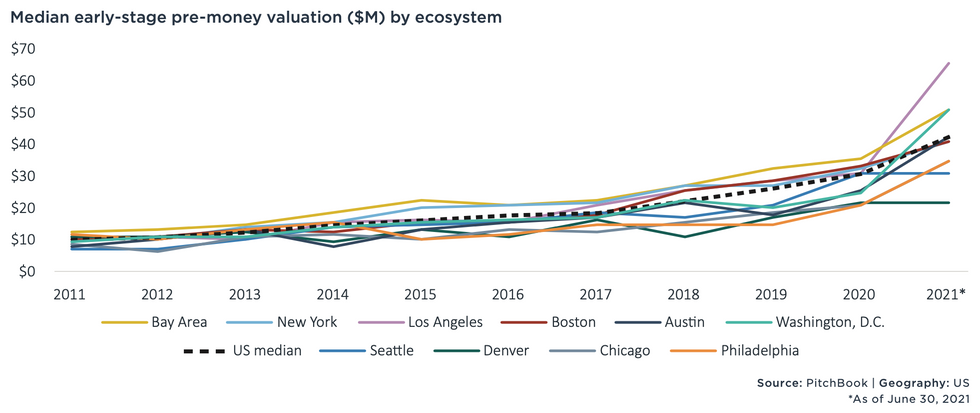 Median early-stage pre-money valuation ($M) by ecosystemPitchbook
Calculating valuations is more of an art than a science, since young companies aren't likely to have noteworthy revenues or profits. Instead, venture firms make funding deals based on an agreed valuation often determined by the credentials of a founding team, early progress (a.k.a. traction) and larger trends in the industry, including how much competition there is among investors to snap up shares. The approach has led to frequent criticism that venture dollars tend to be directed mostly to a small circle of individuals who have access to firms.
For entrepreneurs who are able to secure funds, a hot market can send deal sizes soaring.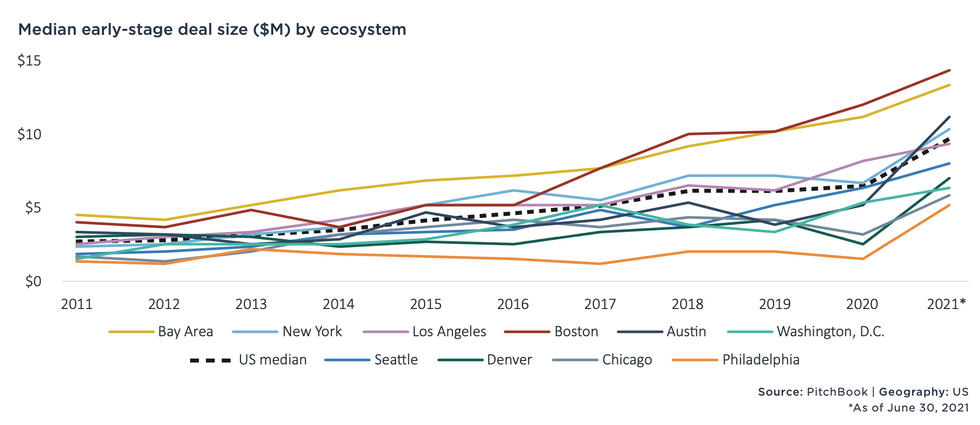 Median early-stage deal size ($M) by ecosystemPitchbook
Over the summer, booming competition translated to fatter rounds for startups operating in L.A. Tango, a workforce training startup, raised a $5.7 million seed round in August. A month earlier, employee benefits company JOON announced a $2.3 million seed. While Tango raised more than twice as much as JOON, both deals reflect how early-stage fundraises have swelled in the past decade. In 2010, the median seed deal in the U.S. clocked in at $500,000, according to Pitchbook. By the second quarter of 2021, the median reached $2.6 million.
Valuations are rising across the board as VCs and hedge funds compete for the hottest deals amid access to cheap cash. But such founder-friendly market conditions — which are observable in L.A. and other startup hubs — come with potential drawbacks for executives and employees alike, should a correction deflate lofty startup valuations before they're able to cash in their shares.
'Excesses' in the Market Today
The phenomenon described by Stanford is not limited to emerging businesses: Late-stage startup valuations rocketed in the first half of 2021, too. In L.A., the median pre-money valuation for these companies increased 138% to $175 million, according to the report. Pitchbook recorded the highest median late-stage valuation in the Bay Area at $275 million.
"Combined with its relative proximity to the Bay Area and its huge amount of venture capital, Los Angeles startups have capitalized on the excesses being seen within the market today," Stanford said. That trend is likely to continue, at least in the short term, the author of the Pitchbook report added. "Every indication is that valuations will remain high for the second half of this year and likely into or through 2022."
While now is a good time to raise funds, that could change. The "global startup funding frenzy" has spurred some fears of another tech bubble. "This feels a lot like 1999 to me," London-based Hoxton Ventures partner Hussein Kanji told CNBC earlier this year.
Generally, startups "should be aware that any correction may lead to down rounds in the future, and down rounds are very painful especially for common shareholders (founders, employees)," Stanford finance professor Ilya Strebulaev told dot.LA in an email. "For employees, an important question is the fair value of their stock options, which is not always easy to determine."
It is a great time to be a startup founder, with soaring valuations and investors tripping over themselves to get a piece of startups. As hot as the startup scene was last year, it has gotten even hotter this year, with a slew of megadeals pumping even more money into the biggest startups as they prepare to go public in the frenetic IPO market.
Overall, investors poured $69 billion into tech companies last quarter, a staggering 92.6% increase over the same quarter last year, according to data released Wednesday by PitchBook and the National Venture Capital Association.
Three-quarters of all investment flowed to late stage rounds, the highest percentage since 2010. There were 167 megadeals of $100 million or more, for a total of $41.7 billion raised in the first quarter. By comparison, megadeals accounted for $76.6 billion raised during all of last year.
In the Los Angeles area, SpaceX hauled in another $850 million in February. There was also ServiceTitan's $500 million financing last month, which makes the Glendale company that makes software for plumbers and carpenters worth $8.3 billion.
Culver City-based Sweetgreen raised $156 million in February, though the healthy fast casual chain was reportedly forced to do a flat round after the pandemic year that saw its revenues plummet.
At the other end of the startup life cycle, investors nationally focused on quality over quantity. There were only 722 first financings reported, which is a historically low number, but those deals averaged $4.7 million a piece, which was a new record high.
That benefited companies like Artie, a video game platform developer that pulled in $10 million in a seed round this February.
In total, 315 Los Angeles startups raised a total of $6.7 billion in the first quarter, a slight decrease in the number of venture investments but a 75% increase in deal value over the same quarter last year.
As has historically been the case, Los Angeles trailed not only the Bay Area in deal value ($25.5 billion) but also New York ($10.2 billion) and Boston ($7.9 billion).
The dot.LA VC Sentiment Survey also found higher valuations. Seventy-seven percent of respondents said they saw higher valuations last quarter, but that did not stop them from closing deals.
The billion dollar question is whether, with so much money sloshing around, we are in a bubble that is going to burst. That is hard to judge now; it takes years to know if startups will succeed – whether they will be the next Airbnb or the next Quibi.
But by at least one metric there are fewer quality startups to go around. Dropbox, the secure document sharing platform that many startups use to share pitch decks, said this month the demand for decks continues to outpace the number of investment opportunities that are available. Founders are also shopping their decks around more, which is an indication they have more options of where to get capital and can be choosy.
In other words, it is very much a founder's market.
"We knew the first quarter would represent the beginning of a rebound, but I don't think anyone expected VC and startup activity to be this high; investor confidence is booming and beginning to outpace the supply of startups seeking fundraising," Russ Heddleston, DocSend co-founder and CEO, said in a post sharing the data.
However, investors contend that the market frenzy is not just driven by a flood of capital but also dramatic shifts in consumer behavior over the past year.
"In 2020, consumers spent over $860 billion online with U.S. merchants, an astonishing 44% year-over-year increase," said Deborah Benton, founder and managing partner of Willow Growth Partners, an early-stage VC firm that invests primarily in digital first brands that are benefiting from an accelerated shift to online shopping.
From Your Site Articles
Related Articles Around the Web