machine learning
Venture capitalists last month sunk nearly half a billion dollars into a Southern California defense technology startup whose surveillance towers track migrants along the U.S.-Mexico border.
Anduril Industries, the Irvine-based maker of autonomous drones, towers and small ground sensors, will use the $450 million for acquisitions and build out its AI-powered tech designed for military and border enforcement agencies.
But activists and experts are raising flags about the technology, pointing to privacy violations and civil liberties infringements.
They also question the government's steep investment in the private defense contractors behind it.
"The fact that we're spending money on the border wall also means that we're not investing in the things we all actually need here in the valley," said Norma Herrera, an organizer with the Rio Grande Valley Equal Voice Network.
She pushes back against what President Biden called an "effective and modern border security" system—a bureaucratic apparatus that allocates $1.2 billion for border infrastructure next year (still a drop in the bucket, given the Department of Homeland Security's $52 billion 2022 budget).
Before the pandemic, Herrera knocked on doors in Texas' Starr County to tell residents about the amount of money elected officials were pouring into Trump's border wall. Now, she's learning how to explain the virtual wall, one that's often harder to notice.
Anduril declined to make executives at the company available for interviews.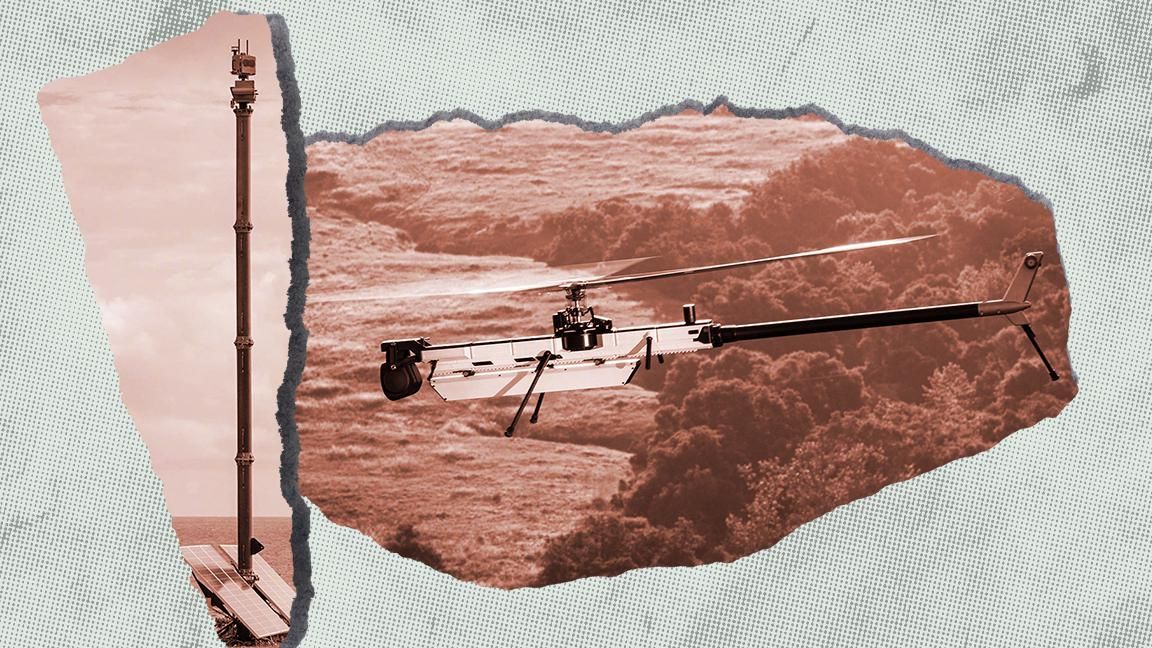 Surveillance on the Border
Over the last decade, the border security and immigration detention industry has ballooned as Democrats and Republicans both funnel more government money into private companies. Between the fiscal years 2017 and 2020, Customs and Border Protection received about $743 million from Congress for tech and surveillance, according to the legal organization Just Futures Law. And in the 2021 fiscal year alone, the Department of Homeland Security received over $780 million for the same purpose.
Anduril's recent project with CBP revolves around a $250 million contract signed under the Trump administration in July of 2020 to set up 200 solar-powered watch towers along the southern border. Of the towers, 60 are up and running as of July 2.
Under Biden's leadership, funding for border technology has become an even bigger priority, said Dinesh McCoy, a legal fellow at Just Futures Law.
"It's in large part a response to coinciding pressures of distinguishing themselves from the Trump years," he said.
Many Democrats back Biden's vision, considering a virtual barrier a far better alternative to the physical border wall Republicans prefer.
"When it comes to proposals for a virtual wall, we're talking about heavy, heavy investments," said Saira Hussain, an attorney at the Electronic Frontier Foundation who specializes in racial and immigrant justice, surveillance and technology.
Government agencies are tapping a number of private companies to install the technology. In 2019, CBP awarded the Israeli defense contractor Elbit Systems $26 million to install surveillance towers along the border.
Then came the administration's 2020 deal with Anduril. Its AI-powered operating system, called Lattice, is designed to distinguish humans from animals along the border and send information to an agent's cell phone. The company has to date received $691 million in venture capital, including $450 million that had backers including Andreessen Horowitz last month. Anduril is now valued at $4.6 billion.
"As with all of our investments, this is a bet not just on the technology (breathtaking) and the market (enormous) but also the people (outstanding)," Andreessen Horowitz co-founder and general partner Marc Andreessen said in a prepared statement.
Marc Andreessen is a longtime investor in Palmer Luckey, Anduril's 28-year-old founder. He backed Luckey's first company — virtual reality startup Oculus — before Facebook bought it for $2 billion in 2014. A few years later, Luckey left following reports that he was funding a far-right political group.
In 2017, Luckey opened Anduril with a band of former employees from Oculus VR and Palantir, the software giant with major contracts with several government agencies.
Eyes Everywhere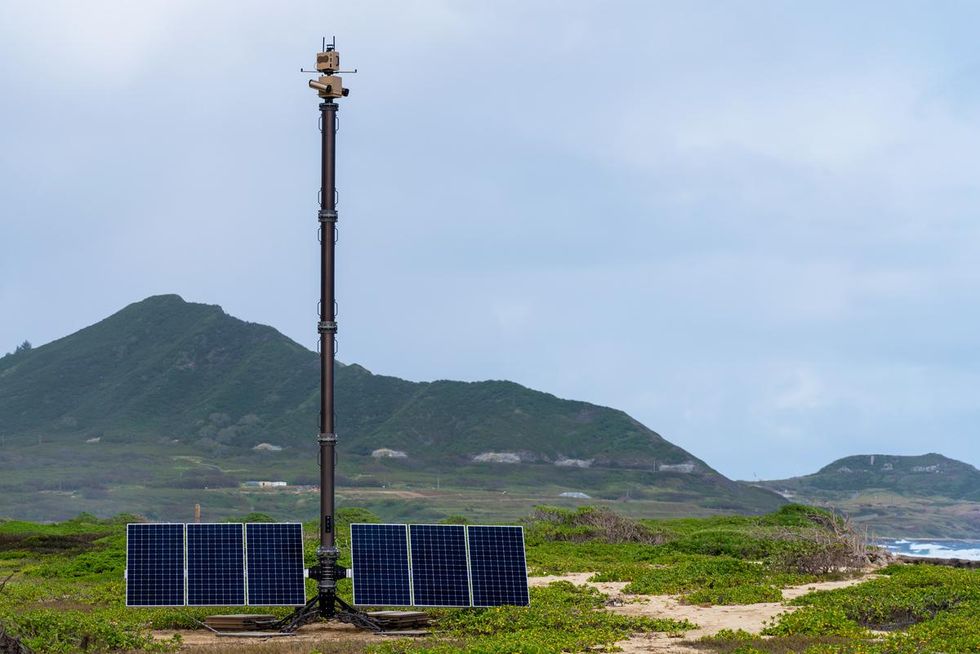 Anduril Border Tower
Along the border, Anduril's 33-foot towers are continuously scanning plots of land about three miles in diameter. They're built to ignore animals — what CBP calls a "false positive" — and light up after detecting movement from people or cars.

The towers are watching "illegal border crossings, human trafficking and drug smuggling," a spokesperson for Anduril said by email.
If a person or group falls out of the camera's vision, AI tells the next tower to pick it back up. Border patrol agents then receive an alert to their cell phones or computers.
The goal is to mimic an agent's pair of eyes, especially in remote and rural spots. As one agent put it, "they see what we can't see on the ground."
They also run on solar power, a feature CBP said avoids the need for new infrastructure that can "complicate the Border Patrol's agreements with many of the private ranchland owners, national parks, and Native Americans' tribal lands where the Border Patrol must work."
Video surveillance drones and towers are puncturing nearly every industry, from homeland security to fast food delivery to monitoring traffic and parking violations along busy streets.
The tech is also raising a flood of questions from academics and legal groups like the Electronic Frontier Foundation and Just Futures Law, all of them worried about the implications of surveillance not only for migrants, but for U.S. residents. In May of 2020, for example, agencies CBP flew a drone over Minneapolis to record protestors following the police murder of George Floyd.
"We know that what's often deployed at the border and what's normalized at the border in terms of surveillance eventually makes its way into the interior of the United States," said Hussain, the attorney from EFF.
The company says it does not use facial recognition or collect identifiable information.
But critics like the ACLU of Texas and other civil liberties groups said it's unclear what data is being collected by private defense contracts like Anduril and how it could be used and shared.
"The border is a testing ground for surveillance elsewhere," said McCoy, the legal fellow at Just Futures Law. "Unfortunately, it's been primarily used to surveill Black and brown folks in the U.S. and abroad."
As the U.S. begins reducing its military footprint in the Middle East, McCoy suspects other military contractors will turn to border surveillance as a new form of profit.
"These tools that were once confined to military contexts have found themselves more and more in local communities," he said.
Anduril, for its part, insists it is providing the government with a crucial security mechanism. "Anduril identifies a security problem," reads a prepared statement forwarded to dot.LA by a company spokesperson, "builds a potential solution, then takes it to the government for potential consideration."
Lead art by Ian Hurley
Editor's note: This article has been updated to clarify that Andreessen Horowitz was involved in Anduril 's$450 million raise round, but was not the sole funder. Additionally, mentions of Anduril's $250 million contract with CBP have been updated to clarify that they were not negotiated with President Trump himself, but rather with members of his administration.
In this targeted and educational SoC Conference, we address innovative IC- and IP-related solutions and technologies for emerging applications in AI, Machine Learning, Deep Learning, Storage/Data Centers, Autonomous Vehicles, Neuromorphic Computing, Robotics, Blockchain, Smart Home, Security, Aerospace Electrification, 5G Communications, IoT & IIoT, Edge Computing, Wearable, Medical & Fitness, H2M, and Industry 4.0.

Before COVID, just 35 of the approximately 50,000 employees at the city of Los Angeles worked remotely.
When the pandemic hit last March, it fell to Ted Ross, the city's chief information officer, to get 18,173 workers to go remote in the span of ten days.
Now, as some of L.A.'s massive workforce prepares to return to their downtown offices as they await guidance from the L.A. County Department of Public Health, Ross thinks the success of the last year has proven remote work should be here to stay. But not everyone in city government agrees with him.
In a conversation with dot.LA, Ross, who has worked for the city since 2004 and was appointed to CIO by Mayor Eric Garcetti in 2015, spoke about the challenges of getting city bureaucrats to embrace remote work. He found it is much more cultural than technological.
We also discussed L.A.'s collaboration with USC's Viterbi School of Engineering that uses machine learning to spot and clean up graffiti, a program that will be expanded as the city rolls out next generation 5G technology.
Here's our conversation, edited for length and clarity.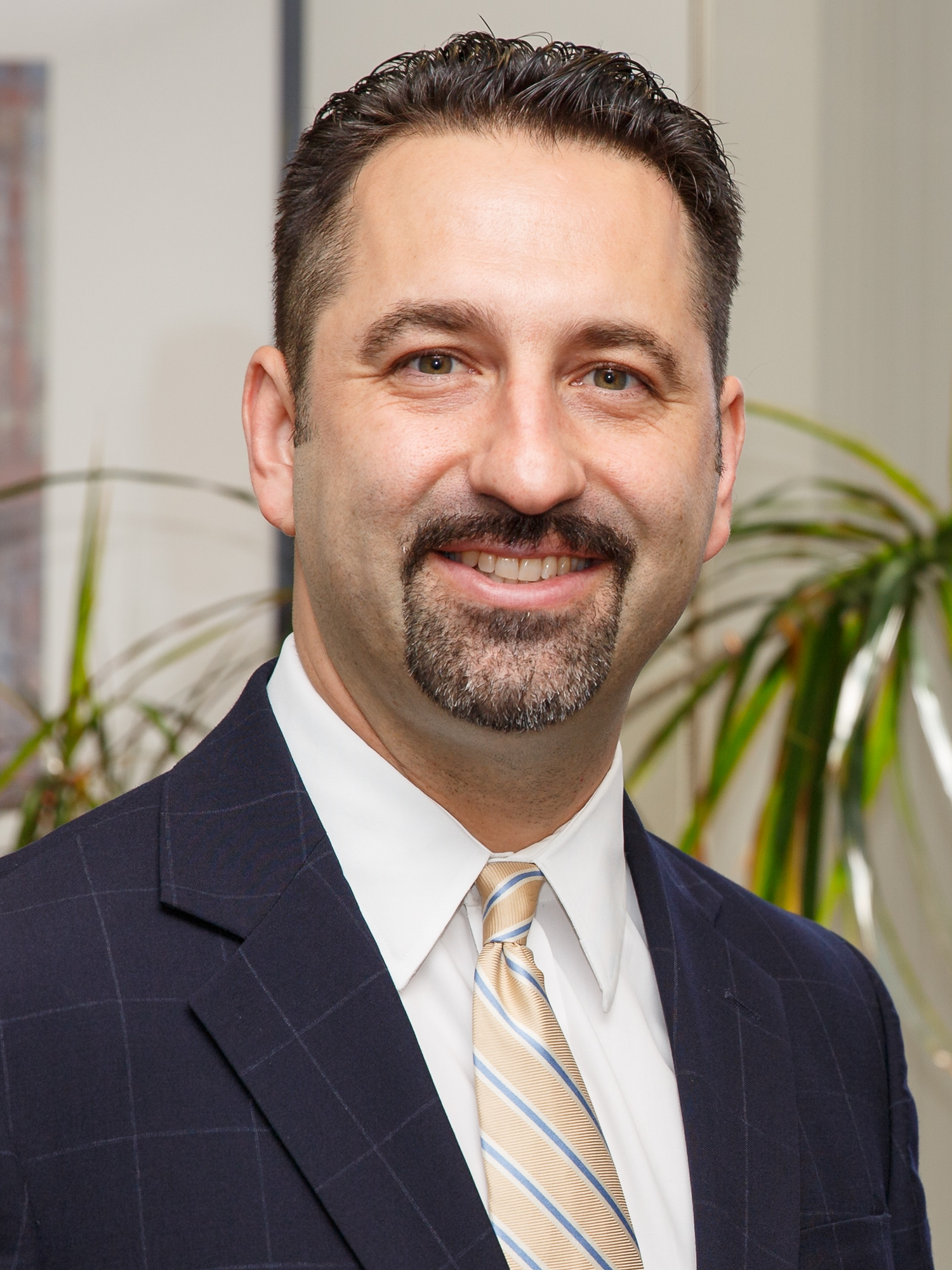 Los Angeles Chief Information Officer Ted Ross
How much of the workforce do you think will stay remote?
Right now the city of Los Angeles is examining its teleworking policies. It's not a technology issue. We've been doing it for the last year. So it becomes more of a policy issue. Looking at my department, I expect that 60 to 70% of my workforce can be a hybrid workforce, which means we expect them to come into the office a day or maybe two days a week. And you can say part of it is quality of life, but there's a lot of other aspects that are just good business. So, for example, we want to be a resilient government, which means if there's a flood or if there's a fire or if there's an earthquake, we're able to restore government services as quickly as possible. Teleworking is a big component of that. If there's an issue that affects the civic center we've got to be able to still run government operations from people's homes or alternate locations.
Do we have floods in Los Angeles?

Well we have mudslides. But when I say flood, I mean something more localized, like a pipe burst in a data center.
Before the pandemic did city employees have to be at their desks 40 hours a week?

Before the pandemic, we had 35 teleworkers at the city of Los Angeles and they were all at the 311 call center. I had to spend two years negotiating policies and terms and working with unions and city management to bring that about. So you can imagine going from 35 teleworkers to 18,173. But it really wasn't about the technology as much as about understanding the culture. Some of the questions that I received are insightful. I remember a senior manager at another city department saying, "If they don't have a desk phone that I can call, how will I know that they're there?" I remember being in debates with a high-level person in an elected office where that person said it's always better to run into people in the hallway and have hallway conversations to get work done. And I looked at him and I said I don't agree. I said a hallway conversation informed you and me. But what about those six other members of the team who weren't in the hallway? One could argue that telework actually allows better coordination among team members because the communications are digital, they're easy to share and people can step in and step out depending on the nature of the conversation. But it's different for people who are used to getting work done in a hallway conversation.
It was your job to digitize City Council meetings. What was it like doing that?
There's a very elaborate network of physical interactions that used to make up a City Council meeting. And so what we had to do is quickly come up with a digital version of that and also to make it secure. If you remember early on in COVID, everyone was talking about Zoom bombing and we couldn't allow somebody to jump on and take over a City Council meeting. I think honestly the toughest was the council members themselves who are conducting city business from their own homes. Some are super sophisticated, some it's a bit of a learning curve.
I'm also interested in this other thing you've been working on – which is using machine learning on street cleaning trucks to catch graffiti and other things. Can you talk about that?
City services are an extremely important part of what a city does and traditionally the method of receiving services requires a citizen to notify the city of something. But there's some challenges with that. What if in some communities they just tend to not notify? And what if in some other communities they notify a lot? We don't want to provide city services inequitably simply because some people are better at notifying us. So we're looking at proactive ways without having to hire hundreds of people to drive the streets every day.
The idea came to us that a sanitation truck drives the street every week once a week. And if we can put a camera on that truck that is able to use machine learning we can identify an abandoned couch on a curb or graffiti on a wall and automatically create a service request. Now, I must mention, privacy is an extremely important aspect to us. So what we do is we do not track and record and do facial recognition or any other kinds of things. The purpose is simple. We want to identify graffiti, geolocate it and be able to assign a crew to get rid of the graffiti. We already have a couple dozen sanitation trucks that have these cameras and we've been working on refining the algorithm and the software to be able to make this work. We're also excited that this is really even just an initial conversation that we can iterate on as we start to deploy 5G connectivity across the city. We'll get better at geolocation and we can leverage ultra high speed wireless networks to feed this data to a cloud hosted virtual machine that can then run its algorithm near real time.