entertainment tech
Famous Birthdays has been cataloguing and ranking internet personalities for nine years and boasts tens of millions of monthly users.
Primarily financed by ads on its site, the 40-person company (including freelancers) is now turning its data into dollars by opening its beta subscription service for a wider launch this week. For an undisclosed fee, users can pay to see an online entertainer's historical rank data on Famous Birthdays as well as lists of whose interest on the site is accelerating.
CEO and founder Evan Britton wouldn't share specifics about the current clients of Famous Birthdays Pro, but said they include three major social platforms, two talent agencies, and two venture-backed companies offering services to creators. He is also targeting brands who work with influencers and music labels on the hunt for the next rising star.
Britton said he has seen value in his data since he witnessed several hundred screaming teens surrounding Ricky Dillon at the 2014 VidCon conference, and then found that the 22-year-old Vine star did not have a Wikipedia or IMDb page. Two years prior, Britton had started Famous Birthdays and he'd seen data from his site suggesting Dillon had an engaged following.
"To see it in the real world was validating," Britton said. "I couldn't wait to get back to work the next day."
Famous Birthdays' search engine now gets as many as a million inquiries per day. It uses that data to decide who should be catalogued on the site and to build weekly rankings of the top 250,000 profiles based on user activity and engagement.
One on-the-rise influencer it identified early was Charli D'Amelio. She conducted her first interview ever at the Famous Birthdays Santa Monica office in 2019. Britton had invited her around the time her ranking on his site had climbed to 20,000. A week prior, Britton said, she'd been ranked around 50,000, and her fast ascent hinted at her rising popularity. The next week, she was ranked 5,000. Today D'Amelio is a veritable queen of the creator economy, whose accolades include her own personally branded drink at Dunkin' Donuts.
Famous Birthdays' data is platform-agnostic, so it tracks user sentiment irrespective of where they come across creators.
"Our platform doesn't care if someone's rising on Netflix, Spotify, TikTok or Pinterest; we're the IMDb that connects it all," Britton said. "When a user leaves TikTok or YouTube or Instagram and comes on Famous Birthdays [to search for an influencer], it's a real sign of intent. Because it's not just that they saw a viral video of someone; they came to us [to find out more]."
In a creator economy centered around platforms that are incentivized to promote their own accolades and keep their data locked up, Famous Birthdays can provide useful information.
"There's something really interesting around who's getting a lot of hype," said Phil Ranta, a creator economy veteran who's managed influencer groups at Facebook, Mobcrush and Studio71. "Because [on specific platforms], it's hard to tell what views are translating into true fandom or what subscriber's a subscriber that's going to stick."
The new product comes as hunger for creators is growing. Social media platforms are throwing around billions of dollars to lure them in. And investors have sunk billions into platforms like Willa and PearPop to amplify the creator economy.
Famous Birthdays has also been expanding geographically. Britton anticipates his new Pro product will be popular for the international versions of his site, including Spanish, Portuguese and the recently launched Japanese and French. Each version has its own segmented data.
"This is a global phenomenon," Britton said.
From Your Site Articles
Related Articles Around the Web
Normally, pre-IPO investments are reserved for wealthy angel and institutional investors who stand to cash out once a company goes public.

But Todd Goldberg and Darren Marble, the team behind the forthcoming Shark Tank-like series "Going Public," have a plan to level the playing field.
Just as Robinhood increased retail investors' access to Wall Street, Marble and Goldberg are calling Going Public the "Robinhood for angel investing."
The series will give viewers the chance to invest in one of five startups it follows as the founders strive toward a potential IPO on the NASDAQ stock exchange.
Goldberg and Marble are the co-CEOs of Crush Capital, the Beverly Hills-based investment company behind the show that's set to stream this fall on Entrepreneur.com.
Their pitch to investors is that Crush democratizes access to IPOs. Investors seem to be buying it: Crush Capital has raised $2.75 million in its second round of funding, led by AYA Capital Holdings with participation from Zilliqa Capital. The latest raise brings its total to $6 million.
"One thing that tied the folks who decided to invest, whether in the seed round or in this round, was that they got it right away," Goldberg said.
Among the five startups to appear on the show will be music streaming company Trebel, which Marble said has four million monthly unique users and a valuation of $150 million; Proven Skincare, which uses AI to create personalized skin care blends and which Goldberg said is on track to make up to $40 million in revenue this year and NexGenT, an edtech company formed by Air Force veterans who formerly taught teenagers how to build network infrastructure in the middle of war zones, and which Goldberg said earned $17 million in revenue last year.
More participants will be announced in the coming weeks. All will have valuations between $100 million and $500 million and be authorized by the SEC to receive funding from non-accredited investors in accordance with crowdfunding legislation passed in 2015 known as Regulation A.
"Whereas American Idol pioneered text-to-vote, we're pioneering click-to-invest for a series that allows viewers to follow founders on their capital-raising journey and invest into their deals or IPOs while they watch," Marble said.
Viewers will be able to buy equity via Crush Capital's investment platform and will be charged a $15 transaction fee, Marble said.
That's a departure from the no-fee services that have become standard among retail-investment platforms like Robinhood. But Goldberg sees the fees as an opportunity to further differentiate "Going Public" from what he considers a shady business practices.
"If you're not paying for the product, you are the product," he said, referring to the selling of user data that numerous no-fee brokerages practice. "We think the small transaction fee is worth paying to know that you are not the product."
Correction: An earlier version of this story said users of the Going Public investment platform could purchase stock warrants for competing companies. Users can only purchase stock shares in those companies. It also incorrectly stated Trebel's valuation.
Former professional soccer player Eddie Lewis started TOCA Football to help teams improve their game with training, but has big plans to remake the company into a sports entertainment force.
This summer, TOCA Football will open a soccer-themed entertainment and dining venue in London meant to mimic how Top Golf gamified golf for a broad audience. The sprawling 30,000-square-foot location will offer cocktails alongside soccer-inspired immersive games, where groups can ward off zombies that appear on a 20-foot projector by kicking balls.
The move pushes the Costa Mesa training company that already has 14 indoor soccer training centers hosting youth and adult leagues deeper into the entertainment space.
"We think of ourselves as sports-slash-entertainment," said TOCA CEO Yoshi Maruyama, a former executive at DreamWorks, where he headed their global location-based entertainment efforts.
The company announced a $40 million Series E raise on Tuesday that will help fuel those ambitions. The raise brings its total funding over $105 million. The funding round was led by returning investors WestRiver Group, RNS TOCA Partners LLC and D2 Futbol Investors, and a set of new investors that includes Jared Smith, the co-founder of Qualtrics.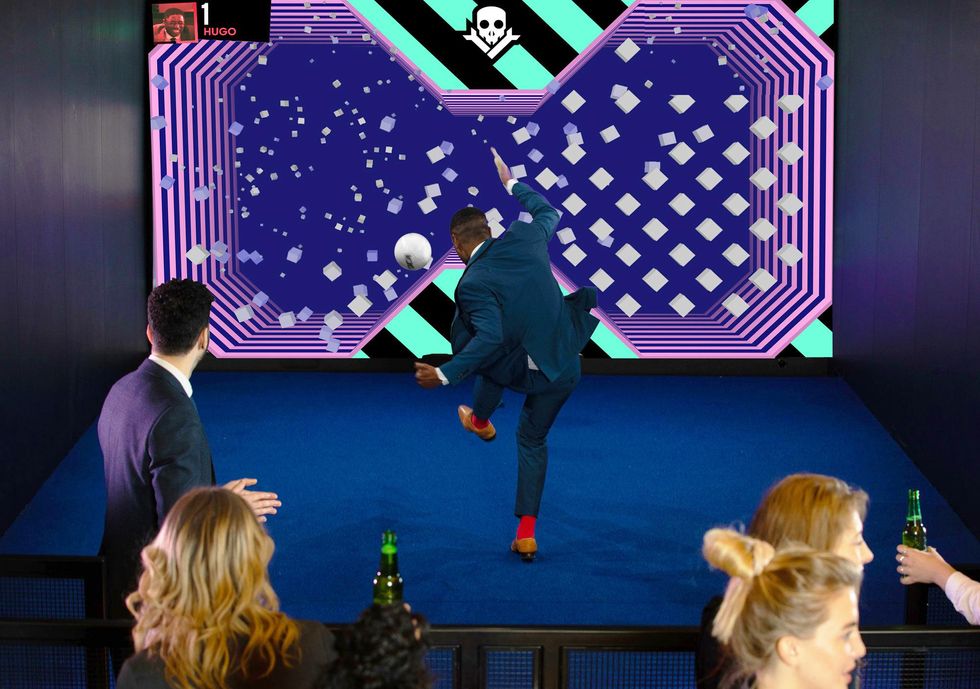 Courtesy TOCA Football
Maruyama said the company is planning to double their footprint over the next year and eventually erect 300 training locations in North America and over 100 so-called "TOCA Social" locations like the one set to open in London around the globe. The co-chairman of TOCA is the Top Golf executive chairman Erik Anderson.

"We intend to be ubiquitous, we intend to be omnipresent in virtually every market throughout North America," he said. "We will be known as the de facto training center for soccer in North America."
Founded in 2014, TOCA offers soccer players at all levels training that uses technology, including tools that measure the speed and velocity of their kicks and machines that replicate in-game conditions.
The technology is based on techniques Lewis came up with in college, which he credits with helping him succeed over his 14-year professional career.
The U.S. Women's National Team trains with TOCA technology and two-time Olympic gold medalist Abby Wambach joined TOCA's board of directors in 2020, Lewis added.
"What we've done is really sort of distilled down all of the most important technical elements of the game, and recreated an environment that allows you to train all of those different elements," he said.