Sam Blake
Sam primarily covers entertainment and media for dot.LA. Previously he was Marjorie Deane Fellow at The Economist, where he wrote for the business and finance sections of the print edition. He has also worked at the XPRIZE Foundation, U.S. Government Accountability Office, KCRW, and MLB Advanced Media (now Disney Streaming Services). He holds an MBA from UCLA Anderson, an MPP from UCLA Luskin and a BA in History from University of Michigan. Email him at samblake@dot.LA and find him on Twitter @hisamblake
"Snapchat has given drug dealers an organic ecommerce platform," Amy Neville shouted into her megaphone.

Neville is one of dozens of parents who marched Friday to Snap's headquarters to protest the role they feel Snapchat played in the deaths of their children.
The protest was organized by a coalition of grassroots advocacy groups and parents who share a similar, sad story: Their kids had used social media apps including Snapchat and TikTok to connect with drug dealers, from whom they sought to purchase prescription pills like Oxycontin and Percocet. Instead, they unknowingly received fentanyl, a highly potent synthetic opioid that killed them.
---
"Corporate greed and the almighty dollar are more important to Mr. Evan Spiegel than our dead children," shouted Jaime Puerta, who lost his son Daniel to fentanyl poisoning in April 2020 at the age of 16.
Among the marchers and speakers was Dr. Laura Berman, a high-profile therapist who's shared advice on daytime programs including Dr. Oz, and her husband Sam Chapman. Their 16-year-old son Sammy died in February of poisoning from fentanyl that he took after purchasing what he thought was Oxycontin through Snapchat, Chapman said.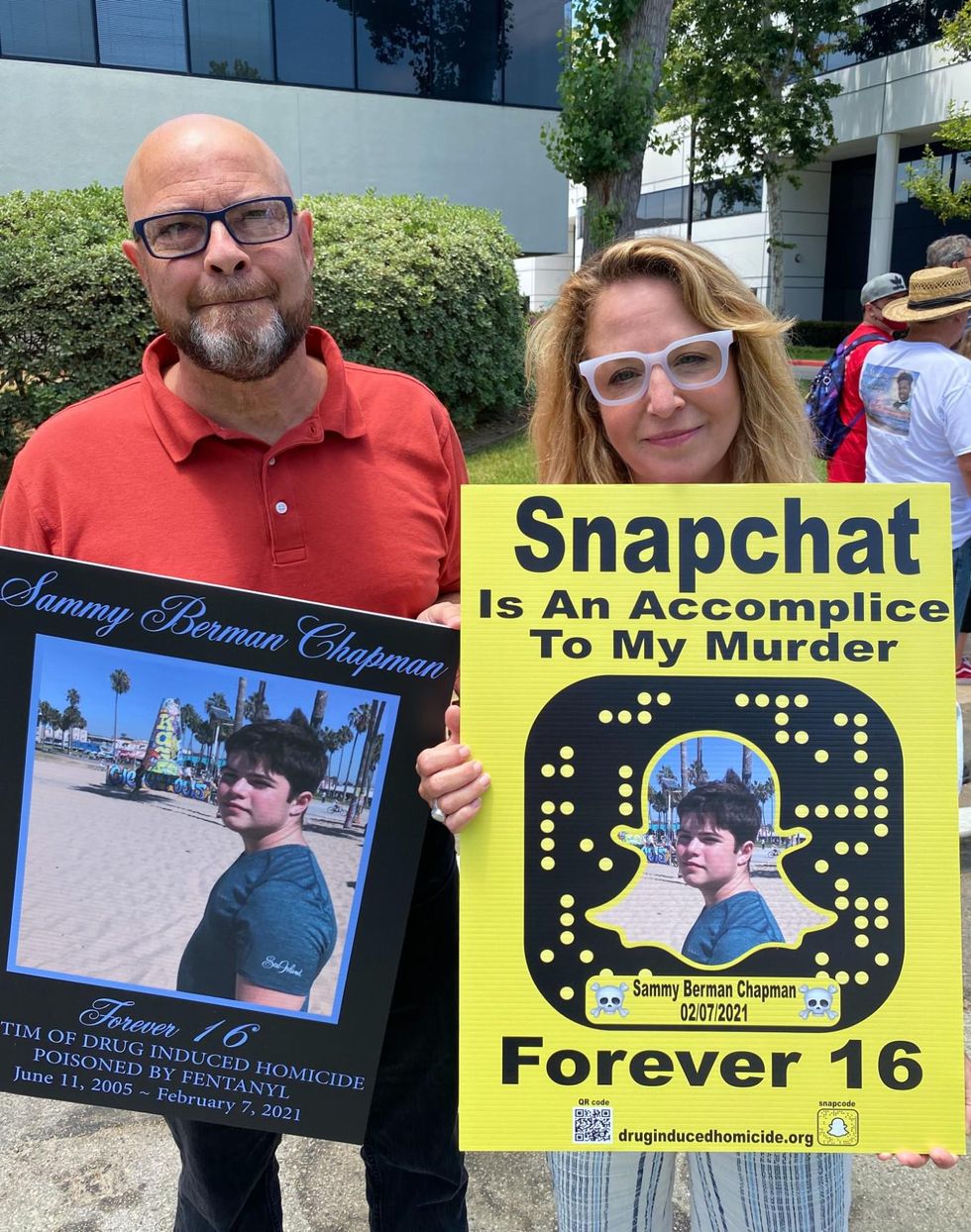 Sam Chapman and his wife, Dr. Laura Berman, lost their son Sammy in February.
Photo by Sam Blake/ dot.LA
The couple spoke with Snap CEO Evan Spiegel and another Snap executive by phone just before the march.
Chapman said the call left him dissatisfied, describing the conversation as "sweet platitudes" and "a basket of excuses."
He and his wife want Snap to allow parents to monitor their children's accounts through third-party software, in particular an app called Bark. According to Chapman, Spiegel said Snap could not do that, and cited issues with user privacy and potential challenges with scalability.
A representative from Snap confirmed the substance of the conversation but said Snap is generally open to working with third party solutions for parental monitoring.
Spiegel also told Chapman and Berman that Snap would look into improving its reporting of statistics on how many subpoenas it receives to help with criminal investigations and how quickly it responds to those subpoenas.

At the protest, Berman briefed the crowd that she had told Spiegel that he has a choice: to be part of a problem or part of a solution.

"We are going to keep fighting you until you let parents protect our children," she shouted.

Many in the crowd carried posters with the faces of their deceased children and siblings, framed by a black and yellow border mimicking Snapchat's interface, with captions calling the app "an accomplice to my murder."
Matt Capelouto lost his daughter Alexandra in December 2019. He told Friday's crowd that Section 230, the federal legislation that shields online publishers from responsibility for the content on their platforms, was passed at a time when the consequences of social media were unknown.
"Now we know what those unintended consequences are: they're right here in all these pictures," he said.
Capelouto also spoke about his disappointment over the defeat in March of Califorinia Senate Bill 350, which would have treated fentanyl dealers like drunk drivers: repeat offenders whose actions result in someone's death can be charged with murder. The bill, known as Alexandra's Law, failed to make it out of the state Senate's Public Safety Committee.
Capelouto's advocacy did, however, catch the attention of Nathan Hochman, who spoke briefly at Friday's protest. The former U.S. assistant attorney general who is running for California attorney general addressed Spiegel directly.
"You should want to be a leader in this. You should tell Mr. Zuckerberg at Facebook: 'this is how we do it'," he said.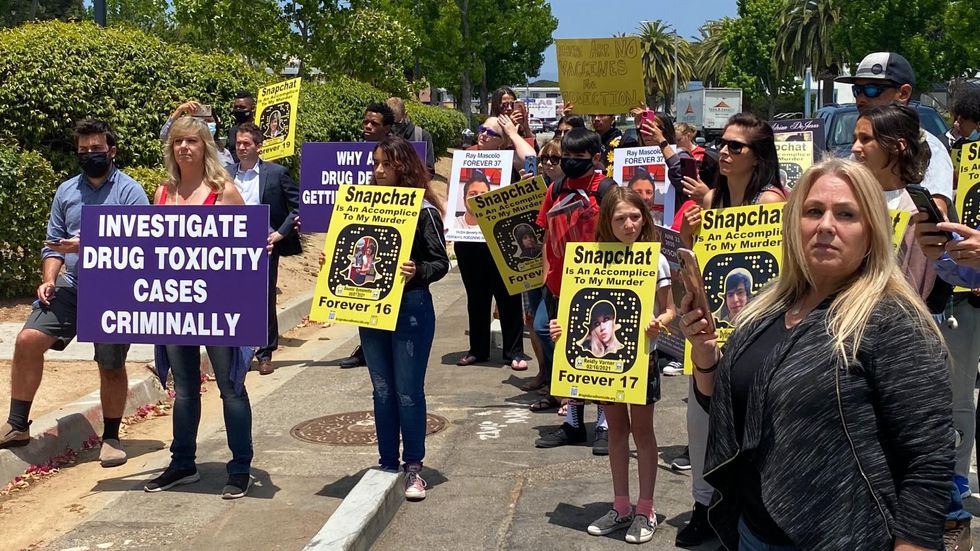 A crowd of protesters gathers outside Snap's Santa Monica headquartersPhoto by Sam Blake/ dot.LA
Friday's rally is the latest step in a growing movement among parents to address what they view as a dangerous and tragic cocktail of an increasing supply of illicit drugs and social media platforms that make it easy for kids to access them. In April, a group of about a dozen aggrieved parents met with three Snap executives over Zoom to discuss the company's efforts to address the problem.

According to Neville, whose son Alexander died of fentanyl poisoning in June 2020, and who was one of the parents at that meeting, the Snap executives discussed plans to create a series of public service announcements among other measures, but most on the call left feeling disappointed.
"That meeting left a really bad taste in our mouth," she said. "They just aren't doing enough, fast enough, and it's not hard-hitting enough."
Bridgette Norring of Hastings, Minnesota, who lost her son Devin to fentanyl poisoning in April 2020, was also on that call.
"If I had my way they'd be shut down until they can create a safe environment for all their consumers," she said.
Snap says 90% of Americans aged 13-24 use its app and expressed condolences to family members who've lost loved ones to drugs sold on its platform.
"At Snap we strictly prohibit drug-related activity on our platform, aggressively enforce against these violations, and support law enforcement in their investigations," the company said in a statement. "We work to be as proactive as possible in detecting, preventing and acting on this type of abuse, and are constantly improving our technology and tools in this area."
For Chapman and others, Snap's comments are cold comfort.
"We wouldn't be standing here if the statement were true," Chapman said.
Snap said it is working to make changes to its technology and to raise awareness about drug dangers on the app. That includes partnering with nonprofits in its "trusted flagger program," working with moderators and adding new machine learning features that can flag and block the changing terms dealers use to sell drugs.
"Given the number of young people using Snapchat every day," the company said in a statement, "we believe that the most impactful way we can provide support and education for young people is in-app" through a program raising awareness on the impact drugs can have on users' mental health.
Marc Berkman, CEO of the West Hills-based nonprofit Organization of Social Media Safety, told protesters that access to dangerous substances like fentanyl is just one of several threats to childrens' safety on social media platformst. He also mentioned human trafficking and cyberbullying. Snap was recently sued for a series of cyberbullying incidents on its platform that allegedly led to a teenager's suicide.
Several protesters said raising awareness is their chief goal, and that they will not stop until something is done.
"Children are dying because of their use of social media," Berkman told Friday's protest crowd, who echoed back their agreement.
Sam Blake
Sam primarily covers entertainment and media for dot.LA. Previously he was Marjorie Deane Fellow at The Economist, where he wrote for the business and finance sections of the print edition. He has also worked at the XPRIZE Foundation, U.S. Government Accountability Office, KCRW, and MLB Advanced Media (now Disney Streaming Services). He holds an MBA from UCLA Anderson, an MPP from UCLA Luskin and a BA in History from University of Michigan. Email him at samblake@dot.LA and find him on Twitter @hisamblake
https://twitter.com/hisamblake
samblake@dot.la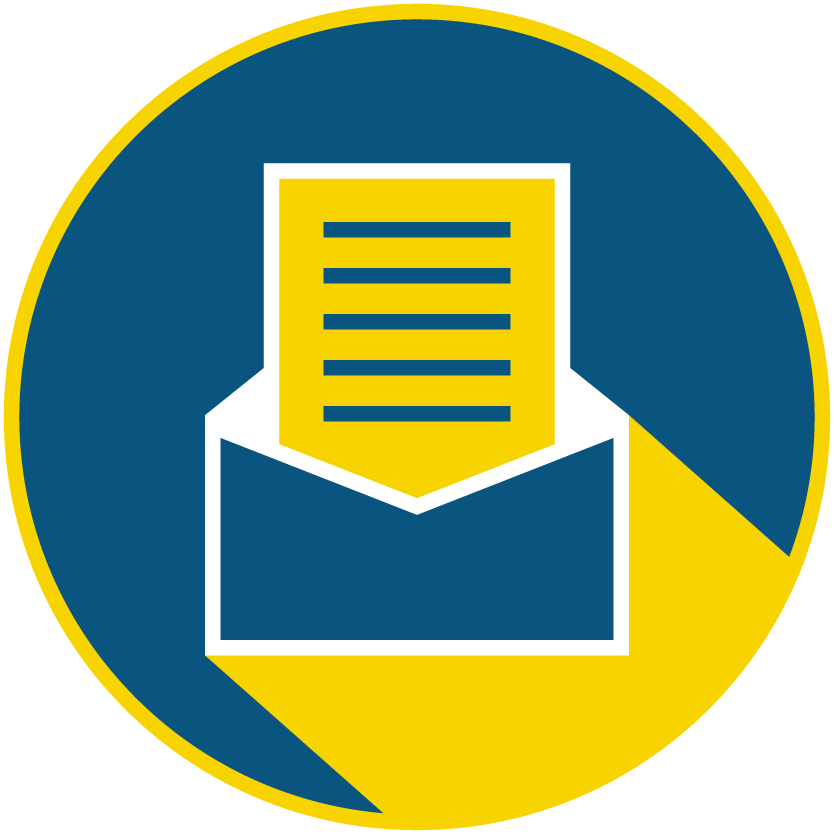 Subscribe to our newsletter to catch every headline.
Luis Gomez
Luis Gomez is dot.LA's Engagement Editor. Prior to joining the dot.LA team, he served as the audience growth consultant for Capital & Main. He has also previously worked as a digital producer for The San Diego Union-Tribune, NPR affiliate KPCC in Los Angeles and Yahoo. Follow him on Twitter at @RunGomez.
Top L.A. venture capitalists are benefitting from a white hot market.
This week, dot.LA published the first of several findings out of its quarterly poll of top Los Angeles venture capitalists. In short, those surveyed remain optimistic about the economic recovery and more than half say their companies saw valuations jump in the second quarter.
Among other findings:
All of the 33 investors who took the survey saw employee headcounts increase at their portfolio companies last quarter
Most VCs surveyed expect more hiring on the horizon
Some (36%) said they're having trouble retaining workers.
Luis Gomez
Luis Gomez is dot.LA's Engagement Editor. Prior to joining the dot.LA team, he served as the audience growth consultant for Capital & Main. He has also previously worked as a digital producer for The San Diego Union-Tribune, NPR affiliate KPCC in Los Angeles and Yahoo. Follow him on Twitter at @RunGomez.
Leigh Giangreco
Leigh Giangreco is a reporter covering culture, politics and news. Her work has appeared in outlets including The Washington Post, Politico and Washington City Paper.
The belief that female players aren't tokens in esports is still a radical one. Just as dominant women's teams in traditional sports like the U.S. women's national soccer team struggle with discrimination, women in esports face online harassment and sexism.
When esports giant Cloud9 launched the first all-women team in October 2020, to compete in Riot Games' "Valorant" tournaments, its members were no strangers to misogyny on the internet.
"It's definitely hard to be on the come up if you're a new player and you're female," said Melanie Capone, one of the women on the team. "There's a lot of harassment and definitely some discrimination either consciously or even unconsciously when it comes to tier two teams on who they should pick up."
Since July of that year, Capone, Annie Roberts, Jasmine Manankil, Alexis Guarrasi and Kat had competed on their own "Valorant" team, "MAJKL," and had just won a $50,000 tournament when several companies approached them to sign. But while some esports organizations offered the female players a paltry $500 a month, Cloud9 stood out with its offerings of coaches, salaries and a manager.
"They made it clear to us that we weren't going to be a token," said Kat, speaking to dot.LA in a Zoom alongside her teammates. "They really wanted us to accomplish what we wanted to accomplish and they were willing to give us the resources."
True to their word, Cloud9 has delivered the resources: coaches, managers and salaries (though the team declined to disclose their compensation). And the women of MAJKL, whose team has since been re-christened Cloud9 White, have held up their end of the deal too. In June, they nearly swept the all-women VCT Game Changers Series 2 tournament.
As the women of Cloud9 White rise up in the ranks, they're pushing back against an environment of toxic masculinity in the gaming world. Male players often level bigoted criticism at female players or argue they're not comfortable playing with a girl, the team told dot.LA. And within the gaming workforce, women have contended with blatant sexual harassment. Last month, the California Department of Fair Employment and Housing sued Activision Blizzard, the maker of "World of Warcraft" and "Diablo," for sexual harassment, low pay and retaliation against their female employees.

The members of Cloud9's all-women esports team, Cloud9 White.
Since Cloud9 White is well-known in the esports world, its team is somewhat shielded from that provocation during their games. Over the last year, they've proven their mettle against all-male teams. Cloud9 White defeated the pro-squad Renegades in January, marking a huge upset and a turning point in the conversation surrounding women in esports. Those surprising victories are the products of daily scrimmages followed by hours of video reviews, Roberts said.

"The pro community in general has a pretty positive perspective on us," Roberts said, adding that criticism more often comes from outside. "It's people who are not connected to us, it's redditors or people on Twitter, people who are really disconnected from the scene."
That collegial behavior toward Cloud9 White's team has changed when its members go on their alternative accounts, Capone added. When that happens, they either report the harassment in the game publisher Riot's DMs or through a report functionality in the game itself.
"Riot has been a really good developer because they're very hands on at tackling this issue, while other developers like Valve notably from CS Go ["Counter-Strike: Global Offensive"] will kind of ignore it and the report functionality to report in these games doesn't work," Capone said. "But with Riot they do seem to cut down and make it a more inclusive space for everyone involved."
The team has seen firsthand how sexism in esports has spawned from the narrative that women can't compete in traditional sports. Kat argues that there are fewer women in the scene not because they don't have the skills but because they aren't given the time to develop them, and are pushed out before they can rise in the ranks. When Guarrasi first started playing Counter Strike, she said there were only a handful of women competing at a high level. If Guarrasi joined a first-person shooter team and they lost, her male teammates would assume it was because they had a woman.
"Teams like us change that narrative and make it: 'maybe we have a better chance because we have a girl on our team or that gender means nothing in this game.'"
Even the presumption that trans women should not be allowed to compete on a women's team has migrated from traditional sports to esports, according to Roberts, who identifies as trans.
"Whenever I'm not performing well, nobody really cares but the second I start performing well is when people start saying it's unfair for me," Roberts said. "The criticism still carries over, I feel like it's going to carry over. No matter what I'm doing it's always going to be controversial."
Though an all-women team is a novel concept, its members are ecstatic that they can freely identify as female gamers. That wasn't the case when its members were in high school and middle school, when they had to hide their secret identity for fear that their classmates might shun them if they found out they loved gaming. When asked about how they got into esports, Capone and her teammates collectively realized it wasn't an open discussion when they were younger.
"When I look back, it was like a secret," Capone said.
In middle school, Manankil's peers had no clue she was playing CS GO for almost 6 hours a day. When Roberts was in high school, she was terrified to tell her girlfriend that she loved gaming and built her own PC. Capone remembered that she kept her gaming a secret after a popular girl at her high school was ridiculed for playing "World of Warcraft."
"I kind of sleep on the fact that it's pretty freeing to actually live our lives like this and embrace this part of ourselves," Capone said. "It's our core identity now, that we are the pioneering team in esports that are pushing the boundaries of what it means to be a girl that plays at a high level. It's very freeing to embrace that part of ourselves because in the past it was kind of suppressed."
Even after chalking up all the wins over the past few months, the team said they're still looking at a long road ahead. Most of Cloud9 White is fresh out of college or high school, but they have their sights set on competing at the highest levels of play.
"I'm in high school going into my senior year," Manankil said. "I'm pretty happy where I'm at right now, I'm sure a lot of things will happen in the future for me."
Leigh Giangreco
Leigh Giangreco is a reporter covering culture, politics and news. Her work has appeared in outlets including The Washington Post, Politico and Washington City Paper.
Keerthi Vedantam
Keerthi Vedantam is a bioscience reporter at dot.LA. She cut her teeth covering everything from cloud computing to 5G in San Francisco and Seattle. Before she covered tech, Keerthi reported on tribal lands and congressional policy in Washington, D.C. Connect with her on Twitter, Clubhouse (@keerthivedantam) or Signal at 408-470-0776.
Entertainment giant Disney and retailer Walmart on Friday became the latest companies to require employees to be vaccinated. They followed Facebook and Google earlier this week.
As concerns that the fast-sweeping delta variant could spread easily, employers, schools and governments are scrambling to implement vaccine mandates and regular testing.
"Vaccines are the best tool we all have to help control this global pandemic and protect our employees," said a statement from Disney.
One of the region's largest employers, Disney stated all U.S. salaried and non-union hourly employees working at their sites must be fully vaccinated. Those who aren't will have 60 days to comply. It is also discussing vaccine mandates with unions representing workers.
The new workplace requirements come as studies emerge that show a growing number of breakthrough delta variant cases among the inoculated.
Earlier this week, Los Angeles Mayor Eric Garcetti announced the city will follow California and New York's requirements that all government employees either get vaccinated or submit to regular testing. The federal government soon followed.
And, while Los Angeles Unified School District (LAUSD) has not mandated vaccinations, the district will be testing employees and students regularly.
The new requirements will mean a massive logistical challenge for these organizations: regular testing of potentially hundreds of thousands of unvaccinated individuals, requiring time, money and infrastructure. It could also force employers to build up a safe and secure database of the vaccinated, a feat that has not been attempted in recent memory. Usually, health records are held by medical institutions and schools.
Experts say that vaccine mandates are likely to be effective in protecting individuals but tricky to carry out.
"If they see their friends and family get vaccinated, then that normalizes it for them," said USC public health expert Rita Burke. "They see their circle is safe, so they might be willing to get the vaccine, too."
The city of Los Angeles has yet to outline how they will determine whether their 50,000 plus employees are vaccinated and who will need testing.
Meanwhile, the Biden administration will ask federal workers to declare their vaccination status, rather than rely on testing or proof of vaccination. California will ask employees for a vaccination card or other digital proof of inoculation.
One problem for employers and governments is verifying records. Employees could easily falsify vaccine information since there's no centralized means of tracking records. The county of Los Angeles and other jurisdictions attempted to make it easier to verify records by contracting with companies such as Healthvana that offer digital verification.
But some have lashed out online following the announcements, criticizing the move as a violation of their privacy. Governors in five states, including Texas and Florida, signed legislation prohibiting vaccine mandates.
The mandates are perfectly legal, according to the Equal Employment Opportunity Commission, which regulates federal workforce discrimination laws. It has stated that employers can require employees who physically go to work to get vaccinated.
From Your Site Articles
Related Articles Around the Web
Keerthi Vedantam
Keerthi Vedantam is a bioscience reporter at dot.LA. She cut her teeth covering everything from cloud computing to 5G in San Francisco and Seattle. Before she covered tech, Keerthi reported on tribal lands and congressional policy in Washington, D.C. Connect with her on Twitter, Clubhouse (@keerthivedantam) or Signal at 408-470-0776.