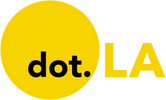 Get in the KNOW
on LA Startups & Tech
X
Sam Blake
Sam primarily covers entertainment and media for dot.LA. Previously he was Marjorie Deane Fellow at The Economist, where he wrote for the business and finance sections of the print edition. He has also worked at the XPRIZE Foundation, U.S. Government Accountability Office, KCRW, and MLB Advanced Media (now Disney Streaming Services). He holds an MBA from UCLA Anderson, an MPP from UCLA Luskin and a BA in History from University of Michigan. Email him at samblake@dot.LA and find him on Twitter @hisamblake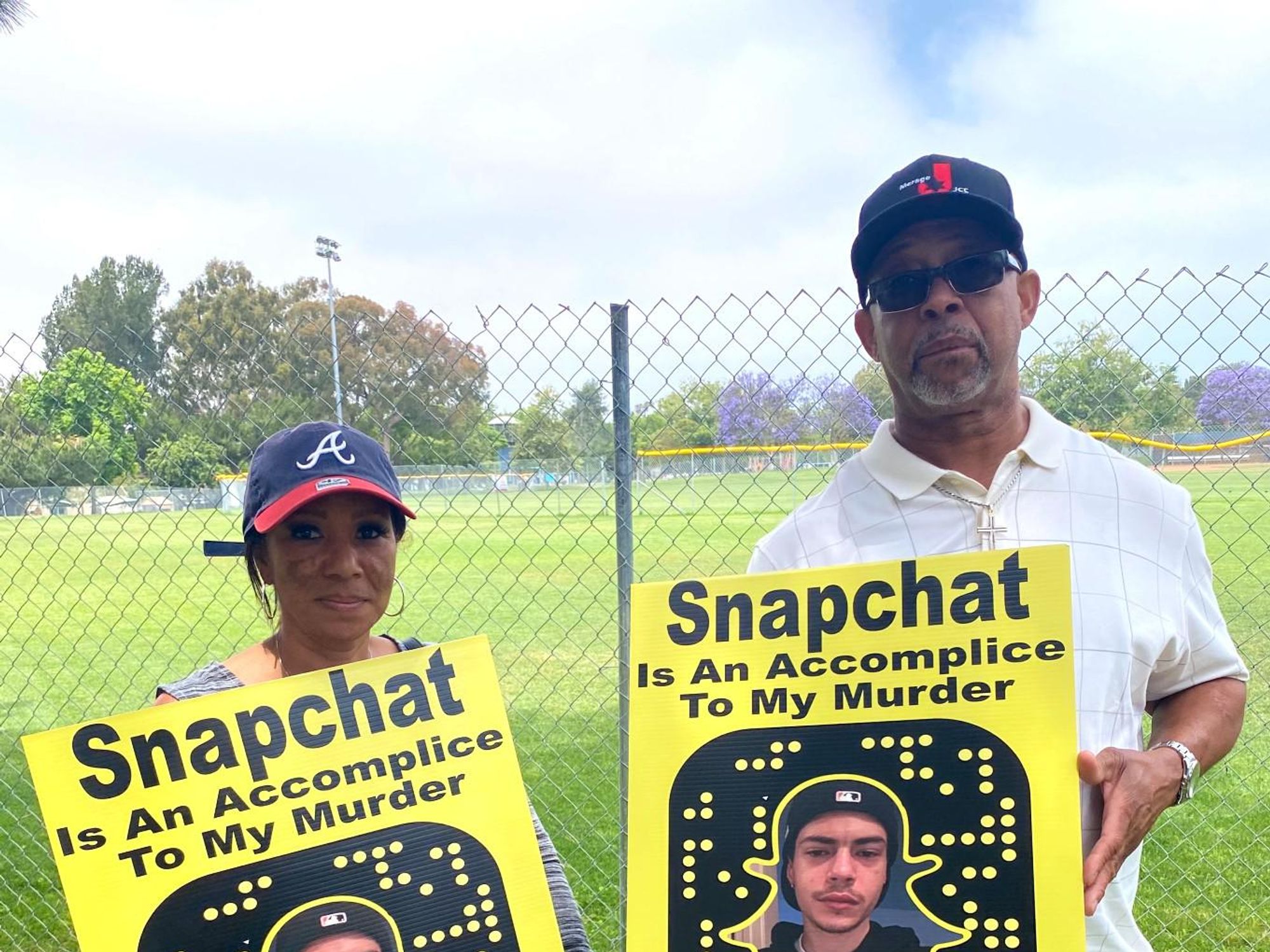 Photo by Sam Blake/ dot.LA
"Snapchat has given drug dealers an organic ecommerce platform," Amy Neville shouted into her megaphone.

Neville is one of dozens of parents who marched Friday to Snap's headquarters to protest the role they feel Snapchat played in the deaths of their children.
The protest was organized by a coalition of grassroots advocacy groups and parents who share a similar, sad story: Their kids had used social media apps including Snapchat and TikTok to connect with drug dealers, from whom they sought to purchase prescription pills like Oxycontin and Percocet. Instead, they unknowingly received fentanyl, a highly potent synthetic opioid that killed them.
---
"Corporate greed and the almighty dollar are more important to Mr. Evan Spiegel than our dead children," shouted Jaime Puerta, who lost his son Daniel to fentanyl poisoning in April 2020 at the age of 16.
Among the marchers and speakers was Dr. Laura Berman, a high-profile therapist who's shared advice on daytime programs including Dr. Oz, and her husband Sam Chapman. Their 16-year-old son Sammy died in February of poisoning from fentanyl that he took after purchasing what he thought was Oxycontin through Snapchat, Chapman said.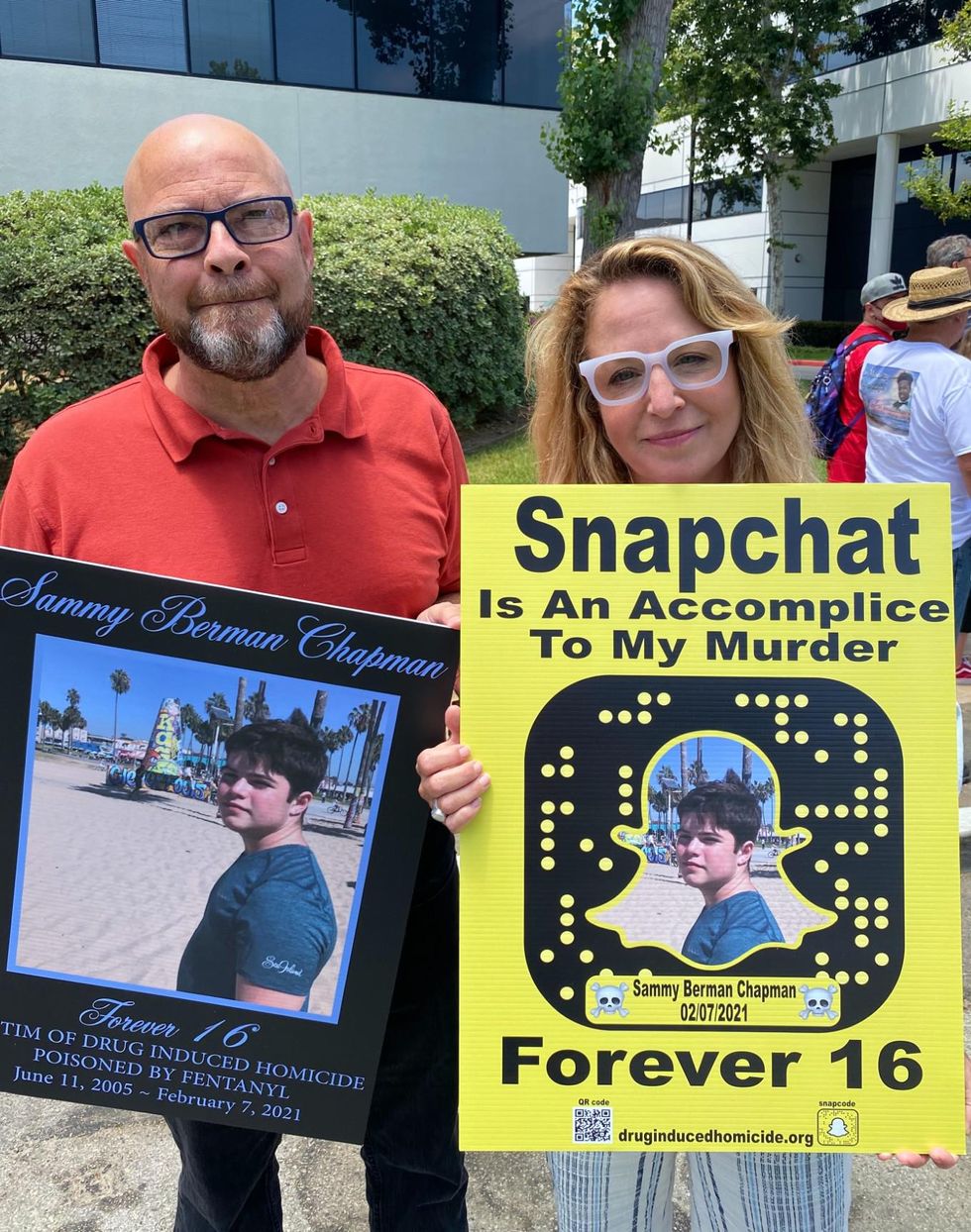 Sam Chapman and his wife, Dr. Laura Berman, lost their son Sammy in February.
Photo by Sam Blake/ dot.LA
The couple spoke with Snap CEO Evan Spiegel and another Snap executive by phone just before the march.
Chapman said the call left him dissatisfied, describing the conversation as "sweet platitudes" and "a basket of excuses."
He and his wife want Snap to allow parents to monitor their children's accounts through third-party software, in particular an app called Bark. According to Chapman, Spiegel said Snap could not do that, and cited issues with user privacy and potential challenges with scalability.
A representative from Snap confirmed the substance of the conversation but said Snap is generally open to working with third party solutions for parental monitoring.
Spiegel also told Chapman and Berman that Snap would look into improving its reporting of statistics on how many subpoenas it receives to help with criminal investigations and how quickly it responds to those subpoenas.

At the protest, Berman briefed the crowd that she had told Spiegel that he has a choice: to be part of a problem or part of a solution.

"We are going to keep fighting you until you let parents protect our children," she shouted.

Many in the crowd carried posters with the faces of their deceased children and siblings, framed by a black and yellow border mimicking Snapchat's interface, with captions calling the app "an accomplice to my murder."
Matt Capelouto lost his daughter Alexandra in December 2019. He told Friday's crowd that Section 230, the federal legislation that shields online publishers from responsibility for the content on their platforms, was passed at a time when the consequences of social media were unknown.
"Now we know what those unintended consequences are: they're right here in all these pictures," he said.
Capelouto also spoke about his disappointment over the defeat in March of Califorinia Senate Bill 350, which would have treated fentanyl dealers like drunk drivers: repeat offenders whose actions result in someone's death can be charged with murder. The bill, known as Alexandra's Law, failed to make it out of the state Senate's Public Safety Committee.
Capelouto's advocacy did, however, catch the attention of Nathan Hochman, who spoke briefly at Friday's protest. The former U.S. assistant attorney general who is running for California attorney general addressed Spiegel directly.
"You should want to be a leader in this. You should tell Mr. Zuckerberg at Facebook: 'this is how we do it'," he said.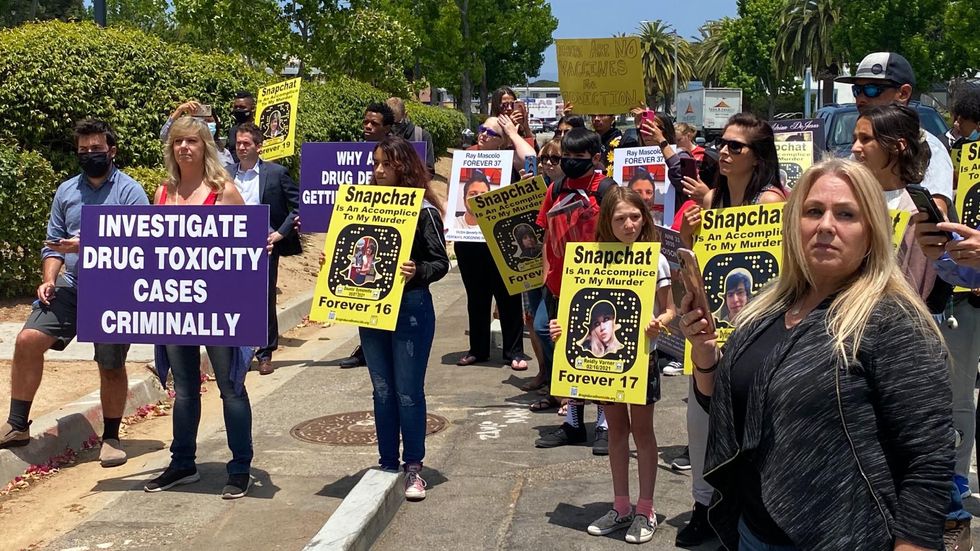 A crowd of protesters gathers outside Snap's Santa Monica headquartersPhoto by Sam Blake/ dot.LA
Friday's rally is the latest step in a growing movement among parents to address what they view as a dangerous and tragic cocktail of an increasing supply of illicit drugs and social media platforms that make it easy for kids to access them. In April, a group of about a dozen aggrieved parents met with three Snap executives over Zoom to discuss the company's efforts to address the problem.

According to Neville, whose son Alexander died of fentanyl poisoning in June 2020, and who was one of the parents at that meeting, the Snap executives discussed plans to create a series of public service announcements among other measures, but most on the call left feeling disappointed.
"That meeting left a really bad taste in our mouth," she said. "They just aren't doing enough, fast enough, and it's not hard-hitting enough."
Bridgette Norring of Hastings, Minnesota, who lost her son Devin to fentanyl poisoning in April 2020, was also on that call.
"If I had my way they'd be shut down until they can create a safe environment for all their consumers," she said.
Snap says 90% of Americans aged 13-24 use its app and expressed condolences to family members who've lost loved ones to drugs sold on its platform.
"At Snap we strictly prohibit drug-related activity on our platform, aggressively enforce against these violations, and support law enforcement in their investigations," the company said in a statement. "We work to be as proactive as possible in detecting, preventing and acting on this type of abuse, and are constantly improving our technology and tools in this area."
For Chapman and others, Snap's comments are cold comfort.
"We wouldn't be standing here if the statement were true," Chapman said.
Snap said it is working to make changes to its technology and to raise awareness about drug dangers on the app. That includes partnering with nonprofits in its "trusted flagger program," working with moderators and adding new machine learning features that can flag and block the changing terms dealers use to sell drugs.
"Given the number of young people using Snapchat every day," the company said in a statement, "we believe that the most impactful way we can provide support and education for young people is in-app" through a program raising awareness on the impact drugs can have on users' mental health.
Marc Berkman, CEO of the West Hills-based nonprofit Organization of Social Media Safety, told protesters that access to dangerous substances like fentanyl is just one of several threats to childrens' safety on social media platformst. He also mentioned human trafficking and cyberbullying. Snap was recently sued for a series of cyberbullying incidents on its platform that allegedly led to a teenager's suicide.
Several protesters said raising awareness is their chief goal, and that they will not stop until something is done.
"Children are dying because of their use of social media," Berkman told Friday's protest crowd, who echoed back their agreement.
Sam Blake
Sam primarily covers entertainment and media for dot.LA. Previously he was Marjorie Deane Fellow at The Economist, where he wrote for the business and finance sections of the print edition. He has also worked at the XPRIZE Foundation, U.S. Government Accountability Office, KCRW, and MLB Advanced Media (now Disney Streaming Services). He holds an MBA from UCLA Anderson, an MPP from UCLA Luskin and a BA in History from University of Michigan. Email him at samblake@dot.LA and find him on Twitter @hisamblake
https://twitter.com/hisamblake
samblake@dot.la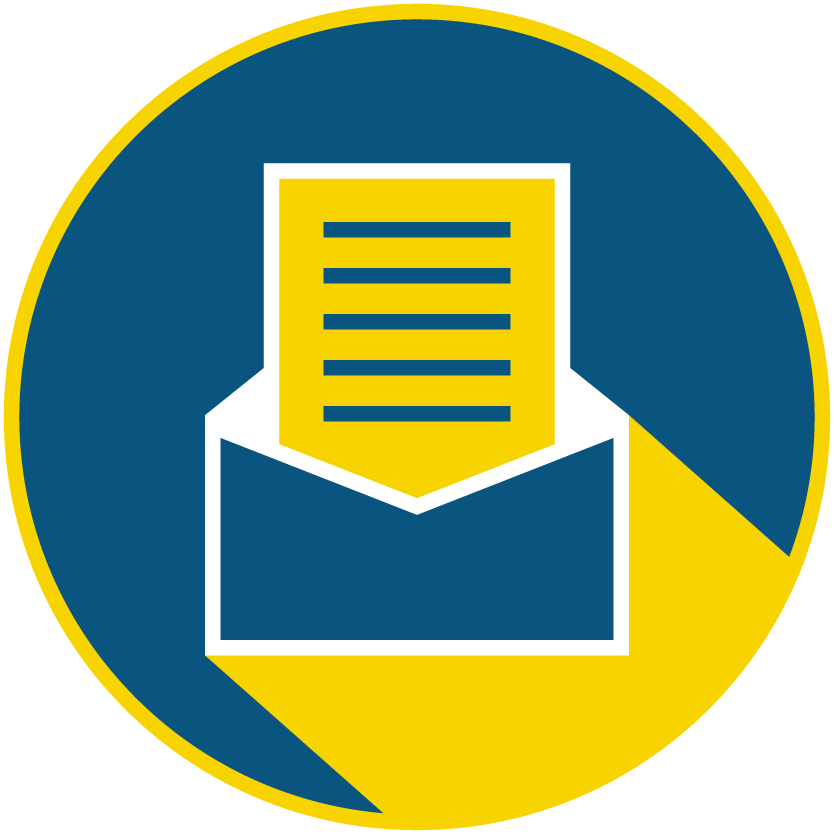 Subscribe to our newsletter to catch every headline.
Kristin Snyder
Kristin Snyder is an editorial intern for dot.la. She previously interned with Tiger Oak Media and led the arts section for UCLA's Daily Bruin.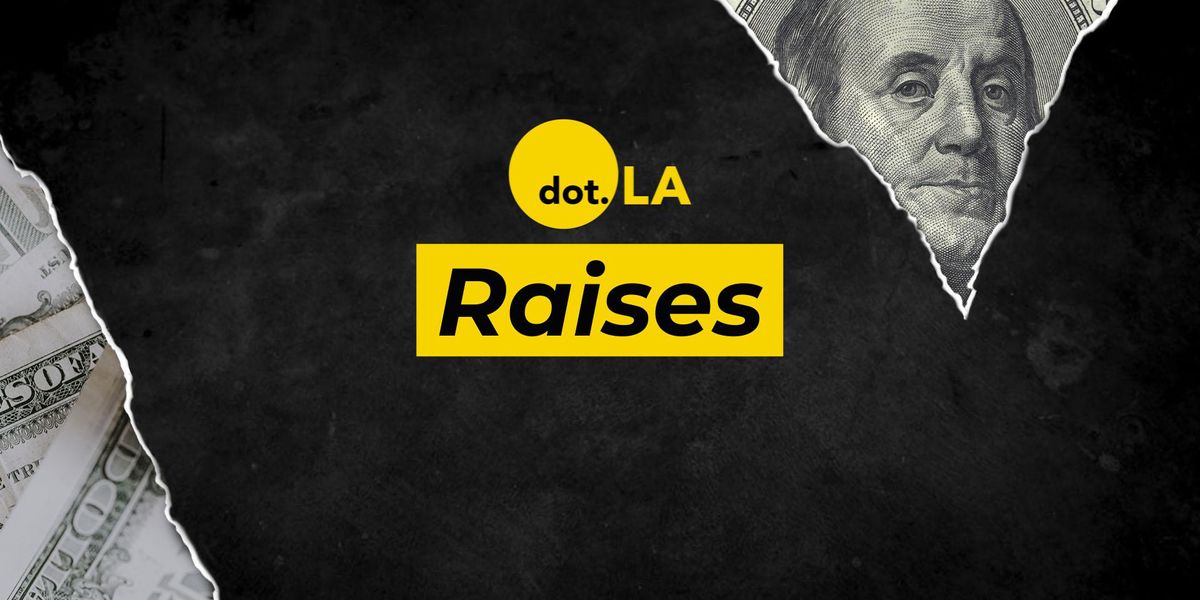 Image by Joshua Letona
This week in "Raises": A pair of Web3 platforms for gamers landed funding, as did a Manhattan Beach medical startup looking to bolster primary care via nurse practitioners. Meanwhile, a Santa Monica-based investment firm launched its seventh fund with more than $14 billion in dry powder.
Venture Capital
Improvado, a marketing data aggregation platform, raised $22 million in a Series A funding round led by Updata Partners.

Web3 gaming platform FreshCut raised $15 million in funding led by Galaxy Interactive, Animoca Brands and Republic Crypto.
Medical startup Greater Good Health raised $10 million in a funding round led by LRVHealth.
Joystick, a Web3 platform for gamers and creators, raised $8 million in seed funding.
Open source data protection company CipherMode Labs raised $6.7 million in seed funding led by Innovation Endeavors .
Mobile phone charging network ChargeFUZE raised $5 million in seed funding led by Beverly Pacific, TR Ventures, VA2, Jason Goldberg and Al Weiss.
Polygon, a startup aiming to better diagnose children with learning disabilities, raised $4.2 million in seed and pre-seed funding led by Spark Capital and Pear VC.
Pique, a virtual women's sexual health clinic, raised $4 million in a seed funding round led by Maveron.
Psudo, a sneaker startup that utilizes recycled water bottles and 3D sublimation printing to create its shoes, raised $3 million in a seed funding round led by SternAegis Ventures.

Funds
Santa Monica-based investment firm Clearlake Capital Group raised $14.1 billion for its seventh flagship fund.
Raises is dot.LA's weekly feature highlighting venture capital funding news across Southern California's tech and startup ecosystem. Please send fundraising news to Kristin Snyder (
kristinsnyder@dot.la
).
Kristin Snyder
Kristin Snyder is an editorial intern for dot.la. She previously interned with Tiger Oak Media and led the arts section for UCLA's Daily Bruin.
Kristin Snyder
Kristin Snyder is an editorial intern for dot.la. She previously interned with Tiger Oak Media and led the arts section for UCLA's Daily Bruin.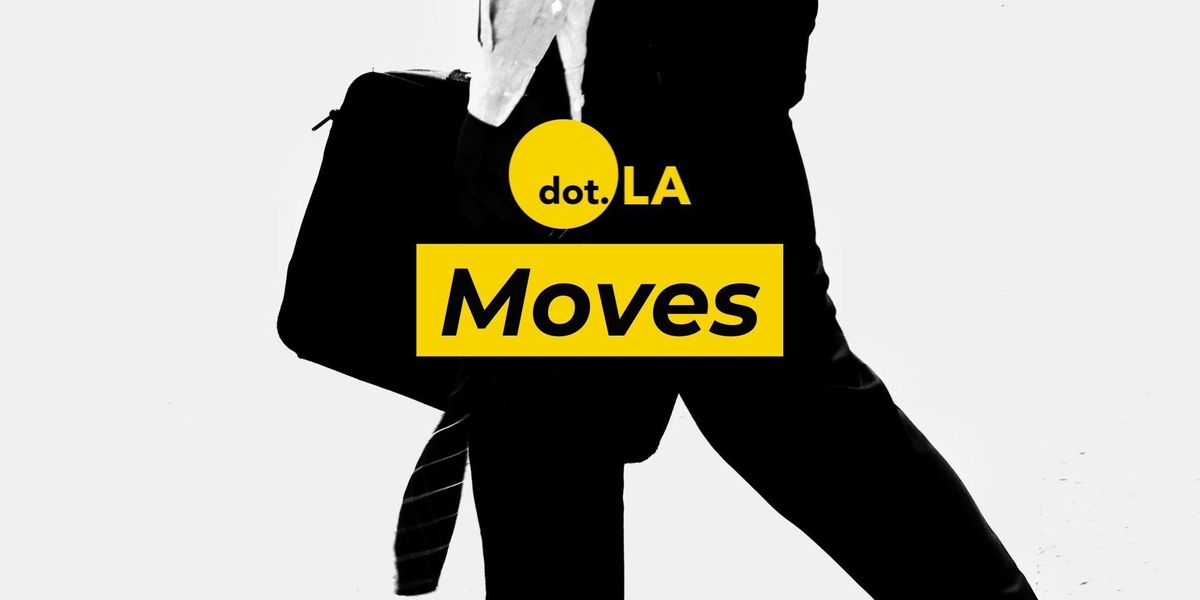 Photo by James Opas | Modified by Joshua Letona
"Moves", our roundup of job changes in L.A. tech, is presented by Interchange.LA, dot.LA's recruiting and career platform connecting Southern California's most exciting companies with top tech talent. Create a free Interchange.LA profile here—and if you're looking for ways to supercharge your recruiting efforts, find out more about Interchange.LA's white-glove recruiting service by emailing Sharmineh O'Farrill Lewis (sharmineh@dot.la). Please send job changes and personnel moves to moves@dot.la.
***
FaZe Clan brought on Zach Katz as the gaming and media company's new president and chief operating officer. Katz was previously the chief executive officer of the music tech investment fund Raised in Space Enterprises.
TikTok brand factory LINK Agency promoted Dustin Poteet to chief creative officer. Poteet was previously creative director at the firm.
Livestream shopping platform Talkshoplive hired Tradesy co-founder John Hall as its chief technology officer. Universal Music Group Nashville's former vice president of digital marketing, Tony Grotticelli, also joins the company as vice president of marketing.
Anjuli Millan will take over as head of original content at Snap after three years of overseeing production for the division.
Tech and media company Blavity hired Nikki Crump as general manager of agency. Crump joins the company from Burrell Communications Group.
O'Neil Digital Solutions, which provides customer communications and experience management for the health care industry, hired Eric Ramsey as national account sales executive. Ramsey joins from T/O Printing.

Investment firm Cresset Partners named Tammy Funasaki as managing director of business development. Funasaki previously served as head of investor relations for Breakwater Management.
From Your Site Articles
Related Articles Around the Web
Kristin Snyder
Kristin Snyder is an editorial intern for dot.la. She previously interned with Tiger Oak Media and led the arts section for UCLA's Daily Bruin.
Christian Hetrick
Christian Hetrick is dot.LA's Entertainment Tech Reporter. He was formerly a business reporter for the Philadelphia Inquirer and reported on New Jersey politics for the Observer and the Press of Atlantic City.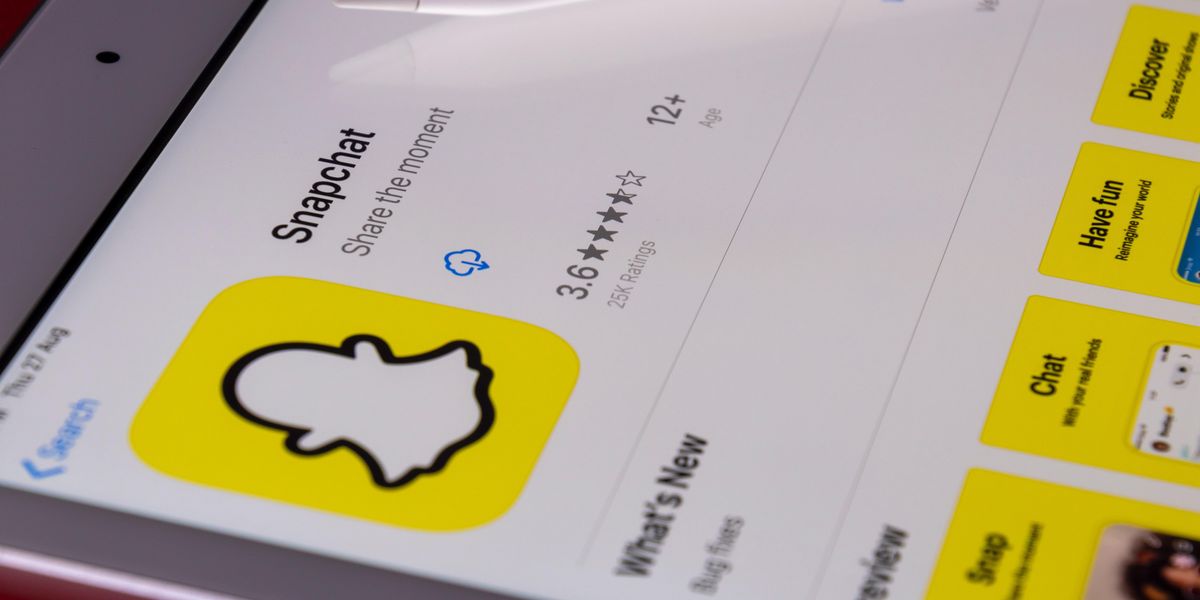 Snapchat is preparing to roll out enhanced parental controls that would allow parents to see who their teenagers are chatting with on the social media app, according to screenshots of the upcoming feature.
Snap's parental controls.
Courtesy of Watchful.
Snapchat is planning to introduce Family Center, which would allow parents to see who their children are friends with on the app and who they've messaged within the last seven days, according to screenshots provided by Watchful, a product intelligence company. Parents would also be able help their kids report abuse or harassment.
The parental controls are still subject to change before finally launching publicly, as the Family Center screenshots—which were first reported by TechCrunch—reflect features that are still under development.
Santa Monica-based Snap and other social media giants have faced mounting criticism for not doing more to protect their younger users—some of whom have been bullied, sold deadly drugs and sexually exploited on their platforms. State attorneys general have urged Snap and Culver City-based TikTok to strengthen their parental controls, with both companies' apps especially popular among teens.
A Snap spokesperson declined to comment on Friday. Previously, Snap representatives have told dot.LA that the company is developing tools that will provide parents with more insight into how their children are engaging on Snapchat and allow them to report troubling content.
Yet Snap's approach to parental controls could still give teens some privacy, as parents wouldn't be able to read the actual content of their kids' conversations, according to TechCrunch. (The Family Center screenshots seen by dot.LA do not detail whether parents can see those conversations).
In addition, teenage users would first have to accept an invitation from their parents to join the in-app Family Center before those parents can begin monitoring their social media activity, TechCrunch reported.

Christian Hetrick
Christian Hetrick is dot.LA's Entertainment Tech Reporter. He was formerly a business reporter for the Philadelphia Inquirer and reported on New Jersey politics for the Observer and the Press of Atlantic City.