Francesca Billington
Francesca Billington is a general assignment reporter for dot.LA. She's previously reported for KCRW, the Santa Monica Daily Press and local publications in New Jersey. Before joining dot.LA, she served as a communications fellow at an environmental science research center in Sri Lanka. She graduated from Princeton in 2019 with a degree in anthropology.
Venture capitalists last month sunk nearly half a billion dollars into a Southern California defense technology startup whose surveillance towers track migrants along the U.S.-Mexico border.
---
Anduril Industries, the Irvine-based maker of autonomous drones, towers and small ground sensors, will use the $450 million for acquisitions and build out its AI-powered tech designed for military and border enforcement agencies.
But activists and experts are raising flags about the technology, pointing to privacy violations and civil liberties infringements.
They also question the government's steep investment in the private defense contractors behind it.
"The fact that we're spending money on the border wall also means that we're not investing in the things we all actually need here in the valley," said Norma Herrera, an organizer with the Rio Grande Valley Equal Voice Network.
She pushes back against what President Biden called an "effective and modern border security" system—a bureaucratic apparatus that allocates $1.2 billion for border infrastructure next year (still a drop in the bucket, given the Department of Homeland Security's $52 billion 2022 budget).
Before the pandemic, Herrera knocked on doors in Texas' Starr County to tell residents about the amount of money elected officials were pouring into Trump's border wall. Now, she's learning how to explain the virtual wall, one that's often harder to notice.
Anduril declined to make executives at the company available for interviews.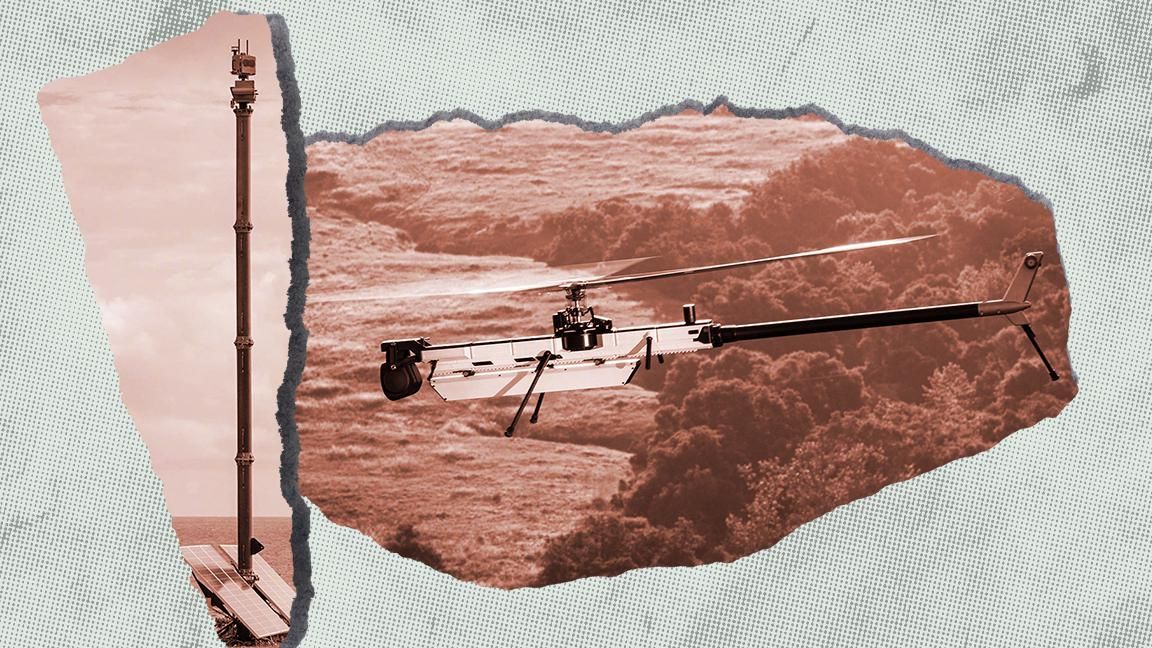 Surveillance on the Border
Over the last decade, the border security and immigration detention industry has ballooned as Democrats and Republicans both funnel more government money into private companies. Between the fiscal years 2017 and 2020, Customs and Border Protection received about $743 million from Congress for tech and surveillance, according to the legal organization Just Futures Law. And in the 2021 fiscal year alone, the Department of Homeland Security received over $780 million for the same purpose.
Anduril's recent project with CBP revolves around a $250 million contract signed under the Trump administration in July of 2020 to set up 200 solar-powered watch towers along the southern border. Of the towers, 60 are up and running as of July 2.
Under Biden's leadership, funding for border technology has become an even bigger priority, said Dinesh McCoy, a legal fellow at Just Futures Law.
"It's in large part a response to coinciding pressures of distinguishing themselves from the Trump years," he said.
Many Democrats back Biden's vision, considering a virtual barrier a far better alternative to the physical border wall Republicans prefer.
"When it comes to proposals for a virtual wall, we're talking about heavy, heavy investments," said Saira Hussain, an attorney at the Electronic Frontier Foundation who specializes in racial and immigrant justice, surveillance and technology.
Government agencies are tapping a number of private companies to install the technology. In 2019, CBP awarded the Israeli defense contractor Elbit Systems $26 million to install surveillance towers along the border.
Then came the administration's 2020 deal with Anduril. Its AI-powered operating system, called Lattice, is designed to distinguish humans from animals along the border and send information to an agent's cell phone. The company has to date received $691 million in venture capital, including $450 million that had backers including Andreessen Horowitz last month. Anduril is now valued at $4.6 billion.
"As with all of our investments, this is a bet not just on the technology (breathtaking) and the market (enormous) but also the people (outstanding)," Andreessen Horowitz co-founder and general partner Marc Andreessen said in a prepared statement.
Marc Andreessen is a longtime investor in Palmer Luckey, Anduril's 28-year-old founder. He backed Luckey's first company — virtual reality startup Oculus — before Facebook bought it for $2 billion in 2014. A few years later, Luckey left following reports that he was funding a far-right political group.
In 2017, Luckey opened Anduril with a band of former employees from Oculus VR and Palantir, the software giant with major contracts with several government agencies.
Eyes Everywhere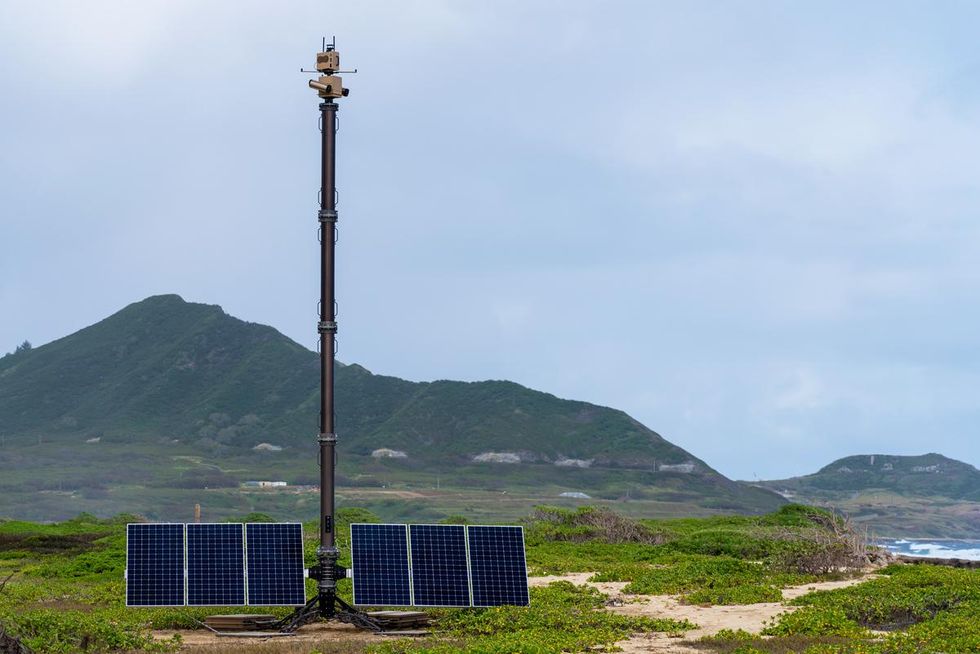 Anduril Border Tower
Along the border, Anduril's 33-foot towers are continuously scanning plots of land about three miles in diameter. They're built to ignore animals — what CBP calls a "false positive" — and light up after detecting movement from people or cars.

The towers are watching "illegal border crossings, human trafficking and drug smuggling," a spokesperson for Anduril said by email.
If a person or group falls out of the camera's vision, AI tells the next tower to pick it back up. Border patrol agents then receive an alert to their cell phones or computers.
The goal is to mimic an agent's pair of eyes, especially in remote and rural spots. As one agent put it, "they see what we can't see on the ground."
They also run on solar power, a feature CBP said avoids the need for new infrastructure that can "complicate the Border Patrol's agreements with many of the private ranchland owners, national parks, and Native Americans' tribal lands where the Border Patrol must work."
Video surveillance drones and towers are puncturing nearly every industry, from homeland security to fast food delivery to monitoring traffic and parking violations along busy streets.
The tech is also raising a flood of questions from academics and legal groups like the Electronic Frontier Foundation and Just Futures Law, all of them worried about the implications of surveillance not only for migrants, but for U.S. residents. In May of 2020, for example, agencies CBP flew a drone over Minneapolis to record protestors following the police murder of George Floyd.
"We know that what's often deployed at the border and what's normalized at the border in terms of surveillance eventually makes its way into the interior of the United States," said Hussain, the attorney from EFF.
The company says it does not use facial recognition or collect identifiable information.
But critics like the ACLU of Texas and other civil liberties groups said it's unclear what data is being collected by private defense contracts like Anduril and how it could be used and shared.
"The border is a testing ground for surveillance elsewhere," said McCoy, the legal fellow at Just Futures Law. "Unfortunately, it's been primarily used to surveill Black and brown folks in the U.S. and abroad."
As the U.S. begins reducing its military footprint in the Middle East, McCoy suspects other military contractors will turn to border surveillance as a new form of profit.
"These tools that were once confined to military contexts have found themselves more and more in local communities," he said.
Anduril, for its part, insists it is providing the government with a crucial security mechanism. "Anduril identifies a security problem," reads a prepared statement forwarded to dot.LA by a company spokesperson, "builds a potential solution, then takes it to the government for potential consideration."
Lead art by Ian Hurley
Editor's note: This article has been updated to clarify that Andreessen Horowitz was involved in Anduril 's$450 million raise round, but was not the sole funder. Additionally, mentions of Anduril's $250 million contract with CBP have been updated to clarify that they were not negotiated with President Trump himself, but rather with members of his administration.
Francesca Billington
Francesca Billington is a general assignment reporter for dot.LA. She's previously reported for KCRW, the Santa Monica Daily Press and local publications in New Jersey. Before joining dot.LA, she served as a communications fellow at an environmental science research center in Sri Lanka. She graduated from Princeton in 2019 with a degree in anthropology.
https://twitter.com/frosebillington
francesca@dot.la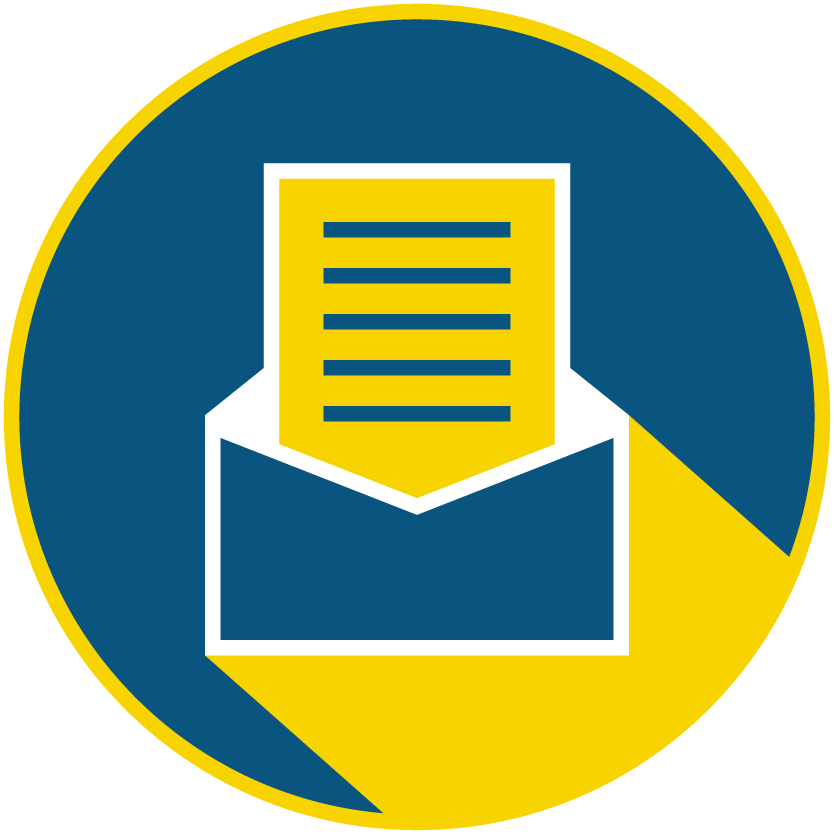 Subscribe to our newsletter to catch every headline.
Los Angeles is home to the second-highest largest homeless population in the U.S. While new resources have been allocated to creating housing during the pandemic, it's not enough. Tent cities crowd freeway underpasses and sit alongside neighborhoods.

For Berok Khoshnevis, this crisis represents an opportunity. Khoshnevis is a professor of engineering at the University of Southern California and has had a lifelong interest in the potential of 3D printing. Since the 1980s, he has been working with 3D printed machinery, with a special emphasis on the creation of large structures.
Lately, Khoshnevis has been turning his attention to automated 3D printing construction technology, an application he believes could be used to meet Los Angeles' dire need for new housing solutions.
His vision is off to a promising start: In 2020, he was awarded a project by the L.A. County Development Authority to build four low-income housing units. Given the push for housing in California (and the rest of the U.S.), Khoshnevis' project could be a bellwether for a new phase of affordable housing.
Printing Buildings on Demand

Khoshnevis has invented a new method of 3D printing structures called Contour Crafting. While in certain aspects 3D printing of structures is limited, and only able to use certain materials, the speed at which it enables you to build new structures with reduced labor is impressive.
For Khoshnevis, one of the most promising aspects of 3D printed building technology is the ability it creates for users to print buildings whenever, and wherever, the need for new construction arises.
"The intention is to print on site, which is the main potential of this technology," he said. "You have to have a foundation, and then the machine will build the structure from the ground up."
With a single user machine, the user prints each layer of the structure in sequence, pausing in between each layer to allow the substrate to dry.
"We can add chemicals to make sure the materials can cure more quickly," said Khoshnevis, meaning that whatever concrete material the user chooses to base their structure on will dry much faster than is typical for conventional construction processes.
The way the machine operates varies considerably depending on the demand of the build site, as well as the type of machine used.
"There are different machine designs that require different levels of preparation," explained Khoshnevis. "For example, we created a system for the government that allows a single person to set up the machine on site in fifteen minutes. The machine can use any kind of structural material that can be turned into paste, any form of concrete."
New Housing in Record Time
According to Khoshnevis, this method can cut the time needed to build by as much as half. Conventional construction methods are able to complete the framing process, building walls and a roof, in about a month or two.
"Typically for a thousand square foot building you should be able to print it in one day," said Khoshnevis. "At that point, you can add other components, such as HVAC and electrical. Right now, 3D printing can only create the shell of a building, but I have patented processes for automated plumbing and electrical insulation, as well as automated reinforcement."
With faster new technologies and a streamlined permitting process, contour crafted buildings could help dramatically close Los Angeles' housing gap, providing housing to the approximately 41,290 unhoused people living in Los Angeles County alone.
The Economics of New Housing
Although housing advocates were just given a massive infusion of new funding from the county, building as many new units of housing as possible within budget is always of paramount concern. And according to Khoshnevis, contour crafting technologies can help save money as well as time.
"This technology can be used to speed up construction and make it cheaper, saving money on labor costs while reducing material waste," he said. "Part of the cost-saving is in the speed of construction, but there's also a reduction in the amount of workers you need to hire, and lowered material costs."
As Khoshnevis points out, the price of land is often the largest expense in the construction of new public housing. Contour crafting can help save money here too, enabling builders to erect new units on lots that aren't suitable for conventional, large scale construction.
Los Angeles still has tens of thousands of vacant lots scattered throughout the city, many of them oddly shaped or difficult to access with construction machinery. But with a single operator contour crafting machine, builders could begin to take advantage of some of this unused space.
Dana Bean from Union Station Homeless Services agrees that innovative thinking is necessary if Los Angeles has any hope of addressing the homeless crisis.
"Los Angeles is in dire need of additional housing opportunities for our unhoused community members," she said. "We have seen some additional housing resources in the past months of the pandemic, including vacant hotels through project homekey and product roomkey, as well as palette shelters that are going up around the city that provide temperature controlled rooms with a door that locks. These interim housing solutions can provide a safe space for those in need of it."
Bean says that technologies like Khoshnevis' key utility is enabling housing first solutions oriented towards getting people off the streets.
"We're opening a tiny house village in Eagle Rock at the end of the year, and while we initially saw some community concern about the construction issue," she said. "But once people saw that the project would be taking people off the streets of their neighborhoods and giving them housing, they were incredibly grateful."
Ultimately, Khoshnevis says that he's interested in seeing the ways housing advocates put his contour crafting technology to use, adding that he believes this technology has the potential to change the face of the contemporary construction industry.
"Construction is the only domain of human endeavor that is still done manually," he said. "It is a very dangerous task, and many people are unable to participate in the industry due to physical limitations. 3D technology would allow more people to participate in the construction industry. One thing I can say for certain is that construction is not going to stay manual forever."
And with the potential of contour crafting technology, an automated solution to Los Angeles' housing construction crisis could be closer than we think.
Harrison Weber
Do you know something we should know about L.A. tech or venture capital? Reach out securely via Signal: +1 917 434 4978.
Harrison is dot.LA's senior finance reporter. They previously worked for Gizmodo, Fast Company, VentureBeat and Flipboard. Find them on Twitter: @harrisonweber. Send tips on L.A. deals to harrison@dot.la. Pronouns: they/them.
Santa Monica-based wineseller Winc has postponed its expected debut on the New York Stock Exchange.
The IPO was anticipated for this week, valuing the company at around $263 million. Instead, it has been pushed to a later, unknown date, a NYSE spokesperson confirmed in a call with dot.LA. As of Friday afternoon, Winc's expected stock symbol — "WBEV" — was still reserved in the exchange's system, the spokesperson said. Winc did not respond to a request for comment.
Winc offers a wine subscription service tailored to shoppers' palettes. Through collaborations with vineyards and other brands, the company said it aims to churn out as many as 10 new wine brands a year, according to an SEC filing released last week.
Winc aimed to sell five million shares at a price between $14 and $16 that would have netted about $80 million. It also offered its underwriters additional shares worth about $12 million.
As the pandemic shuttered storefronts, Winc saw the upside of an online sales boom. Between subscriptions and deals with wholesalers, the firm says it sold more than 430,000 cases of wine in 2020, up 80% from the prior year.
But while that global catastrophe seems to have helped Winc, another crisis poses a threat to both the firm and the wider wine business.
From Your Site Articles
Related Articles Around the Web
Harrison Weber
Do you know something we should know about L.A. tech or venture capital? Reach out securely via Signal: +1 917 434 4978.
Harrison is dot.LA's senior finance reporter. They previously worked for Gizmodo, Fast Company, VentureBeat and Flipboard. Find them on Twitter: @harrisonweber. Send tips on L.A. deals to harrison@dot.la. Pronouns: they/them.
Samson Amore
Samson Amore is a reporter for dot.LA. He previously covered technology and entertainment for TheWrap and reported on the SoCal startup scene for the Los Angeles Business Journal. Samson is also a proud member of the Transgender Journalists Association. Send tips or pitches to samsonamore@dot.la and find him on Twitter at @Samsonamore. Pronouns: he/him
Digital storage company OpenDrives is planning a move into the lucrative world of esports and gaming and has hired former Activision Blizzard post production lead André Rievers to help lead the effort.

OpenDrives is a backend storage provider for some of Hollywood's biggest studios including WarnerMedia, Disney, NBCUniversal, Dreamworks, Paramount, Netflix and the Los Angeles Kings hockey team.
And it already has three hot names in gaming – Santa Monica-based Riot Games, Culver City-based esports team 100 Thieves and "Fortnite" maker Epic Games – as clients. OpenDrives raised $20 million in January.
OpenDrives' product is a physical drive enabled with software that lets production editors avoid the time consuming process of compressing and decompressing video files. That's especially valuable in increasingly collaborative workflows that require rendering and sharing large files extremely fast.
Rievers was named as vice president of operations, a role that will let him put these tools in the hands of editors producing live esports events, something he knows well.
"The pain point for us is really the storage not being able to handle the content, or not being able to provide the content fast enough, or at full resolution for the editor," Rievers explained. "It's not allowing the editor or the producer to focus on their creativity. With OpenDrives, it's like the system is not even there."
Rievers spent nearly four years at Activision as head of post-production, managing a team of editors that quickly turned around footage for live events like the company's annual BlizzCon showcase and esports matches in the Overwatch and Call of Duty Leagues. Prior to that he was a post-production manager at Univision for four and a half years, and led live production on the 2014 World Cup in Brazil.
While producing these events, Rievers and his team quickly noticed that where the digital files were stored – and how quickly they could be accessed and edited – greatly impacted how the overall final product would look.
"As the end user, the last thing I want to have to worry about is what storage I'm working with, (and) the thing about open drives is that it's it's the best thing I've ever seen," Rievers said.
He joked that he tried many times to push OpenDrives' network-attached software's limits as a customer, and was impressed by how well it worked under pressure.
"Every chance I had to test or to demo OpenDrives, I did my absolute best to try to break it and fight it," Rivers said. "If it wasn't me, it was one of my editors… and nobody could break it."
OpenDrives chief operations officer Sean Lee.
Rievers argued that he was interested in the OpenDrives software not just because it was fast, but because when he used it he actually almost forgot it was there, but it did the heavy lifting in the background for his team as they rapidly edited, produced and shipped dense video files.
OpenDrives chief operations officer Sean Lee said OpenDrives wants to run in the background without disrupting the workflow.
Lee spent years working at NBCUniversal production prior to joining OpenDrives.
Often he'd have a problem that'd need "to be fixed within the hour because I have a deadline to meet. If my storage isn't working, and I'm not having this good experience, I may have hundreds of VFX artists or editors just sitting around waiting for this thing to work."
Lee sees opportunity opening up as pandemic restrictions ease. The esports leagues will resume live broadcasts from around the world as they compete in real-time, meaning they might benefit from upgrading their storage.
"If storage is doing its job, you should not even know that it's there," Lee said.
From Your Site Articles
Related Articles Around the Web
Samson Amore
Samson Amore is a reporter for dot.LA. He previously covered technology and entertainment for TheWrap and reported on the SoCal startup scene for the Los Angeles Business Journal. Samson is also a proud member of the Transgender Journalists Association. Send tips or pitches to samsonamore@dot.la and find him on Twitter at @Samsonamore. Pronouns: he/him
https://twitter.com/samsonamore
samsonamore@dot.la