infosec
Venture capitalists last month sunk nearly half a billion dollars into a Southern California defense technology startup whose surveillance towers track migrants along the U.S.-Mexico border.
Anduril Industries, the Irvine-based maker of autonomous drones, towers and small ground sensors, will use the $450 million for acquisitions and build out its AI-powered tech designed for military and border enforcement agencies.
But activists and experts are raising flags about the technology, pointing to privacy violations and civil liberties infringements.
They also question the government's steep investment in the private defense contractors behind it.
"The fact that we're spending money on the border wall also means that we're not investing in the things we all actually need here in the valley," said Norma Herrera, an organizer with the Rio Grande Valley Equal Voice Network.
She pushes back against what President Biden called an "effective and modern border security" system—a bureaucratic apparatus that allocates $1.2 billion for border infrastructure next year (still a drop in the bucket, given the Department of Homeland Security's $52 billion 2022 budget).
Before the pandemic, Herrera knocked on doors in Texas' Starr County to tell residents about the amount of money elected officials were pouring into Trump's border wall. Now, she's learning how to explain the virtual wall, one that's often harder to notice.
Anduril declined to make executives at the company available for interviews.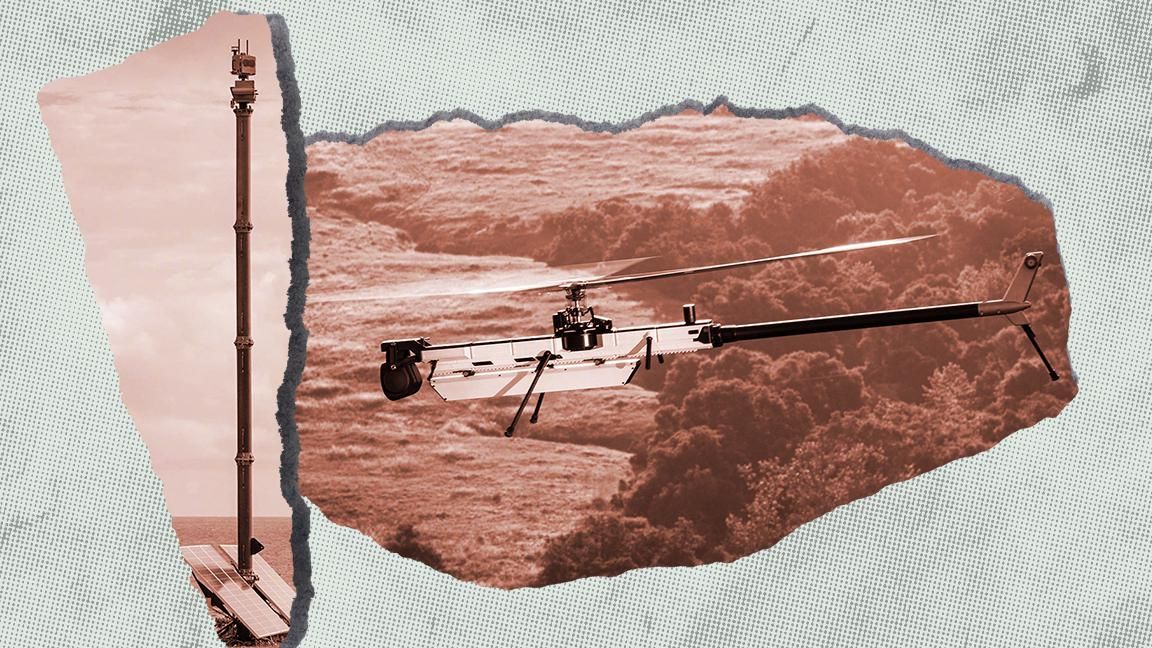 Surveillance on the Border
Over the last decade, the border security and immigration detention industry has ballooned as Democrats and Republicans both funnel more government money into private companies. Between the fiscal years 2017 and 2020, Customs and Border Protection received about $743 million from Congress for tech and surveillance, according to the legal organization Just Futures Law. And in the 2021 fiscal year alone, the Department of Homeland Security received over $780 million for the same purpose.
Anduril's recent project with CBP revolves around a $250 million contract signed under the Trump administration in July of 2020 to set up 200 solar-powered watch towers along the southern border. Of the towers, 60 are up and running as of July 2.
Under Biden's leadership, funding for border technology has become an even bigger priority, said Dinesh McCoy, a legal fellow at Just Futures Law.
"It's in large part a response to coinciding pressures of distinguishing themselves from the Trump years," he said.
Many Democrats back Biden's vision, considering a virtual barrier a far better alternative to the physical border wall Republicans prefer.
"When it comes to proposals for a virtual wall, we're talking about heavy, heavy investments," said Saira Hussain, an attorney at the Electronic Frontier Foundation who specializes in racial and immigrant justice, surveillance and technology.
Government agencies are tapping a number of private companies to install the technology. In 2019, CBP awarded the Israeli defense contractor Elbit Systems $26 million to install surveillance towers along the border.
Then came the administration's 2020 deal with Anduril. Its AI-powered operating system, called Lattice, is designed to distinguish humans from animals along the border and send information to an agent's cell phone. The company has to date received $691 million in venture capital, including $450 million that had backers including Andreessen Horowitz last month. Anduril is now valued at $4.6 billion.
"As with all of our investments, this is a bet not just on the technology (breathtaking) and the market (enormous) but also the people (outstanding)," Andreessen Horowitz co-founder and general partner Marc Andreessen said in a prepared statement.
Marc Andreessen is a longtime investor in Palmer Luckey, Anduril's 28-year-old founder. He backed Luckey's first company — virtual reality startup Oculus — before Facebook bought it for $2 billion in 2014. A few years later, Luckey left following reports that he was funding a far-right political group.
In 2017, Luckey opened Anduril with a band of former employees from Oculus VR and Palantir, the software giant with major contracts with several government agencies.
Eyes Everywhere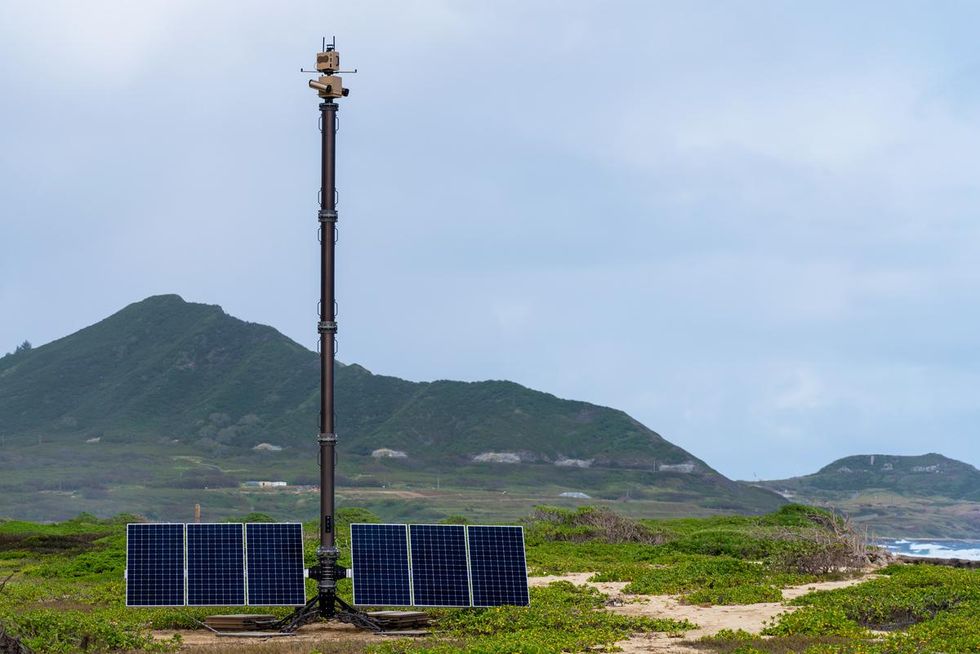 Anduril Border Tower
Along the border, Anduril's 33-foot towers are continuously scanning plots of land about three miles in diameter. They're built to ignore animals — what CBP calls a "false positive" — and light up after detecting movement from people or cars.

The towers are watching "illegal border crossings, human trafficking and drug smuggling," a spokesperson for Anduril said by email.
If a person or group falls out of the camera's vision, AI tells the next tower to pick it back up. Border patrol agents then receive an alert to their cell phones or computers.
The goal is to mimic an agent's pair of eyes, especially in remote and rural spots. As one agent put it, "they see what we can't see on the ground."
They also run on solar power, a feature CBP said avoids the need for new infrastructure that can "complicate the Border Patrol's agreements with many of the private ranchland owners, national parks, and Native Americans' tribal lands where the Border Patrol must work."
Video surveillance drones and towers are puncturing nearly every industry, from homeland security to fast food delivery to monitoring traffic and parking violations along busy streets.
The tech is also raising a flood of questions from academics and legal groups like the Electronic Frontier Foundation and Just Futures Law, all of them worried about the implications of surveillance not only for migrants, but for U.S. residents. In May of 2020, for example, agencies CBP flew a drone over Minneapolis to record protestors following the police murder of George Floyd.
"We know that what's often deployed at the border and what's normalized at the border in terms of surveillance eventually makes its way into the interior of the United States," said Hussain, the attorney from EFF.
The company says it does not use facial recognition or collect identifiable information.
But critics like the ACLU of Texas and other civil liberties groups said it's unclear what data is being collected by private defense contracts like Anduril and how it could be used and shared.
"The border is a testing ground for surveillance elsewhere," said McCoy, the legal fellow at Just Futures Law. "Unfortunately, it's been primarily used to surveill Black and brown folks in the U.S. and abroad."
As the U.S. begins reducing its military footprint in the Middle East, McCoy suspects other military contractors will turn to border surveillance as a new form of profit.
"These tools that were once confined to military contexts have found themselves more and more in local communities," he said.
Anduril, for its part, insists it is providing the government with a crucial security mechanism. "Anduril identifies a security problem," reads a prepared statement forwarded to dot.LA by a company spokesperson, "builds a potential solution, then takes it to the government for potential consideration."
Lead art by Ian Hurley
Editor's note: This article has been updated to clarify that Andreessen Horowitz was involved in Anduril 's$450 million raise round, but was not the sole funder. Additionally, mentions of Anduril's $250 million contract with CBP have been updated to clarify that they were not negotiated with President Trump himself, but rather with members of his administration.
Orca Security Ltd., an Israeli-based cloud security startup with U.S. headquarters in Los Angeles, has closed a $210 million Series C round and has plans to expand locally as it takes on competitors.
"This cash infusion makes Orca one of the world's fastest cybersecurity companies to reach unicorn status," said Shua, referring to privately held startups valued at over $1 billion. He said Orca plans to become a publicly traded company at some point. "We are not looking to get acquired."
Orca Security has assembled a who's who list of clients. It includes online stock trader Robinhood, New York-based insurer Lemonade, San Francisco-based data analytics firm Databricks and North Carolina-based digital bank Live Oak Bank.
It provides cloud security through its patent-pending "SideScanning" technology. The technology plugs up potential vulnerabilities from cyber threats and replaces them by combining everything into a single platform.
The round was led by Mountain View-based CapitalG, Google's independent growth fund and Menlo-based Redpoint Ventures, said co-founder and CEO Avi Shua, in an interview.
The company competes against cloud security heavyweights such as Qualys Inc., Rapid7 Inc. and Tenable Inc.
But their biggest rival is Santa Clara-based Palo Alto Networks Inc., which has been in a public spat with Orca. Shua said his company is not backing down.
Over the next year, Orca Security plans to "rapidly grow its headcount" in L.A. by hiring more marketing personnel and engineers, as well as beef up its research and development operation in Tel Aviv, Shua said. It also plans to form sales offices in the United Kingdom and Australia.
The company has plans to move into a brick-and-mortar spot in L.A. once pandemic restrictions are lifted.
"It is a prime location," Shua said. "The future for us is hybrid."
Other participants in this latest round include previous investors such as San Francisco-based ICONIQ Capital, Menlo Park-based GGV Capital and San Francisco-based SVCI, or Silicon Valley CISO Investments, an angel investing syndicate geared to chief information security officers.
Founded in December 2019, Orca Security raised $55 million in Series B funding three months ago, and $20 million in a Series A round in May – giving the technology company a market valuation of $1.2 billion, said Shua in the interview.
Related Articles Around the Web
Three North Korean hackers allegedly tied to the infamous 2014 attack on Sony Pictures Entertainment have been indicted for a wide range of cybercrimes, including an attempt to steal and extort over $1.3 billion in fiat and cryptocurrency.
The U.S. Department of Justice filed the indictment to a Los Angeles federal court in December but it wasn't unsealed until Wednesday. It accuses Jon Chang Hyok, 31, Kim Il, 27 and Park Jin Hyok, 36, of being members of a North Korean military agency that engaged in criminal hacking, including the 2014 cyberattack on Sony in retaliation for the studio's depiction of a fictional assassination of the North Korean leader in "The Interview."

The indictment expands on previous charges levied by the DOJ in 2018.
It also pegs the men to several other heists, schemes, extortions, and computer viruses that allegedly occurred between 2015 and 2020.
From 2015 through 2019, the three are accused of attempting to steal more than $1.2 billion from banks in Vietnam, Bangladesh, Taiwan, Mexico, Malta and unspecified locations in Africa by hacking the banks' computer networks.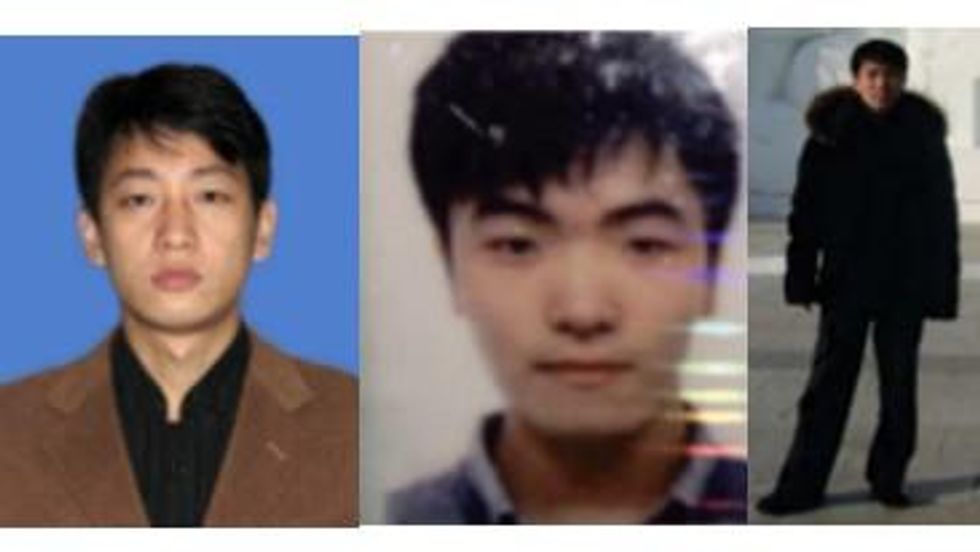 Left to right: Park Jin Hyok, Kim Il and Jon Chang Hyok were indicted by the FBI for cyber crimes on Wednesday.
From December 2017 through August 2020, the cabal allegedly tried to steal over $100 million in cryptocurrency from companies in Slovenia, Indonesia and New York.

The hackers are also alleged to be behind the WannaCry ransomware, which unleashed a worldwide attack that infected an estimated 200,000 Windows computers in 2017. They demanded a ransom payment made in Bitcoin to restore the computers to working condition.
Jon, Kim and Park are charged with one count of conspiracy to commit computer fraud and abuse, with a maximum sentence of five years in prison; and one count of conspiracy to commit wire fraud and bank fraud, which carries a maximum sentence of 30 years.
The investigation was led by the FBI's L.A. field office.
From Your Site Articles
Related Articles Around the Web