livexlive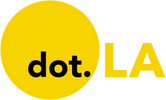 Get in the KNOW  
  on LA Startups & Tech  
X
livexlive
PodcastOne, a division of audio streaming and event company LiveOne, is planning to go public in a deal that would make it the first Los Angeles podcast-exclusive audio company to be publicly traded.
Several of PodcastOne's biggest competitors – iHeartMedia, SiriusXM and Spotify – already have publicly listed securities. But Beverly Hills-based PodcastOne would be the first local podcast company to go public.
"All those guys are our partners," LiveOne CEO Robert Ellin said of Spotify and Apple. "We distribute across all of them. [But] we're very different, we are a small production distribution house that is laser focused on only podcasting whereas podcasting is a piece of their business, but it's a much smaller piece [of] their overall companies."
Ellin said that many of PodcastOne's creators are also equity holders in the company, and stand to benefit directly from this listing. The CEO also claimed it would give podcast fans a chance to invest directly in the content they care about.
PodcastOne was launched in March 2007 by PodcastOne founder and president Kit Gray and National Radio Hall of Famer Norm Pattiz, who previously ran radio syndication firm WestwoodOne. LiveOne, formerly known as LiveXLive, bought PodcastOne in July 2020 for $16.1 million.
The deal saw PodcastOne become a wholly owned subsidiary of LiveOne, which itself went public in October 2017. Currently, LiveOne is not profitable, but it's hoping another public spin-off could tip the scales.
The offering would spin out PodcastOne as a separate division of LiveOne and expects shares to begin trading at around $8 to $12 each. PodcastOne didn't disclose how much it expected to net from the offering or when it expects to actually begin trading.
In 2021, the podcast advertising market surpassed $1 billion in ad revenue for the first time. It's estimated that roughly 20% of internet users worldwide listened to podcasts in 2022, and that's expected to grow to 23.5% by next year, according to analysts at Insider Intelligence.
But while podcast listenership is there, the advertising and sponsorship dollars are more flighty. To that end, Ellin said he expects this year will be "really tough" for sponsorship as companies cut ad spend to weather a more tumultuous economic climate. But, he expects the industry will mature and asserted, "it's going to [grow] $10 billion over the next 10 years."
Gray agreed and added, "the whole world is slowing down in terms of advertising spend, [and] people are making sure they're spending money on stuff that works." He noted that podcasts provide a generally straightforward picture of audience engagement, since most podcast ads are still affiliate links: hosts offer a code, and advertisers can see how many people use it to sign up for the service.
In a February quarterly filing, LiveOne reported that 35% of its revenue came from advertising. That was mainly driven by PodcastOne, which helped grow the company's advertising revenue by 3% annually in 2022. Ads were the second-largest share of its income besides paid customer revenue – and the LiveOne network has approximately 1.9 million paid members. Overall last year, PodcastOne lost $3 million on revenue of $32.3 million.
It's no wonder then that the company is keen to expand its podcast business to public markets. If all goes well, it could open the door for more content with which to sell even more valuable advertising.
"We're [at a] $125 million valuation," Ellin said. "Overall, as I see this industry, not only are you going to have the growth in just pure podcasting, but podcasting, live shows, products around podcasts."
Ellin told dot.LA that existing shareholders of LiveOne will automatically receive dividends of PodcastOne stock based on how many LiveOne shares they hold; up to 16%. New investors will have the chance to buy in once PodcastOne is public under the symbol "PODC." In a recent S-1 filing, PodcastOne said it plans to list on the NASDAQ.
Some of PodcastOne's more than 200 shows include "The Adam Carolla Show," "Ladygang," and "Gals on the Go," and cumulatively they garner around 5.2 unique million monthly downloads in the U.S. and 32.7 million monthly downlaods globally. It also recently acquired the distribution and ad rights for two new shows, "Causing a Scene with Sara and Natalie" and "I've Had It."
Gray told dot.LA that while the network's shows run the gamut from sports to true crime to literature, it really targets one demographic in particular: Moms. That's mainly because ad agencies were eager to capture their purchasing power in households. Ironically, though, female podcast hosts have a harder time selling ads than men, as well as a steeper climb up the charts.
"We created a female network that is second to none," Gray said. And as such, there's a lot of content on PodcastOne geared towards women aged 25-44. But this upcoming public offering could give the company a chance to further expand its audience.
LiveXLive, a livestream platform that has found success during the pandemic with its virtual concerts, is expanding into the booming gaming industry with a particular audience in mind: women.
The Beverly Hills-based company announced Thursday it has partnered with Queens Gaming Collective, a media management company for women gamers, on a content and distribution deal that will include a slate of long- and short-form original shows and events.
Queens Gaming Collective CEO and co-founder Alisa Jacobs said the collaboration will help expand visibility for the 20 video game influencers — known as "Queens" — it represents through LiveXLive's global distribution platform. Among them is L.A.-based actress, model, influencer and gamer Carrington Durham, who has 2.4 million followers on TikTok and more than 1.2 million on Instagram. Other Queens are active on Twitch and other social media and gaming platforms.
Andy Vick, head of programming at LiveXLive, said bringing gaming content to the platform was an easy extension of what LiveXLive already does in the music and pop culture spaces. In fiscal year 2021, which ended on March 31, LiveXLive reported it had livestreamed over 140 music events, generating over 150 million livestream views. Compare that to the 42 events and 69 million livestream views in the same time period a year ago.
"We absolutely believe in gaming and music as events," Vick said. "We see a lot of that in our future."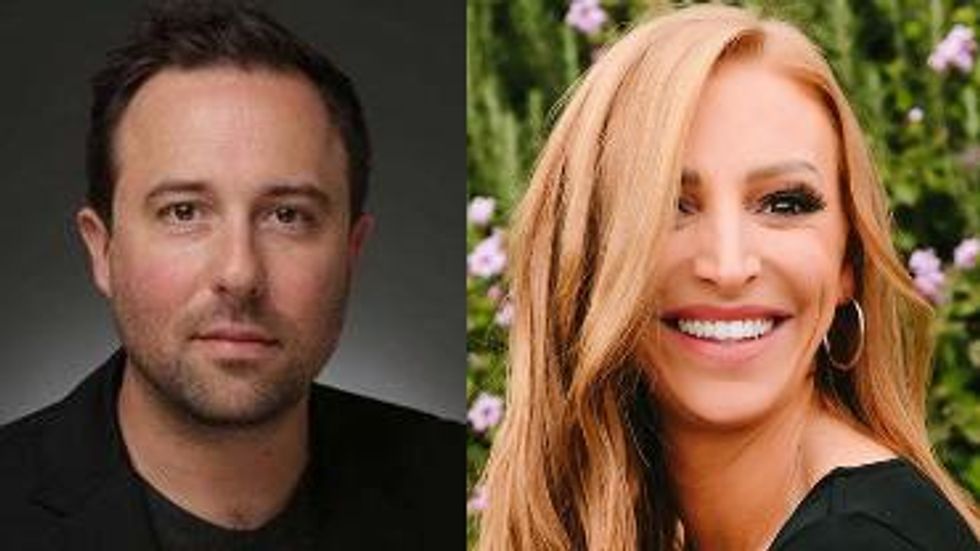 veXLive Head of Programming Andy Vick and Queens Gaming Collective CEO Alisa Jacobs.
Vick added that his own interest in video games sparked the partnership with Queens.

"We want to be aligned with talent and with brands and companies that are saying what they mean and standing by it," he said. "I can't imagine another gaming brand that does that better than Queens."
Women represent 46% of video game enthusiasts, according to a 2019 report from industry analyst Newzoo. But women are underserved by popular platforms, and sometimes the games themselves.
"It's important for the younger women and the girls who are growing up who are playing more games than ever to feel like it's not just a guy-fest and there's a place for me to play games," Vick said.
Queens represents a diverse group of women, from casual players to gritty gamer gamers, athletes, DJs, musicians and artists.
"[LiveXLive has] built something that can really bring audience and reach and scale for these women that deserve such an incredible amount of attention," Jacobs said. "They deserve to have their stories told. They deserve to have their gameplay watched," especially BIPOC women.
The video game industry has grown during the pandemic. Global video game revenue was expected to surge 20% to $179.7 billion in 2020, according to IDC data, MarketWatch reported in January.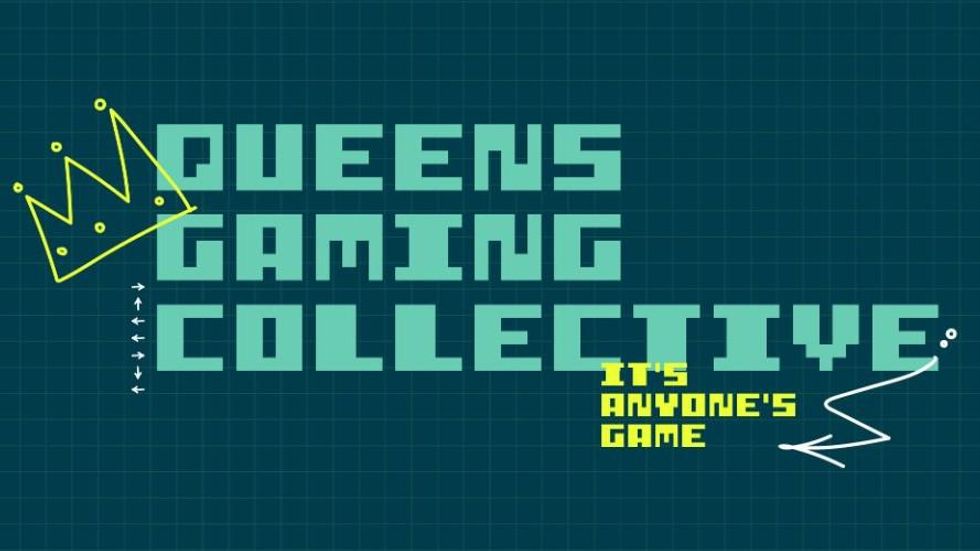 The collaboration between LiveXLive and Queens will produce content that includes game shows, programs that address wellness and mental health and being a woman in gaming as well as comedy. It will be distributed across LiveXLive's portfolio, including podcasting, audio content, VOD, pay-per-view events and via Twitch and YouTube and LiveXLive's owned and operated platforms.

The Queens are set to appear at a LiveXLive event called Social Gloves: Battle of the Platforms where TikTok and YouTubers will face off in a boxing match.
Jacobs said women gamers differ from the typical stereotype of a "bro-y" gamer, not to say that there aren't some women who fit into that culture. Many women gamers are focused on lifting each other up and robust storytelling as well as competition, Jacobs said.
"It's really passionate, bad-ass women," Jacobs said. "They are unapologetic, they are feminine, but not girly, per se. They can hold it down with the boys, but they are also really collaborative and thoughtful and creative and strategic."
Queens is creating a live-work space for their team that will have a membership club vibe, Jacobs said. But don't expect the frat house vibe that comes with similar, male-dominated gaming collectives.
Another such consortium of gaming and influencers, FaZe Clan, is known for its pranks and raucous parties. Founded in 2016, It recently moved out of its 12,000-square-foot Hollywood Hills mansion to a 36,000-square-foot compound in Burbank, where members shoot videos for TikTok and YouTube and livestream on Twitch. FaZe Clan's first female member joined the group in 2019.
Vick said the new events and content will be aligned with the passion points of the Queens' fanbase and performers.
"We're thinking about the end user and the end audience and the way that really rings true is by being true to the talent," Vick said. "We want to maximize that relationship between talent and their audience."
Takeaways

The music industry has increasingly turned to livestreamed concerts to try to make up for the massive losses sustained from the cancellation and postponement of in-person events due to the pandemic.
An ongoing experiment is underway to find and develop the best technology and techniques for engaging fans and convincing them to pay for digital shows.
Some themes are emerging in what works, what doesn't, and what's coming next.
Post Malone and his bandmates donned women's dresses while livestreaming a Nirvana tribute. British artist Yungblud livestreamed a performance reminiscent of a variety talk show. And Linkin Park's lead singer Mike Shinoda created a series of albums developed entirely in collaboration with his digital followers on Twitch.
Welcome to the new era of live concert-streaming.
With the pandemic effectively vaporizing the in-person concerts business, hamstrung artists and venues seeking alternative ways to engage fans have turned to livestreaming.
Although a livestreamed show cannot completely replicate an in-person concert, the medium also presents artists an untapped creative outlet – and a new challenge: to convince their fans that ticketed shows are worth the price of admission.
"These platforms have no filter. You're not hiding behind a stage full of pyrotechnics and a carefully crafted public messaging or marketing veneer; it's just you," Tim Westergren, founder of Bay Area-based streaming platform Sessions Live and former co-founder of Pandora, told dot.LA.
It's a high-stakes challenge, as many artists have grown to rely on live performances for the majority of their income.
And as the pandemic runs its indefinite course, many companies are jockeying to provide artists, their teams and a music industry at large striving to stay afloat with the next generation of livestreaming infrastructure.
What has emerged is a vast, ongoing experiment to find the best way to engage fans and convince them to pay.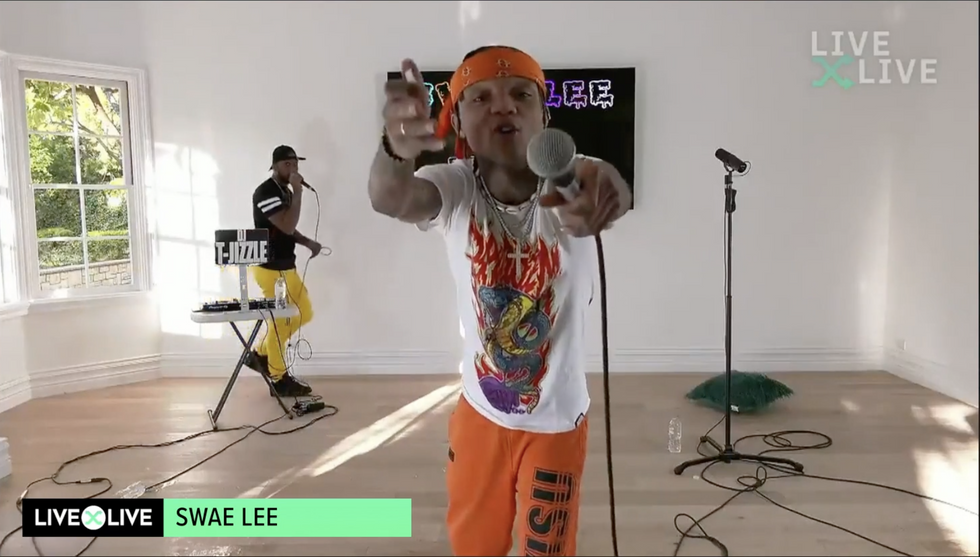 Rapper, singer and songwriter Swae Lee performs on LiveXLive.Courtesy of LiveXLive
Born of Necessity
Livestreaming didn't receive serious attention or investment before the pandemic, not least because the in-person concert business was booming. It wasn't until Q3 of this year that concert trade magazine Pollstar even began tracking livestreaming data.
But COVID-19 dealt the concerts business a serious sucker punch. Pollstar forecast in April that artists, concert venues and labels were set to lose nearly $9 billion in revenue if live concerts didn't resume in 2020.
By August, Beverly Hills-based concert promoter Live Nation had reported a 95% decline in year-over-year concert revenues.
Following a frantic period of shutdowns, reopenings and weighing options, the music industry has realized that live concerts won't be back anytime soon. It is now scrambling to figure out how to make livestreaming work.
"There was some shellshock early on," said Prajit Gopal, founder of L.A.- and NYC-based LoopedLive, a streaming platform specialized in combining its 'digital venue' with a patented form of one-on-one digital meet-and-greets. "Over the last month or so, everybody is diving into it."
LiveXLive, for instance, a sprawling NASDAQ-listed music company based in West Hollywood, has amped up its livestreaming shows by 289% over the last six months compared to the same period in 2019.
Greg Patterson, who'd previously been head of music at Eventbrite, told dot.LA that he saw L.A.-based Veeps is "one of two or three companies that changed really quickly" in response to the pandemic, spinning up its first livestreamed show in March. Patterson joined Veeps in May to help the company develop its livestreaming business to complement its pre-existing suite of tools for 'long-tail artists,' such as direct-to-fan ticketing.
"Since then, there's been what feels like another company every 30 seconds," Patterson said, noting that the field remains very fluid. "It feels like the early 2000s startup period, where there were no rules."
"It's absolutely the wild West," said music industry veteran Stephen Prendergast. "To make it work we need people coming up with ideas and tech to make it more compelling; it can't be a flat, one-screen dimension."
In other words, artists sitting in their bedrooms and broadcasting on Instagram and Facebook won't cut it.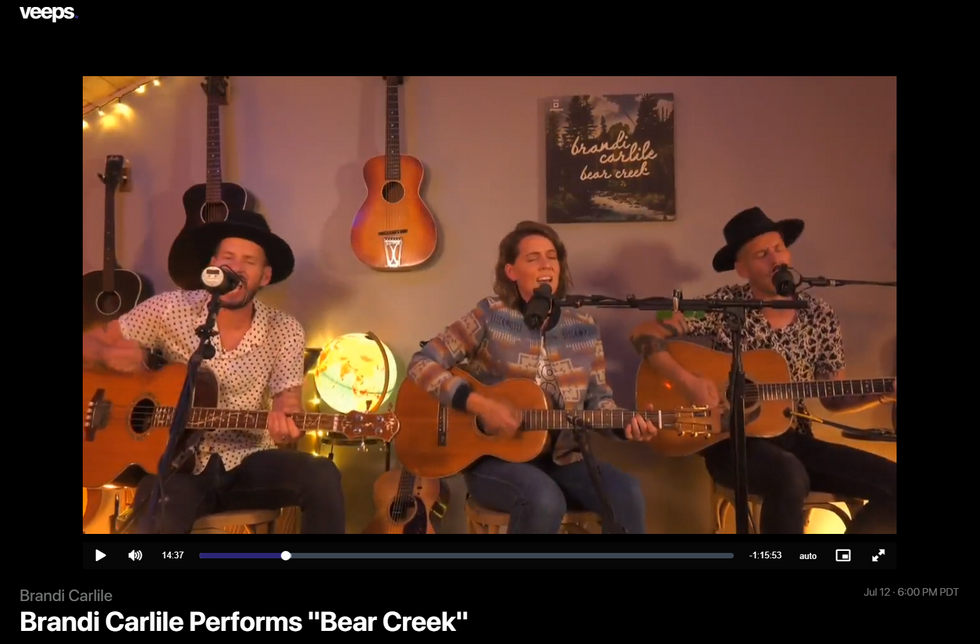 Image courtesy of Veeps
More Than a Concert
New solutions have sprung up to do what concerts do best: put fans in the same space as the bands they love. But because a digital show has its limitations, there are also ongoing efforts to provide fans with online experiences that they wouldn't find at a traditional concert.
"I always say, 'do things in digital that you can't do in the real world'," LiveXLive President Dermot McCormack told dot.LA.
Many streaming services have started to provide coaching services to help artists exploit the unique opportunities a digital platform affords, and increasingly so as data comes in showing what works and what doesn't.
"If you do the same thing over and over again, people won't want to tune in," Gopal, LoopedLive's CEO, told dot.LA. When his company hosted a livestreamed show for the cast of "Hamilton," the performers used LoopedLive's private meet-and-greet feature for more than 'Hi, how are you.' Lin Manuel-Miranda, for instance, regaled fans with freestyle raps about a topic of their choice, and some cast members gave quick dance lessons.
During Grammy-winner Brandi Carlile's Veeps stream in early October, she and her band paused the show for a 30-minute fan Q&A that spanned topics from whether the band ever gets on each other's nerves to how life has been during the quarantine and the status of Carlile's forthcoming book. The band then obliged a fan's request to sing happy birthday to her daughter.
McCormack pointed to a 20-minute Q&A one artist hosted in the middle of a LiveXLive-hosted performance. "The fans lapped it up," he said. "We had to switch off the comments, they were moving so quickly."
Fans also seem to like when artists lean in to the sort of unmediated intimacy that accompanies livestreaming. "Artists'll play a song and go 'fuck, let me start again' – fans love that; in comes a basket of tips when that happens. It's about relatability and connection," said Westergren.
For K-Pop artist James Lee, "there's definitely a rush" that comes with livestreaming. Lee, who has performed on Sessions, told dot.LA that, "I have not been on stage in over a year. [Streaming] feels very intimate. There is more of a burden because nobody is in the room with you and everything depends on me."
Linkin Park's Mike Shinoda took that intimacy to another level with his three-volume album, "Dropped Frames." Shinoda's fans on Twitch suggested themes and lyrics that he transposed into songs, some of which even included fan-submitted vocals.
More such experimentation is likely to come. DICE general manager of North American operations Shanna Jade Vélez told dot.LA she is "expecting to see a lot more innovation when it comes to interactivity." The company began operating before the pandemic as a live-ticketing discovery platform, available in seven countries. It has since streamed over 4,000 shows and sold tickets in 145 countries.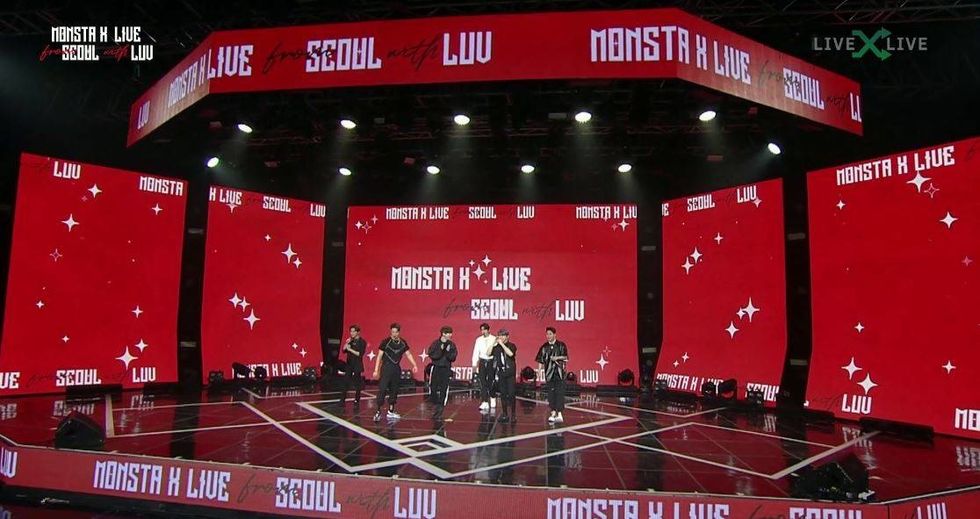 K-Pop megastars MonstaX perform on LiveXLive's platform. Courtesy of LiveXLive
Putting on a Show
Live chat has become a regular feature of livestreamed concerts, enabling concertgoers to message one another. Mandolin offers private chat rooms for groups of fans to congregate; the Indianapolis-based company launched in response to the pandemic and recently raised $5 million in seed funding.
Other startups are working to translate fan input – like clicking 'like' buttons – into a crowd roar that gets transmitted to musicians on the other side of the screen. FanTracks is one such service. It's also providing concertgoers a "director's chair" that gives them the option to toggle camera views. And it is one of many platforms experimenting with augmented reality to "transport" the performers to different locations.
Peter Shapiro, owner of several venues including the Brooklyn Bowl, is founder of Fans, a concert-streaming platform that transports audience members themselves, by allowing them to beam their video-feeds onto screens at venues where livestreamed performances are held. The technique is similar to how the NBA has allowed its fans to project their video-feeds onto screens in the stands.
Taking virtual transportation a step further, L.A.-based Wave renders musicians into digital avatars who interact with and perform for fans in otherworldly settings where the laws of physics are optional. The company raised $30 million in June and has hosted concerts by John Legend and The Weeknd. Produced in partnership with TikTok, the Weeknd's show reportedly attracted 2 million unique viewers.
Similar to Travis Scott's virtual concert series in April – where a giant, digital rendering of the hip-hop artist performed for over 27 million viewers across five shows hosted on Epic Games' Fortnite – Wave concerts are created with gaming engines and can be accessed by viewers via PC, gaming consoles or VR headsets. Unlike the Scott concert, however, which was pre-recorded and then rendered into Fortnite's virtual venue, Wave's avatars perform in real-time.
The TikTok live event featuring the Weeknd and Wave's technology brought aspects of gaming to live concerts.
Whether artists perform as an avatar or their unvarnished selves, Veeps has found that fans seem to prefer some degree of predictability on what they will see in a livestream. Similarly, Vélez said DICE is finding that fans want "a reason" to purchase a ticket. Some artists are turning to filming shows at big, deserted, "hauntingly beautiful" sets like churches and palaces, she said.
Patterson added that shorter shows, around 45 minutes, also seem to perform well, and noted that the user interface must be premium.
"It has to be on the level of watching a movie on Netflix or Disney Plus," the Veeps executive said. "If you mess it up, with so many other options, no one's going to want to come back."
Anyone who's shelled out $100 for a concert wouldn't necessarily point to the auxiliary pieces surrounding a show – the lighting, the refreshments, the bathrooms – as key to the experience. It's the performance that matters. But in the digital world, the areas ancillary to the performance are opportunities for virtual venues to distinguish themselves. So says L.A.-based streaming platform Moment House.
"If you make fans feel that they're part of this very elegant, premium and special place of a moment, we can make this a cultural phenomenon," Moment House co-founder Arjun Mehta told dot.LA. "We saw that thesis in our beta stage play out really nicely."
Moment House debuts this month, with a focus on user experience. Mehta developed the idea as a student in the inaugural class of USC's Jimmy Iovine and Andre Young Academy, a program that focuses on the intersection of design, engineering, management and communication. The company has raised a $1.5 million seed round led by Forerunner Ventures with investors including Scooter Braun, Troy Carter and actor Jared Leto.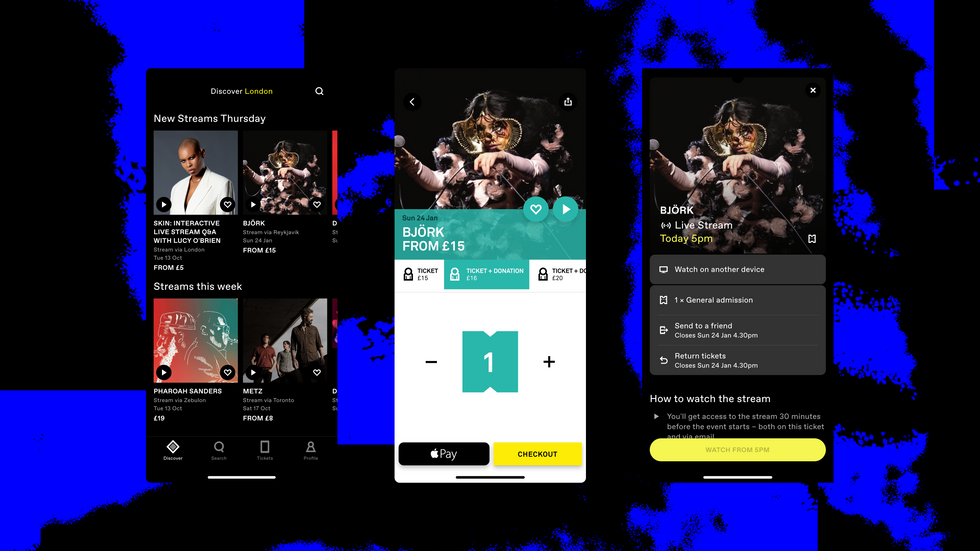 DICE began operating before the pandemic as a global live-ticketing discovery platform. It has since streamed over 4,000 shows and sold tickets in 145 countries.Image courtesy of DICE
What's Next?
As this experiment continues and the culture and technology of virtual performances grows, we could be entering a new paradigm for musicians and their audiences.
"The early-90s internet is unrecognizable compared to what we have today and I think visual content and music will become unrecognizable to what we have now," Patterson of Veeps said.
One example of new technology that could open a world of possibilities is Aloha by Elk, which launches in beta this month and will allow musicians to play together in real time from hundreds of miles away.
"Playing together over the internet is something that musicians have been dreaming about since Skype: 'We can talk, but why can't we play?'" Michele Benincaso, founder of the Stockholm-based Elk Audio, the company behind Aloha, told dot.LA. The answer: latency.
The delay between someone speaking over Zoom or Skype and someone else hearing it is usually between 500 milliseconds and 1 second. The delay itself often fluctuates, a process known as "jitter." These issues make playing together on beat effectively impossible.
Solving these problems, as Aloha aims to do, would clear the way to a whole new path for livestreamed concerts.
"I could think of hundreds of examples for things that haven't been done today," said Sharooz Raoofi, a musician and tech entrepreneur who splits his time between L.A. and London. He is one of a few artists who's worked with Aloha prior to its upcoming beta launch.
"If you think about legendary festival performances, like when a guest vocalist jumps on stage and sings a track – that can't be done in digital unless it's latency free," Raoofi told dot.LA. "Even in the best of times, trying to get musicians together is tricky – more so if it's multiple bands. Doing that remotely without any latency could be a game changer."
For now, the maximum distance Aloha can manage is about 1,000 miles, enough to allow musicians in different countries to play together. As this technology develops and the distance grows, however, the possibilities may become virtually endless.
A Band-Aid or a Bridge to the Future?
Whether livestreaming becomes an enduring pillar of the music industry or fades into a fad once the pandemic dies down will depend on whether it can bring in enough money and deliver a new kind of experience.
"I was really struck that someone made $10,000 in a show with 300 people attending – and I can guarantee you there's not a room anywhere in the world that that artist could sell out," Westergren said of a performer who streamed on Sessions. "Historically there are only two ways for an artist to get paid like that. One is to spend years on a stage, grinding and touring. The other is to get plucked out of obscurity by the powers that be."
"Livestreaming can solve that, but only if you have monetization," he said.
---
Sam Blake primarily covers entertainment for dot.LA. Find him on Twitter @hisamblake and email him at samblake@dot.LA