With In-Person Concerts Back, What Will Happen to Livestream Audiences?
Sam Blake
Sam primarily covers entertainment and media for dot.LA. Previously he was Marjorie Deane Fellow at The Economist, where he wrote for the business and finance sections of the print edition. He has also worked at the XPRIZE Foundation, U.S. Government Accountability Office, KCRW, and MLB Advanced Media (now Disney Streaming Services). He holds an MBA from UCLA Anderson, an MPP from UCLA Luskin and a BA in History from University of Michigan. Email him at samblake@dot.LA and find him on Twitter @hisamblake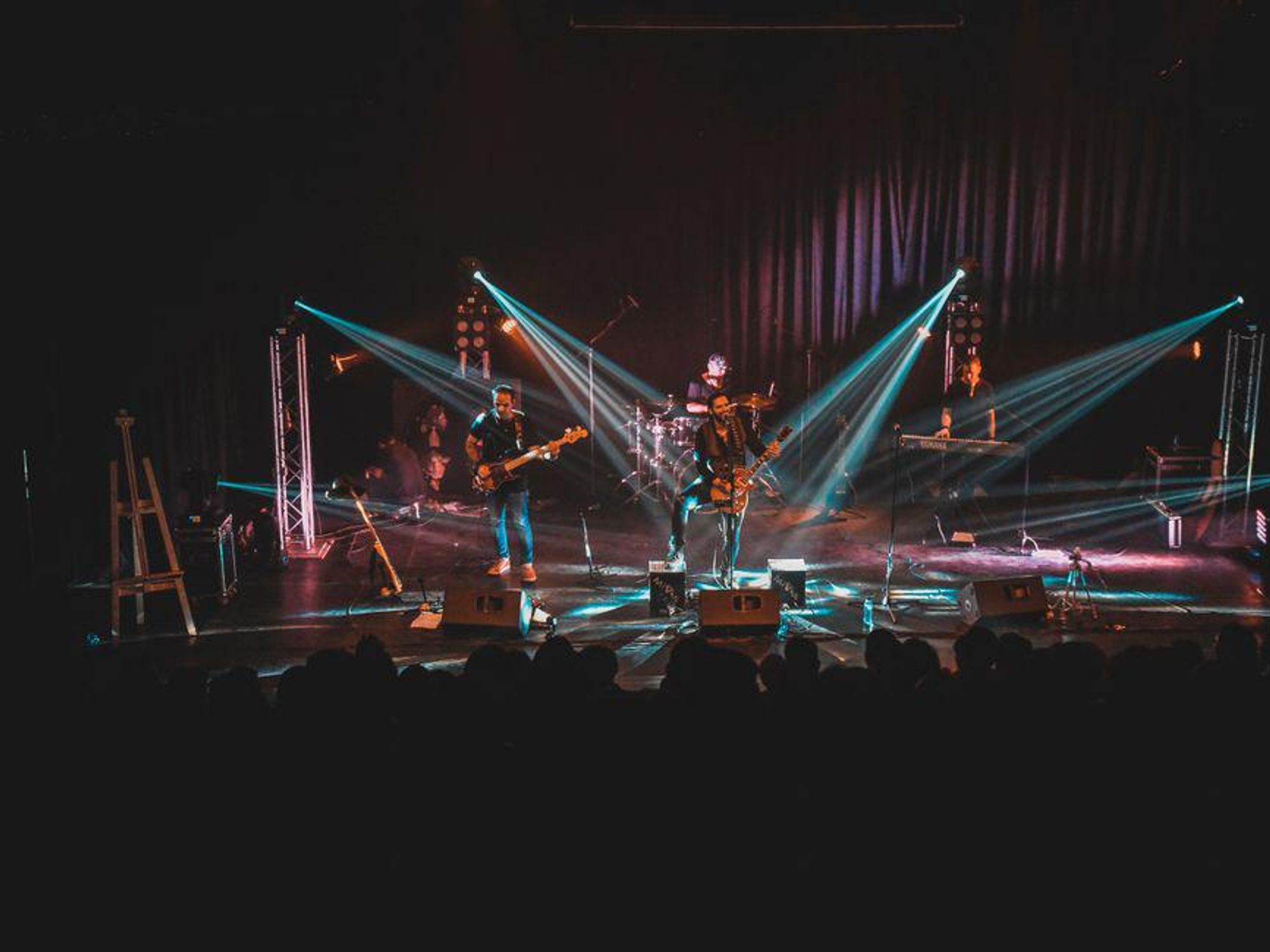 In-person concerts are coming back.
In California, venues have received the provisional go-ahead to open at full capacity by June 15 so long as statewide COVID numbers continue their downward trend.
---
But 15 months after venues shuttered, the music world has changed. Tech companies, musicians and even in-person concert promoters have built an entirely new ecosystem around livestreaming shows, evolving them into a slicker and more well-produced medium than existed before the pandemic.
Events companies and labels have invested big in new livestreaming technology. Even musicians have come to love some of the flexibility and direct contact that these new, sometimes more lucrative, formats allow.
Livestreamed shows will likely remain a permanent fixture in the music industry. Yet the extent to which this new medium expands and adapts depends on the most important stakeholder of all: fans.
So far, it seems clear that fans are ready for in-person shows to return. Live Nation, the world's biggest concert promoter, reported that sales for 2022 tours are up double-digits compared to the same period pre-pandemic. Over 80% of fans have opted to hold onto tickets for shows that were postponed during the pandemic, rather than request a refund, the company said.
But there are also signs that fans like livestreaming. Amazon-owned Twitch has seen music streaming grow 550% on its platform, year-over-year, according to the company. Arjun Mehta, CEO of L.A.-based livestreaming platform Moment House, said over 150,000 users have voluntarily given their phone numbers to receive twice-monthly notifications about upcoming shows. And LiveXLive, a publicly traded Beverly Hills-based digital music company, says it's seen livestreaming views grow 533% year-over-year. The company forecasts its 2021 revenues will be between $100 million and $110 million, up from a 2020 high point of $38.7 million.
Yet the appeal to audiences of livestreaming has not been tested at a time when fans' options aren't limited by a global pandemic.
"I still feel like it's too early to be able to come up with real insights," Mehta conceded. "There just hasn't been enough time or volume yet."
And even in the absence of live shows, livestreams can struggle to attract fans.
"A lot of these events have been like trees falling in the forest," said Tim Westergren, the founder of Pandora who now runs livestreaming platform Sessions, at a recent panel hosted by Music Ally, a trade publication.
Add-On Experience Or a New Frontier?
Companies that operate in other parts of the music industry have begun dipping their toes into livestreaming. In January, Live Nation acquired a majority stake in Veeps, an L.A-based livestreaming platform that hosted over 1,000 shows in 2020. Together, the companies plan to outfit 60 venues across the country with equipment that will enable them to livestream in-person concerts. Live Nation chief executive Michael Rapino has even floated the idea of launching a "Festival TV" streaming channel.
Spotify is in on the action as well, having partnered with four livestreaming platforms, including Hollywood-based StageIt, to share artists' livestream schedules with fans. The Swedish company has also announced it will begin streaming concert video on its platform, though the first batch will be pre-recorded rather than live shows.
And for the first time ever, live-events analytics firm Pollstar has begun tracking livestreamed show data, albeit a bit crudely – with little distinction between free and ticketed events.
Regardless of the exact numbers, most observers agree that beaming a live show across the internet can draw a bigger crowd.
"It's a way for venues to drive incremental revenue, which at scale adds up," Mehta said. "But it's not necessarily as great of an experience as it can be for the fans [at home]."
That is why he and others are most intrigued by what livestreaming can do as a medium that embraces its primary purpose as a digital experience.
Travis Scott's concert in the popular video game Fortnite last April was an early example of this. The event featured Scott performing as a gigantic digitized version of himself in a virtual universe where the laws of physics don't apply. Wave followed later in the summer with shows from John Legend and The Weeknd, with the added twist that the avatar representing the artists was being controlled in real-time by the real artist. Creativity has continued and insiders say there is plenty of room for more.
"We're talking about a segment of entertainment that's driven by artists," Veeps Vice President Greg Patterson said.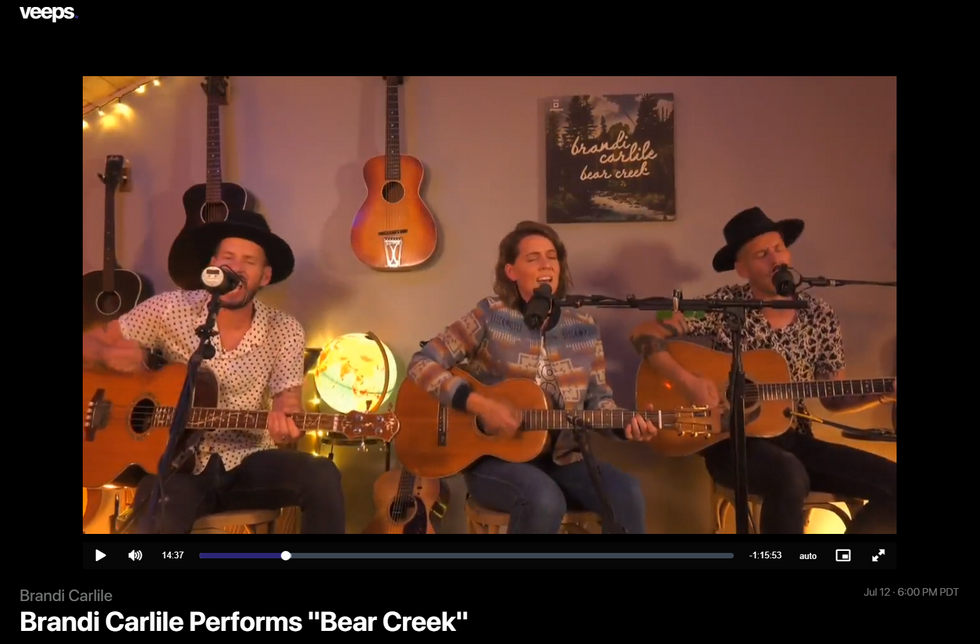 Image courtesy of Veeps
'A Beautiful Thing': More Control (and Cash) for Artists
For that creativity to be unlocked, the artists must participate, and so far it appears the economics of livestreaming are increasingly attracting those who were once skeptical.
"Everyone I know who did it and did it well was like, 'I made more than I've ever made in a single night," said L.A.-based music manager Ryan Vaughn. "Everybody was so resistant [before], almost entitled, where you have to be in the room, have to experience [the performance]. Now it's like, 'Fuck it, I don't even have to leave the house'."
Veeps said its shows put over $10 million into artists' pockets in 2020.
Twitch said the number of musicians expected to earn more than $25,000 per year on its platform grew 1635% from January 2020 to February 2021. And these artists are monetizing a fairly small fanbase: as of late October, the median followership for musicians making over $50,000 on the platform was just 183. Industry analyst Will Page has shown that, on average, artists can monetize fans on Twitch about 10-times better than on audio streaming platforms such as Spotify and Apple Music.
That means artists can theoretically double their revenue by migrating 10% of their audio-streaming audience on Spotify or Pandora to a livestreaming video audience on Twitch.
These data are encouraging for livestreaming, but extrapolating those figures into a post-pandemic era may not hold up.
Singer-songwriter Rufus Wainwright sees livestream concerts as a new creative avenue for artists. He's been one of Veeps' most active performers, doing over 40 shows on the platform since 2020.
"From what I can tell it was meaningful to my fans, but honestly was incredibly helpful to me as well," he said in a written statement. "I was also thrilled that it was a way to keep some of the musicians and engineers I have been working with on payroll. I am ready to go out into the world and do live shows again but I think the streaming world is here to stay and that is a beautiful thing."
Moment House's CEO said he's heard similar things from artists who've performed on his platform. Livestreaming is no longer a stand-in for an in-person experience, but a new format with its own artistic potential.
"I think artists are really starting to see that it's a creative format, and not just a tech activity," said Mehta. He pointed to an Instagram post from Charlotte Cardin, who after selling 15,000 tickets to her livestreamed concert on Moment House in late April wrote: "Working on this livestream has been one of the most artistically stimulating experiences I've ever had."
Earlier this year, Warner Music Group signed partnerships with L.A.-based startups Wave and Genies, a sign that the record label wants to bring its vaunted roster of artists into the metaverse and give them more tools to explore livestreaming as a creative outlet.
But all of those ambitions depend on fans continuing to embrace the new medium, even as their options open back up. So as they return to watch more in-person concerts, the music industry will likely be watching right back.
Sam Blake
Sam primarily covers entertainment and media for dot.LA. Previously he was Marjorie Deane Fellow at The Economist, where he wrote for the business and finance sections of the print edition. He has also worked at the XPRIZE Foundation, U.S. Government Accountability Office, KCRW, and MLB Advanced Media (now Disney Streaming Services). He holds an MBA from UCLA Anderson, an MPP from UCLA Luskin and a BA in History from University of Michigan. Email him at samblake@dot.LA and find him on Twitter @hisamblake
https://twitter.com/hisamblake
samblake@dot.la