podcasting
Spotify is now matching your music taste to podcasts. The new predictive algorithm is one of a host of new products the Swedish company announced Monday.

It also unveiled a new premium service called HiFi with improved sound and a Snapchat-like feature for artists to share video clips.
The moves are part of Spotify's ongoing effort to expand beyond music and become the primary platform for all audio creators and consumers.
The company has been on an acquisition spree over the past several years, which has included podcast content studios The Ringer, Parcast and Gimlet and podcast creation services like Anchor and Megaphone.
And it's about to release more original podcasts as it expands partnerships, including "Batman Unburied," created with Warner Bros. and DC; a new project from Ava Duvernay and a program featuring Barack Obama and Bruce Springsteen.
"The creative economy is exploding," said chief executive officer Daniel Ek. "So far, that explosion has been largely taking shape across video, with companies of all sizes focused there, and new ones entering the market all the time…(But) rather than focusing where everyone else is, we decided to go all-in on audio."
Monday raised the stakes on that bet. Here's a rundown of some of the more notable announcements:
New Products
Stream On: The power of HiFi - Billie Eilish & Finneas
New Subscription Tier: Spotify HiFi will provide subscribers a more refined, "high-end" audio experience. The new tier will roll out in select markets later this year, and will ostensibly compete with other premium streaming services like Tidal and Amazon Music HD.

Spotify Clips: Building on the company's incremental incorporation of video onto its platform, Spotify announced the launch of "Clips," a new feature for artists to share short videos. Described by Chief Content Officer Dawn Ostroff as a way to "give many of our most popular artists a new way to connect with their fans," Spotify Clips looks similar to the Stories feature that Snap pioneered and which subsequently became a staple of Instagram.
New Artist Marketing Tools: Over 1 million artists use Spotify's suite of artist marketing and data analytics tools each month, said Head of Marketplace Charlie Hellman. "Spotify for Artists" will be made available in 25 additional languages. Among those tools is Canvas, which allows artists to upload visual material to complement their music. Described by music star Halsey as the modern form of album art, Canvas will now be available to all artists following a limited run. Marquee, another artist tool that allows musicians and their teams to sponsor music recommendations, will also be expanding later this year.
More Personalized Playlists: Spotify's chief R&D officer Gustav Söderström underscored the abundance of content on the platform by noting that if someone wanted to listen to the over-50,000 hours of music and podcasts uploaded to Spotify every single day, it would take them over five years. To help users navigate this ocean and discover new music, the company has invested into algorithms that use a combination of machine learning and human curation to build playlists. More of these are coming, with Söderström highlighting that soon the platform's "Daily Mix" franchise, which offers playlists tied to topics like specific genres and decades, will be updated daily.
Podcasting Plans
Renegades: Born in the USA | A Spotify Original Podcast | From Higher Ground
WordPress Partnership: Podcast creators using Spotify's Anchor platform will now be able to "quickly and easily turn written content directly into podcasts," said Sara Lerner, Spotify's head of strategy for podcast formats. "We think this is going to empower a whole new group of creators, people who have historically been more focused on the written word."

Interactive Podcasts: Podcasters will be able to incorporate polls and Q&As in real time to interact with their listeners.
New Podcast Content: Spotify announced a variety of new podcast series, including "Renegades: Born in the USA" hosted by Barack Obama and Bruce Springsteen, "Batman Unburied" in partnership with Warner Bros. and DC, and a new project from Ava Duvernay.
Podcast Discovery: Spotify will soon be unleashing its recommendation algorithms to power podcast discovery. This will include using predictive algorithms to recommend podcasts based on users' musical tastes and allowing users to search for podcasts by theme and topic, based on a machine-learning analysis of episode content.
Growing Podcast Monetization: Spotify's big bet on podcasts comes with an expectation that the still small podcasting market will grow. Ostroff pointed out that although the terrestrial and satellite radio market is about $30 billion, it remains plagued by limited data for advertisers to target listeners with precision. That murky data has carried over into podcasts but, she said, Spotify has been able to change the game here by switching the mode of podcast access from downloads to streaming. To build on that and help marketers reach podcast listeners with targeted ads, Spotify will be launching Spotify Audience Network, a new marketplace for advertisers to buy ads on podcasts. The company also announced that Ad Studio, another channel for marketers, will begin being beta-tested for podcasts. Finally, the company is going to begin testing letting podcasters charge for paid subscriptions.
Expansion Plans
Eighty-five new markets, 36 new languages: Already available in 93 markets, where it reaches 345 million users and hosts content from over 8 million creators, Spotify will be expanding over the next few days into new markets across Asia, Africa, the Caribbean, Europe and Latin America. This, Ek said, will make Spotify accessible to over 1 billion new potential customers. The company will also nearly double the number of languages in which it's available, to over 60.
From Your Site Articles
Related Articles Around the Web
Jordi Oliveres, who spent nearly a decade at Spanish-language media giant Univision, has been struck by how few podcasts speak to Latinos. This week, he — along with the former heads of Universal Music Group and Fonovisa Records — debuted their Latino podcasting company, hoping to tap a market that's largely been overlooked by some of the larger podcast studios.
"There isn't any content that speaks to [U.S. Latinos'] culture and interests," Oliveres said. "So we just thought there was a huge opportunity there to create content that genuinely speaks to the Latino community in podcasting."
L.A.-based Pitaya Entertainment launched with six new podcasts hosted by popular personalities including Puerto Rican actress Giselle Blondet and her daughter, Gabriella Pabón. For now, most of the podcasts are in Spanish, but the company will produce in both Spanish and English, as well as a mix of both.

Created by Oliveres, the former Universal Music Group President Zach Horowitz, former head of Fonovisa records Guillermo Santiso, Slate.com's podcast founder Andy Bowers and Campanario Entertainment Vice President of Spanish Development Diana Mejia-Jones, the company aims to produce shows about Latinos in the burgeoning new media form.
"[U.S. Latinos] are a community that's really engaged with media and entertainment, but they lag behind in podcast listening," Oliveres said. He added that Latinos overindex on all forms of media consumption, and podcasts will be no different.
According to the first-ever Latino Podcast Listener Report from Edison Research in 2020, 45% of U.S. Latinos ages 18 and over have listened to a podcast at some point in their lives. The study also found that podcast listening for over half of adult U.S. Latinos has increased since the outbreak of COVID-19.
"Podcasting companies are definitely paying attention to trends observed in video content," said Alejandro Rojas, executive director of Parrot Analytics, a global content analytics company. "In video, we're seeing demand for Spanish language content growing rapidly and gaining share."
Pitaya's six initial series launched over the last two weeks, all hosted by well-known Latino personalities with a large and devoted fan base; together, they have a combined social media following of more than 27.5 million. Among them are Blondet and Pabón, who cohost "¡Ay, Mamá!," a podcast on motherhood, and actress Alejandra Espinoza her sister Damaris Jimenez, who cohost "Entre Hermanas," a podcast series on self-improvement and female empowerment.

"Sin Rodeo," a podcast run by Jomari Goyso, debuted at number one on the Apple Podcasts U.S. Entertainment News chart. "Ana Patricia Sin Filtro," hosted by Ana Patricia Gámez, debuted as the highest-ranked Spanish language podcast in the U.S. on Apple's top 200 podcasts chart.
Pitaya also released an English-language podcast named "Hyphenated," in which Latina comedians Joanna Hausmann and Jenny Lornzo discuss the connections of Latino and American culture.
"We thought it was important to find hosts who are already very well known and respected in the community, and that had things to say that were meaningful and interesting," said Oliveres. "We looked for figures that already have large followings on social media and that have a presence in Latino media in general. And then we work together with them to build a show that represents their interests and the things that their followers are interested in, so that it's just a very organic extension of who they are and what their followers care about and want to hear about."
Pitaya's podcasts are free and available on Apple Podcasts, Spotify, YouTube, Google Podcasts, Amazon Music, Pandora and Pitaya Entertainment's website,
pitaya.fm
. The company got its name because of pitaya fruits' origins in Latin America, their unique color and shape, and the ease of spelling and saying "pitaya" in both Spanish and English, said Oliveres.
Related Articles Around the Web
Los Angeles-based Goodpods launched at the start of the pandemic in the hopes of answering the question "What podcast should I listen to?"
As the podcast market has become more saturated, more and more companies are trying to make discovery easier. Google's Podcast app relies on AI-powered suggestions to lure listeners. Other podcasting platforms like Breaker take an approach more like that of social media.
"So many podcasts are being created every single day. And so the vast universe of podcasts that you can listen to is just getting bigger and bigger," said JJ Ramberg, co-founder of Goodpods. "Discovery is getting harder and harder."

Ramberg, the former host of MSNBC's weekend business program "Your Business" and "Been There Built That" podcast, came up with the idea for Goodpods after she found herself stalling her daily jog so she could search for a good podcast. She realized there was likely a more efficient way to ask her friends for podcast recommendations.
So she co-founded Goodpods with her brother, Ken Ramberg, as a way to stay connected with friends about what they were listening to in the podcast world. Both Rambergs are investors in dot.LA.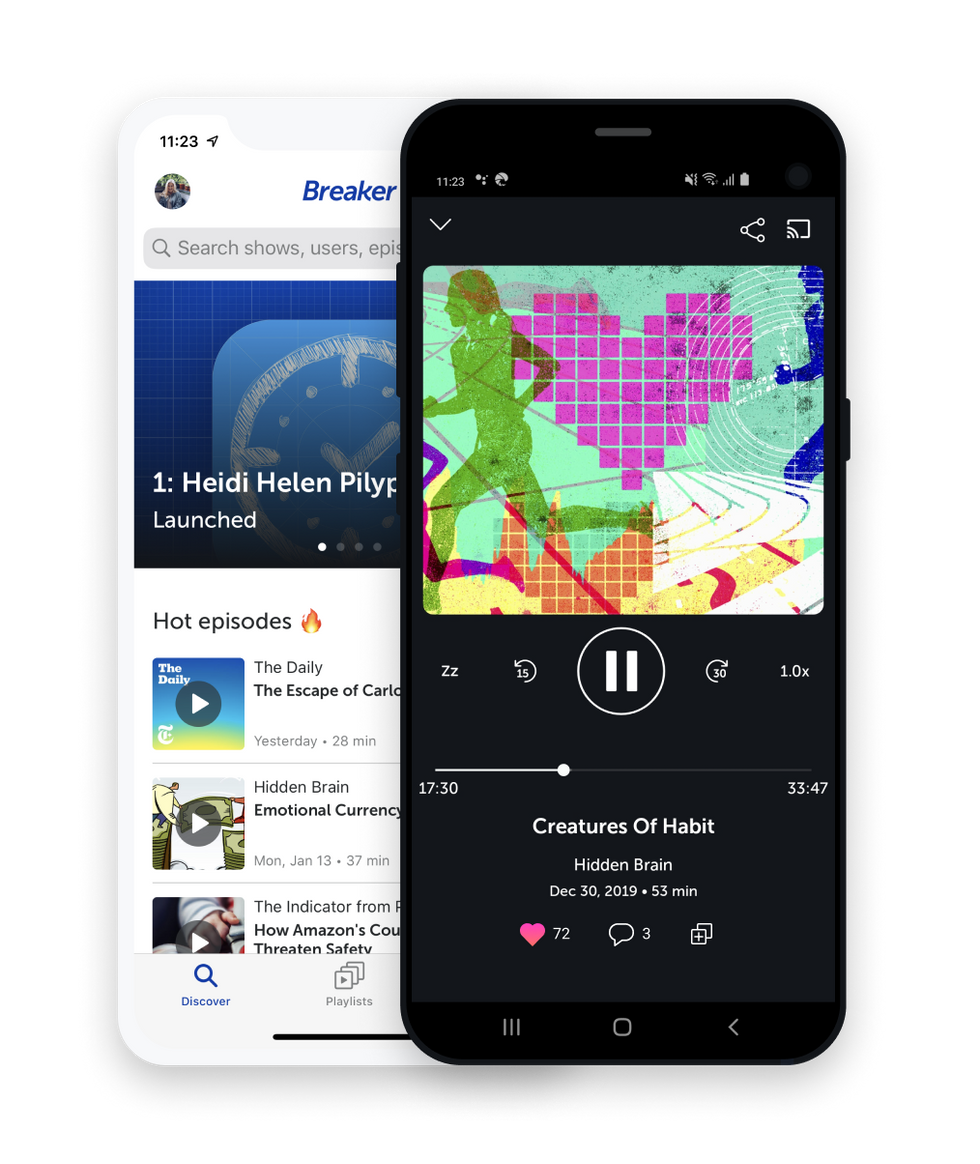 Breaker was recently bought by L.A.-based Maple Media.
"Rotten Tomatoes does it for movies. Yelp does it for restaurants, Goodreads did it for books," said Ken Ramberg. "There was no really social network or discovery platform for good podcasts, really."

Over half of Americans have listened to a podcast and about a quarter listen to a podcast at least once a week, according to a recent survey by Edison Research, which examines trends in digital media consumer behavior.
Breaker, a social podcasting app similar to Goodpods, has also been trying to make it easier for listeners to find podcasts they love. Maple Media, run by Michael Ritter, recently bought the platform and its social media handles after Twitter absorbed their staff. He thinks the problem is that all this content was created without a well-thought-out infrastructure that could channel it to consumers.
"Podcast discovery trails other media formats, such as video," Ritter said. "YouTube executes very well with a robust recommendation system that has been refined over the past 15 years and TikTok is innovating in this area as well. Podcasting does not have this infrastructure, but new shows and audiences are both growing very quickly."
Goodpods launched at the start 2020, and has averaged over 1,000 downloads monthly since, according to Apple app store data. Since March, the Los Angeles-based app has attracted attention from celebrities including Kim Kardashian West, who offered to follow back the first 10 people who followed her on the app — a move that was not a paid partnership in any way, said JJ Ramberg.
Other notable users include journalist and author Malcolm Gladwell, actor and producer Alyssa Milano and journalist and host Katie Couric.
Among the groups that have popped up on the app's recently released feature are "Gen Z College Podcasters," university students who are sharing the podcasts they've made with each other; "History Lovers," podcast listeners who share their favorite podcasts; and "Slopeside Pod Club," whose description reads "Pods for dog walks."
Podcast creators can also use the app to see how many listens their own podcasts are getting and they can interact directly with their audiences, enabling them to crowdsource opinions and ideas for later content.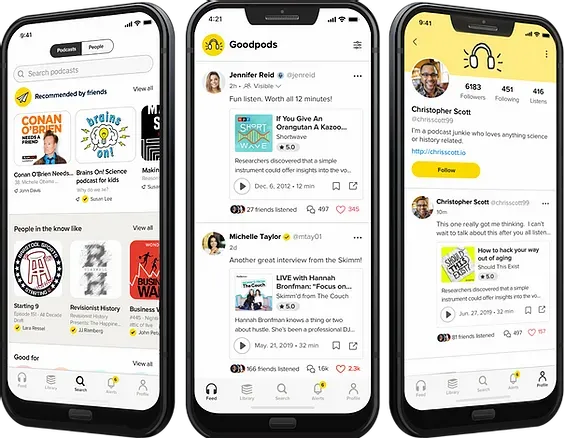 Goodpods aims to make it easier for listeners to find podcasts they love.
Podcasts have long had trouble gaining new audiences, so there is a market for companies like Goodpods if they can successfully create a revenue model.

"Podcast discoverability isn't a business in itself," said Colin Maclay, a research professor of communication at USC and executive director of USC Annenberg's Innovation Lab. "It may be a feature, but it is not a business by itself. But if you imagine a mixture of a social network with that, then you maybe [can] build toward a business."
Maclay is optimistic that larger players in the podcasting world like Amazon, who recently acquired Wondery, Spotify and Apple, won't crowd out smaller companies like Goodpods. He points to Twitter, which started as a podcasting app, and eventually grew into a much more general social media site.
Ritter, who now runs Breaker, said the advantage companies like his have is that larger players have been more focused on exclusive content rather than the social aspects of podcasting such as sharing and listening — both key to discovery.
"We believe social podcasting platforms continue to have plenty of room to innovate and create unique sharing and listening experiences in the future," said Ritter.
As for the Rambergs, this is not their first venture together. In 2005 they founded Goodshop, an online shopping coupon code site that donates a portion of each sale to charity. It's raised $13 million since it launched, donating to causes from local schools and dog shelters to the American Cancer Society. Ken Ramberg also co-founded JOBTRAK, a college job site which was acquired by Monster.com in 2000.
When asked what Goodpods' plans are moving forward, JJ Ramberg said: "We're still early days. It's not even been a year yet. So we are 100% focused on the user experience and fulfilling the promise that users find great new podcasts, and podcasters find new users."
From Your Site Articles
Related Articles Around the Web