podcasts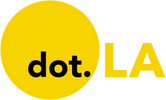 Get in the KNOW
on LA Startups & Tech
X
podcasts
Courtesy of Christina Stembel
From her one-bedroom apartment, Christina Stembel grew her local flower delivery service to a company that delivers nationwide.
On this episode of Behind Her Empire, the founder and CEO of Farmgirl Flowers discusses growing up in rural Indiana, overseeing a company without investors and finding creative solutions to obstacles.
Stembel's family wanted her to stay local to their farm, but she said she knew that wasn't the path for her. She left the farm after high school and eventually found herself working in hospitality in San Francisco. Seeing people in the city manage their own startups inspired her to consider her own business path, and she considered hundreds of ideas before landing on Farmgirl Flowers.

When it launched, the company offered just one daily bouquet. It has since grown to offer up to 40 arrangements at a time.
Stembel had no experience in the floral industry, and she soon discovered how difficult it could be to work with highly perishable products. Everything from heatwaves to shipping issues impacted the flowers, and she had to familiarize herself with potential roadblocks as she placed orders months in advance.
"I think it's really important especially for women to hear that they don't have to be the cliche story of, 'Oh, you're so lucky you turned your hobby into a business,'" she said. "You can be intentional about wanting to be an entrepreneur and start a business."
Stembel said she used to regret not going to college; investors often could not see past her lack of a degree. She had to pull from her own savings to fund the company, which is still completely bootstrapped.
Now, she said she values her experience having to foster her own intellectual curiosity and drive outside without the prompting of an academic institution, adding that perspective helped grow both her understanding of her industry and her creative approach to the business.
"I think we need to get out of this mindset that success equals funding," She said. "It was the most freeing moment that I've had since starting Farmgirl."
Hear more of the Behind Her Empire podcast. Subscribe on Stitcher, Apple Podcasts, Spotify, iHeart Radio or wherever you get your podcasts.
dot.LA editorial intern Kristin Snyder contributed to this post.
From Your Site Articles
Related Articles Around the Web
Courtesy of April Gargiulo
On this episode of Behind Her Empire, Vintner's Daughter founder and CEO April Gargiulo discusses word-of-mouth marketing, natural ingredients and her entrepreneurial north star.
As a child, Gargiulo's parents wouldn't let her eat Chef Boyardee ravioli—instead, they gathered the ingredients and made the meal from scratch. Gargiulo said her parents laid the foundation for her refusal to cut corners with cheap ingredients. That ethos first came to fruition when she helped her parents launch a winery, and later became the bedrock for her own company.
"I have this very true vision about the kind of skincare we're gonna make, and it comes from the world of winemaking," Gargiulo said. "If you're trying to make the finest wines in the world, you have to start with the finest raw materials. You have to honor those raw materials [with] very thoughtful, meticulous diligent craftsmanship."

Gargiulo didn't delve into skincare until she was pregnant with her first daughter and found that the luxury products she was using had very few active ingredients. A woman at an apothecary in Morocco gave her an unlabeled bottle of oil for her active acne. After nervously putting the product on before she went to bed, Gargiulo said she woke up with an appreciation of what oil can do for skin.
"That was literally how I fell in love with oil," she said. "And why an oil-based serum was our very first product."
This led to her to found Vintner's Daughter in 2013. The company initially sold only the oil-based Active Botanical Serum. When she was initially researching how to make her formula at a large scale, she said the labs she approached tried to convince her to swap ingredients to shorten the three weeks it takes to make one bottle. She said she kept her initial vision of quality ingredients for individual products in mind as she launched the company.
"Understanding what your north star is is so important because you're going to talk to 10 people, and you're probably going to get six different answers," she said. "You have to just have such a firm understanding of that north star to understand what feels right for you [and] for your business."
Hear more of the Behind Her Empire podcast. Subscribe on Stitcher, Apple Podcasts, Spotify, iHeart Radio or wherever you get your podcasts.
dot.LA editorial intern Kristin Snyder contributed to this post.
Courtesy of Sarah Jones Simmer
On this week's Behind Her Empire, Sarah Jones Simmer joins to talk about working at Bumble, becoming a CEO and how her struggle with cancer changed her worldview.
Simmer described her career as a windy, curvy road. While people like her husband seemed to know what they wanted to do since the seventh grade, she has always felt like she's figuring it out, even today.
"I feel like I'm still figuring out what I want to be when I grow up. And I kind of love that because I would love my curiosity to guide me," said Simmer.

She earned a bachelor's degree in music but went on to join AmeriCorps after college. After getting her graduate degree, Simmer ended up working at a hedge fund where she became an investor.
She spent much of her career investing and consulting with businesses. She didn't become involved with tech until she joined Bumble, which at the time was a 30-person team working out of a two-bedroom apartment. She quickly rose at the company, eventually becoming its COO.
"The IPO was an incredible team effort. There were so many folks involved with every step of that process. And I was honored to play a small slice in it," said Simmer.
Around the time the pandemic struck, Simmer was diagnosed with stage three breast cancer. The experience radically changed her perspective on life.
"I just turned 37 at the time, I started getting mammograms… and you pretty quickly are called into clarity of what is most important," said Simmer.
Thanks to her support system and regular treatment, Simmer was cancer free a year later.
"The reality is right now we all live as though there's like no expiration date. And on the other hand, if you were told you had a month to live, or maybe even a year, you'd probably throw the playbook out -- and just about everything, right? -- and live out that bucket list right now."
She decided to leave Bumble for something new. She landed a position as CEO of Found, an evidence-based weight care program.
"You move to the next thing – like find your side hustle, find the things that bring you joy [and] build your version of your career based on how you want to spend your time."
Hear more of the Behind Her Empire podcast. Subscribe on Stitcher, Apple Podcasts, Spotify, iHeart Radio or wherever you get your podcasts.

Correction: An earlier version of this post misidentified Simmer as the former CEO of Bumble. She was the company's COO.
dot.LA Audience Engagement Fellow Joshua Letona contributed to this post.