The Influencer-to-Podcaster Pipeline Is Ready to Explode
Nat Rubio-Licht
Nat Rubio-Licht is a freelance reporter with dot.LA. They previously worked at Protocol writing the Source Code newsletter and at the L.A. Business Journal covering tech and aerospace. They can be reached at nat@dot.la.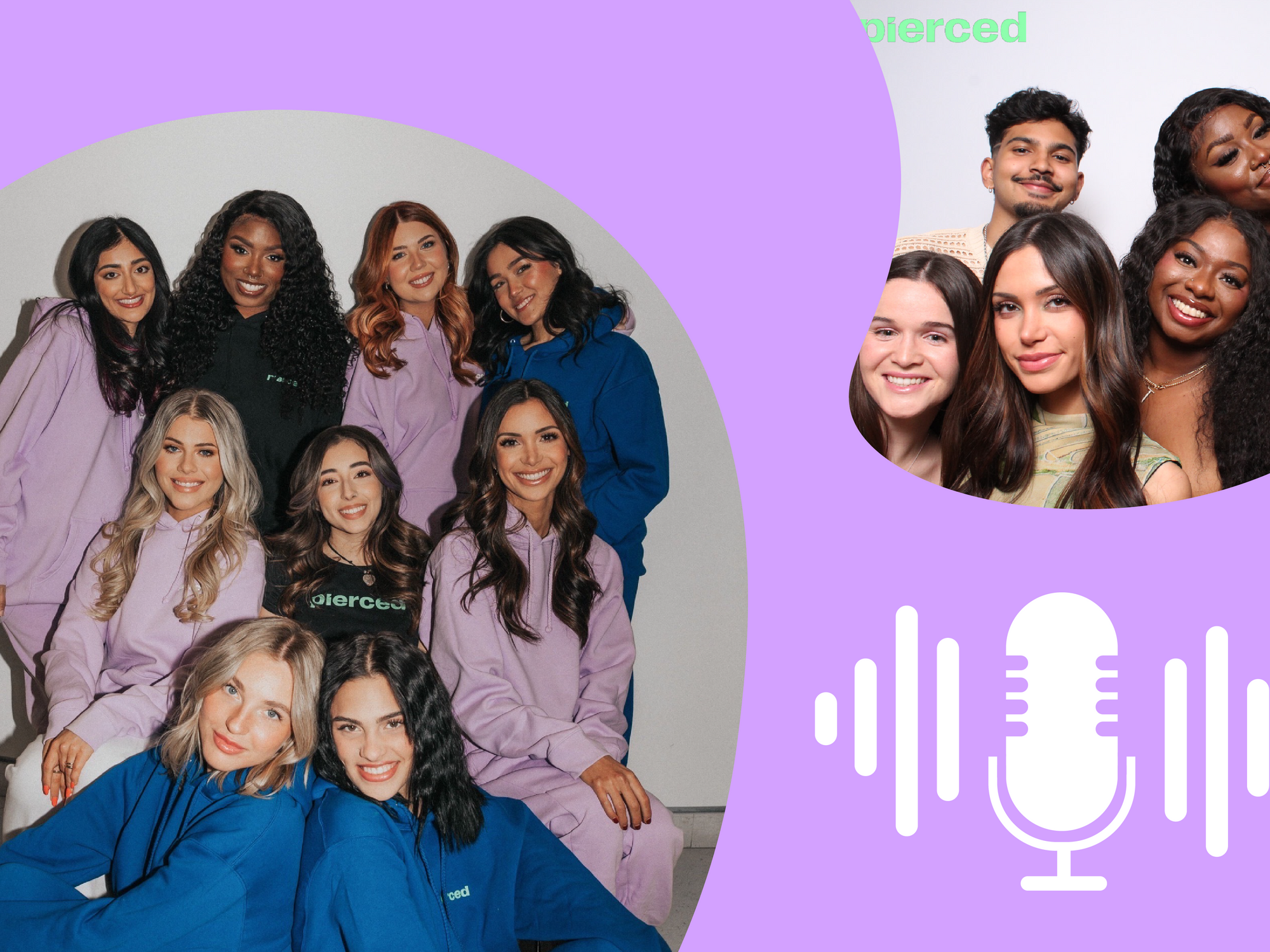 Evan Xie
It's no secret that men dominate the podcasting industry. Even as women continue to grow their foothold, men still make up many of the highest-earning podcasts, raking in massive paychecks from ad revenue and striking deals with streaming platforms worth hundreds of millions of dollars.
But a new demographic is changing that narrative: Gen-Z female influencers and content creators.
---
A growing wave of creators starting their own podcasts has begun to take charge of the industry. Building up a dedicated following on video-first platforms like TikTok and YouTube by talking to the camera about their daily lives, relationships and friendships, or advice on navigating the world as a young person, these creators often try their hand at podcasting to find out if their audiences extend to other platforms.
Pierced Media, a Gen Z-focused podcast studio that will only house podcasts hosted by women, is working to create a centralized place for these creators-turned-podcasters.
Launched in March, the company, which Katyal said is currently distributed but plans to set up its headquarters and recording studio in West Hollywood this summer, will debut seven shows by 10 creators this spring, with both audio and video podcasts discussing topics like fashion, beauty and relationships.
At the Pierced Media launch party in early March, hosted at a sleek mansion in the hills of Bel Air, founder and CEO Shweta Katyal told me the goal of the company is to empower Gen-Z women to express themselves and connect with their audiences. "Gen-Z girls are the funniest, smartest, most entertaining people," Katyal said. "I love strong, smart women that want to share their point of view."
Komal Nambiar, one of Pierced Media's first podcast hosts, said that the company's focus on young women was a big draw to coming on board. "Especially for women of color, I feel like there needs to be more representation in the podcast world," she told me. "(Pierced's) initiative is to empower women in the podcast space and give women a bigger platform."
Katyal views social media creators as a "tuning fork" for what resonates with audiences, and TikTok as the best way to find talent and "scout people who feel confident to share their opinion" that would fit well into a podcast. Pierced is banking on this as a solid recipe for success, but Katyal's background in venture capital has influenced her to view the studio in a similar way to that of a VC's startup portfolio.
"We're creating a portfolio of podcasts," said Katyal. "I think one or two of them will hopefully become homerun winners that will probably support the entire platform, others I think will cover their own costs and get enough of an audience to continue, and some just won't resonate at all. Media financing and production is very similar to venture, it's just on a different scale."
And while the industry may seem oversaturated, there is still money to be made if a podcast becomes popular. For example, a podcast episode with roughly 10,000 downloads can earn its creator up to $5,000, according to estimates from online recording studio Riverside.fm. And advertisers are pouring more money into the sector: A study published last year by PriceWaterhouseCoopers and the Interactive Advertising Bureau estimated that U.S. podcast ad revenue would grow to $4.2 billion in 2024.
To help its podcasters capitalize on affiliate marketing, whereby a creator receives a commission from sales or website visits that are generated through them, Katyal said Pierced Media is currently developing an AI tool that can automatically generate affiliate links based on products mentioned organically during a podcast episode. The tool will launch in beta this summer.
As for how Pierced Media's creators plan to grow their audience, most are following the creator-to-podcaster roadmap laid out by successful influencers like Emma Chamberlain (host of Anything Goes); Hannah Berner (host of Berning in Hell); and Drew Afualo (host of The Comment Section). What these creators bring to the table over a typical podcast isn't just the content of their discussion, but their personal brand.
"We're so used to talking to the camera, I think that's why it's so natural," Brianna Renee Price, Pierced podcast host, told me.' "It's different, but it's not that different."
Before joining Pierced, the 25 year old had never thought about starting a podcast. Price, who has a following of more than 600,000 on TikTok, built her audience through short form content about her daily life, outfits, trends and unfiltered advice videos. She frequently teams up with Sahar Dahi, 23, a fellow TikTok creator with more than 4 million followers, for these kinds of videos, and felt like their social media chemistry would translate well to a longer-form podcast.
Dahi said the podcast, "You're on Your Own Girl," will mainly be "girl talk" for other early- to mid-20's women, talking about everything from chaotic personal stories to advice on love, relationships and friendship.
"Your early 20s is a time where you feel like you're an adult, but you're still figuring it out," Dahi said. "We're there to kind of help you navigate it, but we're also navigating it at the same time."
For 19-year-old TikTok creator Komal Nambiar, when Pierced approached her about starting her own podcast, taking the opportunity felt like a no-brainer. She's been creating content on the internet since she was 14 years old, and is now studying journalism in college in the U.K. with the hopes of becoming a TV or radio host. Starting the podcast "Before You Call Me Crazy," felt like a great career move, she told me, as it's an opportunity to fuse her existing work as a content creator with her future goals.
"I feel like (being a content creator) will kind of give me a step up when it comes to finding an audience," Nambiar told me. "I already have a devoted audience, and I do think I have a pretty good grasp on how to keep an audience engaged."
In large part, having a podcast gives creators the ability to dive deeper with their audience than they otherwise could on a minute-long TikTok. But while making the jump from short-form content to hour-long podcasts might seem like a challenge, 24-year-old Becca Moore, co-host of upcoming podcast 'The B Word' with Brooke Schofield, said she feels the opposite will be true.
"I can only talk for three minutes on Tiktok, which drives me crazy," Moore said. "I feel like the funniest parts of stories are the details which you can't really get into in a three minute-long video."
While starting a podcast network from scratch has its challenges, the audience built by the Pierced podcast on other platforms may give the company a leg up in gaining listeners and sponsors in the crowded industry. "We're really bootstrapping from their existing social media audiences to pre-sell the idea," Katyal said. "But we're telling brands that they're investing in the vision of Gen-Z women. If they want to sell to that demographic, we are the partner of choice."
Nat Rubio-Licht
Nat Rubio-Licht is a freelance reporter with dot.LA. They previously worked at Protocol writing the Source Code newsletter and at the L.A. Business Journal covering tech and aerospace. They can be reached at nat@dot.la.
nat@dot.la