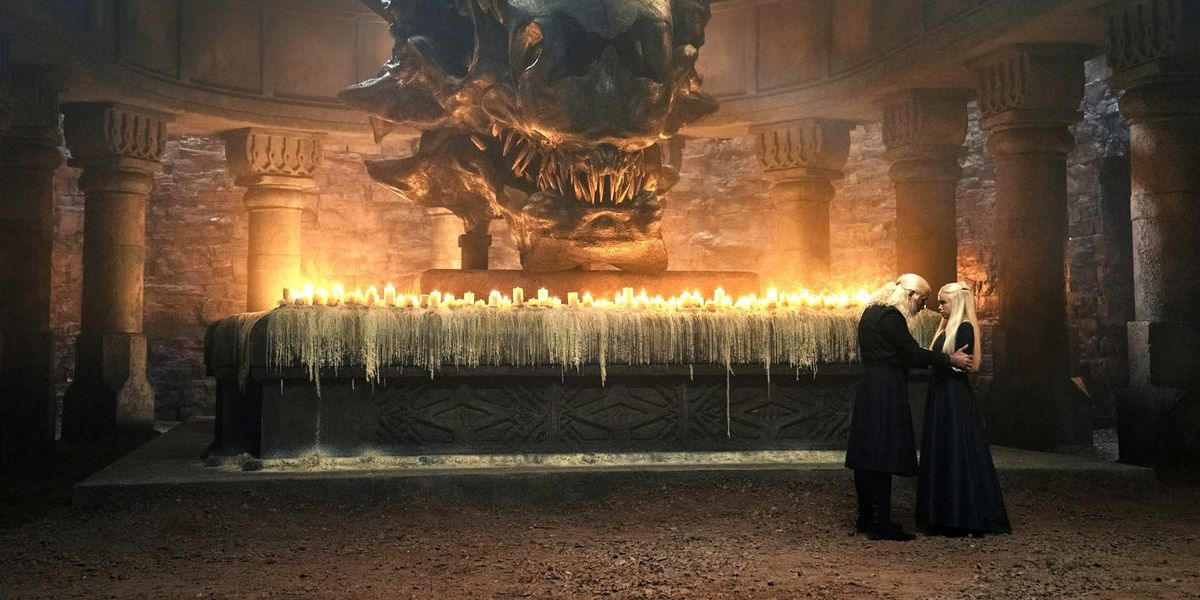 Photo by Ollie Upton / HBO
This is the web version of dot.LA's daily newsletter. Sign up to get the latest news on Southern California's tech, startup and venture capital scene.
"House of the Dragon," the first of HBO's multiple planned "Game of Thrones" spinoff projects, debuted on Sunday night to a record-smashing audience of nearly 10 million U.S. viewers across all linear and streaming platforms, HBO's largest single premiere audience in history. The streams proved so popular, the app struggled to manage all of the traffic, and some Amazon Fire TV devices proved unable to connect until the crowd died down a bit.
---
It was the latest confirmation of the central, supreme importance of popular, franchisable and branded intellectual property (IP) when selling and promoting streaming platforms. Direct competition with Netflix and Disney – the thinking goes – requires multiple franchises comparable in visibility and momentum to projects like "Stranger Things," "Squid Game," "Star Wars" and the Marvel cinematic universe.
Yes, that's right, MULTIPLE franchises: One or even two or three are clearly not enough to keep up with the major players in 2022. AMC Networks have the "Walking Dead" shows and the "Breaking Bad"/"Better Call Saul" universe all to themselves, but the company is still seen as a hot acquisition target, not a viable mainstream player. Meanwhile, Amazon's Prime Video has multiple shows already going in "The Boys" fictional universe, launched a mega-series based on Robert Jordan's "The Wheel of Time" just a few months back, and next week re-enters the epic fantasy fray with its JRR Tolkien-inspired "The Rings of Power" series. And they're not even selling themselves as a standalone streaming service; Prime Video is functionally a free shipping offer that comes with access to a TV show and movie library.
Hence the trend of giant technology and telecommunications companies like Comcast buying up media companies and plundering their content assets to fill in their new platforms. It's a strategy that's set to ramp up in the coming months and years even more. Once it's spun off from Lionsgate, Starz will be poised to either team up with a larger company – bringing along franchises including "Power" and "Outlander" – or begin scooping up smaller media brands itself.
Which makes HBO Max's decision to shut down a number of planned new animated series–including the high-profile Batman project "Caped Crusader"–somewhat puzzling.
Obviously, WB Discovery is in the midst of a cost-cutting purge, attempting to unlock around $3 billion in savings, with reality content and Cartoon Network projects have suffered the brunt of the changes so far. In addition to never-released feature films like "Batgirl" being canceled or pulled from schedules, many archived films and shows – including nearly 200 classic episodes of "Sesame Street" – have been removed from the HBO Max platform either as tax write-offs or to save money on residuals to actors and creative teams.
This has been a bit of a PR issue for WB Discovery CEO David Zaslav and the HBO Max platform, and it certainly hasn't pleased creators, particularly in the animation space. But it's also a one-time-only, post-merger sort of deal – Warner Bros. Discovery will no longer be a new company next year, and won't have the option to drop content from its library to save money on taxes again.
Still, the decision to not just drop "Caped Crusader" from HBO Max but to reportedly shop it around to other networks and streamers takes what started as cost-cutting measures to a new level. Here's a high-profile series featuring arguably Warner Bros' most-popular branded character, Batman, coming from a team that includes filmmakers JJ Abrams and Matt Reeves, along with "Batman: The Animated Series" veteran Bruce Timm.
If, as conventional wisdom has long held, branded IP reigns supreme, what could be the logic of pushing fans to an alternate streaming service outside the Warner Bros. Discovery family to watch a new Batman series? Or any high-profile project from a source of franchises as potent as DC Comics?
The fact that WB Discovery also signed Reeves to an overall first-look development deal for new shows and films, announced on the same day that the "Caped Crusader" news dropped, only adds an air of mystery to these decisions. Was it just because "Caped Crusader" is animated? Was there fear of overall Batman fatigue? Who can say?
Certainly, licensing fees have a role to play, but it's hard to imagine, say, Disney debuting a newIron Man series on Netflix now that Disney Plus exists, or Paramount permitting Amazon to make a new "Star Trek" show instead of debuting it in the Paramount Plus Trek Hub. Certainly, if there's money on hand to make "Wise Guys," a new gangster movie from 80-year-old director Barry Levinson and 89-year-old writer Nick Pileggi – a buddy of Zaslav's – they could've found a few extra bucks to keep Bruce Wayne around? — Lon Harris

--
The sponsor of today's newsletter is Fenwick, one of the world's top law firms focused on technology and life sciences, including leading games, digital media, entertainment, blockchain and NFT practices. Attorneys in Fenwick's Santa Monica office and nationwide represent more than 1,000 greater Los Angeles-based startups, established companies and venture capital investors in corporate, IP, litigation, regulatory and tax matters.