starburst aerospace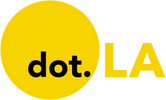 Get in the KNOW  
  on LA Startups & Tech  
X
starburst aerospace
As human space tourism ramps up, and we continue to explore deeper into the cosmos, one alarming fact is becoming more evident: Despite decades of human spaceflight, we still have very limited information about how going to space, or staying there for sustained periods of time, affects our bodies.
So far, flights to low Earth orbit are relatively stable, and thankfully no one has perished on a trip yet. But there's also more to come; Virgin Galactic is planning more space tourism trips next year and beyond that, longer-term missions like Elon Musk's pet project to colonize Mars could come with some serious health risks. And, like any mission to space, nearly every variable has to be considered before launch to ensure the people undertaking these journeys are as healthy as possible.
That's where private industry comes in. There's a handful of startups that are focused on developing technology to make it easier to monitor human health in space. And while it may seem like a far-away pipe dream, they'll be the first to tell you that having startups begin to develop health care products for space-related exploration is key to ensuring there aren't mass casualties.
"The truth is, there is little that is more complex than space, and biology, and these are not things that have fast development times," said Elizabeth Reynolds, a biologist and director of the Starburst Aerospace Care in Space Challenge. The challenge recently awarded six winning startups (three were local to Southern California) a $100,000 investment from pharmaceutical company Boryung, support for on-orbit experimentation by Axiom, a Houston-based company making private space stations, and acceptance into Starburst's 13-week accelerator program.
"As we talk about deep space exploration, that is a point where we get into high amounts of cosmic radiation and it's an environment that will kill us," Reynolds said. "We need solutions that are completely untethered from Earth." Reynolds said she was "less concerned" about space tourism, and more focused on long-term habitation.
Reynolds did note that there's one easy option, one that NASA's relied on heavily up until now: send robots into space to do human work. That's possible, but she noted, "I cannot imagine a future where we continue to only explore space by robots."
There's a myriad of issues that people face when spending long durations of time in space. Some side effects can range from motion sickness to radiation poisoning to heart and muscle atrophy. Others include bodily fluid shifting due to zero gravity, changes in vision, loss of muscle strength and changes in gut biome behavior. Of course, there's also a host of potential mental side effects too, including depression or anxiety. A 2021 study published in the Journal of Clinical Nursing noted that these effects can also persist even after a person comes back from orbit.
Kay Olmstead, CEO of San Diego-based NanoPharma Solutions, was one of the companies selected by Starburst. She told dot.LA the company is working on a way to deliver drugs to people in space to maximize their effects.
Olmstead told dot.LA., NanoPharma "uses [a] nanocoating method developed by NASA to nanosize drugs to improve biosorption – [the] smaller the particle size, better solubility of [the] drug, hence better absorption into our body which is mostly water."
The importance of nano-soluble drugs is key, since it could limit side effects that come from typical ingestion of drugs, such as liver and kidney damage, or systemic toxicology (when a drug is absorbed by or distributed to other parts of the body besides the specific target area), Olmstead explained.
She added that NanoPharma is working on using vacuum pressure in low Earth orbit to deliver drugs to diseased organs without needles, a potential groundbreaking solution since right now, most life-saving drugs need to be administered via IV and that's "not suitable for space travelers." Instead, NanoPharma is working to patent several methods of drug delivery including a nano-nasal spray and a nano-inhaler.
Olmstead noted that there's a number of companies working on private space stations – besides Axiom, she also cited Northrop Grumman, Nanoracks and Sierra Space, who all have "grand plans of infrastructure building in space for private space travelers and in-space manufacturing."
There's a couple dueling local companies with ambitions to build private space stations as well: Vast Space, and Orbital Assembly.
Olmstead noted that there will have to be construction workers in space overseeing building of these outposts, and added, "Care for these space travelers and workers is the most important concern of these aerospace companies aside from the station building/maintenance." She also said that outposts on the moon, which will likely be built after stations in low Earth orbit, come with "even more severe health hazards."
Another local startup that won the Starburst challenge was Vibo Health. Based in Los Angeles and led by physicist and CEO Gil Travish, Vibo develops wearable health tracking technology that uses wrist scanning to give users insight into their health, with the goal of finding health risks without invasive tests.
Right now, Vibo has a growing business terrestrially, but Travish told dot.LA he's eager to see how the tech could be applied to astronauts. "It is a niche, of course, but it's a growing niche," Travish said. He noted that Vibo hopes to do in-space testing within the next two years.
For now, though, both Vibo and NanoPharma said they will continue developing and testing their technology on the ground with the goal of bettering patients' lives here on earth. Travish said he's optimistic that the work will not only better conditions for space-faring humans, but also unlock information about the human condition.
"It's not just about going to space, it's about learning more about ourselves," Travish said.
Starburst Ventures, the venture capital arm of space accelerator operator Starburst Aerospace, opened a new fund today to invest in startups looking to conquer the final frontier.
Founded in 2012, Starburst Aerospace operates accelerator programs for companies in the Los Angeles aerospace and defense industries as well as six other cities worldwide, including Tel Aviv, Seoul and Paris. The programs connect startups with industry experts and potential investors, with the goal of helping each company secure contracts.
Often Starburst will cut checks to fund accelerator participants it finds promising; though this is its first formal early-stage venture fund, Starburst has been steadily investing in startups for years. Its network of partners is extensive and includes NASA, the U.S. Space Force, and nearly every major government contractor—including Raytheon, Lockheed Martin and Northrop Grumman.
Starburst's Los Angeles outfit previously partnered with TechStars beginning in 2019 to incubate space companies, but Starburst launched its first fund dedicated to direct investing on Sept. 21. In combination with TechStars, Starburst's previous accelerator worked with 20 companies, but the outfit said that it has helped develop 120 companies since 2015.
Starburst Ventures wouldn't disclose the fund's total value, but Benjamin Zeitoun, director of Starburst's LA and Paris accelerator programs and an investor at Starburst Ventures told dot.LA, "currently, our plan is to invest up to $1 million, up to Series A, with a sweet spot in the middle."
The new fund will back early-stage startups focused on both hardware and software for the aerospace, defense, aviation and security industries. Starburst Aerospace founder and CEO François Chopard will lead the venture outfit as general partner.
"We're looking at the entire value chain of Aviation, Space and Defense, as well as some deeptech subjects that can have a big impact on our industry," Zeitoun said. "We're seeing [second] and sometimes [third] generation new space, aviation [and] defense companies where founders and talents have had experience innovating in the industry. They are also bringing lessons learned and a deep understanding of a problem they want to solve. The LA area (& SoCal) is a very large pool of that talent."
One local startup that's already benefited from this new fund is Outpost, a reusable satellite company that in August raised a $7.1 million seed round led by Moonshots Capital – Starburst invested in that round.
Another recent investment from the new fund was Starburst's backing of Australian machine learning company Strong Compute, which raised a $7.8 million seed round in May.
Fund advisors include Jacqueline Tame, a longtime space and defense policy advisor and former joint director of the Department of Defense's AI Center, and Bloom Energy head of strategy Natalya Bailey. Both Tame and Bailey will also act as mentors to Starburst's startups.
"We're fortunate to count on Ms. Tame and Ms. Bailey not on a distant "'board capacity,' but as very hands on advisors that help us source great founders, conduct due diligence, and support the companies we've invested in," Zeitoun said.
Image courtesy of Geekwire.com
Almost every company in existence today has some sort of diversity and inclusion initiative. NASA, however, took theirs one step further — providing $50,000 in funding to three underrepresented groups in academia.
NASA's Minority Serving Institutions (MSI) partnered with Starburst Aerospace and NASA's Jet Propulsion Lab (JPL) to work with students as part of their beta space accelerator program. The course was designed to serve as a platform for innovators to build businesses to support technology and economic development.

In the program, students from the University of Massachusetts Boston, California State University and Fayetteville State University, along with faculty mentors, spent 10 weeks developing venture-backable businesses that have applications in multiple markets.
On Wednesday, the projects were presented as business proposals as part of L.A. Tech Week.
"L.A. has long been the aerospace capital of the world, and as we enter a new space economy, it continues to be, and we want to continue to build the industry here," said Elizabeth Reynolds, managing director at Starburst Aerospace.
The first proposal, Mission Proteus, presented by Nhut Ho, a professor and director of NASA-Sponsored Autonomy Research Center for STEAHM (ARCS) at California State University, was designed to eliminate inefficiencies in existing autonomous software development methodology.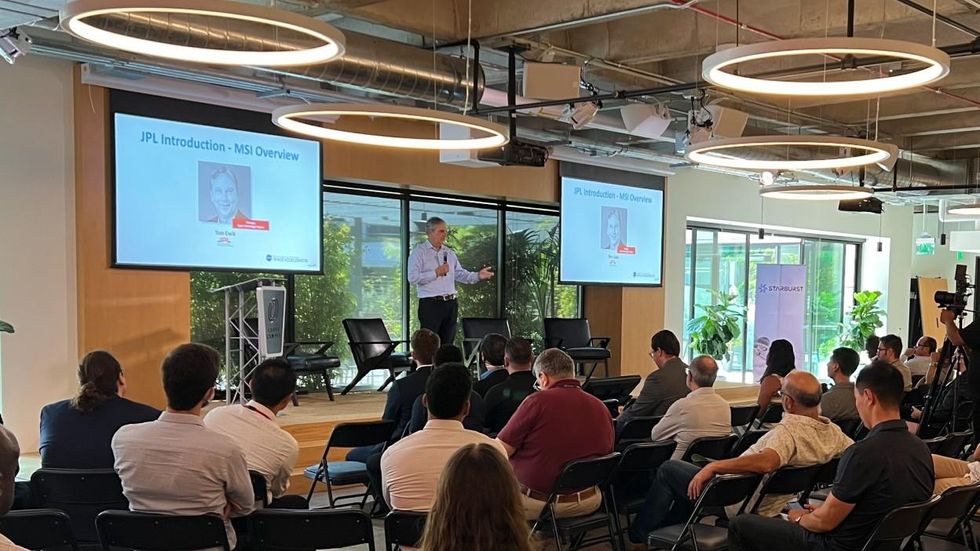 Photo by Andria Moore
Developers designing for autonomous software face many of the same obstacles as traditional developers, but they also face unique challenges. Proteus wants to provide a platform that unifies development tasks and workflows and allows for rapid testing. Building on NASA's hard-won knowledge in autonomous development, the goal of Mission Proteus is to enable these systems to grow much more rapidly in other industries. Ho explained that his team wanted to eliminate the "pain" surrounding technical limitations of existing software.
The second proposal, ITX Drones, was presented by Thomas Materdey, senior lecturer of engineering in the College of Science and Mathematics at the University of Massachusetts Boston. The ITX team felt that, while revolutionary, drones today are missing a "real-life component." The goal of ITX Drones was to create technology that would allow drones to more specifically respond to niche customer needs in ways that existing drones cannot—deliver medicines, provide surveillance or communicate with other drones. "Imagine being able to personally deliver a gift to your sister in Europe without having to wait a week," Materdey said to the room of onlookers.
To make that a reality, their proposal aims to create drones that are capable of sending and receiving long-range data, have longer battery life and the ability to fly at any time of day. Their design incorporates fixed-wing rotors, precision landing capabilities, and lidar navigation, which would allow the drones to operate with extreme precision in novel environments.
SpireNeural, the final business proposal, would act as a software development company focused on enabling near-real-time data processing for autonomous systems with existing integrated devices. In other words, software that will speed up decision-making for our increasingly connected world.
Grace Vincent, an electrical and computer engineering Ph.D. candidate at North Carolina State University, explained that her team created SpireNueral in response to the California wildfires and the inefficiency of the tech used to detect them.
"How can we reduce overall response time?" she asked the room. "Edge computing."
Edge computing is computational analyses that are done near the source of the data. SpireNeural was designed as an edge computing software solution that hopes to eliminate issues with wasteful computations, slow response times and power restrictions, instead making informed decisions at the edge.
For example, edge computing software could evaluate and make decisions about how to combat a forest fire at the site of the sensor rather than relaying that information to a central hub, waiting for it to be processed alongside other data and then relaying it to first responders.
The presentations were followed by a brief panel discussion on "Supporting Diversity in industry through investment," where industry leaders from various venture capitalist firms discussed how the tech industry can work to be more inclusive.