Snap Unveils Its New AR Glasses and Innovation Lab
Sam Blake
Sam primarily covers entertainment and media for dot.LA. Previously he was Marjorie Deane Fellow at The Economist, where he wrote for the business and finance sections of the print edition. He has also worked at the XPRIZE Foundation, U.S. Government Accountability Office, KCRW, and MLB Advanced Media (now Disney Streaming Services). He holds an MBA from UCLA Anderson, an MPP from UCLA Luskin and a BA in History from University of Michigan. Email him at samblake@dot.LA and find him on Twitter @hisamblake
Snap unveiled its latest AR glasses, pushing deeper into the technology it considers its big bet.
Chief executive Evan Spiegel demonstrated the latest version of "Spectacles" that overlay computer graphics atop the wearer's field of vision during the company's annual partner summit on Thursday.
---
The device includes a touchpad at the frame's hingepoint, two cameras, four microphones and two speakers. The glasses have yet to go on sale, but they've been distributed to select creators and developers, and are available to qualified buyers on a new website.
The glasses respond to voice commands and include overlays designed by artists. These include imagery meant to augment tours of certain locations, give people the feeling of walking through a poem and offer more prosaic experiences like watching an animated dog play fetch. The glasses use Snap's "Scan" technology to identify objects in the camera's field of vision.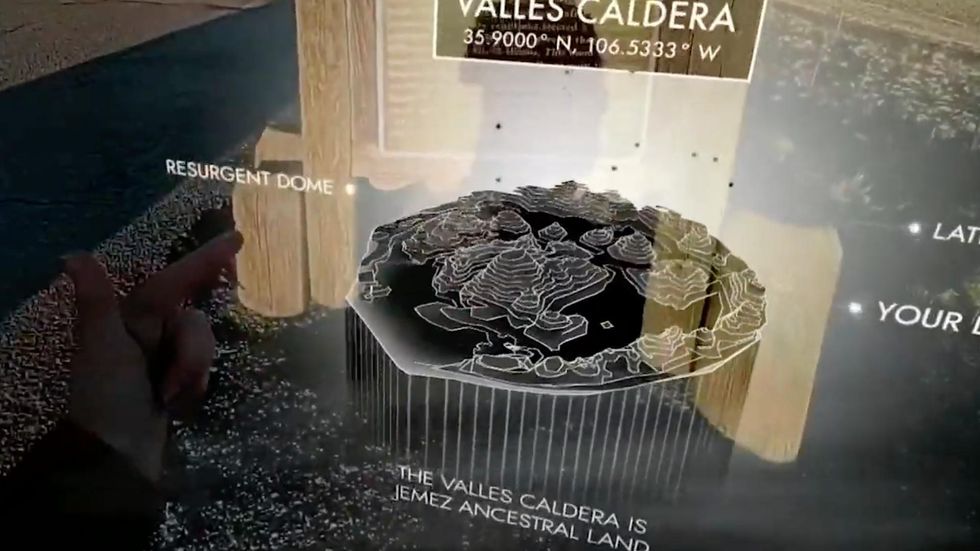 Tapping the touchpad brings up a menu of lenses, Snap's name for its augmented reality overlays. The glasses can also be used to play games. And the wearer's view can be recorded and shared to the Snapchat app.

The Spectacles are integrated with Snap's Lens Studio, a software kit that creators and developers use to create lenses.
Scan is gaining prominence on the Snapchat app as well, being upgraded to the camera home screen. That will make its capabilities more accessible to users, including two new features Snap announced. Screenshop will allow users to scan a friend's outfit or clothes from photos saved to their phone and receive recommended similar looks from hundreds of brands. And in partnership with Allrecipes, users will soon be able to scan a collection of ingredients and get recipe recommendations.
Snap plans to fund a $3.5 million "AR Innovation Lab" with an additional $1 million from Verizon for building "5G AR" experiences.
Such moves are part of Snap's broader effort to add "utility" to its flagship app. That includes adding functionality for AR shopping and bringing new features to its Map, which the company has called a multibillion-dollar opportunity. On Thursday Snap announced a new Map feature called Layers, which augments a user's map with images and information related to their location. Examples include showing a user's old photos and videos, nearby restaurants and nearby concerts.
Snap will also build an app with Disney for Disney World visitors to incorporate AR into their photos and videos.
Creator Tools and Updated Numbers
Snap also introduced new features to further boost its arsenal in the creator arms race. Certain creators can now earn money via "gifting" from their subscribers. Creators also now have a new standalone app called "Story Studio" for editing content. And Spotlight, Snapchat's TikTok-copycat that's algorithmically doling out $1 million per day, can now be accessed via the web in addition to the Snapchat app.
The company provided updated user figures as well. Snapchat now boasts 500 million monthly active users and is installed on nearly half of all smartphones in the U.S. Snap highlighted its international growth, noting that 40% of its users are now outside North America, and that daily active users in India grew 100% year-over-year for each of the past five quarters.

Snap's shares were up nearly 6% on the day.
Sam Blake
Sam primarily covers entertainment and media for dot.LA. Previously he was Marjorie Deane Fellow at The Economist, where he wrote for the business and finance sections of the print edition. He has also worked at the XPRIZE Foundation, U.S. Government Accountability Office, KCRW, and MLB Advanced Media (now Disney Streaming Services). He holds an MBA from UCLA Anderson, an MPP from UCLA Luskin and a BA in History from University of Michigan. Email him at samblake@dot.LA and find him on Twitter @hisamblake
https://twitter.com/hisamblake
samblake@dot.la