Mullen Automotive Has Been on a Heater, but Big Questions Still Loom
David Shultz
David Shultz reports on clean technology and electric vehicles, among other industries, for dot.LA. His writing has appeared in The Atlantic, Outside, Nautilus and many other publications.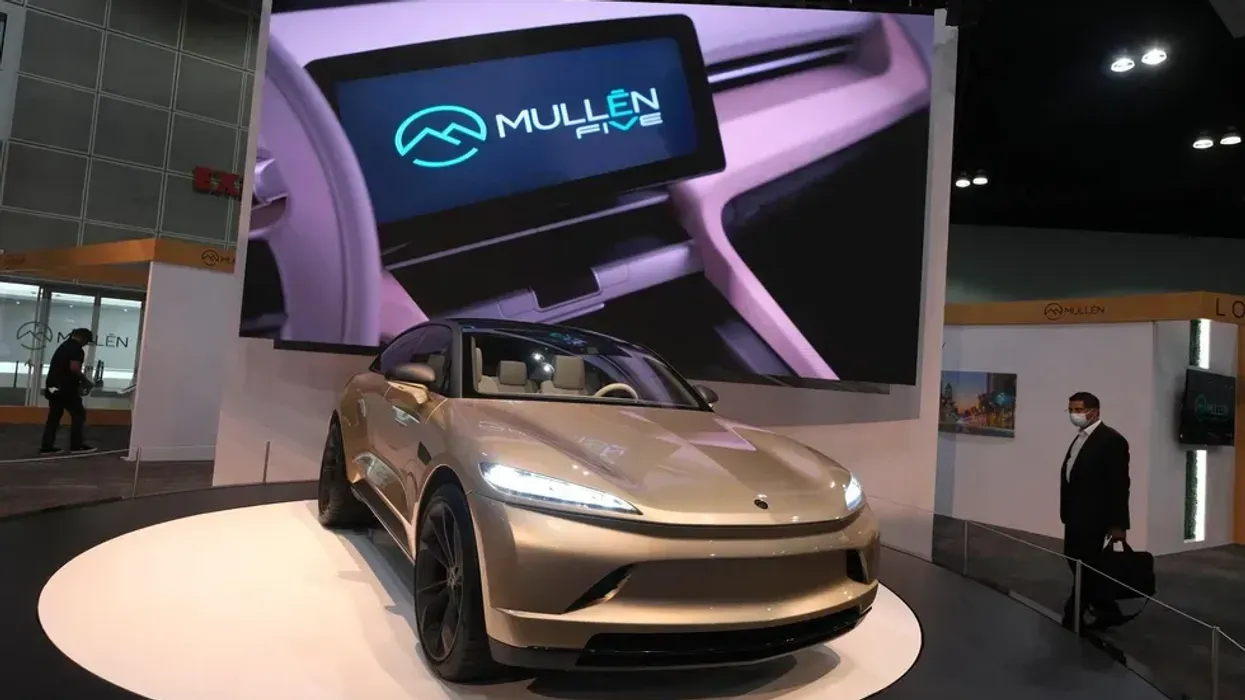 Photo by Ringo Chiu/ Shutterstock
This is the web version of dot.LA's daily newsletter. Sign up to get the latest news on Southern California's tech, startup and venture capital scene.
Over the past week Mullen Automotive has released several pieces of promising news.
For starters, Mullen's pilot program with aviation services company Menzies wrapped up at LAX on Monday this week. Mullen has declared the trial a success, boasting that its two electric cargo vans achieved 100% uptime over the course of 1,500 miles driven while reducing costs by an estimated 66% and carbon emissions by 83% compared to gas-equivalent vehicles. As dot.LA noted back when the pilot was announced, airport services are an ideal use case for electrification due to the short trip distance and ease of charging as the vehicles can remain close to charging infrastructure installed at the airport. As part of the press release, Mullen said that Menzies has requested modifications to the vans in the form of increased seating and more windows. Neither of which seem like particularly heavy lifts.
---
What the press release doesn't include is any details about whether Menzies actually intends to purchase any vans from Mullen. Menzies did not respond to requests for comment.
It's also important to note that Mullen did not manufacture the vans used in the pilot program. The vehicles were acquired from Electric Last Mile Solutions when Mullen purchased the company in October 2022 after it declared bankruptcy. If Menzies eventually does decide to buy more vans, Mullen would need to figure out a way to actually build the vehicles themselves at scale. As the owners of the IP, the SoCal EV company would have every right—as well as the factory—necessary to begin manufacturing. But as is the case with virtually every EV start up from Rivian to Lucid, manufacturing is very difficult, and Mullen, so far, has yet to manufacture a production vehicle themselves.
Again, all of this hinges on Menzies actually placing an order with Mullen, and due to Menzies's radio silence, we don't know how many other electric vans it's currently demoing or how Mullen's product stacks up against the competition. The Ford E-Transit, for instance, is already selling as fast as the company can manufacture it, and Ford just invested 100 million dollars in the platform with plans to reach a 600,000 unit manufacturing capacity by the end of 2023. All of which is to say, though a successful pilot is good news for Mullen, it doesn't necessarily equate to eventual revenue for the SoCal EV company.
Next, on March 31st, Mullen announced that it had delivered several of its vans to The University of North Carolina at Charlotte, where the university will use them for campus delivery and facility services. The deal was only for seven vans. But Government Fleet reported that more deliveries are expected. UNC Charlotte was unable to provide any additional details by press time despite repeated requests for comment.
Finally, Mullen announced yesterday that it has integrated a solid state polymer battery into its cargo vans, with testing to begin in Q4 of this year. If successful, Mullen says the tech would improve the vans' range from 110 miles per charge to over 200. That said, details about this news are scarce.. What we do know is that the battery will come through a partnership with Chinese company Linghang Guochuang Group (LGG). Mullen, however, has previously been accused of misrepresenting its progress on solid state batteries in partnership with "a Chinese battery company" as part of last year's Hindenburg report. Because the report doesn't name the Chinese company it's unclear whether this is the same partnership or a new one.
To that end, there are plenty of reasons to be skeptical about this promise of solid state battery tech: Storedot, an industry leader in the field, has claimed that the tech is still a decade away, and most of the other big names appear to be operating on similar timelines. If LGG has somehow cracked this nut a decade ahead of time with a tiny fraction of the operating budget, it would be monumental news and could catapult the company's value into the billions. Currently, however, it doesn't appear that the Chinese company has a website.
Despite all the good news, Mullen's stock price remains abysmal, currently trading at just $0.10. Over the last five days shares have declined 18.2%. Short interest remains high at around 9% of the float, according to Fintel. Which suggests that Mullen still has a long road ahead if it wants to organically move its share price above $1 to avoid delisting on the Nasdaq. - David Shultz
Disclaimer: Mullen Automotive has previously filed a civil complaint for defamation against dot.LA. The legal proceedings are ongoing at this time. dot.LA's editorial guidelines can be found here.
David Shultz
David Shultz reports on clean technology and electric vehicles, among other industries, for dot.LA. His writing has appeared in The Atlantic, Outside, Nautilus and many other publications.