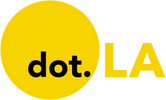 Get in the KNOW  
  on LA Startups & Tech  
X
Netflix Turns To Asia To Boost Its Stalled Subscriber Growth
Christian Hetrick
Christian Hetrick is dot.LA's Entertainment Tech Reporter. He was formerly a business reporter for the Philadelphia Inquirer and reported on New Jersey politics for the Observer and the Press of Atlantic City.
01:28 PM | June 28, 2022
Netflix will invest more in Asia in a bid to revive its sluggish subscriber growth, betting on the lone region where the company added customers during an otherwise disappointing first quarter.
Bloomberg reported Monday that the streaming giant will grow its investment in Asia despite plans to reign in spending overall across the company. That will include financing the production of local films and series for that market, Tony Zameczkowski, Netflix's vice president of business development for Asia Pacific, told the news outlet.
---
The streaming service has lost roughly 70% of its market value this year, due in large part to the company losing customers for the first time in a decade last quarter. Things aren't expected to improve in the current second quarter, either with Netflix predicting a net loss of 2 million subscribers.
But Asia is the one market where Netflix has made gains this year, adding 1.1 million subscribers during the first quarter. The company will likely try to reproduce the success it found with South Korean hits like "Squid Game"—Netflix's most-watched show ever—and "Hellbound," as well as ramp up its Japanese anime portfolio.
Still, the Asia region presents political and profit challenges, such as countries seeking to restrict certain content within its borders and lower revenue per customer compared to North American subscribers, Bloomberg noted.
Facing
heightened competition
from tech and legacy media giants, Netflix is trying all sorts of things to remain atop the streaming market. It's planning to crack down on
password sharing
,
introduce advertising
and
expand into gaming
to add or hang onto paying customers.
Christian Hetrick
Christian Hetrick is dot.LA's Entertainment Tech Reporter. He was formerly a business reporter for the Philadelphia Inquirer and reported on New Jersey politics for the Observer and the Press of Atlantic City.
06:00 AM | December 14, 2022
Evan Xie
Labor shortages are hitting many industries hard, but in senior living homes, lack of staff is even more of a problem, especially in dining rooms. In a bid to support a sagging workforce, some senior homes run by operator Front Porch are trying out hospitality robots.
So far, the Servi robots designed by Redwood City-based Bear Robotics have received a warm reception from both guests and customers. In a two-month pilot program with senior home operator Front Porch beginning in June, four of Bear Robotics' Servi food running and busing robots were deployed in two Front Porch locations – San Francisco Towers, and Casa de Mañana in La Jolla.
Front Porch noted in its recent report on the test program that its dining services have been "particularly hit hard" during the COVID-19 pandemic, and the organization is hoping to keep its remaining staff from burning out by supplementing their shifts with robot busboys (busbots?).
Here's a glimpse at what the tech looks like: Servi robots have three shelves to stack dishes and can handle up to seven entrees depending on plate size, can carry up to 66 pounds, and they're designed to be relatively compact–17 inches wide and about three and a half feet tall. A smaller version, the Servi Mini, can carry 2 trays, while its larger counterpart, Servi Plus, can handle up to 10 plates at once.
Hospitality robots are still a novelty, especially in North America. But as costs to produce critical components of these bots come down and more stressed restaurant managers see the cost-benefit analysis swing in their favor, that could change.
"The innovation that's happening within the food service industry is really impressive. This will likely become much more commonplace," Bear Robotics' co-founder and Chief Operating Officer Juan Higueros told dot.LA.
The goal is not to replace servers with Servi, but allow them to spend more time taking orders and interacting with the senior home residents, Higueros said. Bearing in mind that loneliness can be fatal for our aging population, and that coronavirus only further isolated people, it's easy to see how for an elderly person living alone, even an extra five minutes chatting with someone at lunch could change the tune of their day.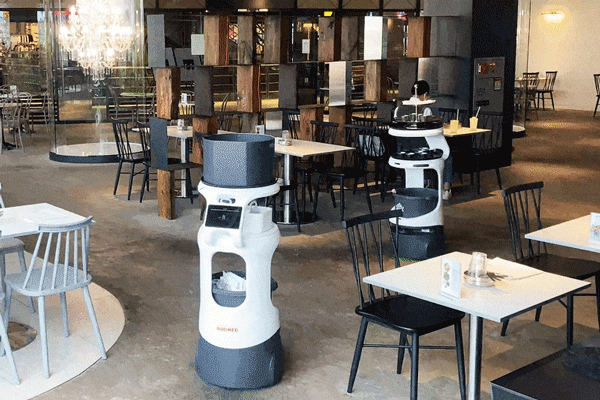 Image courtesy of Bear Robotics
Every robot has sensors and three cameras that network with its AI brain to help steer itself and avoid obstacles, and an auto-return feature sends it back to its place in the kitchen when jobs are done.
In addition to Front Porch, Servi robots are currently deployed at a number of places across California, including Downtown L.A.-based restaurant Chiguacle Sabor Ancestral de Mexico, Ten-Raku Korean barbeque in Lynwood, John's Incredible Pizza in Carson and a Denny's location in Hawthorne.
"We do think that the United States is probably going to become the biggest market for us over the course of the next couple of years," said Higueros. "A lot of folks see the ROI because obviously [they] have tremendous turnover," said Higueros. "It's kind of like an insurance policy in the sense that you at least have the food runner in place, in case they decide to leave you on a Friday night."
Not to mention, the cost. At $25 to $30 per day the robots cost a fraction of the typical salary of a person working at a nursing home. For its part, Front Porch saved $6,665 on overtime in one month.
"In the past we would have asked a staff member to come back for a split shift after working the morning shift. Now we run with the labor we got with the support of the robots," Front Porch noted.
Two other senior living centers not affiliated with Front Porch in L.A. are also using Servi robots: Regency Grand of Cascade Senior Living in West Covina and Merrill Gardens at Rolling Hills in Rancho Palos Verdes. Hotels also use them, some Marriott and Hyatt locations employ the robots now. In total the company has Servis active in 43 states, and aims to expand to all 50 by next year. With plans to deploy more in casinos and airline lounges all over the country.
A crucial step towards even furher adoption of waiter bots depends on how customers respond. As a 2021 Boston University Hospitality Review report noted, "consumers' acceptance of service robots is determined not only by its functionality (e.g., perceived usefulness and ease of use), but also by social-emotional and relational elements that robots can provide." In other words, any interaction that leaves a guest unsettled could be a setback. But, in Servi's case, since it doesn't mimic any humanoid features, its existence in a support capacity to human staff is more tolerable.
More than half of the residents at the communities that piloted Servi bots said it felt like the robots let them have more quality time with staff. 65.4% of residents told Front Porch the robots improved their overall dining experience. One resident anonymously surveyed said the robot was "much cuter than I thought it was going to be." Another added there were "originally many naysayers, the chair of the committee really pushed for it [and] complainers have been won over."
Some servers, however, found hiccups. Several noted that they felt the robots were too slow.
"At first it was great/ helpful; first courses are great, but when they couldn't talk to each other, it got frustrating," one server wrote. Others reported their job being "less painful" since the robots helped mitigate some of the physical labor that comes with the job.
There were, of course, some glitches too. Sometimes bumpy carpets would cause the robots to spill food. A server noted, "one robot gets lost sometimes." Servers suggested that Bear Robotics make the robots louder, as one person saw that a robot "got very close to a resident that was walking very slowly," but avoided a collision. But by and large the feedback was positive. One server said they wished the Servi robots were bigger so they could "fit an entire table's worth of food without worrying about it tipping over." Another waiter joked that the Servi could only be improved by making it able to clean the table for the waiter.
And most importantly, when servers at both senior living facilities were asked how they'd feel if the robots were taken away after the two-month pilot, the recorded response was pretty unanimous: "We'd be screwed."
Samson Amore
Samson Amore is a reporter for dot.LA. He holds a degree in journalism from Emerson College. Send tips or pitches to samsonamore@dot.la and find him on Twitter @Samsonamore.
https://twitter.com/samsonamore
samsonamore@dot.la
03:49 PM | October 14, 2022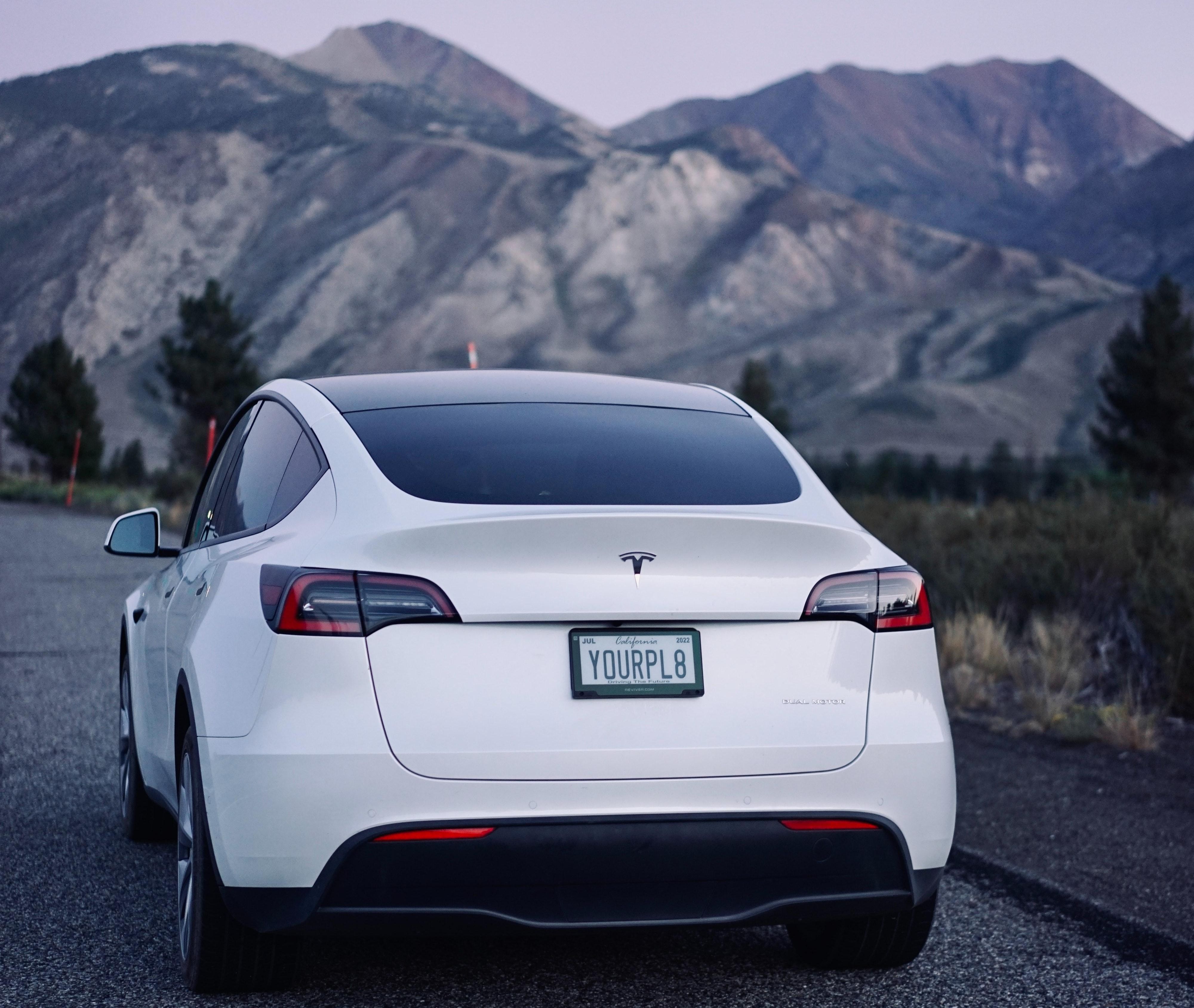 Thanks to a new bill passed on October 5, California drivers now have the choice to chuck their traditional metal license plates and replace them with digital ones.
The plates are referred to as "Rplate" and were developed by Sacramento-based Reviver. A news release on Reviver's website that accompanied the bill's passage states that there are "two device options enabling vehicle owners to connect their vehicle with a suite of services including in-app registration renewal, visual personalization, vehicle location services and security features such as easily reporting a vehicle as stolen."
Reviver Auto Current and Future CapabilitiesFrom Youtube
There are wired (connected to and powered by a vehicle's electrical system) and battery-powered options, and drivers can choose to pay for their plates monthly or annually. Four-year agreements for battery-powered plates begin at $19.95 a month or $215.40 yearly. Commercial vehicles will pay $275.40 each year for wired plates. A two-year agreement for wired plates costs $24.95 per month. Drivers can choose to install their plates, but on its website, Reviver offers professional installation for $150.

A pilot digital plate program was launched in 2018, and according to the Los Angeles Times, there were 175,000 participants. The new bill ensures all 27 million California drivers can elect to get a digital plate of their own.
California is the third state after Arizona and Michigan to offer digital plates to all drivers, while Texas currently only provides the digital option for commercial vehicles. In July 2022, Deseret News reported that Colorado might also offer the option. They have several advantages over the classic metal plates as well—as the L.A. Times notes, digital plates will streamline registration renewals and reduce time spent at the DMV. They also have light and dark modes, according to Reviver's website. Thanks to an accompanying app, they act as additional vehicle security, alerting drivers to unexpected vehicle movements and providing a method to report stolen vehicles.
As part of the new digital plate program, Reviver touts its products' connectivity, stating that in addition to Bluetooth capabilities, digital plates have "national 5G network connectivity and stability." But don't worry—the same plates purportedly protect owner privacy with cloud support and encrypted software updates.

5 Reasons to avoid the digital license plate | Ride TechFrom Youtube
After the Rplate pilot program was announced four years ago, some raised questions about just how good an idea digital plates might be. Reviver and others who support switching to digital emphasize personalization, efficient DMV operations and connectivity. However, a 2018 post published by Sophos's Naked Security blog pointed out that "the plates could be as susceptible to hacking as other wireless and IoT technologies," noting that everyday "objects – things like kettles, TVs, and baby monitors – are getting connected to the internet with elementary security flaws still in place."
To that end, a May 2018 syndicated New York Times news service article about digital plates quoted the Electronic Frontier Foundation (EFF), which warned that such a device could be a "'honeypot of data,' recording the drivers' trips to the grocery store, or to a protest, or to an abortion clinic."
For now, Rplates are another option in addition to old-fashioned metal, and many are likely to opt out due to cost alone. If you decide to go the digital route, however, it helps if you know what you could be getting yourself into.
Steve Huff
Steve Huff is an Editor and Reporter at dot.LA. Steve was previously managing editor for The Metaverse Post and before that deputy digital editor for Maxim magazine. He has written for Inside Hook, Observer and New York Mag. Steve is the author of two official tie-ins books for AMC's hit "Breaking Bad" prequel, "Better Call Saul." He's also a classically-trained tenor and has performed with opera companies and orchestras all over the Eastern U.S. He lives in the greater Boston metro area with his wife, educator Dr. Dana Huff.
steve@dot.la