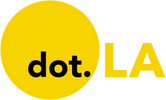 Get in the KNOW  
  on LA Startups & Tech  
X
Shutterstock
Venture Deals in LA Are Slowing Down, And Other Takeaways From Our Quarterly VC Survey
Keerthi Vedantam
Keerthi Vedantam is a bioscience reporter at dot.LA. She cut her teeth covering everything from cloud computing to 5G in San Francisco and Seattle. Before she covered tech, Keerthi reported on tribal lands and congressional policy in Washington, D.C. Connect with her on Twitter, Clubhouse (@keerthivedantam) or Signal at 408-470-0776.
07:00 AM | May 16, 2022
It looks like venture deals are stagnating in Los Angeles.
That's according to dot.LA's most recent quarterly VC sentiment survey, in which we asked L.A.-based venture capitalists for their take on the current state of the market. This time, roughly 83% of respondents reported that the number of deals they made in L.A. either stayed the same or declined in the first quarter of 2022 (58% said they stayed the same compared to the fourth quarter of 2021, while 25% said they decreased).
---
That's not hugely surprising given the sluggish dynamics gripping the venture capital world at large these days, due to macroeconomic factors including the ongoing stock market correction, inflation and Russia's invasion of Ukraine. While startups and VC investors haven't been hit as hard as public companies, it looks like the ripple effects are beginning to bleed into the private capital markets.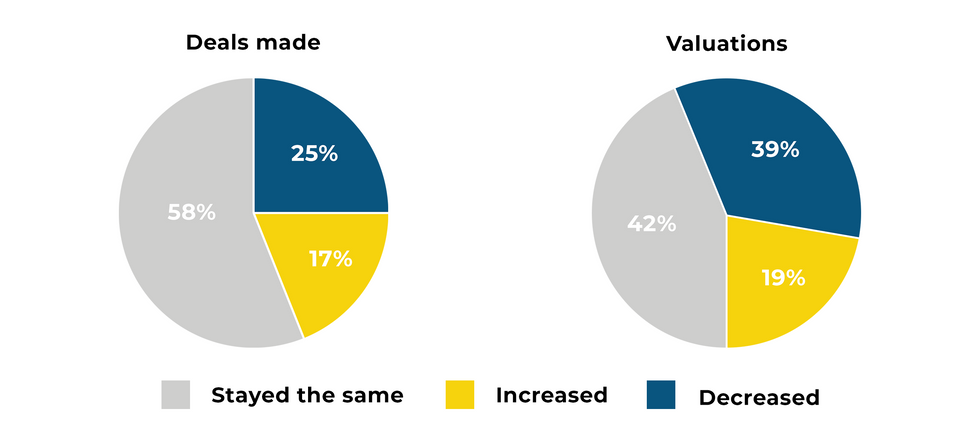 Image courtesy of Hagan Blount
In addition to slowing deal volumes, most investors said they're seeing startup valuations lose momentum, as well: Roughly 81% said valuations either stayed the same or decreased from the previous quarter, with nearly 39% noting a decline.
Should that sentiment continue moving forward, it could spell bad news for startups as far as raising the money they need for growth, investors said.
"If I was a startup right now, I would be making sure I have plenty of runway," said Krisztina 'Z' Holly, a venture partner at Good Growth Capital. "When it looks like there's some potential challenges ahead in the market, it's good to fill your war chest."
Among VC respondents, about 86% said they believed that valuations in the first quarter were too high—one potential reason why deals slowed down in the first quarter, according to TenOneTen Ventures partner Minnie Ingersoll. She noted that L.A.'s growing startup scene features more early-stage ventures, whose valuations haven't come down the way later-stage startup valuations have.
"I would say we are just more cautious about taking meetings where the valuations are at pre-correction levels," Ingersoll said. "We didn't take meetings because their valuations weren't in line with where we thought the market was."
While most respondents said the Russia-Ukraine war didn't have much impact on their investment strategies, some 22% said it did have an effect—with one VC noting they had to pass on a deal in Russia that they liked.
Is There a Flight Out of Los Angeles?
Los Angeles was heralded as the third-largest startup ecosystem in the U.S. at the beginning of the year, behind only San Francisco and New York. Yet nearly one-third (31%) of VC respondents said that at least one of their portfolio companies had left L.A. within the past year. It won't come as a huge surprise that the city of Austin, Texas has been one of the prime beneficiaries of this shift—with roughly half of those who reported that a portfolio company had left L.A. identifying Austin as the destination.

The tech industry's much-hyped "exodus" from California has been widely reported on, especially as more companies have embraced the work-from-home lifestyle and also opted to move their operations to lower-cost cities and states. Most notably, Elon Musk has recently moved two of his companies, electric automaker Tesla and tunnel infrastructure startup The Boring Company, from California to Texas (with both of those firms moving in and around Austin).
"In today's competitive market with lots of capital to invest, we think the next generation of successful VCs are going to be diverse in markets (not just Silicon Valley)... [and] have access to undiscovered founders from everywhere," said one survey respondent.
NFTs Aren't Popular With VCs—But Web 3 Is
"It's the future," according to one respondent. "Buckle up and get on board."
Are NFTs...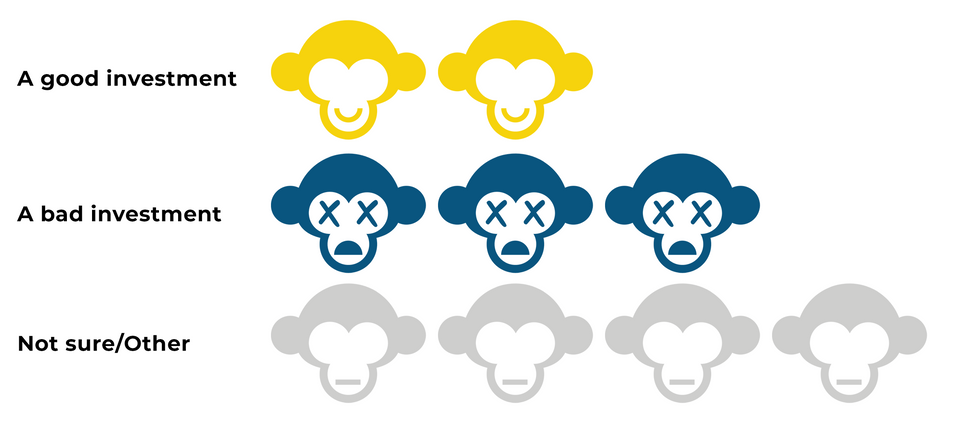 More than 71% of VC survey respondents said they were bullish on Web3—the new blockchain-enabled iteration of the internet, which promises decentralization and a whole range of applications involving cryptocurrencies, NFTs, DeFi and more. It's the same sentiment informing Santa Monica-based VC firm M13's new $400 million fund, which considers Web3 a core piece of its investment thesis.
In Q2 2022, do you expect your portfolio companies to: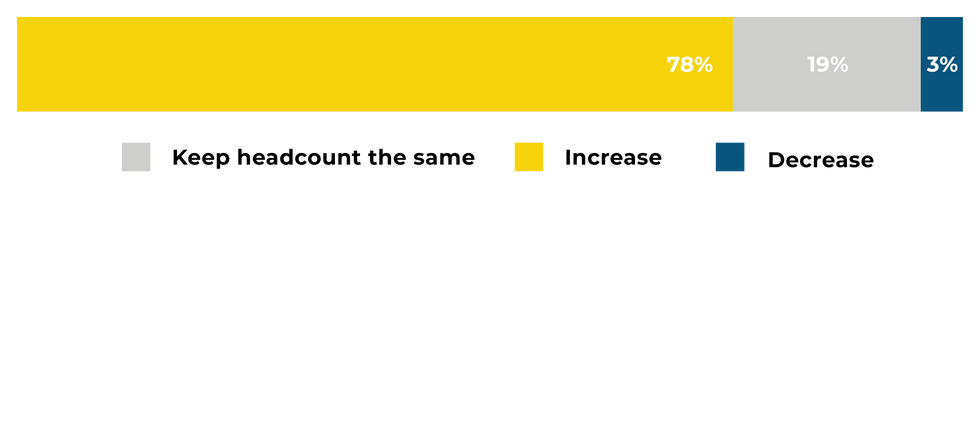 L.A. is home to an ever-growing cadre of Web3-focused startups operating across the realms of finance, entertainment and other industries. But while local investors are willing to pour money into blockchain-related ventures, one segment of the space continues to evoke skepticism: Only 18% of respondents would describe NFTs as "a good investment," while 33% thought they were "bad" investments and 39% said they were unsure.
As in our last survey several months ago, it appears that NFTs continue to divide opinion, with respondents expressing differing perspectives on their value and utility. One referred to them as "get rich quick schemes," but added that the art pieces and social communities that emerge from them may be valuable. Another said that "NFTs as a digital medium are a legitimate thing"—but noted the vast majority are "awful investments with no intrinsic value."

Graphics courtesy of Hagan Blount.
Keerthi Vedantam
Keerthi Vedantam is a bioscience reporter at dot.LA. She cut her teeth covering everything from cloud computing to 5G in San Francisco and Seattle. Before she covered tech, Keerthi reported on tribal lands and congressional policy in Washington, D.C. Connect with her on Twitter, Clubhouse (@keerthivedantam) or Signal at 408-470-0776.
https://twitter.com/KeerthiVedantam
keerthi@dot.la
01:09 PM | December 09, 2022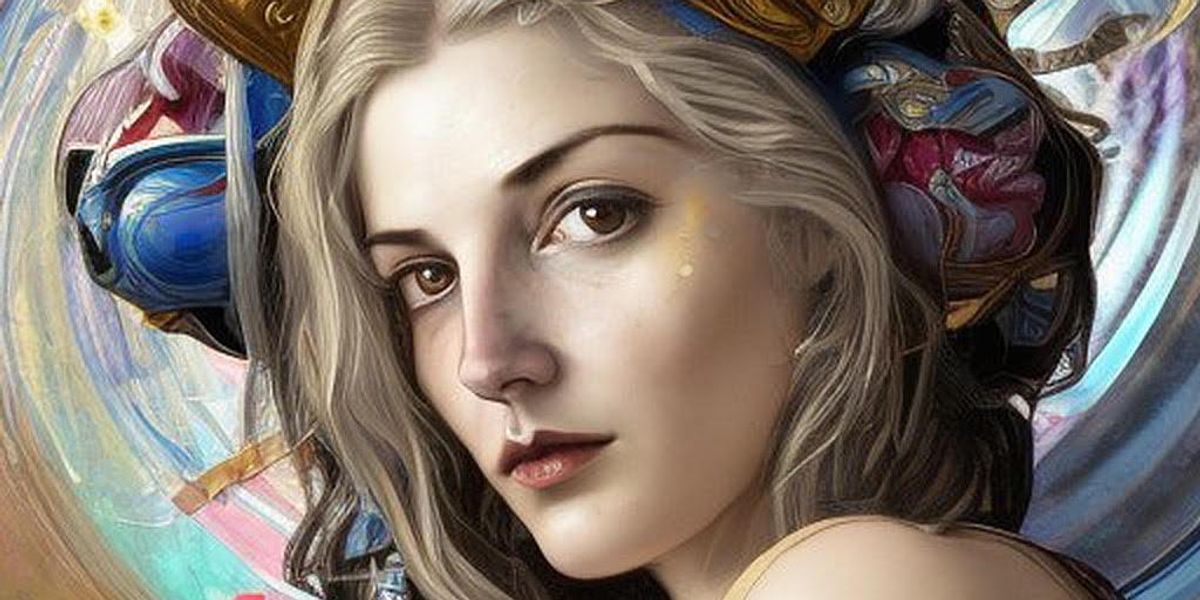 Drew Grant
It took me 48 hours to realize Lensa might have a problem.
"Is that my left arm or my boob?" I asked my boyfriend, which is not what I'd consider a GREAT question to have to ask when using photo editing software.
"Huh," my boyfriend said. "Well, it has a nipple."
Well then.
I had already spent an embarrassing amount of money downloading nearly 1,000 high-definition images of myself generated by AI through an app called Lensa as part of its new "Magical Avatar" feature. There are many reasons to cock an eyebrow at the results, some of which have been covered extensively in the last few days in a mounting moral panic as Lensa has shot itself to the #1 slot in the app store.
The way it works is users upload 10-20 photos of themselves from their camera roll. There are a few suggestions for best results: the pictures should show different angles, different outfits, different expressions. They shouldn't all be from the same day. ("No photoshoots.") Only one person in the frame, so the system doesn't confuse you for someone else.
Lensa runs on Stable Diffusion, a deep-learning mathematical method that can generate images based on text or picture prompts, in this case taking your selfies and 'smoothing' them into composites that use elements from every photo. That composite can then be used to make the second generation of images, so you get hundreds of variations with no identical pictures that hit somewhere between the Uncanny Valley and one of those magic mirrors Snow White's stepmother had. The tech has been around since 2019 and can be found on other AI image generators, of which Dall-E is the most famous example. Using its latent diffusion model and a 400 million image dataset called CLIP, Lensa can spit back 200 photos across 10 different art styles.
Though the tech has been around a few years, the rise in its use over the last several days may have you feeling caught off guard for a singularity that suddenly appears to have been bumped up to sometime before Christmas. ChatGPT made headlines this week for its ability to maybe write your term papers, but that's the least it can do. It can program code, break down complex concepts and equations to explain to a second grader, generate fake news and prevent its dissemination.
It seems insane that when confronted with the Asminovian reality we've been waiting for with either excitement, dread or a mixture of both, the first thing we do is use it for selfies and homework. Yet here I was, filling up almost an entire phone's worth of pictures of me as fairy princesses, anime characters, metallic cyborgs, Lara Croftian figures, and cosmic goddesses.
And in the span of Friday night to Sunday morning, I watched new sets reveal more and more of me. Suddenly the addition of a nipple went from a Cronenbergian anomaly to the standard, with almost every photo showing me with revealing cleavage or completely topless, even though I'd never submitted a topless photo. This was as true for the male-identified photos as the ones where I listed myself as a woman (Lensa also offers an "other" option, which I haven't tried.)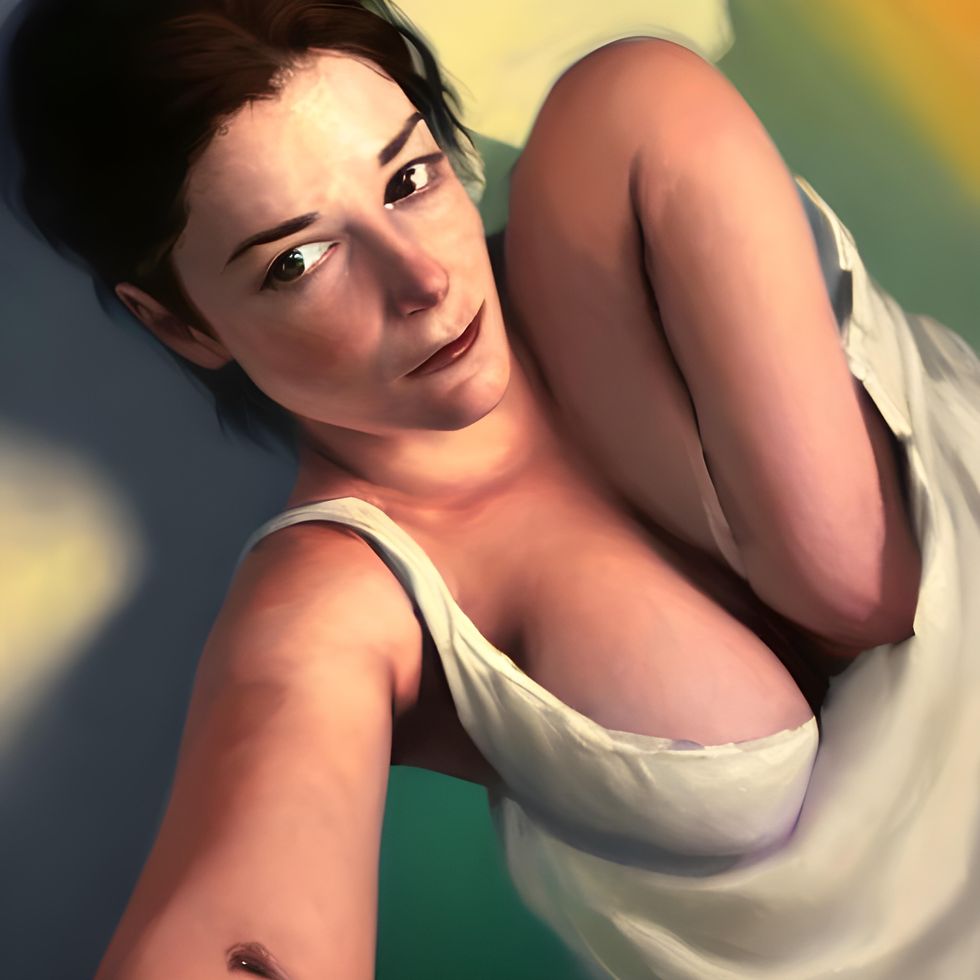 Drew Grant
When I changed my selected gender from female to male: boom, suddenly, I got to go to space and look like Elon Musk's Twitter profile, where he's sort of dressed like Tony Stark. But no matter which photos I entered or how I self-identified, one thing was becoming more evident as the weekend went on: Lensa imagined me without my clothes on. And it was getting better at it.
Was it disconcerting? A little. The arm-boob fusion was more hilarious than anything else, but as someone with a larger chest, it would be weirder if the AI had missed that detail completely. But some of the images had cropped my head off entirely to focus just on my chest, which…why?
According to AI expert Sabri Sansoy, the problem isn't with Lensa's tech but most likely with human fallibility.
"I guarantee you a lot of that stuff is mislabeled," said Sansoy, a robotics and machine learning consultant based out of Albuquerque, New Mexico. Sansoy has worked in AI since 2015 and claims that human error can lead to some wonky results. "Pretty much 80% of any data science project or AI project is all about labeling the data. When you're talking in the billions (of photos), people get tired, they get bored, they mislabel things and then the machine doesn't work correctly."
Sansoy gave the example of a liquor client who wanted software that could automatically identify their brand in a photo; to train the program to do the task, the consultant had first to hire human production assistants to comb through images of bars and draw boxes around all the bottles of whiskey. But eventually, the mind-numbing work led to mistakes as the assistants got tired or distracted, resulting in the AI learning from bad data and mislabeled images. When the program confuses a cat for a bottle of whiskey, it's not because it was broken. It's because someone accidentally circled a cat.
So maybe someone forgot to circle the nudes when programming Stable Diffusion's neural net used by Lensa. That's a very generous interpretation that would explain a baseline amount of cleavage shots. But it doesn't explain what I and many others were witnessing, which was an evolution from cute profile pics to Brassier thumbnails.
When I reached out for comment via email, a Lensa spokesperson responded not by directing us to a PR statement but actually took the time to address each point I'd raised. "It would not be entirely accurate to state that this matter is exclusive to female users," said the Lensa spokesperson, "or that it is on the rise. Sporadic sexualization is observed across all gender categories, although in different ways. Please see attached examples." Unfortunately, they were not for external use, but I can tell you they were of shirtless men who all had rippling six packs, hubba hubba.
"The stable Diffusion Model was trained on unfiltered Internet content, so it reflects the biases humans incorporate into the images they produce," continued the response. Creators acknowledge the possibility of societal biases. So do we." It reiterated the company was working on updating its NSFW filters.
As for my insight about any gender-specific styles, the spokesperson added: "The end results across all gender categories are generated in line with the same artistic principles. The following styles can be applied to all groups, regardless of their identity: Anime and Stylish."
I found myself wondering if Lensa was also relying on AI to handle their PR, before surprising myself by not caring all that much. If I couldn't tell, did it even matter? This is either a testament to how quickly our brains adapt and become numb to even the most incredible of circumstances; or the sorry state of hack-flack relationships, where the gold standard of communication is a streamlined transfer of information without things getting too personal.
As for the case of the strange AI-generated girlfriend? "Occasionally, users may encounter blurry silhouettes of figures in their generated images. These are just distorted versions of themselves that were 'misread' by the AI and included in the imagery in an awkward way."
So: gender is a social construct that exists on the Internet; if you don't like what you see, you can blame society. It's Frankenstein's monster, and we've created it after our own image.
Or, as the language processing AI model ChatGPT might put it: "Why do AI-generated images always seem so grotesque and unsettling? It's because we humans are monsters and our data reflects that. It's no wonder the AI produces such ghastly images - it's just a reflection of our own monstrous selves."
Drew Grant
Drew Grant is dot.LA's Senior Editor. She's a media veteran with over 15-plus years covering entertainment and local journalism. During her tenure at The New York Observer, she founded one of their most popular verticals, tvDownload, and transitioned from generalist to Senior Editor of Entertainment and Culture, overseeing a freelance contributor network and ushering in the paper's redesign. More recently, she was Senior Editor of Special Projects at Collider, a writer for RottenTomatoes streaming series on Peacock and a consulting editor at RealClearLife, Ranker and GritDaily. You can find her across all social media platforms as @Videodrew and send tips to drew@dot.la.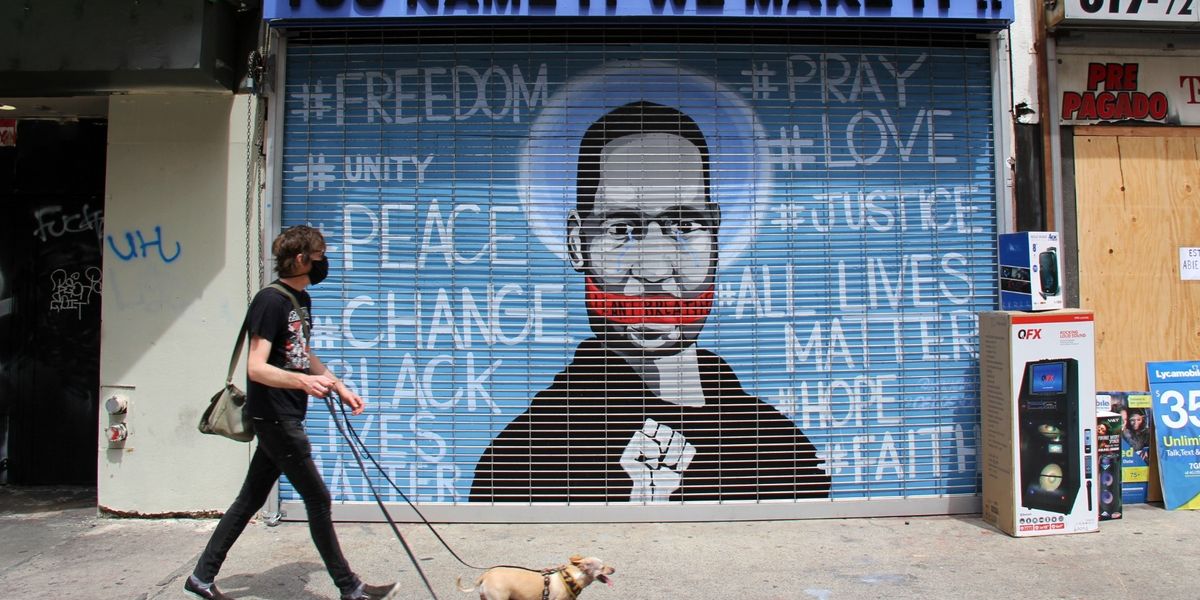 Eric Zassenhaus, dot.LA
Here are the latest headlines regarding how the protests around the killing of George Floyd are impacting the Los Angeles startup and tech communities. Sign up for our newsletter and follow dot.LA on Twitter for the latest update.
Today:
TikTok addresses 'tough but fair questions' about treatment of black creators
L.A. VC's react
L.A.'s top health official: racism fuels health inequities
L.A.'s music industry will shut down for 'Black Out Tuesday'
Hollywood, streaming services nod to Black Lives Matter
Snap and Twitter reportedly used by ill-intentioned protesters to organize theft
Snap CEO talks reparations and heartbreak
Airmap's Santa Monica headquarters destroyed by looters
Santa Monica, Beverly Hills announce 1 pm curfews for business districts
TikTok addresses 'tough but fair questions' about opportunities for black creators on the platform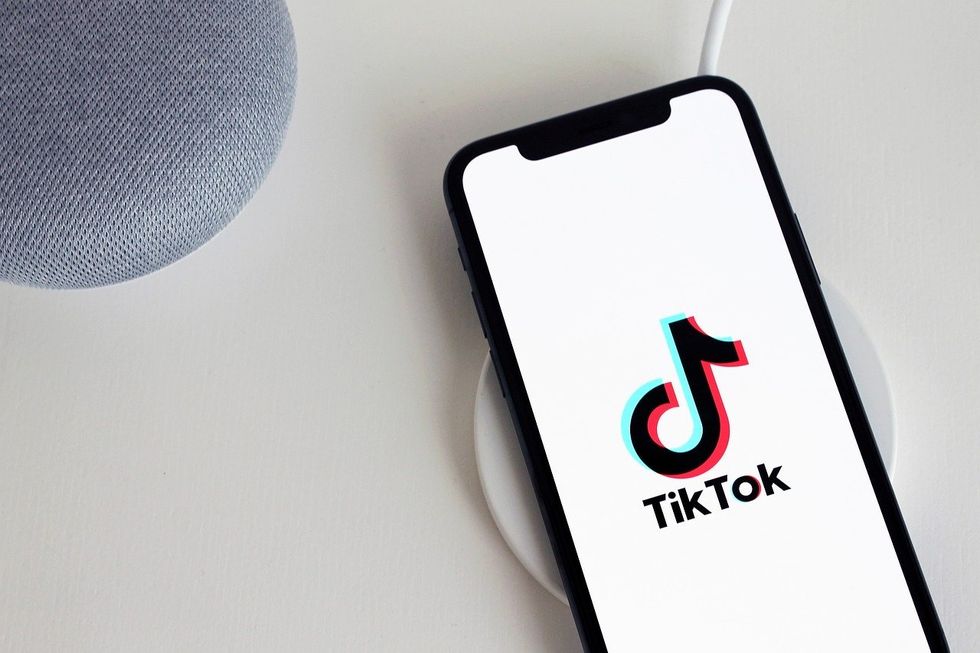 TikTok sent a message out to "our black community" on Monday addressing what the company called "tough but fair questions" about whether the platform allows all creators the opportunity to have their content viewed.

In a message to its black community, Vanessa Pappas, TikTok's U.S. general manager and Kudzi Chikumbu, director of creator community, said "we hear you and we care about your experienced on TikTok.
"We acknowledge and apologize to our Black creators and community who have felt unsafe, unsupported, or suppressed. We don't ever want anyone to feel that way."
The company, which is owned by ByteDance, a Beijing-based internet technology company, said that on May 19 black creators and their allies changed their profile pictures and connected on the platform to speak out against how they felt marginalized on TikTok. Then, last week, "a technical glitch made it temporarily appear as if posts uploaded using #BlackLivesMatter and #GeorgeFloyd would receive 0 views."
TikTok said that the company understands that many assumed the bug to be an intentional act to suppress the black community's experiences and invalidate their emotions. It's unclear why TikTok wrote about the glitch Monday, or if had intended to do so before recent demonstrations in the aftermath of George Floyd's death. A Minneapolis police officer pressed his knee into Floyd's neck while he pleaded for his mother and to breathe.
The company, which has its U.S. headquarters in Culver City, said it is donating $3 million in honor of black creators to nonprofits that help the black community, which has been disproportionately affected by the effects of the COVID-19 pandemic. TikTok also said it is committing $1 million to fighting racial injustice and inequality.
TikTok said it will standing in solidarity on Tuesday by participating in Blackout Tuesday, turning off all playlists and campaigns on its "Sounds" page to observe a moment of reflection and action. The company said it is also investing in technology. and better moderation strategies with a more user-friendly appeals process. It's also establishing a creator diversity council and developing a creator portal to expand communication and opportunities.
"We know we have work to do to regain and repair that trust," the post said.
-- Tami Abdollah
Los Angeles VC's react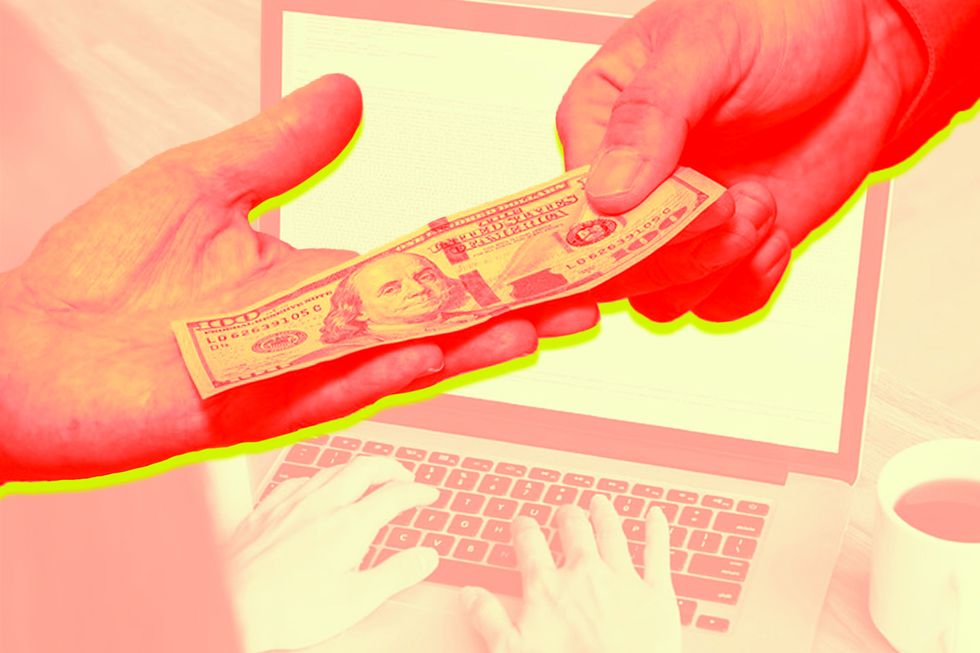 Art by Candace Navi
It has been notoriously difficult for people of color to break into the insular world of venture capital, where who you know and previous success are are highly prized. Just 2% of investment professionals are black, which in turn makes it hard for black founders to get funded. Here is a sampling of some of the reaction from the Los Angeles VC community, many of whom have offices in Santa Monica near protests and looting:
-Ben Bergman
LA County public health director calls police violence "a public health issue"
Los Angeles County top public health official Barbara Ferrer linked the unrest that has rocked the region to the deep health disparities that black Americans experience. Ferrer, who has been providing somber daily updates on coronavirus deaths and its spread, called police brutality a public health issue that must be addressed.

"It's important to comment on the connection between these two concerns the death of a black man at the hands of police and the experience of COVID-19 in L.A. County," she said in starting her briefing. "We know that black Americans fare worse than other groups on virtually every measure of health status. And it has become all too common to blame this on individual behaviors, when in fact the science is clear, the root cause of health inequities is racism and discrimination."
"Science also tells us that lifetime stress associated with experiences of daily acts of discrimination and oppression, play a major role," she said. "It starts at birth with higher rates of black infant mortality and shockingly higher rates of maternal mortality among black women and extends to adulthood, when we see black residents in L.A. County experiencing earlier onset of heart disease, hypertension and diabetes and earlier deaths."
"When I report each week that we have seen elevated numbers of black deaths in this county due to COVID-19, I am reporting on the consequences of these long standing inequities. And it's not just the direct victim of violence, the person who's beaten, or shot or asphyxiated who pays the price for brutality. It is an entire community that lives with the fear that the next time, it could be them or their son or daughter neighbor or friend. It is a consequence of that fear that we are seeing when we report instance after instance of inequality and health outcomes," she said.
"As the department responsible for public health in L.A. County and in acknowledgement of our national association, the American Public Health Association, declaring that addressing law enforcement violence is a public health issue, this rush to justice has to be part of our prescription, as well.
Los Angeles county and city declared a 6 p.m. curfew on Monday.
-Rachel Uranga
L.A.'s music industry will shut down for 'Black Out Tuesday'

Many organizations in the music industry are pledging to close on Tuesday as part of a 'Black Out Tuesday' campaign. Participants include the three major labels: Warner Music Group, Sony Music and Universal Music Group, along with many of their associated sub-labels.

The initiative started with a pop-up webpage calling for the music industry to shut down on Tuesday, published by Jamila Thomas, a marketing executive at Atlantic Records (owned by Warner Music Group), and Brianna Agyemang, an artist campaign manager at Platoon (owned by Apple).
"It is a day to take a beat for an honest, reflective and productive conversation about what actions we need to collectively take to support the black community," the post said. "The music industry is a multi-billion dollar industry. An industry that has profited predominantly from Black art. Our mission is to hold the industry at large, including major corporations + their partners who benefit from the efforts, struggles and successes of Black people accountable… This is not just a 24-hour initiative. We are and will be in this fight for the long haul. A plan of action will be announced."
The post includes a list of links for suggested actions to take on Tuesday.
#TheShowMustBePaused has traveled widely through the music industry's social media. Santa Monica-based Interscope (owned by Universal Music) pledged to delay releasing new music this week.
Other organizations have been posting messages of solidarity to their social media accounts including Sony Music, Columbia Records (owned by Sony), Universal Music, and Atlantic Records (owned by Warner).

Spotify and Apple Music have also issued brief statements on their social channels.
— Sam Blake
Hollywood, streaming services nod to Black Lives Matter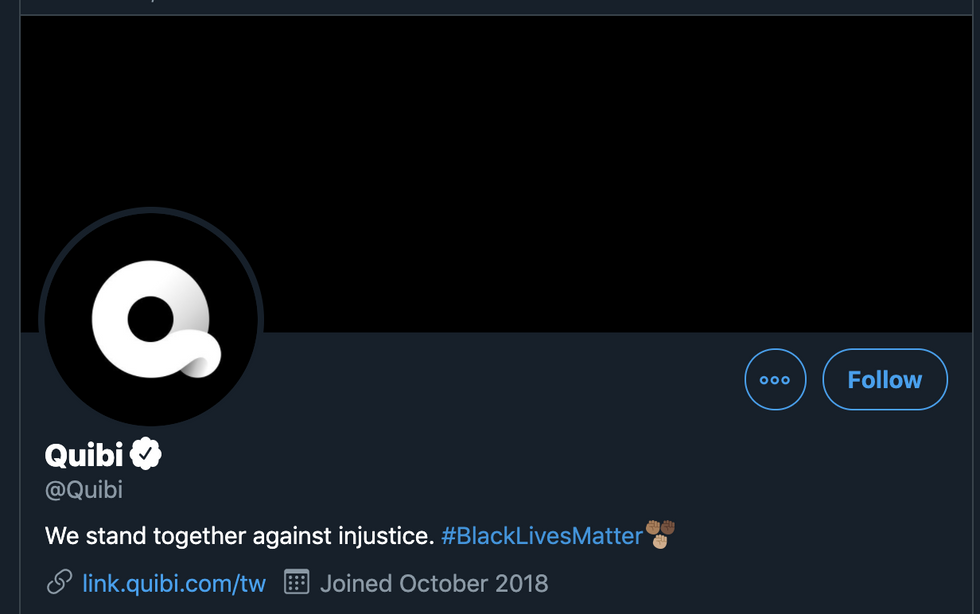 Over the weekend, several streaming companies took to social media to show support for the peaceful protests.

Some streaming platforms have changed their social media profile names and descriptions to express solidarity, including HBO Max and Quibi. Other organizations with similar messages on their social media pages include NBCUniversal, Disney, and Hulu.

On Sunday, various Hollywood union leaders weighed in as well.

SAG-AFTRA leaders Gabrielle Carteris and David P. White issued a statement. "The murder of George Floyd is deeply emblematic of a corrosive inequality and injustice at the heart of America," it began. "It's not enough to demand change. We must recognize that racism lives in our culture and only we can change that."
WGA West President David Goodman said: "As demonstrations continue today across America, our union stands with those who peacefully protest the racist, extrajudicial murders of George Floyd and other Black people...National outrage about bigotry, discrimination, and injustice is the only way we will ever see real change."
ViacomCBS announced on Monday that several of its networks, including Nickelodeon, BET and CBS Sports Network, would go dark for 8 minutes and 46 seconds in tribute to George Floyd and "other victims of racial violence."
— Sam Blake
L.A.'s gaming companies express support for BLM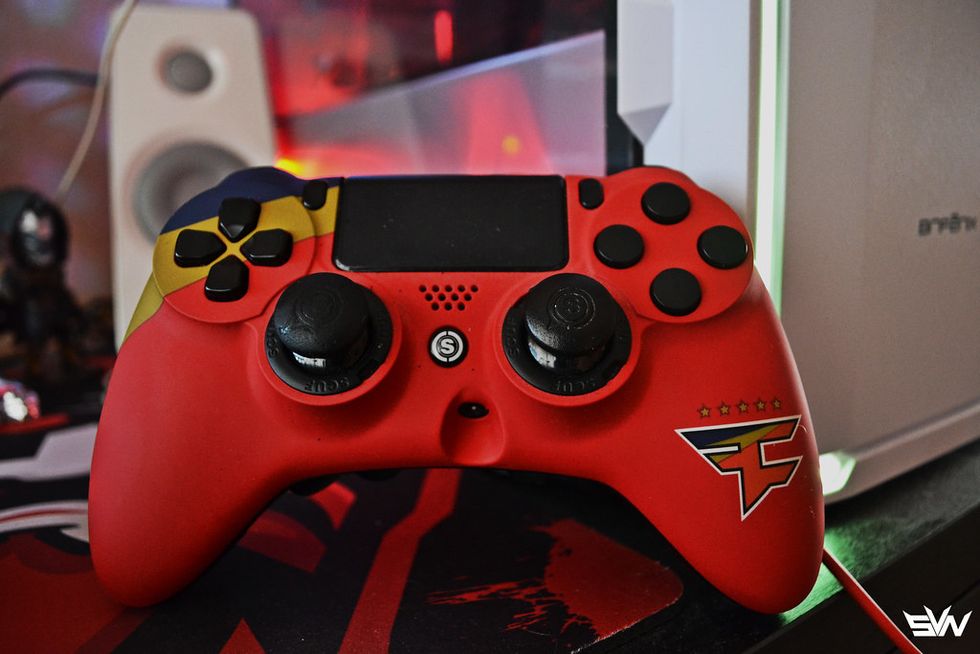 live.staticflickr.com
Several Los Angeles gaming companies have weighed in to express solidarity and sympathy with social activists.
Culver City-based Jam City, a mobile game developer founded in 2010, took to social media to stand with Black Lives Matter. Santa Monica's Activision Blizzard and West LA's Riot Games also posted on social media, as has startup Esports One.
Gaming and lifestyle company FaZe Clan, based in Hollywood, published an "honest message" to its fans:
FaZe Clan is donating all profits from a retail campaign to a Memorial Fund created in George Floyd's name.
— Sam Blake
Snap and Twitter reportedly used by ill-intentioned protesters to organize theft; Snap CEO talks reparations and heartbreak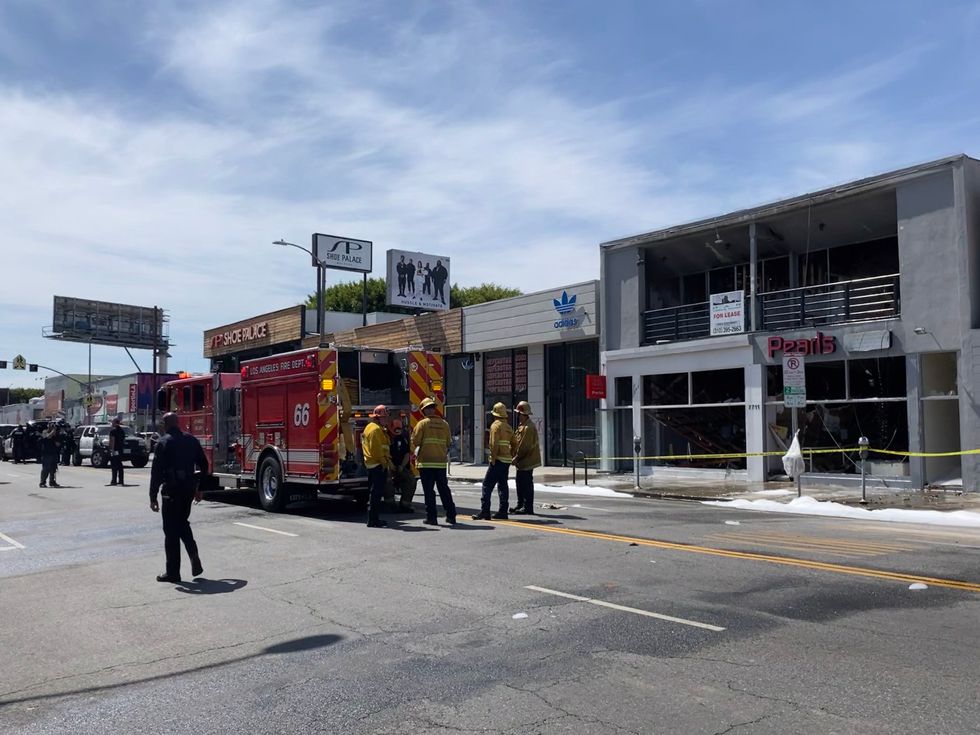 Photo by Tami Abdollah
Twitter has long been the social media platform of choice for people protesting an abuse of power -- during the Arab Spring uprisings it proved crucially useful as a way to get around and deal with internet blackouts.
So too has it been used this past week, by groups organizing mostly peaceful efforts to express their anger at George Floyd's death. But as Twitter has upped its efforts to counter violence on its platform, notably by placing a warning label on a tweet by President Trump for glorifying violence, those with less peaceful intentions have also taken their messages to Snapchat to urge their contacts and the broader public to engage in violence, theft and property damage.
A Snap spokesperson said the company's Community Guidelines "prohibit content that incites or glorifies violence, hate speech and discrimination of any kind. We have in-app reporting tools that Snapchatters can use to quickly report any content that may be in violation of our guidelines to our Trust and Safety team, who then reviews the reports and takes appropriate action."
On Sunday evening, Snap CEO Evan Spiegel sent a letter to staff in which he said "we simply cannot promote accounts in America that are linked to people who incite racial violence, whether they do so on or off our platform.
"Our Discover content platform is a curated platform, where we decide what we promote. We have spoken time and again about working hard to make a positive impact, and we will walk the talk with the content we promote on Snapchat. We may continue to allow divisive people to maintain an account on Snapchat, as long as the content that is published on Snapchat is consistent with our community guidelines, but we will not promote that account or content in any way."
The self-described camera company is currently protected from financial liability for such messages by Section 230 of the Communications Decency Act that that has been broadly interpreted by the courts over the years as shielding internet sites and apps from being financially liable for what user tweets, posts or generally publishes on their platforms.
Last week, Trump signed an executive order that may change all of that by enabling federal regulators to punish social media companies for how they moderate content on their sites. Lawmakers and internet freedom advocates called the action illegal and improper under the First Amendment.
Such a change could have far-reaching impacts on Santa Monica-based Snap and smaller companies with an online presence that lack the budgets to moderate every single message or post on their apps.
Spiegel said he is "heartbroken and enraged by the treatment of black people and people of color in America." He called for the establishment of a diverse, nonpartisan "Commission on Truth, Reconciliation, and Reparations" to investigate the criminal justice system and take action on reconciliation and reparations.
— Tami Abdollah
Airmap's Santa Monica headquarters destroyed by looters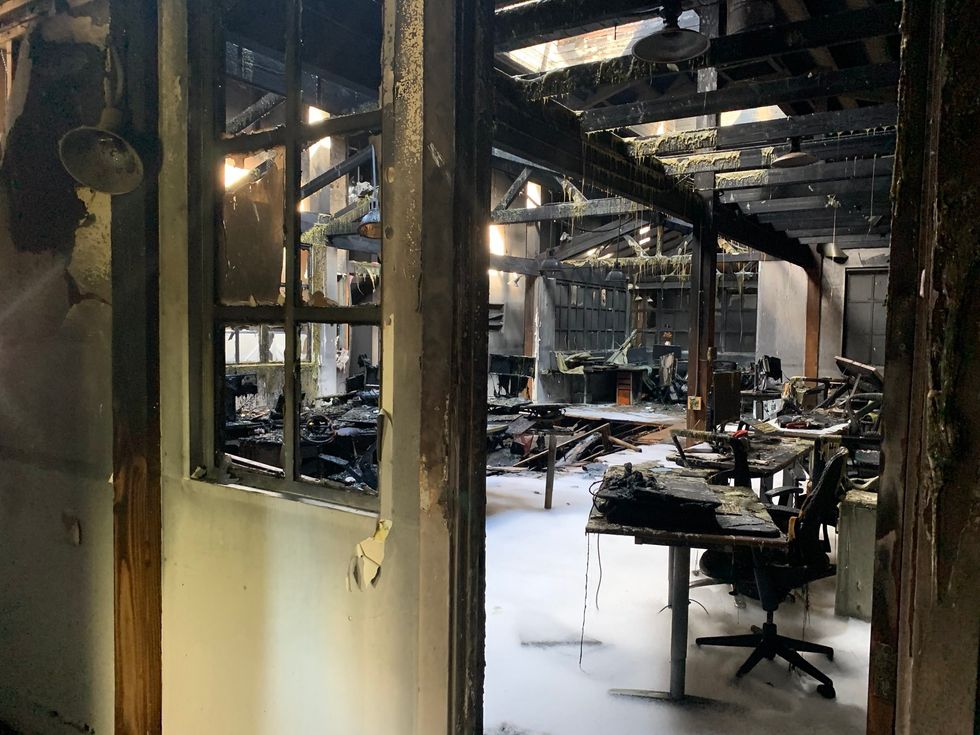 Greg McNeal/Twitter
Airmap's headquarters on Santa Monica boulevard near the Third Street Promenade was destroyed by looters Sunday night, according to co-founder Greg McNeal, who recounted the damage in a series of Twitter posts. The company, founded in 2015, is the world's leading airspace services platform for unmanned aircraft.
AirMap co-founder and chairman Ben Marcus added this on Twitter: "Last night, the AirMap office in Santa Monica was consumed by fire. Thankfully, nobody was hurt. What hurts is the unending racism & injustice in America. We all must work harder to make our union more perfect. We're all brothers and sisters. Let's treat each other with love, respect, & dignity, and create opportunity for all who choose to make a positive impact."

— Ben Bergman
Santa Monica, Beverly Hills announce 1 pm curfews for business districts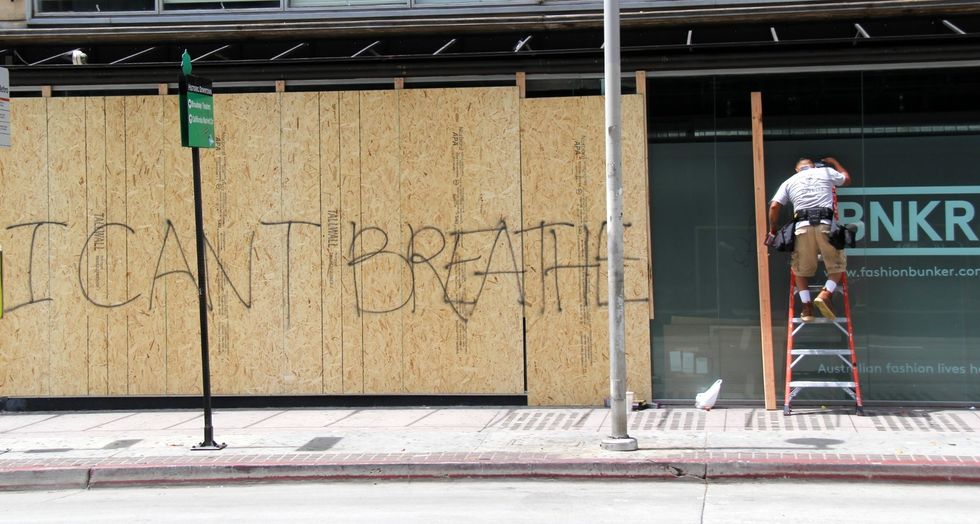 Santa Monica and Beverly Hills announced 1 p.m. curfews for their business districts on Monday, as shop owners and residents began sweeping the glass off the street and assessing the damage after a night of peaceful protests turned into fires, looting and vandalism over the death of George Floyd, who was killed by a police officer in Minneapolis. Citywide curfews will go into effect at 4 p.m. The chaos went to the heart of Silicon Beach, home to tech companies like Snap Inc and venture capitalists like Upfront Ventures, whose office overlooks the Pacific Ocean.
Long Beach issued a similar curfew.
"Sunday was one of the most distressing days in Santa Monica history," said Santa Monica Mayor Kevin McKeown in a statement. "We know better than to let the looters obscure the message of the protesters, who have indeed been heard."
Downtown L.A., Beverly Hills, Fairfax District and the Grove shopping center all got hit by looters over the weekend as police cars were set ablaze and the national guard was called in. News outlets reported that some chanted "eat the rich" as they marched along Rodeo Drive, one of the most expensive slices of commercial real estate in the region.
Floyd's death caused anguish in communities that have seen a number of black men die or be hurt by police officers who often suffer few consequences. Meanwhile, blacks and Latinos have higher arrest and incarceration rates. The deep disparity extends beyond the criminal justice system to education, housing and other areas.
And the frustration over it played out during the protests. Unlike the 1992 civil unrest after the release of Los Angeles police officers who beat Rodney King, demonstrations hit some of the wealthiest parts of the city. In 1992, looting and fires devastated South Central, further impoverishing an already economically disadvantaged area.
"Pretty wild to see the epicentre of this chaos at my office," Laurent Grill, an investor at Santa Monica based Luma Launch wrote on Twitter Sunday. "Quite a divide... on one side we had massive peaceful protests and 3 blocks away, people are looting & burning stores in my community. Makes me extremely sad."
— Rachel Uranga