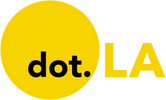 Get in the KNOW  
  on LA Startups & Tech  
X
Shutterstock
Venture Deals in LA Are Slowing Down, And Other Takeaways From Our Quarterly VC Survey
Keerthi Vedantam
Keerthi Vedantam is a bioscience reporter at dot.LA. She cut her teeth covering everything from cloud computing to 5G in San Francisco and Seattle. Before she covered tech, Keerthi reported on tribal lands and congressional policy in Washington, D.C. Connect with her on Twitter, Clubhouse (@keerthivedantam) or Signal at 408-470-0776.
07:00 AM | May 16, 2022
It looks like venture deals are stagnating in Los Angeles.
That's according to dot.LA's most recent quarterly VC sentiment survey, in which we asked L.A.-based venture capitalists for their take on the current state of the market. This time, roughly 83% of respondents reported that the number of deals they made in L.A. either stayed the same or declined in the first quarter of 2022 (58% said they stayed the same compared to the fourth quarter of 2021, while 25% said they decreased).
---
That's not hugely surprising given the sluggish dynamics gripping the venture capital world at large these days, due to macroeconomic factors including the ongoing stock market correction, inflation and Russia's invasion of Ukraine. While startups and VC investors haven't been hit as hard as public companies, it looks like the ripple effects are beginning to bleed into the private capital markets.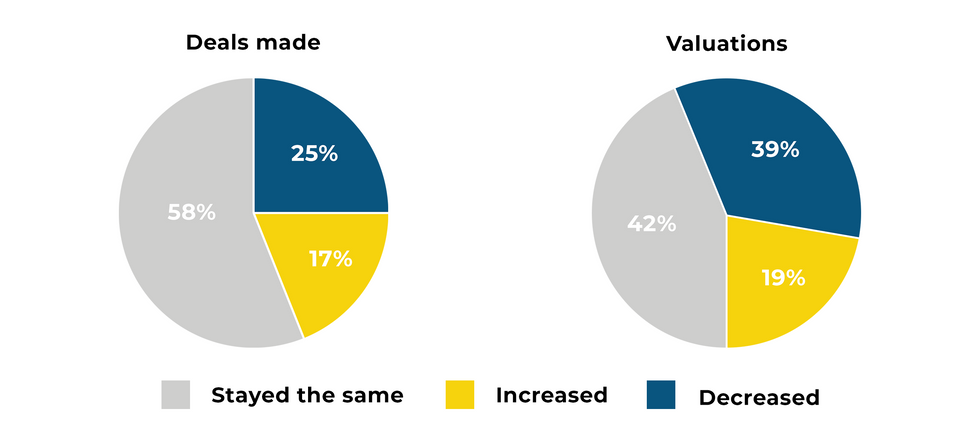 Image courtesy of Hagan Blount
In addition to slowing deal volumes, most investors said they're seeing startup valuations lose momentum, as well: Roughly 81% said valuations either stayed the same or decreased from the previous quarter, with nearly 39% noting a decline.
Should that sentiment continue moving forward, it could spell bad news for startups as far as raising the money they need for growth, investors said.
"If I was a startup right now, I would be making sure I have plenty of runway," said Krisztina 'Z' Holly, a venture partner at Good Growth Capital. "When it looks like there's some potential challenges ahead in the market, it's good to fill your war chest."
Among VC respondents, about 86% said they believed that valuations in the first quarter were too high—one potential reason why deals slowed down in the first quarter, according to TenOneTen Ventures partner Minnie Ingersoll. She noted that L.A.'s growing startup scene features more early-stage ventures, whose valuations haven't come down the way later-stage startup valuations have.
"I would say we are just more cautious about taking meetings where the valuations are at pre-correction levels," Ingersoll said. "We didn't take meetings because their valuations weren't in line with where we thought the market was."
While most respondents said the Russia-Ukraine war didn't have much impact on their investment strategies, some 22% said it did have an effect—with one VC noting they had to pass on a deal in Russia that they liked.
Is There a Flight Out of Los Angeles?
Los Angeles was heralded as the third-largest startup ecosystem in the U.S. at the beginning of the year, behind only San Francisco and New York. Yet nearly one-third (31%) of VC respondents said that at least one of their portfolio companies had left L.A. within the past year. It won't come as a huge surprise that the city of Austin, Texas has been one of the prime beneficiaries of this shift—with roughly half of those who reported that a portfolio company had left L.A. identifying Austin as the destination.

The tech industry's much-hyped "exodus" from California has been widely reported on, especially as more companies have embraced the work-from-home lifestyle and also opted to move their operations to lower-cost cities and states. Most notably, Elon Musk has recently moved two of his companies, electric automaker Tesla and tunnel infrastructure startup The Boring Company, from California to Texas (with both of those firms moving in and around Austin).
"In today's competitive market with lots of capital to invest, we think the next generation of successful VCs are going to be diverse in markets (not just Silicon Valley)... [and] have access to undiscovered founders from everywhere," said one survey respondent.
NFTs Aren't Popular With VCs—But Web 3 Is
"It's the future," according to one respondent. "Buckle up and get on board."
Are NFTs...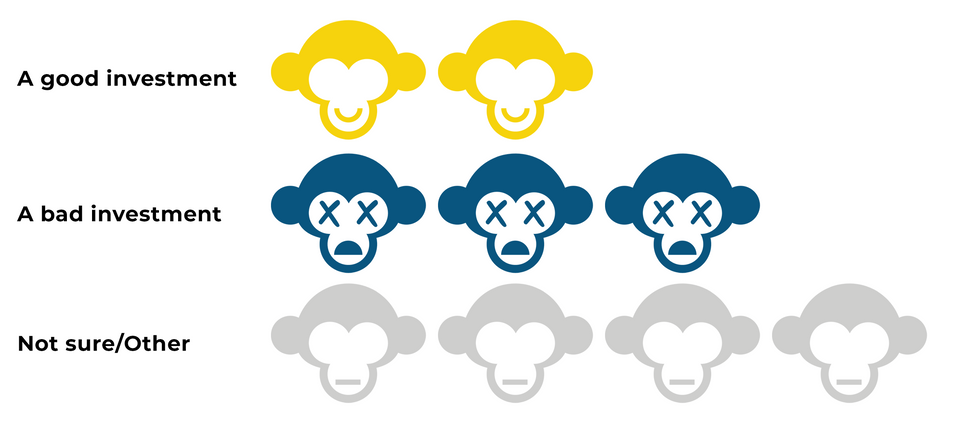 More than 71% of VC survey respondents said they were bullish on Web3—the new blockchain-enabled iteration of the internet, which promises decentralization and a whole range of applications involving cryptocurrencies, NFTs, DeFi and more. It's the same sentiment informing Santa Monica-based VC firm M13's new $400 million fund, which considers Web3 a core piece of its investment thesis.
In Q2 2022, do you expect your portfolio companies to: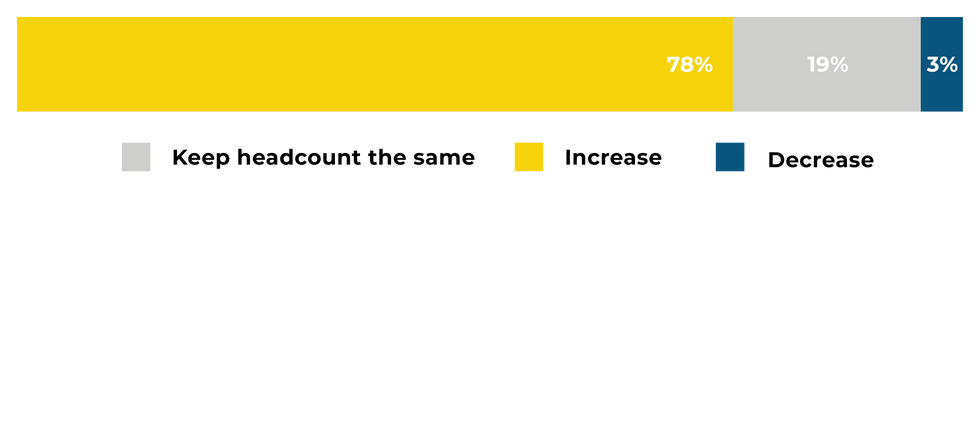 L.A. is home to an ever-growing cadre of Web3-focused startups operating across the realms of finance, entertainment and other industries. But while local investors are willing to pour money into blockchain-related ventures, one segment of the space continues to evoke skepticism: Only 18% of respondents would describe NFTs as "a good investment," while 33% thought they were "bad" investments and 39% said they were unsure.
As in our last survey several months ago, it appears that NFTs continue to divide opinion, with respondents expressing differing perspectives on their value and utility. One referred to them as "get rich quick schemes," but added that the art pieces and social communities that emerge from them may be valuable. Another said that "NFTs as a digital medium are a legitimate thing"—but noted the vast majority are "awful investments with no intrinsic value."

Graphics courtesy of Hagan Blount.
Keerthi Vedantam
Keerthi Vedantam is a bioscience reporter at dot.LA. She cut her teeth covering everything from cloud computing to 5G in San Francisco and Seattle. Before she covered tech, Keerthi reported on tribal lands and congressional policy in Washington, D.C. Connect with her on Twitter, Clubhouse (@keerthivedantam) or Signal at 408-470-0776.
https://twitter.com/KeerthiVedantam
keerthi@dot.la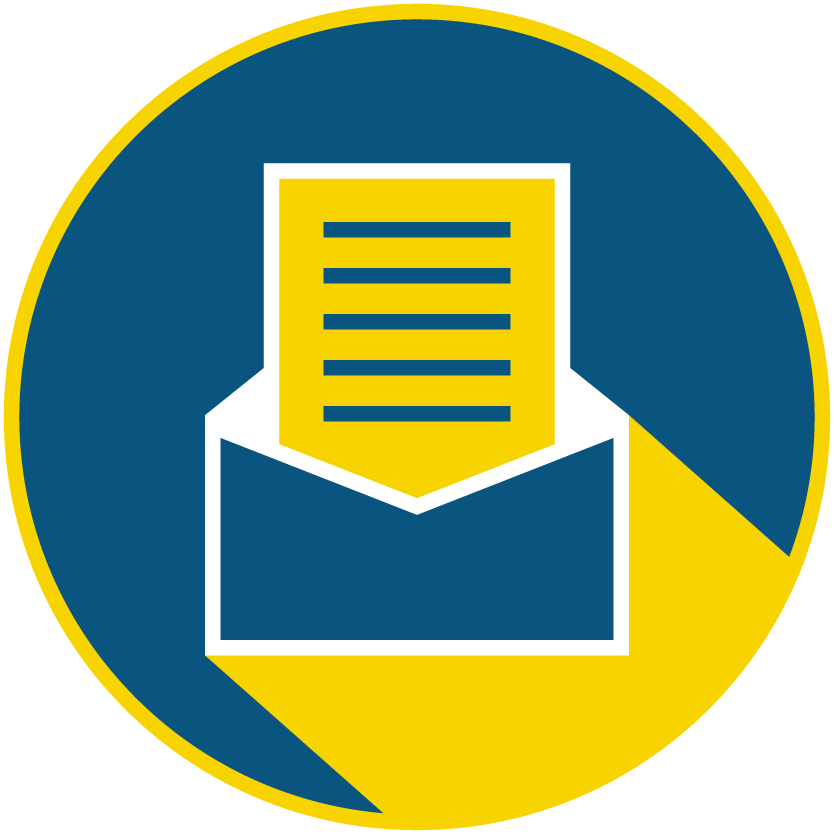 Subscribe to our newsletter to catch every headline.
05:00 AM | January 31, 2022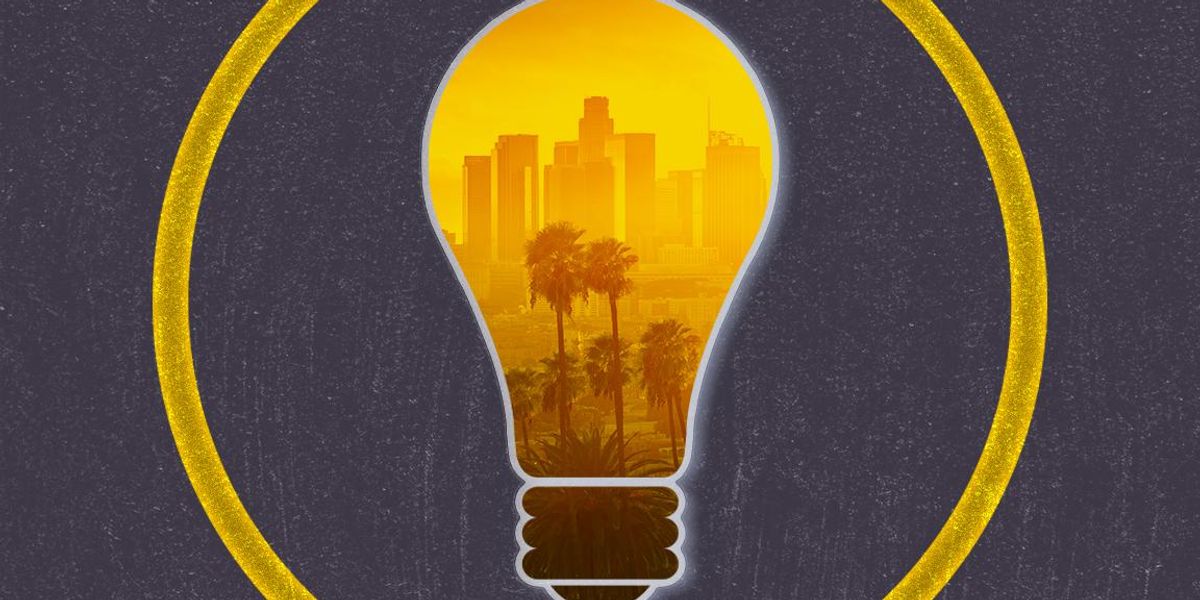 Illustration by Ian Hurley
In Los Angeles—like the startup environment at large—venture funding and valuations skyrocketed in 2021, even as the coronavirus pandemic continued to surge and supply chain issues rattled the economy. The result was a startup ecosystem that continued to build on its momentum, with no shortage of companies raising private capital at billion-dollar-plus unicorn valuations.

In order to gauge the local startup scene and who's leading the proverbial pack, we asked more than 30 leading L.A.-based investors for their take on the hottest firms in the region. They responded with more than two dozen venture-backed companies; three startups, in particular, rose above the rest as repeat nominees, while we've organized the rest by their amount of capital raised as of January, according to data from PitchBook. (We also asked VCs not to pick any of their own portfolio companies, and vetted the list to ensure they stuck to that rule.)
Without further ado, here are the 26 L.A. startups that VCs have their eyes on in 2022.
Harri Weber
Harri is dot.LA's senior finance reporter. She previously worked for Gizmodo, Fast Company, VentureBeat and Flipboard. Find her on Twitter and send tips on L.A. startups and venture capital to harrison@dot.la.
05:31 PM | August 01, 2022
Image courtesy Arkive
Historical documents, records and important artifacts are sometimes locked away in vaults (until a museum or library wants to showcase them), and under restricted access. Thomas McLeod believes that these artifacts hold great value and have the potential to impact communities, so he founded Arkive, the first decentralized, physical museum.
The inspiration for Arkive came from McLeod's previous company, Omni, a physical storage company acquired by Coinbase in 2019.
"We thought it would always be like utility items and we started getting full sneaker collections, vintage posters, records, comic books that were valuable and we kind of had a panic attack," McLeod told dot.LA. "The business [Omni] was built around storing bikes, and you can't put a vintage record next to a dirt bike. They just don't store in the same manner."
McLeod was fascinated by the items and collections that came through the door. To him, it felt like browsing a museum of curated items that everyday people collect.
That's when McLeod knew he was onto something.
McLeod has built startups before. Past projects included Pagelime, acquired in 2015 by SurrealCMS, and in 2012 LolConnect was acquired by Tencent.
The items in Arkive's collections are hand-selected by members who vote on what items they want to acquire. The organization currently has 300 active users, and there are hundreds on the waiting list. McLeod confirmed to dot.LA that they will increase the number of members admitted to 50 people each week with plans to cap admissions at 1,000 for the first phase. He added that while membership is free today, that will likely change in the future.
People interested in becoming members must apply on Arkive's website, where they will answer individual questions about their interests and occupations.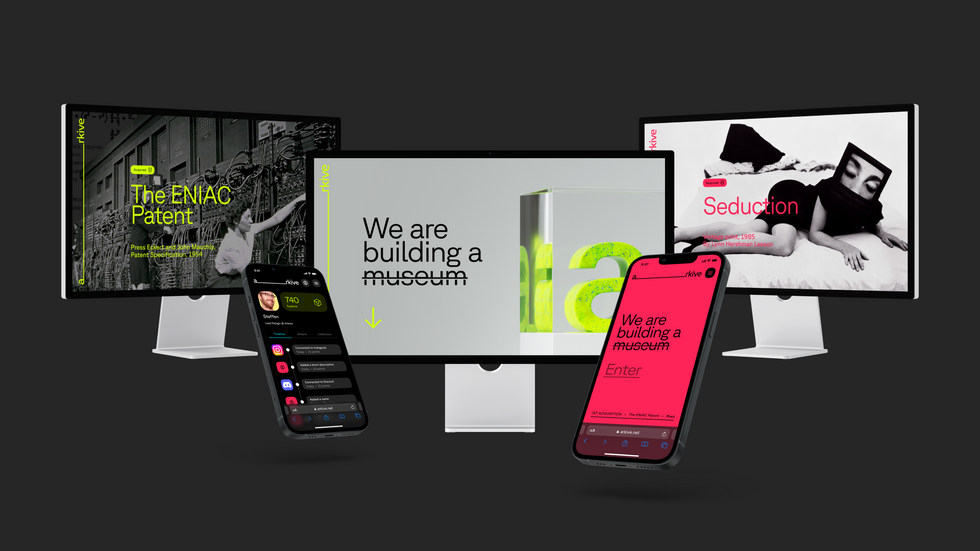 Arkive's physical, blockchain-inspired museum is coming to Santa Monica. Courtesy of Arkive
Just as museums have a lobby, Arkive has its "atrium." In this space, every member enters and registers their cryptocurrency wallets. Once registration is complete, members can vote on the blockchain for the artifact or piece of art they want Arkive to acquire. Prior to voting, to ensure they are well informed, members will have the opportunity to learn about each artifact from the artist, the gallery or the collector who previously held the item.
Since there is a surplus of artifacts around the world, Arkive's team of curators handpick options that are relevant to the current theme: "When Technology Was a Game Changer." While each round of voting is different, McLeod said the voting window for members usually lasts five days (M-F).
Arkive has acquired two items since coming out of stealth mode, the first one being the original patent for the ENIAC – known as the world's first programmable, electronic general-purpose computer. In addition to ENIAC's patent, members also voted to acquire Seduction (1985), a vintage print by Lynn Hershman Leeson, which will be part of Arkive's first public exhibition at the Art Basel Miami Beach in December 2022. Once items are acquired, they will be loaned to museums or galleries to be placed on display for the public to enjoy—at locations Arkive members believe have the most significant cultural impact.
"For instance, the ENIAC patent, we would love it if it lived at the Computer History Museum in San Mateo. If we acquired a Frida Kahlo, we would love it if it was in Mexico City or somewhere that mattered to her art or the family that she was a part of," McLeod said.
The Santa Monica-based startup announced last week that it raised $9.7 million in a seed funding round led by Offline and TCG Crypto. Other participants included NFX, Freestyle Capital, Coinbase Ventures, Not Boring Capital, Precursor, Chainforest, Coil, Julia Lipton, Joe McCann, Chris Cantino, Marty Bell and Paul Veradittakit.
"People who committed were all the way in and did not hesitate to support and be a part of the journey," McLeod said. "It got us the right people that are in it for the long haul and really care about not just the business but the potential cultural impact that it could have. So having the right investors to me is more important than just money."
Some of the funding will be allocated towards expanding the team, but a majority of the capital raised will go into acquiring more artifacts. McLeod said Arkive has three more acquisitions lined up in the next three months, but the eventual goal is to acquire two pieces a month.
Correction: An earlier version of this piece misspelled Thomas McLeod's last name.
Decerry Donato
Decerry Donato is a reporter at dot.LA. Prior to that, she was an editorial fellow at the company. Decerry received her bachelor's degree in literary journalism from the University of California, Irvine. She continues to write stories to inform the community about issues or events that take place in the L.A. area. On the weekends, she can be found hiking in the Angeles National forest or sifting through racks at your local thrift store.